Mitchell's WWE Backstage Report! (2/11/20)
WOO~!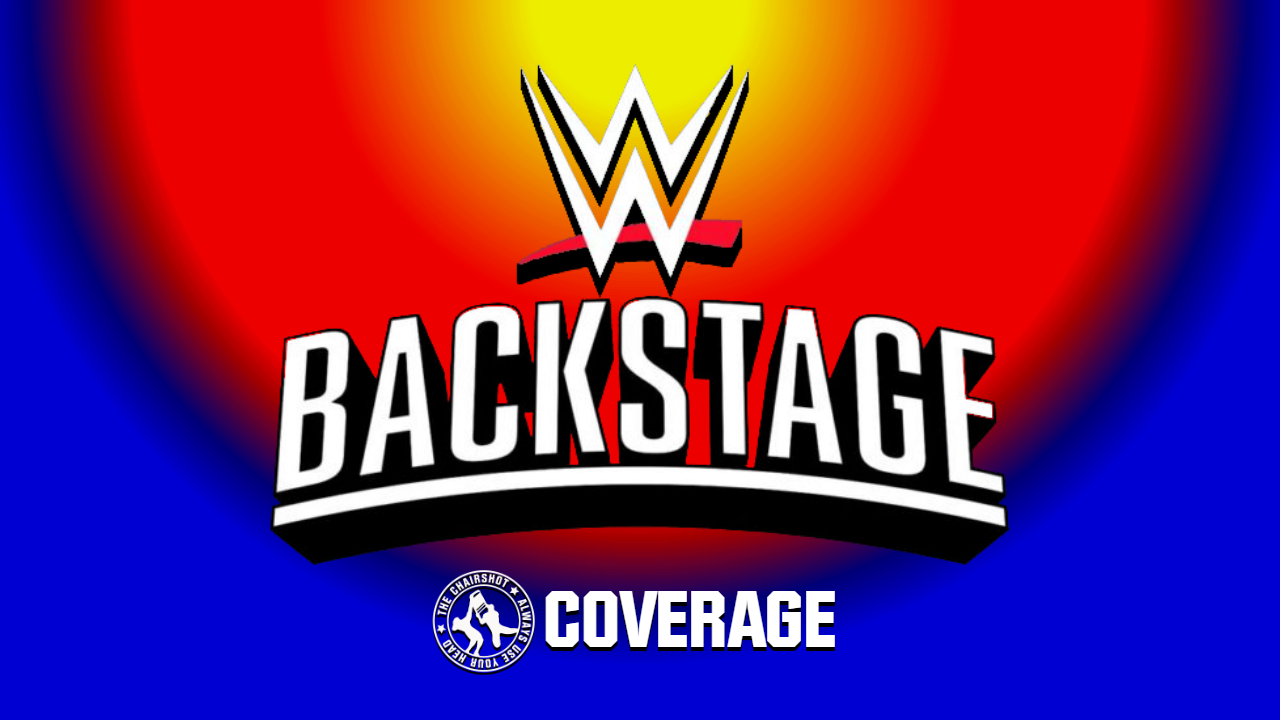 WWE Backstage, bow to your Queen!
WOO~! Charlotte Flair joins WWE Backstage to speak on winning the Women's Rumble, and the possibility of challenging for the NXT Women's Championship!
CM Punk returns to WWE Backstage!
The Voice of the Voiceless is once again alongside Renee Young, Booker T and Paige. Booker is especially pumped because the XFL Houston Roughnecks won as the 2020 XFL season began! But they beat Renee's team in the LA Wildcats. CM Punk is upset the XFL doesn't have a team out of Chicago, yet. But he's been just fine cheering the NHL's Chicago Blackhawks, "the best hockey team in the world." Oh, and it's the Road to WrestleMania! As for Paige, she realized she's not in the intro graphics, and that is not cool. Booker is in it, of course! Who did he pay? No one, it's his HoF rings that got him in.
But moving on, the WWE had a busy week, but in case you missed any of it…
Just the Highlights!
For SmackDown: The Yes Movement might be more like the American Dragon at this point; Baron Corbin wants #OneMoreMatch, and Roman Reigns says it'll be in a Steel Cage; Carmella is FABULOUS as she is once again #1 contender to the SmackDown Women's Championship; the answer to "Who's next?!" is THE FIEND at WWE Super Showdown!
For Raw: Rhea Ripley wants an answer from Charlotte Flair, but The Queen is playing coy; The Viper still didn't explain his actions, but he did decimate another living legend in Matt Hardy; and in the blink of an eye, the Monday Night Messiah saved his disciple and allowed Murphy to take the win in the 8 Man main event! But perhaps the biggest moment of all was Shayna Baszler attacking Becky Lynch and taking a big, bloody bite out of her!
The Backstage panel discusses The Man and the Queen of Spades.
Another incredible Becky VS Asuka, but what about Shayna's shocking attack? Booker knows Shayna is a real-life badass, but this gave him flashbacks to Gangrel and The Brood. Was it meant to be like that? Paige as the Glampire, she got Mike Tyson vibes or something. This might be a one-time thing to make an impact, to show Shayna is savage. It was definitely strange, but it got a lot of buzz. Punk says there's no such thing as bad publicity, but a badass like Baszler shouldn't need even this. Is it at least a good way to get non-NXT viewers to watch Shayna? To Punk, the legitimate background is enough. Shayna is the villain, so maybe if she needs something to beat the Face, this can be that.
Booker relates that Mankind had Socko and the Mandible Claw, so this could be Shayna's trick up her sleeve. But Renee says the interesting element is that we're seeing more and more of the WrestleMania 36 picture come into focus, especially in the Women's Division. We're just 54 days away, after all. Paige likes that it is new women being showcased, and new match-ups. Rhea VS Charlotte, Shayna VS Becky, Carmella VS Bayley, we're finally breaking free from focusing on the WWE/NXT Four Horsewomen.
Punk adds that there are still shows in between, which he doesn't like. One too many PPV's, as far as he's concerned. Everyone should just focus on WrestleMania, so at least with Shayna showing up on Raw, we're getting one title match well-defined.
The Backstage panel discusses the promo showdown of Orton and Hardy.
The Viper claimed what he did hurt him more than it did Edge, but V1 demanded to know, "What in the Hell is wrong with you!?" Punk sees this segment and doesn't want to say anything good about Orton. But when Orton is motivated, is there anyone better? Booker agrees, "He's my guy." Punk continues to say that fans take their eyes off the ball and get complacent, but when Orton can sink his teeth into a story, there's no one better right now. Orton was born into the business, knows how to talk and wrestle, and just "gets it." Punk wants to see where this goes next.
Paige is super excited because Orton is the best. Everything Orton does is spot on. And Edge coming back gave Paige so much hope for her own situation, so it worked out perfectly for Orton to crush that feeling! The chills and the real emotion, that was good stuff. But then with Hardy taking the Con-Chair-To and tweeting his "good-bye," is this the end of Hardy? Everyone wants to know that! Booker says it wasn't even about Hardy, despite the tweet. Booker wants to know if Hardy is broken, and Punk is pretty sure that chair shot had to have done it. But WrestleMania season is only getting bigger with this.
BREAKING NEWS!
John Cena returns to SmackDown on February 28, 2020, when SmackDown is in his hometown of Boston! What will the Face that Runs the Place have to say so close to WrestleMania?
Charlotte Flair joins the panel!
WWE Backstage applauds as The Queen struts her way to the ring. King Bookah helps her through and she takes her seat. "The busiest woman in sports entertainment," as Renee puts it. Punk likes "busiest woman in wrasslin'." But how did it feel for Charlotte to go back to Full Sail last week? Charlotte admits she was nervous. Just 300 people, yet it was more intimidating than 80 thousand. It was a more intimate venue, and it was a reminder of when Charlotte got started. NXT has changed so much. You even need a ticket for catering! Booker says that's because there are just so many performers there now.
Renee asks what Charlotte thinks of superstars making the lateral move, going from Raw or SmackDown and back to NXT. Charlotte says that with Finn Balor, he was such an important part of NXT's growth, it made so much sense. She is sure Finn will be able to motivate all the new men and women there to be better. There is no NXT as we know it without him. Booker asks if anyone else should get that come up, and Charlotte says Bianca Belair. Charlotte has been a fan of EST since day one. "You can't teach the It Factor," and Bianca has it. Bianca is amazing in the ring and on the mic, oozing confidence, and she basically just got there. Even Charlotte needed time to get there, so there are big things ahead for Bianca.
Paige teases that Paige herself had "It" from a very young, and Charlotte rolls her eyes with a laugh. Punk brings up those early days, and being nervous in front of just 300 people. How do you deal with the stress? Charlotte remembers putting on the same house show match for roughly four months in a row, and yet she'd always get nervous at gorilla. She would always worry about how to be The Queen and do the match, but then the music hits and the passion takes over. Being nervous even after all this time is a sign that she still has that passion.
So no nervous exercises or anything like that? Maybe some joking or dancing around. Charlotte and Paige remember theirs. How did it go? Only Paige can demonstrate in her leather pants, but not in those heels. But moving on, Renee brings up the busy schedule, and Charlotte was on Fox Sports 1's "The Herd" with Colin Cowherd! Let's take a look! Footage plays of Charlotte telling Cowherd about her and Becky calling themselves "Thelma & Louise." The roller coaster the two have been on together, both professionally and personally, The Queen needed The Man and the Man needed the Queen to make it this far.
Renee wants to know: Who is Thelma and who is Louise in that analogy? Charlotte says they never decided, so they're both both. "It just works." Well, wait, which one got Brad Pitt? Thelma & Louise Spoilers: "They both die! It doesn't matter!" Well leave the ending out of the equation. Paige will let Charlotte figure it out later. Paige knows Charlotte has faced just about everyone, including Ronda Rousey who was new to pro-wrestling. What did Charlotte learn from Ronda? It isn't so much what she learned as what she proved to herself.
It was Survivor Series, everyone wanted Ronda VS Becky, but Becky gets hurt in the most epic, career-defining moment, so someone else had to sub in. And Charlotte was given that match, but felt bad she was basically runner-up. Charlotte did still want Ronda, this match meant that much to her. Ronda was the face of UFC, Charlotte wants to be the face of the WWE. Charlotte went in asking herself, "How can I show everyone that I am a legitimate athlete?" That's why facing Ronda was so great. Ronda trusted Charlotte and Charlotte came in with a plan, and that was a match that defined them both that year. Booker says that's what it is to be a ring general, when you make your opponent look amazing at the same time.
Booker brings up the many "firsts" Charlotte has in her career already. At the end of the day, what is the pinnacle for The Queen? Charlotte doesn't know yet. She knows that sounds bad, but she feels she can still improve. Look back at 2019 and the groove Charlotte got in. Charlotte never stops learning. There are wrestlers who end up content at the top, but Charlotte never wants to do that. Punk says the pinnacle would be giving back, such as Charlotte going back to NXT. Punk going to OVW, to FCW and then NXT, he wanted to help the new classes. Booker brings up Reality of Wrestling, but Punk says he was there already.
But to reference recent news, Punk brings up that Simone Johnson starts her training, and the one person she can relate to is Charlotte Flair. They're both the daughters of living legends that need to come out of those legendary shadows. What would Charlotte's advice to Simone be? "It's not easy. A lot of people are going to think it's easy, and in some ways, it is easier. Like, you grew up around the business, people know your dad, they know your family." But Charlotte knows there also comes a lot of criticism and questions, like "Do I trust him? Do I trust her?" What is and isn't favoritism? Should said legendary dad come to the shows? "It's a lot, and you just have to block out the noise and stay true to you."
That means working twice as hard and never taking anything for granted. Relationships, coaches, people knowing "Dad" and him being at gorilla, take none of it for granted while not showing weakness. Paige says Charlotte is doing amazing at that, and Renee agrees. Charlotte and Simone have the wealth of knowledge from their fathers, Ric and The Rock, as well as peers and other mentors. But Charlotte does want to add that in the beginning, she didn't go to her dad that often. Simone needs to not get caught up in constant, "Hey, Dad?" mode. Yes, it is The Rock. But Simone needs to talk to Sara Del Rey or Norman Smiley or Terry Taylor first.
"For just a second, I had to leave Dad out of it." Charlotte says Ric is biased. Have you ever talked to him? Everyone pretends not to believe that. Charlotte says she could've fallen on her face and Ric would say, "That was amazing!" Booker knows some of that. Punk jokes that he agreed with going to Sara Del Rey, but not so much Terry Taylor. But Charlotte insists on talking to those who aren't biased towards you. Renee says it's about finding your own identity.
Oh wait! Someone on the WWE Backstage crew Photoshop'd Charlotte & Becky as Thelma & Louise! Becky is driving so she's Thelma, but Charlotte says Becky should not be driving. Is she terrible? Renee remembers hearing the story that Charlotte is about to bring up. It is why Charlotte can no longer rent with National because of this story! Hurtz, Budget or Dollar, all thanks to Becky. The crew now presents Booker & Punk as Thelma & Louise! Booker is driving and Punk looks angry. But we're not slowing down this joyride so stick around!
WWE and NASCAR combine!
Not only will Sheamus be in the pace car for the Daytona 500 for Sunday, but there is a long history of sports entertainment and fast cars working together. For starters, even the nWo thought they and WCW could take over NASCAR.
"With daring moves and large personalities, it's no surprise that NASCAR and the WWE have intersected over the decades." The track, in the ring, drivers and wrestlers hold their own. Flashback to the mid-90's, and one of the hottest names in racing joined one of the baddest groups in wrestling. Kyle Petty and the nWo worked together as Petty's car was adorned with nWo logos. But Jason Keller and the Macho Man won out in the end thanks to their Slim Jim team-up! Perhaps biggest of all has been Goldberg and his continued love of NASCAR, from the days when Chase Elliot was small enough to be hoisted onto the icon's shoulder.
John Cena was at the Daytona 500, but Jamie Little didn't see him. Charlotte Flair was there for the Coca Cola 600 in Charlotte. NASCAR is rowdy and the WWE is giant, but both are fast-paced, risky and full of both heroes and villains. Whether through walls or through tables, it is all about raising a title high while making it to the grandest stage in their sport.
Renee talks with Stephanie McMahon about WrestleMania 37 going Hollywood!
Stephanie is technically making her Backstage debut but we'd all love to see her on set. As of this recorded interview, Renee and Stephanie are "backstage" at the construction of SoFi Stadium. The stadium is to be both the future home of the NFL's Los Angeles Rams and Los Angeles Chargers, but is also already set to host Super Bowl LVI in 2022, and the College Football Playoff National Championship game in 2023. But knowing that WM37 brings the WWE back to Hollywood, how cool is it to come back?
"It's just unbelievable," Stephanie says. Especially since it will be in the biggest stadium in the world. This stadium will have some of the most innovative elements, as well, such as a translucent roof. The WWE and all guests of SoFi Stadium will be able to project right on the ceiling! So with the WWE coming back 16 years after the first time, what is Stephanie's favorite Mania LA moment? A scoop for Backstage, huh? Well, long time WWE fans will remember that right before WM21 aka the original WrestleMania Goes Hollywood, Vince McMahon tore both his quads at the Royal Rumble. Vince had Stephanie fill in, and superstars came to her pitching a new idea that they wanted for Mania, and thus the Money in the Bank ladder match was born.
Renee says Stephanie must've felt the pressure, but knows Stephanie thrives under pressure. Stephanie is sure everyone in the WWE does. Hopefully the next time Renee talks with Steph, it's in the Fox Studio. Stephanie also hopes so, and that she'll have more big news like MITB. Who knows what happens as the Road to WrestleMania becomes the Road Back to Hollywood.
WrestleMania thrives on moments!
It was 2017 and WrestleMania 30. The Yes Movement was at its peak as Daniel Bryan beat HHH to earn his way into the WWE World Heavyweight Championship match with Randy Orton and Batista. Backstage calls it the "Miracle on Bourbon Street" while others might simply stick to #YEStleMania, but either way, it was an incredible night for Bryan to defeat the three members of Evolution to win the title(s)! 54 days are left, what moments will we get out of WM36?
Speaking of moments, just last year with WM34, Kofi Kingston found himself on a very similar path to Bryan. It all started with an opening. Mustafa Ali could not compete in the WWE World Championship #1 Contender Elimination Chamber match, so The New Day was given a chance. The man they chose for the job was Kofi, who speaks on that very run. It was his opportunity to finally compete for a world title, but he would first go through the gauntlet! It was a marathon of dream matches for Kofi, from Bryan to Jeff Hardy to Samoa Joe to AJ Styles. The emotions were real because the journey was real. The fans were on the journey with Kofi, and #KofiMania was born.
The Backstage panel discusses KofiMania.
Booker laughs now but Renee knows he was emotional that night. Booker watched history be made with Kofi, but Paige doesn't get why he's still laughing. Is there some private joke between Book and Renee that she and Punk don't know about? Punk seems to feel that, too. But Renee says they'll be involved, with…
The Hot Tag!
The rapid-fire round returns, and we open with Bayley VS Carmella being set for this Friday! Paige, who do you think should win? Wait, no, sorry, Booker starts! Time's wasting as Renee apologizes for the flub. Booker says that looking at Bayley, she's had an awesome transformation but she is still finding herself. Carmella is consistent and ready, she is the female Miz! Punk and Paige laugh but Booker means that as in Mella is the Timex watch: she takes a lickin' but keeps on tickin'. Renee loves the metaphors.
Speaking of The Miz, he and John Morrison brought back The Dirt Sheet while MVP brought back his VIP Lounge. Which talk show does Paige feel had the better return? The Dirt Sheet, hands down. She knows Booker disagrees but The Dirt Sheet's comedy, the trailer parody, that is going to keep things unique. Plus, Miz's dad! The WWE has money, give more of it to Miz & Morrison for more of this!
And lastly, Mick Foley gave a big nod to Aleister Black in a tweet, "I think Aleister is just one major feud away from making a big jump up the WWE ladder… But the right opponent is everything!" Punk, who do you think that right opponent is? Punk takes his time thinking, stroking his beard. If Mick thinks that, then it's legit. Go for a midcard title, go for Andrade Almas! Zelina Vega being caught in the middle in real-life, but she's building a stable, and a stable is tested by its opponents, so either way it is a win. Booker says Punk was stretching his time because he had "a buncha nothin'." Punk says he just speaks in sound bites like good ol' JR.
The WWE Women's (R)Evolution is 5 years old!
To think not that long ago, the WWE Women's Division was being treated as more of an afterthought than an equal part. But Backstage looks back at how things changed for the better.
February 23, 2015
Almost 5 years ago to the day on a Monday Night Raw in Nashville, it was The Bella Twins, Nikki & Brie, taking on Paige & Emma. All it took was one cheap shot to Paige and a facebuster to Emma, and the Bellas won in fast fashion. Fans were understandably livid, and a social media movement was born: #GiveDivasAChance. The movement spread like wildfire, and the WWE heard the fans!
July 12, 2015
Five months later, Stephanie McMahon was live on Raw to tell the WWE Universe that this revolution was beginning! "Courage can't do it by itself," so reinforcements from NXT were called in, or rather called up. Paige got Becky Lynch and Charlotte on her team, while Sasha Banks led a team of her own to take down the Diva's Division and spark the flames.
April 3, 2016
Just over a year after the movement, Wrestlemania 32 was the site of a historic return: Divas no more, WWE had a Women's Division again! And in an epic Triple Threat, Becky Lynch, Charlotte Flair and Sasha Banks battled, with The Queen becoming the first new WWE Women's Champion!
September 11, 2016
WWE Backlash was a Fall PPV as Becky Lynch became the inaugural SmackDown Women's Champion!
October 30, 2016
WWE Hell in a Cell was right before Halloween, but there was no tricks or treats as Sasha Banks and Charlotte Flair battled for the Raw Women's Championship in the first-ever Women's Hell in a Cell match!
June 18, 2017
WWE Money in the Bank gave us the first-ever Women's MITB Ladder Match, and a FABULOUS first Ms. MITB!
January 28, 2018
WWE Royal Rumble gave us a second Royal Rumble match because it would host the first-ever 30 WOMAN Rumble match, won by the most dominant woman to come out of NXT in ASUKA!
February 25, 2018
Three years after the movement started, the WWE held its first Women's Elimination Chamber match for the Raw Women's Championship!
October 28, 2018
The first-ever all-women PPV event, WWE Evolution, was born! Raw, SmackDown and NXT all celebrated together as one!
April 7, 2019
Just last year, the biggest moment yet: WrestleMania 35 had women in THE main event! The #WinnerTakesAll Triple Threat of Rousey VS Flair VS Lynch, and The Man came around to become the first-ever DUAL Raw & SmackDown Women's Champion!
It's the WWE Backstage Main Event!
Renee sits with two former Women's Champions in Charlotte and Paige, who were also there the very night the WWE Women's (R)Evolution kicked off. But to think it's been 5 years. That makes us all feel old. But for the night the hashtag started, Charlotte remembers watching at Full Sail, "School Session," they were all rather confused. There was no longer an incentive to debut on Raw or SmackDown, until the hashtag made things change. Team PCB, the Submission Hold Sorority, were there any worse names they could've chosen? But it was a huge moment either way, to show women "cut from a different cloth" to be vindicated. AJ Lee fighting the Bella Twins and that brought Paige into this, what was that like?
Paige remembers that back then, with AJ Lee being the first real superstar to change the perception during the Diva Era. AJ Lee knows how to talk, probably the best ever, yet the WWE was still brushing women's wrestling aside. NXT was much different, Paige and Emma being the first ever match at Full Sail. And the night in question, Paige, Emma and The Bellas all questioned being cut down to two minutes despite being the only women's match scheduled that night! They took it upon themselves to only give 30 seconds as taking a stand, and Paige still gets chills thinking about how #GiveDivasAChance trended for three days straight!
Charlotte adds her part of the story, where it wasn't that there wasn't wrestling talent before AJ Lee, it was that WWE wasn't giving the time and opportunity. Then #GiveDivasAChance happens, AJ Lee's character versus the Bellas' characters then Paige as the Anti-Diva, things started standing out. AJ Lee was sexy nerd girl and Paige was goth and the NXT women were different. Fans identified with the characters, not the lump sum of a group. The women made the most out of the opportunities they were finally given and it snowballed to what it is now. Is there that pressure every time? Paige says there was, given the fans supporting them and the wrestlers not wanting to disappoint.
But there were times when the women still had to take the hit. AJ Lee & Paige VS The Bella Twins for WrestleMania 32 was an example. The Raw before, they already sensed their Mania match would be a short one, so they put on a Mania level match for the go-home. Now with the NXT women, the Four Horsewomen and so on, they've stolen the show week after week. And in the end, the Bellas were already improving as wrestlers, but wrestling great wrestling women made them even better! Charlotte adds that fresh faces helps a lot. The call-ups were few, then in chunks, and so on. Charlotte still loves Ronda VS Nikki Bella, because you can see the before and after. The diversity and development go hand-in-hand. We can't wait to see where things will be when the (R)Evolution hits 10 years!
Social Media SmackDown returns!
WWE Backstage wraps up, but if you come at The Queen, you best not miss! Joshua Josh 74407 tweets, "When has Charlotte not just gotten handed everything, last year she became a 10 time womens champion she didn't deserve it. As much as I hate to admit I would've rather of had Lana win." Punk jokes he agrees with that in part. But Charlotte wonders how upset this Josh will be when Charlotte becomes 16 time champion. "You booger eater!" Charlotte with the third grade insults! That's what you get, Josh! But maybe she is handed everything. Don't be jealous. Punk says haters are fans that just show it differently. Booker says haters gonna hate. Charlotte still loves her "fan," but admits she's bad at talking smack on the fly. They're all going to need oxygen after this because they're laughing so hard.
---
My Thoughts:
A really good episode from Backstage again, there's nothing I can really say against this one. CM Punk being back is always good, and I didn't disagree with anything he said. I am glad he was the one to say Almas VS Aleister needs to happen next. It was great to hear Charlotte's advice to Simone Johnson as well as all the #GiveDivasAChance memories. I wish we got to hear more about Becky's bad driving, but maybe it's on tape in that one episode of WWE Ride Along.