Mitchell's WWE Backstage Report! (2/4/20)
Drew McIntyre goes Backstage!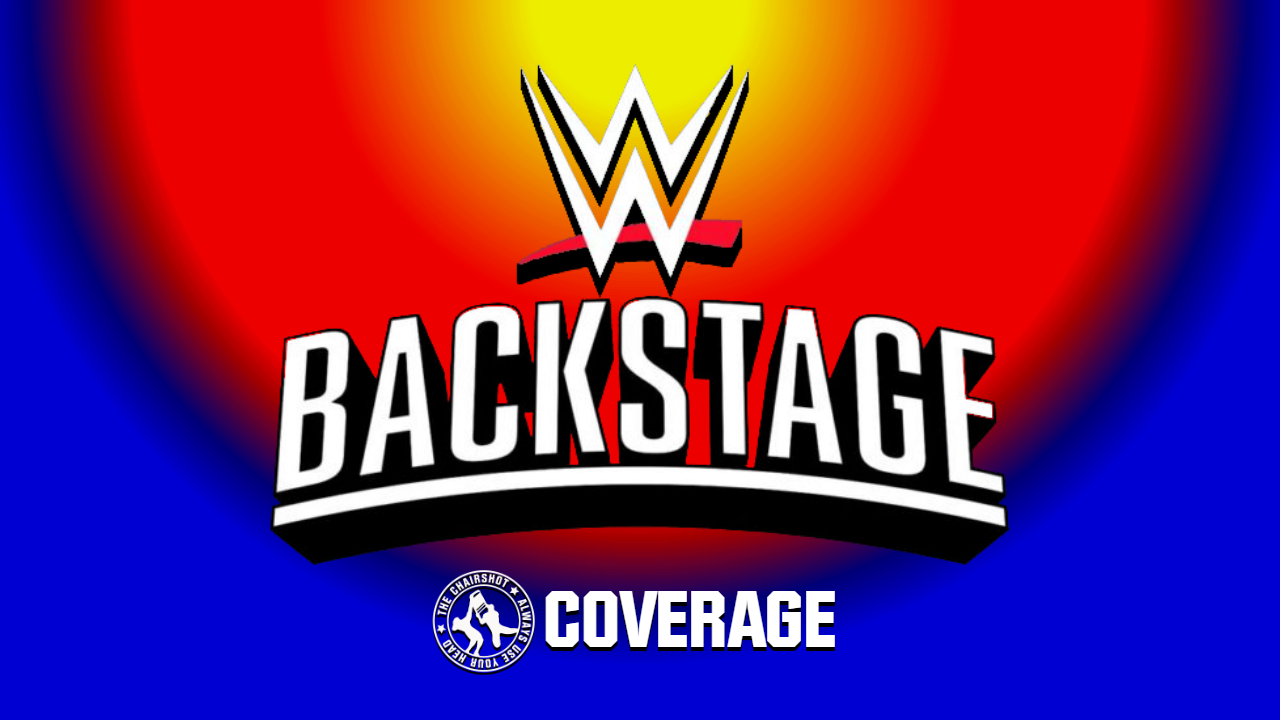 I dream broken dreams~!
Drew McIntyre is headed for a WWE World Championship match at WrestleMania, but takes a detour to go Backstage!
Renee Young and the panel welcome us to the show!
Now that NCAA Basketball is done for the night, Renee, Booker T, Christian and Ember Moon are here and still pedaling Booker's beard gloss. Maybe Ember can use some on her faux fur jacket. But the Road to WrestleMania is picking up speed for WWE's Super Showdown! But first…
Just the Highlights!
For SmackDown, The Miz and John Morrison return to tag team action in a huge Fatal 4 Way and are now set to challenge The NEW~ DAY~ for the W, W, E, Smack, Down, Tag, Team, CHAMPIONSHIPS~! Will that Super Showdown showdown be awesome? One thing that was awesome was Braun Strowman finally getting his match for the WWE Intercontinental Championship, and winning! Naomi returned to remind Bayley that Bayley has yet to beat Naomi, and then Bayley got to #FeelTheGlow! And in perhaps the biggest moment of SmackDown in 2020, Roman Reigns & The Usos made King Baron Corbin eat his words, and some dog food!
For Raw, The Man and The Empress prepare to go around one more time for the Raw Women's Championship! Who takes the tiebreaker? And while The Queen, Charlotte Flair, has her chose of WWE women's titles, Rhea Ripley has thrown her name into the hat! Will Charlotte look to not be Raw or SmackDown Women's Champion but NXT? Randy Orton knows he owes an explanation for why he devastated Edge, but he couldn't bring himself to say it. But biggest of all, The One and Only Ricochet is heading to Super Showdown to challenge the reigning, defending, undisputed WWE Heavyweight Champion of the World, BRRROCK! LESNARRR! Of course, The Beast made sure to let Ricochet know he was watching.
The panel discusses.
Ricochet VS Lesnar is coming, is this a great opportunity? Booker thinks that's a trick question. Renee brings up comments from John Cena on Brock Lesnar. Via Sports Illustrated, the former WWE World Champion says, "I can say with the utmost sincerity that I believe Brock Lesnar is the best in-ring performer that I've seen. I know it's an opinion, and if you want a cool quote, here it is: I think he's the best in-ring performer of all time." The internet exploded, but what is Christian's opinion? Cena must be watching WWE Backstage a lot, that sounded like what Christian said. And Cena knows things about the WWE, and Christian says that in regards to wrestling in pro-wrestling, "It doesn't have to be pretty to be effective." Christian says Lesnar is top 5 for in-ring.
Ember agrees with Christian and Cena. Lesnar is the best, because while he is an attraction that sells, he really can hit hard and move in the ring. Lesnar knows who Lesnar is, and knows that love him or hate him, fans will come to see him. Renee wants someone to play Devil's Advocate and give someone better. Ember figures it'd be Randy Orton. Orton just knows how to milk things, just like on Raw last night. Booker T agrees with that. Booker adds, "No bread, no water, just meat." That is Lesnar in a nutshell. He is no nonsense, and just looking at him, you go, "Hey man, this guy." Lesnar makes it real, he makes you feel something! In today's wrestling, Lesnar is the most believable guy in the locker room.
Renee puts it in the perspective of the Royal Rumble. Lesnar did all that work, and he is so good at his part that you forget he's that good at his part. Booker agrees, the Rumble was Shakespearean with Lesnar and McIntyre. It made a star out of not just McIntyre, but a lot of other men in that match. Christian adds on that while things can go off the rails, stepping in the ring with a guy like Lesnar, it elevates your status.
To the other Rumble, Charlotte continues to stall with her decision making. But perhaps she waited too long and could be facing her worst Nightmare. That is to say, Rhea Ripley wants after The Queen! The one woman, the one Women's Champion, Charlotte hasn't beaten dares her to pick the NXT title! Ember's reaction is first that while she wasn't behind Charlotte winning, she is totally behind this match up. Rhea has already made a big name for herself, so "Holy poop," this match will be great. Charlotte was the first wave of the WWE Women's (R)Evolution, Rhea is going to lead the next wave.
Renee agrees, and seeing those two standing face to face, there is definitely the rise of a new star. Booker says he smells the money this match is going to print. Ember says that the only downside is that this pulls the rug out from under NXT TakeOver: Portland. Rhea VS Bianca is only two weeks away and yet we're looking ahead to WrestleMania. Christian says it adds layers. Bianca can say Rhea is looking ahead, is getting distracted, and could end up losing. But the note of who Charlotte has and hasn't beat was a great element. Booker also likes "The Ripper" for Rhea's alternate nickname.
WWE Backstage returns, and welcomes special guest, Drew McIntyre!
The 2020 Men's Royal Rumble winner joins the panel, giving a little wave before stepping over the top rope. He gives high-fives and fist bumps all around before taking his seat. Drew is even a gentleman, picking up Ember's dropped cue card for her. #ReformedPsychopath. But what a whirlwind couple of weeks for McIntyre. Booker likes the jacket, and as McIntyre points out Christian's Bond villain style, Christian offers his assistance as evil manager. But Renee wants to know: Why is now McIntyre's time? How is it that things aligned for him? He himself isn't sure, things just fell into place. Was he holding back? Was he not having fun?
McIntyre might've been overthinking something, and then he just let loose and started having that fun. Fans are having fun alongside him so that was what helped propel him the rest of the way, and right at the Royal Rumble. Renee agrees, that always seems to be what works, but it's easier said than done. McIntyre says that his time away from the WWE is what helped him find himself and had his fun. Returning via NXT helped translate that, but then it was hard with being on Raw and having to fit into stories like with The Shield. Roman Reigns got to face The Undertaker, having great moments, and it showed that McIntyre needed to let loose. This is 100% real Drew.
Ember brings up an important thing. Everyone wants to be in that spot, but how did it feel to point at the WrestleMania sign? So much was going through his mind but his face said it all. The past 19 years, the ups, downs and sacrifices, it was all let out that night. McIntyre finally gets a WWE World Championship match, and win or lose, he's already feeling great. He just can't help but point at Mania signs, too, it's become instinct. Booker says he had his five, and McIntyre was always in there. McIntyre had to leave the WWE, come back and now he's got a rocket on his back. How much pressure does he feel? Pressure may not be the word, but McIntyre appreciates being Booker's five. This journey was so unique for McIntyre, he's seen all sorts of things, and now he's ready to be the guy. Renee says they can see it and feel it.
Christian says how McIntyre was overthinking things. You never want to think what's next, you need to be in the moment. Things slow down, and you figure things out. What was it like being away from the WWE and having things slow down like that? McIntyre says it wasn't too long that he felt relieved. He went all in, "balls to the wall," and the more he relaxed, the better the fans liked him. McIntyre could feel it. His first few months on Raw, he was just "big and angry, hairy and Scottish," which no one can actually relate to. Well, maybe there's an equally big, angry, hairy Scotsman, but other than that guy. Christian likes McIntyre's countdown. McIntyre admits that was a spur of the moment thing and it just worked. Especially the kip up, he hadn't done one since he was a kid playing soccer.
Ember knows people say "It's not about the destination, it's the journey," but could McIntyre speak more to that independent scene journey and his return? McIntyre says he needed to leave the WWE in order to apply what he learned and become the face of several companies he worked with around the world. ICW in Scotland was most notable, and the audiences kept growing all the way from 1500 to 7000! McIntyre credits his being a former WWE wrestler to some of it, but it still felt incredible to know he helped grow a company through his hard work. And that was a great training ground for him to return and prove he can be the face of the WWE.
Renee can tell the wheels are always turning in McIntyre's head. Where does he get his inspiration from? He isn't sure. McIntyre just loves wrestling and has kept this same drive throughout. But he lost it somewhere along the way and was disappointed. Being released reignited him and here we are, him going 110%. McIntyre wants to make his wife proudest of all, because she has always supported him, no matter where he went. Booker and Christian also know that journey, so what would it mean for McIntyre to finally be a world champion? Very important. McIntyre was told 10 years ago he'd be the future world champion, but clearly that didn't work then. Vince is a sorcerer, it seems.
But to be serious, winning that title and at WrestleMania, that is the culmination of everything. All the hard work, hitting "the lowest of lows" and fighting his way back up. McIntyre once pictured himself facing a guy like Lesnar, and pictured the promotional material. That was motivation, and McIntyre made sure he would be believable as an opponent. And now, seeing the real promotional pictures, "it's bloody insane." He feels he could've dreamed bigger, like first Scottish President of America. But "dream" is not even enough, this would be amazing. Everyone commends and congratulates McIntyre for this journey. McIntyre will stick around, maybe point at a Mania sign. Speaking of Mania, we'll relive a match McIntyre mentioned after the break!
WWE Backstage recounts The Undertaker's WrestleMania journey.
The Phenom went on an undefeated streak of 21 WrestleMania matches, until he encountered Brock Lesnar. The Streak ended, and at the time, Lesnar became the one in 21-1. But even after rebounding against Bray Wyatt, Taker and Roman Reigns met in a battle for "The Yard" at WrestleMania 33. The Big Dog now speaks to what it was like to be the last to defeat The Dead Man on the Grandest Stage of Them All.
Roman says that when he was told he'd be the one to face Taker, "it was kind of a mixed bag of emotions." Roman was both excited but nervous to share that stage with him. Taker's entrance is always great on film, but there's nothing like it live at WrestleMania. Everyone respects Taker, so it was a huge moment by default. And then the two made it a huge moment in reality, because Roman understood the magnitude of getting a moment only a few can have. Fans didn't like it, but even with a great performance from Taker, Roman won the match. "I think the hardest part of it all was that WrestleMania fireworks shot" to close it out. Roman admits he couldn't help but be sad. It felt like Taker was done, and it weighed heavier on him than expected.
And of course, there's always the Monday Night Raw After Mania. Fans obviously hated Roman, but it was oddly the coolest moment in his career. Roman felt more powerful in that one segment barely saying a thing than he ever could speaking. You usually don't want to be hated, but for that 15 minutes, Roman owned the WWE Universe. "This is MY Yard now" will go down the five strongest words Roman has ever said.
The panel discusses with Drew McIntyre.
The Scottish Stud knows what it is like to be in the ring with The Big Dog, but also to be in the ring with The Undertaker. What is it like staring down The Dead Man? McIntyre says there are no words. Taker is a legend, he is THE Phenom, and as the footage plays from WWE Extreme Rules 2019, that was one of McIntyre's favorite moments. It is a top 5 for McIntyre, he learned so much in that match. Standing up behind Taker, that was the most gifable thing in McIntyre's life.
Booker notes that as good friends with Taker in real-life, having come up around the same time, you'd think he was just another guy. But getting to the WWE by the time Taker had established himself, that program and the theatrics, seeing that walk, Booker was marking out like a fan. Plus, Taker gave Booker that rub, and it helped Booker know he had made it. Renee notes that the entrance is definitely something that you can get starstruck from. Christian agrees with all of that, his first match with American Badass Taker and that motorcycle entrance also had him in awe. Hearing the fans react is different because the fans recognize Taker as someone on a different level. Christian learned that getting in, staying in, and succeeding in the WWE are all very different things, thanks to that match.
WWE Backstage throws it to Ember Moon and a special guest!
The co-founder of Kinda Funny Games, Greg Miller is here! Ember knows Greg is a gamer, but what got him into the WWE? Well like anyone else born in the 1980's, pro-wrestling was everywhere. Hogan, Macho Man, Million Dollar Man, Saturday morning wrestling and then Monday Night Raw, he had an entire childhood of wrestling! Moon  heard from a little birdie that Miller went to WWE events for five straight months. Miller confirms, he and wrestling fan friends went on a road trip and it just happened to time out with WWE events. The stretch of Survivor Series all the way to Mania, he got to be at every PPV! And Miller was the guy that Lesnar screamed at during Survivor Series that one time! Did he pee himself? A little…
Ember knows Lesnar schooled Miller then, but is Miller ready to go to class? Of course he is! Promo School is in session after the break!
Next week, WWE Backstage is Clobbering Time!
CM Punk returns to join the panel for next week, and we also get The Queen, Charlotte Flair! Will Charlotte have her answer in regards to Rhea Ripley's challenge by then? And what will CM Punk have to say about that and everything else going on in the WWE?
Greg Miller gets ready for Promo School!
Renee says no pressure, but all the pressure. Miller knows, and he wants the judges to know they look lovely today. Renee explains that King Booker, Christian, Ember and McIntyre will be grading Miller's performance. Any advice real quick? "Don't screw up." Anything more, McIntyre? Nope. Booker wants to hear a cool catchphrase or two. "Drink it up, because it's Miller time!" Greg wants to write these down just in case. Christian branches off that, and says you need to believe what you say because then the fans will believe it. And Ember wants it to be relatable, especially to yourself.
Renee likes that strong advice, but points out Miller needs a target. Miller is picking a fight with Xavier Woods! Aren't they gamer friends? They are, they work a lot together through YouTube, but Miller plans on taking his "buddy" down a notch! Expose the Woods! Woods is selling something that isn't true, but everyone drinks it up. Miller prepares himself as Renee heads off stage.
"Xavier Woods. Or should I call you… Austin Creed?" Or perhaps his real real name, "The Worst Part of The New Day." Miller introduces himself as THE Greg Miller of Kinda Funny Games, but Woods already knows that, right? The year was 2015 when Miller invited Woods to be on HIS E3 stage! And what did Woods do? Talked about games, about how cool Miller was and how they could be friends, and then did what he does best: stole from Miller! Woods took the subs, the industry contacts, "everything that mattered!" Miller thought he could trust Woods when Woods invited Miller to the WWE E-Sports Challenge, but then what happened? Woods steals all the credit when Miller was the host! Miller carried that show on his BACK like Kofi carries Woods every week!
But Woods still gets all the credit. And then what did he do? Woods took the Kinda Funny World Championship from Miller! Has anyone been covering this on this show?! NO! Miller went to visit his wife's sick mother, and he is STRIPED of the KFG World Championship by "the crooked commissioner," Xavier Woods! "And then, to add insult to injury," Woods steals KFG's idea out of nowhere! Now there's an UpUpDownDown World Championship?! It shows up all the time on YouTube, but does Miller get a shot at it? The Game Awards' #1 trending gamer! The South by Southwest Most Entertaining Online Personality! Greg Miller, "one of the coolest dudes in video games." But no, no title shot.
And then Woods gets hurt! Owie owie big toe hurts. Woods does all his YouTube gaming stuff that aren't kinda funny! Miller tells Woods what's going to happen now: Miller will make his own history and his own plans. March 27th, 2020. The Allstate Arena in Miller's hometown of Chicago, Illinois! Mrs. Miller's Baby Boy is coming home, and if Woods is any kind of man, he'll be there, bad foot or not. They will have a Nidhogg II single match, and if Miller wins, he becomes #1 Contender to the UUDD World title. If he loses, which won't happen, Miller will tweet to his one MILLION followers (which is more than Woods but Woods will try to steal them soon enough), and for an entire month, that people should sub to UUDD. But if Woods no-shows, then it's forfeit! That's fair, isn't it?
But for those thinking, "That's extortion!" Miller learned a lesson a long time ago. "It's better to be Greg than great." Mic drop!
Renee loves how Miller served that one up! Miller got Renee to hate Woods now! How did no one know this?! Woods having three names is a sign. But now, to the grades! Booker knew it, it WAS Miller Time. Miller thanks the king for his compliment. Booker likes that it was real and relatable. B+, his highest grade yet. McIntyre enjoyed how intense it was, but it went long. It kept his attention, at least, and the challenge made was great. So B- to stay with Booker. Christian doesn't say a word, but he's given Miller a C+!? Harsh! But then Christian explains, he agrees with McIntyre. It could've been stronger but had a great finish. Miller was in control but he was taking his time getting there. But sometimes, a promo without an in-person target is hard because you have to do it all yourself. But the length risks losing people's attention. Leave them wanting more.
Finally, Ember feels her part in this year long build behind the scenes given her time on UUDD, and feels how real and important this is to Miller. Ember does agree with the other points on length, and adds that there is an intensity level he needs to keep his eye on. But all that said, it was completely believable, so Ember gives a B+! A great balance, great feedback, and Miller had fun. Booker wants him to get that beard gloss. But with Promo School over for the night, WWE Backstage will shift gears to analyzing The Viper's promo from last night. What grades do they give Randy Orton after the break?
WWE Backstage gets the Hot Tag!
Three topics, 30 seconds each, it's go time! First up is the coming Valentine's Day "date" between Otis Dozovic and Mandy Rose for SmackDown. Booker feels that 30 seconds might not be enough. First, he wants to shout out his wife, Sharmell, as Valentine's Day is their anniversary. But to SmackDown's own Valentines, Otis needs to treat Mandy right and assure her that they'll be in each other's corners no matter what. Take her ice fishing, it'll be isolated and cozy, and take it from there. Time's up and on to the next subject.
The Viper broke everyone's hearts when he went after The Rated R Superstar's repaired neck a week ago, but his follow-up last night was lacking. Fans booed and jeered, and in the end, Orton couldn't say what he wanted to say. Christian's thoughts? Thinking about the emotions involved, from Edge's return at the Royal Rumble and his subsequent reunion with Randy Orton, and the joy that the fans felt, only for it to turn around 180 degrees the next night. Orton doing that damage got that reaction of horror, no words were needed last night. Sometimes, body language is enough. Just like Christian said in Promo Schoo- No, you're time is up, Christian, stop.
Lastly, Liv Morgan got another win on Lana, but the celebration was ruined by the return of Ruby Riott! Riott turned on Liv and now friends are enemies. Ember is happy to have Ruby back and that Liv is going to be her first target. Ruby should've come back in the Rumble to return and showcase herself. And not for one second did Ember think this was not going to be a betrayal. Ruby could've gone to SmackDown to do things there to allow both women to reestablish themselves, but this feud will be amazing with the personal element. Time's up, Ember gets her buzzer beater! Renee adds that Ruby is looking GOODT, and there's a lot of depth to the Women's Division now.
WWE Backstage brings out the Satin Sheet!
What news does Ryan Satin have for us this time? WWE confirms that they signed two big independent wrestlers! One is Timothy Thatcher, internationally accomplished wrestler and an original member of the original Imperium when he, Walter and Marcel Barthel were in the European wrestling scene. That news has reached said former friends, and the NXT UK Champion shared a photo of the original Imperium.
Second to sign with the WWE is Killer Kross, one of the hottest free agents today. The details are scarce but the deal was put together recently as many major promotions were working to recruit Kross. No word yet on which brand Kross debuts on, but he'll certainly make an impact when he arrives.
Someone tweets WWE Backstage!
TeelTeen says "Here you go, Christian." TeelTeen gave Captain Charisma his own hairless cat a la Dr. Evil! McIntyre's powers are growing, but he was hoping they'd animate Christian with a swivel chair. The Backstage Buddha approves.
WWE Backstage plays the 10 Year Challenge!
They compare Drew McIntyre now in 2020, to when he was WWE Intercontinental Champion in 2010! He looks like a wee babby! McIntyre figures if he shaved his beard, he'd go right back to looking like that. But just so McIntyre isn't the only one being teased, Booker has a surprise! It's RENEE YOUNG 10 years ago on Sportsnet's The Break! "So, NBA. You think you can just come back whenever you want?" Renee was happy making fun of them while it was gone but now it's crawling back into her life like everything's okay. Oh she can't stay mad at the NBA! Renee remembers those days both fondly and yet with embarrassment.
---
My Thoughts:
A really great episode for WWE Backstage! So much great stuff from McIntyre and I loved Greg Miller's promo for Promo School. I almost feel like we need to do coverage of that Nidhogg showdown just so we know how the story ends! And I do have to admit, I agree with things said about Lesnar. He has gotten so good at being the Heel you love to hate, you forget that's the point, and that he is a legit athlete. He may get the titles and the part-time schedule, but in the end it is worth it if you can feel absolute adulation and joy when someone beats him. Or at least eliminates him from a Royal Rumble with a low blow and a Claymore kick. I loved hearing about McIntyre's journey, and I really do hope McIntyre wins at Mania to make his literal decade of hard work pay off.