Andrew's Impact Wrestling Ratings & Analysis 3/3/20
Impact Wrestling is bringing us a smidgen of history! Taya Valkyrie will be challenging Tessa Blanchard for the World Championship!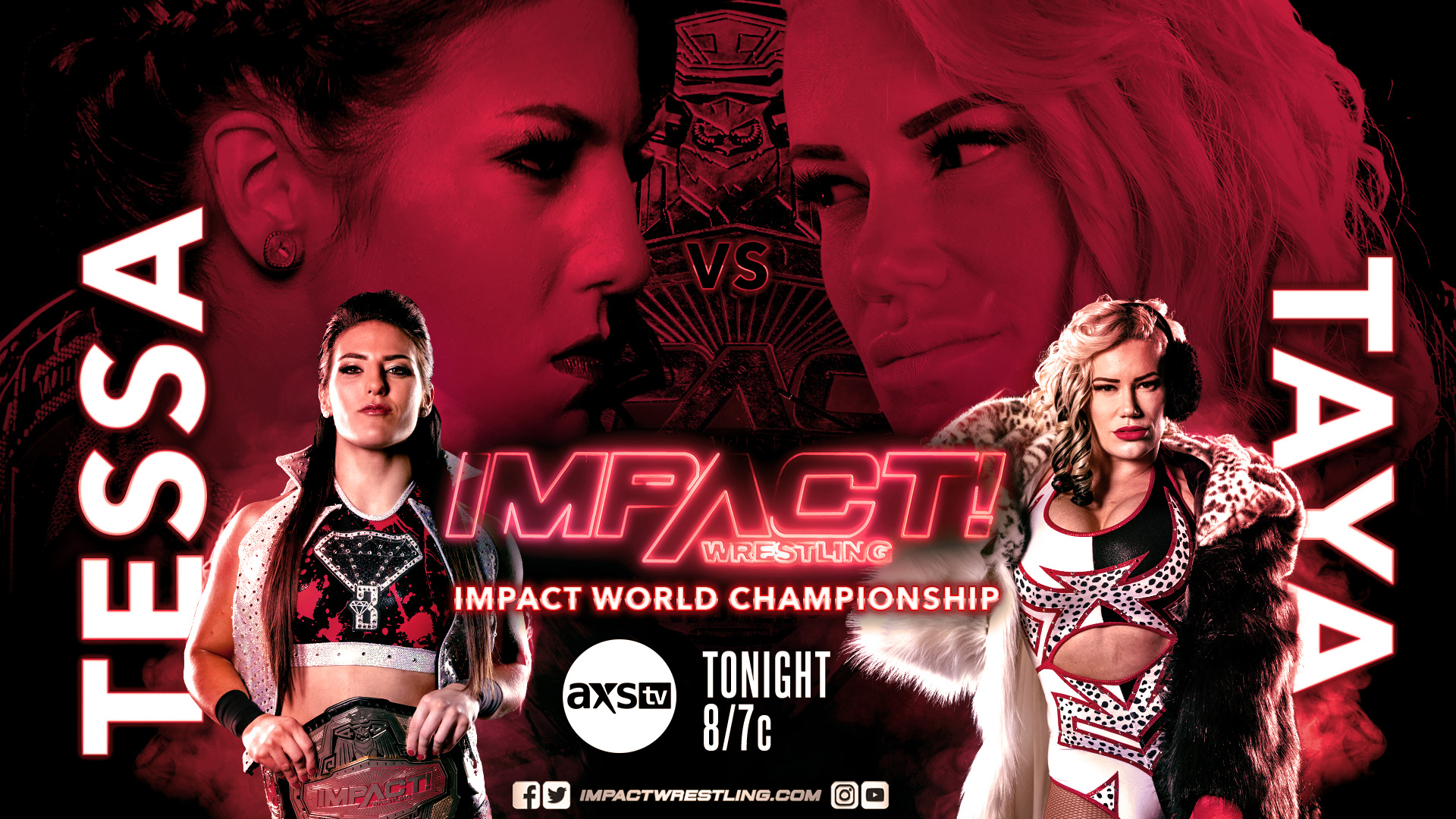 Impact Wrestling is bringing us a smidgen of history! Taya Valkyrie will be challenging Tessa Blanchard for the World Championship!
Tessa being the face of the company, builds excitement to seeing how this match plays out. We also get to see if Su Yung will send Havok to the Undead Realm with James Mitchell.
So there's something for everyone on this show. Speaking of something…here's another ICU code to scan!
What the hell does reality is lost even mean? #IMPACTonAXSTV pic.twitter.com/jGe9oTfVa6

— IMPACT (@IMPACTWRESTLING) March 4, 2020
IMPACT Ratings:
The North (Josh Alexander & Ethan Page) vs Fallah Bahh & TJP: TJP wins via Bridging Sunset Flip Cradle – *** 1/4
Moose vs Petey Williams: Moose wins via No Jackhammer Needed – ** 1/4
Joey Ryan vs Acey Romero: Acey wins via Running Elbow – * 1/2
No DQ: Havok vs Su Yung: Su wins via Mandible Claw/Noose Choke – **
Swing Dancing (Johnny Swinger & Glenn Gilbertti) vs The Deaners (Cody and Cousin Jake): Cody wins via Deaner DDT – ** 1/4
Impact World Championship: Taya Valkyrie vs Tessa Blanchard (c): Tessa retains via Buzzsaw DDT – *** 1/2
IMPACT Analysis:
We're told that Gail Kim will be controlling the Twitter page tonight. 
The North (Josh Alexander & Ethan Page) vs Fallah Bahh & TJP
After two singles losses, we get a tag match; to see if The North can stem the bleeding. They start off by keeping the pressure on TJP and keeping him away from Fallah. But Fallah got the crowd chanting 'Kuya' (which is like big bro in Tagalog); to try and rally TJP. TJP makes the tag and Fallah puts in some solid work.
Fallah fights off Alexander and they have a really solid back and forth. We see some great tandem moves from The North with a Tandem Iconoclasm and Tandem Crucifix Powerbomb. TJP fights out, and they start building momentum. TJP looks like they're about to put away The North, but Page stops the top rope attempt. They try to take out Fallah, but TJP and Alexander are the legal men. So TJP jumps off the top rope, Sunset Flip style on Alexander; with a bridging flourish to pick up the surprise win!
Eddie Edwards makes his feelings clear, if he wins the best of 5 against Elgin next week:
.@Tess_Blanchard is ready for @TheTayaValkyrie tonight but @TheEddieEdwards is waiting in the wings once he's done with @MichaelElgin25. #IMPACTonAXSTV pic.twitter.com/9VzKomiGHC

— IMPACT (@IMPACTWRESTLING) March 4, 2020
Moose vs Petey Williams
Instigated last week by Moose discrediting all things TNA. Petey decides to try and take the pride of the TNA originals at Mr. Impact. The match wasn't bad at all. Moose got cocky and paid for it at times, but Petey going to the Destroyer well at every chance; comes to bite him as per usual lately. A roll-up almost gives Petey the upset, but Moose hits his Spear for the win.
ImpactPlus Amazing Red vs Kid Kash, X Division Championship, April 3, 2003
Madison is in the back doing her Golden Challenge Gut Check…whatever. Kiera Hogan gets in her face, one of the hopefuls steps up to Kiera; so Madison may have a new pet.
Joey Ryan vs Acey Romero
So this match was more just watching Joey Ryan lose his motivation for his gimmick. He didn't oil up, halfheartedly attempted Sweet Tooth Music, and stopped the YouPorn Plex. So Acey took advantage of the distracted Joey Ryan, and picked up the win. The match was plodding and awkward at points; but the wrinkle in the evolution of the Joey Ryan character could be fun.
Swinging…Disco…Balls? Disco and Swinger have a little segment with Willie Mack and serve as amusing comedy.
No DQ: Havok vs Su Yung
Not really sure what I expected here, but I suppose it delivered on expectations. A few cool spots, a neat usage of Su's mist and plenty of screen captures for questionable intent. The finish being Su strangling Havok with a noose while also applying the Mandible Claw…yeah, you're welcome fetish people.
Su tries to send Havok to the Undead Realm via the coffin, but she fights out. 
Vengeance feels hollow for a despondent @WeAreRosemary, the Bunny is still gone. #IMPACTonAXSTV pic.twitter.com/7zJewXleTJ

— IMPACT (@IMPACTWRESTLING) March 4, 2020
Swing Dancing (Johnny Swinger & Glenn Gilbertti) vs The Deaners (Cody and Cousin Jake)
Swing Dancing went with the old school roll of quarters, loaded punches; as they worked over Cody Deaner. Granted they seemed to have more fun passing the roll, than building towards a finish. So after Glenn misses the YMCA Elbow, things start to fall apart. Swinger has Cody held for the punch to the head, but Cody moves; Glenn clocks Swinger and then Cody wins with the Deaner DDT. Entertaining, but not like it was a mat classic.
Impact World Championship: Taya Valkyrie vs Tessa Blanchard (c)
Two women vying for the Impact World Championship is definitely a historical moment. The fact that they've had a rivalry for well over a year; adds to the match mattering for more than cultural reasons. When things make sense with wrestling logic and tap into something going on in society; it's always an interesting moment.
As for the match, this was pretty good. Taya applied a lot of her personality and almost took the match lightly early on; since she thought she had Tessa's number. Tessa started turning the tide with her intensity,quick strikes, and drop kicks; but Taya countered most momentum before any real damage happened. When we get to the finish, John E. tries to interfere on Taya's behalf;malfunction at the junction happens, allowing Tessa the chance to slap on the Buzzsaw DDT.
Overall Score: 7.25/10 
IMPACT was a good show. Bookended with good matches, some nice story progression with The North, Joey Ryan, Su Yung and even Swing Dancing added things to the show. The main event also proved that the two women were in their spots for more than just checking a box; during a time when equality seems to be more of a gimmick than an actuality.
Next week we get the conclusion to the Elgin and Edwards best of 5; and thusly the next challenger for Tessa. Perhaps we'll finally get a new dynamic to the ICU stuff as well. It's most likely Sami Callihan, but the same thing for 4 or 5 weeks straight is getting a little stale.
Still this week was good and allows for anticipation towards next week!
Andrew's Impact Wrestling Results & Match Ratings: 1.12.21
The Go Home to Hard to Kill! After The Good Brothers made an appearance on Dynamite; do we see any new AEW talent invade Impact before the PPV?
Coming off a Genesis event that ended with some nice matches and story wrinkles, we come into the Go Home for Hard to Kill! The Impact PPV that will feature Kenny Omega in the main event.
We will probably see something looking like a end to the feud between Eddie Edwards and Sami Callihan, Cody Deaner gets to work out more of his new persona and we might finally see Joe Doering murder someone! Deonna Purrazzo has her hardest challenge to date with Taya Valkyrie, which could be one of Taya's last matches in Impact if contract questions are to be believed. Rohit Raju and Chris Bey will try to get one step closer to unmasking and unseating the current X Division champion Manik.
Let's also not forget we get the finals for the Knockouts Tag Titles at Hard to Kill! Inactive for 7 1/2 years, we'll get a new champion since ODB and Eric Young! Take a look at the redesigned titles, then lets get to the show!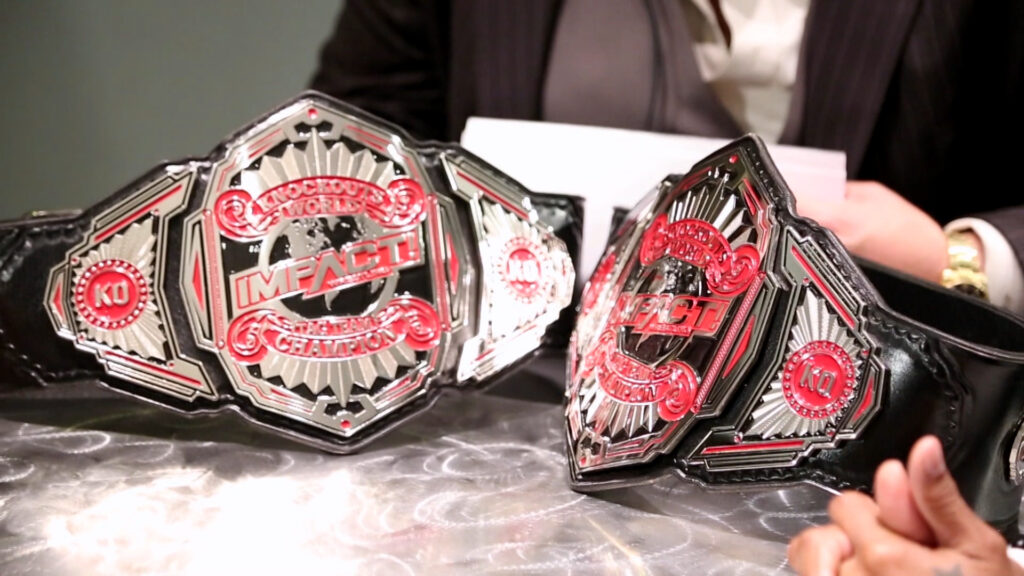 Ratings:
Taya Valkyrie w/Rosemary vs Kimber Lee w/Deonna Purrazzo: Kimber wins via Double Leg Cradle – ** ¾
Rohit Raju & Chris Bey vs Manik & Suicide: Bey wins via Art of Finesse – *** ¼
Deaner w/Eric Young & Joe Doering vs Tommy Dreamer w/Rhino & Cousin Jake: Deaner wins via DQ – *
Tenille Dashwood w/Kaleb vs Rosemary: Rosemary wins via Spear – ***
Moose vs Matthew Palmer: Moose wins via Referee Stoppage – *
Rich Swann vs Karl Anderson: Rich wins via School Boy – *** ½
Results:
Taya Valkyrie w/Rosemary vs Kimber Lee w/Deonna Purrazzo
Kimber comes out with instructions and goes right after Taya. Kimber is one of the few Knockouts that Taya isn't significantly taller or stronger than. Taya kept fighting from the back foot, but Kimber showed some really good aggression and the ability to keep the pressure believable.
Taya started turning things around after she got the knees up to counter a Swanton, but Deonna had a few tricks up her. Taya has Kimber seeing shadows, and Deonna puts her hand on the ropes. Rosemary tries to back Deonna back up the ramp, but before she can do any real damage we see…Susan?!
Susan has Deonna hold her glasses, and she cold cocks Rosemary and they start the beatdown. They hold Rosemary to watch the ring, Taya gets distracted with what's going on outside, so Kimber grabs her, trips her up and sits down into a cradle.
If the cradle wasn't a little awkward/sloppy then this would've rated higher. Honestly not terrible in-ring and story stuff.
.@KennyOmegamanX and The Good Brothers want momentum heading into #HardToKill on Saturday.#IMPACTonAXSTV @The_BigLG @MachineGunKA @TheDonCallis pic.twitter.com/PWyw4BiOSt

— IMPACT (@IMPACTWRESTLING) January 13, 2021
God I hate these stupid paid ads. Tony Khan is not tolerable to listen to, not even from a smarmy heel perspective; he's just an annoying human. Schiavone of course makes this palatable, but Khan is more cringe than uWu voice.
Rohit Raju & Chris Bey vs Manik & Suicide
The heels take it to TJPs two masked personas! Early on it takes the masked marvels a little bit of time to recover, but when they do we see a lot of signature poses and maneuvers. Pump kicks, lead to planchas and springboards and we just get a lot of good fun from Manik and Suicide while Bey and Rohit keep things grounded, aggressive and story driven.
Rohit is hell bent on taking off Manik's mask and that does cost him at different points. Suicide goes for Suicide Solution, but Bey hits the Art of Finesse for the pinfall! Manik avoids the pinfall, but his opponents technically pick up momentum.
Deaner w/Eric Young & Joe Doering vs Tommy Dreamer w/Rhino & Cousin Jake
Well Cody Deaner went full WWE and done lost his first name! It's not a name I would pick, but I guess Cody was already taken by someone else.
While not a bad match to add more interaction between the participants of the 6 man at Hard to Kill, it was really not anything to talk about. Rhino and Doering got caught interfering and thrown out, but then after a few moves Deaner and Jake have a moment. Jake tries to reason with him, Deaner smacks him so Jake takes him out.
Disqualification happens and we get a brawl eventually between all six when Rhino and Doering return.
Tenille Dashwood w/Kaleb vs Rosemary
Tenille applied her usual level of quirky humor to this match. She tried to offer friendship in the beginning, but got sucked in to a little bit of a rag doll from Rosemary. Which continued for a little bit until Kaleb got involved and Hairsprayed Rosemary early in the match.
That gave Tenille a near fall, but the match kept rolling along. Solid action mixed in with Kaleb's own bumbling because he would've been more useful if he put his phone down. When it looks like Rosemary is about to win, Kaleb hits the apron, but Crazzy Steve appears behind him to even the odds. Kaleb manages to sneak the hairspray in to Tenille as Steve runs him off. Tenille is shaking the hairspray but Rosemary sees her, tilts her head and Tenille gets sheepish. Rosemary turns the hairspray on Tenille.
So hairspray plus a Spear equals Rosemary wins. We get a nice little tease to maybe an official Decay reunion. I guess only time will tell.
With The Motor City Machine Guns, @KennyOmegamanX and @The_BigLG all banned from ringside, @GottaGetSwann gets @MachineGunKA man to man tonight. #IMPACTonAXSTV pic.twitter.com/gKTxdGO1c4

— IMPACT (@IMPACTWRESTLING) January 13, 2021
Moose vs Matthew Palmer
This was a match for Moose to prove his sadistic side and take advantage of a weaker challenger that got one over him last week. Palmer gets occasional flurries, but it's not believable. Commentary bills him as out of his depth and he's just an example.
Since the match was intended to make Moose seem vicious and just murder the poor enhancement talent, it did its job. But at no point was the finish in doubt.
Rich Swann vs Karl Anderson
The entire time Kenny's been in the picture, they've put a lot of spotlight on some of Karl's singles accolades in Japan. So it should come as no surprise that Karl actually came in with a plan and dominated for a good portion. Karl focused on the shoulder and it worked really well for him.
Rich was selling and getting caught by Shotgun kicks and a bunch of other moves, but at least proving to be resilient. Rich manages to catch Karl as Karl starts looking to finish things. A few nice strikes, the over the shoulder back kick and finally Swann's got something. Karl does stabilize and look for the Gun Stun, but Rich ducks the Gun Stun with a School Boy Rollup and that's the match!
After the match we get a dressing room brawl between all six heading towards Hard to Kill.
THEY'RE NOT WAITING UNTIL #HardToKill!

A CHAOTIC brawl ensued between @KennyOmegamanX, The Good Brothers, @GottaGetSwann and The Motor City Machine Guns as IMPACT went off the air. #IMPACTonAXSTV @SuperChrisSabin @fakekinkade @MachineGunKA @The_BigLG pic.twitter.com/56r4FcC9CC

— IMPACT (@IMPACTWRESTLING) January 13, 2021
Overall Score: 6.25/10
So this was a mixed bag of either predictable matches or solid to good matches. But the segments between were filler video packages recapping stories, and the fact that we got an old TNA or current AEW finish to the episode of a brawl…just because, it's a played out ending. With that, the episode felt like it was decent, but nothing really special, even though it was a Go Home. To be fair, Hard to Kill probably had all the needed hype off of the card itself, so I'm not sure what more they could've done, but something more clever than a dressing room attack to send us home would've been cool.
Again, this doesn't really take away from Hard to Kill, an the announcement of Eddie Edwards vs Sami Callihan being a Barbwire Massacre match is…okay? I mean the last one Impact did was between oVe and LAX; and honestly, it wasn't that great. I have a little more faith in Eddie and Sami, but death matches are usually all sizzle and no steak in the States. So it doesn't add anything to Hard to Kill for me, but who knows, maybe it peaked some CZW fans attention somewhere.
Hard to Kill should be a good PPV and here's to hoping that there's no awkwardness because it'll be live (they tend to have audio issues or something technical happens) and please no stupidity with AEW talent. If any more show up, I hope it's logical and actually kind of cool.
Andrew's Genesis Results & Match Ratings 1.9.21
The first Genesis since 2018! This one feels more like Destination X since it's all around the Super X Cup! Do we get another solid ImpactPlus App event?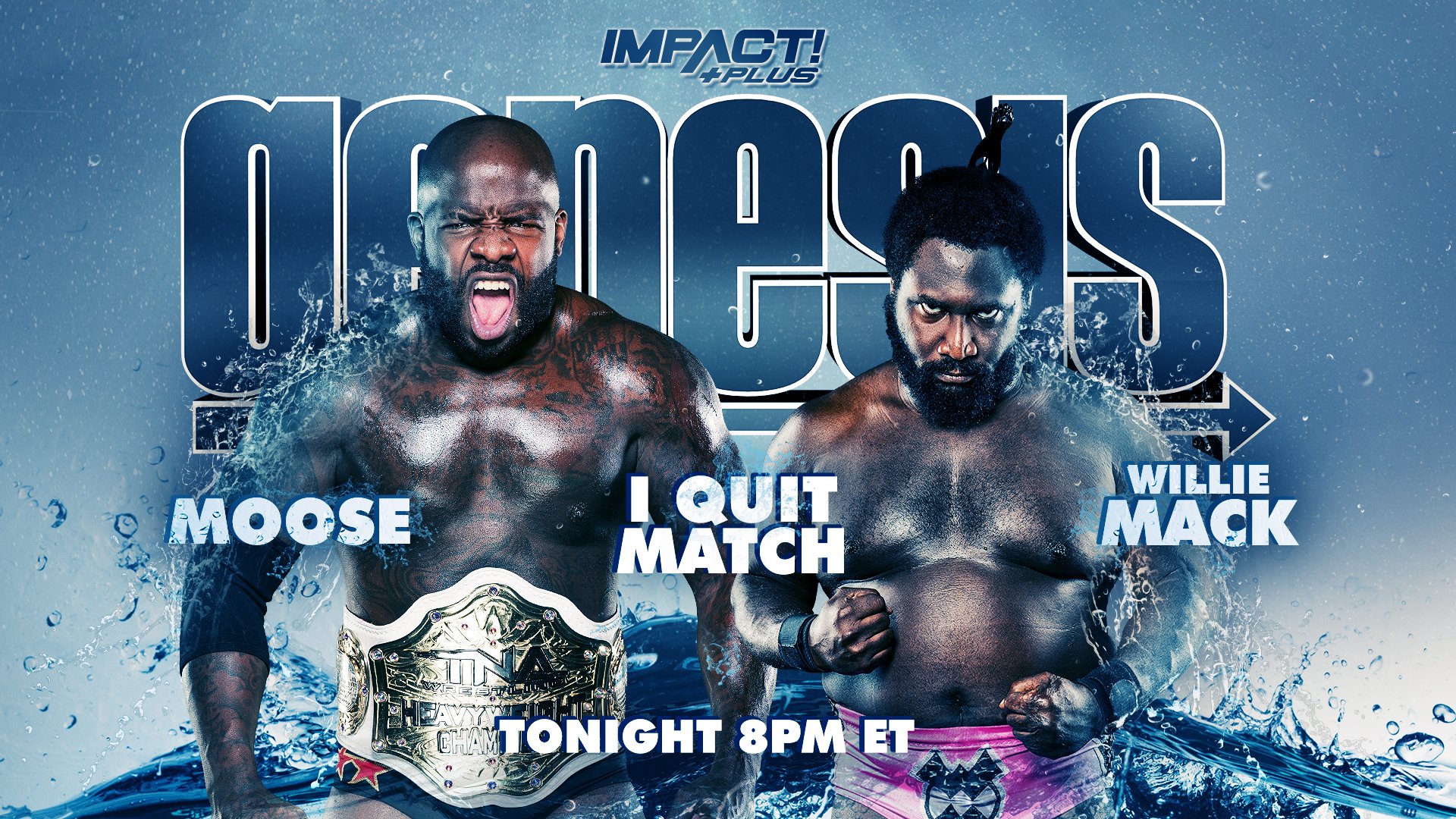 Genesis this year feels like Destination X with having the entire Super X Cup as the main attraction! We also get a generational battle between Jazz and Jordynne Grace. Main evented with the blood feud I Quit match with Willie Mack and Moose!
Now much like I tweeted, Blake Christian is who I'm looking most forward to in this X Cup. He's been a beacon in the murky landscape of NJPW Strong, and he's had decent tournament runs this past year. Ace Austin will most likely win the tournament since he needs something to re-establish himself after a few tough losses to end 2020; but I can still hope for Blake.
Also I've really been enjoying Moose during this whole TNA Champion reign and since his interaction with EC3. He's found a great persona and even stepped up his in-ring ability. So this could be a surprisingly fun event.
Let's find out!
Ratings:
Super X Cup: Ace Austin vs Suicide: Ace wins via The Fold – ** ¾
Super X Cup: KC Navarro vs Blake Christian: Blake wins via Elia – ***
Super X Cup: Cousin Jake vs Daivari: Jake wins via Blackhole Slam – **
Super X Cup: Crazzy Steve vs Trey Lamar: Steve wins via King Kill 33 – *** ¼
Super X Cup: Cousin Jake vs Ace Austin: Ace wins via Springboard Corkscrew Fold – *** ¾
Super X Cup: Blake Christian vs Crazzy Steve: Blake wins via 450 Draping Splash – *** ½
Jordynne Grace vs Jazz: Jordynne wins via Reverse Cradle – *** ½
Super X Cup Finals: Ace Austin vs Blake Christian: Ace wins via Flash Fold – ****
I Quit Match: Willie Mack vs Moose: Willie Mack wins – **** ½
Results:
Super X Cup: Ace Austin vs Suicide
Part of the entertainment is that each X Cup participant get a promo before the match. But for Suicide it was a combination of D'Amore, Sabin and Shelley. So it was nice for some inside baseball, like Sabin saying he's pretty sure it was Christopher Daniels and still might be!
As for the match, it starts off with Ace not realizing who he was facing. He tried to do the paper cut, but Suicide wears gloves so it didn't do a damn thing. The action was back and forth with a lot of Fulton making his presence known but not physically getting involved, just being a constant distraction.
Hard to really say more than this was just decent back and forth, some nice spots, but Ace gonna be a heel and win thanks to a distraction from Fulton and then The Fold. So to no one's surprise, Ace wins the first round.
Super X Cup: KC Navarro vs Blake Christian
The promos in the beginning really helped show Blake as the typical humble white meat babyface, and Navarro as the brash mouthy arrogant one. No one is really a heel, but Navarro came in with a Pringles can on his shoulder.
Early on we see Navarro trying to prove to Blake that he's just as good, if not better than him with mirroring certain moves. Then we get some solid Junior style action with Blake doing a lot of standing acrobatics from Shooting Stars to Planchas, and Navarro was looking for openings. Blake's style is very calculated Junior risks, and I love how he throws the hesitation Dropkick to a seated opponent. Navarro did well enough, but he was always punching a little above his weight.
Super X Cup: Cousin Jake vs Daivari
This was a match that Jake needed since Cody got some character progression and he got left behind.  The issue comes from the fact that this was a slower more classic style of match; which didn't really work super well with the fact the first two were faster paced in the same tournament.
Slower work where Daivari took advantage of positioning and Jake's over eagerness at times, but he started working on the legs too late. Jake had enough power to hit the Blackhole Slam and pick up the win.
Super X Cup: Crazzy Steve vs Trey Lamar
Trey did really good comedy work in this match. Crazzy Steve's antics kept him rattled, the stuffed monkey had him freaked and Steve used that to his advantage. So early on there wasn't much wrestling, but good entertainment.
Trey really showed up in this match. Steve had a few bigger moves than usual, like the Avalanche Russian Leg Sweep and a grounded Cobra Twist, but Trey was the star in defeat here. He looked great, his facials were solid (except for a weird tongue flick he did while having Steve in a headlock). But either way, this kid could be something special.
Super X Cup: Cousin Jake vs Ace Austin
Finally we get a great meshing of styles, with a little bit of a hint towards a possible future encounter with Madman Fulton and Cousin Jake. Watching Jake's power and Ace's ingenuity was fantastic. Buckle Bombs, catching Ace out of midair, big Slams and Michinoku Drivers, but the fact that Ace won with a variation on The Fold was really great from him.
This is just a really well wrestled match, Fulton did a great job playing bodyguard and not being as obnoxious in the wrong spots as the first match. Great stuff.
SPRINGBOARD FOLD SENDS @The_Ace_Austin TO THE FINAL! #Genesis pic.twitter.com/WM68LvHG4H

— IMPACT (@IMPACTWRESTLING) January 10, 2021
Super X Cup: Blake Christian vs Crazzy Steve
Steve utilized a different part of his crazy kit here by interacting more with his monkey than his opponent. Lots of conversations and even a friendly hug between Steve and Blake.
Blake seems slightly confused but it doesn't really throw him too far off. Things start slow until Blake accidentally kicks the monkey out of the ring. Then Steve goes a little crazy…err…crazier? Steve did a great job in helping to display Blake's kit, a nice Split Legged Moonsault and the 450 he used as the finish. Blake looks like a solid challenge for Ace, but you gotta wonder if they're gonna continue breaking down Ace or if this was manufactured to get him some momentum.
450 SPLASH IN THE ROPES SENDS @Air_Blake2234 TO THE SUPER X-CUP FINAL! #Genesis pic.twitter.com/AGXXCzLgrY

— IMPACT (@IMPACTWRESTLING) January 10, 2021
Jordynne Grace vs Jazz
Things start off respectful, but then both women get to slugging it out. Some powerful charges to knock one another down, haymakers and we get a nice women's Hoss fight. Jordynne has an early advantage, but Jazz trips her up on the apron, then starts laying forearms across her face and just dominates for a few minutes.
Jordynne manages to absorb a Butterfly Suplex and stop the follow up move, sweep the leg and now we get some high impact attacks from Jordynne.  Spinebuster, Vader Bomb, an Aja Kong style backfist, and really great power couldn't quite finish off Jazz. Jazz drops Jordynne on her face (on purpose) and it's really close in the waning moments of the match. Jazz runs Jordynne into the ropes, O'Connor Roll, Jordynne rolls through and picks up barely a 3 count! Hard hitting, and pretty fun honestly.
Super X Cup Finals: Ace Austin vs Blake Christian
Blake comes out holding his ribs, reminiscent of the Lion's Break Tournament, so even though I would like Blake to win; it's leading more to an Ace win.
Surprisingly, this is a hell of a match. Ace was on the receiving end of a ton of offense, even when there was a dodge, it was close and cool. Big high flying attempts like Corkscrew Sentons, 450 Splashes, Blake went for Elia again and missed. There was a really solid locomotion cradle spot, which has a small hitch but not enough to look sloppy.
At the end we see Ace go for the card, but Blake grabs the hand and crumples it between. They go back and forth trying to push one another off with their legs, in that Lucha rolling arm lock spot. But as Ace pushes back, Blake stands, and before Blake can do anything; Ace follows the momentum, twists and hits The Fold for a win out of nowhere.
This was a tremendously great match, showed a lot for Blake in the loss and validates some of Ace's ego returning.
I Quit Match: Willie Mack vs Moose
This had all the tones and feelings of the grudge match that it was. Willie and Moose went hard early, kept trying to intimidate one another and get in each other's heads to get a quick quit. But this was not going to be over quickly and it was paced well, and the moves were meticulous, and the way they went from calling the referee in early to pushing him out of the way; just trying to inflict more damage was great.
Moose hit an Avalanche Go To Hell through a table, but Willie wasn't going to die. Willie got some momentum a bit later, told Moose he'd have to kill him and that was a bit of foreshadowing. Moose was covering the TNA title belt and just chucked it at Willie's head to give himself some space. Moose did make a reference to his EC3 match when he flipped off Willie right before a chairshot, but the point was the ending. Moose takes control, wraps the chair around Willie's neck and goes to kill him, chair into chair style.  Rich Swann runs out and screams "What do you want", Moose stares at him blankly and Rich says he'll give him a title shot if that's what he really wants, just stop the madness. Moose puts the chair down, and says "Thank You, I Quit".
Overall Score: 8/10
This card did a great job at slowly building up. First round matches got us to where we needed to be, and they were mostly serviceable. Jake looks to still be reeling, which makes for a solid story of him finding his stride and figuring it out through the year. Blake Christian is a damn star, even though he was runner up, he stood out the most. Ace gets back on track, but we need more Blake in Impact Wrestling.
Jazz definitely brought it tonight as well. The finish was close enough to still leave a small question, but she threw the stiff shots and made that match a hell of a fight. Moose however, proved why he was the main event and also why he's one of the most improved wrestlers of the last year or so. Moose was never bad, but always lacked something and needed others to bring him to a good match. We got a grudge match, fantastic violence and the fact that Moose had a very specific goal, so once he got what he wanted, the match no longer mattered and he ended it on his terms. Just complete genius.
Surprisingly great ImpactPlus event from Impact Wrestling. Now we get to see if Hard to Kill lives up to Genesis!