Bandwagon Nerds #18: Everything Sucks & There's Nothing To Do
Dave & Patrick are joined by PC Tunney to discuss the impact of the Coronavirus on the world of entertainment. Plus, Episode 2 of Locke and Key!
Dave & Patrick are joined by PC Tunney to discuss the impact of the Coronavirus on the world of entertainment. Plus, Episode 2 of Locke and Key!
Join Patrick O'Dowd and David Ungar and a rotating cast of guests including PC Tunney and Rick Lachney (when he actually shows up–which is never) as they keep everyone up on all things nerd, and maybe add some new nerds along the way. It's an all new edition of the Bandwagon Nerds Podcast!
Today on the Bandwagon, Patrick, Dave and Tunney wrestle with the ramifications of the COVID-19 crisis.  They look at how the decisions of the government and various industries have impacted their lives and what they think it means for entertainment over the coming weeks.  They do find time time to discuss episode two of Locke and Key.  Finally, the nerds take some time to look at the good that is being done by some as the country grows closer and closer to a full-on quarantine… including how they see their role moving forward.
Bandwagon Nerds is presented each Tuesday as part of the Chairshot Radio Network, exclusively at The Chairshot Dot Com!
The Chairshot: Always Use Your Head
Bandwagon Nerds #108: Skynet's Coming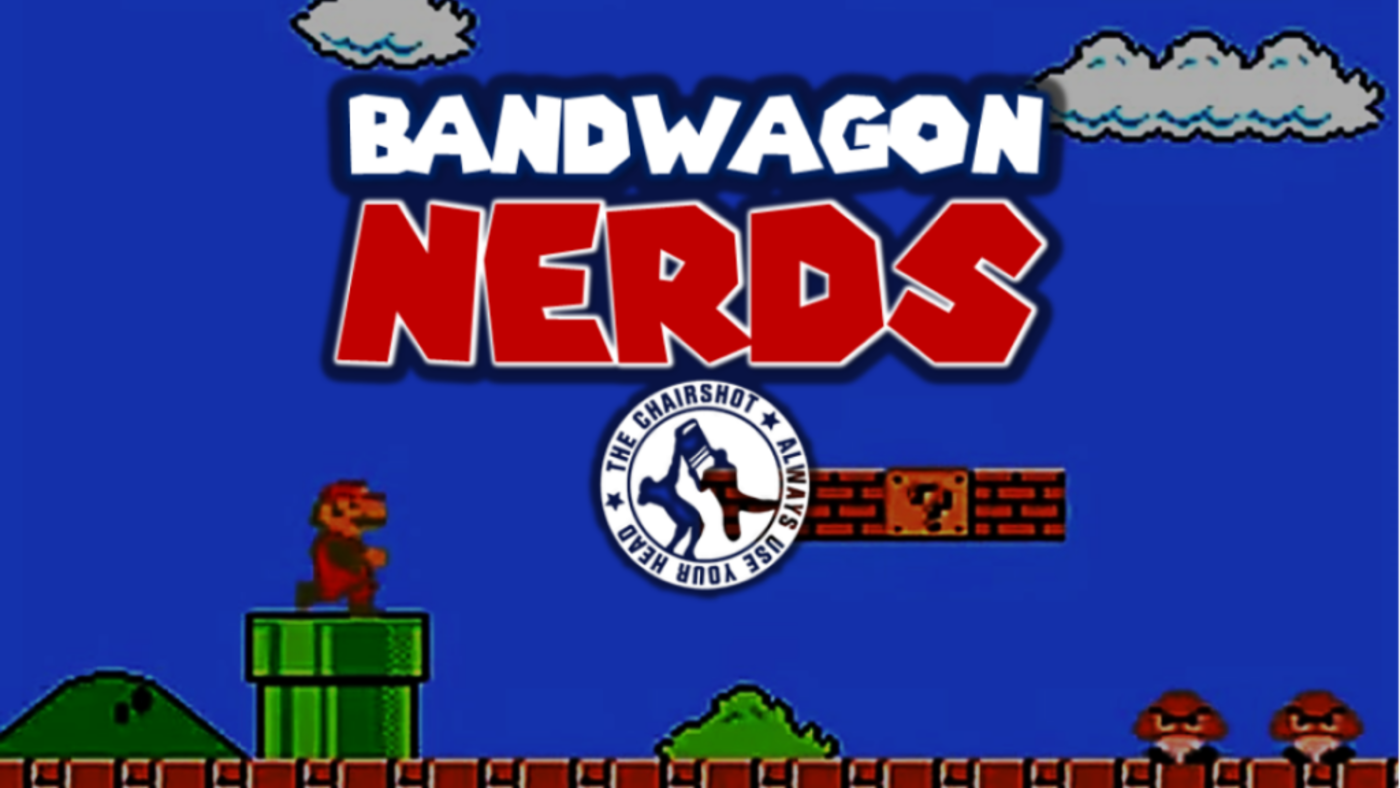 Patrick returns to find a packed Bandwagon after a week off.  Christopher Platt returns along with PC Tunney, Dave Ungar, Rey Cash to cover the week that was in the Nerdosphere.  Patrick, Dave and Tunney continue their coverage of Locke and Key.  They guys return to the Trailer Park this week, highlighted with a review of the first trailer for Spide-Man: Across the Spiderverse! In News around the Nerdosphere, scientists have created robots that can reproduce on their own.  Are the machines finally taking over?  Plus, Halle Berry signs a big movie deal with Netflix and what's up with Hawkeye's streaming numbers?
@WrestlngRealist

@AttitudeAgg
@itsReyCash
@PCTunney
@therealcplatt
@ChairshotMedia
About Bandwagon Nerds
Join Patrick O'Dowd, David Ungar, PC Tunney and Rey Cash as they keep everyone up on all things nerd, and maybe add some new nerds along the way. It's the Bandwagon Nerds Podcast!
About the Chairshot Radio Network
Created in 2017, the Chairshot Radio Network presents you with the best in wrestling and wrestling crossover podcasts, including POD is WAR, Women's Wrestling Talk, The #Miranda Show, Badlands' Wrestling Mount Rushmores, The Outsider's Edge, DWI Podcast, Bandwagon Nerds, the Greg DeMarco Show, 3 Man Weave, Five Rounds, Turnbuckle Talk, Suwama's Station, The Reaction and more! You can find these great shows each week at theChairshot.com and through our distribution partners, including podcasting's most popular platforms.
---
The Chairshot Radio Network
Your home for the hardest hitting podcasts and radio shows!
Listen on your favorite platform!
iTunes  |  iHeart Radio  |  Google Play  |  Spotify
Listen, like, subscribe, and share!
---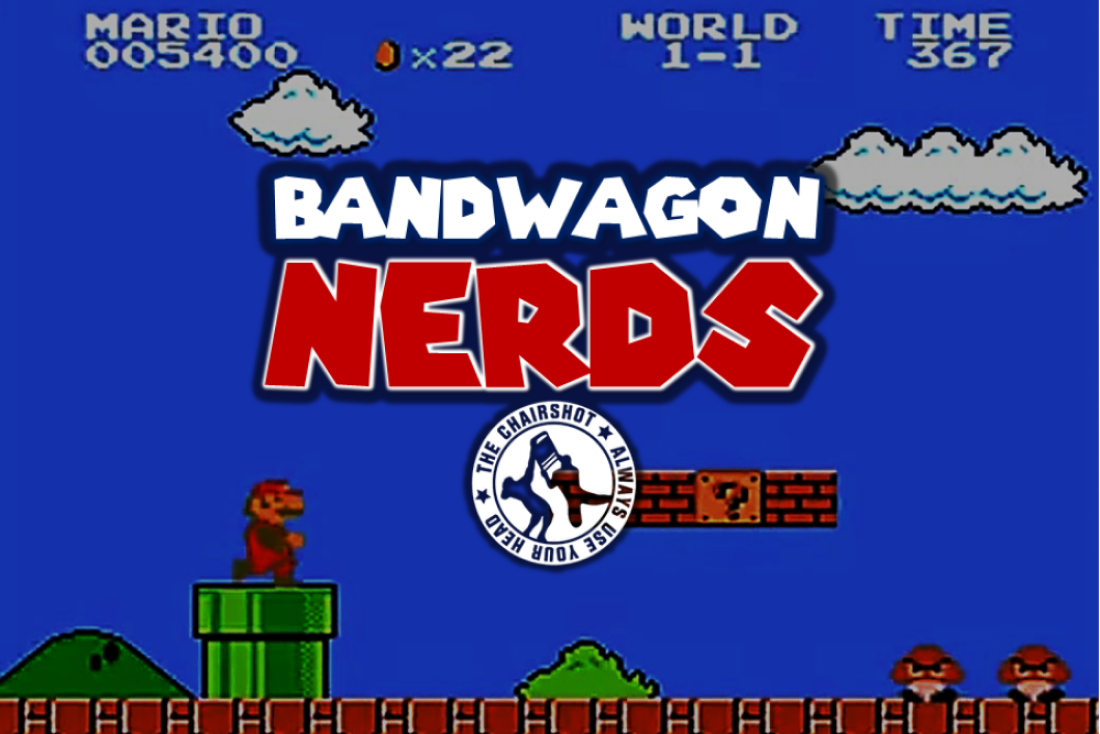 BWN Nerds' Review: Hawkeye: Episodes 1 & 2(2021)
The Nerds are of course right on top of all things Marvel. Is Hawkeye starting strong or will it be a mixed bag like most of the other Marvel series this year?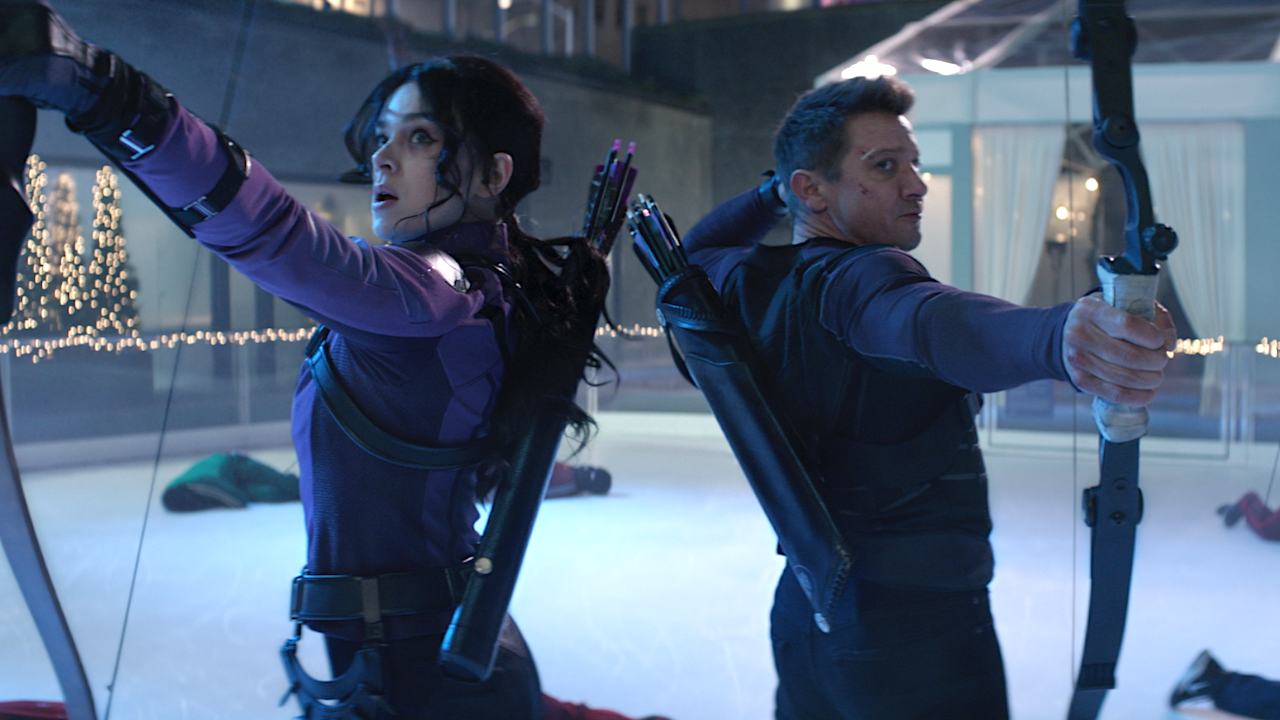 Welcome to this week's edition of the Nerd Review!  Every week the Nerds give you their take on entertainment from the Nerd-o-sphere.  This week, Patrick and Dave review Episodes 1 and 2 of the MCU Disney+ miniseries Hawkeye!
The Show:  Hawkeye
What's it About:  Stil struggling to rebuild his life after the battle with Thanos, Clint Barton is spending Christmas in New York with his children. When someone is spotted fighting crime in the guise of Barton's dark alter ego Ronin, Clint knows he must take action. Barton finds himself facing his past demons and mentoring a new hero.
IMDB Score: 8.1/10
The Nerds' Take on Hawkeye (2021):
Dave: The Nerd Review returns to the MCU for the next few weeks as we offer our thoughts and opinions on a series that Rey Cash was so excited about he could barely contain himself….Hawkeye.
Rather than do a blow-by-blow recap of the first two Episodes, let's focus more on what this series is really all about: The passing of the Hawkeye torch from Clint Barton to Kate Bishop. In many ways, this series is right in the cross hairs of a surprising amount of MCU backlash we have seen recently. The root cause of that backlash is a relative impatience on the part of some of the viewing public to move beyond the characters they know and love from the Infinity Saga and accept the fact that Marvel is telling a different story with new characters in familiar roles. This, as noted in my review of Eternals, was a key factor that had led to some poor reviews for that movie. After just two Episodes of Hawkeye, we are hearing some of the same sort of refrain.
As a character, Hawkeye is very similar to Black Widow in that his story has not really been told, at least not in any sort of detail. Those of us who are comics fans know that Hawkeye's story is a very deep, branching, and fascinating one. True enough, the MCU's version of Hawkeye is the more family-oriented version of the character. Still, there seems to be a lot of backstory that had not been presented as of yet.
Then, running parallel to this, is the story of Kate Bishop, Clint Barton's successor. The first two Episodes introduce us to Kate. We get to see how the Chitahuri invasion of New York from 2012's The Avengers dramatically altered her life and how Hawkeye became such a huge influence on her that day. We learn that Kate is a martial arts expert and a world champion archer in her own right. Early on, we get to meet Kate's mother and, more importantly, her fiancée Jack Duquesne, who we know from the comics as the villainous Swordsman. Duquesne's sword skill is on full display in an impromptu fencing bout between he and Kate. Before that happens though, Kate goes into stealth mode to discover that Duquesne and his uncle were taking part in a black marker auction where, of all things, the Ronin sword and Ronin costume were being auctioned off. Kate ends up donning the Ronin outfit and kicking a lot of ass. But, when Clint sees video of someone running around with the Ronin costume on, the impact of this visual is so powerful that he has to intervene, even at the expense of spending Christmas with his family.
Keep in mind, that is the first Christmas together for the Barton family since the unfathomable events of Infinity War and Endgame. Clint clearly is suffering from a form of PTSD from the horrific things he did while he was wearing the Ronin costume, not to mention the death of Natasha (Black Widow) Romanoff. Nat's death clearly still haunts him and this is evident when he sees her character being portrayed in Rogers: The Musical, a musical, albeit historically inaccurate, portrayal of the Infinity Saga. So, Clint has to go and track down who has stolen the Ronin costume and, more importantly, why? This leads him to Kate, just in time to rescue her from the Tracksuit Mafia. Clint knows the rabbit hole goes much deeper here and he allows himself to be caught by the Tracksuit mafia. Luckily for Hawkeye, the Tracksuit Mafia is as inept as a platoon of Stormtroopers and this allows Clint and Kate to make a getaway. Episode 2 ends with the apparent introduction of Echo and a definite curiosity as to where we are heading next.
Any criticism directed at these first two Episodes seems very petty. These were both very enjoyable Episodes and very necessary to establish some credibility for Kate Bishop as a character who we can not only care about, but who can command a certain level of respect as she, presumably, replaces Clint Barton in a new version of the Avengers. Kate is fearless, but still naïve as to certain things. She may be over-confident to a fault. Then again, the same can be said for Clint Barton. Clint has every intention to walk away from the whole situation but it becomes quite clear early on that is not going to happen. This is made all the more powerful by the knowledge that Clint just wants to get back to his family for Christmas but, alas, the life of a super hero is never that simple or easy.
Episodes 1 & 2 are very good, foundational Episodes. We are not really world building here so much as we are character defining. As far as getting people up to speed and interested in Kate Bishop, then Episodes 1 & 2 more than pass the test. I always go back to, was I entertained, and did I want to see what happens next and, on both fronts, I answer with a resounding yes. As I said at the outset, judging any of these MCU series off of 1 or 2 Episodes is just kind of dumb, as we have learned from WandaVision, Falcon & Winter Solider, & Loki. Hawkeye is no different. There is a lot of really cool stuff that is likely going to happen over the next four Episodes. As far as selling me on the whole concept, Episodes 1 & 2 were highly successful.
Dave's Rating:  4.25/5.0
Patrick:  There has been a plethora of new content dropping all around the Nerdosphere in November and early December. In fact, there has been so much content the Bandwagon doesn't have enough time on the podcast to fully review all the shows we would like to review. This is what led to today's (and the next four) review. This week, we begin our weekly review of the Hawkeye miniseries on Disney+. This tale sees Jeremy Renner return to the MCU as Clint Barton as Clint tries to move on from his superhero days after the battle with Thanos. While spending time with his children in New York City, Clint sees a news report where someone dressed as his vigilante alter ego Ronin flees a crime scene. Upon investigating Clint learns his old costume was "acquired" by young Kate Bishop (played by Hailee Steinfeld).  Kate just happens to be enamored with Hawkeye because he saved(unknowingly) Kate's life when she was a child during the Battle of New York. Unfortunately for Kate, the Ronin made some enemies while active and one group of enemies known as the Tracksuit Mafia wants Ronin's blood.
These first two episodes of the series are all about building a foundation for the story. Renner does well in the first episode of showing the Clint is still not completely past the events of Avengers Endgame, particularly when it comes to memories f his closest friend Natasha Romanov. Renner also does a great job of showing Barton's discomfort with his status as a hero. Clint wants little recognition from the public, even awkwardly attempting to refuse a comped meal at a restaurant. This is contrasted by Steinfeld's Bishop. After witnessing Barton in action, she does everything she can to train herself to become a superhero. Steinfeld plays the role of rebellious youth very, very well an brings an energy to the role that acts as a very nice counter point to the dour Renner.
And it's the interplay between Renner and Steinfeld is going to carry this series. It is clear that the design of Hawkeye is to continue the transition into the next generation of Marvel heroes.  Kate will be the next Hawkeye and this series is going to show us how. We know Bishop and Barton will eventually bond, but there will be work getting there.  In these first two episodes the audience sees the clashing of two generations in Renner and Steinfeld as the two work together to try and recover a stolen Ronin costume. Steinfeld's Bishop is wide-eyed and horribly naïve, yet she also recognizes what it takes to succeed in 2021. Steinfeld appears to be taking a great amount of joy playing this character and it reflects well on the screen so far. It is clear that Barton is supposed to be taking on more of that world weary hero mantle, but at times I did find Renner's portrayal a little wooden and less engaging.  Perhaps he was resentful over having to LARP? Who knows? I do have faith in Renner that this will change over the course of the series. Both Steinfeld and Renner still seem to be finding their footing in these first two episodes, but there is time for them to find a groove.
I would be remiss if I didn't also acknowledge the great Vera Farmiga as Kate's exasperated mother Eleanor. Vera does a terrific job portraying an affluent, single mother trying desperately to connect with her daughter, no matte what kind of trouble she causes. There is also a strength in Eleanor that Farmiga brings to the fore as she navigates high society functions and getting engaged to enigmatic philanthropist Jack Duquesne, played by brilliantly by Tony Dalton. Dalton plays Jack as a smarmy, sleazy phony that everyone seems to see through except Eleanor. It really is my one problem with Eleanor. Here's this smart, confident, wealthy woman getting sucked in by a guy who anyone with eyes can tell is shady at best. I hope she smartens up over the next four episodes.
Ok, so review time. As I mentioned above, these first two episodes are really all about building some foundations and relationships. Episode one in particular is all about catching the audience up on Barton's life and introducing the audience to Kate Bishop and her motivations.  Episode two starts the two on their journey together.  They will bond, fall apart, and ultimately come together positively to move the Hawkeye legacy forward.  These opening episodes serve their purpose well, but I won't say they are in the same ballpark as WandaVision or even Falcon and the Winter Soldier, but the opening of episodes of Hawkeye are solid in their own right.
Patrick's Rating:  3.86/5.0
Overall Nerds' Rating for Hawkeye (2021) : 4.05/5.0