Mitchell's WWE Backstage Report! (3/10/20)
WWE Backstage is Phenomenal!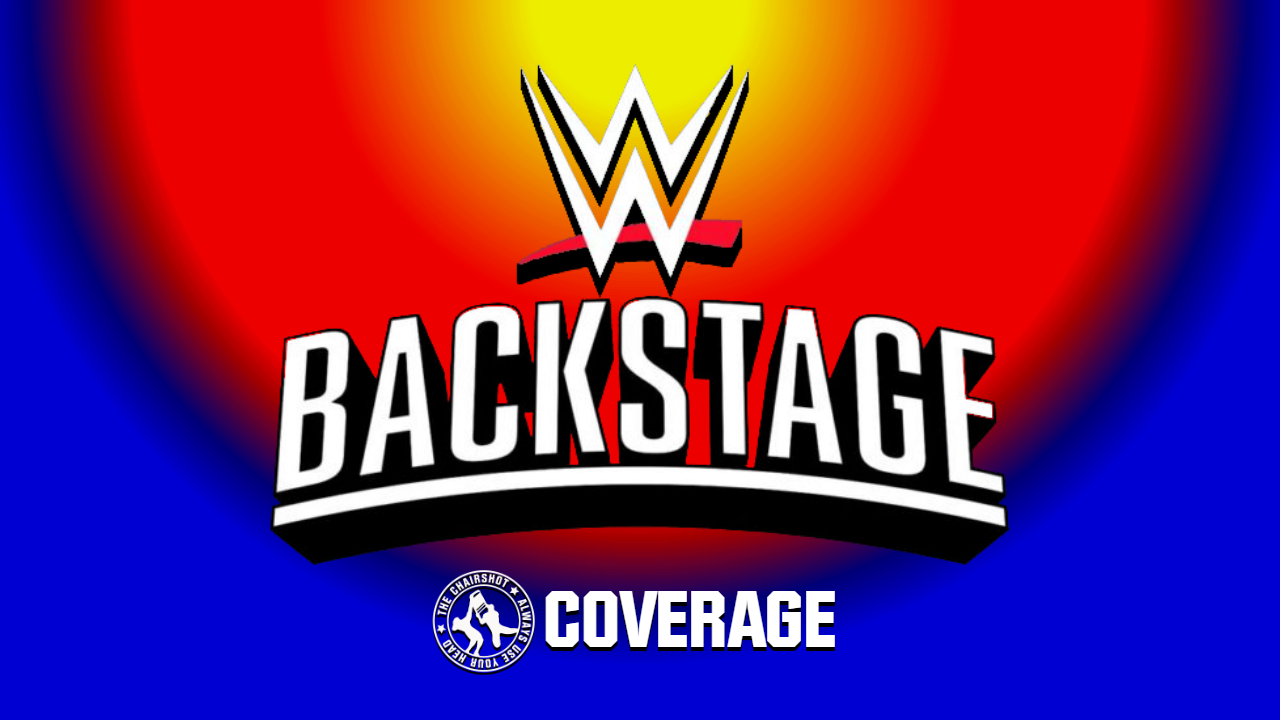 They don't want none! Nope, they don't want none!
WWE Backstage gets Phenomenal as AJ Styles joins the panel! What will he have to say about his increasingly intense feud with The Undertaker?
Renee Young arrives to Fox Studios.
But she parks in a no parking zone and almost runs over a stage hand! Wait, she can, because she is running late after her flight got cancelled and the drive was 16 hours. Please park that for her, though. And then she enters through the "PLEASE KEEP DOOR SHUT" door for loading and unloading only. Hopefully no big wigs see this…
Renee makes her own entrance onto WWE Backstage!
Just in time! Booker helps Renee in as she explains why she was running late. She hugs Booker and welcomes back Ember Moon and Xavier Woods to the show! Ember's rocking a sunset gradient for her hair and Woods has a very golden jacket. But with not even a month left until WrestleMania, Backstage gives us…
Just the Highlights!
For Elimination Chamber: Obviously the Chamber matches themselves are highlight reels! The Golden Lynx learned how to fly (or at least fall with style) while Otis crashes through a pod and OUT of the Chamber! But in the end, STILL SmackDown Tag Team Champions: The Miz & John Morrison! AJ Styles was shocked to see Undertaker show up again, and after a Choke Slam and a Black Mass, the Phenomenal One would Fade to Black. Kevin Owens showed up more as a fan than a competitor, and Seth Rollins' rage kept him and Murphy from winning. STILL your Raw Tag Team Champions: The Street Profits!
And last but certainly not least, the Queen of Spades tore through everyone in the Women's Chamber match. Natalya, Sarah Logan, Ruby Riott, Liv Morgan and even Asuka would pass out, leaving Shayna Baszler standing tall towards WrestleMania!
For Raw: The Phenomenal One was furious! And he called out Taker in the biggest way possible: using his shoot name, "Mark Calaway!" Styles wants to make the "broken down old man" rest in peace! And the Rated R Superstar returned again! MVP talked too much trash and got a SPEAR for it! The Viper tried to strike but Edge would steal the RKO! And then give MVP not one but two Conchairtos! Is Edge saving the third chair shot for Orton?
The panel discusses the WWE's past few days.
First and foremost, the dominant performance by Shayna Baszler in the Elimination Chamber and how she is now poised to take on The Man. Booker knows Shayna is highly touted from NXT, but there's still quite a gap between being big in Full Sail and shining in the spotlight. Shayna ran the gauntlet and took the spotlight. Booker has been in such positions, and he is giving Shayna a benefit of the doubt. There is a lot left unknown, but after we get Becky VS Baszler 1v1, it will be the people that determine what works.
Renee feels this isn't a question of Shayna's star power, it's just the timing. To be catapulted to the spot, how does this affect Shayna? Woods says that Shayna was so dominant for the first time in that Chamber, and hasn't been part of Raw for very long, that she better be ready to be thrust into this position. Ember knows Shayna from NXT, and there is something different in Shayna compared to everyone else. Shayna is trying to take that dominant position and leave no doubts. Shayna dominating the Chamber wasn't that different from how she dominated NXT. It's not asking if Shayna is ready but if Becky is ready. Shayna's already very accomplished, especially in MMA and catch wrestling, and people might be underestimating her.
Renee then poses it like this: Shayna is not a kid, not a rookie, not a stranger to this position. If she wasn't as exposed to things as she is, maybe that changes things. Ember agrees, and Booker says it's even more than that. Booker says the WWE is looking for a female star to strap a rocket to. Shayna deserves this shot. It will be hard to hold onto the spotlight, so there's still that question mark. Renee adds that Shayna may not have Ronda Rousey star power, but just looking at her, is her legitimacy just a layer of "coolness" added on?
Ember notes that people forget that Shayna was wrestling on the indies before WWE and NXT. That experience is a very important detail. Shayna has had to figure out how to make it in wrestling, she has those tools now, and she knows what she wants. Becky is in serious trouble because of how unique Shayna is with her catch wrestling style. But Shayna isn't even trying to be more than what she is, and that is "an extreme badass." Booker still wants to know if that translates to "behinds in seats." Ember feels it will. Fantasy booking right now, Ember predicts Shayna winning and putting Raw on notice! Ember may have lost her mind but it's the truth! Will this Prophecy of Flame pan out?
Shifting gears, Renee brings up Styles tearing into Taker with his promo! No more "mythical monster," just a "broken down old man." Style was shooting hard on Taker and real-life wife Michelle McCool! Styles vows to run Taker into the ground! What does everyone think about those harsh words?
Ember says Styles can do no wrong. Woods is hurting because Styles is attacking the nostalgia! Those words cut deep into Woods' soul! Taker is "the last one we have left!" The last sacred thing in wrestling! Ember says we need new sacred things, and that starts with Styles. Ember is a huge fan of both men, and this is a money-making dream match! It doesn't matter what is said, Ember wants to be front row to shout at them both, "Hit him!"
Renee asks if "humanizing the Undertaker" might be a step too far. Booker says that Styles taking his moment is what this business is about. Styles took a long time to get to the WWE, and then he dominated! Now, to step to the Undertaker is a stamp on Styles' legacy. To go and mock Taker was something you're supposed to do! But we still have three weeks until Mania! Woods says there is going to be three more weeks of this, and Styles surely understands Taker isn't around much. Everyone in the locker room wants this moment, and Styles found his way to get Taker to come to him. Booker says that's because Styles is talented. Booker even feels Styles is the most talented guy in the WWE today! And he's not just saying that because Styles is Backstage.
Renee agrees that everyone wants after Taker, but everyone also wants after Styles. This is a dream match, for sure. Ember speaks to idolizing Styles and you can see it in her moveset. Thanks, AJ! What about Booker? Oh yeah, she uses his moves, too, but makes them better. OH~! But at the same time, Styles has been around a long time. If you don't think he has something up his sleeve for Taker, especially with the attacks Taker's been doing, think again. Styles will join Backstage later on, what will he say about all this talk?
But now, to the even more intense story on Raw: Edge and Orton! The Rated R Superstar's newest return was thirsty for revenge! Poor MVP. MVP just wants to get his money, get a stable together, but he did mess up talking bad about Beth Phoenix. You can't put stank on words like "wife" and get away with it. Renee is also very curious about the MVP faction. Ember thinks it was a ploy to get back that inflatable entrance tunnel. We all know MVP had to give that up because of bankruptcy. Booker says that MVP was the perfect person for the job. But MVP does have a lot of knowledge, and what he did in that segment might be small, but it works so well in the big picture. The locker room needs to understand that.
Renee moves to specifically Edge and Orton. Did this get everyone even more pumped for the inevitable Mania match? Ember says yes. She wishes this segment opened Raw, because Ember was waiting to see what Edge was going to do. She also wishes they didn't just give away his return. Yes, ratings, but MVP starting off with his open call, and then Edge just shows up, gets out, calls out Orton, and we get the same things as we did last night. Ember loves the angle and they can do no wrong, but still. Booker adds that Edge is like John Wayne. Hopefully you younger folk know who he means. Of course Woods and Ember know about John Wayne! Booker is old, but they're not that young.
But Booker's point is that Edge should be limping into Mania, like it's the 13th hour. Everyone wonders if Edge can even show up, and he does and performs. Edge is a high commodity, he has star power, he needs no build up. The music alone makes you go nuts. If Mania had it where no one knew if he'd show, and then he does, "Oh mah GAWD." Imagine the roar! Road Warriors '86 levels!
AJ Styles speaks.
"You mother lovers are in for a treat!" Because when WWE Backstage returns, he's going to make it Phenomenal! He's more than ready to talk about his Road to Mania, and a showdown with Taker. So stay tuned. Especially you, Michelle McCool.
WWE Backstage returns with AJ Styles!
He joins Renee and Woods in the ring, and even does some quick sparring with Renee. Surprisingly, Styles and Woods don't have something like that despite knowing each other longer. Renee says her New Year's Resolution was getting Styles on the show. Woods' is to not fall asleep on the toilet. Too much mobile gaming in the bathroom.
But Renee brings up that fired up promo from Raw. So many people are talking about it. Styles feels he didn't say anything the fans wouldn't have said. But that's the shock factor of it! The "retirement" after losing to Roman, and then he came back? Styles does have respect for Taker and what he has done for the industry, so hopefully this match happens. Woods says the biggest thing was that no one has talked like this to Taker ever. What was the impetus behind that? It was Styles just wondering, who is he talking to? The Undertaker or Mark Calaway? The American Badass and Limp Bizkit? Or the Dead Man? Styles is going after every single one of them! He's after the guy who thinks he can choke slam Styles in his ring! Taker's gonna pay the price! Styles is on a roll, now he's going to rock!
Renee likes the fire Styles is showing right here. But the match with Taker, Styles has already done just about everything else there is to do in the industry. Was Taker on his bucket list? Of course! It has to be on everyone's bucket list, really. It's the Undertaker! This is huge! Styles wants to learn from this man. Styles studied Taker, watched all the matches, and wants to get in the ring with him.
Renee says it is interesting to hear that. Everyone else says Styles is perhaps the best person to lace up a pair of boots, so what is it that Styles feels he can still learn from Taker? Styles knows the old saying, that once you stop learning, it's time to hang it up. Styles isn't done learning. He wants to learn as much as he can. The older you get, you can't do the same things you used to, but you do learn how and when to do what has the most impact. He can't wait to sit down and figure it out with Taker.
Woods notes Styles made his WWE debut at the Royal Rumble in the Royal Rumble match. The object of that match is to be the last one in the ring. What was that like for Styles? Even after traveling the world outside of the WWE, it still terrified him. He met Road Dogg and these other guys, he was star struck. Styles felt like a guest in the WWE, but he was so excited. Woods jokes that he was mad Styles didn't warn him. Styles didn't know, either, until days before! But it was a huge moment, it was pretty intimidating. Styles was 38 back then, joining the WWE for the first time, it was intimidating.
Renee asks why that was the right time to joint he WWE. Styles says it was because they offered him the deal. Very true. But also, he was ready to "come home." It couldn't have happened in a more perfect way. Styles hoped to talk with Triple H first, didn't happen. Styles talked with Terry Taylor, then HHH, and they had a great 30 minute conversation. He comes home without actually going home, because he flew to get his medical done, and boom, two weeks later was the Royal Rumble. It happened so quick.
Renee notes Styles has already done so much in the WWE, but one thing she sees a lot is talking to the younger, newer talent. What advice does he pass along? And who does he see as being the next big star? Styles doesn't think he talks to "green" wrestlers, because they've already earned their way into the WWE. But this is a roller coaster. The ups, the downs, the internet saying whatever, but most of that talk isn't true. Styles talks to those people who need to be reassured. Just keep doing what you're doing, keep learning and improving, and you'll get where you need to be. Other than that, he asks how things are personally, at home, and helps the others see the positives in their lives. As much as we love this business, it's still just a job.
As to the other question, Styles sees the future being Ricochet, who is unbelievable. Cedric Alexander and Shayna Baszler, too. The opportunities are coming. Ricochet and Alexander are still amazing talents, as Styles knows from his quick rivalries with them. They'll get there one day. They're on the down swing now (as Alexander VS Tozawa on WWE Main Event) plays, but things will turn around. Even Styles had that, where it was someone else's turn. Just wait, do your best, and be ready.
Woods says that he wants to move on from wrestling to talk video games! Renee knew it would come to this, and Styles is very excited! This is why Woods is here. UpUpDownDown plug. Woods has seen Styles' gaming collection, and Styles has a still in box Mike Tyson's Punch Out! Is that his most prized gaming possession? YES. It is in a box, in a box, in another box, wrapped in a bag. No one touches this thing. Footage shows he even has a GOLD CARTRIDGE Punch Out! Woods asks if the kids ever try to get in there. No, because they no better. Dad will give them the angry face and finger point! Renee wants to see Dad Mode Styles. #DadGrab!
This all sounds like an incident has happened before. Oh yes, it did. Styles' original Game Boy with a huge magnifying glass for the screen, and his third son was messing with it. Styles had a mini panic attack because the set-up needed to be set up just right. Styles will stick around for much more, and Booker and Ember serves up the in-depth Elimination Chamber analysis!
WWE Backstage flashbacks to a historic main event!
Raw, 12/6/2004! Trish Stratus with a face guard took on Lita in Raw's first main event of solely women wrestlers! The grudge was intense, the match was incredible, and Lita survived scorpion-ing herself on a suicide dive! In the end, the extreme Lita won and was WWE Women's Champion!
The panel gets a Hot Tag!
Remember: 30 seconds to talk the topic! Ember starts and talks the A+ performance from Daniel Bryan VS Drew Gulak! She of course wants more of this because it was pure wrestling. One of the best matches for Gulak and Bryan in the WWE. She loves it, wants more, and is excited for Gulak who is well deserving because of everything! The character work, the PowerPoint presentations, how he is a former NXT Cruiserweight Champion, Gulak is finally making moves in the right direction! And with time to spare! Booker did his best to keep track of it on his own watch.
The SmackDown Tag Team Championship Chamber match of course goes to Woods as a 7-time champion with ya bois, the New Day. Miz & Morrison retain, but was this the absolute BEST Chamber match ever? Woods says second best, because the one he was involved in was great. But this was definitely an incredible match. It was great for Woods to watch his best friends, but much love to all the teams in that match. SmackDown's Tag Team Division is still on fire, and Lince's ceiling shooting star was INSANE. He stays locked in! Most incredible spot, for sure. Heavy Machinery, Otis going through the pod, and time. Oh well.
Lastly, Booker is being timed by Ember now as he discusses the WWE Intercontinental Championship. Sami Zayn has been a great manager to Cesaro and Shinsuke Nakamura, so it was a big surprise for Sami to get the title. Is this Sami's time to get that push? Booker loves what Sami is doing on SmackDown! He's champion now, and he will be bragging forever how he beat Braun Strowman! It doesn't matter if it was 3v1, Sami gets the credit. Sami is a role player. You give him the ball, he'll score. Booker thought Shinsuke was going to get the title back, Public Enemy, Flavor Flav~! But Sami will- TIME! What happened to that internal clock? But there's still plenty of time left in the show, such as a look back at "The End of an Era."
WWE Backstage returns with a Triple H highlight reel!
The Game has always wanted to put on amazing entrances, and he has some favorites. Him smashing the glass with a sledge, him rising from the stage with Motorhead, and his throne for WrestleMania 30 was wild because little did anyone know, that was Sasha Banks, Charlotte Flair and Alexa Bliss as the Valkyries. WrestleMania 31 was great, too, with HHH as a terminator. Arnold Schwarzenegger doing the voice over alone made it awesome.
But speaking of HHH and Mania, it seems that the Road is without The Game. This will be the first time in 13 years! And while he's had many amazing moments, as we just saw, there is one that stands chief among them: The End of an Era, WrestleMania 28!
It was April 1, 2012. HHH VS Taker, Hell in a Cell with HBK as special guest ref. "When they started putting the End of an Era tag on it, we took that very seriously." It wasn't about retirement, but (at the time) it was the last moment these three icons were going to be in the ring together. The gong hits, the lights go out, the energy goes through the roof and you can't help but get goosebumps. HHH had faced everyone from his generation and the ones before him, but there's nothing like standing toe to toe with Taker. They both felt that match was clicking. It was so physical in the Cell, ultra aggressive and real. HBK couldn't help but be in the moment, and even told HHH at one point, "Jeez, you guys are killing each other!"
There were many moments that they knew even before that fans would go nuts over. Tombstone, Sweet Chin Music, Pedigree, "capturing those moments and knowing that they're coming, it's just hard to describe. It's why we all do this." HHH doesn't care what you do, that feeling is the juice of this business. Everything they'd all gone through, starting in the 90's and then reaching that moment 20 years later, "there's nobody in the business that I respect more than those two." Those were the realest moments HHH has ever had or will have.
WWE Backstage has the Satin Sheet!
Ryan and his sexy music are back with some big news! To make up not having anything for the show these last few weeks, Ryan returns with HUGE news! Multiple sources say the three-time Super Bowl winner and current Fox Sports analyst, ROB GRONKOWSKI is "deep in talks" with the WWE and close to finalizing a deal! The details of that deal are still top secret, but Gronk could show up as early as 3/20/20, aka Friday Night SmackDown in New Orleans! This won't be the first time, because WrestleMania 33 saw Gronk help Mojo Rawley win the Andre the Giant Battle Royal. Gronk has talked about doing more since then, and he was most recently hanging out with Mojo, HHH and Stephanie McMahon for Super Bowl Weekend. "Let the speculation begin."
The panel discusses the big news.
Styles wants to talk about that pic. Mojo was hyped but Gronk seemed kinda nervous. But Gronk in the WWE, what does everyone want to see out of him? We fantasy booking? Woods wants Gronk to team with the Kabuki Warriors to be their heater and body guard. He can understand Japanese but he can't speak it. Then he runs and gets them coffee. Renee likes that. He can be Kairi's umbrella boy. Styles says if Gronk messes up the coffee, like no sugar, they slap it out of his hand and it goes into his face.
Booker says that Gronk is a marquee name. He needs to come in, turn on Mojo, and become a big name. Sorry, Mojo. Well it IS fantasy booking. Ember says that what we need to see at some point is the return of Jinder Mahal for Mania revenge. But first, someone who was there from the very beginning: Lisa the security guard! Lisa totally did not realize it was a work and shoot tried to put him back in his seat. A Mania moment indeed! Booker likes that idea, too. Ember learned from the best.
WWE Backstage looks back to Christian talking about Stone Cold.
"Steve hasn't been in the ring for awhile, y'know? You know he's got that mean streak, that's never going away, but I'd love to see him in the ring, what? I said I'd love to see him in the ring with a guy like AJ Styles." Everyone loves that dream match! Styles has never had a bad match so why not?
Renee of course asks Styles about this in the present. With one legend in the Undertaker more than likely for Mania, when and where would Styles want to take on Stone Cold? Styles perfected the Austin impersonation, but he'd love to show him that in person. Stone Cold gave Styles a Stunner last year when it was Styles VS Rollins for the Universal Championship, so that's a bit of motivation, too. Booker got a Stunner, too! Booker says he took the best one.
WWE Backstage talks theme songs!
Iconic ones are easy to recognized. Hulk Hogan's Real American. The Macho Man's Pomp and Circumstance. The Hitman's Hart Attack. HBK's Sexy Boy. John Cena's The Time is Now. But who in the WWE today has the best theme song and entrance?
Mustafa Ali, Drew McIntyre and many more are very conflicted on who and what to say. Ali goes with the Usos current one, Done With That, aka Down Since Day One. Elias says Baron Corbin's current, I Bring the Darkness, is fantastic. Braun Strowman agrees, because for being paired with such a jerk, that song rocks. The IIconics like Randy Orton's Voices. Ember has to go with Shinsuke Nakamura's, both forms of Shadows of a Setting Sun. Finn Balor's Catch Your Breath, especially the Demon mixes, are Samoa Joe's choice. Rey Mysterio also likes that, especially the fans getting into it. But Fire & Desire feel it is still The Undertaker's Rest in Peace. The gong alone. Carmella agrees, it is gloomy and dark.
McIntyre finally makes a decision, and it is Stone Cold Steve Austin's I Don't Do What You Tell Me, aka Glass Shatters. The glass makes everyone get up.
The panel discusses the same subject.
Renee can't possibly choose! Booker goes with Stone Cold, too. The glass, Stone Cold comes out, it makes Booker want to be just like him. Styles goes with Samoa Joe's. The bass and how mean Joe looks. Ember admits she also likes Styles' theme. "The anteater" is an inside joke they'll explain later. We think we all know Woods' favorite, but there is footage of him jamming out to I Walk Alone, Dave Batista's theme! Saliva is just an awesome band. But Woods surprises us that his all-time favorite is Reverend D-Von's. Booker's got great music, sure, but c'mon. "Please call mah name!"
Styles wants to bring out the elephant in the room: Run DMC's take on the Degeneration X theme, The Kings. Renee says she's also seen Woods jam out Trish Stratus' theme. That will be for another episode.
Next week, the Nightmare comes to WWE Backstage!
NXT Women's Champion, Rhea Ripley, joins the show as the special guest, and CM Punk is back again! What will they both have to say about Rhea's coming title defense against Charlotte Flair and the rise of NXT as WWE's third brand?
The WWE Universe comes to the rescue!
Mick Foley needed some help getting their car to a gas station, and it was some very excited fans that helped push the Foley Mobile the rest of the way! Tommy Palica has video of his friends taking selfie video with Foley.
Booker teases Foley for running out of gas in the first place. But does he have any odd or appreciated fan moments? Being on the road, one time he got pulled over, and the officer realized who Booker was and totally let him go. Styles remembers that moment, because he was behind Booker and also got pulled over. Officer didn't let Styles go! Well Styles was still working on becoming a Hall of Fame WWE champion. Woods can't remember one so he lets Ember go next. Hers is from PAX when fans made her a Dungeons & Dragons character, as Ember Moon. She plays D&D with that character all the time, she loves it. Woods had the same thing, sorta.
Curtis Axel tweets the show!
In reference to how Styles and Renee greeted each other tonight: "Wow! I have the same handshake with my boys at home!" Thumbs up and surprised face emoji. Is he teasing them? They do it again to show how good they are at it. Renee actually left a mark. She apologizes while also saying bye on behalf of the panel.
---
My Thoughts:
Another really fun episode of Backstage! Styles is such a great guy in real-life, and him showing some of his real personality was great. It's obviously becoming more well-known knowledge that Styles is as much of a gamer as he is an athlete, and seeing glimpses of his collection was incredible. Gold cartridge Punch Out!! It also means a lot for Styles to say that, despite what we're seeing and thinking and talking about in regards to Cedric Alexander and Ricochet, he has confidence those guys and others are going to be back on top as WWE moves forward. Because honestly, they should.
In a roundabout way, Ember's line about making new sacred things puts a great headline on the argument many have had about WWE making new stars. That way, the WWE can still be around for us to have the same nostalgia we have for Taker, but for people like Styles, Alexander, Ricochet, etc. At the same time, we fans need to slow down and realize that a few weeks or even a few months of "Oh no! Vince isn't pushing them! They're buried!!" won't even be remembered once they and superstars in similar positions (and there's a lot of them) have had their moments. One day, we'll look back on Ricochet, Shayna, and who knows who else like we do HHH, HBK and Taker in that End of an Era match. Just hopefully without the baggage of them coming back again and somewhat tarnishing their legacies.
Mitchell's Talking Smack Report! (1/23/21)
DING DONG, HELLO~! Talking Smack!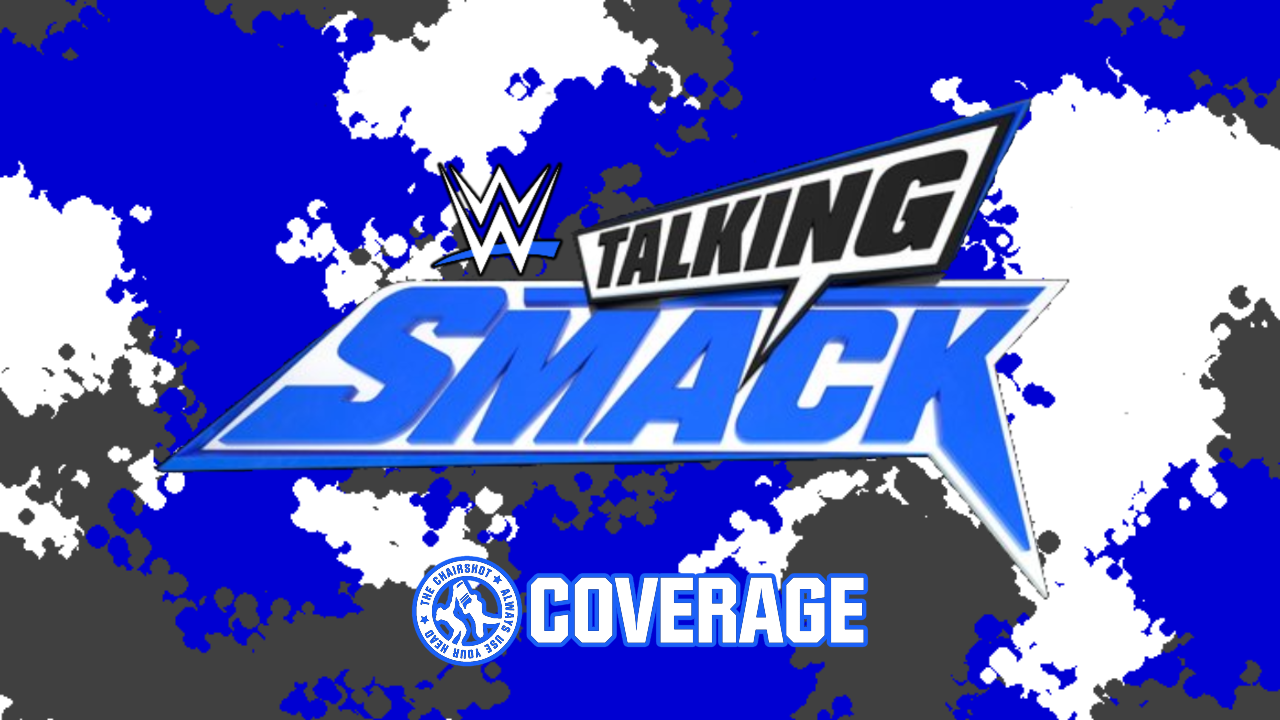 Talking Smack has a strong episode this week!
Cesaro, Bayley and Sami Zayn are all here to talk some smack on what went down! Will there be any sore losers among them? *cough* Bayley */cough*
Kayla Braxton welcomes us back to the show!
We're just over a week away from the Royal Rumble, and Friday Night SmackDown had us on the edge of our seats! Kayla is here with cohost Paul Heyman, who has some explaining to do as he does his evil finger pyramid. Kayla knew right away Heyman had something planned, and he did, and instead of Adam Pearce VS Paul Heyman, we got Roman Reigns beating Pearce up. Roman did beat Pearce up, but Kevin Owens got back at Roman, too, and Kevin asked Heyman if he was watching. Were Heyman's eyes open? Then yes, he was watching. "It was the perfect plan. Conspiracy theories abound and they're all true." They had Pearce locked in, Sonya was about to take over because Pearce was out the door. Heyman pulled the strings, he kept Kevin away all evening, but somehow Kevin screwed them. "Card subject to change."
But Heyman isn't done ranting! Wait until he finishes his point. Well he took a breath- Yes, he just took a breath! She made the mistake to jump right into any opening. Heyman continues to say that this is Kevin's problem now: "The Royal Rumble, next Sunday, we're not going to be pulling Card Subject to Change. Card will be delivered as advertised!" Which means KO is stepping into the ring with "an angry, infuriated WWE Universal Heavyweight Champion who understands that this match only ends when one man is left standing." And it won't be Kevin. That's not a prediction, that's a spoiler! Three, two, one, now your turn, Kayla. Kayla appreciates that. Let's lighten the mood, the host of DING DONG, HELLO~!
Bayley joins Talking Smack!
Heyman shakes Bayley's hand and says he is a great admirer of her work. Bayley thanks him for that and appreciates Kayla's slow clap. Heyman introduces himself and says if she wants to see something outside of her own brilliance, watch Roman Reigns get his hands on Kevin Owens in the Last Man Standing match to not only defend his title, but to put Kevin down with a beating that will earn a Parental Advisory Warning. Bayley likes that! They should get their people on that. Kayla has people? Yes. Now, to the "Ultimate Athletic Obstacle Course Challenge." Bayley is flexing now, but Kayla points out that while it was Bayley's idea, it didn't go as planned.
Heyman says nothing goes as planned on SmackDown! And they had the best plan! The absolute best plan! But Kevin screwed it up! Kayla brings this back to Bayley's plan in the obstacle course. Kayla gets Heyman relates to that here, but Bianca Belair, the EST, proved herself on Bayley's course. She even embarrassed her. Bayley says to stop the replay, get to the end. Fast forward, guys, c'mon. Kayla brings up Bayley kinda cheated, and still lost. Bayley says it can't be cheating if it's under her rules. This is fair and square as her first-time-ever obstacle course challenge. Is no one listening? Is Bianca paying them to play the footage?
But it doesn't matter, SmackDown doesn't do obstacle courses between the longest reigning women's champion and "some new chick." Bayley doesn't even want her weird chair anymore. Does Kayla want to be in the Royal Rumble? Bayley will gladly "welcome" her into that as the Role Model, the CAPTAIN of SmackDown! She'll grab Kayla by her ear piece mic and throw her out, just like she will Bianca and every other woman in the match! Kayla doesn't discount that, Bayley is an incredible competitor. But in the obstacle course- Heyman speaks up because he doesn't like the use of "incredible," it means "not credible," but Bayley is definitely credible. She is a GREAT competitor, and Kayla is envious! #BayleyEnvy, make a shirt, put Kayla's face on it.
Kayla asks if Bayley underestimated Bianca and therefore underestimating the other competitors in the Rumble. Bayley will say Bianca is a great athlete, we've seen what she's capable of over the years. Bianca eliminated EIGHT superstars, but did she eliminate Rhea Ripley, a former NXT Women's Champion who had her WrestleMania moment with Charlotte Flair? No, Bayley did! Quality over quantity! The lights, the stress, it's all making Bayley sweat. Kayla thinks Bianca was making Bayley sweat. Maybe Bayley did the obstacle course and that's why. Kayla does appreciate the challenge, it was entertaining, until the end when Bayley attacked Bianca. OH? Let's check the ratings and see if it was entertaining.
Kayla thanks Bayley for her time, Bayley has a party to go to, Heyman says Kayla is condescending but he would never do that. He again shakes her hand and says Bayley is a generational talent. See you in the Rumble, Kayla. In the match! But speaking of the Rumble, our next guest is a superstar who vows to win the Men's Rumble, the Swiss Cyborg!
Cesaro joins Talking Smack!
Cesaro likes the high chairs. He shakes hands with everyone and takes a seat. Standing tall, sitting tall, as he should after his victory. Cesaro beat Daniel Bryan last week, has a bit of a chip on his shoulder and turned down the rematch challenge. Why is that? Cesaro says he always has something to prove. He likes new challenges. He beat Bryan already, why do it again? And Bryan wasn't even dressed anyway so he'd just be taking advantage. Kayla has known Cesaro for awhile, this feels like a new Cesaro. Is he showing a different side to the fans? No. Does he really seem that different? Kayla says there's more intensity.
Well Cesaro says this is less new and more the old Cesaro. Cesaro went back to the basics, his strengths, and it's paying off. So what is it about Bryan that "irks" him? Cesaro says it's not the way we might think. They've known each other for about 15 years or more, they had a rivalry since they've met and it's been very competitive. It came to the WWE, after having some of the toughest matches ever with Daniel Bryan. So yes, Bryan "irks" Cesaro because Cesaro needs to beat Bryan. Bryan brings out the best in Cesaro, and Cesaro does appreciate that, but it drives him.
Both men have been very vocal about winning the Men's Rumble, but with 30 men total, will they be the final two? Cesaro is confident that they will. Anyone else that says differently, they should not be in this building, in that ring, and certainly not in Cesaro's presence. Kayla says that Bryan having never won a Rumble, that is why this is so important to him. Bryan's hunger could be greater than the others. Yes, it could be. But what a great New Year's Resolution. Cesaro isn't a fan of those, because you should want to be better every day. Not just once a year, but every day, be better today than you were yesterday, forever. Bryan's hunger may be big, but it's opinion.
That is what irks Cesaro. If Bryan wants to win that badly, then Cesaro wants to win even more. That is how this rivalry works, that is what is needed in the WWE. Use everything as motivation to get to that next level. Kayla agrees. Now say Cesaro does win the entire thing, which Kayla could see happening. Has Cesaro thought about who he will challenge at WrestleMania? The options are Roman and Kevin for the Universal Championship, or Drew McIntyre and Goldberg for the WWE World Championship. Cesaro said last week on commentary, he would challenge Roman Reigns on behalf of Shinsuke Nakamura. Now McIntyre mentioned Cesaro as a dream opponent and Cesaro would love that, too, but Cesaro is a man of his word.
Does Heyman have something to say on that? Heyman says Roman VS Cesaro is big box office. Heyman has sung Cesaro's praises since he got into the WWE. Cesaro knows that respect and admiration, and is a very dangerous man. You don't hear all this energy, he's soft spoken and "means not to be anything else besides himself." Cesaro is rightfully confident because he is uber talented, and is on a path to the top. There's only one man who can stop him, and that is Roman Reigns, which is why that match could headline WrestleMania 37. Roman will put down Kevin, and Cesaro has a good chance of winning the Rumble, so we'll wait and see.
Kayla thanks Cesaro for his time, and Cesaro tells Heyman to tell "Table Head" that he's next. And finally, a man Kayla thought she'd never miss but definitely does lately, the "Great Liberator!"
Sami Zayn joins Talking Smack!
Sami notices he has no music. Kayla says he can try again but no, the moment has passed. "These are the little things I'm talking about." Kayla says Heyman has a part in this but Sami says Heyman's been in this business longer than Kayla's been alive. Kayla can't catch a break. Sami says Heyman is a lot of things, a lot of bad things, almost all of them true, but Heyman is not jealous of anyone. Sami says this is rather fitting that he'd get put on Talking Smack and then he gets disrespected. He brings up the conspiracy and brings in his film crew.
The documentary crew is here because Sami doesn't recognize the cameramen and Sami's been here 8 years. This is so the footage is true and unedited. Now, conspiracies. There is a long standing one against Sami, but it's all the little things, the little acts of disrespect that add up. Everyone else gets music and a warm welcome, but Sami gets treated like a fool after being a cohost! Sami had his cuffs as a peaceful protest, the right to assembly. America loves their rights, right? This was Sami making a point, engaging in his right to do that. This was all to make management aware that he will not be silenced. But people act like he was in the wrong! Kayla does, doesn't she?
Heyman voices his agreement. Sami says the thing is, but Heyman says it's like a bad marriage. Sami was called an instigator, but he has the signs he brought to SmackDown. Let's dissect these. #SAMI: Stand Against Moral Injustice. Those who don't like this sign, why? Are they FOR moral injustice? Yes or no? But isn't it hypocritical? Sami doesn't like Apollo cheating but Sami was cheating a lot! Heyman has to tell Sami, he loves the sign, but he admits he kinda likes moral injustices. Sorry. Nothing against Sami, but still. Wait, Apollo Crews walks on set! Sami is glad to see him, though! Apollo wants to hear Sami in person. Keep going. Sami says this is perfect.
Sami brings up a sign that works for Apollo, "How Do You Sleep at Night?!" It works for Big E, too, who holds SAMI's title! How does Apollo feel getting his title shot, cheating to win?! Apollo is okay with that?! That's the difference between Sami and Apollo! Sami stands for something, he has a value system! Sami doesn't want to upset Heyman but he wants Apollo to hear him. "How do you sleep, cutting these corners to get ahead?" Apollo acts like a nice guy with a million dollar smile, but then he's okay with winning how he did? At best, Apollo should've given Sami a rematch and then we'd see who is the better man.
Heyman says Sami is upsetting Apollo but Sami says he doesn't care. Apollo says Sami can talk, talk, talk, but eventually Apollo will get Sami in that ring. Well that's a threat. Don't make excuses, Kayla, it is a threat on her show! Heyman doesn't like being in the middle of this, literally. Sami says he has to think about his camera crew's safety. Apollo won't intimidate Sami, but he is doing this for his documentarians. Apollo is going to be confrontational, he's making Heyman uncomfortable, so Sami is going to leave. Not for Sami's safety but his cameramen. Sami excuses himself, and Kayla says that's fine, this is the end of the show anyway.
Heyman tells Apollo that Sami is just distracting him. It's what Sami does. Is Apollo going to be distracted "by a prick" or be focused on the Intercontinental Championship? Apollo say she's going to beat Sami's ass, THEN go get the title. "Because I can." Heyman is impressed. With that devious smile on Heyman's face, Kayla goes to close the show, but then Kevin Owens shows up… Heyman and Kevin stare down, Heyman gives a nod, and Kevin leans over to tell Heyman, "You feel it." Kevin then offers a handshake, and Heyman takes it. What did Kevin mean by that?
---
My Thoughts:
What a great episode! Heyman was great throughout the whole episode, but he's great all the time really. Him trying to interject the Roman story into everything was great. Bayley had a good segment, and it fits her Heel persona that she takes a 360 on the obstacle course because she lost. Bayley VS Bianca really should happen on the go-home next week to get them both going into the Rumble. Cesaro made a good point, New Year's Resolutions are a bit silly when you should be trying harder every day. And I really like that, though not fully Face, Cesaro is calling out Roman here on behalf of Nakamura. I still think Cesaro would be great as a Face, so we'll have to wait and see.
And then the last segment was awesome stuff. Sami getting NO theme music, ranting on with Heyman on his side mostly, and then the surprise appearances from Apollo and Kevin to plug their stories, all of it was done perfectly. Apollo even somewhat defying Heyman was great. Whether he goes Heel or not, an aggressive Apollo is definitely a good move for him.
Mitchell's Raw Talk Report! (1/18/21)
Raw Talk is PHENOMENAL!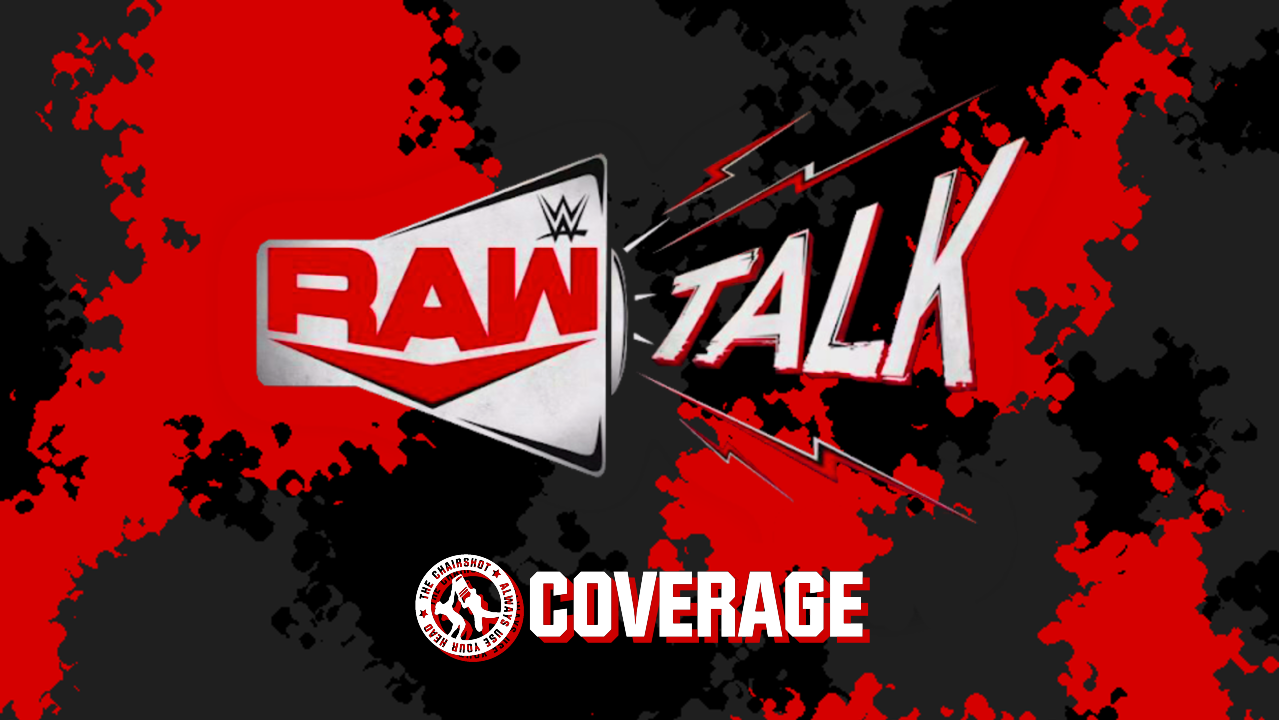 It's an Awesome, Phenomenal, GIGANTIC Raw Talk!
After issuing another Money in the Bank ultimatum, The Miz and John Morrison will join Raw Talk to explain how they managed to get GILLBERG to return!
Is it #CharTruth or #TheTruthSarahm hosting?
It's Charly Caruso and R-Truth back together! Charly welcomes us back to the show and tells Truth he was right, she was busy with "Thanksgiving" with her mom. But after enduring things in 2020, we should really give thanks whenever we can in 2021. Truth agrees and asks if she had potato salad. She had potato salad, tuna salad, chicken salad, and a turkey pot pie from catering. So good! But enough about food, as much as they could go on and on about it, Charly says we should talk about what happened at the end of Raw. Would we expect anything less from Alexa Bliss, though? Something is going on in that mind and body because of The Fiend, but it's hard to put a finger on it.
We got more questions than answers tonight, but that look in Alexa's eyes said a lot. Just when you think it couldn't get any worse, she beat Asuka! Truth says she's hollow inside, like she has no soul! And then the whole thing with the lights and Alexa changing back, then the possession! The Fiend spoke through her! But didn't he get burned up? So did we all. Truth doesn't want to answer what's going on with Alexa but Charly is thinking it could be his spirit. Truth says this is some paranormal activity here. So moving on, let's get to our first guests, the Greatest Tag Team of the 21st Century, or as Charly calls them, two men who are AAAAWESOME!
The Miz and Morrison join Raw Talk!
Truth fist bumps Morrison 'n' Miz, Awesome Truth rides again. Miz wants to get to the question. Truth asks what it was like being with The Doors. No, he's not Jim Morrison. But that's old question. Charly wants to ask about The Dirt Sheet. Miz says it was a train wreck but Morrison argues it was great. Morrison wrote it so of course he defends it. Charly is more interested in the guests. How did they book that? Morrison asks if they understand the concept of "misdirection." That's what pro-wrestling is all about. You expect one thing, then BAM! It's something else! That's why the moonwalk is so great. You think he's going forward but he goes back.
Miz just wanted to make sure McIntyre and Goldberg understood that he could cash in at any time. Miz is even in the Rumble match! He could win the match, and then have a shot at the title at Mania anyway! Charly replays the footage of Gillberg coming out to the Goldberg entrance, and Miz says Morrison has an actor friend who could be McIntyre. Miz said the guy looks nothing like McIntyre, and Morrison said that's the point! But then the fake asked for another take because he somehow forgot they were on live television! Well he doesn't do live events, he didn't know.
Charly asks if they at least thought the parts were played well. We all saw it, what does she think? Charly is not entering her own opinion, she's just the host. Well the impersonator thought it was great, and he was high-fiving everyone backstage. Miz just wants to remind everyone he is Mr. MITB and could cash-in. It was Morrison who wanted Gillberg to come back! The wig kept falling off! Hey, the message was sent! Case closed! Miz asks if Charly has anything else. Charly says The Dirt Sheet was definitely bigger than ever with that McIntyre. Morrison says that's the Jersey version of McIntyre.
Miz says they should've gone to Cleveland and gotten Drew Carey. But apparently the budget means nothing to Morrison. These sunglasses ain't cheap. Nice pocket square. Truth makes a "sharp" joke and Miz doesn't get what's going on here. They're bonding! They used to be a tag team. Yes, Miz and Truth used to be a tag team. Call it a remix. Then who would Truth choose? Miz or Morrison? Truth doesn't do drama or peer pressure. Morrison says they'd be Black Magic & The White Shadow. Miz makes this "Breaking news." Truth asks if Gillberg is available. He's not an option. Truth would choose both. How diplomatic. Morrison would take Morrison over Truth, too. He just likes himself that much.
Charly just wants to point out that the message was sent to those we were expecting to see tonight, i.e. McIntyre and Goldberg. Morrison is confident they were watching and the message was received. Then there could be a new champion at the Royal Rumble because of Mr. MITB. What are the odds? Can they tell us anything? Miz has had the opportunity to get the contract back. When he lost it because of a certain someone, Morrison, but… No no no, Morrison cashed it in for him but Miz lost it. But it's a good thing Morrison did cash it in because now Miz has it back. Miz says he has the only real opportunity for the world title. He doesn't get a lot of those anymore, but here it is.
"At Royal Rumble, I know Goldberg and Drew McIntyre are going to tear each other apart. These are two big, muscular, brawling type of men and they are going to go at each other." And Miz will be there to jump on it. Truth says he'll be like a vulture! CACAW~! No, that's a hawk. Close enough. Charly asks how Morrison will book the next episode, it might not sit well with Miz. Looking for a scoop? No scoop for you! Well, as always, this was an awesome time, Miz 'n' Morrison head out for the Queen of Spades to step in!
Shayna Baszler joins Raw Talk!
Charly feels Truth always has the better questions for Shayna so she'll let him ask Shayna something first. Truth asks the Queen of Spades, "Are you better at Uno, Tonk, or Go Fish?" Can we not? Shayna has a long drive. Well Uno's a long game, especially if the Draw 4 shows up. Shayna asks who in the back keeps scheduling her for this. Charly apologizes, she hoped he was going to come up with a slightly more intelligent question than that. As in, something along the line of sauces at least. Did she try the salmon today?
Charly brings up her interview on Raw, in regards to her match with Mandy Rose and the tension with Nia Jax. Has anything changed since earlier tonight? They made it clear they want the tag titles back but where are we with that? Shayna says she proved that it doesn't matter what's going on with her and Nia, she can take care of things on her own. No idea why people have forgotten that. The alliance with Nia was of convenience. They didn't get along but they were dominant champions. It was never a thing that they need to get along, they get it done in the ring.
Charly surmises it as,  it's about coexistence for the common goal, but no commonality anywhere else? When was that an issue? We all saw that they haven't gotten along, but Shayna still won. Say what you want about that, but do Charlotte and Asuka get along? They're both too busy with the creepy Alexa stuff and the creepy Ric Flair stuff. Emotional stuff. Say what you want about Nia and Shayna, but at least they were always focused. Charlotte and Asuka have lost focus. That's true, but amidst all of the tension, the challenge was issued. Have they heard anything back? Nothing yet, but the distractions are obvious. "When the prey is looking somewhere else, the predator can sneak up behind them." That's why Nia and Shayna are able to work together where they need to.
So then, there's two ways to look at it. As partners against the tag champions, they will be united enough, as they have been. But then, the Women's Rumble, hopefully we see Shayna and Nia in there together. Are they allies or foes? That's a completely different issue. Nia is experienced enough to know how a Rumble works. Shayna was a finalist. Shayna tied a record for eliminations, she knows how Rumbles work. It won't be a surprise. So what, "Oh let's do the thing people do where they team up and eliminate people and high-five and then oh no~!"
Well it is a valid strategy. But it always happens! Someone turns on someone else. Shayna and Nia are separating Rumble and their tag team match. Charly has a lot of hypothetical scenarios, but no time for that tonight. Shayna says things go one way: they walk out of the PPV as tag team champions, and Shayna is winning the Women's Rumble match. The relationship will remain unchanged. Then thank you for your time, and Shayna hopes it is a long time before she's back here again. But she's one of their best guests… Well, the last guest is PHENOMENAL!
AJ Styles and Omos join Raw Talk!
Styles really likes his music. Isn't it the best theme in the WWE today? Truth says it's alright. Styles asks what Omos thinks of his theme song, and Omos says it's great. Truth wants to ask Omos about having Styles as his assistant. It's phenomenal. Nice! Styles realizes Truth has it backwards. This is him trying to put a wedge between them. Don't listen to him. Styles says this needs to stop. Charly, any questions? She just wants a grasp on his mindset after his match with Ricochet, where Ricochet was hoping to prove himself worthy of the Royal Rumble match. He did not win, Styles is obviously in, so what's his mindset now?
Well Styles' mindset is on the Rumble and to win it. Wouldn't it be great? From his debut in 2016, his documentary just came out, Omos says it's the best one ever, go watch it on the WWE Network. It's phenomenal, even! Was Omos there? No! Sigh… Truth, you're just wrong, wrong, wrong. Did you not see what he did to Ricochet with that great Styles Clash? Yeah but Omos looks awesome, too! Styles asks Omos if it irritates him when people get the name wrong. Of course! It's "Aw-moss." Like awmos done? Don't play around, Truth. Truth is keeping the peace! Charly will get things back on track. Truth excuses himself to Omos.
Charly brings up that it will be five years in the WWE. What are Styles' expectations, outside of winning, for the Rumble? Any number in mind? Well everyone wants to go 30th, because there will be all the others. Truth says the Phenomenal One should go first to prove it. And then Omos goes out! Well maybe Omos goes out there, too. Will he be in the Rumble match? We'll see. Now that's an unstoppable combo. But either way, there's a plan. It's a secret because it's their plan. Can't it be our plan? Nope. Charly wants Truth to get in the Rumble. Truth says he has other engagements, such as making sure "baby" WWE 24/7 Championship is safe. Charly thanks Styles and Omos for their time, and will see us again next Raw Talk!
---
My Thoughts:
A very good Raw Talk, with really good energy. But of course, Miz 'n' Morrison are great talkers, Shayna knows her character and Styles is also great on the mic. I like that Miz and Morrison continue to argue about how The Dirt Sheet went, but I wish they'd given a name to the man who played fake McIntyre. Well we'll probably never see him again but even so, it'd prove he was the "actor friend" to Morrison. Morrison should know the name of the guy who is supposedly a friend that he could ask to be fake McIntyre. Shayna being so done with Raw Talk is always a great part of her character, and she helped give some good details on how she and Nia are handling this.
Styles and Omos have good chemistry for how this story is going, and them daring Truth to join the Rumble was fitting. Omos really should get in a match at some point, but maybe start with a 24/7 Championship moment with Truth in the ring and build from there.