NXT Minus 6: Takeover: The Backup Plan
No Takeover? Not quite No Problem, but Bradley Jay has a back-up plan for you! Today we're starting with Takeover Tag Team matches.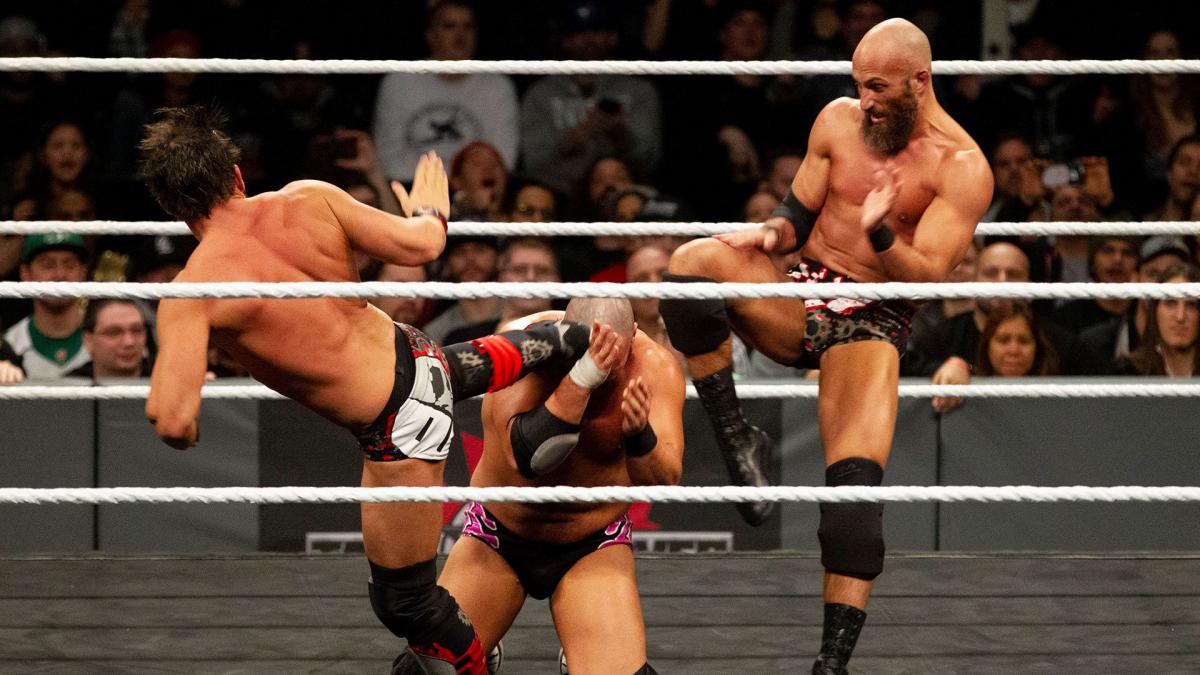 No Takeover? Not quite No Problem, but Bradley Jay has a back-up plan for you! Today we're starting with Takeover Tag Team matches.
Takeover Tampa isn't happening. That's OK. Here's a backup plan. I've chosen six matches from five categories. All you do is pick one match from each & you'll have yourself a mighty fine DIY Takeover. I haven't seen every Takeover, so this isn't definitive. Also, I'm also not ranking the matches, because the goal isn't to argue over what is better. The goal is simply to enjoy some of the best wrestling from the brief but fertile history of the Black & Gold Standard.

In typical Takeover style, I'm starting off hot. Here are 6 great tag team matches to choose from. I've been watching wrestling a loooong time and I can honestly say I did not love tag team action until I discovered NXT. 
Finn Balor & Samoa Joe versus Dash Wilder & Scott Dawson, Takeover Respect
This was a semi-final match from the Dusty Rhodes Classic. In name only, Wilder & Dawson weren't yet the Revival, but they still delivered amazing heel work. Even going back to TNA, I have very little memory of Joe as a tag team guy, but his hot tag here is magnificent. It's a damn shame the (future) Revival didn't win the inaugural Dusty Cup. 
Undisputed Era versus Oney Lorcan & Danny Burch, Takeover Chicago II
How good was this match? In the end, a usually jaded & hard to please Chicago crowd gave a standing ovation…to the losing team! Of course Kyle O'Reilly and Roderick Strong are grand masters, but the star of the show was Oney Lorcan. Dude has a singular vision of destroying anything in his path, even if that means destroying himself.  
America Alpha versus The Revival, Takeover Dallas
This match could be the Brain Busters versus the Rock & Roll Express. Good versus Bad for the tag team titles. Dawson & Wilder are so old school in the best possible way. The crowd is electric from start to finish. And even this early in his career, Gable showed why he should be competing for titles in any weight class.
Fatal 4 Way Ladder Match, Takeover XXV
This was a runner up for my 2019 NXT Match of the Year. It's hard to do something new and fresh in a ladder match, but these 4 teams succeeded. Even the appearance by Jaxson Ryker added a cool twist to the action. In the end, the Street Profits climbed the ladder to take home the titles and deliver one of the real feelgood moments of the year. 
DIY versus The Revival, 2 out of 3 Falls, Takeover Toronto
Have I mentioned how much I love the Revival? Seriously, pick any match they're in. Hell, go find a video of Dawson & Wilder eating donuts or playing Yahtzee. I'm sure that's amazing, too. I do not think anybody does anything better than these guys do tag team wrestling. And those other 2 kids aren't half bad either.
War Raiders versus Aleister Black & Ricochet: Takeover New York
This was my 5 star match of the year for 2019. This match has everything that is great about wrestling: 4 distinct characters, amazing in-ring action, a genuine show of respect from the competitors and a blazing hot crowd that appreciated every second of it. This match was so good, they had me believing Black & Ricochet could win the titles and this wasn't their NXT swan song. Absolutely perfect.
Next up: Women's Title Matches