Cook's Top 5: Howard Finkel Moments
Steve Cook takes a look back the Top 5 moments of legendary WWE performer Howard Finkel!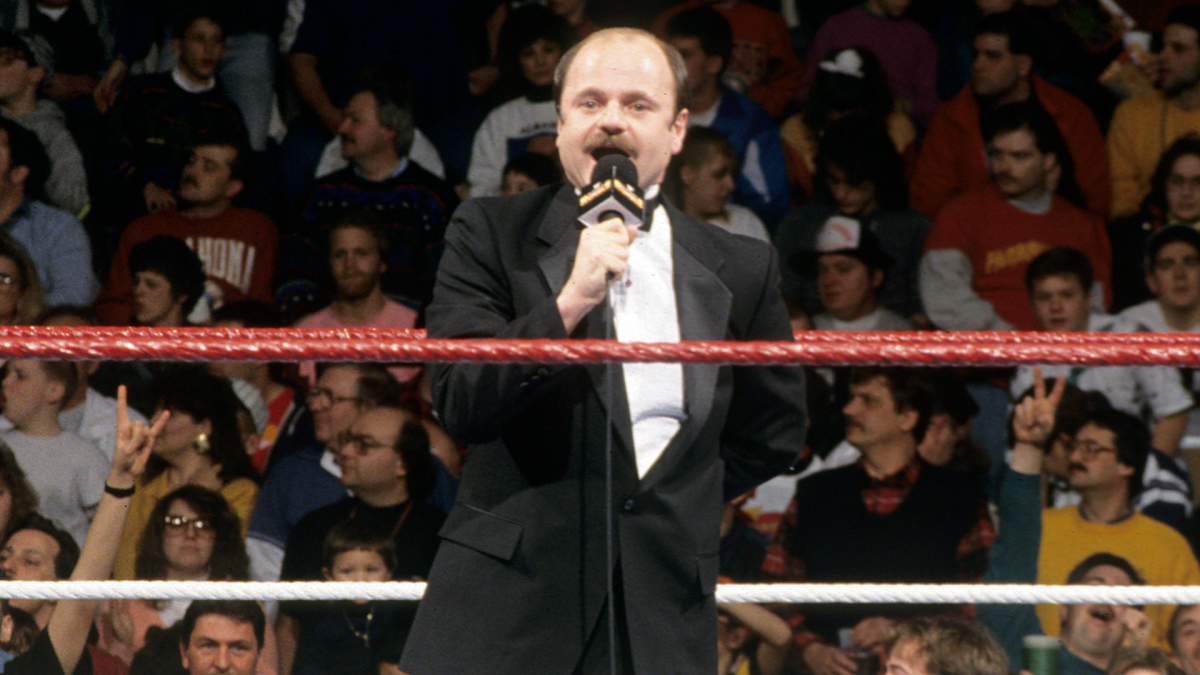 Steve Cook takes a look back the Top 5 moments of legendary WWE performer Howard Finkel!
The ring announcer is an often overlooked part of sports entertainment. Whether it be a wrestling, boxing or mixed martial art event, a great show becomes even better with the right person introducing the combatants & announcing the winners. Ring announcers that stick around with a company or stay in one area forever are remembered just as much as the fighters are.
Howard Finkel was an overlooked part of WWE for most of the company's existence. He was the first employee hired when the WWWF became the WWF. The Fink came up with the name of pro wrestling's most storied event: WrestleMania. He was the ring announcer for the lion's share of the company's most important shows during the 1980s & 1990s. There is not a ring announcer more associated with a company than Howard Finkel is with WWE. Whether he was ever fully appreciated by the company he devoted his life to, it's tough to say. I can say that the majority of WWE fans over the years certainly did appreciate him.
The Fink passed away this week at the age of 69, making an already difficult week for pro wrestling even worse. Today we look back at some of Howard Finkel's best moments in WWE.
5. No One Could Out-Think The Fink
Howard was known within WWE as having more knowledge of company history than anybody else. He was there for most of it, and was always paying close attention. If somebody needed a factoid or statistic, they went to Howard. He got to show off his knowledge regularly on the old Byte This internet show, and displayed it on television against some of the NXT Season 2 rookies.
4. Hair-Raising Situations
Finkel's hair, or lack thereof, was a constant source of comedy throughout his career. The TV announcers would often refer to his lack of hair. Sy Sperling even tried to help him out at WrestleMania X. In 1998, Jeff Jarrett shaved off what was left of Howard's hair, which ended up backfiring on him at SummerSlam. X-Pac won a hair vs. hair match, and Howard joined in the fun of cutting Jarrett's hair. Sadly, Howard's hair never grew back, but the shaved look grew on him (obviously not literally).
3. The #1 Jerichoholic
When Chris Jericho arrived in the WWF, he garnered a lot of attention from fans everywhere. Nobody was a bigger fan of the newest WWF Superstar than Howard Finkel. Jericho took Finkel under his wing, using the Fink's earnestness to impress to amuse himself and create distractions for his opponents. Y2J eventually sent Howard off on his own, remembering how his previous bald associate Ralphus had gotten a big ego.
2. Howard the Coward
While Howard busied himself with being Jericho's #1 fan, Lilian Garcia took over Raw ring announcing duties. I love Lilian now, but have to admit that she didn't get off to a great start in the ring announcing role. Fans wanted the Fink back on Raw, and they eventually got him in August 2002…after he pushed Lilian into Three Minute Warning, who destroyed her in short order. After this less than manly display, Howard displayed a more lecherous side than we were accusomed to while re-taking the Raw ring announcing gig. Shockingly, this didn't last long & Lilian got the job back.
1. Feuding With Harvey Wippleman
Howard & Bruno had a lot in common. Both were lifelong wrestling fans that would do anything to get into the business despite their physical limitations. Howard became a ring announcer, Bruno became a manager, and their paths intersected when Bruno got to the WWF in 1991 as Dr. Harvey Wippleman. Finkel would introduce Wippleman in a less than enthuiastic tone than we were accustomed to, and the men were at odds for years. They had a number of physical altercations which eventually led to a series of tuxedo matches, one of which was held on Raw in January 1995. I'll spare you the footage of Finkel & Wippleman in various states of undress.
Howard Finkel has been an important part of pro wrestling as far back as I can remember. While WWE tried to replace him on many occasions, and there are plenty of ring announcers that have done exceptional work over the years, The Fink will never be replaced in the hearts & minds of wrestling fans of my age group & older.
King's WrestleMania Rewind: Charlotte Flair vs. Asuka from WrestleMania 34
Chris king is back with one of the most underrated matches in WrestleMania history–Charlotte Flair vs. Asuka!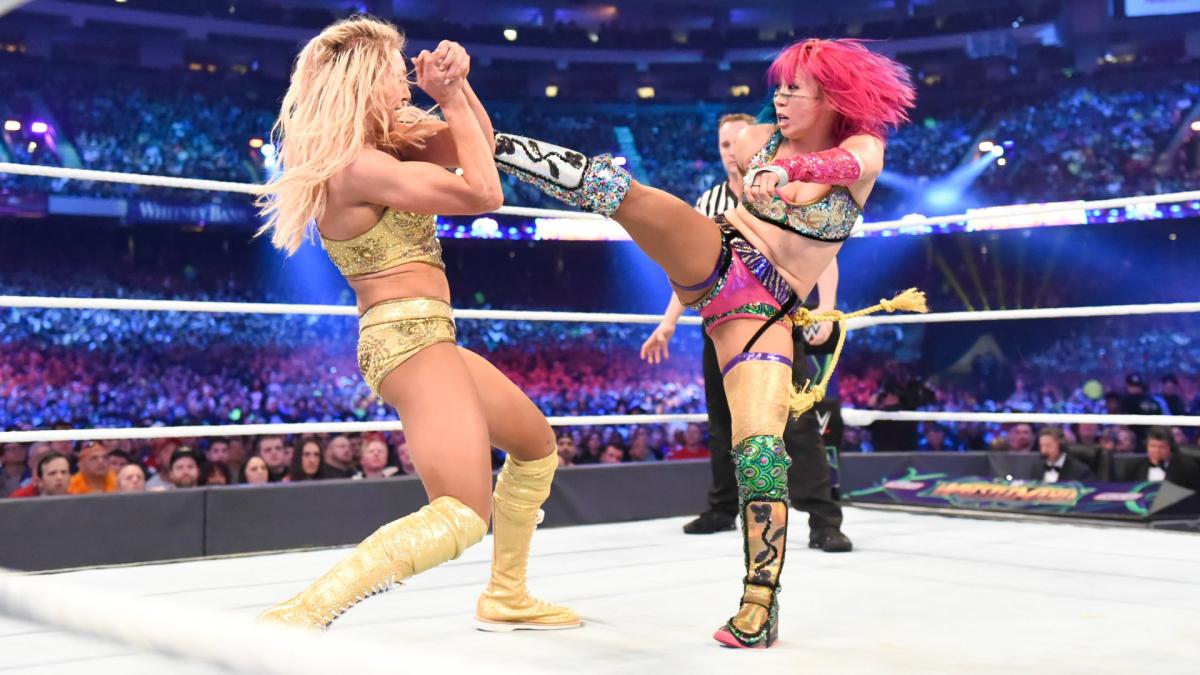 Chris king is back with one of the most underrated matches in WrestleMania history–Charlotte Flair vs. Asuka!
We look back at Charlotte Flair vs. Asuka at WWE WrestleMania 34. 'The Empress of Tomorrow' put her unprecedented and historic undefeated streak of 914 days on the line against 'The Queen's' SmackDown Women's Championship.
For years, this was considered a dream match while Asuka dominated the roster in NXT, while Flair won numerous championships on the main roster on both Raw and SmackDown. The Empress made her long-awaited debut on the September 11th episode of Raw and began to tear through the competition.
Asuka outlasted all twenty-nine other women in the historic first-ever Women's Royal Rumble match to challenge for the title of her choosing. At Fastlane, she made her choice.
The WWE Universe was so excited for this match myself included. Both superstars delivered a fantastic performance on the Grandest Stage of Them All executing counter after counter. Asuka showed off some nasty-looking kicks to her opponent, and Flair hit a thunderous Spanish Fly off the top rope. Flair was seconds away from defeat at the hands of The Empress but she locked in Figure Eight and Asuka was forced to tap out.
I can't even begin to explain how shocked I was at this outcome, as nearly everyone expected The Empress to continue her undefeated streak and walk away with the women's title. This controversial decision was the downfall of Asuka's momentum. She would ultimately win the SmackDown Women's Championship at the 2018 TLC pay-per-view in the triple-threat ladder match.
Fast forward to this year when Asuka has recently returned with her Japanese-inspired persona Kana. Kana is dangerous and ruthless and is heading into a championship with Bianca Belair at WrestleMania 39. The Empress has regained all her momentum and is highly favored to walk away with the Raw Women's Championship. Let's hope that Asuka and Belair can tear the house down and deliver an A+ grade match both women are fully capable of.
King: Dominik Mysterio Needs To Do This At WrestleMania
Chris King is here with what WWE should do with Dominik Mysterio at WrestleMania in his long-awaited match against his father Rey Mysterio Jr.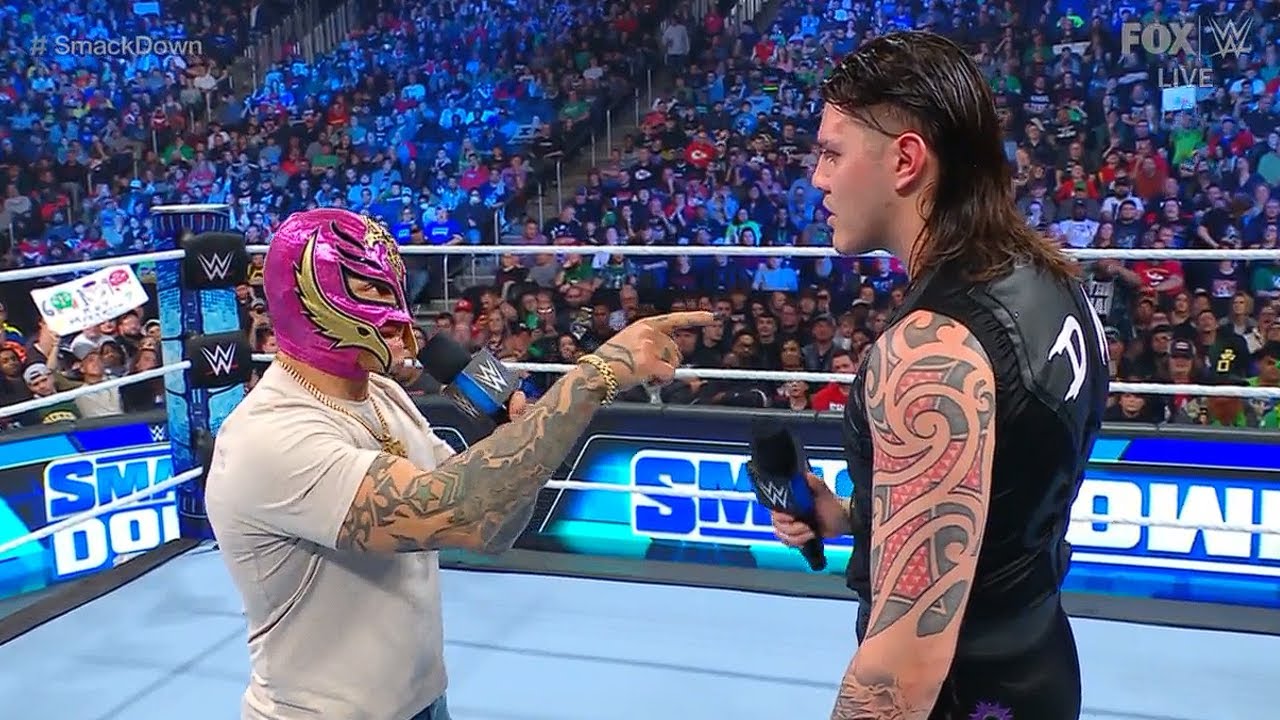 Chris King is here with what WWE should do with Dominik Mysterio at WrestleMania in his long-awaited match against his father Rey Mysterio Jr. 
On this week's episode of Friday Night SmackDown, Rey Mysterio finally snapped and beat some sense into his disrespectful punk-ass kid Dominik. The member of the Judgement Day came out to push his father again for a match on the Grandest Stage of Them All, this time with his mother and sister at ringside. The ungrateful punk told his mom to "Shut Up," as a father even I wanted to jump through the screen and whoop his ass.
Back in October of last year, Mysterio made the emotional decision to possibly quit the company but, instead, Triple H persuaded the Lucha libre superstar to move over to SmackDown to avoid his son. This came after Dominik shockingly turned on his father at Clash at the Castle. Mysterio did everything he could to refuse his despicable son's challenge for Mania but, a man can only be pushed so far. Mysterio will be inducted into the 2023 WWE Hall of Fame and I expect Dominik to embarrass his father during his speech to further this personal feud.
Yes, the WWE Universe hates Dominik and wants to see him get the ever-loving crap kicked out of him but, this feud is missing a special ingredient to capitalize on the biggest heat possible. Throughout this feud, Dominik has made mention of the legendary Eddie Guerrero on several occasions going back to the "iconic" 2005 feud.
I know WWE might not want to go this route but, Dominik MUST come out to Eddie Guerrero's theme at Mania. The disrespectful punk needs to come out in a lowrider to garner nuclear heat. It doesn't matter if The Judgement Day comes out and causes interference for Dominik to get the win, all that matters is that both superstars get the biggest payoff of this nearly year-long feud. Just imagine the Roman Reigns heat after he defeated The Undertaker and multiply that by ten. Dominik portrays the perfect heel and he truly is the missing ingredient that The Judgement Day needed to grow and evolve into a top faction.