Tiffany's Weekly Takes: April 20-26, 2020
Tiffany takes a look at some of the larger happenings in the wrestling world this past week!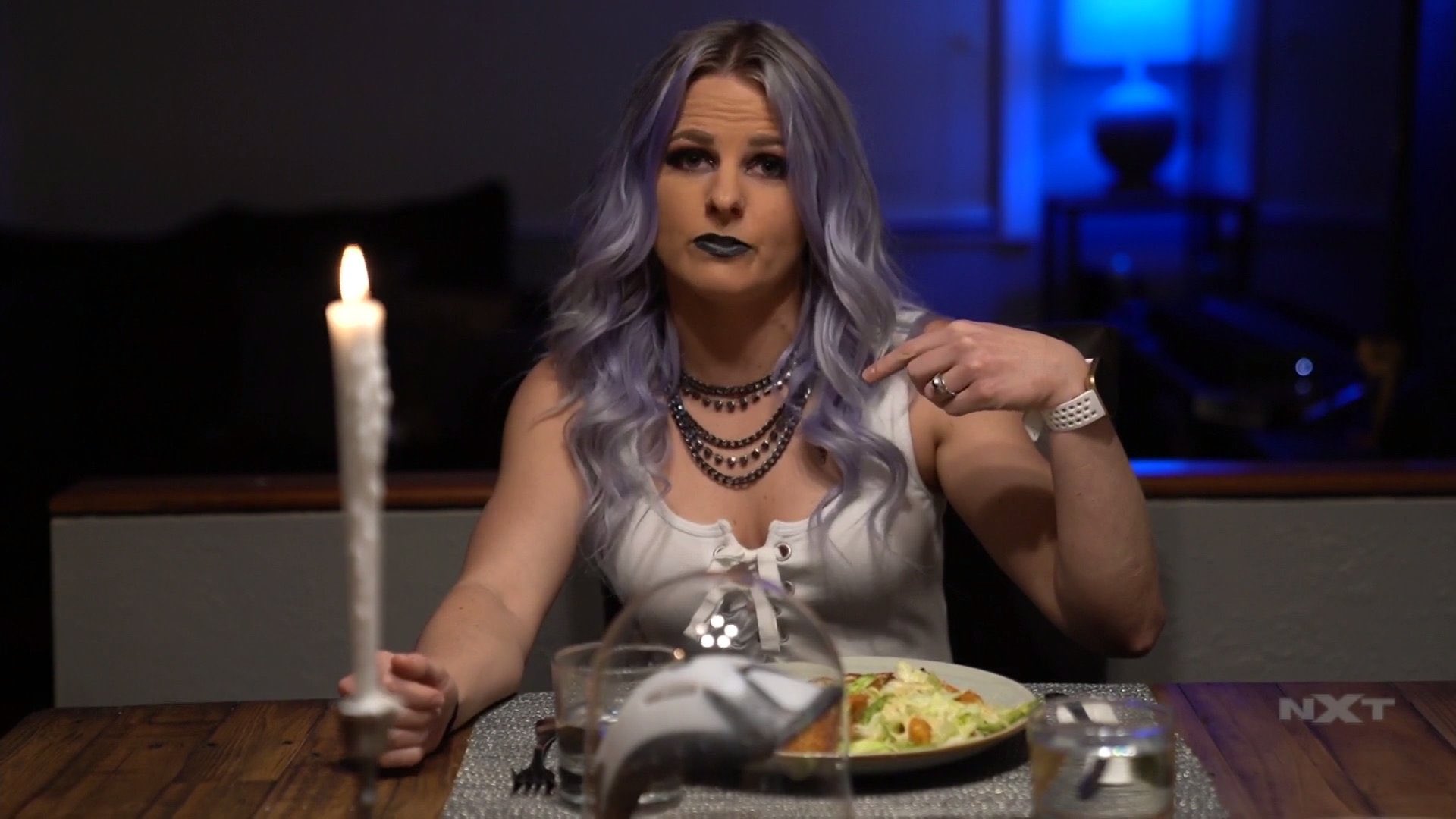 Tiffany takes a look at some of the larger happenings in the wrestling world this past week!
WWE
Yeah, I'm still planning on talking about WWE. For one reason, I have some more non-week specific opinions on WWE to share, for another, I still keep up with WWE.
I love Seth and I get that he feels that obligated to defend WWE against any and all criticism, deserved or not, but someone needs to sit him down and explain to him that sometimes it's better to just keep your mouth shut/fingers still because he's doing himself more harm than good.
I hope whoever wrote the Firefly FunHouse match tipped their dealer.
Roman Reigns staying home because he's got 3-5 kids and is immunocompromised is the right call for him to make. End of discussion.
Who is US Champion right now?
Funny that it took a pandemic for WWE to make any headway in the Wednesday Night Cold War.
Hard to believe Triple H is celebrating 25 years with WWE. That makes me feel old and he's older than I am.
Bianca Belair is overrated. Don't @ me.
The Bella Twins expanding their brand is always a good thing.
Is it wrong that the only thing I was disappointed in about WrestleMania was that we didn't get to see Nikki Bella flaunt her happy, healthy, relationship and glowing pregnancy in front of John Cena at Hall of Fame?
I don't like Velveteen Dream, but I hope the accusations against him prove false.
WWE spending a bunch of money on someone for 'mainstream' attention and then watching the guy run back to whatever sport he came from, is peak WWE.
RAW
Yeah, I watched RAW. What do you want? It's a pandemic and if I watch much more Investigation Discovery, I'm going to start getting SUPER paranoid.
Shayna Bayzler is garbage.
I LOVE the team of Ricochet and Cedric Alexander.
Can the Lashley/Lana storyline be burned to the ground, like NOW?
Kairi Sane trying to sunset flip off Nia Jax is seriously funny.
I see Nia didn't use her nearly year off to get better in the ring. Yikes.
Kayla Braxton in that dress. Wow.
No better way of advertising 'We have no big plans for this faction' than feeding them to the Champion while advertising his big match against someone else.
When did Jerry Lawler stop being funny?
I'm either missing something or Seth Rollins and his…cult are aligned with Zelina Vega and her crew.
Why is Seth on two thrones and I still HATE this gimmick.
Viking Raiders' promo was…yeesh. WTF?
Apollo Crews vs MVP was fabulous.
This twist in the Ruby Riott/Liv Morgan saga is interesting.
Morgan vs Riott was GREAT!
I loved Mysterio vs Murphy, but I'm not sure if Mysterio being in MiTB is a good idea.
Santana Garrett losing to Bianca Belair is a crime.
Really not into Charlotte as NXT Women's Champion. Seems like another thing that makes her look good but hurts everyone else, like just about every time she's held a title.
McIntyre vs…Garza(?) was eh.
NXT
Tegan Nox vs Dakota Kai is the best feud in NXT, if not WWE.
I'm not sure just WHY Candice LeRae's heel turn involved going crazy with the fake tan on her face, but I love her and Gargano as heels.
Adam Cole will be NXT Champion until UE goes to the main roster.
If I'm not mistaken, Io Shirai has a title match against Charlotte sometime in the future, which makes Charlotte's match next week against Mia Yim puzzling.
SmackDown
These are my thoughts on SmackDown. Yes, I guess this means I'm back in WWE. I just can't quit it.
Hard to believe it's been 25 years of Triple H.
New Day vs Lucha House Party. Battle of the ridiculous gimmicks.
LHP, Miz/Morrison, and Forgotten Sons going for the Tag Titles makes me miss the Usos that much more.
Gulak vs Corbin reminds of why I stopped watching this show.
Renee Young on my TV is always good.
The thinking behind Corbin's continued push escapes me.
Kinda bummed that I can't call Sheamus 'Foghorn O'Leghorn' anymore.
Sheamus going back to being a bully in this day and age is depressing. I miss funny!Sheamus.
Vicious!Sasha is the best Sasha.
Only good thing about that Banks/Evans match was building the Sasha vs Bayley story. Lacey Evans is still trash.
Mandy/Otis vs Sonya/Ziggler is yikes storytelling.
I like Dana Brooke, and she's improved a lot, but I don't see her as a future Women's Champion. She's just…not good.
Okay, that Women's Tag Match wasn't drizzling shits, but I'm a little confused as to what I just watched.
That Triple H celebration was good, but that end was weird and anti-climactic.
AEW
Like WWE, some of these takes aren't locked into this week.
Matt Jackson vs Nick Jackson was PHENOMENAL!
Still bummed that Dustin Rhodes might be retiring from in-ring.
Cody either needs to be the inaugural TNT Champion or they need to find a way for him to face Jon Moxley for the AEW Championship.
I hope when the implosion of the Elite does happen, and it will, it is a SPECTACULAR trainwreck of an implosion.
I like that even the matches that you KNOW are going to be one-sided aren't out and out squash matches, even for local talent.
Brodie Lee as the Exalted One is a HUGE blunder.
WHY has it taken over twenty years for Chris Jericho and Matt Hardy to do promos against each other?!
Matt Hardy trying to be some kind of Undertaker character does NOT work.
PLEASE, for the love of all that is good and holy, STOP asking Jon Moxley to talk about his WWE exit. It's been a year, we all need to let it go.
So, AEW is going to do Double or Nothing as a PPV, just not in Las Vegas and with no crowd.
Aubrey Edwards is awesome!
AEW beat NXT in the ratings this week, very nice.
I'm not sure what to make of the news that AEW is going to start doing live shows again in May, especially since a lot of the talent still can't travel because of statewide lockdowns, but we'll see.
Sammy Guevara is obnoxious, but he's amazingly talented.
Someone needs to do an intervention on Darby Allin or he's going to be one of those 'What could've been' stories.
Dark
I like Anna Jayy. I also like Penelope Ford.
Anna Jayy vs Penelope Ford was SOOO good!
Not surprised Ford won, hopefully bigger things will be in store for Jay.
Not sure what to make of Cody's cocky attitude.
Guess Bret Hart cleared everyone to use the Sharpshooter.
Good match, but cocky!Cody doesn't do it for me as a babyface.
Dynamite
This is going to be for my Dynamite yammerings.
Cody needs to get his roots done.
This could be the final night for Dustin Rhodes to lace 'em up and that's sad.
I'm SO for Cody to be the first TNT Champion.
I'm a little perplexed by Jericho still calling himself 'Le Champion'. Bubbly Bunch is funny AF though.
Social Distancing elbow bumps are the best.
I like AEW having people in the crowd, at a safe distance of course. It's better than wrestlers performing to silence.
Allin and Guevara was an AMAZING match, but that ladder spot was terrible.
Cody vs Darby Allin is ALWAYS a good thing!
Not a fan of this Matt Hardy. Wish they'd made him the Exalted One.
Love Taz explaining moves.
I'm happy Kenny Omega managed to put over a jobber AND keep the match under twenty minutes. Making progress here.
I want to like Scorpio Sky, but he does nothing for me.
Orange Cassidy vs Jimmy Havoc. Two wrestlers I don't give a fuck about are wrestling each other. YAWN.
I'm 'eh' on MJF, he just doesn't work as a top heel for me.
The fact that Wardlow isn't NEARLY as jacked as he looks like he should be in his suits is disappointing.
Brodie Lee as Exalted One = FAIL.
This match and the Wardlow match must've been at the end of one of the taping days since its two jobbers.
Marko Stunt vs Brodie Lee. RIP Marko Stunt.
I'm down for a Penelope Ford/Brandi Rhodes feud
Dustin Rhodes vs Lance Archer is going to be a BRAWL!
Misc
This little section is for all my thoughts and ramblings that don't fit into any other category
Stay the fuck HOME! No, this has nothing to do with wrestling, but it's common sense, or should be in a pandemic!
Considering that all the people that were just released from WWE are bound to 90 day no compete clauses, speculating about what company they'll end up in is pointless. Chances are, IF things are somewhat back to normal in 90 days, a lot of them will be hired back.
People who try to find out personal details about wrestlers, such as what sex their unborn/just born kids are, are creepy.
Dark Side of the Ring is a great show, can't wait for the season long one they do on Vincent Kennedy McMahon.
Mike and Maria Bennett/Kanellis basically trolling everyone with their announcement that people assumed was going to be on RAW, when they actually said 'DURING RAW', is hilarious. Plus the video was super funny and cute. They're resuming their podcast, BTW.