Cook: The IIconics Are Icons
Tag team or singles, Steve Cook has one word to describe the potential for The IIconics of Billie Kay & Peyton Royce: Icons.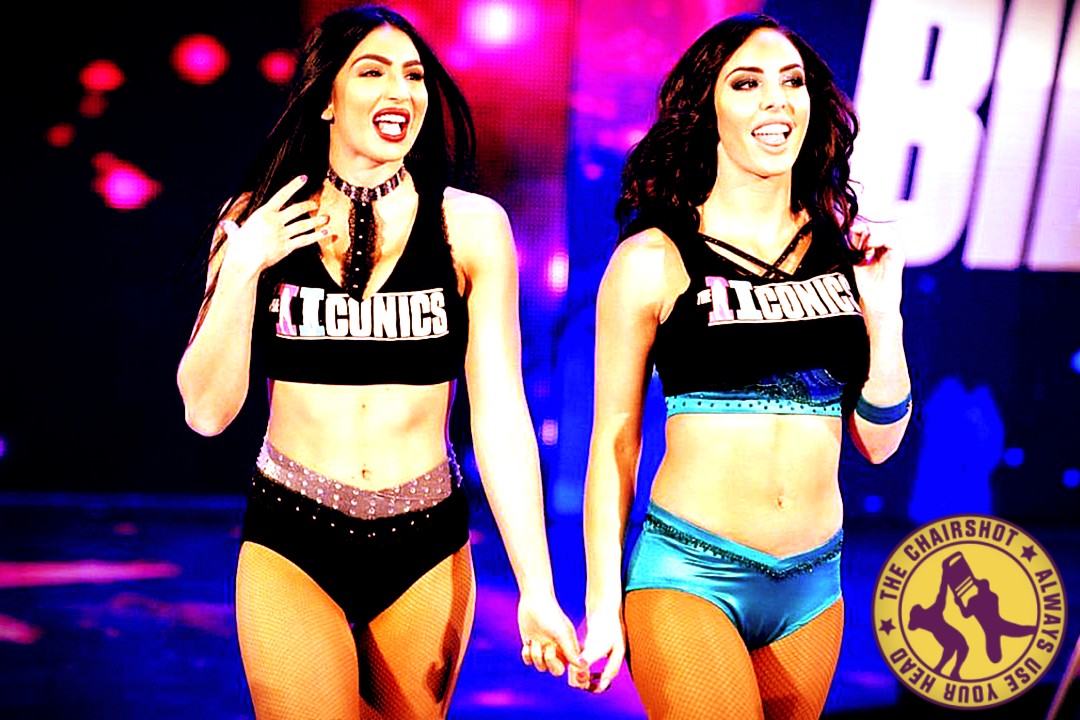 Tag team or singles, Steve Cook has one word to describe the potential for The IIconics of Billie Kay & Peyton Royce: Icons.
The May 18th episode of Raw saw a disturbing event take place. One that stunned viewers across the world. We never expected to see something like it happen. We were concerned about what it meant for the future of some of our favorite WWE Superstars. Would The IIconics be able to continue on their path to greatness? Or would it lead to their downfall?
You all know what I'm talking about. The Slap Heard Around The World.
Billie Kay & Peyton Royce have been the best of friends as long as we've known them. They attended the same high school. They went through so many of the same situations during their time in independent wrestling. WWE made the call to both Billie & Peyton, and they've been inseparable ever since.
They never failed to entertain NXT audiences with their personality & charm. Once they moved up to the main roster, it was only a matter of time before they became Tag Team Champions. It was the championship they were destined to hold. As somebody who had followed them since their Australian indy days, the whole thing brought me great joy.
Of course, good things never last forever. Their title reign suffered from a relative lack of competition. We would go weeks at a time without seeing Billie & Peyton. Eventually they would lose the championship, and were taken off TV for months with rumors of repackaging floating around the dirtsheets.
People like me wondered what needed to be repackaged.
I've never seen a female tag team as hilarious as the IIconics. The way Billie would scream HEY KAYLA whenever she saw the interviewer, or would tell people that they had to be joking her never failed to amuse me. Their tantrums after losing matches or celebrations after winning were equally delightful.
What needed to be repackaged? I didn't see anything, and as it turned out, neither did WWE. Thankfully, Billie & Peyton returned to our wrestling programming recently, making these difficult times a little bit easier to get through. When you know you're guaranteed to get at least one segment that makes you laugh, three-hour Raws are less of a chore for a viewer. WWE is all about putting smiles on peoples' faces, and I can honestly say that any time the Iiconics appear on Raw puts a smile on my face.
But then there was a slap, and the Internet was shook. Billie immediately apologized & hugged Peyton, but were the seeds planted for an Iiconic split?
Some of you may want that.
A lot of people are more interested in what will happen when a team splits than in enjoying the team while it lasts. We speculate over which member will be the Michaels and which will be the Jannetty. We take sides. Many of my friends at offtheteam.com are big Peyton Royce fans. They favor her more than any lady wrestler. Dave Meltzer would be shook. Me, I'm a Billie Kay guy. I always have been, going back to SHIMMER and the days of the 411 Wrestling Hot 100. 411 was always big in Australia thanks to good ol' Massive Q.
What I think both sides of the Billie/Peyton debate can agree on is this: we don't want them to split up. Sure, both could be successful on their own. They're so fun together though. Why mess with a good thing?
Fortunately, this week's Raw displayed Billie & Peyton back on the same page in an entertaining segment with Alexa Bliss & Nikki Cross. Bliss & Cross have their own unique friendship that seemingly started with Alexa looking to take advantage of Nikki's good nature. Nikki's earnestness rubbed on on Alexa, and for the first time since arriving on the main roster Alexa Bliss has become a fan favorite. They're good Tag Team Champions, but they need a strong heel team to go against.
If there was any criticism I had about the IIconics first title run, its that they weren't pushed as serious threats prior to it, and weren't pushed all that seriously as champions. This feud gives Billie & Peyton a chance to establish themselves as dangerous people. As entertaining as they are, they do need to prove that they're tenacious competitors. Alexa & Nikki can take the beatings & get that sympathy, Billie & Peyton can dish it out and be completely incapable of taking it. A loss would lead to a total temper tantrum, which we would all be entertained by.
The IIconics are icons.
That's all that needs to be said, to be honest. Billie & Peyton have that kind of charisma that can't be taught. They have the ability to reach people that nobody in WWE can train. Simply put, if WWE wants the Women's Tag Team Championship to be taken seriously, they should keep the Iiconics in that picture for at least the next five years. They need to be the Arn/Tully for that scene.
Some people are better off as a tag team. One could argue that Billie Kay & Peyton Royce could both be singles stars. They found each other, and formed an act that was somehow more than the total of their parts. Let's run that into the ground.
If nothing else, it'll put a smile on my face.