News From Cook's Corner 5.11.20: MY MAN OTIS!
Otis is Mr. Money In The Bank and Steve Cook couldn't be happier! Plus news and so much more in this NFCC!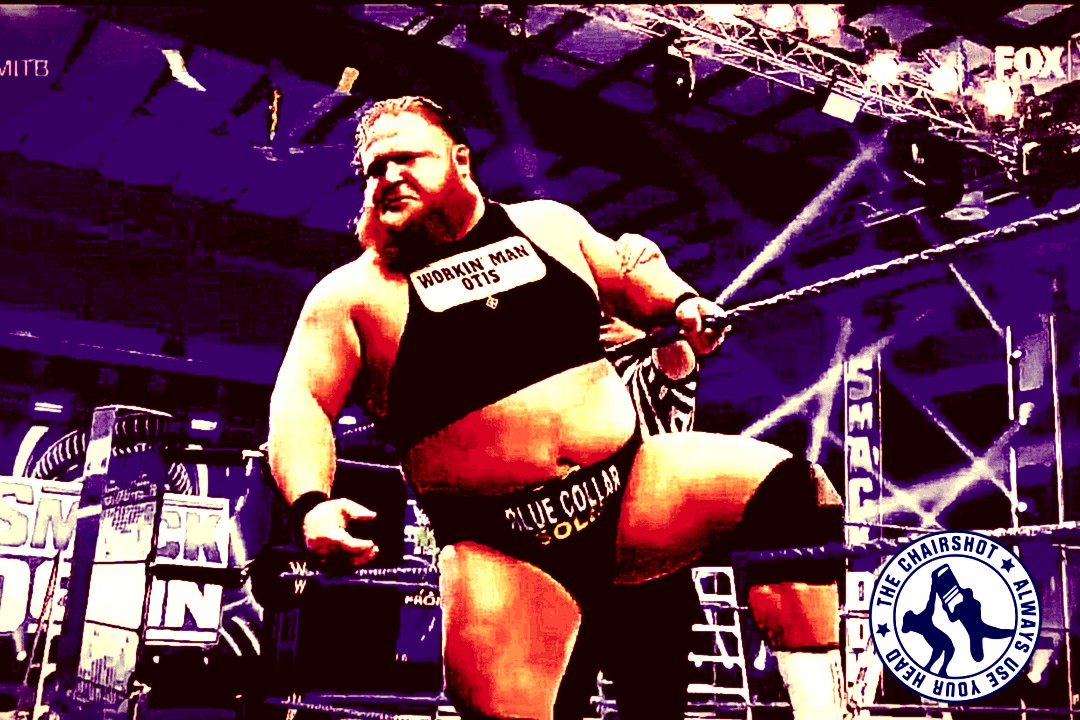 Otis is Mr. Money In The Bank and Steve Cook couldn't be happier! Plus news and so much more in this NFCC!
Hi, hello & welcome to News From Cook's Corner! I hope all of you mothers out there had a wonderful Mother's Day. I would be surprised if any mothers read this column. My mom doesn't, thank goodness. I'm not sure which aspect of my life she's more ashamed of: my wrestling fandom or my political affiliation. There's also the fact I'm single approaching my mid to late 30s, but that really doesn't seem to surprise her. Or anybody else that knows me, actually.
Busy week in the world of pro wrestling as usual, so let's get right to it.
WWE News
WWE held their Money in the Bank PPV event on Sunday night. I actually put off Last Dance viewing for the evening so I could watch & comment on it here. The sacrifices I make for you people…
(Match results & times via the Honorable Andrew Balaz, whose review you can read here)
Kickoff Show: Jeff Hardy vs Cesaro: Hardy wins via Swanton Bomb @13:30
OK, I didn't watch the Kickoff Show. Mother's Day festivities meant there was a time crunch so I had to miss out on Charly Caruso or Coach or whoever was on the panel. I also missed this match, which I'm sure was fine, but nothing we'll remember this time next week. Some will complain about Cesaro not being on MITB proper or in the ladder match, or the fact he lost on the Kickoff Show, but that ship sailed a long time ago. Cesaro has his role. I might have him putting over people other than Jeff Hardy, who's on his 56th chance at this point, but that is what that is.
SmackDown Tag Team Titles: Lucha House Party vs The New Day (c) vs Miz & Morrison vs The Forgotten Sons: Big E retains via Big Ending @12:00
For as long as I can remember, SmackDown Tag Team Championship matches have fallen into that "it was good but who really cares" category. It's been Usos & New Day spinning their wheels for years, and now we can add in Miz & Morrison, along with these two other teams I guess. This wasn't bad, but it was a lot of spots and if there was anything in the way of psychology it went over my head.
R-Truth vs Bobby Lashley: Lashley won via Spear @1:40
There's been speculation about MVP starting a stable, and Lashley would be a fine piece to start with. The issue is that Lashley's already had two mouthpieces, been in one group, and none of it served to get him any more over. So the jury's definitely out. R-Truth challenged Tom Brady later in the show, so he's doing his usual thing.
SmackDown Women's Championship: Bayley (c) w/Sasha Banks vs Tamina: Bayley retains via Crucifix Pin @10:30
I liked this more than Andrew did, but that's probably because my match grading took Sasha Banks into account more than his did.
You tried to break my heel because yours ain't Gucci? You deserved that slap @TaminaSnuka pic.twitter.com/zUcLCtfDaf

— $asha Banks (@SashaBanksWWE) May 11, 2020
Honestly those pics don't do it justice, Sasha was getting it done tonight. ***** for that alone. Bayley did what she could with Tamina. I keep asking for an explanation for this Tamina push and I still haven't heard one, and I doubt I will. At the same time, I never want Sasha & Bayley to split up because they're so beautiful together. I like friendship, what can I say?
WWE Universal Championship: Braun Strowman (c) vs Bray Wyatt: Strowman retains via Running Powerslam @10:55
Braun faced off against Bray the children's TV show host because we're saving the Fiend for the next show. They even teased it after the match. So as the saying goes…THIS FEUD MUST CONTINUE! Which I'm fine with since we're in a pandemic and there's no reason to rush into anything that might actually be good. I will say the match was fine up to the point where Bray got outsmarted by Braun putting a sheep mask on, and his puppets all showed up at ringside to get outsmarted too. I know they're all used to playing to a young audience, but they have to be smarter than that. Looked like a bunch of stupid idiots.
WWE Championship: Seth Rollins vs Drew McIntyre (c): McIntyre retains via Claymore @19:20
This felt more like a modern-day World Championship match than anything I've seen lately. These guys brought everything they had, and in front of a crowd I could see it getting an even better rating because the WWE Universe would have been into it. Seth worked his typical style, hitting a bunch of moves because that's what he does. It was one of those balls out matches that you would expect from Seth & Drew. Solid stuff. We even got a post-match handshake because Drew is that kind of guy. I'm not sure what it means going forward, but I'm not sure anybody else does either. I really wish Drew McIntyre got a title run when things were normal, because I think he's the type of charming babyface that could do good business. We won't know though, nor will we know about Braun on SmackDown, or Jon Moxley over in AEW. I know people are chomping at the bits to declare these title runs failures, but find me a champion that could work in this era. Even Ric Flair in his prime would have had a tough time with it.
Money in the Bank: Die Hard Dash for the Cash: Asuka and Otis win @27:15
Some reports I saw had this going the length of the show, which would have been brutal and I'm glad they didn't do it that way. Cutting to other matches during these matches would have been tremendously awkward. Having both matches take place at the same time was awkward enough, though I understand why they went that route.
It was a fun little piece of business. I don't have many complaints about it, other than when AJ Styles & Daniel Bryan brawled into Vince McMahon's office. Vince told them to get out. They did, and they even straightened the chairs they had un-straightened. This is one of those things that shows the difference between the Attitude Era wrestlers that didn't give a crap & the Gratitude Era wrestlers that are happy to be there. Stone Cold Steve Austin never would have straightened a chair. Hell, Owen Hart & the British Bulldog brought a bunch of pigs into Vince's office as a tremendous rib. The late 1990s guys felt free to do whatever they wanted, and that's why they got over. Now? AJ & Daniel are cowering & begging off to an eighty year old. Not great.
Dana Brooke begging off to Stephanie seemed more believable, which is silly because why would there be a Money in the Bank conference room? Still, I bought into that more than the bit in Vince's office. Possibly because Dana didn't actually clean anything.
Asuka was consistently the smartest person in the Women's MITB match, so it made sense that she won, and kicked King Corbin off of the ladder to do it. We've been hearing all week about how Becky Lynch is going to confront the Women's MITB winner…well, now she has to be ready for Asuka. Good luck with that, Man!
The men's match had quite the conclusion. King Corbin tossed Rey Mysterio & Aleister Black onto a crash pad a few feet below, which was quite the let-down after the rumors of people being tossed off of Titan Towers. Then we had Corbin & Styles face off on the ladder, which led to ELIAS raising from the dead and hitting Corbin with his guitar, which led to Corbin falling off, and the briefcase falling off…INTO THE HANDS OF OTIS!
YES! YES YES YES YES YES YES I TOLD YOU MONSOON I TOLD YOU MONSOON
My main man Otis has the Money in the Bank briefcase, and that's all I ever asked for. A million billion stars. Especially since the show was the shortest since that ECW December Debacle. I will always cut wrestling feds slack if they give me what I want, and WWE gave me Otis with a briefcase. I'm sold. Good show, Vince.
I expect Otis to be carrying briefcases full of sandwiches until the proper time. OH YEAH. I am such a huge fan of this scenario that I will tune out if they try to switch the briefcase onto somebody else. Just let Otis carry that briefcase (full of sandwiches and a contract) and I will be a happy man. I ask very little of WWE, but let me have this until Otis tries to cash in. And maybe he cashes in on the New Day. That would be fine. Maybe he lets Mandy Rose cash in on Bayley. That would be fine, and could lead to all sorts of things.
It was a short show. Some of the matches weren't so great, but the end result gave me what I wanted. This the opposite of those eight hour shows that weren't so great and gave me nothing that I wanted. I feel like WWE is moving in the right direction here, through means they didn't expect.
AEW News
AEW was fined $10,000 by the Maryland State Athletic Commission due to Jon Moxley & Kenny Omega bleeding during their Lights Out match at the Full Gear event back in November 2019. It was a rather flagrant violation of Maryland's rules regarding professional wrestling, so the fine doesn't come as much of a surprise in that regard. It does raise some questions though, and highlights the inanity of state athletic commissions being involved in pro wrestling in 2020.
For one thing, most of us have accepted at this point that wrestling is entertainment. Sure, there was some push-back in the late 1980s when Vince McMahon exposed the business so he could get some of these commissions to loosen up and quit charging him money to run shows, but that was over thirty years ago. As we've learned, some people refuse to evolve past a certain point, and one of those people is former WCW C-show announcer Chris Cruise. We're talking about a guy who was below Eric Bischoff on WCW's announcing depth chart even before Bischoff got the Executive Producer gig. If you don't remember him, I don't blame you.
Since Cruise hasn't been able to get a job in wrestling for twenty-five years or so, he's appointed himself as the Lord & Master of Professional Wrestling in Maryland. He's like those goofballs that watch golf coverage and call in rules violations to the USGA. They have nothing better to do with their lives than make sure that Phil Mickelson doesn't move a leaf, or that Jon Moxley doesn't fall onto some barbed wire.
It's the same thing, trust me.
So, Cruise's whole role in this as the hall monitor/stooge is sad & pathetic, but part of me realizes that he's an old man that needs to keep himself busy somehow. Some people play with their grandkids, some get greeter jobs at Walmart, others sit in front of their TV sets and count wrestling rules violations. I guess it's better than watching Fox News all day. However, this leads to a really good question.
If the Maryland State Athletic Commission are going to be a bunch of busy-bodies and regulate professional wrestling shows, where was the representative of the Commission during Full Gear? Did anybody show up? Did somebody show up early and leave before the show ended? Why wasn't there somebody on hand to make sure that these crazy wrestlers didn't bleed all over the place and endanger the lives of themselves & others? Why did Chris Cruise even have to call this into the commission in order to inform the Commission of the egregious violations? Shouldn't they have been on top of it already?
The answer, as far as I can surmise, is that the Maryland State Athletic Commission was asleep at the wheel. As much as they care about regulating pro wrestling within the borders of their state, AEW's big PPV event in Baltimore somehow slipped under their radar. There could be a couple of reasons for this. Maybe they were informed of the matter and were willing to look the other way.
The most likely answer: They really don't give a shit and are there to collect money from wrestling promoters to pay for their continued existence as an athletic commission.
I'm all for government regulation for things that actually need to be regulated for the public good. Professional wrestling is not one of those things. Even if you want to argue that it is, you'd have to agree that it's way, way down the list of things state governments should be concerned with. Let's handle this pandemic stuff first. Maybe get some of the homeless off the streets. Hell, why not get some kids educated? Nah, let's worry about people bleeding on a wrestling show. Obviously that's what's important in 2020.
In other AEW news, everybody at Wednesday's taping tested negative for the coronavirus and things went well from all accounts. It's still worth keeping an eye on this situation because it's being reported that AEW & UFC competitors were staying in the same hotel in Jacksonville, and one UFC fighter and a couple of cornermen tested positive. Dana White claims everything is fine, but Dana White's one of the last people I believe when they say everything is fine. So we'll see.
Other Wrestling News
Wrestlers & wrestling fans were irate over the weekend at comedian Tom Segura for comments he made regarding professional wrestling & people that watch the stuff. In case you missed it, here's what he had to say.
Just figured wrestling fans should see this video of @tomsegura saying we're all "retards" for future reference if his name comes up.

— Ryan Satin (@ryansatin) May 8, 2020
I have two main points to make.
1. I don't know who Tom Segura is.
That doesn't really mean anything though. People that know me know I live in a bubble consisting of wrestling & sports. Those are my interests. Few other things get my attention very often. As far as stand up comedy goes, I'm as casual a fan as there is. I don't know comedians unless they star on hit TV shows, and even then it's 50/50 if I know anything about them other than their name. Apparently Segura's big on Netflix, and that's nice, but I use Netflix to watch TV series. I can't remember the last stand-up comedy special I watched on there. Friends of mine that are more into stand-up assure me that he's good, so that's cool.
2. I'll never understand why people care so much about these things.
This isn't a thing with just wrestling fans, but wrestling fans (and wrestlers) are among the most defensive of their fandoms. They get so worked up and outraged when somebody dares say something negative about anything associated with pro wrestling. I don't know why they care so much about this. It's like they're the guy Terry Funk yells at in his classic promo he's done on several people on different occasions.
"Hey! Your wife's a whore!"
*no reaction*
"Your kids are whores!"
*no reaction*
"Wrestling is lame!"
"HOW DARE YOU, GOOD DAY SIR!"
I don't get it. People just get soooooooooooooo mad. Like when a Congressman pointed out that the State of the Union Address was faker than pro wrestling…man. All the fans were outraged. The wrestlers were trying to get some heat. I had no idea why people were upset. It was the most ridiculous crap I'd seen that week.
I hate to paraphrase a line from Jeremy Lambert…well, no, I don't. Saves me the trouble of coming up with something original. But as he says, if you desperately need attention, make fun of pro wrestling. You'll get all the attention you could want.
Music legend Little Richard passed away last week at the age of 87. He made three important contributions to the world of professional wrestling during his life. "Mean" Gene Okerlund covered his song "Tutti Frutti" on The Wrestling Album. Richard sung "America the Beautiful" at WrestleMania X. He also served as the inspiration behind Marc Mero's Johnny B. Badd gimmick in
WCW, which I maintain was underrated by many, especially fellow wrestlers of the time period.
Alberto Del Rio has been accused of sexually assaulting a woman on multiple occasions and threatening to "drop her son in the middle of the road". The sad thing here is that none of this surprises me in the least. It's Alberto Del Rio.
Finally, in further evidence of how serious the coronavirus has gotten, CZW has postponed their annual Tournament of Death to a later date. Their official announcement got a bit of a chuckle out of me:
"Due to the ongoing coronavirus pandemic, CZW has no choice but to officially postpone Tournament of Death to a later date when it'll be safer for everyone involved."
I dunno, doesn't making the TOD "safer" kind of ruin the point of the tournament? If you're going to have a death match, make it as unsafe as possible, I always say. Honestly, you could call any tournament being run right now a "Tournament of Death".
Plugs
I started celebrating my 30th anniversary as a wrestling fan by writing about my favorite memories from 1990!
WWE has high hopes for Karrion Kross and you should too! Even if Jim Cornette got a Sable/Marc Mero vibe off the presentation. I guess he loves lip synching.
I wrote about why Otis Should Be Mr. Money In The Bank. And you all ignored it because people tend to ignore the obvious.
Thanks for reading! Stay safe & remember that you're wearing a mask to protect other people, not yourself. Most of these folks I've seen yelling at police officers about oppression & other words they don't understand should have been wearing masks years ago, to be honest.