Andrew's Impact Wrestling Results & Match Ratings 6.2.20
Knockouts tag action, #1 contender for the tag titles and #1 contender for the World Title; those are the major highlights for tonight!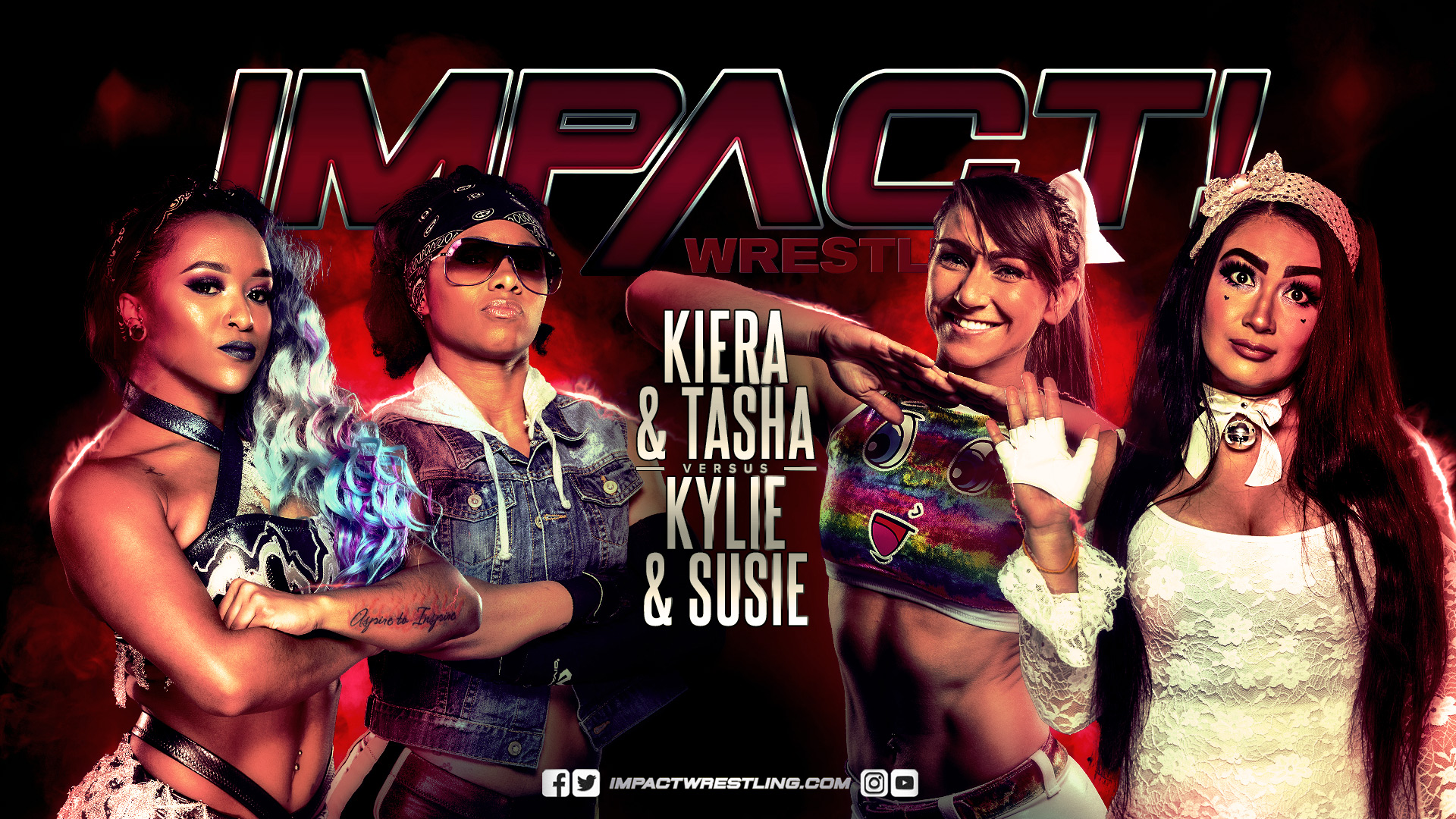 Knockouts tag action, #1 contender for the tag titles and #1 contender for the World Title; those are the major highlights for tonight!
IMPACT!'s card looks pretty solid, we might get some surprisingly good television matches. Impact definitely tends to deliver with their main events, and this should be no different. Let's hope that Impact Wrestling figured out a way to make sure Trey doesn't look like a chump when he probably loses to Ace.
There won't be any clips in the review tonight, since Impact decided to do a rather unique take on the moment of silence.

Ratings:
Susie & Kylie Rae vs Kiera Hogan & Tasha Steelz: Kiera wins via Face the Music – ***
Joseph P Ryan w/Crist Brothers vs Crazzy Steve: Ryan wins via Superkick – * 1/2
Chase Stevens vs Rohit Raju: Rohit wins via Diving Double Stomp on the Back – ** 1/4 
#1 Contender for the Tag Titles: Dez & Wentz vs TJP & Fallah Bahh: Dez wins via Single Leg Bridging Cradle – **** 1/4
#1 Contender Tournament Finals: Ace Austin vs

Trey

Wentz: Ace wins via The Fold – *** 3/4
Results:
Susie & Kylie Rae vs Kiera Hogan & Tasha Steelz
Lots of early talking and character work. Tasha and Kiera kept verbally berating the two "nice" girls, picking at their happy personas and just being the mean girls they are so great at being. Susie showed a few signs of life with Headlock Takeovers, Bulldogs and the Double Hand Face Buster…but it wasn't to be for the nice girls.
Kylie showed a lot technical skill trying to fight through Tasha and Kiera's onslaught, but Susie proved to be the weaker link. Even though she did get Kylie's bow back…so tiny victories for out sweet schizophrenic.
Ace Austin has a quick backstage promo moment, but it gets interrupted by Moose. Moose gives his usual "TNA Title is more prestigious" pitch…and you know what…Ace doesn't dismiss him out right. He seems almost intrigued at the prospect.
Joseph P Ryan w/Crist Brothers vs Crazzy Steve
So this was building towards the future. Crazzy Steve made mention that Joseph is "The Dick Guy", which bothered him. Steve took an early advantage that was stopped by a Joseph P Ryan Dropkick. A little bit of Joseph playing up his new gimmick before Steve started coming back. The Crists distract Steve, Superkick from Joseph, and Cancel Culture picks up the win.
After the match, Joseph offers Jake a spot in Cancel Culture, and says "You know what to do", and a big Roundhouse, wipes out Dave Crist. So Jake betrayed his brother for Cancel Culture. I guess Twitter politics do tend to divide households…so…poignant maybe?
Chase Stevens vs Rohit Raju
Competitive match, which showed a lot of fight and desire from Rohit. This new version of Rohit is craving the spotlight and going to an animalistic mentality. He absorbed a few big moves, including a solid Scissor Kick to the back of his head. But after a little bit of a referee shield, he takes advantage of things and picks up the win. Chase looked good, but made Rohit look better. Decent little match.
Nevaeh speaks and clears up the storyline for watchers at home. Punctuates by saying the team of Havoc and Nevaeh have arrived. Interesting. 
Locker Room Talk was pretty fun. Swinger was excited since Chris Bey was the guest. Find the clip, since Impact silent on Twitter tonight. 
ImpactPlus Flashback Moment: Drew Galloway vs Bobby Lashley, Tap Out or Knockout Match, TNA Championship, June 12,2016
#1 Contender for the Tag Titles: Dez & Wentz vs TJP & Fallah Bahh
Starts off amusing. TJP says they should give the people watching at home a clean start, instead of shaking hands, Fallah jumps in and says elbows. The Rascalz argue they're about to wrestle…but go along with it. Fallah tells TJP he's gonna start, TJ tries to move him, to no avail. So the opening salvo is a lot of Dez trying to power down Fallah and failing, but Fallah keeping up a bit and you hear Dez saying "Okay, you're impressing me".
Fallah gets a bit winded dodging, so stops Dez to tag in TJP. It's funny, but it also is very Japanese where both members start off easy and get a little time against one another. TJP and Wentz were fantastic, great Junior style moves and just crisp fun moves and counters. Wentz and Dez tried to keep TJP in and in their corner with constant tags and quick moves, including a Bronco Buster, but Fallah eventually got sick of watching.
This was a very fun match. Fallah showed more athleticism than someone his size would be expected to have, and the Rascalz finally showed the desire to actually win instead of just play. TJP caught Dez's leg at the end of his Double Back Handspring Overhead Kick, and had his stuck in an Ankle Hold for a while. But Dez fought out, Wentz pushed him backwards and Dez bridged with one of TJP's legs trapped and picked up the win.
After the match, The Rascalz say they can do this again, and damn this proves it would be a hell of a banger.
Rosemary and Bravo's first date, is kinda amusing. Bravo shows he's still very much under Taya's thumb, but Rosemary seems close to getting through to him. Not bad, but mostly irrelevant. 
Elgin comes out trying to hold the show hostage, saying that the Finals will go through him. So the first person to come out will deal with him. There was a quick tease of Callihan's music, but after Elgin's line of the first person…Ken Shamrock's music hits and he's pissed. Shamrock hits the ring, and we get a small scuffle, where Shamrock stands tall afterwards. This helps to make the Callihan interference make more sense last week. Shamrock did offer Callihan the olive branch, so maybe that was Callihan giving Shamrock the opening to get his revenge. 
There is something very scary about the prospect of Callihan and Shamrock being on the same page. 
#1 Contender Tournament Finals: Ace Austin vs
Trey

Wentz

Ace comes out, and then we see that Trey was attacked backstage, off camera. The other Rascalz show up, and Wentz is PISSED. Ace starts the cocky heel gimmick of "Oh well, too bad, referee count him out". Wentz storms the ring and Ace cowers. A second ref and Scott D'Amore come out to figure something out. D'Amore basically calls the audible and allows Wentz to wrestle in Trey's place.

Wentz beats the hell out of Ace once the bell rings. Ace is covering up and getting rocked as we go to commercial. Coming out of the break, both men are outside, and Ace seems to have gotten some momentum back. Wentz might've started to gas out a little, since he did just get done with a tag team match…so Ace spends most of this time trying to get the countout. Wentz gets some space, goes for a big running dive off the steps, but is met with a Reverse Roundhouse Kick mid flight. Second commercial break.

Returning from the last commercial, we're back in the ring, and things go back and forth a little. Wentz finds a lot of moments to bring some life. Well timed and stiff Thrust Kicks, Rising Knee Lifts continue to give Wentz hope. Wentz never dropped the anger and desperation to avenge his friend being attacked. This was a great showing for Wentz. He pulled off a cool Wheelbarrow Spinout Side Effect, but only for 2. Wentz goes for the Swanton Bomb, but meets knees. Ace drives Wentz's head into the mat, hits The Fold, and manages to win the number one contender tournament.
Overall Score: 8.5/10
Starting off with a lot of story building matches, this show definitely ended strong. Not only did we get two great matches at the end, but Wentz…wow. For those who don't know, Wentz is the current incarnation of Suicide, he had a great tag match and then a great singles match all in the same day. Ahh…too be young and have endless energy.
Not only did the main event angle make Wentz look amazing, it protected Trey from what I mentioned last week. If Trey lost to Ace, AGAIN, for about the fifth time in the course of a year, it's hard to really build that as relevant rivalry. This attack angle gives the allusion that Trey might've finally had Ace's number, Ace has history with Tessa, and now Wentz should've proven himself as a future player. Frankie Kazarian used to be "The Future", now I think that's Zachary Wentz.
Great show.