Andrew's Impact Wrestling Results & Match Ratings 6.2.20
Knockouts tag action, #1 contender for the tag titles and #1 contender for the World Title; those are the major highlights for tonight!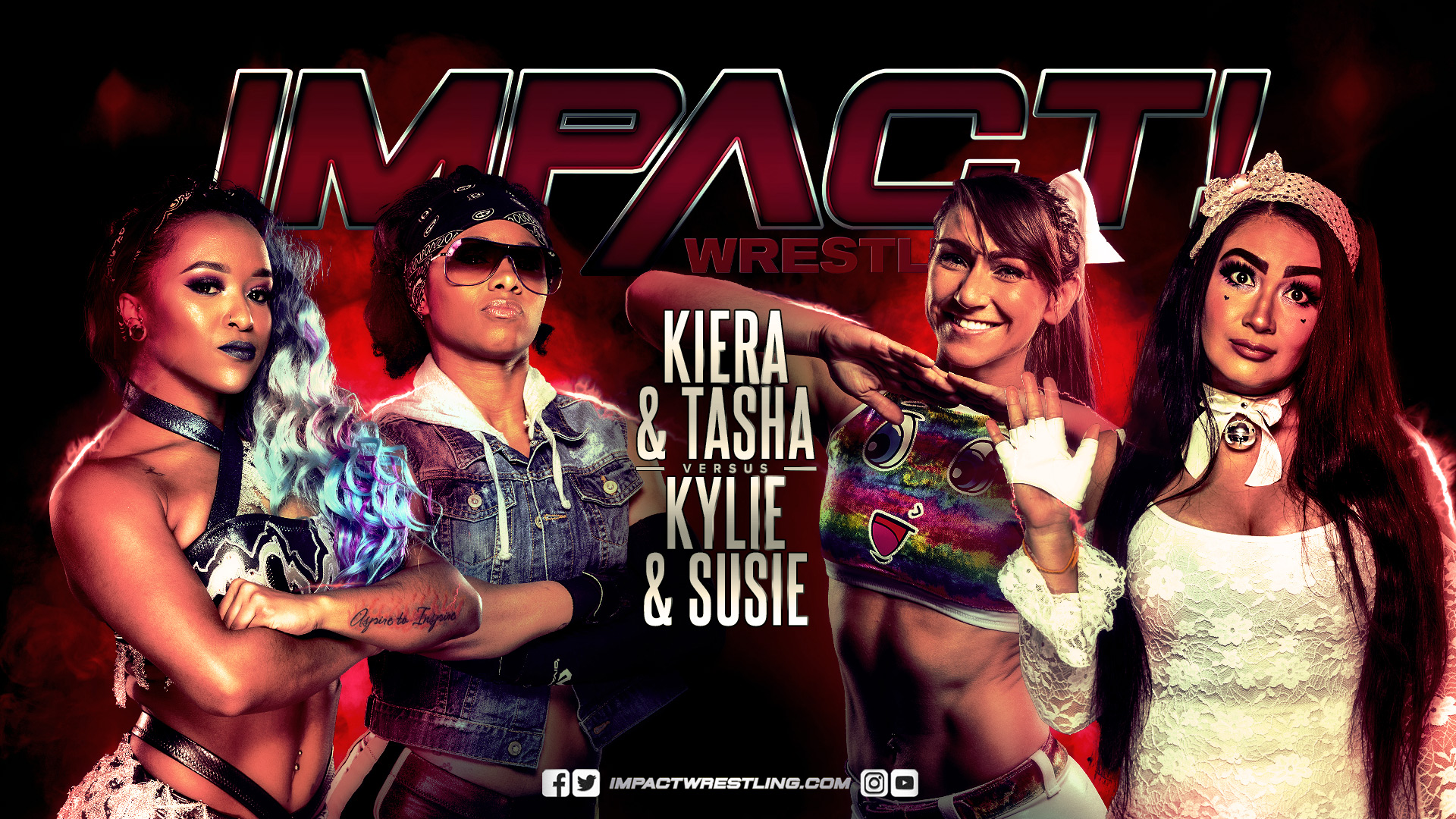 Knockouts tag action, #1 contender for the tag titles and #1 contender for the World Title; those are the major highlights for tonight!
IMPACT!'s card looks pretty solid, we might get some surprisingly good television matches. Impact definitely tends to deliver with their main events, and this should be no different. Let's hope that Impact Wrestling figured out a way to make sure Trey doesn't look like a chump when he probably loses to Ace.
There won't be any clips in the review tonight, since Impact decided to do a rather unique take on the moment of silence.

Ratings:
Susie & Kylie Rae vs Kiera Hogan & Tasha Steelz: Kiera wins via Face the Music – ***
Joseph P Ryan w/Crist Brothers vs Crazzy Steve: Ryan wins via Superkick – * 1/2
Chase Stevens vs Rohit Raju: Rohit wins via Diving Double Stomp on the Back – ** 1/4 
#1 Contender for the Tag Titles: Dez & Wentz vs TJP & Fallah Bahh: Dez wins via Single Leg Bridging Cradle – **** 1/4
#1 Contender Tournament Finals: Ace Austin vs

Trey

Wentz: Ace wins via The Fold – *** 3/4
Results:
Susie & Kylie Rae vs Kiera Hogan & Tasha Steelz
Lots of early talking and character work. Tasha and Kiera kept verbally berating the two "nice" girls, picking at their happy personas and just being the mean girls they are so great at being. Susie showed a few signs of life with Headlock Takeovers, Bulldogs and the Double Hand Face Buster…but it wasn't to be for the nice girls.
Kylie showed a lot technical skill trying to fight through Tasha and Kiera's onslaught, but Susie proved to be the weaker link. Even though she did get Kylie's bow back…so tiny victories for out sweet schizophrenic.
Ace Austin has a quick backstage promo moment, but it gets interrupted by Moose. Moose gives his usual "TNA Title is more prestigious" pitch…and you know what…Ace doesn't dismiss him out right. He seems almost intrigued at the prospect.
Joseph P Ryan w/Crist Brothers vs Crazzy Steve
So this was building towards the future. Crazzy Steve made mention that Joseph is "The Dick Guy", which bothered him. Steve took an early advantage that was stopped by a Joseph P Ryan Dropkick. A little bit of Joseph playing up his new gimmick before Steve started coming back. The Crists distract Steve, Superkick from Joseph, and Cancel Culture picks up the win.
After the match, Joseph offers Jake a spot in Cancel Culture, and says "You know what to do", and a big Roundhouse, wipes out Dave Crist. So Jake betrayed his brother for Cancel Culture. I guess Twitter politics do tend to divide households…so…poignant maybe?
Chase Stevens vs Rohit Raju
Competitive match, which showed a lot of fight and desire from Rohit. This new version of Rohit is craving the spotlight and going to an animalistic mentality. He absorbed a few big moves, including a solid Scissor Kick to the back of his head. But after a little bit of a referee shield, he takes advantage of things and picks up the win. Chase looked good, but made Rohit look better. Decent little match.
Nevaeh speaks and clears up the storyline for watchers at home. Punctuates by saying the team of Havoc and Nevaeh have arrived. Interesting. 
Locker Room Talk was pretty fun. Swinger was excited since Chris Bey was the guest. Find the clip, since Impact silent on Twitter tonight. 
ImpactPlus Flashback Moment: Drew Galloway vs Bobby Lashley, Tap Out or Knockout Match, TNA Championship, June 12,2016
#1 Contender for the Tag Titles: Dez & Wentz vs TJP & Fallah Bahh
Starts off amusing. TJP says they should give the people watching at home a clean start, instead of shaking hands, Fallah jumps in and says elbows. The Rascalz argue they're about to wrestle…but go along with it. Fallah tells TJP he's gonna start, TJ tries to move him, to no avail. So the opening salvo is a lot of Dez trying to power down Fallah and failing, but Fallah keeping up a bit and you hear Dez saying "Okay, you're impressing me".
Fallah gets a bit winded dodging, so stops Dez to tag in TJP. It's funny, but it also is very Japanese where both members start off easy and get a little time against one another. TJP and Wentz were fantastic, great Junior style moves and just crisp fun moves and counters. Wentz and Dez tried to keep TJP in and in their corner with constant tags and quick moves, including a Bronco Buster, but Fallah eventually got sick of watching.
This was a very fun match. Fallah showed more athleticism than someone his size would be expected to have, and the Rascalz finally showed the desire to actually win instead of just play. TJP caught Dez's leg at the end of his Double Back Handspring Overhead Kick, and had his stuck in an Ankle Hold for a while. But Dez fought out, Wentz pushed him backwards and Dez bridged with one of TJP's legs trapped and picked up the win.
After the match, The Rascalz say they can do this again, and damn this proves it would be a hell of a banger.
Rosemary and Bravo's first date, is kinda amusing. Bravo shows he's still very much under Taya's thumb, but Rosemary seems close to getting through to him. Not bad, but mostly irrelevant. 
Elgin comes out trying to hold the show hostage, saying that the Finals will go through him. So the first person to come out will deal with him. There was a quick tease of Callihan's music, but after Elgin's line of the first person…Ken Shamrock's music hits and he's pissed. Shamrock hits the ring, and we get a small scuffle, where Shamrock stands tall afterwards. This helps to make the Callihan interference make more sense last week. Shamrock did offer Callihan the olive branch, so maybe that was Callihan giving Shamrock the opening to get his revenge. 
There is something very scary about the prospect of Callihan and Shamrock being on the same page. 
#1 Contender Tournament Finals: Ace Austin vs
Trey

Wentz

Ace comes out, and then we see that Trey was attacked backstage, off camera. The other Rascalz show up, and Wentz is PISSED. Ace starts the cocky heel gimmick of "Oh well, too bad, referee count him out". Wentz storms the ring and Ace cowers. A second ref and Scott D'Amore come out to figure something out. D'Amore basically calls the audible and allows Wentz to wrestle in Trey's place.

Wentz beats the hell out of Ace once the bell rings. Ace is covering up and getting rocked as we go to commercial. Coming out of the break, both men are outside, and Ace seems to have gotten some momentum back. Wentz might've started to gas out a little, since he did just get done with a tag team match…so Ace spends most of this time trying to get the countout. Wentz gets some space, goes for a big running dive off the steps, but is met with a Reverse Roundhouse Kick mid flight. Second commercial break.

Returning from the last commercial, we're back in the ring, and things go back and forth a little. Wentz finds a lot of moments to bring some life. Well timed and stiff Thrust Kicks, Rising Knee Lifts continue to give Wentz hope. Wentz never dropped the anger and desperation to avenge his friend being attacked. This was a great showing for Wentz. He pulled off a cool Wheelbarrow Spinout Side Effect, but only for 2. Wentz goes for the Swanton Bomb, but meets knees. Ace drives Wentz's head into the mat, hits The Fold, and manages to win the number one contender tournament.
Overall Score: 8.5/10
Starting off with a lot of story building matches, this show definitely ended strong. Not only did we get two great matches at the end, but Wentz…wow. For those who don't know, Wentz is the current incarnation of Suicide, he had a great tag match and then a great singles match all in the same day. Ahh…too be young and have endless energy.
Not only did the main event angle make Wentz look amazing, it protected Trey from what I mentioned last week. If Trey lost to Ace, AGAIN, for about the fifth time in the course of a year, it's hard to really build that as relevant rivalry. This attack angle gives the allusion that Trey might've finally had Ace's number, Ace has history with Tessa, and now Wentz should've proven himself as a future player. Frankie Kazarian used to be "The Future", now I think that's Zachary Wentz.
Great show.
AJ's IMPACT Wrestling Results & Review 4/15/21
AJ fills in to cover his first Impact full show in a hot minute! How does he feel about the product? How is everything building towards Rebellion?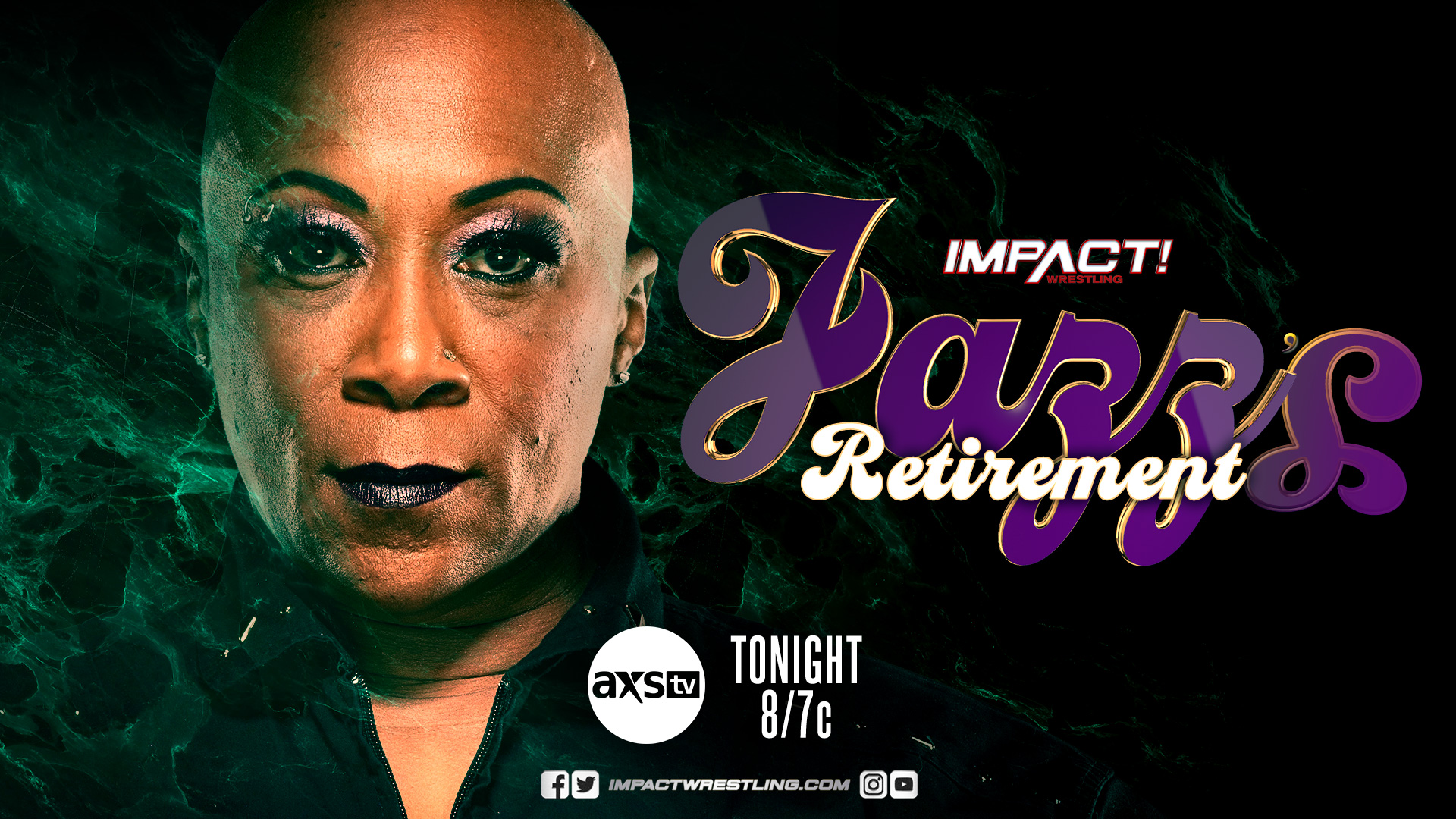 Oh… Were you guys expecting to see Andrew's IMPACT? No no…  Much like Matt and Jeff, Matt showed he can work but they just liked Jeff more.
I'm kidding but, yes as Andrew has said in the last IMPACT review, I am taking over IMPACT duties for the foreseeable future. Jazz's retirement speech along with a lot of other interesting things to come like Omega and Swann with a Press Conference and good amount of matches to come.
What will I think of IMPACT now that they have another "Phenomenal AJ" with them?
It's all about @TenilleDashwood on her brand new talk show. #IMPACTonAXSTV @MeanGiaMiller @kalebKonley pic.twitter.com/MEh2l7N7Oz

— IMPACT (@IMPACTWRESTLING) April 16, 2021
Results:
TJP vs Josh Alexander – Josh Alexander wins via Butterfly Piledriver – *** ¼
Crazzy Steve (w/ Decay)  vs Karl Anderson (w/ Doc Gallows) – Karl Anderson wins via Spinebuster – ** ¾
Pick Your Poison: Brian Myers vs Jake Something-  Myers wins via Roster Cut – **
Pick Your Poison: Matt Cardona vs Sami Callihan- Sami Callihan wins via Package Piledriver – ** ¾
Review:
TJP vs Josh Alexander
Both men showing more of the technical side of them instead of the X Division we are used to seeing throughout the years but the two are using a good amount of speed against each other, picking up in the later part of the match up. They go to different styles rapidly from technical, to agility, strength and striking too around the end.
Every time TJP goes for an Armbreaker or his signature Octopus, Josh scouts it and gets into an Ankle Lock. TJP also has the move caught and transitions into an STS. TJP goes for a Mamba Splash but it keeps getting countered into the Ankle Lock again. TJP yet again reverses it into an Arm Bar and Josh Alexander realizes that he has to win with something else and breaks the Armbreaker with a Powerbomb and hits a Double Underhook Piledriver to finish off TJP this matchup.
A former Knockouts Champion, one-half of the first ever Knockouts Tag Team Champions, a Knockouts LEGEND – @RealTaylorWilde is returning soon to IMPACT! #IMPACTonAXSTV pic.twitter.com/NWYAzcvP4V

— IMPACT (@IMPACTWRESTLING) April 16, 2021
A short promo airs for "Let's Get Wilde", showing that Taylor Wilde is returning fairly soon to IMPACT Wrestling.

Crazzy Steve vs Karl Anderson
Karl Anderson gets the advantage very early on, sneak attacking and beating down Steve, even during the break. With every single dirty trick, Crazzy Steve can't seem to get any form of offense until Karl's hubris gets in his way. Steve actually getting some fast paced offense going until Gallows interferes enough times for the win.
Was a good match, making sure that the Bullet Club reigns supreme on two shows. That and usually a Pair of Aces is a good way to win as well.
The numbers don't lie and they spell disaster for @The_Ace_Austin and @MegaTJP at #IMPACTRebellion. @iPeteyWilliams @swinger_johnny @JohnEBravo1st @MrsAIPAlisha pic.twitter.com/P4XVFVV9Oy

— IMPACT (@IMPACTWRESTLING) April 16, 2021
We get to the Swing Plaza and some odds when it comes to the X Division Championship Match at Rebellion. Ace saying he's the best more a less, TJP actually saying he's got a good amount of wins against both of them and Josh… getting the math from his friend Little Petey Pump on his three-way chance at Rebellion.
Eddie cuts a promo against Violent By Design with Willie Mack in tow. After Eddie comes with a declaration of war, VBD comes down and tells Eddie that he just wants his beating and says he had nothing to do with beating up Tommy Dreamer at Hardcore Justice. Violent By Design comes to the ropes after Eddie says let's fight as James Storm and Chris Sabin runs down to even up the odds and challenges them to an Eight Man Tag Team match up for Rebellion.
Before we get Jazz's Retirement speech, Deanna Purazzo is walking to the ring with Su…san and catches Scott D'More. Scott tells her to not ruin her moment in the ring before cutting to commercial.
Jazz comes out for her retirement speech and says Deanna and Jordynn are the present and future of Women's Wrestling. After Jazz gives her heart felt speech, Fire n Flava comes out to interrupt and tells them that they don't care and good riddance until… per Scott D'More and since Jazz never said I'm retired… WE HAVE A TAG TEAM MATCH!
For it being Impromptu, it was still a great feel good moment. Jazz got to go out on top with a Falcon Arrow variant and now official retires after her match. Everyone comes out from the locker room to give their support and love for Jazz.
EXCLUSIVE: We caught up with @Phenom_Jazz right after she came through the curtain following her emotional retirement from wrestling. #IMPACTonAXSTV pic.twitter.com/Px7GdDlAJP

— IMPACT (@IMPACTWRESTLING) April 16, 2021
After the break, Scott tells Fire n Flava that they have to face Jordynn and Jazz for the Tag Titles at Rebellion. They storm off upset but Jazz and Jordynn show up and Jazz says she appreciates it but, she is a woman of her word and will be retired but… she will get a substitute for Jordynn for the match.
Pick your Poison starts for Cardona and Myers as they pick each other's opponent tonight. Myers is in the ring first and Cardona picks Jake Something.

Brian Myers vs Jake Something
Jake takes it to Myers really on, out powering and out muscling Myers before Myers powders out and runs away from Jake in order to bait him into a Roster Cut for the win.
After the match, Myers says that it's hard to see with the eyepatch but it's harder to see in the dark as Myers picks Sami Callihan to face Matt Cardona.
Matt Cardona vs Sami Callihan
Sami jumps Cardona early on before the bell and once we get started, Cardona hits a Rough Ry… Leg Lariat. He hit's a leg lariat for the two count. Both men striking hard and beating each other down, in and outside of the ring, mistakes are what changes things from both men where Sami takes too much time and Cardona gets too angry and gets sloppy in his moves. No matter what, neither men can get an advantage until Cardona gets his adrenaline pumping, hitting Radio Silence to Sami but kicks out.
After some counters to take Matt Cardona's cheap tactics by Sami Callihan to get the upper hand and the win, thumb in the eye of Cardona and into a Package Piledriver.
Aftermath: Sami tells Trey Miguel to come out and talk to him. Trey has a chip on his shoulder and tells Sami that he wants nothing to do with him. Sami tries to tell Trey that he is proud of Trey for taking the opportunity at Hardcore Justice because Sami was the one to take out Tommy Dreamer in the main event and that's where Trey goes to attack Sami but you do not mess with a dangerous man, especially one that uses a chair to prove a point. Sami dismantles Trey with the chair but Trey keeps standing after the beatdown.
FinJuice has a promo against The Good Brothers saying that they are going to prove that they are the best and better than what the Good Brothers say they are.
The press conference begins and Kenny Omega is…. late it seems as the questions start for Rich Swann, if he can handle the challenge and answers the best way I could think. As they ask the questions about being Champion for both companies and their commitments that will happen and make sure there is a definitive winner, Kenny finally shows up and the questions for them begin. Don gets questioned about his loyalty to IMPACT and his devotion to Kenny Omega and if there will be a backlash for it and Callis gets sick of his only question as he praises Omega again so he can talk. Kenny Omega speaks on how he is used to this type of thing, big match, dress to impress and then starts to insult Rich Swann, saying he's not on his level and he doesn't belong on this platform.
He says this is the last time he will be cordial, that the next time he sees Rich is in the ring and goes to shake his hand… but paint brushes him instead as a fight closes out the show.
Final Thoughts:
Now… I do love IMPACT. I really do and enjoyed a lot of the moments in the night, from Cardona and Myers trying to outwit each other, the VBD vs IMPACT Soldiers to get a match at Rebellion all the way to Callihan and Trey's confrontation. All of this will play out perfectly as the set up for Rebellion's card on the 25th. Bound to see some great matches and this is my first time giving my opinions and thoughts on IMPACT on this platform and we might even get more as they added Trey vs Sami in a Last Man Standing Match, Jordynn Grace and a Mystery Partner against Fire n Flava along with Violent By Design against the IMPACT faithful.
All of that being said however, am I the only one that really and truly… not giving even a modicum of care about the Title vs Title Match for Rebellion? It's going to be Kenny. All fingers point to Kenny. They even said there is going to be an All Elite Wrestling Referee there to make sure it's a definite match. They are making it seem like Rich is just so insignificant on his own show that he is representing as their Undisputed World Champion. I know I usually don't get on my soap box during reviews but I can say without a shadow of a doubt… I really don't care about this match and I know I'm going to cover it in two Sundays. Try to impress me. Make me give a damn about this match IMPACT. You have a week.
Andrew's Impact Hardcore Justice Results & Match Ratings: 4.10.2021
Tommy Dreamer is the Executive in Charge of Wrestling! E-C-Dub! Hardcore Justice kicks off! Does Deonna Purrazzo end Jazz's career?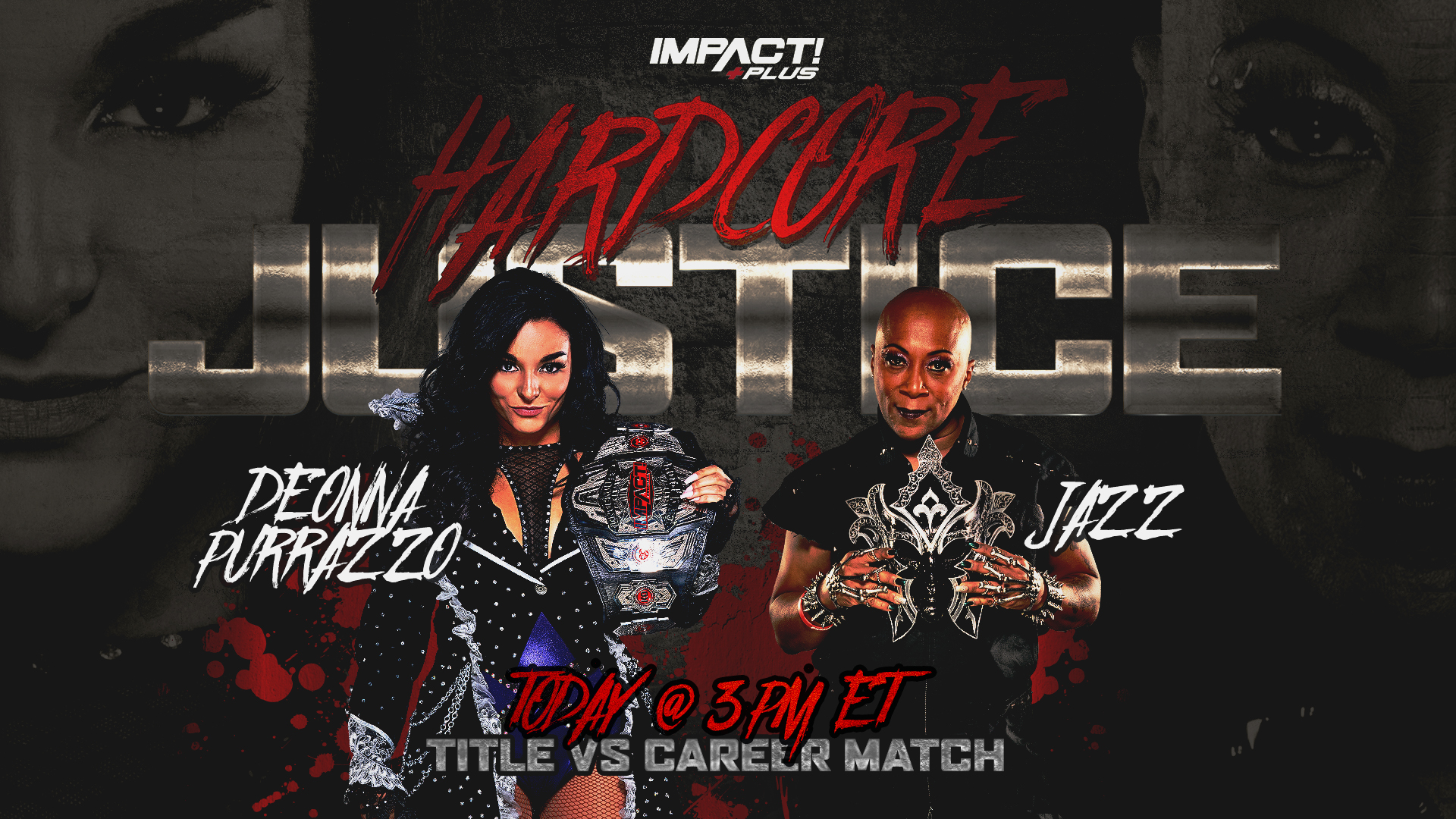 Tommy Dreamer is the Executive in Charge of Wrestling! E-C-Dub! Hardcore Justice kicks off! Does Deonna Purrazzo end Jazz's career?
We have the major story of Jazz putting her career up, but the rest of the card is a bunch of ECW style throwbacks. Charily Legal is one of my favorite dumb names for a Chairs match. Blind Games had an amusing set up, and the whole X Division mystery tag could be fun.
I'm curious if we'll get any old school ECW performers on this PPV aside from Dreamer and Jazz. So let's see where Impact's WrestleMania week show goes!
Ratings:
Mystery Partner Triple Threat Tag Match: Ace Austin & Madman Fulton vs TJP & Fallah Bahh vs Josh Alexander & Petey Williams: Alexander wins via Ankle Lock w/Grapevine – *** ¾
Chairly Legal: Shera vs Hernandez: Shera wins via Rohit Chairshot – **
Doc Gallows w/Karl Anderson vs Black Taurus w/Rosemary & Crazzy Steve: Gallows wins via Double Hand Sitout Chokeslam – ***
Crate American Bash: Johnny Swinger vs Matt Cardona: Cardona wins via Radio Silence – ***
Open Challenge: Sami Callihan vs Sam Beale: Callihan via Package Piledriver – N/A
Blind Games Match: Brian Myers vs Jake Something: Jakes wins via Blackhole Slam – ** ½
Number 1 Contender: Knockouts Hardcore Gauntlet: Rosemary vs Tenille Dashwood vs Jordynne Grace vs Alisha Edwards vs Havok vs Su-Yung: Tenille wins – ***
Title vs Career: Knockouts Championship: Jazz vs Deonna Purrazzo (c): Purrazzo retains via Cosa Nostra – *** ¼
Hardcore Wars: Team Dreamer (Tommy Dreamer, Eddie Edwards, Rich Swann & Willie Mack) vs Team VBD (Eric Young, Rhino, Joe Doering & Deaner): EY wins via Piledriver – *** ½
Results:
Mystery Partner Triple Threat Tag Match: Ace Austin & Madman Fulton vs TJP & Fallah Bahh vs Josh Alexander & Petey Williams
This was a crazy fun match where TJP and Fallah faced the Canadians for a good bit of the match, which is perfect strategy from the heel team to let the others try to gas themselves out. Fulton gets to put on a little bit of a show, as he does more athletic set ups for charges and corner attacks than we've really seen from the big man.
TJP and Petey had some fun interactions, as did most of the X Division sized wrestlers. Fallah and Fulton took turns taking each other out, and allowing the X Division guys to shine against one another. Fulton had some fun displays of power where TJP was on his back and he still Chokeslammed TJP and Alexander at the same time. Just a lot of fun crazy action that rarely stopped moving.
TJP went for the Mamba Splash on Josh Alexander, but Alexander got the knees up. Petey hits a Canadian Destroyer on TJP. Attempts one on Fallah, but that's not really smart. Petey moves before the big man drops down on him, which allows to Alexander to take advantage and lock in the Ankle Lock for the win over Fallah.
Chairly Legal: Shera vs Hernandez
This was the usual power guys with weapons kind of match. Chairshots, chairs in the corners, suplexes on piles of chairs. Just the usual fun things in a hardcore match, but it wasn't exactly captivating. The rub came in when Rohit slides into the ring, lays out Hernandez with a chairshot and then tells Shera to pin him.
Shera and Rohit seems to have an understanding now.
Doc Gallows w/Karl Anderson vs Black Taurus w/Rosemary & Crazzy Steve
Taurus is reeling for a lot of this match. Gallows tosses him around, hits a few Big Boots and Anderson makes his presence felt a bit through the match. Black Taurus manages to comeback a little bit using his agility mixed with the fact he's not a small guy.
A 619 and Crossbody give Taurus an opening, but due to Karl's general interference, Crazzy Steve not being overly effective; Gallows catches Taurus after a distraction, Double Handed Choke Bomb and Taurus is done!
The Good Brothers try to gain some traction before the FinJuice rematch.
Crate American Bash: Johnny Swinger vs Matt Cardona
A mystery crate match with a fun reference of name! Given that Swinger is involved there's a solid bit of gimmick. Swinger goes to some of the crates to find toys. A Scott Hall picture gets pulled out, a Rat Trap is in the second crate (which yeah, that's funny as hell given that he uses older lingo and has talked about rats before), the third one Cardona opens and doesn't reveal, while Swinger finds knuckles in the last crate. When Swinger tries to use them, Cardona hits Radio Silence and we're done!
The match was entertaining just a lot of gimmicks and references. After winning the Swinger-ellas look shocked and Cardona walks away with the third crate, just smiling and never revealing what's in it. IF it's the damn wad of money again…sheesh they need to end that.
ImpactPlus Flashback Moment: Hardcore Justice 2010: Sabu vs RVD w/Bill Alfonzo
Good use of acknowledgment since nWo and RVD got inducted into the WWE Hall of Fame this week. Impact tends to use their old footage fairly well.
Open Challenge: Sami Callihan vs Sam Beale
Let's be aware, this whole match was to enhance the story between Sami and Trey. Beale was abused, bitten and had joints stretched. He nearly pulled off the upset with a flash Small Package, but we knew where this was all going.
He fought hard, but this match wasn't about him. Sami eats his lunch and the match is over. Nice to see Sami got a workout in.
Blind Games Match: Brian Myers vs Jake Something
The match was amusing watching them stumble about trying to find each other. Some random stuff and few weapon strikes make things odd. Myers bumps the referee, lifts the blindfold, beats on Jake a bit and then drops the blindfold to make it seem like he didn't cheat.
Before Myers can finish things, Cardona's music hits, and he walks out with the crate. Cardona distracts Myers a little, slides the crate to Something, Something cracks the crate over Myers' head and action figures spill out. Blackhole Slam, and then Jake wins.
While the match was awkward, the finish was great. This should kick off Myers finally accepting Cardona's challenge.
Number 1 Contender: Knockouts Hardcore: Rosemary vs Tenille Dashwood vs Jordynne Grace vs Alisha Edwards vs Havok vs Su-Yung
Okay so let's work with the abridged version since this was a cluster. Susan comes out first, and then gets demon attacked and become Su Yung. Tenille NOPES out of the entire ring early as Havok and Rosemary look elated to get Su back.
Alisha tried at multiple different times in this match and wasn't terrible, she even pulled out her own Kendo Stick, Kendra, Kenny's wife. As she goes off with stick, Su Yung grabs her and takes her to the back. So maybe Alisha will succumb to darkness or something.
Havok and Jordynne go back and forth in a solid exchange, then as Havok goes to the top rope, Nevaeh appears, throws some pocket sand at Havok and Havok crashes to the mat. Kaleb pulls out Jordynne Grace, hits a Superkick and Tenille pins Havok for the win! Pocket Sand and Superkicks!
An INTENSE game of Beer Pong broke out in Swinger's Palace. #HardcoreJustice @swinger_johnny @SuperChrisSabin @JamesStormBrand @JohnEBravo1st @THEACEYROMERO @legendoflarryd pic.twitter.com/6sCMPbZbTc

— IMPACT (@IMPACTWRESTLING) April 10, 2021
Title vs Career: Knockouts Championship: Jazz vs Deonna Purrazzo (c)
Jazz opens up quickly with a Spinning Back Kick, drops Deonna but only for an early 2 count. Deonna retreats to the ropes, manages to grab Jazz's arm and starts working in the technical heel shortcuts. Arm Wringers, Stun Guns, Launchers into the ropes, and just staying on top of working Jazz over on the mat.
Jazz eventually fights out of the corner, and puts a few moves together. An X Factor gets Jazz a near fall, and Deonna finally starts getting frustrated. Some timely strikes open up Deonna's defenses, but Deonna stems the tide. Paradise Lock in the ropes gave Deonna an edge guarding advantage. She caught Jazz with a few shots, forcing Jazz to come back in through a flurry of kicks and stomps.
Jazz fights through one last time, hits a few strikes, a Samoan Drop and looks to finish things, but Deonna catches her, floats through and attempts the Fujiwara. Jazz fights out to the ropes and Deonna gets mad and says she's ending this, Deonna sets up her Gotch Style Piledriver known as Cosa Nostra, lands the move and ends Jazz's career!
Hardcore Wars: Team Dreamer (Tommy Dreamer, Eddie Edwards, Rich Swann & Willie Mack) vs Team VBD (Eric Young, Rhino, Joe Doering & Deaner)
So with Dreamer getting jumped in the back and the doctor says he's not cleared, we all get to go into the tank and think of fun replacements. Deaner and Eddie start off, and we continue where the IMPACT! match left off, since Deaner has done a great job reinventing himself.
Rhino is next in typical team fashion where the heels keep the early advantage. Willie Mack evens things up, Doering dominates a few people, Rich makes a big push actually equalizing Doering even though he's smaller to help get across his ability leading towards the Omega match. Then we get to the end, where EY gets the troops together to take over, and the final for Dream Team is…Trey Miguel…vomits in my mouth, of all the things, it could've been Sabu or anything else…ugh.
Trey does some things that looks stupid, then we get to a Tower of Doom variation. I don't like Tower of Dooms, but the fact we have Willie, Rich and Eddie trying to suplex EY, then Doering Triple Powerbombs them, taking EY over as well. So it makes Doering look great. Doering puts Eddie on a table, looks to drop an Elbow from the apron, but Trey hits a Meteora into Doering, as they crash through Eddie and the table.
VBD triple team Willie, Willie fights the good fight for a moment, but then the numbers catch up EY Piledrivers Willie and VBD win.
So Trey continues to underwhelm, which is nice for the Sami story. Maybe Sami can make him stop sucking. It's a tall task…but who knows.
Overall Score: 6.75/10
Well we knew the only really big aspect to this was if it was going to be Jazz's career or the crowning of a new Knockouts Champion, but the rest of the show was definitely entertaining. Though some of the in-ring action was lacking at times, finishes were fun, the way the stories fed into each other worked well and I was generally amused by how the show went off.
Jazz's career coming to an end is a little bittersweet, but the fact she was going to retire a little unceremoniously a few months ago, lends a little importance to this run since she got a tad bit more exposure than just peacing out in obscurity after dropping the NWA World Women's title.
So there we go, fun show, people that needed to be protected were, a new number 1 contender for the Knockouts title and VBD got a much needed win.