DeMarco's WWE NXT Takeover: In Your House Predictions & Preview
Greg DeMarco is here with his picks for Sunday's WWE NXT Takeover: In Your House! Does he go obvious and pick Adam Cole?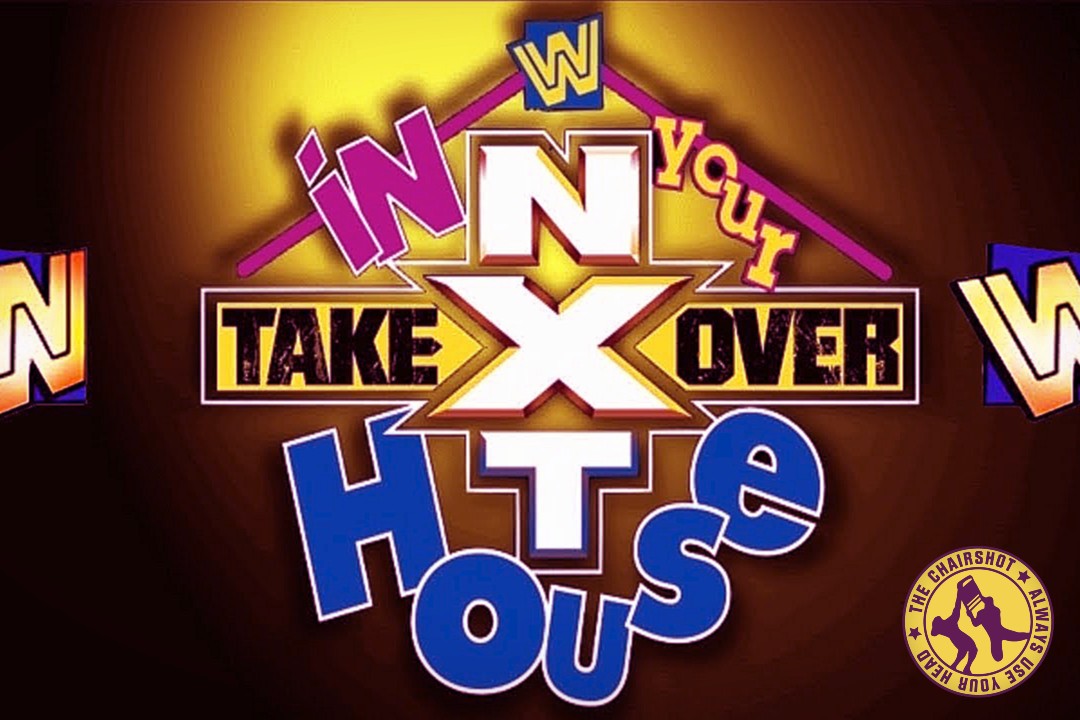 Greg DeMarco is here with his picks for Sunday's WWE NXT Takeover: In Your House! Does he go obvious and pick Adam Cole?
Christmas comes 5 (or so) times per year for NXT fans, and Sunday is Christmas once again. What does Santa Paul have in his sack (of presents)? Six matches of greatness called WWE NXT Takeover: In Your House!
But just like little kids speculate what presents sit under the tree, it's fun for us to analyze and predict the outcomes of the show. Who will win? Read on and see!
---
Want to make wagers on the show, for entertainment purposes only?
Check out Steve Cook's Gambling Picks for WWE NXT Takeover: In Your House!
---
Last Chance Backlot Brawl for the NXT Championship
Adam Cole © vs. Velveteen Dream
This match represents Dream's last shot at the NXT Championship, at least while Cole holds the title. For Adam Cole, the result is in doubt as it was rumored that his contract is expiring in August, and that is further escalated by his appearing in a photo from an AEW party (that he was attending with real-life bae Britt Baker). However, my boy Rajah disputes that report, and I think the booking of Cole supports his claims.
To me this comes down to the future outlook of both guys. Cole is doing his life's best work on NXT, and should continue to carry the brand for quite some time. I could see internal struggles for the Undisputed Era carrying us through the next few months. As for Velveteen Dream, I've long seen him as a "main roster" act, and Raw or Smackdown would be a great environment for him to work. Personally, I'd go Smackdown, where he can work with Bruce Prichard, who is stronger working with character driven acts.
Winner and STILL WWE NXT Champion: Adam Cole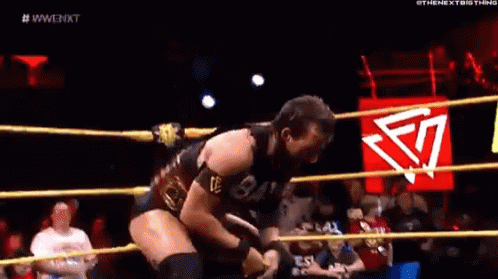 Triple Threat Match for the NXT Women's Championship
Charlotte Flair (c) vs. Io Shirai vs. Rhea Ripley
We could be looking at the show-stealer here. Rhea Ripley and Charlotte Flair recently put on a classic match at WrestleMania 36, and Triple H has already told us just how good Io Shirai is.
Charlotte Flair and Finn Balor both seem out of place on NXT at the moment, especially when we still get reports of talent getting "called up to the main roster." Pay-wise, and visibility-wise, NXT is definitely the third brand, and those two have been top stars on the aforementioned main roster. I think it's time for Charlotte Flair to return to Raw and fill the void left by Becky Lynch.
Now we all know that #LOLCHARLOTTEWINS is a real thing, and this match is set up to ensure that #LOLCHARLOTTEDOESNTLOSE. It's very easy for the recently anointed best woman in the world, Io Shirai, to steal Charlotte's pin on Rhea Ripley and win the NXT Women's Championship without the G.O.A.T. losing the fall.
Winner and NEW WWE NXT Women's Champion – Io Shirai
Tommaso Ciampa vs. Karrion Kross (w/Scarlett)
Not gonna lie, Kross seems slightly out of place in NXT. I am not sure if it's that he belongs on the (here we go again) main roster, or if he's out of place in the entire WWE. It's too early to tell, and I'm hoping I am proven wrong here.
Tommaso Ciampa is the once self-professed "lifer" for the black and gold standard, but recently said he'd be more open to a run on Raw and/or Smackdown. I don't see that move happening now, as I think it happens after he and Johnny Gargano really finally actually end their feud, which I think ends in a Loser Leaves NXT (and shows up in the Royal Rumble) Match later this year.
As for this one, my concerns about Kross are not enough to sway my prediction.
Winner: Karrion Kross
NXT North American Championship
Keith Lee © vs. Johnny Gargano
To me we are discussing the perfect opening match for Takeover. I also think the match is going to deliver and could steal Match Of The Night honors from the women's triple threat. Lee is a beast in that ring, and Gargano has no problems bumping his ass off for bigger stars.
Sit back and enjoy what's going to be one hell of a ride. I see Keith Lee getting a huge win here, but I also don't think this is the end of their feud.
Winner and STILL WWE NXT North American Champion: Keith Lee
Finn Balor vs. Damian Priest
We're in 2020, where the face/heel dynamic is largely blown up. But this one is still hard to mark, because both men are decidedly heel in the encounter. Angry Prince Finn Balor hasn't exactly set the world on fire in his second NXT run. He largely seems out of place, and I really hope we see his exit soon. I am all for Raw and Smackdown stars coming to NXT, but I vote it's not former world champions and/or main event acts. Either brand could really benefit from Balor today.
As for Priest, he has the look, skill, and promo ability to be a big star. All he needs is a signature win, and I honestly think he's getting at In Your House.
Winner: Damian Priest
Mia Yim, Shotzi Blackheart, & Tegan Nox vs. Candice LeRae, Dakota Kai, & Raquel González
I am all for Takeovers having six matches, and this is the perfect addition to the card. It means no NXT Tag Team Championship Match, but this one will be tons of fun. Multiple programs intersect here, as we have Yim vs. Candice, Tegan vs. Dakota and the peripheral characters in that program with Shotzi and Raquel.
I already have too many heels going over (although one match features all heels), so I am taking the babyfaces here.
Winners: Mia Yim, Shotzi Blackheart, & Tegan Nox
---
Don't miss Steven Mitchell's coverage of WWE NXT Takeover: In Your House
Tonight here at theChairshot.com!
---
So, who you got? Drop your answers in the comments below or below this article in our Facebook Group!
Greg DeMarco is a life-long wrestling fan who has been providing analysis and perspective online since 2010. He's also worked for various wrestling promotions including the NWA and Ring Of Honor, and currently promotes IZW Wrestling in Arizona.
Links:
* Homepage – http://thechairshot.com/gregdemarco
* Twitter – https://twitter.com/ChairshotGreg
* Facebook – https://facebook.com/ChairshotGreg
* Instagram – https://instagram.com/ChairshotGreg
* Free Email Newsletter – https://gregdemarco.substack.com
King's WrestleMania Rewind: Charlotte Flair vs. Asuka from WrestleMania 34
Chris king is back with one of the most underrated matches in WrestleMania history–Charlotte Flair vs. Asuka!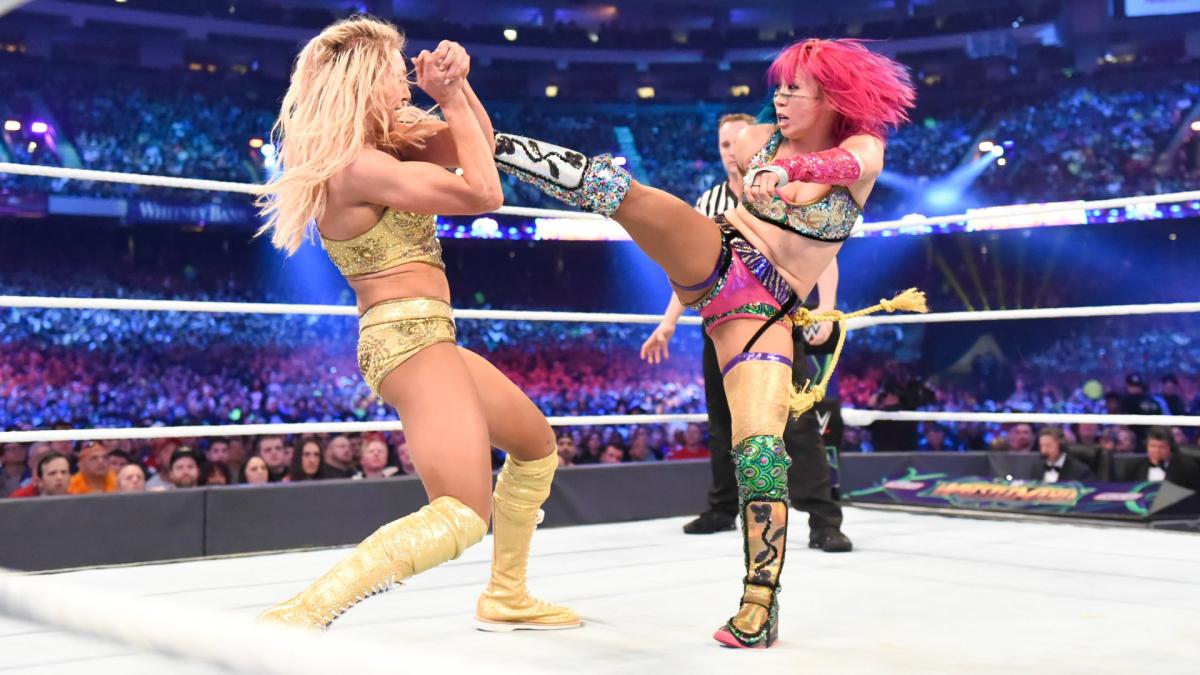 Chris king is back with one of the most underrated matches in WrestleMania history–Charlotte Flair vs. Asuka!
We look back at Charlotte Flair vs. Asuka at WWE WrestleMania 34. 'The Empress of Tomorrow' put her unprecedented and historic undefeated streak of 914 days on the line against 'The Queen's' SmackDown Women's Championship.
For years, this was considered a dream match while Asuka dominated the roster in NXT, while Flair won numerous championships on the main roster on both Raw and SmackDown. The Empress made her long-awaited debut on the September 11th episode of Raw and began to tear through the competition.
Asuka outlasted all twenty-nine other women in the historic first-ever Women's Royal Rumble match to challenge for the title of her choosing. At Fastlane, she made her choice.
The WWE Universe was so excited for this match myself included. Both superstars delivered a fantastic performance on the Grandest Stage of Them All executing counter after counter. Asuka showed off some nasty-looking kicks to her opponent, and Flair hit a thunderous Spanish Fly off the top rope. Flair was seconds away from defeat at the hands of The Empress but she locked in Figure Eight and Asuka was forced to tap out.
I can't even begin to explain how shocked I was at this outcome, as nearly everyone expected The Empress to continue her undefeated streak and walk away with the women's title. This controversial decision was the downfall of Asuka's momentum. She would ultimately win the SmackDown Women's Championship at the 2018 TLC pay-per-view in the triple-threat ladder match.
Fast forward to this year when Asuka has recently returned with her Japanese-inspired persona Kana. Kana is dangerous and ruthless and is heading into a championship with Bianca Belair at WrestleMania 39. The Empress has regained all her momentum and is highly favored to walk away with the Raw Women's Championship. Let's hope that Asuka and Belair can tear the house down and deliver an A+ grade match both women are fully capable of.
King: Dominik Mysterio Needs To Do This At WrestleMania
Chris King is here with what WWE should do with Dominik Mysterio at WrestleMania in his long-awaited match against his father Rey Mysterio Jr.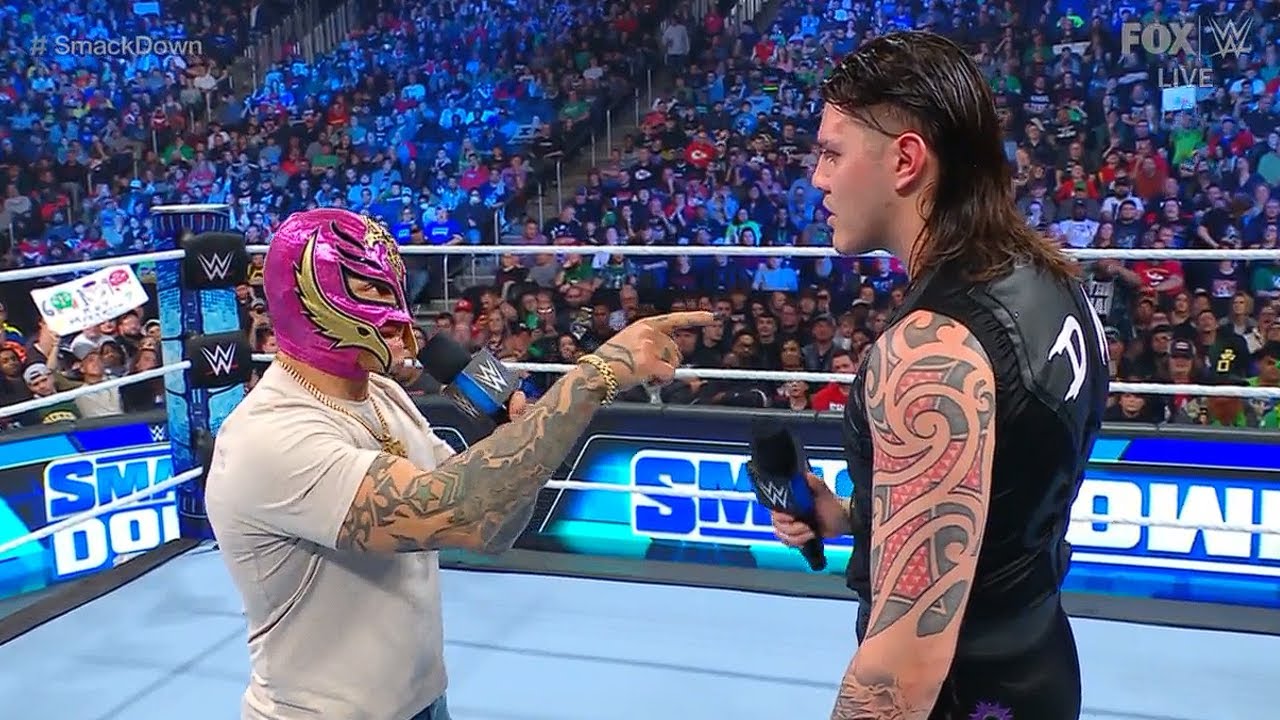 Chris King is here with what WWE should do with Dominik Mysterio at WrestleMania in his long-awaited match against his father Rey Mysterio Jr. 
On this week's episode of Friday Night SmackDown, Rey Mysterio finally snapped and beat some sense into his disrespectful punk-ass kid Dominik. The member of the Judgement Day came out to push his father again for a match on the Grandest Stage of Them All, this time with his mother and sister at ringside. The ungrateful punk told his mom to "Shut Up," as a father even I wanted to jump through the screen and whoop his ass.
Back in October of last year, Mysterio made the emotional decision to possibly quit the company but, instead, Triple H persuaded the Lucha libre superstar to move over to SmackDown to avoid his son. This came after Dominik shockingly turned on his father at Clash at the Castle. Mysterio did everything he could to refuse his despicable son's challenge for Mania but, a man can only be pushed so far. Mysterio will be inducted into the 2023 WWE Hall of Fame and I expect Dominik to embarrass his father during his speech to further this personal feud.
Yes, the WWE Universe hates Dominik and wants to see him get the ever-loving crap kicked out of him but, this feud is missing a special ingredient to capitalize on the biggest heat possible. Throughout this feud, Dominik has made mention of the legendary Eddie Guerrero on several occasions going back to the "iconic" 2005 feud.
I know WWE might not want to go this route but, Dominik MUST come out to Eddie Guerrero's theme at Mania. The disrespectful punk needs to come out in a lowrider to garner nuclear heat. It doesn't matter if The Judgement Day comes out and causes interference for Dominik to get the win, all that matters is that both superstars get the biggest payoff of this nearly year-long feud. Just imagine the Roman Reigns heat after he defeated The Undertaker and multiply that by ten. Dominik portrays the perfect heel and he truly is the missing ingredient that The Judgement Day needed to grow and evolve into a top faction.