Mitchell's Hyrule Puro-Resu News! (6/27/20)
The Eventide Contenders are named!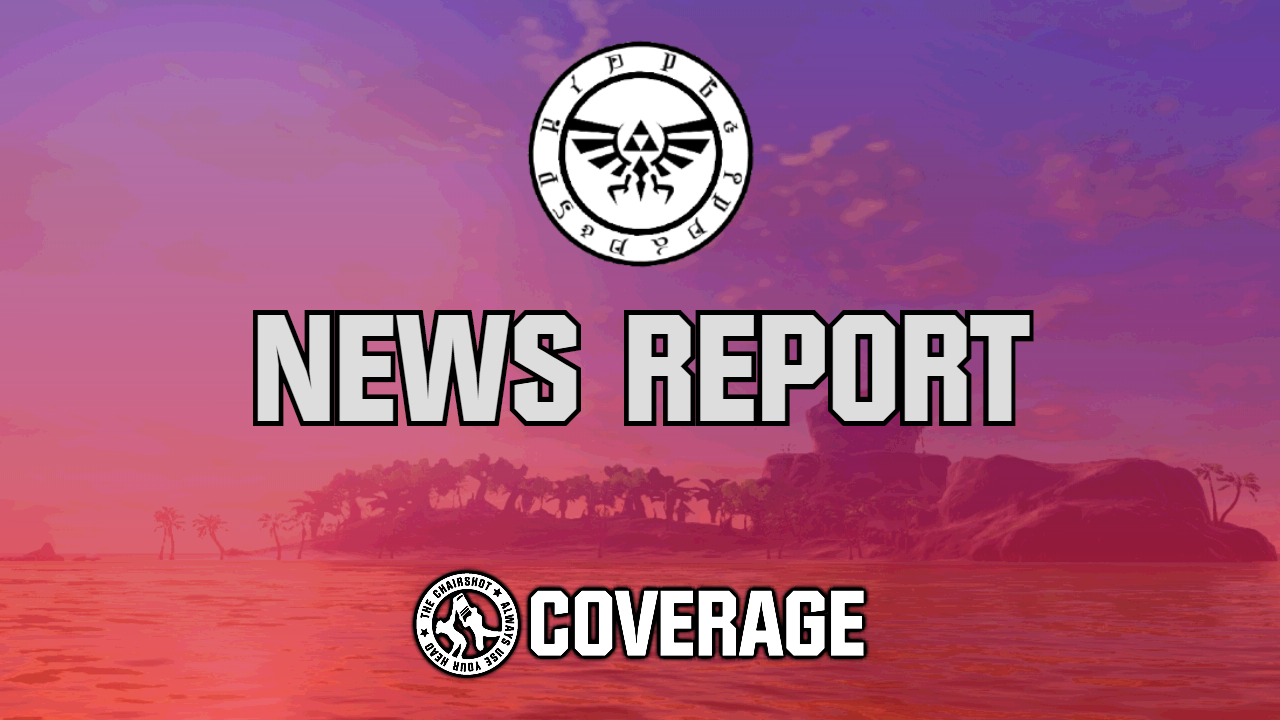 Hyrule Puro-Resu has reached a decision!
As promised just a week ago, HPW has chosen the names for the Eventide Challenge qualifying matches! King Nicolas Foolyere Hyrule stands on stage in front of the titantron again. He welcomes us all back and reminds us of last week's press conference. To start this press conference, King Nicolas will reveal the THREE Eventide Challenge Qualifier Triple Threats!
First: Garo Master VS Yuga VS Ashei! Garo was strong in the Bracket of Wisdom and had a good showing in the 21 Man Battle Royal. "The Artist," Yuga lost to Link within the Bracket of Courage but has been vocal on social media. Ashei mostly benefits from the luck of the shuffle, but a 4-2 record in the HPW Women's Division is still respectable. Will this co-ed Triple Threat look anything like the Triforce Championship Triple Threat we saw on April 1st?
Second: King Moblin VS Master Kohga VS Groose! The Skyloft Stud lost his Death Mountain Championship, but perhaps he can climb back up to the summit? But at the same time, he faces one opponent that is big and bulky and another that is agile and sly. Will the World's Strongest Moblin or the charismatic leader of the Yiga punch their ticket to Treasure Island?
Last but not least: Fin Balure VS Rosso VS… Zelda! There is no controversy here, King Nicolas had no control over where his daughter placed. Humback Hook Halibut respects Zelda's ability and allowed her name to be in the running. But the Zora Rock 'n' Rolla and the Stone Breaker are just as talented and will not make this easy on her.
King Nicolas also reminds us that the inaugural HPW Treasure Island event will have all the titles on the line. On August 8th, we will see: Link VS Ganondorf Dragmire for the HPW Triforce Championship; Midna VS Cia for the HPW Goddess Championship; The- "Pardon the interruption, oh great King Nicolas," a booming voice shouts. It's Iron Knuckle! He leads the Darknuts down the aisle towards the stage. Nicolas asks why they're here, but Iron Knuckle says it should be obvious. The Dark Forces are the HPW Trios Champions, are they not? They are. And they have not had to defend those titles since winning them, have they not? That is unfortunately true. "And so they must, without question, defend those titles on this 'Treasure Island', isn't that right?" That's exactly right.
Then perhaps Iron Knuckle is overstepping his bounds, but he would certainly hope he and his associates here are the ones King Nicolas was about to name for the title match. King Nicolas is rather nervous with Iron Knuckle and the Darknuts staring right at him. O-Of course he was going to name them! The Dark Forces VS The… Wait, do they have a trio name? They do. After much consideration, Iron Knuckle and the Darknuts have agreed to the name, "Forged by Violence."Alright then. For the HPW Trios Championships, it will be The Dark Forces VS The Forged By Violence! No, no, it's just "Forged By Violence," there's no "The." King Nicolas apologizes and announces it correctly, The Dark Forces VS Forged By Violence! King Nicolas wishes them the best of luck and the newly named trio takes their leave.
Last but not least, the HPW Death Mountain Championship.
Though Ghirahim has redesigned and renamed the title, Hyrule Puro-Resu did not give their approval. But in the end, the only way Ghirahim will get to keep his new belt is if he wins on Treasure Island. Ghirahim joins the news conference via video call on the titantron. "About time. I'm a very busy demon lord, you know. Though at the same time, I can't blame you for leaving the best for last." Well, it's good to know Ghirahim feels that way. King Nicolas is sure Ghirahim will like this announcement. For the HPW Exquisite Championship, it will be Ghirahim Mazokucho VS… IGOS DU IKANA!
Ghirahim is FURIOUS hearing this! "Why does that bag of bones get this opportunity?! He lost to Ganondorf!" Yes, but he defeated Ghirahim to have that match. Ghirahim is champion, so Igos has the strongest case to be his challenger. Does Ghirahim fear he'll lose again? That question upsets Ghirahim more, and he takes a moment to calm down. "I will defeat Igos du Ikana, and I will keep Hyrule Puro-Resu… EXQUISITE~!" Ghirahim slicks back his hair and holds up the title belt. Will that title still be exquisite? Or will Ghirahim #FalltoRuin all over again?
---
My Thoughts:
While I said last time that I'd shuffle the names, Zelda was actually always going to be in the running for the Eventide Challenge. Groose got lucky to be part of the nine, though. But at the same time, he's becoming an important character so it'd be a shame if he missed out. And I'm rather intrigued that Ashei managed to be the one other female character in the nine. For Legend of Zelda: Twilight Princess having "The Resistance" be these trained warriors, that group of characters didn't do much fighting, so it'll be almost completely up to me to figure out her wrestling style. I can't wait to see who wins, or rather who loses, their respective Triple Threats on July 11th and who moves on towards Treasure Island!