Is Charlotte Flair The Greatest Of All Time?
Is Charlotte Flair the G.O.A.T.? Mishal believes you can make a strong argument for that side.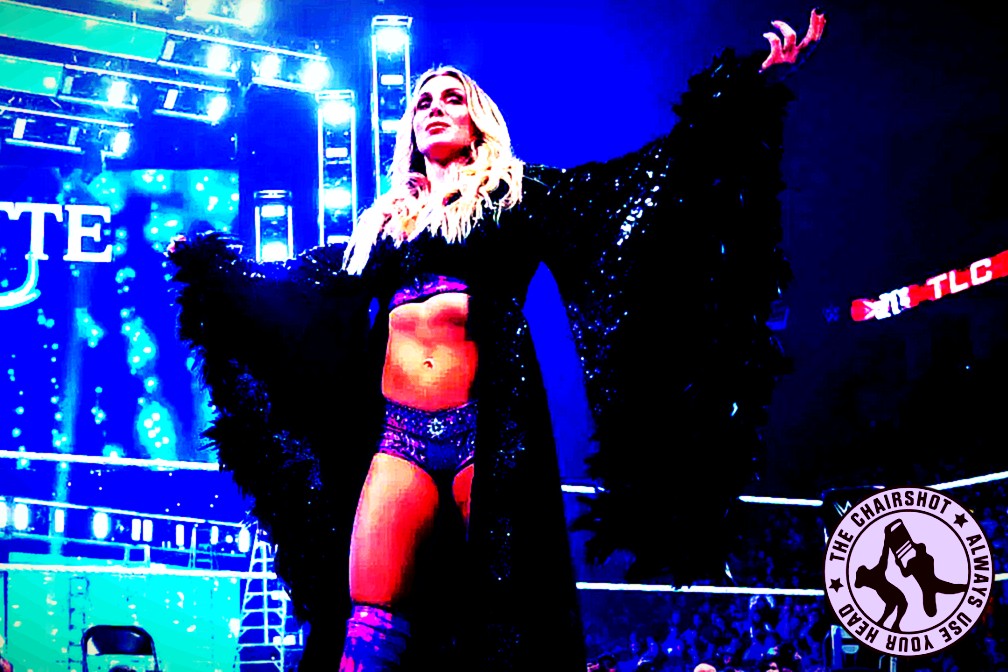 Is Charlotte Flair the G.O.A.T.? Mishal believes you can make a strong argument for that side.
There arguably isn't a single name in the wrestling business these days that you hear pop us as much as the name 'Charlotte Flair'.
Since her debut back in 2014 Flair has become the beacon of North American women's wrestling. A talent beyond the levels of the vast majority below her, always booked at the very top of the division or card she's on, generally given the most amount of TV time of any other talent (especially these days) & someone that doesn't just carry one of the most prestigious last names in the business with pride but lives up to the hype at every given opportunity.
Wrestling doesn't tend to dish out someone as gifted, as well-versed & as perfectly suited for its craft like Charlotte Flair. She's an oddity, one that is usually mixed in opinion amongst fans, but someone that in many ways has defined her generation of female talent. Regardless of the hatred she may receive from a good section of the WWE fanbase it's difficult to denounce that everything she touches is at the highest level of quality us as fans expect. From promos to matches, to developing new talent, to establishing the older ones, Charlotte Flair is what you look for in a locker room leader, but has still prompted sizeable debate in the ever-bickering online wrestling community.
As a result, I thought there's no better time to answer a question every fan tries to answer in some way or another, is Charlotte Flair truly the 'Greatest of All Time'?
Rather than a straight-up yes or no answer, I feel making the case from every aspect of her character would be the best way to gain a definitive answer to this question.
Carrying the Flair Legacy
Lugging the name 'Flair' behind your first name is never an easy standard to live up to. 'Nature Boy' Ric Flair is widely regarded as one of the best professional wrestlers to ever lace up a pair of boots in any company he made his mark in, whether that be WWE, NWA or WCW, everywhere the man went he cemented his name in the history books. Much of that success isn't just due to an incredible body of in-ring work with a list of opponents that's almost endless, it was his incredible character that has influenced so much of mainstream entertainment as we see it.
Flair's initial gimmick was a form of tribute to the original 'Nature Boy' in Buddy Rogers (whom Flair defeated to essentially earn his signature nickname), and considering how iconic Flair made his character you'd think carrying his legacy forward would be next to impossible, but Charlotte Flair has done so with grace & elegance that only she could.
While comparing her attributes to those of her father might be a tad unfair considering their places in the industry, the apple certainly doesn't fall far from the tree. Charlotte embodies her father in a way, with an aura of confidence that makes her an instant threat in any story, an in-ring track record that is likely more consistent than any female working today, mic skills matched by few around her (only even comparable against either Becky Lynch or Alexa Bliss) & of course, donning the signature robe that so many identify her lineage with after all these decades.
Charlotte isn't trying to be what her father was, she's a different version of him and uses that to not just separate her from his legacy but build one of the modern generations truly great female talents. On a personality-level, almost none of her peers possess the 'big fight' nature of Charlotte Flair, as it's always obvious you're watching someone out to achieve nothing but the highest of honours. Much like the legacy before her, she aims to present herself as the highest level of excellence in the sport, and for the most part, that presentation never fails her when the lights are on bright.
Holding All The Gold
As of this writing, Charlotte is a 12-time champion in WWE. It's taken her less than a decade to hold almost as many prestigious titles in the company as it did her father to hold 16 lucrative titles after having a career that spanned the better part of almost four decades. Whether it be the NXT Women's Championship (which she currently holds), SmackDown or RAW Women's Championships or marking herself as the final-ever Diva's Champion, it's no secret that the light of the title picture shined brightly on Charlotte since her debut.
Her victories aren't without memorability either, she's beat the best there is to offer across generations of female competitors. The likes of Becky Lynch, Asuka, Sasha Banks, Paige & Bayley are just a few of the current crop of competitors that have tasted defeat at the hands of 'The Queen', a list that's only expanding now that she has a fresh batch of opponents to fend off over in NXT.
Probably the biggest issue with Charlotte is the creative team of WWE's insistence on inserting her into the title picture so frequently, an issue that plagues competitors from establishing themselves outside the championship scene itself. Very few of her marquee moments have come outside the title picture, while by no means a terrible thing it could one day lead to the worries of exhausting one of the companies top-tier talents since constantly placing her in the title picture may result in other talent being neglected from taking her spot. This is something I intend to touch on in a little bit, so I won't harp on it too much right now.
'Big Match Charlotte'
JBL once referred to John Cena as 'Big Match John', a nickname given to signify the importance of John Cena, the face of WWE, as the best big-match, big-time competitor on the roster as a whole. Regardless of his opposition, John Cena always delivered a main event match that the fans had to see, despite what their stance on his character may have been. It didn't matter if he faced Randy Orton, Triple H, Daniel Bryan, Mark Henry or The Great Khali, he had a magical touch that made the main event match feel like a 'main event'.
In my opinion, that same mentality can be applied to Charlotte Flair.
Charlotte Flair & John Cena could not be more different, but they, much like Ric Flair, gave you a main event level match that you just had to see with your own eyes. WrestleMania 32 was the first time it was put on full display when Flair was positioned against both Sasha Banks & Becky Lynch, despite all three women holding their own, nobody looked like they were more in their element than Charlotte Flair evening. She personified the main event scene, from her incredible in-ring style, facial expressions to convey a story & the presence she boasted during her entrance, if you were a fan, you knew the future had arrived.
Her subsequent matches only grew the confidence she already had in the ring. She followed up her iconic WrestleMania victory with an all-time classic rivalry against Sasha Banks later that year resulting in multiple first-time records that both women went on to break, re-igniting her NXT feud with Natalya in a series of stellar contests, becoming the first woman on the WWE roster to successfully defeat Asuka, crafting an absolutely brutal war with Ronda Rousey & engaging in what might go down as one of the finest feuds the women's division will ever see alongside Becky Lynch. These aren't even all the notable accolades, but a few of the most memorable ones from a list of performances that few other competitors can compare to.
Almost nobody performs at the main event level as good as Charlotte on the WWE roster. The clear levels of passion & work placed into her character make every storyline incredibly engaging, whether she be a heel or babyface, and that translates to her in-ring work which is always at the highest level possible. With the exception of perhaps someone like a Seth Rollins, Charlotte Flair is among the most reliant competitor when it comes to wanting your biggest storylines to be executed to the highest standard possible.
Obviously, this would be up to debate depending on where you as a fan stand, but Charlotte Flair is very much what someone like myself looks for in a main event level talent. I'll stand by calling her 'Big Match Charlotte' because few other women hold the body of work that she does this early in her career.
The Queen of Overexposure
If there is one aspect holding back Charlotte this early on in a career that we can only hope spans as long as most desire, it's the level in which she's exposed on WWE programming.
Being essentially the 'locker room' leader of the division is quite the mantle to carry, and with that must come intelligence in how you present & execute your character in their respective storylines. Charlotte has been involved in some of the most memorable feuds to overtake the women's division in many, many years, the issue seems to be that she's the companies most consistent go-to talent, a booking route that raises issues.
Surely a creative team would want the focus of their programming to hinge on its very top-tier talents, those who can also draw the biggest numbers both on cable networks & social media platforms (e.g. Youtube), those who engage with their audience the best, but especially those best at telling their story between the ropes. With that style of thinking comes choices, and to many, Charlotte can be viewed as the obstacle placed in the way of fresher talent wanting their voices to be heard. Glancing at her booking when facing Asuka is a common prime example of the point I'm trying to make, yet her current stint in NXT is one of those times where her presence feels rather bitter to most fans I've come across.
NXT has established itself firmly as an official 3rd brand under the WWE banner, no longer being the expanded developmental system it once was for many, and a system that Charlotte herself had 'graduated' from a number of years back. Her return to the brand was at first interesting, as well as promising considering the roster of talent she had to contest against, but has ultimately felt like nothing more than a force to drive up stagnant ratings on Wednesday nights. Nothing about her current run as the brands champion screams exciting, rather a position for her to hang around since the amount of material the company has to offer her on the main roster has run thin. A seasoned veteran mixing with younger talent should be the perfect stepping stone for a newcomer looking to take the next big leap in their careers, instead, she's done next to nothing of note since her WrestleMania victory. Having her act as a multi-brand champion does her no favours either since it only re-enforces the idea of her being 'shoved down the throats' of the casual viewing audience.
Presenting a character as the very best you have to offer isn't a matter of exposure, it's the very basic principle of 'quality over quantity'. Fans don't need a champion to appear on all seven hours of wrestling programming your company has to offer every week, they need he or she to deliver the very, very best that they can give in the ring. The reason superstars like Becky Lynch, Asuka, Shayna Baszler or even Daniel Bryan garnered the reputation they hold isn't because of their TV time, it's because they put every ounce of passion they had into what they wanted to become as a character.
Granted this is might just be a passing issue at its core, but considering the track record WWE has for giving us too much of a good thing, it's something I hope they become more cautious of going forward, especially with someone as special as Charlotte Flair is to their current product.
Analysis – Is Charlotte Flair the GOAT?
At the end of the day, this question falls on you the reader, since it isn't something I can 'objectively' prove to anyone.
Being the very best is a term that is widely thrown around any form of sport or entertainment, and it's ultimately your legacy that defines that very characterization. The women of wrestling will always have a few solidified legends in their ranks, Mae Young, Fabulous Moolah, Trish Stratus, Chyna, Gail Kim, Sherri Martel, Bull Nakano or Awesome Kong, and placing a talent alongside any of those names is a formidable task to rationalize to any hardcore fan of the business.
Many of those talents are still remembered decades after their time had passed, whether it be for their persona, in-ring work or contribution to women & the industry, it's ultimately how much of an impact you leave on the fanbase that matters most to some extent. Will Charlotte Flair be a name edged in the history books? As far as the record goes, she already has. She's broken multiple barriers that have held women back in the industry so along (not to take away from any of those alongside her), captured more titles than most do at this stage in their careers, competed in every match imaginable & is one of only three women to headline a WrestleMania. Those accolades alone are worthy of some kind of historic recognition.
From my personal perspective, Charlotte Flair may very well be most talented, well-rounded female talent in all of WWE, and arguably on the planet if we think about it. Her career has had its fair share of ups & downs, like any performer, but she's always managed to bring consistency to her programmes that I always admire, never giving less than 110% in any given match or promo she has to cut.  Not only does she position herself as the best there is in the industry, but she also backs it up against the vast majority of her opponents. Carrying the legacy she does & the character she has to isn't an easy task, but Charlotte Flair in my eyes is everything she sells herself as when it matters most.
Obviously my opinion is my own, and I'd love to see other perspectives on her aside from the ones I personally hold. Charlotte Flair is certainly a divisive figure, like most that reach the very peaks of the business, but she's a name that nobody can seem to stop talking about.