Cook's Top 5: 2001 Wrestling Memories
Steve Cook continues the stroll down memory lane with a look at the year that could have been: 2001.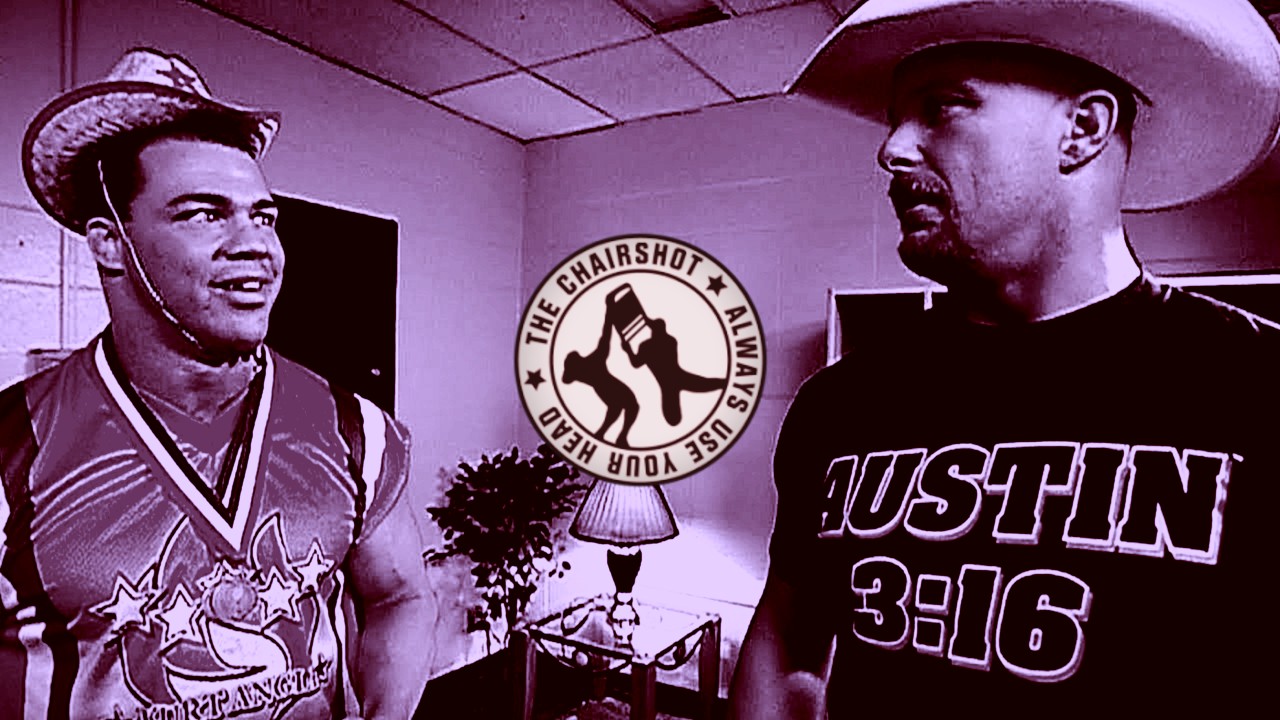 Steve Cook continues the stroll down memory lane with a look at the year that could have been: 2001.
2001 could have been a great year in wrestling history.
Sure, losing WCW & ECW in the first three months was a tough blow. It could have been overcome if the WWF managed to capitalize off of it and put together a compelling storyline based off of something that everybody had wanted to see since the beginning of the Monday Night War. I can't count how many WWF vs. WCW debates I listened to or took part in, and how many times somebody would chime in with "Well, ECW's better". Every single wrestling fan wanted to see these promotions face off, and the WWF could have spent years afterward printing off money from it. Oh, and just after buying WCW, the WWF had one of their hottest shows ever: WrestleMania X-Seven. Sure, it ended probably the dumbest way they could have ended it, with Steve Austin turning heel & aligning with Mr. McMahon, but that shouldn't have mattered too much. They should have had no problem turning all of this into gold.
That didn't happen. The Invasion was botched beyond belief, and instead of increasing their fanbase by drawing in WCW & ECW fans, the WWF scared a lot of those fans off for good. Indeed, many WCW fans didn't even make the move to Raw the week after the simulcast where Shane McMahon revealed that he now owned WCW. It was an unmitigated disaster, with some positive moments that we'll get to.
Oh, and 2001 was also a disaster from a non-wrestling perspective, but we'll get to that too. We continue my Thirtieth Anniversary Celebration by looking back at a year many of us would prefer not to.
5. SmackDown after 9/11
Many people have wondered why pro wrestling has been so insistent on continuing during the pandemic. It's nothing new. Vince McMahon has always envisioned his programming as something that people can turn to when the world is facing rough times. That's why it wasn't surprising when the WWF held a live SmackDown taping just two days after the events of September 11, 2001. They had to postpone their scheduled taping the day of, but opted to run live on UPN Thursday night instead of cancelling the show outright.
Was it awkward? At times, absolutely. Stephanie McMahon's speech comparing the terrorist attack to her dad being targeted by the US government several years earlier still ranks high on the "WTF did I just hear?" list. As a fan, having SmackDown on that evening gave me something else to think about. There is something to be said for that, and it explains why major wrestling promotions continue doing their business while most other sports & entertainment businesses have paused.
4. A Lost VAPA Video
Visual And Performing Arts was a class we required to pass in order to graduate high school. Kentucky getting all cultural, right? I remember a couple of things about this class. One was a fellow student that was an even bigger wrestling fan than I was. He was doing the backyard stuff, always wearing Hardyz shirts and had big dreams of making it in wrestling. I don't think he ever did, but he was a good kid.
We had to make a video about a famous written work, and were assigned Beowulf. This turned into me doing my best William Regal impression as narrator, every fight scene being acted out, and some of us dressing up in white shirts & black ties as the Right to Censor to attack at intermittent times. Ah, it was a classic. I have no idea what happened to it, sadly. We had all sorts of weird video projects that I have no idea what happened to them, but were very fun making.
Also sadly, my performance didn't impress the girl in class I'd had a bit of a thing for since elementary school. Especially the show-closing scene where a rolled up poster board was winged full-speed at my lower mid-section. That one stung, in more ways than one.
3. Raw & Honors Night
May 14 was an interesting night. Raw was coming to Cincinnati, and my dad & I had tickets to attend. However, it was also Honors Night at my high school, and I was scheduled to be awarded something. This has been a pretty common theme throughout my life: either everybody wants me somewhere at the same time or nobody wants me anywhere.
We managed to do both, getting to Cincy in time for the live Raw portion of the show. Looking at the card now…I wish we'd skipped my accepting an award for best student in Global Issues.
WWF @ Cincinnati, OH – Riverfront Coliseum – May 14, 2001 (12,022)
Leviathan pinned Nick Dinsmore at 4:05 with a back suplex into a modified uranagi
Randy Orton pinned Rico Constantino at 5:54 with a wheelbarrow suplex
Scott Vick pinned Steve Bradley at 4:08 with the Kryptonite Krunch
Jakked:
X-Pac, Albert, & Justin Credible defeated Chris Harris, Doug Basham, & Rob Williams at 4:27 when X-Pac pinned Williams with the X Marks the Spot
WWF Light Heavyweight Champion Jerry Lynn pinned Essa Rios at 5:13 with the tornado DDT
Billy Gunn pinned Race Steele with the One and Only at 3:55
Haku pinned Chris Michaels at 4:15 with the Tongan Death Grip
Raw:
Rikishi defeated Kurt Angle via disqualification
Matt & Jeff Hardy defeated Perry Saturn & Dean Malenko (w/ Eddie Guerrero & Terri)
WWF Hardcore Champion Rhyno defeated Crash Holly
Chris Jericho & Chris Benoit defeated Edge & Christian
WWF Women's Champion Chyna & Lita defeated Ivory & Molly Holly
The Big Show, the Goodfather, & Bull Buchanon defeated the Acolytes & Test
Kane defeated WWF Tag Team Champions – WWF World Champion Steve Austin & WWF IC Champion Triple H (w/ Stephanie McMahon) via disqualification
I missed out on early Batista & Randy Orton appearances, along with Wildcat Chris Harris and motherfreaking HAKU! Raw itself…not the most memorable show. Benoit/Jericho vs. Edge & Christian was good, the rest was pretty much there.
Looking back now, what stands out to me is my dad being willing to drive me to both of these things. He'd gotten bored with the wrestling thing, but still went along in an attempt to make me happy. I didn't really think about it at the time, but now, after having made that drive and parked downtown many times myself, I realize that wasn't easy.
I've never really given him enough credit for it, but he did the best he could as a dad with what he had to work with.
2. Fun With Austin & Angle
Not everything about Stone Cold Steve Austin's heel turn sucked. Austin was amazing in the role. He could be serious, or he could be hilarious. I was a big fan while it was happening, but unfortunately I was in the minority. No matter how good Austin was as a heel, the fans just didn't want to see it. A shame. There was plenty of good stuff during that time period, especially when Kurt Angle got involved.
Austin & Angle were both banged up and needed some time off. They needed to stay on television because people still wanted to see them. (A lost art nowadays, especially in WWE. Somebody gets hurt and we don't see them for months. Why can't they have guys like Xavier Woods do stuff on TV and keep his name out there? Never made any sense to me.) The idea was hatched to have them hang out with Vince McMahon and do some killer comedy that still holds up pretty well today.
And it eventually led to a feud when Austin joined "The Alliance" and Angle stood behind his owner. Good times.
1. A Power Outage
July 9. The power at my house went out sometime in the morning and was out for most of the day. I don't remember what I did for most of that day, but I do remember what I found when I turned on Raw at around 11 pm or so when the power came back on: a bunch of former ECW wrestlers walking through the crowd to the ECW theme song. Given there was no prior warning or rumor of this that I had seen, I was pretty confused as to what the heck was going on.
I was pretty excited though. The WCW Invasion had already shown signs of fatigue. It wasn't quite hitting the way most of us fans thought it would. Maybe some ECW flavor would liven things up? It certainly had the potential to…until a few minutes later when WCW Owner Shane McMahon introduced the new ECW Owner, Stephanie McMahon-Helmsley.
Then it went from being a potential cool ECW thing to yet another twist in the McMahon Family Saga. One of the main reasons 2001 is remembered as a disappointing wrestling year. WCW & ECW went out of business, and we didn't even get a good or even a unique storyline out of it.
King's WrestleMania Rewind: Stone Cold VS. Scott Hall (WrestleMania X8)
Chris King is back with another WrestleMania Rewind, looking at the NWO's Scott Hall battling Stone Cold Steve Austin at WWE WrestleMania X8 from Toronto!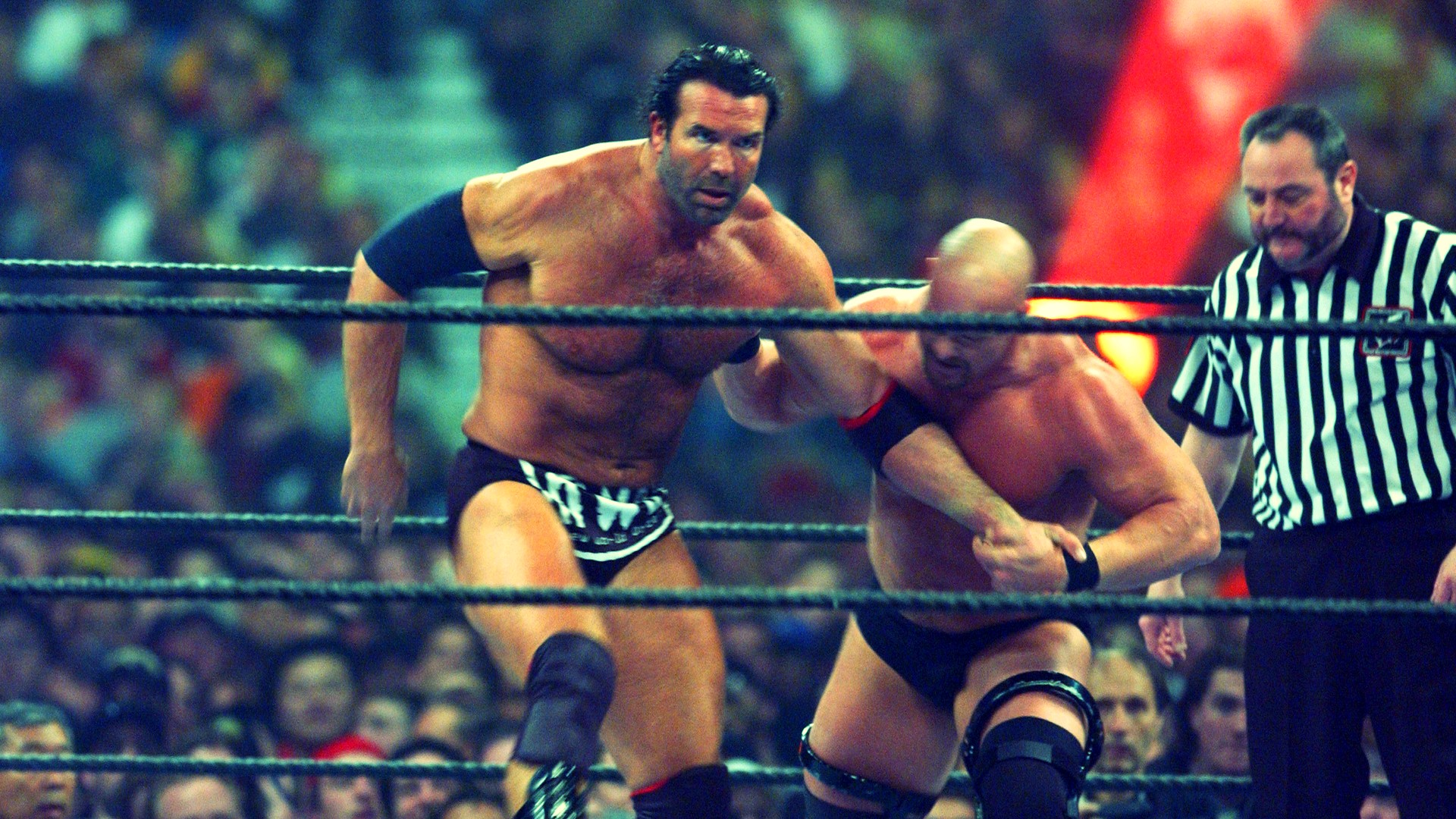 Chris King is back with another WrestleMania Rewind, looking at the NWO's Scott Hall battling Stone Cold Steve Austin at WWE WrestleMania X8 from Toronto!
Chris King is back this week with another edition of WrestleMania Rewind, where he is rewatching all the past Mania matches and feuds. This week you're in for a treat as we look back at 'Stone Cold' Steve Austin vs. Scott Hall at WrestleMania X8.
In late 2001, Vince McMahon bought out his competition WCW and acquired the rights to a plethora of talent including Booker T, Eddie Guerrero, Chris Benoit, and the iconic trio known as NWO. Hulk Hogan; Kevin Nash, and Scott Hall were hell raisers, and what better way to make a name for yourself than take out the two top superstars in the WWE The Rock, and Stone Cold?
The NWO cost Austin his chance at becoming the Undisputed Champion at No Way Out during his match with Chris Jericho. Adding insult to injury, the NWO spray-painted 'The Texas Rattlesnake' with their brand logo just like they did in WCW. As you can imagine, Austin was pissed and out for revenge against the group and primarily Scott Hall.
Hall would challenge Stone Cold to a match at WrestleMania 18. Both superstars beat the living hell out of each other leading up to this highly-anticipated match for who runs the WWE.
The glass broke and Stone Cold made his iconic entrance, and black and white NWO covered Halls' entrance alongside Kevin Nash. With the odds stacked against 'The Toughest S.O.B' could Austin or NWO prove their dominance? Sadly the NWO  broke up that very night when Hulk Hogan came to the aid of his adversary The Rock after their 'iconic' dream match. Stone Cold would ensure the victory with the Stunner. Hall would perform an Oscar-worthy sell over the finisher.
What a time to be a wrestling fan in the 2000s when nothing was impossible for WWE. Who would've thought WCW would go out of business and Hogan would make his long-awaited return to WWE?
King's WrestleMania Rewind: Seth Rollins vs. Kevin Owens (WWE WrestleMania 36)
Chris King takes a look at the most underrated WWE WrestleMania matches, and starts off with Seth Rollins battling Kevin Owens at WrestleMania 36!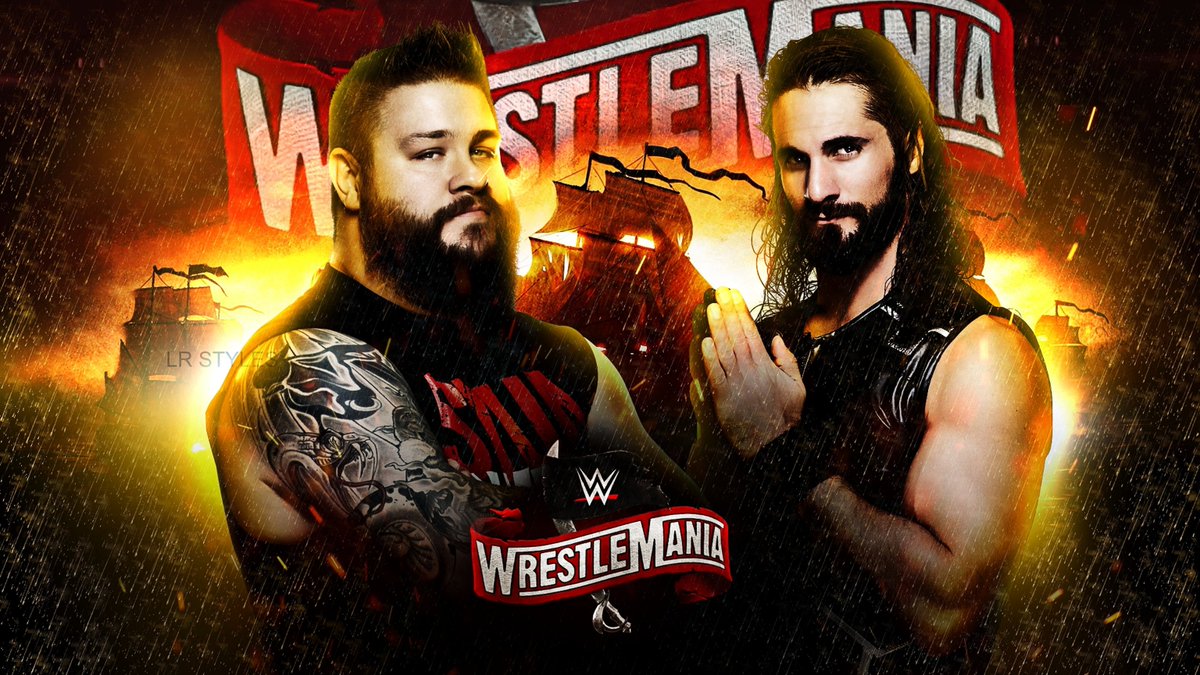 Chris King takes a look at the most underrated WWE WrestleMania matches, and starts off with Seth Rollins battling Kevin Owens in the WWE Performance Center at WrestleMania 36!
Chris King is starting a new series heading into WrestleMania season dubbed WrestleMania Rewind. Each week he'll be going back and sharing his insight over underrated matches at the Show of Shows. First up, is Kevin Owens vs. "The Monday Night Messiah" Seth Rollins at WrestleMania 36.
At the 2019 edition of Survivor Series, Rollins sacrificed himself during the men's traditional match allowing SmackDown to ultimately gain the victory. The following night the self-proclaimed Messiah, berated the whole roster but KO was not having any part of it. Owens quickly became a huge barrier in Rollins' cause for the greater good. The Authors of Pain attacked Owens with Rollins' character in question.
Owens finally had enough of his rival's mind games and torment and challenged Rollins to a match on the Grandest Stage Of Them All. Rollins mockingly accepted his challenge and the match was made official for night one of WrestleMania. Owens came out of the gate beating the holy hell out of the Monday Night Messiah trying to achieve his long-awaited moment at Mania but, Rollins tried to steal a disqualification victory by using the ring bell.
Owens hellbent on revenge provoked Rollins into turning their encounter into a no-disqualification contest where the fight could be taken all over the empty arena. The highlight of the match, was when KO used the WrestleMania sign to deliver a thunderous senton bomb through the announce table. Owens would secure the victory with a Stunner in an incredible match. Despite having no crowd during the pandemic era, both KO and Rollins put on an intense performance under the brightest lights.
In my personal opinion, this was a great feud that helped both superstars in their transformation as compelling characters for years to come.