News From Cook's Corner 7.20.20: They Will Come Back
With some interesting topics and free agent signings, Cook's got a bunch of news this week! What stood out to you this week?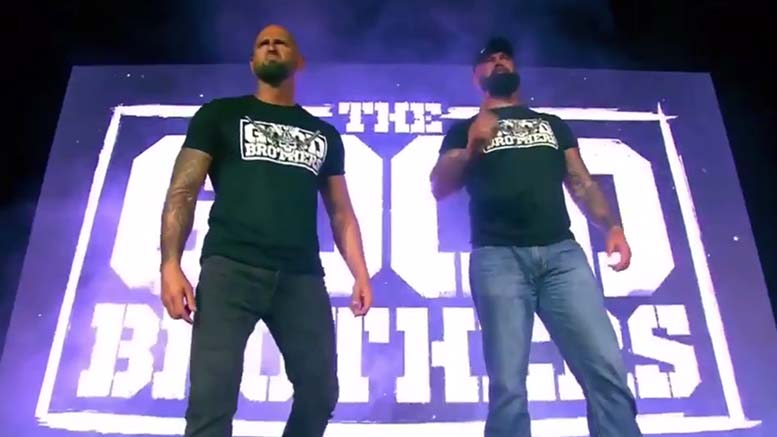 Hi, hello & welcome to News From Cook's Corner! Last night saw a Horror Show at Extreme Rules. I didn't watch it because I got home late from work and had to try and write this. I also didn't watch it because I just didn't care. Let's be honest. I'm sure some of you probably cared and would love to hear my take on whatever Rey Mysterio was holding up near his eyeball. I got nothing.
I got plenty of other things to talk about though! So sit back, relax & enjoy the ride.
It's been over 90 days since WWE fired a ton of people.
Right!!!! https://t.co/CN4kPFXE8G

— Miro (@ToBeMiro) July 19, 2020
You know what that means…people are popping up in other places now. Impact Wrestling had been hyping some new/old names appearing at Slammiversary. We had heard that Luke Gallows & Karl Anderson would be among them, and just after midnight on Saturday morning, the Good Brothers made the official announcement. Also released a podcast, which we may discuss something from a bit later. I think Gallows & Anderson are a better fit in Impact than AEW, mostly because AEW has like 25 tag teams already. It's closer to Anderson's home too as long as they're running in Nashville.
Heath Slater made an appearance on Slammiversary as the hottest free agent in wrestling. Storywise, he remains a free agent, as Scott D'Amore told him to leave after catching up with his buddy Rhino. He'll be back on Tuesday though. Heath seems like a guy that could really benefit from the change in scenery. He was stuck at a certain level at WWE, and no matter what he did there he was going to stay in that spot. No such restrictions in Impact. Can he take advantage?
Eric Young re-emerged as part of what ended up being a five-way main event for the Impact World Championship. He's being billed as the World Class Maniac, and showed a dark side during & after his time in the match. Young found a lot of success during his first stint with Impact, and showed potential of doing the same in WWE during the early days of the Sanity group. Honestly, Eric Young & TNA/Impact Wrestling go together like peanut butter & jelly. I don't blame him at all for trying something else for awhile, but now he's home.
Slammiversary ended with the revelation that trouble is coming back to Impact Wrestling in the form of EC3. EC3's second WWE stint, which came after his first Impact stint, was somehow worse than his first WWE stint. It remains to be seen whether the pattern will continue and EC3's second Impact stint will be better than his first. Did I say that right? I don't know, I'm writing this way too late at night.
Slammiversary also saw the return of other folks that had been absent from Impact for some time. Rich Swann was also part of the main event, and his previously injured knee was targeted by Eric Young. We'll see if that leads to anything. In news that I wasn't expecting but am pretty hyped about, the Motor City Machine Guns returned and are already set up for a title match this Tuesday. Chris Sabin had been out since January with a torn ACL, but is back & ready to go. Alex Shelley would never miss a chance to reunite with an old tag team partner, so that's that.
Mike Bennett & Maria Kanellis appeared on the ROH Strong podcast over the weekend. This doesn't mean they're signed, but a return to the company would certainly make sense. From a storyline perspective, Matt Taven could use some help against VINCENT and his new group of misfits. They only got cheered in Japan before, now they could get cheered here too.
There are still plenty of names out there, and there are still wrestling shows taking place this week. Stay tuned!
Naomi Does Deserve Better
Wow! I know y'all got me you always have! I appreciate you all so so much! Thanks for the continuous support and believing in me 😘 #bestfans #glowmob #naomob #wweuninverse pic.twitter.com/nhMjD89XsM

— Trinity Fatu (@NaomiWWE) July 18, 2020
SmackDown was on Friday night, as it typically is these days. The main thing that garnered attention on the show was a match between Lacey Evans & Naomi.
Now, Lacey is somebody that WWE obviously cares about and wants to be a star. They haven't figured it out with her yet. She's been a heel that didn't mind showing a little skin to try & get Seth Rollins away from Becky Lynch, even though she was supposedly the classiest woman in WWE. Then she was a babyface mom that we were supposed to get behind & support because the mean girls made fun of her. Now, she's a mean girl that's annoying everybody again. There hasn't been any consistency to her character, which is one of the main reasons she hasn't gotten over.
Naomi, on the other hand, has been a consistent character for most of the time since her arrival in 2012. With the exception of her run with Team B.A.D. during the early stages of the Women's Revolution, Naomi's been a honest, well-meaning character that likes to dance. People like her. Even when she disappears in catering for months because WWE doesn't have any ideas for her, people are always happy when Naomi comes back for a brief period of time. She does a feud, gets good reactions, then goes away. I think this pattern has happened enough times that fans are no longer willing to give it a chance and assume that it'll lead to bigger things to Naomi.
So, when Lacey got the win on SmackDown by playing with Naomi's hair, fans finally had enough. The subject was trending on Twitter through Saturday, with many chiming in that indeed, Naomi deserves better. She absolutely does, there's no questioning that unless you're Vince McMahon apparently. I wouldn't expect this online backlash to lead to anything substantial, heck, I wouldn't be surprised if WWE brass took it to mean that Lacey's really getting over as a heel.
There are certain people WWE just isn't interested in pushing. Apparently Naomi is one of them. I can't tell you why. I can make wild ass guesses, but all I can say for sure is that WWE has under-utilized Naomi for approximately eight of her nine years on the main roster.
Paul E is not a Good Brother
You would be correct in that assumption. https://t.co/AMLaxpyHQb

— Dave Meltzer (@davemeltzerWON) July 18, 2020
As I mentioned earlier, Good Brothers Gallows & Anderson released a podcast shortly after their non-compete expired. One of the topics of discussion was an issue that came up some weeks ago, the speculation over Paul Heyman being behind Gallows & Anderson's release, which led to heat between Heyman & AJ Styles. According to the men themselves, it's all true. Some have brought up the obvious question: how could Paul Heyman be behind people getting released when he got demoted not long afterwards? It's a fair question. I'm not going to act like I'd be surprised if Heyman was offered up as the scapegoat by Vince McMahon to AJ, because that sort of thing happens all the time in WWE.
I got a question for all these folks falling all over themselves to defend Paul E & brand Gallows & Anderson as not being the sharpest tools in the shed: Would you be saying the same thing if the name in the story was "Bruce Prichard" instead of "Paul Heyman"? Something tells me a lot of y'all wouldn't be. Paul's very popular with the Internet and we don't like the idea that he might have gotten people fired. If it was Bruce, it'd be a different story.
Listen, I don't know what went on leading to any of these firings. I only know what people tell me, and at this point in my life I know better than to cut free passes just because somebody's entertaining on television.
Just because you spoke out doesn't mean they'll go away
3 minutes into joey ryan 58 minutes YouTube video pic.twitter.com/dEI7KBiHLI

— FAMOUS ARTIST 👨🏽‍🎨👨🏽‍🎨🎨🎨 (@ilyassWillDraw) July 20, 2020
It was only a matter of time.
I don't think anybody really expected all of the folks outed by the Speaking Out movement to slink off into the darkness forever. They were going to bide their time, wait for the moment when it felt like the heat was off them a little bit, then make their case. Two of the more high profile folks that were accused by multiple individuals began their attempts to reclaim their former status in the past couple of days.
Mike Quackenbush did via the newspaper. Very on brand for him & Randy Orton to take it to the papers. The Philadelphia Inquirer ran a story on CHIKARA shutting down this past Saturday, with quotes from Quackenbush that indicate he's going to try to run again as soon as possible. He took on that familiar talking point about how anybody speaking against oppression must be a mob, and how the group is not clearly good, not clearly bad. This is how people are trying to discredit Black Lives Matter, and this is how people will try to discredit Speaking Out.
Joey Ryan's doing the same thing. He released a nearly hour-long video that was intended to discredit anybody that dared accuse him of sexual misconduct. I didn't watch it because I have never had the urge to click on an hour-long video of Joey Ryan talking. From what the people that have watched it say, he pretty much ran down every single accuser and tried to paint everything in a positive light regarding his actions over the years.
This is an important thing to remember while taking stock of Quackenbush & Ryan's recent actions and their respective attempts to clear their names: They don't believe they did anything wrong.
Quackenbush released a heartfelt apology video where he was on the verge of tears on a couple of occasions, but after taking some time to think about it, he's realized that he did nothing wrong. He may have created an environment that fostered bad behavior, but that wasn't his fault. I call it the Rick Pitino Defense. Pitino created a culture in the Louisville men's basketball program that led to bad behavior on multiple fronts. According to him, none of it was his fault and he shouldn't have been punished for it. Same deal with Quack & CHIKARA. Maybe some bad things happened, but, in his eyes, the past is the past and he should be allowed to continue doing what he does.
Ryan's case is more of a typical male thing. A lot of men have the ability to frame every interaction they have with the opposite sex in a way that makes them look like nice guys. From what I surmise, Joey has put a lot of thought into each of these situations. He has managed to spin each one into a way where he thinks he comes off as the good guy. Even if he doesn't come off as a good guy to anybody that's listening, in his mind, he's a decent fella.
I think most men have this problem. I know I have in the past. It was only later on after some reflection where I'd realize "ok, that's why she probably thinks I'm a creep." Humans make mistakes. Some of us learn from them. Some of us never even realize we make them.
Another important thing to remember: Quackenbush is 44 years old. Ryan is 40.
These guys have spent their entire adult lives in the pro wrestling business. Quackenbush was able to make his own playground. Ryan was able to make his own schedule. They made themselves successful without having to work for WWE, which up until the past year or two wasn't an easy thing to do during the twenty-first century. Very few people were able to accomplish what these men did. In a previous time, we would have admired them for it. Now that we know some of the people they stepped on along the way, it's not as admirable.
Here's the thing: These two men have dedicated their lives to pro wrestling. They haven't pursued any other means of making a living in a very long time. I imagine if somebody was doing what they loved and it was taken away from them, they'd feel pretty desperate to get it back. Especially, as we established earlier, if they believe they did nothing wrong. Sure, people will tell you that 40 is the new 30, but surely Quackenbush & Ryan see the sand flowing through the hour glass.
You can understand why they're doing what they're doing. Also, you can probably see the next step coming. As long as Quack & Ryan aren't in jail or otherwise occupied, they're going to continue to pursue a career in wrestling. They may run shows. Somebody might book them to wrestle. Some indy promoter will see some money in that.
When that happens, it's up to the fans to decide how to take it. It's capitalism at it's finest. We can't stop Mike Quackenbush from running a show if he can get talent and a venue. We also don't have to support it. The same goes for Joey Ryan. And if promoters want to book them, that doesn't mean we have to watch their shows.
These guys aren't going away. And I'd wager that some of those other names that got outed will be popping up on the scene once things get more active. If you really want to support the people that spoke out, you'll not support the people they accused. It's really that simple.
Change really happens when the money stops coming in. If you've been paying attention to sports news lately, or just the news in general, you know that's true.
That's all I got for this week! Thanks for reading, and keep your stick on the ice.
Kevin Owens vs. Sami Zayn: Get Your Popcorn
Chris King is back as he runs down why he believes Kevin Owens vs. Sami Zayn at WrestleMania is a potential show-stealer.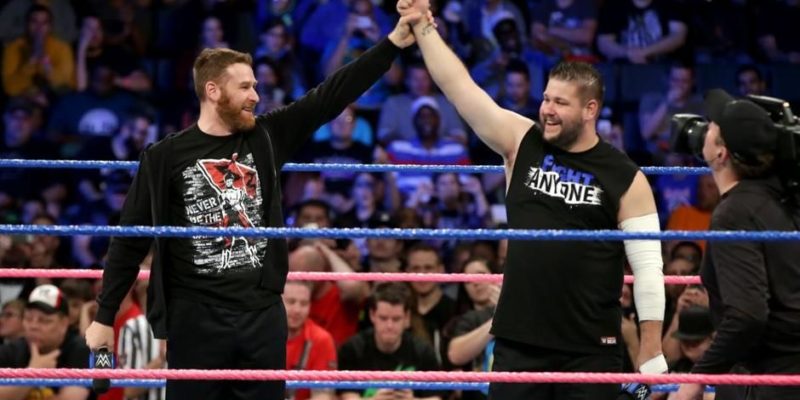 Chris King is back as he runs down why he believes Kevin Owens vs. Sami Zayn at WrestleMania is a potential show-stealer.
Kevin Owens and Sami Zayn are simply incredible performers and storytellers in the ring. Every time they are on the opposite side of each other they create magic. I did a little history lesson on their almost twenty-year rivalry, going back to their days in Ring of Honor and PWG where it all began. Heel Owens to me is a stone-cold killer, he's out for one purpose to be the best. Zayn has found out the hard way what happens when you get in his way.
Poor Zayn didn't learn his lesson and dropped his guard in NXT when KO made his in-ring debut at NXT TakeOver: R Evolution. Owens utterly destroyed his so-called best friend and hit a vicious Pop-up Powerbomb onto the apron. KO then went on to defeat Zayn two months to the day of his debut at NXT TakeOver: Rival to capture the NXT Championship. Owens beat the living shit out of Zayn that night, to the point where the officials have to physically stop the match.
Zayn once again came rushing back for another chance to best his bitter rival but was demolished yet again. Dammit Sami just stay down and live to fight another day. This time Samoa Joe had to stop KO from causing more carnage to Zayn. We would not see the former NXT champ until months later at the 2016 Royal Rumble, where he would cost Owens the WWE World Heavyweight Championship.
The two bitter rivals would fight again during the ladder match at WrestleMania 32 for the Intercontinental Championship, where Zayn would cost Owens the title. At the 2016 Payback pay-per-view, they would do battle again, Zayn would lose yet again. Zayn and Owens would square off one final time at Battleground in another hellacious battle, except this time Zayn finally got his comeuppance after two Helluva Kicks.
Over the past few years, Zayn and Owens have been on the same page, and shockingly enough the same team. The two best friends would come full circle again after Zayn returned to Friday Night SmackDown because of the pandemic. Zayn has been spurting all of this nonsense about this huge conspiracy going on around him for months now. Owens has been unsuccessfully challenging for the Universal Championship but ran into his friend backstage.
A few weeks ago, Zayn attacked his rival, for being paranoid I guess was his excuse. Owens however didn't care and goaded him into a match at this year's Mania. Owens and Zayn are about to create history and fulfill a lifelong dream of having a match on the Grandest Stage of Them All. I can only imagine how incredible this. the moment will be for those two, and the WWE Universe is honored and privileged to be able to experience it.
I'm very thankful that WrestleMania is two nights now because these two wouldn't be given the appropriate amount of time if they were crammed into a seven-hour event. Please just give Owens and Zayn fifteen to twenty minutes, and let them create magic in the ring.
Cook's WrestleMania 37 Night Two Gambling Picks
After delivering (and standing?) his Takeover and WrestleMania Night 1 picks, Steve Cook is back with Night 2. For (sports) entertainment purposes only!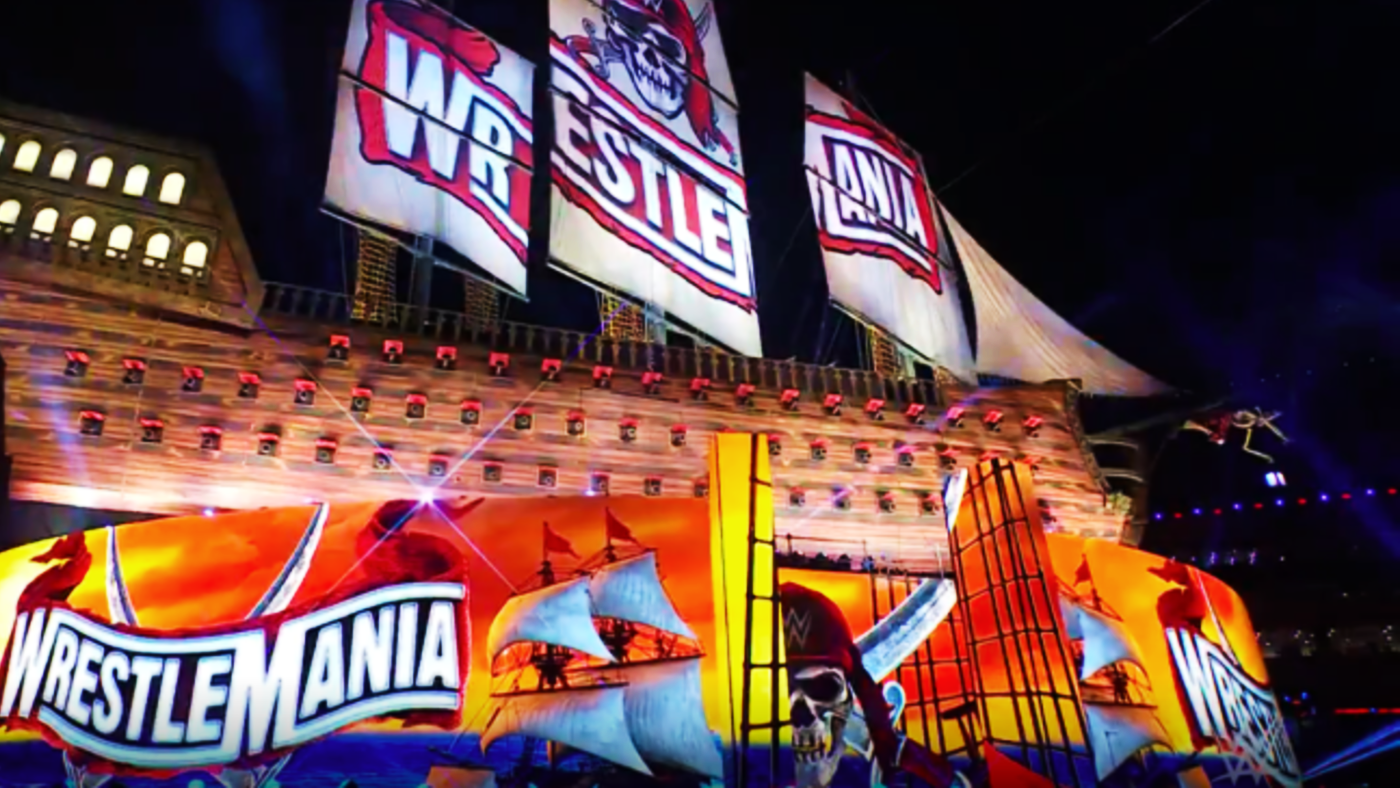 After delivering (and standing?) his Takeover and WrestleMania Night 1 picks, Steve Cook is back with Night 2. For (sports) entertainment purposes only!
Welcome back to the gambling picks!
If you missed Night 1, go ahead and click here!
I'm not going to lie to you guys, I'm already a bit peeved at WWE.
Why? Because they rendered part of my Night 1 pick column useless when they made Sasha vs. Bianca the main event after saying Drew vs. Bobby was! Like, what the hell man? At least I'm pretty confident they won't change the main event of Night 2, so let's make some picks for entertainment purposes only!
Kevin Owens (-350) vs. Sami Zayn (+225)
WTF! This footage is purposely misleading!

Where's the footage of our intense sparring session?
Where's the footage of Logan giving that security guard hell for that mixup?
Where's the footage of the hearty laughs we shared at lunch?

Conveniently left out by the hacks at @WWE! https://t.co/H7WmOt20RB

— Sami Zayn (@SamiZayn) April 7, 2021
Independent wrestling fans would have never seen all this coming a decade or so ago. Kevin Owens as a babyface? Sami Zayn as a heel, without a mask? A YouTube personality as part of the build while Steve Corino agents away & Colt Cabana chills with the Super Smash Brothers? I'd have a hard time explaining all this to 10 Years Ago Me.
Not that this would be at the top of the list of things to warn 10 Years Ago Me about. Just saying…this is all wild stuff.
Kevin Owens is the likely winner as Sami gets punked out by his "buddy" Logan Paul. Slight chance Sami pulls the upset, but I doubt it's worth throwing fake money on.
Randy Orton (+500) vs. The Fiend (-950)
My dick taller then you. Weighs more too. Go to bed you fucking infant. You're welcome for the boost. Go choke on a keyboard. https://t.co/CQUn6WHpGa

— Randy Orton (@RandyOrton) March 29, 2021
I haven't had a lot to say about this feud since it started, and that trend continues here. Not for me, and since I won't be watching live I'll surely be skipping ahead of this one. Hopefully those who are into this type of thing have fun.
Fiend likely wins, but if you really wanna throw a few bucks on Randy Orton at +500, maybe it'll pay off.
United States Championship Match
Riddle (-160) vs. Sheamus (+120)
Why the birds 😭😭 #WWERaw pic.twitter.com/CAvLyQ8oBE

— 👑Adam Goldberg👑 (@adamgoldberg28) April 6, 2021
We can certainly question the methods WWE is using to feature Riddle, but it's clear that they see something in him and want him to be a big deal. Sheamus has had a strong 2021 so far, and will give Riddle a good match and a big win for his first WrestleMania appearance.
I don't have much else to add here. Should be hard-hitting.
Intercontinental Championship Nigerian Drum Fight
Big E (+120) vs. Apollo Crews (-140)
Confused? Maybe you just need a @Snickers #ad pic.twitter.com/1KsqECFR10

— Ettore "Big E" Ewen (@WWEBigE) April 3, 2021
As we all know, the  "Nigerian Drum Fight" goes back to the early days of the legendary Nigerian pro wrestler Power Uti. If you're not familiar with Uti, many consider him to be to the Nigerian Wrestling Federation what Undertaker has been to WWE over the years. They have a ton in common, including holding victories in major specialty matches over Mick Foley.
In the original incarnation of the Nigerian Drum Fight, the object of the match was to bash your opponent's head into a drum in each corner of the ring. The first to hit all four corners in succession won the match. It looks like WWE is shifting the rules somewhat, and are just doing the typical No DQ thing they like to do. I assume that drums will still be legal, but am unsure of the spear.
If the spear is legal, go with Crews. I get the feeling that Big E is in line for the win here, and thus is my pick, especially since he's the underdog.
Raw Women's Championship Match
Asuka (+250) vs. Rhea Ripley (-400)
This year is MY year. 👹#WrestleMania pic.twitter.com/ZkASL8Whvk

— RheaRipley_WWE (@RheaRipley_WWE) April 7, 2021
Once upon a time, Asuka was the new star fresh out of NXT looking to make an impact at WrestleMania. She won the Royal Rumble, but ended up losing at WM to Charlotte Flair. It happens. Just ask Rhea, who lost to Charlotte at last year's WM. The best news for either of these two is that WWE avoided the urge to insert Charlotte in this match, as we know who the betting favorite would be then.
(Well, we think they've avoided the urge. Won't be sure until the bell rings.)
I'm a big Rhea fan and am definitely supporting the Nightmare here. We all know that Asuka's days as champion are numbered, as she's seemed like an afterthought for most of her reign. However, there are reasons to believe that Asuka could get it done here. Mostly, the fact that her feud with Charlotte isn't over yet.
Nah, I gotta stick with Rhea Ripley here. I'm not sure how Vince & the main roster creative folks feel about Rhea, but they probably haven't had enough time to turn against her yet.
Universal Championship Triple Threat Match
Roman Reigns (+150) vs. Edge (+115) vs. Daniel Bryan (+200)
Everyday is an opportunity and possibly a first impression. Earn the right to be remembered. #NeverContent https://t.co/JDsnzqd04g

— Roman Reigns (@WWERomanReigns) April 8, 2021
This is the first WrestleMania main event in a long time where the favorite doesn't seem super obvious on paper. For one thing, there's no reason for Roman Reigns to lose the Universal Championship. He's superb in the role right now and should sit at the head of the table as long as possible.
Then there's Edge, who against most other champions would be the obvious favorite. He's making his big comeback complete by main eventing WrestleMania. Having him win only makes sense, and there are plenty of ways to go with it after, whichever side of the fence you want to put him on.
Daniel Bryan is the longest shot in this match, but we all know that's when he's at his most dangerous. One last run on top for Bryan wouldn't be met with many arguments, and you can set whoever you want with him after & it'll work.
Any of these picks are a winner in my book. I'm going to go with Roman Reigns because it isn't often you'll get those kind of odds on him. Usually he's the heavy favorite, and for good reason. I wouldn't be surprised by any outcome here, and that's what makes this match a true main event.