Cook's Top 5: 2002 Wrestling Memories
The 2002 marker on the walk through Cook's fandom! Some beginnings and some ends, kind of a big year. What's your favorite memory?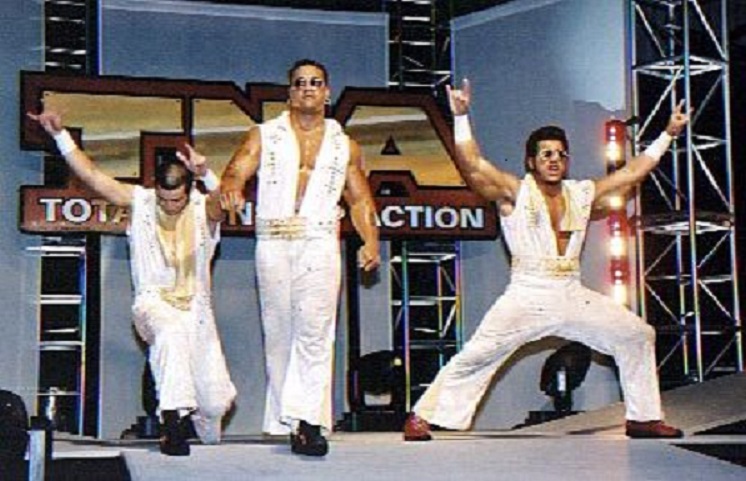 This Thirtieth Anniversary Celebration has seen years where the table was set for things happening years later. 2002 was definitely one of those years. NWA: Total Nonstop Action was born. Ring of Honor started running shows. It also saw things come to an end. WWE got the F out. A number of their top stars from prior years started phasing out. However, some new stars came up that would eventually replace them.
2002 was interesting times. Interesting times in my life as well. Let's look at my 5 biggest memories from that year.
5. Intro to OVW
2002 was a big year from a scholastic standpoint from me, as I moved from high school to college. As many of you know, I attended the University of Louisville. One of the benefits of moving down I-71? I finally got to watch Ohio Valley Wrestling! I'd heard all about WWE's developmental territory down in Louisville that Jim Cornette & Danny Davis were running, and the chance to watch it on WBKI in Louisville was pretty exciting. Sure, it was on Saturday nights at 11, but this is me we're talking about. It's not like I had anything else going on, even in my college years.
I wanted to attend an OVW taping, but circumstances worked against me. For one thing, I typically had classes running into the night on Wednesdays for most of my college career. Also, I tried to find the "Davis Arena" once but was unsuccessful. I didn't know it was in a warehouse that wasn't actually visible from Shepherdsville Road. At that point in my life I'd only attended wrestling shows at venues that were pretty easy to find. That would change later on, but I wouldn't finally hit up an OVW show until years later.
4. The OVW 4 Emerge
The downside of my beginning to watch OVW in late 2002? The four men who would become the biggest stars the promotion created had already been called up to WWE! D'oh! OVW still had plenty of great talent, but these four stood out from the pack. Their nationwide debuts were a bit of a mixed bag…
John Cena debuted when Vince McMahon made a speech about RUTHLESS AGGRESSION and Kurt Angle issued an open challenge as a result. He had a good showing & followed up with a brief Chris Jericho feud, but fell down the card and was most known for managing to wear the colors of a local sports team wherever he worked. Things changed once he got to do a Vanilla Ice impression on SmackDown's Halloween episode. Once we found out he could rap, the rest was history.
Cena's debut had its ups & downs, but it was nothing compared to what "Deacon" Batista had to deal with. The Animal made his first appearances on WWE television as Reverend D-Von's sidekick. As lame as the gimmick was, Batista sure stood out as somebody worth keeping an eye on. You couldn't keep that guy down for too long.
Randy Orton was always destined to be a top star, but 2002 Randy was worlds different from the man we know now. He was a squeaky clean babyface getting put over by Jim Ross as a blue chipper while struggling to get victories. Things would change when he suffered a shoulder injury and he had the temerity to keep us updated on his health status every week via the Randy News Network.
So three of these guys had a bit of a rough start. Brock Lesnar did not. WWE pushed him to the moon right away. He won the King of the Ring tournament, beat The Rock at SummerSlam to become WWE Champion & immediately established himself as one of the biggest stars in the business. He always has been whenever he's been around. Lesnar, Orton, Batista & Cena have all played a part in making WWE the financial juggernaut it is today.
3. TNA's Debut
2002 saw the debut of two wrestling promotions that would challenge for the #2 & #3 slots in North America for the next couple of decades. I didn't see any Ring of Honor during 2002, we'll be getting to my experience with them pretty soon though. Thanks to that illegal black box I told y'all about a few weeks ago, I did get to watch some very early TNA.
And, boy, was that an experience. Don't get me wrong, there was some really good stuff. We were introduced to AJ Styles and a bunch of great young talent. But man…there were Johnsons, stars crapping on main event booking, Ed Ferrara on commentary, NASCAR drivers, little people wrestling, and all sorts of stuff that really doesn't age well. Larry Csonka & I reviewed it back in March.
My main takeaway: How did they survive? I kinda remember liking it at the time, but man it doesn't age well. Credit to the company still existing as I write this column!
2. Austin Walks Out
Stone Cold Steve Austin was one of my favorite wrestlers ever. I doubt this is an especially controversial statement, as he was the favorite wrestler of most wrestling fans in the late 1990s. He made it to the top of the business, but it was a rough road getting there. Lots of physical abuse & injury along the way. There was a lot of wear & tear on the Bionic Redneck by the time 2002 rolled around, and things started to add up. Austin was going through some marital issues, and some issues with what his character was doing. He had a memorable interview on WWE's Byte This internet show where he expressed his displeasure with how things were going.
The final straw, as far as Austin & WWE went, was the idea of having Stone Cold lose a King of the Ring qualifying match to Brock Lesnar. Some thought it was about Austin not wanting to put Lesnar over, but it was more about the idea of making it mean more. Why piss away Austin vs. Lesnar in a King of the Ring qualifying match? I'm not sure it was worth walking out on the job over, but I can also understand the final straw breaking the camel's back.
WWE tried to paint Austin as the bad guy, and even dedicated an episode of WWE Confidential to it. Had Good Ol' JR throw him under the bus. Even in 2002, I was already way too jaded to buy the company line, so I wasn't buying what WWE was selling there. Unfortunately, this did lead to the end of Stone Cold's career, and we'll always wonder how much farther he could have gone if he didn't get bionic & peaced out.
1. Hogan vs. Rock
There was some confusion over what the main event of WrestleMania X8 was. WWE seemed to think it was Triple H overcoming the odds to beat Chris Jericho for the Undisputed Championship. In the eyes of the fans attending the show in Toronto, Hulk Hogan vs. The Rock was the main event. The biggest star of the 1980s vs. the biggest star of 2002? Yeah, probably a bigger deal than Triple H getting the strap back.
I was not a big Hogan fan in 2002. I'd started reading the Internet at that point, and frankly I wasn't a big fan of a lot of things he'd done in WCW. And when you consider I started watching wrestling in 1990, and never saw Hogan having matches on Superstars & Wrestling Challenge, I just didn't have the same emotional connection to him that a lot of people did. Certainly not like the people in Toronto, who cheered him over the Rock. Or like the people in Montreal, who gave him a 10 minute standing ovation.
Of course, this was the time that WWE decided to listen to Canada. They pushed the Hulkster to the moon, brother, having him beat Triple H for that Undisputed Championship at Backlash. This felt wrong to me at the time, and the TV ratings backed that up. Live audiences might have been all about the Hulkster coming back brother, but folks like me at home weren't really digging it. Personal reservations about Hogan aside, WWF/E had sold itself for years as the new generation, new attitude, not pushing the old geezers. Then once they got Hogan & Ric Flair back under contract, they were wrestling for the championship on Raw.
This is still what WWE does today, which they made sure to bury WCW for back when they produced shows about the Monday Night War. To end this on a positive note: that Hogan/Rock match was really fun.
Bodeen's Top 5 Moments: WWE NXT (3/3/21)
Bodeen breaks out his Top 5 moments of NXT this week. Did he miss anything that made your list?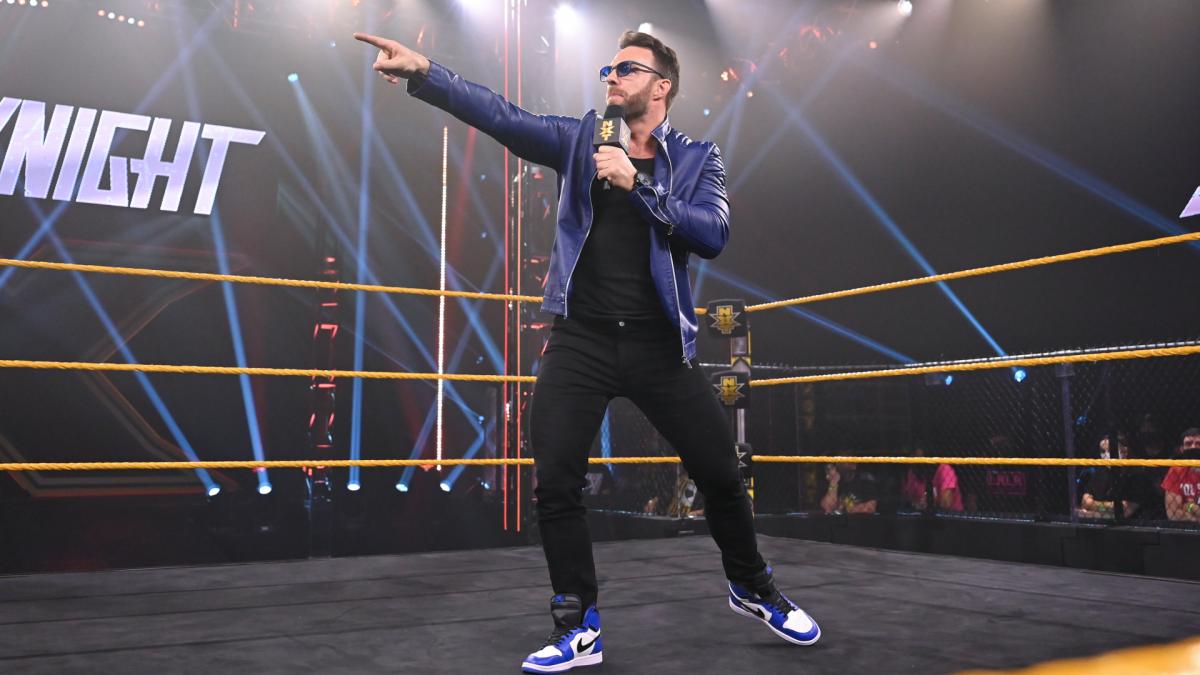 After Adam Cole put the nail in the coffin in the Undisputed Era last week, many eyes were on NXT this week to see what the reaction from Roderick Strong would be as well as the Tag title matches after the Dusty Rhodes Classic. With all these factors it's no surprise that NXT put on another amazing night of action that was entertaining from start to finish. So without further ado, it's time to look at the top 5 moments from NXT this week.
5. Nia Jax and Shayna Baszler beat Dakota Kai and Raquel Gonzalez
It feels like so long ago we saw Shayna Baszler on NXT. Just a few years ago Baszler was dominating the NXT women's division as she beats the likes of Kari Sane, Mia Yim, Bianca Belair and Io Shirai. After she lost the title to Rhea Ripley and moved to RAW, over time she lost credibility and she was slowly removed from the title picture. That's why it was so great to see the submission magician back to her former self on NXT as she and Nia Jax beat Dakota Kai and Requel Gonzalas in a great match that ended in controversial circumstances
This was another great match for the team of Dakota Kai and Raquel Gonzalez, with Raquel Gonzalez once again being the MVP of this match as she took a hot tag from Dakota Kai to dominate Shayna Baszler and Nia Jax. The match would end under controversial circumstances after Adam Pearce called for a referee to ring the bell after Kai was trapped in a submission despite the fact Gonzales was legal.
This finish made Kai and Gonzales look strong in defeat as they did not lose cleanly. It also sets up a storyline in the future, especially after NXT General Manager, William Regal stated he had an announcement to make that would change the NXT landscape.
4. The Way go to therapy 
The Christmas with the Gargano's vignettes were one of my favorite moments from NXT in 2020. The jokes catered to everyone and ranged from inside jokes to die-hard wrestling fans to silly, cheesy jokes that you would see in a Monty Python or Adam Sandler movie. While the Way going to therapy wasn't near the level of Christmas with the Gargano's it was still a fun segment that continued to highlight how good Johnny Gargano is at being a goofy heel.
Gargano's reactions were priceless to watch as he could not believe that Austin Theory enjoyed his time with Dexter Lumis. Indi Hartwell's innuendoes were also hilarious to watch, as this series of segments did a great job in giving all members of The Way enough lines so that no member felt pointless being there.
With Dexter Lumis most likely the next in line for Johnny Gargano's North American Championship, it will be interesting to see the involvement of Austin Theory in what is sure to be a highly entertaining feud to watch.
3. Oney Lorcan and Danny Burch beat Tommaso Ciampa and Timothy Thatcher  
While it was originally meant to be Dusty Rhodes Classic winners, MSK facing Oney Lorcan and Danny Burch we instead got the makeshift team of Tommaso Ciampa and Timothy Thatcher facing the NXT Tag Team champions in a brutal, hard-hitting match that was intense from start to finish, with Lorcan and Burch getting the win after Imperium distracted Thatcher and Ciampa.
This match did a good job at bringing together Thatcher and Ciampa as they smiled at each other, sharing their joy for inflicting pain on their opponents. Despite sharing a moment with each other, the relationship between the two men would be tense as Ciampa seemed annoyed at Thatcher's history with Imperium costing them the match.
2. Roderick Strong faces off against Finn Balor  
After Adam Cole put the nail in the coffin of the Undisputed Era by superkicking Roderick Strong last week, Strong would open the show this week and would waste no time in calling Adam Cole out to the ring. Despite Strong calling Cole out, Finn Balor would come out, with Roderick blaming Balor for Cole's actions. Balor would reply by saying that Roderick does not have the killer instinct that Balor has causing Roderick to attack the NXT Champion, leading to a match between the two men later in the night.
This was my favorite match of the night as Roderick Strong, pushed the NXT Champion to his limit, with Balor once again doing an amazing job of selling, as he sold the back which, Strong attacked throughout the match. The match would end after Balor hit the Coup De Grace and 1916 on Strong to win, with Adam Cole coming out to stare off at Balor ahead of their title match next week.
With Finn Balor and Adam Cole ready to face each other in a TakeOver worthy match, it will be interesting to see who will win, in what is sure to be an amazing match.
1. LA Knight makes his intentions known 
While his name change has led to disagreement between fans LA Knight's short time in NXT has been entertaining to watch. His promo skills and style remind me of a 1980s movie star as he is always the center of attention when he is on the mic. This week would be no different as LA Knight cut his first in-ring promo on NXT TV as he called out the entire roster as well as sewing the seeds for a feud with Bronson Reed.
LA Knight's promo this week was absolute gold, as he blended cockiness, arrogance, pride and emotion brilliantly, stating that he is not in NXT to do flips and dives, but rather win regardless of style. LA Knight would make his big move against Bronson Reed, as he cost Bronson Reed a match against Cameron Grimes.
Bronson Reed is a great first feud for LA Knight, as it can perfectly show off LA Knight's style well against a bigger man like Bronson Reed.
These were my top 5 moments from NXT this week. What were your top 5 moments and who do you think will win the NXT Championship Title match next week? Let us know in the comments below.
Bodeen's Top 5 Moments: WWE RAW 3/1/21
Bodeen takes a look ath the Top 5 moments from an eventful episode of WWE Raw on the Road to WrestleMania!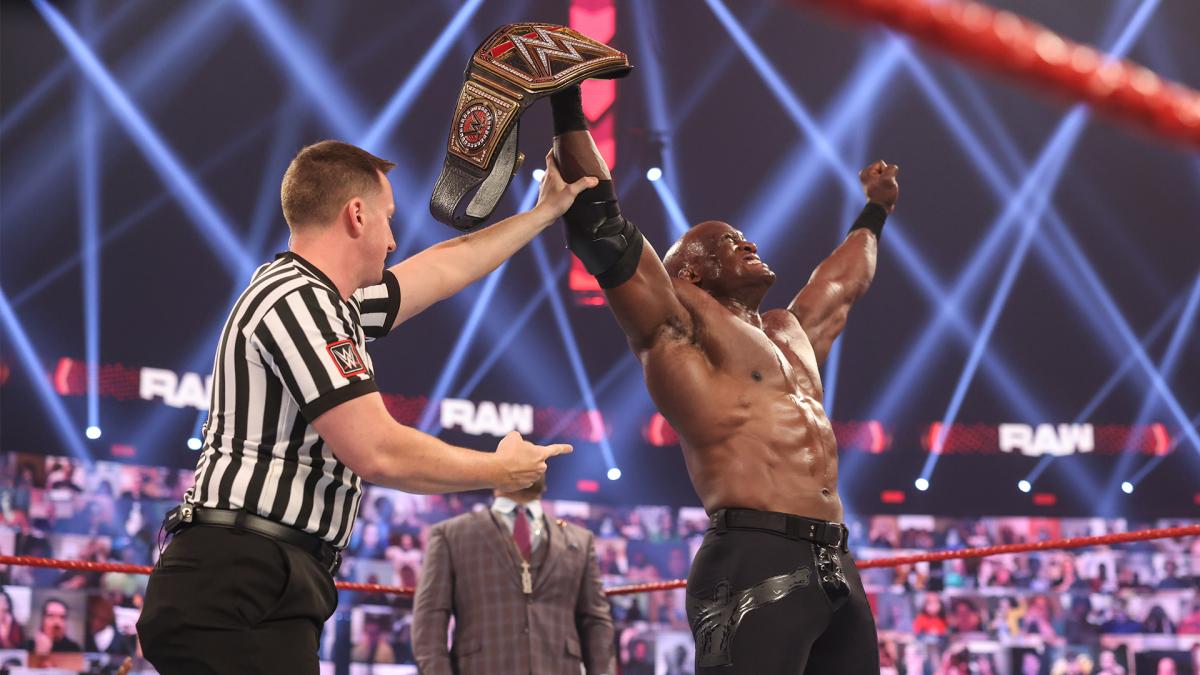 Bodeen takes a look ath the Top 5 moments from an eventful episode of WWE Raw on the Road to WrestleMania!
With just 6 short weeks left until WrestleMania, RAW once again came to us from the Thunderdome, with the main story on RAW this week being focused on the WWE Championship match between The Miz and Bobby Lashley. Despite this there were still some other moments on RAW that stood out, so without further ado let's once again look at the top 5 moments that stood out on RAW.
5. Mustafa Ali pins Riddle
There is no denying that the booking of RETRIBUTION has been botched. While it was extremely interesting to watch Retribiution at first, Retribution soon died even after Mustafa Ali turned heel mainly due to terrible logical booking and a series of losses that made them all look weak.
However, it is still nice to see RETRIBUTION get wins back, especially when it comes to their leader, Mustafa Ali. Ali is extremely talented and has shown he can perform with the best in the ring. That is why it was so great to see him beat Riddle on RAW.
While the match between the two men was nothing special and had a bad-looking finish, it was still nice to see him beat the United States Champion in a non-title match and give RETRIBUTION and himself a small amount of credit back.
4. Miz makes Bobby Lashley wait
Over the years The Miz has grown to be one of the best heels in the business, his promos are amazing to watch and over the years Miz has learned to control any crowd as a heel. Miz's promos though are not the only thing that has helped him as a heel, as we have seen Miz over the years use brilliant strategies to give himself an advantage in the ring.
Miz would once again use his mind this week on RAW as he used excuse after excuse throughout the night to avoid defending the WWE Championship against Bobby Lashley until eventually, Shane McMahon forced him to defend or vacate the title at the end of the night.
The great part about watching this was seeing the reaction from MVP and Bobby Lashley as they grew increasingly frustrated with The Miz and his ideas as their annoyance at the start of the night turned into a pure rage after Miz retained after being counted out.
3. Damian Priest gets another win 
At first, I was somewhat worried about Damian Priest being teamed up with Bad Bunny, mainly due to the fact it feels Priest deserved more. However, after a few weeks and seeing how much merchandise Bad Bunny has been selling, the relationship between the two men can be effective for Priest especially as Bad Bunny guarantees Priest time on RAW, where he can impress fans.
Priest would once again look good on RAW this week as he pinned Elias in a solid match between the two men. It was also nice to see Priest beat Elias without any major interference from Bad Bunny, as Priest has arguably looked somewhat weaker due to the distractions from Bad Bunny in his matches.
With there being a good chance that Bad Bunny will be on WrestleMania with Preist, it will be interesting to see what will happen to Priest after WrestleMania
2.  Drew Mcintyre and Sheamus destroy each other
While this may not off been on a Pay-Per-View, Drew McIntyre and Sheamus put on an amazing match between each other and easily put on the best match of the night. The match showcased the brutal style of the two men as they traded moves with both men working extremely well together.
The match would start with an intense brawl between the two men as they gave each other a beating. After a brutal match where both men push each other to their limit, Drew McIntyre would catch Sheamus with a Claymore after Sheamus attempted a Brouge kick to win the match.
After the match, both men stared at each other potentially meaning that this is not the end of their feud as he approach Fastlane.
1. Bobby Lashley finally wins the gold 
It is hard to believe how much Bobby Lashley's career has changed in a year. This time last year, Bobby was stuck in a never-ending feud with Lana and Rusev which had lost all credibility. Then Bobby Lashley left Lana for MVP and started The Hurt Business, where he became a dominant part of the mid-card as the United States Champion.
Even after being a dominant mid-carder for so long Lashley still hadn't reached that next level however Bobby would finally break through the glass ceiling this week on RAW after he waited for three hours to dominate The Miz to finally become WWE Champion after what has felt like an eternity.
With Bobby now Champion the big question is, will Lashley be Champion by WrestleMania and if so, who will Lashley face?
These were my top 5 moments from RAW this week. What were your top 5 moments and what do you think of Bobby Lashley being WWE Champion? Let us know in the comments below.