Cook's Top 5: 2002 Wrestling Memories
The 2002 marker on the walk through Cook's fandom! Some beginnings and some ends, kind of a big year. What's your favorite memory?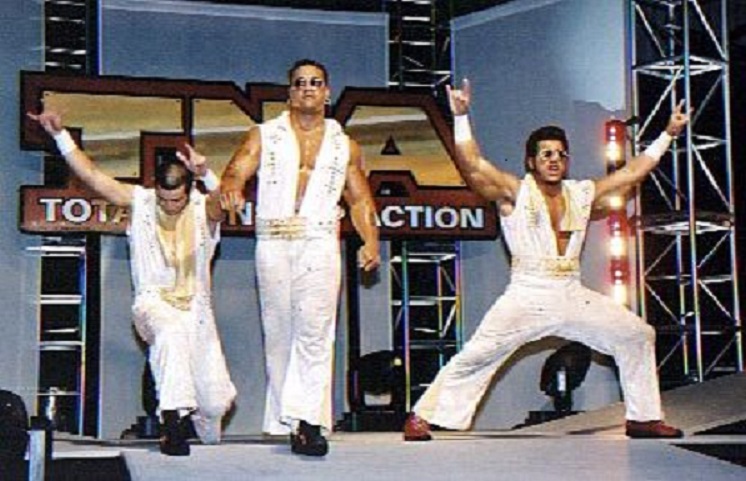 This Thirtieth Anniversary Celebration has seen years where the table was set for things happening years later. 2002 was definitely one of those years. NWA: Total Nonstop Action was born. Ring of Honor started running shows. It also saw things come to an end. WWE got the F out. A number of their top stars from prior years started phasing out. However, some new stars came up that would eventually replace them.
2002 was interesting times. Interesting times in my life as well. Let's look at my 5 biggest memories from that year.
5. Intro to OVW
2002 was a big year from a scholastic standpoint from me, as I moved from high school to college. As many of you know, I attended the University of Louisville. One of the benefits of moving down I-71? I finally got to watch Ohio Valley Wrestling! I'd heard all about WWE's developmental territory down in Louisville that Jim Cornette & Danny Davis were running, and the chance to watch it on WBKI in Louisville was pretty exciting. Sure, it was on Saturday nights at 11, but this is me we're talking about. It's not like I had anything else going on, even in my college years.
I wanted to attend an OVW taping, but circumstances worked against me. For one thing, I typically had classes running into the night on Wednesdays for most of my college career. Also, I tried to find the "Davis Arena" once but was unsuccessful. I didn't know it was in a warehouse that wasn't actually visible from Shepherdsville Road. At that point in my life I'd only attended wrestling shows at venues that were pretty easy to find. That would change later on, but I wouldn't finally hit up an OVW show until years later.
4. The OVW 4 Emerge
The downside of my beginning to watch OVW in late 2002? The four men who would become the biggest stars the promotion created had already been called up to WWE! D'oh! OVW still had plenty of great talent, but these four stood out from the pack. Their nationwide debuts were a bit of a mixed bag…
John Cena debuted when Vince McMahon made a speech about RUTHLESS AGGRESSION and Kurt Angle issued an open challenge as a result. He had a good showing & followed up with a brief Chris Jericho feud, but fell down the card and was most known for managing to wear the colors of a local sports team wherever he worked. Things changed once he got to do a Vanilla Ice impression on SmackDown's Halloween episode. Once we found out he could rap, the rest was history.
Cena's debut had its ups & downs, but it was nothing compared to what "Deacon" Batista had to deal with. The Animal made his first appearances on WWE television as Reverend D-Von's sidekick. As lame as the gimmick was, Batista sure stood out as somebody worth keeping an eye on. You couldn't keep that guy down for too long.
Randy Orton was always destined to be a top star, but 2002 Randy was worlds different from the man we know now. He was a squeaky clean babyface getting put over by Jim Ross as a blue chipper while struggling to get victories. Things would change when he suffered a shoulder injury and he had the temerity to keep us updated on his health status every week via the Randy News Network.
So three of these guys had a bit of a rough start. Brock Lesnar did not. WWE pushed him to the moon right away. He won the King of the Ring tournament, beat The Rock at SummerSlam to become WWE Champion & immediately established himself as one of the biggest stars in the business. He always has been whenever he's been around. Lesnar, Orton, Batista & Cena have all played a part in making WWE the financial juggernaut it is today.
3. TNA's Debut
2002 saw the debut of two wrestling promotions that would challenge for the #2 & #3 slots in North America for the next couple of decades. I didn't see any Ring of Honor during 2002, we'll be getting to my experience with them pretty soon though. Thanks to that illegal black box I told y'all about a few weeks ago, I did get to watch some very early TNA.
And, boy, was that an experience. Don't get me wrong, there was some really good stuff. We were introduced to AJ Styles and a bunch of great young talent. But man…there were Johnsons, stars crapping on main event booking, Ed Ferrara on commentary, NASCAR drivers, little people wrestling, and all sorts of stuff that really doesn't age well. Larry Csonka & I reviewed it back in March.
My main takeaway: How did they survive? I kinda remember liking it at the time, but man it doesn't age well. Credit to the company still existing as I write this column!
2. Austin Walks Out
Stone Cold Steve Austin was one of my favorite wrestlers ever. I doubt this is an especially controversial statement, as he was the favorite wrestler of most wrestling fans in the late 1990s. He made it to the top of the business, but it was a rough road getting there. Lots of physical abuse & injury along the way. There was a lot of wear & tear on the Bionic Redneck by the time 2002 rolled around, and things started to add up. Austin was going through some marital issues, and some issues with what his character was doing. He had a memorable interview on WWE's Byte This internet show where he expressed his displeasure with how things were going.
The final straw, as far as Austin & WWE went, was the idea of having Stone Cold lose a King of the Ring qualifying match to Brock Lesnar. Some thought it was about Austin not wanting to put Lesnar over, but it was more about the idea of making it mean more. Why piss away Austin vs. Lesnar in a King of the Ring qualifying match? I'm not sure it was worth walking out on the job over, but I can also understand the final straw breaking the camel's back.
WWE tried to paint Austin as the bad guy, and even dedicated an episode of WWE Confidential to it. Had Good Ol' JR throw him under the bus. Even in 2002, I was already way too jaded to buy the company line, so I wasn't buying what WWE was selling there. Unfortunately, this did lead to the end of Stone Cold's career, and we'll always wonder how much farther he could have gone if he didn't get bionic & peaced out.
1. Hogan vs. Rock
There was some confusion over what the main event of WrestleMania X8 was. WWE seemed to think it was Triple H overcoming the odds to beat Chris Jericho for the Undisputed Championship. In the eyes of the fans attending the show in Toronto, Hulk Hogan vs. The Rock was the main event. The biggest star of the 1980s vs. the biggest star of 2002? Yeah, probably a bigger deal than Triple H getting the strap back.
I was not a big Hogan fan in 2002. I'd started reading the Internet at that point, and frankly I wasn't a big fan of a lot of things he'd done in WCW. And when you consider I started watching wrestling in 1990, and never saw Hogan having matches on Superstars & Wrestling Challenge, I just didn't have the same emotional connection to him that a lot of people did. Certainly not like the people in Toronto, who cheered him over the Rock. Or like the people in Montreal, who gave him a 10 minute standing ovation.
Of course, this was the time that WWE decided to listen to Canada. They pushed the Hulkster to the moon, brother, having him beat Triple H for that Undisputed Championship at Backlash. This felt wrong to me at the time, and the TV ratings backed that up. Live audiences might have been all about the Hulkster coming back brother, but folks like me at home weren't really digging it. Personal reservations about Hogan aside, WWF/E had sold itself for years as the new generation, new attitude, not pushing the old geezers. Then once they got Hogan & Ric Flair back under contract, they were wrestling for the championship on Raw.
This is still what WWE does today, which they made sure to bury WCW for back when they produced shows about the Monday Night War. To end this on a positive note: that Hogan/Rock match was really fun.