Andrew's Impact Wrestling Results & Match Ratings: 9.22.2020
The Knockouts main event the show tonight! Has the time away hurt Tenille's ability? Find out on IMPACT!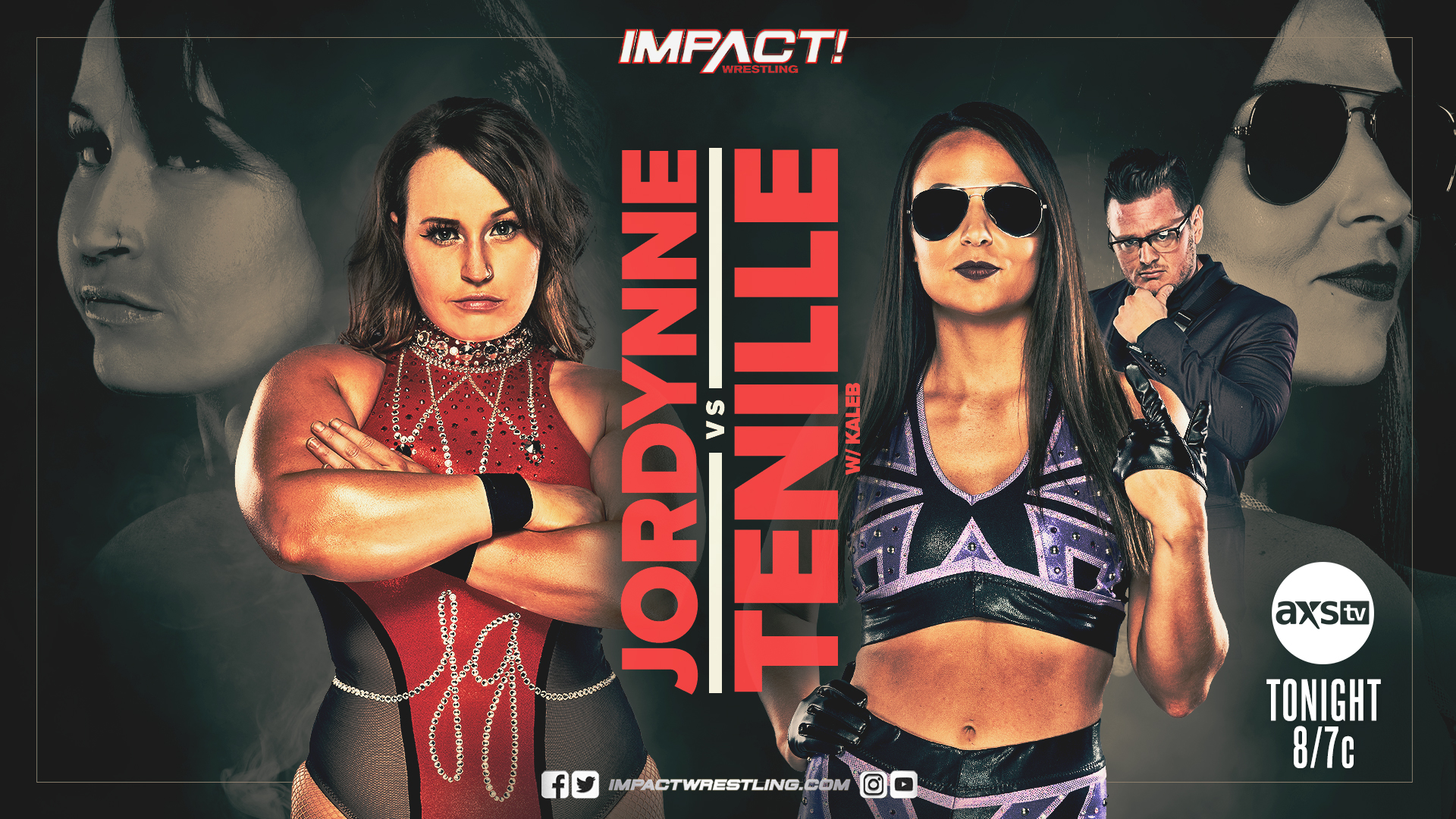 Impact Wrestling has been on a bit of a roll since Slammiversary. Though the overall buzz has simmered and we don't get any real data on viewership, word of mouth has been positive. Hell even Patrick O'Dowd watched last week's show and enjoy it.
We have a lot of matches that could be building for Bound for Glory and even afterward. But we usually have a September show, and Victory Road's last two incarnations have been during this month. So maybe we find out about a TV special before Bound for Glory?
Let's not bury the lead though, Sami and RVD hopefully end their story tonight, Kylie and Deonna keeps heating up, and the main event is Tenille's first Impact match since March. So it should be exciting to see what she can do with such a long assumed time off.
Real quick though:
This is…the BEST commercial, vignette, #Heath4IMPACT bit ever!
.@HEATHXXII called in some ALL-STAR cameos in the most inspirational and moving #Heath4IMPACT video yet. #IMPACTonAXSTV @Rhyno313 pic.twitter.com/cNUhhfhxsW

— IMPACT (@IMPACTWRESTLING) September 23, 2020
Ratings:
Winner Gets an Immediate X Division Title Shot: Chris Bey vs TJP vs Trey Miguel: Trey wins via Diving Meteora – *** ¼
X Division Title: Trey Miguel vs Rohit Raju (c): Rohit retains via O'Connor Roll w/ Tights – N/A
Kimber Lee w/Deonna Purrazzo vs Susie w/Kylie Rae: Susie wins via Panic Switch – ***
RVD w/Katie Forbes vs Sami Callihan: RVD wins via Body Scissors Roll Up – ***
Tenille Dashwood w/Kaleb Konley vs Jordynne Grace: Tenille wins via Spotlight Kick – *** ¼
Results:
Winner Gets an Immediate X Division Title Shot: Chris Bey vs TJP vs Trey Miguel
If you've seen X Division, Cruiserweight or Japanese Junior style matches you'll know this is just perpetual motion and it's hard to jot down on paper. A lot of great quick action. Bey flipped Trey while he had TJP, so it was like a stalled Shiranui, where he dropped back for the Reverse DDT after hooking Bey for a Flatliner. Trey also does a nice Triangle Mexican Arm Drag on TJP, but he comes down with a Double Footstomp on a draped Chris Bey for emphasis. TJP looked to be hunting for a Rings of Saturn on Bey, but when Trey charged, it was turned into a Sharpshooter on Trey, while on Chris Bey's back, and doing a Modified Camel Clutch to Bey.
As we start to get toward the end, Bey hits and a Randy Orton-esque Cutter on Trey in midair, only to get rocked by TJP. TJP locks the grapevine on the Kneebar, but Trey flies from the top rope to his the Diving Meteora on the mostly prone TJP. Trey manages to escape with the win!
X Division Title: Trey Miguel vs Rohit Raju (c)
Brilliant heel work as Rohit hits the ring right after the Triple Threat, starts the match, dodges an brash attack, O'Connor Roll, handful of tights and the Desi Hitman retains!
Kimber Lee w/Deonna Purrazzo vs Susie w/Kylie Rae
Lots of fun character work here. Kim takes Susie a little lightly, but Susie dodges early kick attempts with the Truce bow. Before Susie finally gets caught.
This is an interesting shift of watch Susie actually be resilient, and when she starts to tap into Su Yung. It seems like Susie starts to turn when she gets hurt. So as Kim beats on her, picks on her and toys with her a bit, the rage builds up in Susie.
The first Arachnarana gets countered by Kim as she grabs Susie's legs and drops down into a Boston Crab. The second attempt was more of a Headscissors that drives Kim's head into the turnbuckles. Deonna tries to interfere on Kim's behalf, but messes up a bit and hits Kim while she's on the top rope. Panic Switch kicks in, and Susie wins the match.
The Rascalz are FIRED UP and they want The Good Brothers. #IMPACTonAXSTV @MachineGunKA @The_BigLG @DezmondXavier @zachary_wentz pic.twitter.com/YnibSQTVlc

— IMPACT (@IMPACTWRESTLING) September 23, 2020
IMPACTPlus Flashback Moment: AJ Styles vs Bully Ray, Bound For Glory, NoDQ for TNA Heavyweight Championship, October 20, 2013
Valkyrie and Rosemary have a moment in the back where Taya actually looks like a good friend. It's fun.
After last week's hiccup, @WeAreRosemary and @TheTayaValkyrie are back on the same page. #IMPACTonAXSTV pic.twitter.com/J5nxDb5lk3

— IMPACT (@IMPACTWRESTLING) September 23, 2020
Looks like we're heading towards a Tommy Dreamer/Brian Myers angle. This could be alright, Myers playing the part of the entitled toxic new locker room member. "Most Professional"…hmm.
Cody Deaner was supposed to have a match apparently, but Eric Young shows up to make an example and send a message through Deaner. Cody tries to fight back a little, but EY puts an end to it and Piledrives him in the middle of the ring. Cousin Jake manages to put a stop to things when EY transitions to a Heel Hook and drives a still ranting EY back. Jake checks on Cody and then EY hits the ring to inflict pain on Jake. EY hits the Piledriver on Jake, and looks to be proud of his handy work.
This goes on for a bit, EY grabs a mic to continue his ranting, continues the beat down on Jake and Cody, security finally shows up to get dropped, Scott D'Amore comes out, they have words, EY is about to go after Scott before Eddie Edwards hits the ring. Eddie runs out EY.
Eddie follows Scott backstage and there's a good spot where they just start yelling at each other. Eddie questions Scott not acting like a boss and how he deserves the rematch. Scott accuses him of not being the leader he thinks he is. It's a nice way to show that EY's World Class Maniac gimmick is taking a mental toll on people.
.@therealec3 just gave out @TheMooseNation's PERSONAL PHONE NUMBER to the world. #IMPACTonAXSTV pic.twitter.com/UncuC1h11B

— IMPACT (@IMPACTWRESTLING) September 23, 2020
RVD w/Katie Forbes vs Sami Callihan
RVD got an early jump on the action, and the interesting angle commentary seems to be taking is pointing out RVD missing a beat, the idea of Father Time catching up with him. RVD proves this with a few slow transitions and a sloppy Rolling Thunder.
The match alone wasn't anything special, but it worked well with the story they're telling. Sami went for quick strikes and jaw shaking kicks, but it was Katie Forbes' interference that caught up with Sami. Katie produces some hair spray to blind Sami, RVD hits the Body Scissors Roll Up for the pin fall victory.
As per the stipulation, Katie is supposed to get 5 minutes alone with Sami, but it seems like losing might've been done on purpose. Sami eats some offense, but takes out RVD, again putting a spotlight on Father Time slowing him down, or his insistence on making out with Katie. Then Sami hits the Piledriver on Katie and walks off looking victorious in the feud.
Tenille Dashwood w/Kaleb Konley vs Jordynne Grace
Kaleb comes out first to do the introduction for Tenille, so I am enjoying this new persona for Kaleb and Tenille's twist on her character.
We get a really rough match from both women, but good rough, not sloppy. Tenille tries to use her long legs and height advantage early, but Thicc Mama Pump displays her power. A Baseball Slide from Jordynne goes awry when Kaleb pulls Tenille back, allowing Tenille to take Jordynne's feet, spin her and then drag her off the apron by the hair, just a flat drop. Tenille had a look on her face which actually looked like she was having fun, instead of the stone cold killer she was when she first left WWE.
From there we get Tenille in charge for a while, until she tries a power move, which isn't going to turn out well. Every attempt at a Suplex or wrap around was met with a counter. Jordynne was searching for the Grace Driver a few times, but couldn't grab Tenille's wrist. She did however hit a Michinoku Driver to start to soften up Tenille, and it started looking like Jordynne was on track.
A few more nice strike exchanges, Jordynne gets hung up Tree of Woe style to eat a Foot Stomp from Tenille. Tenille hits Taste of Tenille, looks to set up the Spotlight Kick, but Jordynne catches her and almost locks in the Grace Driver; but Kaleb jumps on the apron for a "better picture". Jordynne scares him off, Roll Up, Spotlight Kick, and Tenille wins!
Solid match, nice character work, and it should be interesting to watch Jordynne claw back up from the bottom.
Overall Score: 7/10
Everything was really fun in the show, especially the Heath commercial. However, a lot of it felt like bridge pieces towards a bigger part of the story. I love Bravo's Groomsmen, Eddie and Scott's argument added some hype for Victory Road, Susie's whole thing is great, and what the hell is Taya up to…being a good friend and what not.
A few negatives could be that the Eric Young beat down went on a little long. I could've dealt with a few less minutes of that, and it's always odd when they stick 4 or 5 non-wrestling segments on top of each other. So the show was still quite good, but as I like to point out, some people may zone out a little in some areas.
The "post credits" scene of Eddie Edwards getting attacked with the lights magically going out and coming back on with him down is good. Conventional wisdom says it was Eric Young, but who's to say he's alone? Who's to say it wasn't Rich Swann trying to protect his Bound for Glory match?