Cook's Top 5: Disappointing Post WWE Runs
In a year full of WWE releases and AEW signings, Steve Cook takes a look back at the most Disappointing Post WWE Runs in his latest Top 5!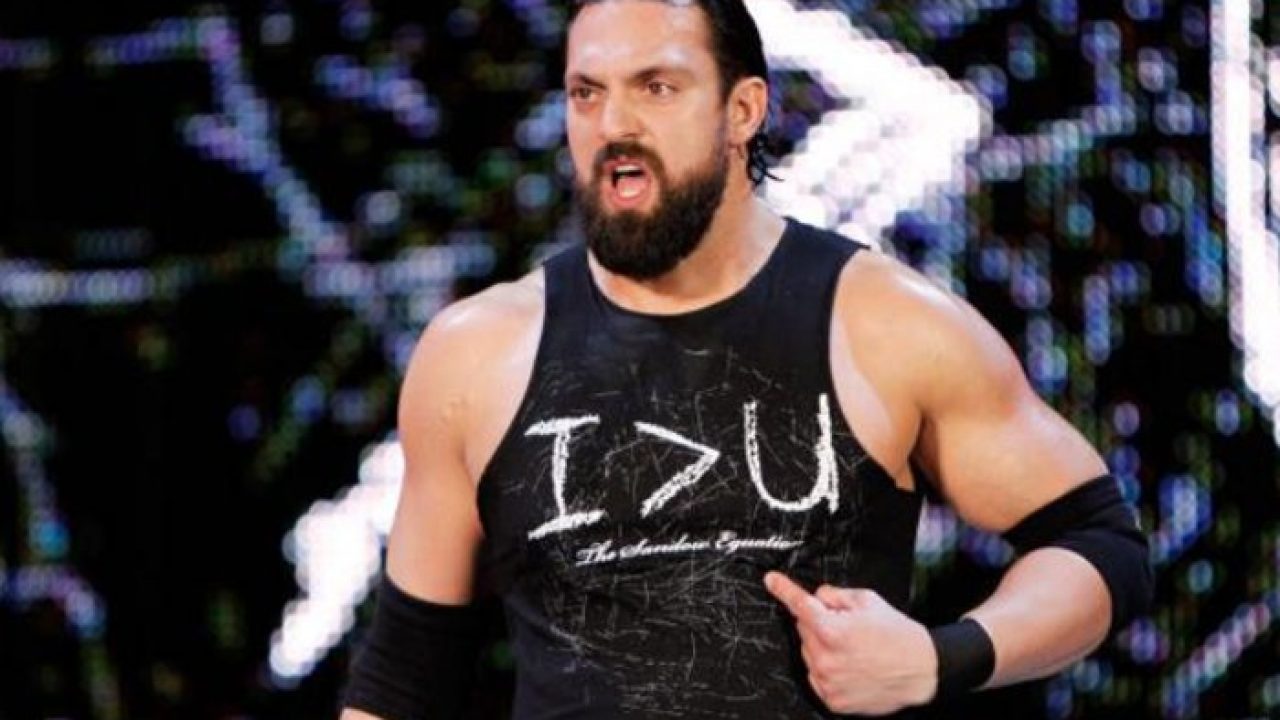 In a year full of WWE releases and AEW signings, Steve Cook takes a look back at the most Disappointing Post WWE Runs in his latest Top 5!
There was a pretty long period of time where it felt like WWE didn't release anybody. It was shocking to a lot of us to see a long list of releases this year, even with the coronavirus and everything going on in 2020. Many have started appearing elsewhere, but I don't think anybody made the initial impression with a company that Miro did this week on AEW Dynamite.
With all due respect to Mr. Brodie Lee, Deonna Purrazzo, Eric Young, the Good Brothers and others that have gotten off to good starts with different companies, none of their debuts drew over a million views on YouTube. People are interested to see what "The Best Man" Miro, formerly known as Rusev, can do without those WWE handcuffs on him.
We've said this before about other people, however. It doesn't always go well. Folks who we thought would blossom without those shackles did anything but. I feel Miro will realize the potential a lot of us think he has, but it's worth looking at the top 5 that didn't.
5. Booker T
Don't get me wrong. Booker T is a wrestling legend. A FIVE TIME FIVE TIME FIVE TIME FIVE TIME FIVE TIME WCW CHAMPION. A two time WWE Hall of Famer. Somebody I ripped a column idea off of. But none of that takes away from the fact that his TNA run was the drizzling shits. It probably had a lot to do with his age, he was already over 40 and had been in the business a long time. Maybe it was the environment, though other ex-WWE guys managed to adapt to TNA's ways much better. Whatever it was, it was clearly obvious from the moment Booker entered TNA that he was there for the paycheck. Nothing more, nothing less. He held something called the Legends Championship and was part of Kurt Angle's Main Event Mafia, but the only thing I remember from Booker's TNA stint is the time he did commentary on Impact alongside Kevin Nash.
Even with Booker's drawbacks during the time period, he could have still made an impact in TNA if he gave the slightest bit of a crap. He did not.
4. Paul London
I might be alone on this one. But I remember when Paul London was considered one of the top young stars in the business. He was a cult hero in Ring of Honor, where fans would beg him not to die when he would try some stupid move. He wound up going to WWE, where he would find a mixture of success & failure. He won the tag team titles with Brian Kendrick and held them over 300 days. It seemed like it was because the bookers didn't care. Once London was released, people thought big things were in store for him.
They never happened. He'd make random indy shots here & there, never really having a consistent run anywhere. He did some darn good shoot interviews, but who would have thought they would be the highlight of his post-WWE run? There was a time where he could have been one of the best in the world, but he never came close to reaching those horizons.
3. Vince Russo
(NSFW obviously since it's Jim Cornette talking about Vince Russo)
Remember back in 1999 when all of a sudden, WWF's lead writer jumped ship to WCW? Vince Russo really wanted all of us to believe that he was the mastermind behind the Attitude Era. Without him, the WWF would have never passed WCW in the Monday Night War, and they were doomed now that he was making the move to WCW. A lot of people actually bought this. Heck, I enjoyed the magazines he produced for the WWF.
As everybody else has said, Russo did well in the WWF because he had an editor. He didn't have one in WCW, and he failed. The attempted pairing with Eric Bischoff didn't go any better, nor did his various runs as the head writer for TNA. Russo definitely had an impact on the Attitude Era. But there were a lot more people with a hand in that than he wanted us to think.
2. Damien Sandow
One of the most popular talking points on the Internet during the mid-2000s was that Damien Sandow was so underutilized by WWE. He got really over doing a Miz stunt double gimmick as Damien Mizdow, and WWE cooled him off immediately after that partnership ended. Everybody thought Sandow would be better served elsewhere, and they thought TNA got a heck of a signing when they ended up with Aaron Rex.
That didn't last long at all. Aron Rex had a brief run with something called the Impact Grand Championship, re-debuted with a "Liberace-inspired" gimmick, and disappeared after that. For somebody that a lot of people said was the future of the business, he didn't do much once those WWE handcuffs were taken off. He left Impact Wrestling to go into acting, which I have no evidence of leading into anything. I will say his run in the reborn NWA last year as Aron "Shooter" Stevens was solid stuff, so the guy definitely has a place in the business. Just not as King God of everything like people wanted to tell us back in the day.
1. Bret Hart
We kind of had an idea that WCW would screw it up somehow. Still, it was almost foolproof. Bret Hart had been one of the hottest heels in wrestling during 1997, not to mention one of the WWF's top workhorses for the past twelve years he'd been with the company. He had finally overcome the doubters that questioned his charisma. Add in the fact that Bret's departure from the WWF still ranks as one of the most controversial moments in wrestling history, and there's really no way that WCW shouldn't have been able to capitalize off of signing Bret away from the WWF. He had every bit of momentum going for him when he arrived.
They managed to piss away all of that momentum, and then some. Can you name five things Bret Hart did in WCW? Here's what I got:
-Debuted as a special guest referee and acted like Sting got jobbed & Hogan tapped when neither happened
-Tricked Goldberg with a steel plate
-Asked who Mean Gene Okerlund was to doubt El Dandy
-The Owen tribute match with Chris Benoit
I got to four. Add in "be part of some random halfass NWO reboot" and there's five I guess. Even before Bret's brother was killed on a WWF PPV event, pretty much killing whatever passion Bret had left for trying to make things work in WCW, and long before Goldberg kicked Bret's head off and ended his career, Bret's WCW run had already set the standard for worst run after leaving Vince.
Did I forget any? Let me know! (And before anybody asks, I didn't include CM Punk because nobody thought he would blossom in UFC.)
King's WrestleMania Rewind: Charlotte Flair vs. Asuka from WrestleMania 34
Chris king is back with one of the most underrated matches in WrestleMania history–Charlotte Flair vs. Asuka!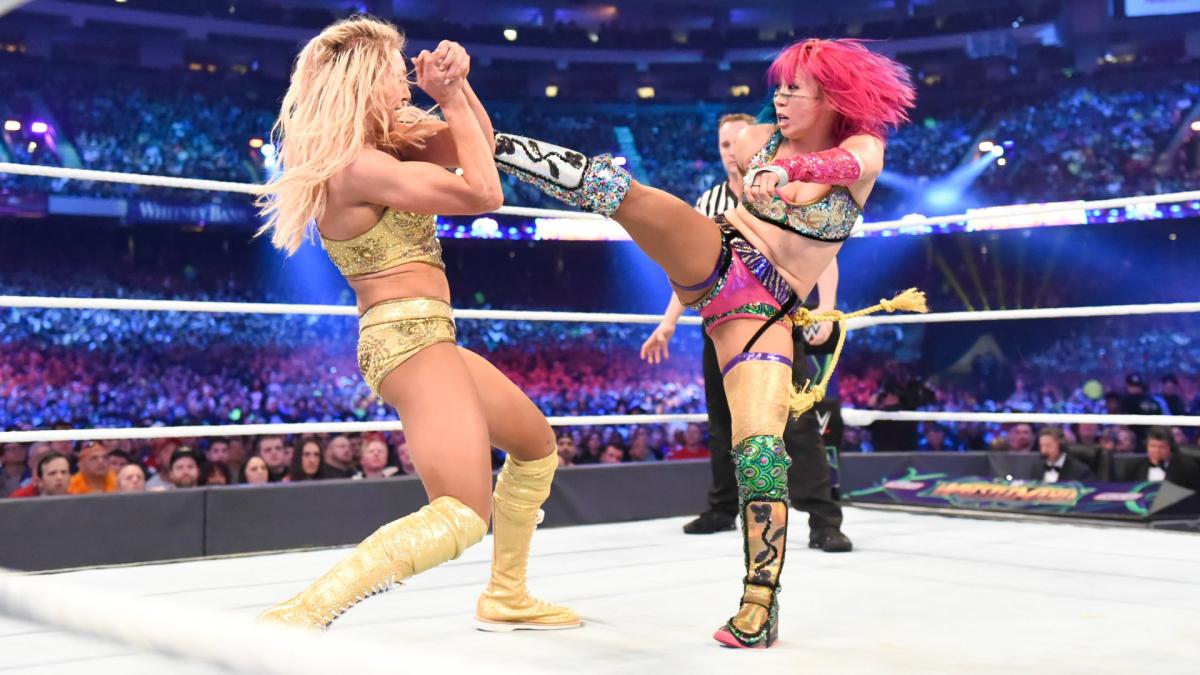 Chris king is back with one of the most underrated matches in WrestleMania history–Charlotte Flair vs. Asuka!
We look back at Charlotte Flair vs. Asuka at WWE WrestleMania 34. 'The Empress of Tomorrow' put her unprecedented and historic undefeated streak of 914 days on the line against 'The Queen's' SmackDown Women's Championship.
For years, this was considered a dream match while Asuka dominated the roster in NXT, while Flair won numerous championships on the main roster on both Raw and SmackDown. The Empress made her long-awaited debut on the September 11th episode of Raw and began to tear through the competition.
Asuka outlasted all twenty-nine other women in the historic first-ever Women's Royal Rumble match to challenge for the title of her choosing. At Fastlane, she made her choice.
The WWE Universe was so excited for this match myself included. Both superstars delivered a fantastic performance on the Grandest Stage of Them All executing counter after counter. Asuka showed off some nasty-looking kicks to her opponent, and Flair hit a thunderous Spanish Fly off the top rope. Flair was seconds away from defeat at the hands of The Empress but she locked in Figure Eight and Asuka was forced to tap out.
I can't even begin to explain how shocked I was at this outcome, as nearly everyone expected The Empress to continue her undefeated streak and walk away with the women's title. This controversial decision was the downfall of Asuka's momentum. She would ultimately win the SmackDown Women's Championship at the 2018 TLC pay-per-view in the triple-threat ladder match.
Fast forward to this year when Asuka has recently returned with her Japanese-inspired persona Kana. Kana is dangerous and ruthless and is heading into a championship with Bianca Belair at WrestleMania 39. The Empress has regained all her momentum and is highly favored to walk away with the Raw Women's Championship. Let's hope that Asuka and Belair can tear the house down and deliver an A+ grade match both women are fully capable of.
King: Dominik Mysterio Needs To Do This At WrestleMania
Chris King is here with what WWE should do with Dominik Mysterio at WrestleMania in his long-awaited match against his father Rey Mysterio Jr.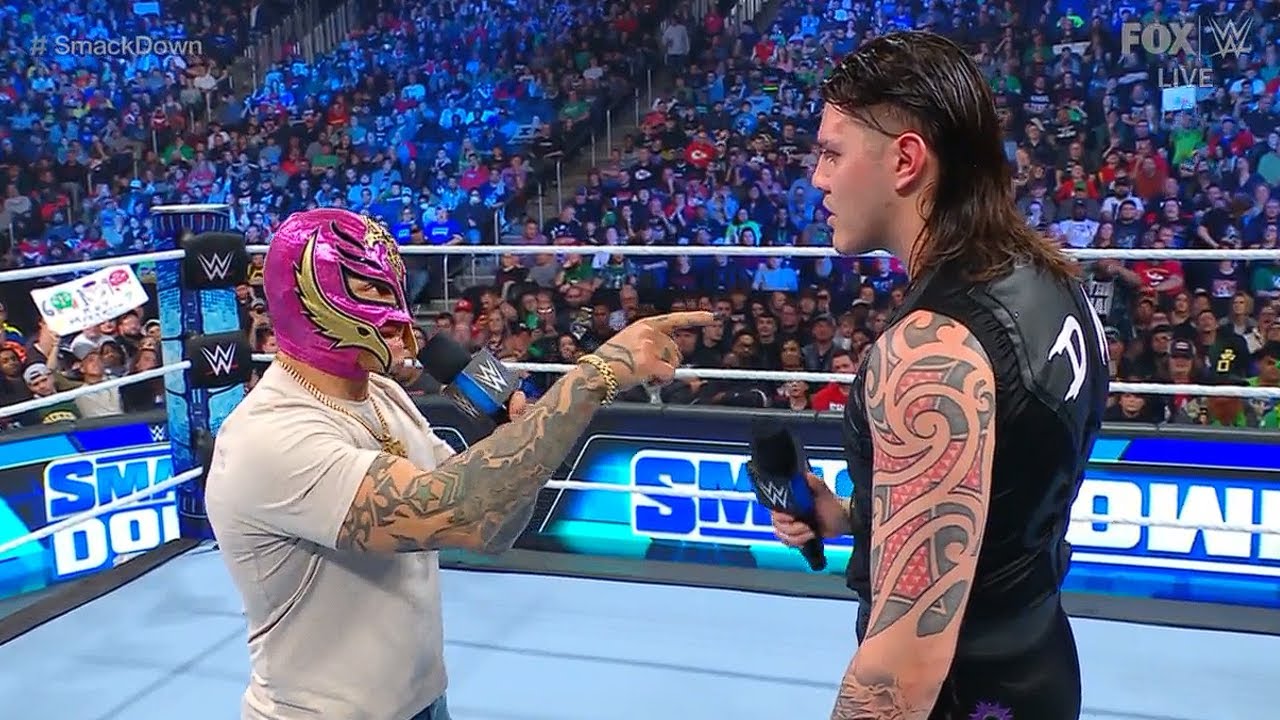 Chris King is here with what WWE should do with Dominik Mysterio at WrestleMania in his long-awaited match against his father Rey Mysterio Jr. 
On this week's episode of Friday Night SmackDown, Rey Mysterio finally snapped and beat some sense into his disrespectful punk-ass kid Dominik. The member of the Judgement Day came out to push his father again for a match on the Grandest Stage of Them All, this time with his mother and sister at ringside. The ungrateful punk told his mom to "Shut Up," as a father even I wanted to jump through the screen and whoop his ass.
Back in October of last year, Mysterio made the emotional decision to possibly quit the company but, instead, Triple H persuaded the Lucha libre superstar to move over to SmackDown to avoid his son. This came after Dominik shockingly turned on his father at Clash at the Castle. Mysterio did everything he could to refuse his despicable son's challenge for Mania but, a man can only be pushed so far. Mysterio will be inducted into the 2023 WWE Hall of Fame and I expect Dominik to embarrass his father during his speech to further this personal feud.
Yes, the WWE Universe hates Dominik and wants to see him get the ever-loving crap kicked out of him but, this feud is missing a special ingredient to capitalize on the biggest heat possible. Throughout this feud, Dominik has made mention of the legendary Eddie Guerrero on several occasions going back to the "iconic" 2005 feud.
I know WWE might not want to go this route but, Dominik MUST come out to Eddie Guerrero's theme at Mania. The disrespectful punk needs to come out in a lowrider to garner nuclear heat. It doesn't matter if The Judgement Day comes out and causes interference for Dominik to get the win, all that matters is that both superstars get the biggest payoff of this nearly year-long feud. Just imagine the Roman Reigns heat after he defeated The Undertaker and multiply that by ten. Dominik portrays the perfect heel and he truly is the missing ingredient that The Judgement Day needed to grow and evolve into a top faction.