Mitchell's Raw Talk Report! (9/28/20)
#MandyNightRawTalk!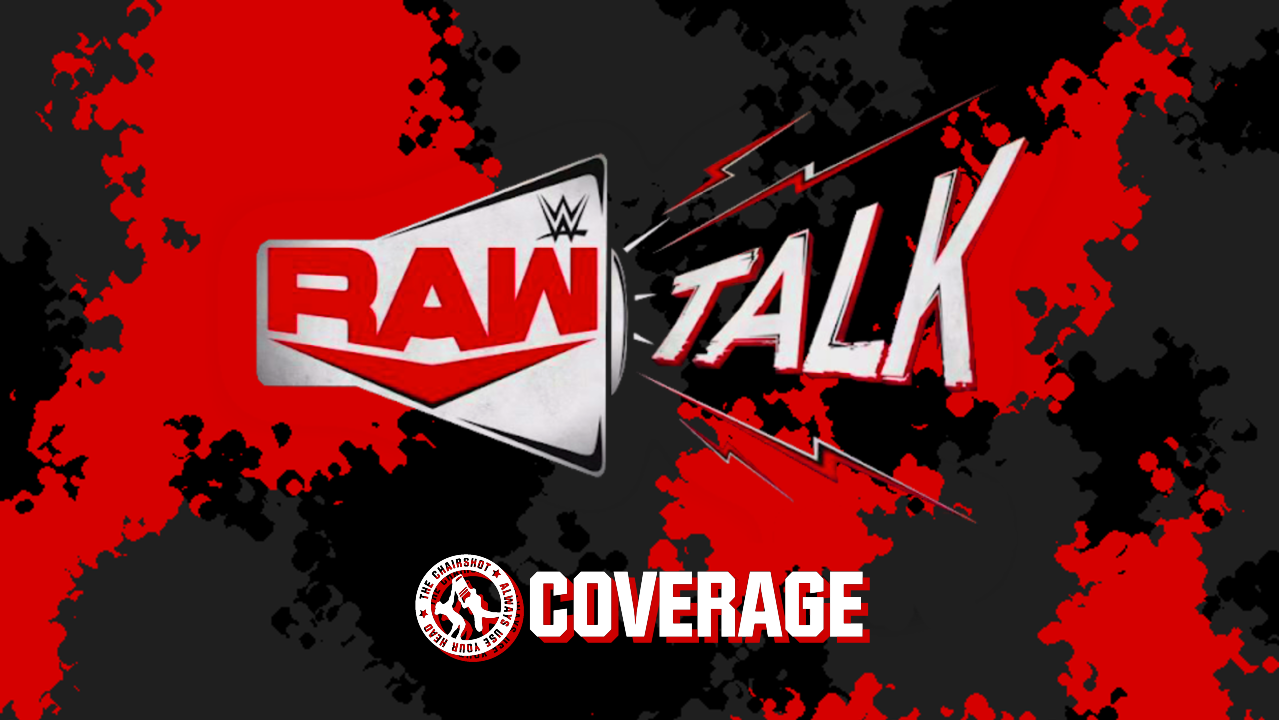 The Disciple, the Beacon, and the two newest women on Raw are here to talk!
There was so much drama and action tonight, there has to be some major Raw Talk! What will Buddy Murphy, Mustafa Ali, Dana Brooke and Mandy Rose have to say about what went down?
Charly Caruso and R-Truth welcome us back!
#CharTruth is excited to be back, especially Truth for still being the WWE 24/7 Champion. Charly was hoping they were going to have crab legs, but Truth doesn't know what happened. That's okay, it's probably best they wait for the next time Shayna Baszler can be on the show. Just not that sauce, though, yikes. But again, they admire the title that Truth has back after that "short absence." How does he feel being the 24/7 7/11 2020 champion? Oh, they should add that, huh? But now, 41 times! How does that feel? Unreal. The best part is he's sharing it with Lil' Jimmy. Oh, right, he's here… Get on up, buddy. There you go! Is he getting taller? Wow!
But another surprise was the action tonight on Raw! Truth had his thing with chess, was hiding after the title match, but also, Randy Orton was like a burglar! Or janitor. Either way, Orton attacked Big Show, Ric Flair, Christian and Shawn Michaels! He was again the Legend Killer, and it might've been fortunate the lights were out for that. Charly heard the noise and was scared for herself. Orton is very scary, even after losing a brutal ambulance match. Orton won't be working as a janitor any longer after that. Truth has lost track as to why Orton beat Flair up like that. Charly reminds Truth of everything Orton has been doing to legends this year. Truth admits his mind has been going fast forward, rewinding, pausing, etc.
Charly shifts things to Bobby Roode's return. Where has he been? Taking time off. Truth wishes he could have a vacation. Maybe he can try the beach again. But how is Roode acting? Well, the title is 24/7 so be looking out for a glorious new contender. With that, the first guest of the night is here!
Buddy Murphy joins Raw Talk!
The Disciple, at least we think he's still following Seth Rollins, feels good after that win over Dominik Mysterio. Obviously there were some outside issues, but a win is a win. Charly wishes to ask about those issues. What is going on with him and Seth Rollins, mentally? Murphy says he and Seth have a "unique" relationship. Rollins stands for the greater good, as does Murphy. There were hiccups here and there, but Rollins is a Grand Slam Champion. Who could he learn more from than Rollins? Would he attribute his win to that relationship? Rollins has shown Murphy the way, from victories to losses. All of those matches are lessons to be learned. But didn't Rollins beat him up? He must've brainwashed and bamboozled Murphy.
As much as Murphy aligns with Rollins, there must be a new relationship forming with Aalyah, right? Can he speak to that? "What happened tonight is between us. It wasn't meant to be shown to the world." What was shown? Truth missed that. Murphy says it doesn't matter, it isn't a big deal. But Charly says that Raw Talk is a place where that can be discussed. It was just that no one knew there was a relationship. Secret type stuff? Oh, all conniving and that? Murphy says, "No comment." It wasn't Rollins' place to expose that. Murphy follows the greater good, but what Rollins did by violating his privacy, there will be words. But as for Murphy and Aalyah, "no comment."
But does the growing relationship signifying some change in loyalties or support? When is it a crime to message someone and ask if they're okay? It isn't a crime! Right, but Murphy is getting crucified for it! This was a private conversation. But now that it's out there in public, will they carry on something that can at least be misunderstood as a romantic relationship? Or is Murphy going to shut it down because Rollins is upset by it? Is Rollins Murphy's boss? Murphy repeats that he and Rollins both stand for the greater good. They have a mission to change Monday Night Raw. DM's, friendships, that does not change anything. Truth believes that. Charly thanks Murphy for taking the time to be here. Truth will go talk to Rey and Dominik about this later.
After Murphy takes his leave, Truth says something is definitely wrong. People say something's wrong with Truth, but c'mon. Charly agrees there is definitely something bothering Murphy, but there's still a lot to be figured out.
Mandy Rose and Dana Brooke join Raw Talk!
The newest members in the Raw Women's Division and the WWE Women's Tag Division, "two Carmellas" are here! But Truth says he means nothing by it. He was Ziggler's stunt double once. So they and Carmella look alike? Because they're blonde? No, that's not why! Charly says it's because they're both winners! Tell us again what they owe their success to? Mandy says it's been a crazy month for her to say the least, maybe longer. Miz pulled strings to get Mandy put here, so she was a little blindsided and confused. But she is excited to be here now! It doesn't matter where she is, she'll shine! And she's excited to have teamed up with Dana! They killed it tonight, have been through a lot, and Dana was there for Mandy with Sonya Deville.
Yes, Dana even tried to help Sonya on that side but Sonya slapped her. That all said, these two are strong mentally and physically. Charly never thought she'd see this duo, but now it all makes sense. Truth says it's like PB&J! And though it is very early on, these two look on the same page, as we saw against Lana and Natty. They already want the titles, even with the Riott Squad still owed their match. Neither woman has been champion, they could be both reign as the tag champs. Truth says they don't want the 24/7 Championship, it just comes with problems. He is the proudest of the proudest that he still has the title, but there are still lots of problems. Those problems are worth it, though!
But anyway, both coming from Friday Night SmackDown almost a year ago, they're here on Monday. What was that transition like? Well Dana has been back and forth, was always Raw, so it was really more of a transition to go to SmackDown. Now Dana's back, and she is home. She's already dressing in red again! Mandy says the same for her, Absolution started on Raw. Raw is home for Mandy, too. Mandy loves that we have Fox and USA, more exposure, but she's happy to be back. It's always good to compete against new competition, like tonight. Lana, Natty, and everyone else here. But the Draft is coming, 10/9 and 10/12, so the timing is interesting. Who knows who ends up where after that. It is exciting, but Raw got a great surprise to have them both this early.
Truth knows they both said Raw is home, but was this return more like the first day of school or going to a cookout? They admit they were nervous, but it means they're ready. The jitters always find you. But now they're ready! Charly officially welcomes them back and congratulates them winning their first night back. Dana warns Truth once more, Truth is ready for their final guest already.
Mustafa Ali joins Raw Talk!
Mustafa says it's just all returns. The last time he was on Raw Talk, he had just won, too. He got a win, is going to put the Hurt Business out of business. Now they're the ones hurting! That was a big win, especially considering Hurt Business running through people. Well this isn't high school, there's no room for bullies. Grow up! You're grown men beating on people half your size. Ali apologized, MVP put hands on him, but then they put the challenge forward. Ali is grateful MVP brought this back out of him. The best think you can do to a bully is shut them up. Charly knows Ali doesn't lack courage, but what did it mean to have Ricochet and Apollo Crews there?
Well, Ali isn't some missing factor. Apollo and Ricochet are all heart, here week after week, fighting against the odds. Today was just, "enough is enough." Apollo's team was ready, it wasn't about the title or anything, it was just about standing up for themselves. Did this victory signify something? Did the Hurt Business really feel the loss? Ali says perspective is reality. If MVP wants to claim he slipped on a banana peel, whatever. But we all saw what happened here in the ThunderDome! Did Lil' Jimmy see it, too? Truth asks how Simba is doing. No, Truth, that's Mufasa. Ali is Mustafa. But Ali almost got the part for Aladdin. No lie! But they didn't want someone this handsome and could do his own stunts. Ali just wanted to know who Jasmine was. Just kidding! He apologizes to Mrs. Ali at home.
But Ali doesn't even need a flying carpet, he flies all on his own! Maybe for the sequel? Disney, call Ali! Truth wants to be in that. Who does he want to be? Genie? Yeah, Genie! Charly says Truth should be Abu. No, not the monkey sidekick. He's just a trouble maker. Isn't Truth a trouble maker, though? Truth says he's allergic to trouble. Okay, fine, Truth can be Genie and grant wishes. Yeah, Truth will give you whatever you want. Just say, "What's up?" Charly thanks and congratulates Ali for tonight, and thanks us for tuning in.
---
My Thoughts:
Another really fun one right here. This definitely helped give a touch more dimension to what's going on with Murphy. As I already said in the Raw article, I really hope the Aalyah Mysterio detail is Murphy's redemption, that just makes more sense than Aalyah joining Rollins and the "greater good." Murphy might even hijack the "mission" from Rollins at this rate. I appreciate Charly bringing up the Draft and who it might move to Raw, but I'm surprised they didn't say it might just send these two back to SmackDown. And Ali is always great on the mic, so I hope this furthers his chances of being a contender to the United States Championship.