Tiffany's Takes: September 21-27, 2020
Tiffany shares her thoughts on some of the bigger stories of the week! Roman Reigns, Mysterio Family, Road Warrior Animal and more!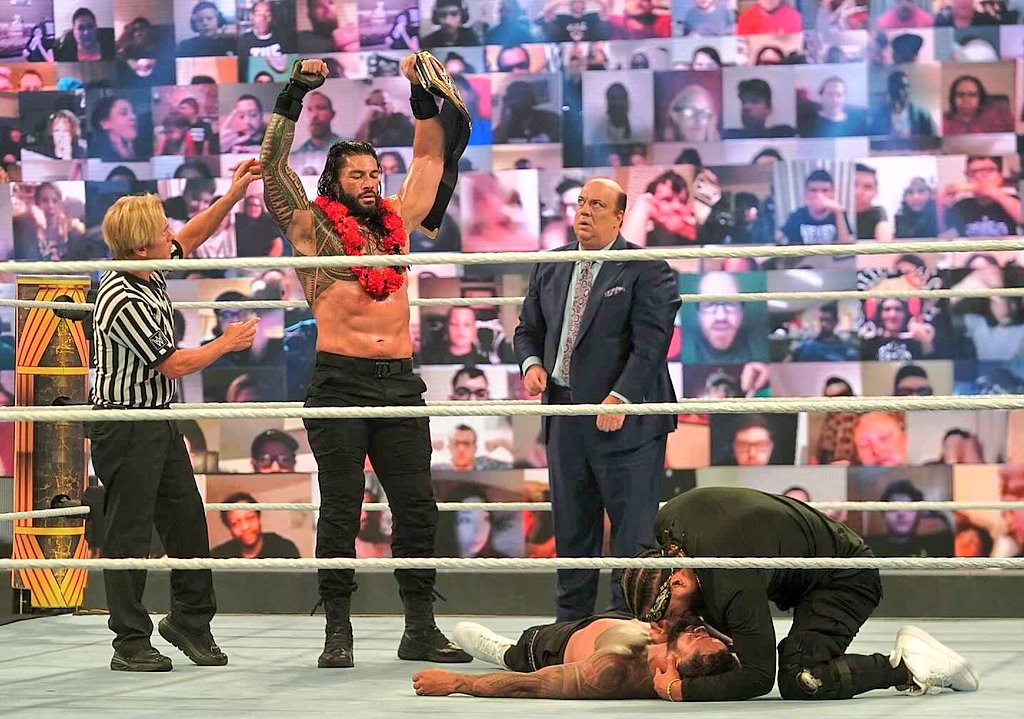 Jon Moxley
Well, here's another Jon Moxley thing that I hope can be put to bed: The Dude doesn't hate WWE! He has said numerous times that he still watches WWE and wants it to succeed. He doesn't hate the company, he just doesn't want to work for Vince again. Yeah, he calls WWE out when they fuck up, but his comments have always been directed at the backstage/PTB and not the wrestler. Don't believe me, read his comments praising the Roman Reigns/Paul Heyman alliance. He praised it, he's happy for Roman and is excited for this development.
I was STOKED about the Jon Moxley/Eddie Kingston match. My only REAL gripe was that we didn't get more of a build. Mox and Kingston are cut from similar cloth, I really wanted more build, but AEW did a great job turning things around on a dime after Archer's positive COVID-19 diagnosis.
Seth Rollins vs Mysterio Family
I'm very interested in the Rollins/Mysterio storyline. I'll admit to not paying that much attention to it most of the time, but now I'm hooked, even though they're rehashing the Rey/Eddie/Dominick storyline from 2005. I also find it amusing that WWE is doing a paternity storyline with a man who is about to become a first time father. I'm also intrigued by the Buddy Murphy/Aalyah Mysterio storyline. It makes me wonder if we're heading for a Romeo Juliet type story, hopefully without all the murder and suicides.
Retribution
Can we just say it? Retribution is crap and it's not because of the wrestlers in it, or not all of them, not totally. The problem with Retribution is that WWE seems to be trying to recapture the magic of the Shield, but haven't figured out jut what it was that made the Shield so magical for so long. SPOILER: It was the guys in the Shield that made the Shield magical. I have nothing against anyone in Retribution, I'm actually a fan of Mia Yim's, but I'm not buying these guys as a group like I did the Shield. Retribution reads more like the Nexus in that there's too many people and no stand out stars.
Road Warrior Animal
I was sad to hear about the death of Road Warrior Animal, Joe Laurinaitis. If you watched wrestling in the 80s and early 90s, you got to see the Road Warriors in their prime. They were MONSTERS, they cut promos you BELIEVED in, and they could go in the ring, plus they had a great manager to lead them in and out of the ring in 'Precious' Paul Ellering. Rest in Peace, Animal, I know Hawk is happy you're there and you're giving the heavenly wrestling promotion a hell of a rush.
Roman Reigns
I've been loving this Roman Reigns turn, and I've also been loving the story in the Roman/Jey Uso match. I was NOT prepared for Roman to show up shirtless. The match was everything I could've hoped for, it told a great story, Roman got to fully embrace his heelish side and Jey Uso looked like a million bucks. Jimmy having to throw in the towel because Jey wouldn't give up. I do like that Paul Heyman is really beginning to understand just what kind of monster a heel!Roman will be and he's scared, as he should be.
Clash of Champions
I was 'meh' on Clash of Champions. I like how there weren't filler matches, but the WWE Championship match was just 'blah'. The fact that McIntyre needed four legends to help him beat Orton says more about Orton's value to WWE than McIntyre's.
Women's Wrestling
A big part of me is happy that AEW is signing more female talent, but given that the AEW Women's Division gets so little air time, I wonder if its going to be worth it.
I like that the IIconics are finding away to stick together. Splitting them up was a dumb idea. Also, I dig the outfits. I didn't dig that nothing else had changed.
Mickie James losing to Zelina Vega is a travesty. James is MILES ahead of Vega and always has been.
Still can't stand Bianca Belair.
I so want to be excited about the Riott Squad to get a tag title shot, but I'm too worried WWE will feed them to Nia and Baszler and it'll come to nothing.
I am SO happy that Anna Jay got the win over Brandi. I have nothing against Brandi but Anna Jay is a STAR and I was afraid that losing to Brandi, who isn't a great wrestler, would be a big setback.
The Women's Tag Match on Dynamite was FANTASTIC! AEW got a little petty with Ivelisse, but I guess that's to be expected.
Very excited that Dr. Britt Baker will be back next week.
Very happy Candice LeRae is the #1 Contender for the NXT Women's Championship.
The monster in Bayley that Sasha created may have turned on her, but now we might get the full, unfiltered BOSS.
I'm glad we're getting somewhere with the Alexa/Fiend storyline. I do have to say that I would PAY to see Alexa attack Roman for the Fiend, just for the laugh.
I totally understand that WWE needed to fix the SmackDown Women's match in a hurry, but they couldn't come up with someone other than Asuka?
Welcome back, Sasha Banks!
Make sure you are registered to vote and have a voting plan. Vote like everything depends on it, because it does.