Cook's Top 5: 2012 Wrestling Memories
Steve Cook looks back at an eventful 2012, featuring Taeler Hendrix, a live Royal Rumble, Jerry Lawler's heart attack, the return of Brock Lesnar and more!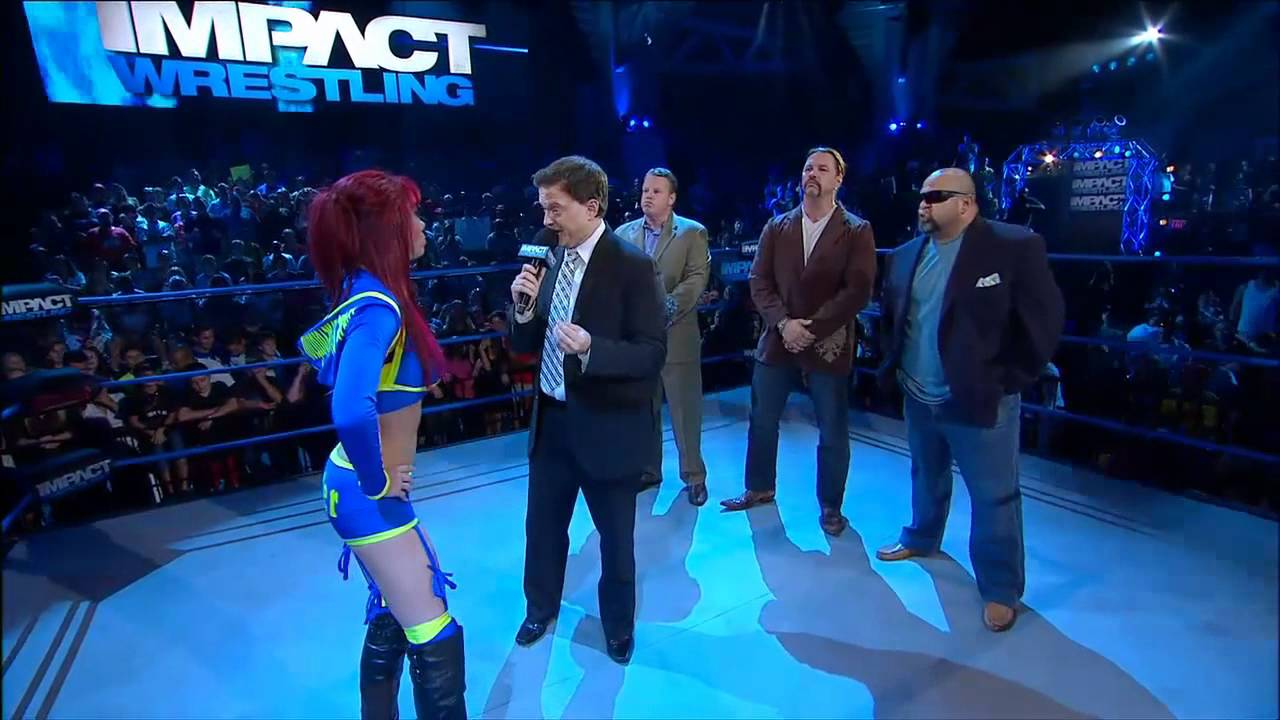 Steve Cook looks back at an eventful 2012, featuring Taeler Hendrix, a live Royal Rumble experience, Jerry Lawler's heart attack, the return of Brock Lesnar and more!
2012 was one of the most eventful years in my wrestling fandom.
It was a year where I was trying to get people to talk to me on podcasts. I was somewhat successful, but I eventually gave up on it. At the end of the day, I don't like talking to most people. I don't think most wrestlers familiar with me or my work have interest in actually talking to me anyway, so everybody wins. 2012 was when I was deepest into this whole IWC thing, deepest into my own bullshit, and also when I started to feel the burnout again. It was a good year content-wise for me, but I could feel the wheels starting to come off.
I made some interesting road trips during 2012 as well. This is especially notable since who knows when we'll be making road trips again? I was very tempted by the Collective weekend in Indianapolis, but apparently those folks got sick so it's a damn good thing I didn't go. Who would have thought that going to Indiana would be a bad idea?
Anywho, here are my top 5 wrestling memories from 2012.
5. Taeler Hendrix's Gut Check
TNA Wrestling was looking for new talent and came up with an interesting way to find some. The Gut Check would feature an unsigned wrestler taking on a TNA wrestler in a match televised on Impact Wrestling, then being judged on their efforts by three judges on the next episode. If they got the votes, they would receive a TNA contract and go to Ohio Valley Wrestling, which was serving as TNA's developmental territory at the time. It got off to quite the start when Alex Silva won a contract that he wasn't originally supposed to get due to Ric Flair changing his vote. Joey Ryan was next, and while he was rejected by the judges he would still wind up under TNA contract.
The third competitor was somebody that I had become acquainted with via the Interweb. Taeler Hendrix had already spent several months training in OVW, so it made sense to include her as part of the Gut Check. I've always said that one of the coolest things about being a wrestling fan is watching people work their way up the ladder & do bigger and better things in the business. 2012 was a good year for me in that regard, including Taeler's successful Gut Check experience.
Unfortunately, Taeler's TNA tenure didn't live up to the lofty expectations people like me had for it. She only had a handful of matches with the company before being released just over a year after getting signed. Not sure what happened there, and to be honest I'm not sure why Hendrix hasn't become a bigger star in wrestling. She's got the look & charisma part down, and it's not like she's terrible in the ring, at least from what I saw years ago. Granted, I've been prone to being blinded to the weaknesses of attractive women, so maybe I'm missing part of the picture. It's a mystery to me.
Taeler is currently writing for Fightful, so maybe Jeremy Lambert can say hi for me at their next staff meeting. It's a shame from where I sit, as I feel like Taeler is somebody that should be written about instead of somebody that's writing about people. If she's happy doing it, more power to her, but she would be one of very few writers I know that are actually happy.
4. The Ring of Wax
August 18, 2012 would mark the date of the one CHIKARA show that was close enough for me to attend. Nowadays, Indianapolis is a hub of indy activity due to Indiana's lax rules regarding the coronavirus, but back then it seemed kind of random for a Northeast indy to run a show there. Nevertheless, I was excited to finally see some CHIKARA action live & in person.
This was also the first time I met offtheteam.com poster The Hodge in person. We went to Hooters, then walked up the road to the Egyptian Room where this show took place. Hodge is a weird guy, in which that whenever I put him over as a regular, normal guy, he gets angry. I'm not sure what he wants me to tell people. He's a nice guy, even if he'll get mad at me for saying so.
Soldier Ant & The Swarm (combatANT & deviANT) lost to The Batiri (Obariyon, Kodama & Kobald)
One of these men went on to become part of one of the best acts in AEW. (see what I did there) Maybe some of these other masked & painted men went on to something, but the only one I recognize is Kobald, who went on to be one of the men who was named in the accusations that led to CHIKARA closing its doors. Fuck that guy.
Saturyne lost to Tim Donst
Saturyne left CHIKARA not too long after this and underwent a persona makeover, becoming Hania the Huntress. She would make some appearances in ROH & Impact Wrestling, but doesn't seem to be active in wrestling these days. Tim Donst fought off cancer, and is a really good pro wrestler. Still waiting for a break for reasons unknown to me. Honestly, I would have expected both of these folks to have made a bigger impact in the business at this point.
The Mysterious and Handsome Stranger defeated Lancelot Bravado
That stranger was actually Archibald Peck under a mask, who was also known as RD Evans and also later became a writer for WWE that left because…Vince McMahon got pissed that his name was mentioned during the speech Bret Hart made while the Hart Foundation was inducted into the WWE Hall of Fame. Evans quit afterward, and has joined Impact Wrestling as a writer/producer. I have many questions about this whole piece of business. Like, did Vince expect Bret Hart to make a speech and not mention the name "Vince McMahon" at some point? Also, did Vince expect Bret Hart to read a script that RD Evans wrote for him? I don't understand how this whole thing could have ended any other way.
Mike Quackenbush & Jigsaw got disqualified against GEKIDO (17 & The Shard)
Quack decided he needed to deliver all four Quackendrivers to 17, which led to a disqualification and the loudest bump on a ramp I've ever heard. So I've been a little reticent to reveal identities of CHIKARA's masked wrestlers, and there are a couple I will keep unspoiled in case the folks involved like it that way, but I feel the need to mention here that "The Shard" was none other than the star of Being The Elite, John Silver. I never would have made that connection until I read it somewhere on the Internet, and I can see it since they both have great bodies although being somewhat vertically challenged. Crazy stuff though, I never would have made that connection.
The Spectral Envoy (UltraMantis Black & Frightmare) defeated Arik Cannon & Darin Corbin
UltraMantis is one of my favorites. Great person, wrestler, commentator. Darin Corbin might be most known to folks that follow Greg DeMarco podcasts as the man that married Breena. 2 pale redheads that love wrestling…makes sense to me. The Kool-Aid Man Arik Cannon was a damn good worker that deserved more at some point. I have no idea what happened to Frightmare. Wonderful worker, not sure what became of him. Darn fine match after intermission though.
Eddie Kingston beat Harlem Bravado
Kevin Ford's recap of this show told me a story of Eddie laboring to get through non-title matches, which might have been a story CHIKARA was telling at the time. I did think this took longer than expected, but I didn't mind it because I was a big Eddie Kingston fan. Long live Kevin Ford.
The Colony (Fire Ant & Green Ant) & 3.0 (Scott "Jagged" Parker & Shane Matthews) beat F.I.S.T. (Icarus, Chuck Taylor, Sugar Dunkerton) & Ophidian
A classic CHIKARA style match involved at least eight people going at it in a tag team match. Can't hate on that. One team had Chucky T & Pineapple Pete. The other team had 3.0 before they made it to NXT, and I can't remember their names there for the life of me. Also had a couple of ants. Green eventually found some Hot Sauce. As for Fire Ant, it's ironic that he was CHIKARA's hottest property, but eventually found stardom when he went in the opposite direction and became a lazy slacker. Kind of speaks poorly of Quack's booking, to be honest. This guy got over working a character completely opposite of what CHIKARA presented him as for years. Part of that is the worker, part of that is CHIKARA completely misunderstanding the worker. It's a hard thing to understand as an outside observer.
Young Lions Cup X Tournament Finals
ACH lost to "Mr. Touchdown" Mark Angelosetti
This was one of the best matches I ever saw live, and I was convinced these two guys were the future of the business. ACH went on to do some things. He had an ROH run where he had a ton of good matches and never got any wins. Did some Japan stuff, and eventually ended up in WWE's Performance Center. They finally started using him on the NXT shows, then they released a t-shirt that looked like blackface. ACH didn't like that, and left the company.
As for Mr. Touchdown…another one of those guys that fell into the CHIKARA void.
Obviously, my thoughts & opinions on CHIKARA have changed over the years. Mike Quackenbush used to be one of my favorite wrestlers of all time, and right now he's just a guy that really knew how to wrestle. Plenty of those folks have gone on to be big stars, and I root for them all as long as they weren't part of the problem in CHIKARA. I will say that the 411 comment section's response to the News From Cook's Corner column containing a review of this show did lead to the death of News From Cook's Corner for a little over seven years. Some of those wonderful people had the temerity & the unmitigated gall to claim that I had slacked off that week, where I had written more words than most weeks and put in a bit of travel. Yeah, I wasn't hearing that bullshit. I did one more column and then it was finito, arrivaderchi if you will. I'm the kind of guy where if you question my work ethic, I will prove you right by giving you no work.
3. Jerry Lawler's Heart Attack
One of the scariest moments on live televised wrestling took place on September 10, 2012. Raw color commentator Jerry "The King" Lawler wrestled a match early on the broadcast and returned to his post at the booth. Later on the broadcast, Lawler suffered a heart attack while sitting at the announce table next to Michael Cole. If not for the rapid response by WWE's doctor and the medical personnel on hand, Lawler would not have survived the evening. Fans feared the worst as the show continued to unfold without commentary, but were relieved when Cole reported at the end of the show that Lawler's heart was beating again. After hearing that, you got the feeling that Lawler had pulled the strap down and he was going to be all right.
Lawler was part of an event I attended that I neglected to mention in a previous column. The King appeared on a Mountain Wrestling Association event in Lexington, KY back in 2005 that I attended alongside my University of Kentucky-attending best friend. I had to make the drive from Louisville to see Jerry Lawler work an indy show in 2005, there was no real choice there. Got an autographed photo. What about it? Lawler teamed with "Wildcat" Chris Harris to take on the dreaded Hayes Brothers, "Dirty" Chris & "Playboy" Scott, in what was undoubtedly the highlight of their careers.
Other notable names on the show included Karl Anderson, Eric Young & Abyss. It was a pretty loaded show by MWA standards. Unfortunately, the venue the show was held at, the Continental Inn, closed down within days after the event, so it was tough for the MWA to capitalize on any bump in business Lawler might have given them.
So there's that. Jerry Lawler holds a certain level of importance in my region of the country, and always will as long as people that still remember the old days of the Memphis territory are around.
I've been noticing during this series of columns that there are a ton of moments that have slipped my mind. Lawler's heart attack is something I'll always remember. It was one of those moments when you sat in front of your TV while constantly clicking refresh on your computer hoping for an update of some sort. Fortunately the King is still with us, and still wrestling on outlaw mud shows when he has the opportunity.
2. Brock Lesnar Returns
Of all the things that happened in 2012, the return of Brock Lesnar had the biggest impact on the future of pro wrestling. Back then, most of us didn't see Brock ever returning to WWE. He had other things to do, and wanted nothing to do with the grueling road schedule. As it turned out, he didn't have as much to do since his relationship with UFC pretty much came to an end.
WWE worked around Brock's dislike of travel by allowing him to work a limited amount of dates. He became a part-time champion that held titles for most of the next several years while not being around most of the time. He's certainly had some great moments, but one can't help but wonder if WWE wouldn't have been better off actually trying to build new stars.
Would WWE be better or worse off without Brock Lesnar's presence during the 2010s? Its really difficult to say.
1. Going to the Royal Rumble!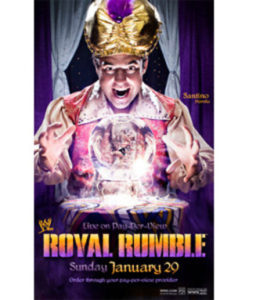 Not much has changed since the article I posted about this back in 2019 which was mostly written in 2012. Well, now that I think about it, something has. The Penguin & I watched the Rumble match for a podcast. You know how sometimes you go to a show live and it seems really awesome, and then you watch it back later and it doesn't hold up as well as you remember?
Yep, the 2012 Royal Rumble Match is definitely one of those things.
Does that matter? Nope. Still one of my best experiences as a pro wrestling fan without a shadow of a doubt. I'm just sad that the COVID derailed any chance of Pengu & I continuing our eight-year tradition of meet-ups. The relationship we have as two people that have only hung out a handful of days in person likely seems strange to a lot of people, but we just have that chemistry & trust together like Monsoon & Heenan. You don't meet a lot of people like that, and if you're an unlikeable asshole like me you meet even less people like that, where you just have an immediate connection. I also met Andy Critchell, who is quite the swell guy and probably still a little upset that Mark Henry didn't win the World Championship at the Rumble.
Shoutout to Pengu, Andy, Mrs. Pengu and the rest of the people along for the ride there. It was one of the best times I ever had as a wrestling fan, and the way things are shaping up, it's tough to imagine them getting better. We'll march on and hope they do.
Booking The Territory: Greg DeMarco's WWE NXT Stand & Deliver 2023
It's WrestleMania season, and that means it's the 2023 Stand & Deliver season for WWE NXT! Greg DeMarco builds the card for this now annual tradition!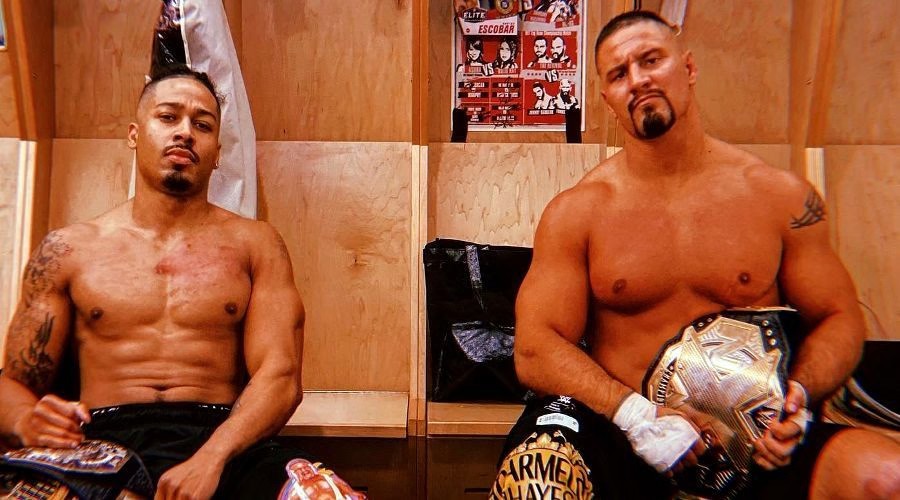 It's WrestleMania season, and that means it's the 2023 Stand & Deliver season for WWE NXT! Greg DeMarco builds the card for this now annual tradition!
With Vengeance Day in the rearview mirror, WWE NXT makes its march toward Stand & Deliver, their WrestleMania Weekend Premium Live Event! What's going to be on the card? I have no clue (well, I have some clues–they ARE telling two major stories right under our noses), but it's going to be damn fun to get there.
Several matches were set up at WWE NXT Vengeance Day this past Saturday night, and more match-ups will come to light.
NXT Championship: Bron Breakker (c) defends vs. Carmelo Hayes (with Trick Williams)
Let's go with obvious match #1: Melo challenging Bron. Vengeance Day ended with Bron Breakker standing tall, atop the steel cage, after defeating Grayson Waller. And who walks out? That's right–Carmelo Hayes. Melo has been can't miss since his debut as a babyface against Adam Cole, but Breakker has taken the top spot in NXT and held it for over a year now.
According to Cage Match, Breakker and Carmelo have crossed paths four times in NXT, one of them being on the same War Games team, and the rest being, at minimum, 2-on-2 tag team matches.
This is a money match, and Shawn Michaels knows it. It will be tempting to do so, but there is no reason to slap an unnecessary stipulation upon this showdown. Just book it, and let them do the rest.
Hollywood Backlot Brawl (or Hollywood Street Fight): Gigi Dolin vs. Jacy Jayne
It's time for Toxic Attraction to fully implode, and what better way to do this than a Street Fight at NXT's version of WrestleMania. Since we're in Hollywood, bringing back the ol' Backlot Brawl works for me, but that's just a Street Fight under a different name,
But that type of match also works well for Jacy Jayne and Gigi Dolin, who are very underrated brawlers (although, don't expect Gigi to repeat any prior viral moments in this one).
Six-Man Tag Team Match: Indus Sher & Jinder Mahal vs. The Creed Brothers & Roderick Strong
Given the set-up, this HAS to be where Roddy Strong returns, right?
RIGHT?
While the man who took Roderick out–Damon Kemp–is currently just finding his way back onto NXT television, Brutus & Julius Creed find themselves outnumbered in this feud. It's the perfect scenario for Roderick Strong to come back–and Diamond Mine would be stronger than ever.
NXT Women's Tag Team Championship: Fallon Henley & Kiana James (c) vs. Ivy Nile & Tatum Paxley vs. Kayden Carter & Katana Chance
Nile and Paxley could find their way here by winning the Dusty Classic, which will probably start-up here soon. Carter & Chance also makes sense in this spot–and it could be their swan song before heading to the main roster (as a team).
This is also the perfect time to blow the roof off the Kiana James/Fallon Henley/Brooks Jensen/Josh Briggs story. That likely leads to the victory for Nile & Paxley, who both capture their first championships in NXT.
NXT Women's Championship: Roxanne Perez (c) defends vs. Zoey Stark
Shawn Michaels loves him some Zoey Stark. She can go in the ring, but she's not electric in any way. And for the love of God, keep the microphone out of her hands. but Roxanne Perez has the Midas Touch, turning everything to gold. This would be a fantastic match, one that would see both women excel.
Ladder Match for the NXT North American Championship: Wes Lee (c) vs. Axiom vs. Nathan Frazier vs. Charlie Dempsey vs. Channing "Stacks" Lorenzo vs. Apollo Crews
It seems like a Ladder Match is tradition on these shows, and this one works quite well for me. You can also mix in a little Tyler Bate, or possibly Tony D'Angelo and DIJAK. If you don't go the Jinder/Indus Sher vs. Creeds/Roddy route, you could put Julius in here.
Why Stacks? Because I assume Tony D will be busy with DIJAK in some shape or fashion.
Why Apollo? Obviously the Dabba-Kato program is happening, but I don't think that's a Stand & Deliver match. That can happen on go home show, where Apollo wins his way into this Ladder Match
What's Missing?
Six matches does seem like the limit, but that leaves out a few important things:
Someone is going to win the Dusty Classic and the right to challenge Gallus for the NXT Tag Team Championships, and that makes sense to be at Stand & Deliver.
Grayson Waller is definitely going to be a focus, and since HBK ain't wrestling anymore, he's going to need an opponent (unless he's moving up to the main roster before WrestleMania, which seems odd).
Andre Chase vs. Duke Hudson is going to happen sometime soon, and a WrestleMania Weekend crowd would be going nuts for Mr. Chase.
Tiffany Stratton is going to gain more and more spotlight time, and this seems like a card you want her to be on.
---
What are your thoughts on these proposed matches for WWE NXT Stand & Deliver 2023? Let me know in the comments or on social media @GregDeMarco44!
Greg DeMarco's Results, Reaction, & Analysis: WWE NXT Vengeance Day 2023
The latest WWE NXT premium live event, Vengeance Day 2023, is history, and Greg DeMarco has all of your reactions and analysis!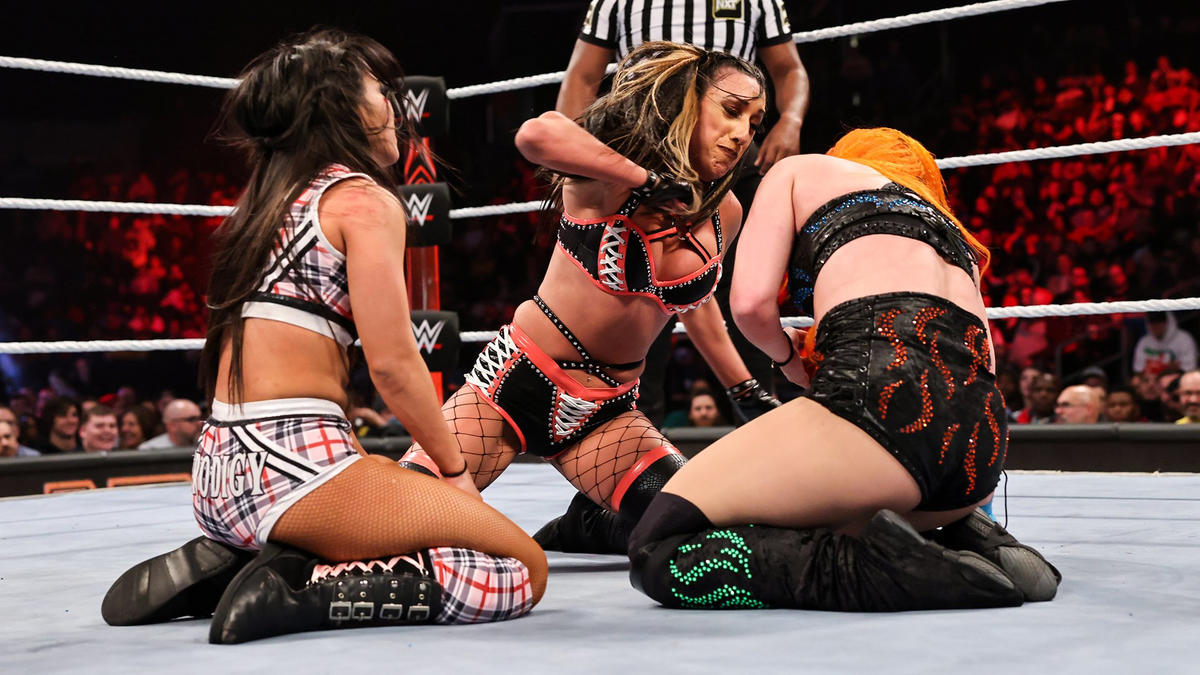 The latest WWE NXT premium live event, Vengeance Day 2023, is history, and Greg DeMarco has all of your reactions and analysis!
For the first time since 2020's Takeover: Portland, the Black–err, White and Gold express that is WWE NXT made their way on the road for a stand-alone Premium Live Event: Vengeance Day 2023!
(I assume NXT Stand & Deliver doesn't count since it's not "stand-alone," but accompanies a larger WWE event.)
(Another aside: the above-referenced 2020 Takeover event happened to fall on my birthday in 2020–look it up and don't forget to wish me a happy birthday!)
Ticket Sales & Attendance
As far as the ticket sales, the always amazing WrestleTix Twitter account has us covered. Remember, sales and attendance are different things. Leave it at that–don't get caught up in the Dave Meltzer/Conrad Thompson "inflated attendance" nonsense. Attendance is everyone in the building. Ticket sales are tickets purchased. It's that simple.
WWE NXT Vengeance Day
Sat • Feb 04 • 7:45 PM
Spectrum Center , Charlotte, NC

Available Tickets => 414
Current Setup/Capacity => 5,768
Tickets Distributed => 5,354

[https://t.co/yRCOtL75Yu] pic.twitter.com/lIKNXzQoMe

— WrestleTix (@WrestleTix) February 4, 2023
A draw consisTent with many recent Raw and Smackdown tapings, which is a big win for the WWE's developmental brand.
Set-Up
I am a big fan of when premium live events have a unique look and feel to them, so the "stage" here was a welcome sight to see.
Let's hope WWE keeps that trend going.
But those are sidebars, now let's see what happened!
Wes Lee pinned DIJAK to retain the WWE NXT North American Championship
The last "stand alone" NXT premium live event, Takeover: Portland, was headlined by Adam Cole defending the NXT Championship against Tommaso Ciampa in a 33-minte banger of a match. The first match of their return to stand-alone events goes 17 minutes–great for an opener–and provided amazing action reminiscent of the Black and Gold Experience.
Wes Lee is an amazing performer. Even when MSK was a thing, I saw Lee as a potential Cruiserweight Champion. That is obviously not an option now, but him winning this championship and defending it the way he has is perfect. Booker T showing his career respect on commentary, including a nod to everywhere else ol' Dez has worked, was a great touch. Booker T and Vic Joseph are really good fits for this brand.
Wes showed immense strength in this contest, taking DIJAK over multiple times in spots where his opponent was nothing but dead weight. Extremely impressive for a guy legitimately giving up nearly 100 pounds.
But DIJAK also stood out, here. This is easily his best outing since he was formerly in NXT, and really showed what he can do. Much of his return has been character driven, but also "big man" style work. This match was reminiscent of his legendary battles with Keith Lee.
Too many kickouts? I wouldn't say that–it all fit perfectly. This match was special, and in the modern day NXT, 17 minutes is great. You don't need to go 30+ to thrill a crowd.
Fallon Henley & Kiana James beat Kayden Carter & Katana Chance to win the NXT Women's Tag Team Championships
While Carter and Chance had been champions for 186 days–a record for any iteration of Women's Tag Team Championships in the modern era for WWE–they did not have the most memorable run. Much of it was overshadowed by controversy surrounding the WWE championship counterpart, along with a lack of competition.
Fallon Henley and Kiana James are outstanding solo performers, and the added element of Josh Briggs & Brooks Jensen really drives the story home. If you watch closely, you can see Henley and Briggs holding everything together. Kiana James has tremendous upside, and is developing at a rapid pace.
This story will obviously continue–and it should. James' conversation with "Zach" last week on NXT will undoubtedly come up, and probably to lead a split between one or both tag teams. I assume "Zach" is her brother, and Henley is being overprotective. Can't blame Brooks for latching on, the "King Of The Friendzone" is maximizing his shot, here.
Carmelo Hayes beat Apollo Crews In A 2-Out-Of-3 Falls Match, 2-0
Many are saying this match underdelivered, and I think it might require a second watch from me to fully say either way. On the first viewing, this match was entertaining and very enjoyable.
The booking? That seemed odd.
I'm  not complaining about Carmelo going over in 2 straight falls–that's fine. Although I was surprised at the crowd response after the first fall. Might have been better if this match opened the show, with the North American Championship going on third instead. But it's easy to say that AFTER the show has happened.
The questionable booking–to me–was the use of the former Commander Azeez, Dabba Kato. He prevented Trick Williams' interference, fulfilling Apollo Crews' vision, but didn't help his former partner at all. He also didn't hurt him. it was just kinda…there.
Had he helped him score a second fall, and then Melo wins in a third fall, I think it all makes more sense, and the turn makes more sense as well. I was also surprised that Vic Joseph didn't make a bigger deal out of their prior association.
Vic Joseph, by the way, had one of the best lines of the night, mentioning both "Nation" and "Casanova" in true IYKYK style–proving he picked up a thing or two when cohosting After The Bell with the King Of IYKYK, Corey Graves.
For the record, I don't think Vic would translate to Raw or Smackdown. But he fits perfect in NXT.
Overall, Carmelo Hayes is a damn star, Trick Williams is the perfect associate, and Apollo Crews seems to be struggling to find where he fits in all of WWE.
Gallus (Mark Coffey& Wolfgang) captured the NXT Tag Team Championships when Coffey pinned Xavier Woods to win a Fatal 4-Way Match that included defending champions The New Day (Woods & Kofi Kingston), Pretty Deadly (Kit Wilson & Elton Prince), and Chase U's Andre Chase & Duke Hudson
The amount accomplished in this 16 minute affair is astounding. It was mostly a sprint, but never seemed spotty to a contrived level. The New Day are some of the best in-ring storytellers in all of WWE, and their presence here helped everyone.
A side story of this match was Andre Chase returning home to the arena he saw many a wrestling event. They even mentioned his tag team with his (Bravado) brother (who I don't believe was shown on camera despite being there), and had the crowd solidly behind his team. Andre Chase did get his moment, the C-H-A-S-E-U Stomps, and it will likely go down as a career moment for him having nearly 6,000 people chanting that.
I do believe he'll do that in front of 50k+ on the main roster someday, but this had to hit different being in his hometown.
THIS MATCH IS CHAOS!!!#WWENXT #VengeanceDay pic.twitter.com/8ERVvnQId2

— WWE (@WWE) February 5, 2023
The finish seemed right, Gallus is a great team, and the door is open for Joe Coffey to surprisingly return to help them retain at some point.
Xavier Woods taking the pin signifies, to me, that The New Day is done with NXT at this point. They could drop a rematch on Tuesday, but since they weren't victims of the "champions don't have to be pinned to lose their titles" rule, they don't have to get a rematch. They did their job, and did it well.
Roxanne Perez pinned Jacy Jayne to retain the NXT Women's Championship in a Triple Threat Match that also included Gigi Dolin
This match was the right mix of story and action. And for this one, you needed both.
Let's start with Roxanne Perez. She's a goddamned star. I can't put my finger on why, but she's electric. She's the type of start that internet stans will talk about her on Twitter 5 years from now referring to her as "Carla" when someone says one bit of criticism about her–or tries to send the attention into another direction.
If I'm Matt Bloom, Shawn Michaels, William Regal, Triple H–whoever–I am sending someone to Reality Of Wrestling weekly to scout talent. Booker T is doing something (many things) right.
Then we have the Toxic Attraction part of the match. Gigi Dolin and Jacy Jayne are a fantastic combination, and they still work without Mandy Rose. It gives them a chance to spread their wings and fly. But I do think a feud between them is in order.
And allow me to fantasy book for a moment–here's how you set it up: on Tuesday's NXT, you start the show with an "earlier today" moment where Gigi & Jacy run into Fallon Henley and Kiana James (and Brooks Jensen and Josh Briggs). They exchange pleasantries until Toxic Attraction points out Fallon & Kiana can never be as good as they are. The babyfaces (?) disagree, so a challenge is issued. Josh says they just found out they have the night off, and it's time to party! Gigi and Jacy push harder, and of course it's Brooks who accepts on behalf of their teammates.
The match itself sees a slight miscommunication between Jacy and Gigi, but it doesn't factor into the finish. Kiana and Fallon win clean, and once they leave things finally boil over for Toxic Attraction. Full on brawl, all over the Performance Center, ending with both of them going off the infamous NXT perch and through some staging below. That's how we end the show, and POOF!–we have our feud between them for Stand & Deliver.
Bron Breakker pins Grayson Waller to retain the NXT Championship in a Steel Cage Match
I get it–Bron is the centerpiece of the brand. And he should be. He's got the charisma, he's got the pedigree, and he just keeps getting better. Yet for the second straight big NXT event (NXT Deadline being the first), I felt like his match shouldn't have closed the show.
This was a good steel cage match. It was a great performance by Grayson Waller, and a damn good performance from Bron Breakker as well. but I think the guy is just too one-dimensional. He needs something more.
Carmelo Hayes coming out with Trick WIlliams in-tow to signify the next program for both men makes all the sense in the world. That should be the main event at NXT Stand & Deliver.
And this time around, Melo absolutely SHOULD. NOT. MISS.
I'd expect that the WrestleMania Weekend audience will be solidly behind Carmelo in this encounter. Use it. Push the envelope with it. Let Bron…wait for it…WAIT FOR IT…Embrace The Hate.
Let Bron snap. Attack the referee. Put his hands on Booker T. A plant in the crowd. On his way to the back he's met by real life girlfriend Cora Jade. But she's not talking in character, because this isn't the Bron Breaker she knows.
AND SHE LIKES IT.
Lay the foundation for NXT's new evil power couple, and turn Carmelo (and Trick) babyface in the process. Melo shoild still be Melo, now he just wants the love. He feeds off of it.
Now Bron has depth.
---
What did you think of NXT Vengeance Day? Sound off in the comments below, or hit me up on social media at @GregDeMarco44!