News From Cook's Corner 10.19.20: John Cena
Cook discusses lineup changes, relationship changes and cool things when the year changes! Cue the Bowie and read Steve Cook's musings!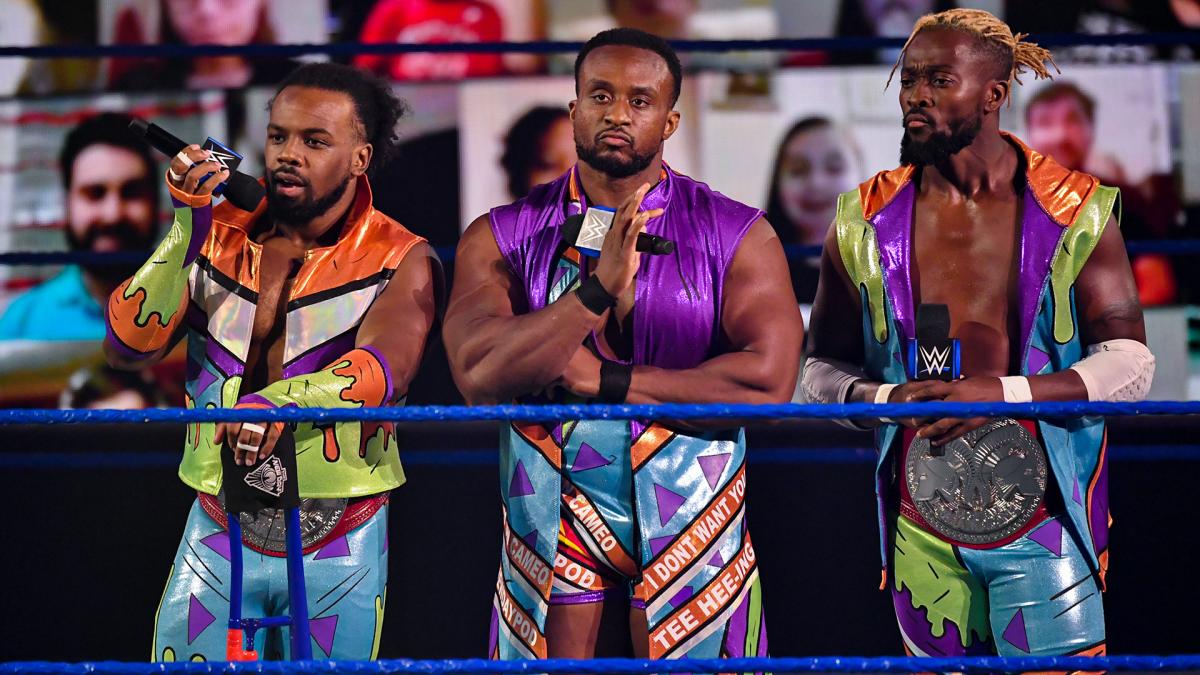 Hi, hello and welcome to News From Cook's Corner! The twelve of you who are regular readers of this column may have been wondering where it was last Monday. I alluded to some eye problems on the Twitter machine, and now that I'm at 99% per my doctor, I can now tell you that I had a cold sore on my right eyelid.
Yes, that's a thing that happens.
I'd previously felt some pain in my eye back in April, which led to an infection. This was especially worrying since it was back when people were afraid of getting the coronavirus and one of the symptoms reportedly was pinkeye. The pain eventually went away, and even though I still couldn't keep a contact lens in there without some pain, I moved on with my life. The pain started coming back, so I arranged an appointment with my eye doctor, who gave me some eye drops to hopefully cure my eye. The eye drops have the side effect of causing an allergic reaction if you happen to have a cold sore, so October 9 & 10 saw me dealing with that instead of doing my usual stuff.
One of many things I've learned this year is to put my health far ahead of my writing. To be honest, my mental & physical health have taken quite the downturn during 2020. I know I'm not alone here, but I also know I have to do what I can to make things better. If it means certain aspects of my schedule have to change, I'll have to do that. I also have to pay attention to what's going on with me. Unfortunately, some of my friends failed to do that with themselves, and didn't get a chance to learn from their mistakes. I still have a chance to learn from mine.
Fortunately, I'm ok right here & now, so here's some news for ya!
Raw Underground Goes Under
The last couple of weeks have seen various reports concerning the future of Raw Underground. First it was cancelled. Then it wasn't. Right this second, it is done for now. Plans might change, we'll see.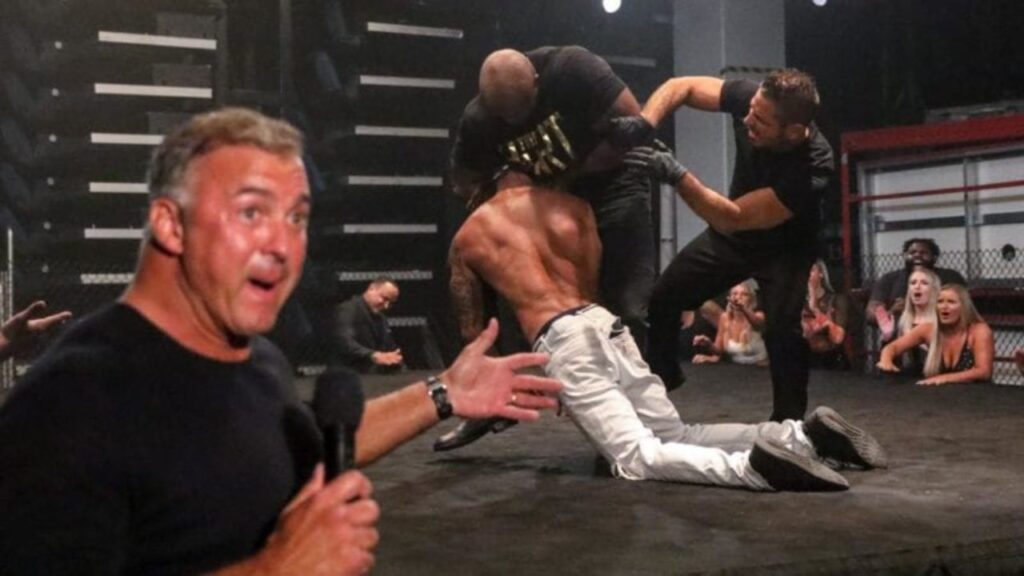 The death knell was when all the NXT/trainees being used as extras for Raw Underground started testing positive for the covid. This all happened right when reports were getting out about how some of the folks working at the Performance Center were being pretty lax with the guidelines and certain trainees felt uncomfortable there.
Listen. I'm not saying that NXT's head honcho and grand poobah of the Performance Center had anything to do with any of this. I don't know if he's a covid-denier or not. I do know that some of his friends working there are, but I'm not saying that anybody was encouraged to be an idiot and get the trainees sick. It would be reckless and irresponsible of me to suggest such a thing.
Why, I'm sure that Triple H is just as disappointed as everybody else is that Shane McMahon's crazy Raw Underground idea didn't revolutionize the business. It's a shame that everybody will go back to ignoring Shane's creative ideas. Tough break, kid.
And just so we're clear, I never said that all of these people getting sick was an attempt to kill off the Raw Underground idea. I just noted it was one of the side effects, that's all. Do not put words in my mouth that I may or may not have hypothetically floated out there.
Big Push for Big E?
As we all know, the New Day were split by the recent WWE Draft. Xavier Woods & Kofi Kingston will head to Raw while Big E remains on SmackDown. This reportedly was done to facilitate a Big E main event push, as WWE hopes to make E more "serious", or at least as serious as a man can be in a business where he makes his living rolling on the mat with another man whilst wearing tights.
How many times have we heard about a rumored Big E main event push since 2013? This definitely falls under the "I'll believe it when I see it" umbrella. Love Big E, it'll be great if he gets that push, but I'm not holding my breath.
I am pleased that they managed to keep New Day friends at the end of all this. Turning them against each other would have been one of the saddest moments of 2020, and there's a ton of competition in that category.
I'm not sure this is news…
Rumor has it that John Cena & Undertaker will be contacted about participating at WrestleMania 37 in Tampa or wherever the virus lets WWE hold the event. I would be more surprised if this didn't happen, and question whether it's worth reporting or not.
But hey, it's a reason to put John Cena & Undertaker in a headline, and people click on those names. I get it. Same reason somebody mentions The Rock maybe someday wrestling Roman Reigns at WrestleMania one of these years. We have nothing new to say about any of these people, but here's their names! Click, damn you!
Actually. This gives me a new idea for titles of these things. Just random names of big stars every week, whether they appear in the column or not! That'll get some clicks and put me back in the good graces of the brass. Good idea, Steve!
And we can start with John Cena since he also got married last week. Some people were surprised by this since it took forever for Nikki Bella to get him to propose, and they never walked down the aisle.
John Cena took his #WWE catchphrase, "You Can't See Me," quite literally—he secretly married his girlfriend Shay Shariatzadeh. https://t.co/DLhjLIGHqn pic.twitter.com/Z2za2KujHc

— E! News (@enews) October 15, 2020
I wasn't.
Reminds me of an old business associate of my father's. Did the ol' married/divorce thing like Cena did. Dated a woman for freaking ever, never any intention of getting married, at least on his end. Broke up with her and married another woman soon after. I was surprised at the time, and even more surprised when the marriage actually lasted more than a few months. Still going, to the best of my knowledge.
The lesson here: just because a man doesn't want to get married while he's dating the same woman for years doesn't mean he won't meet somebody else that will change his mind. Also, if you've been dating the same person for years, they don't want to get married and you finally wear them down into doing it, it probably won't end well.
I don't know why this column is turning into random ponderings on relationships. This is what happens when I swear off mixing politics into my wrestling writing.
Lars Sullivan Returns
Two Fridays ago saw the long-awaited return of Lars Sullivan to Friday Night SmackDown. In case you had forgotten (I had in fact forgotten), Lars suffered a severe knee injury on an episode of Raw in June 2019. He was originally expected to be out for six to nine months, but around the same time we found out that Lars Sullivan had been a racist & bigot on the Internet. Sexist, mysogonist, pretty much any kind of "ist" you can think of.
So if Bianca Belair is the "EST" of WWE, can we call Lars Sullivan the "IST" of WWE?
YES YES YES WE CAN, HOW IN THE HELL DID NOBODY THINK OF THIS ONE UNTIL RIGHT THIS MOMENT? DAMN, I'VE STILL GOT IT!
Anyway, Lars (who I keep trying to call "Lard" here for unknown reasons), paid a fine and went to sensitivity training. We forgot about him for a little while until somebody uncovered the information that he had done some pornographic material of the same-sex quality. Which in itself wouldn't be a huge deal, but when you consider how angry Mr. Sullivan was was towards homosexuals in his previous Internet posts, you have to get out the Stamp of Hypocrisy.
Lars has finally returned, he's getting that big push now, and we all saw this coming. Vince McMahon is high on Lars Sullivan, and people complaining about Lars will only make Vince push him harder. That's always been his MO, and it isn't changing now.
Wrestle Kingdom 15 on for 2021
Can we skip ahead to 2021? Just forget this whole 2020 thing and move on? New Japan has announced that Wrestle Kingdom will take place in the Tokyo Dome on its traditional date of January 4, along with their new tradition of a second date on January 5. One would expect G1 Climax winner Kota Ibushi to be involved in the main event challenging for the IWGP Championship on one of those nights.
Japan's coronavirus experience seems to be going much better than America's, so I'm not sure if they will be allowing any American-based wrestlers to make the trip.
Ben Carter to WWE
A few weeks back, AEW had a special Late Night edition of Dynamite after an NBA playoff game. One of the featured matches pitted Scorpio Sky against Ben Carter, a young man who had made some appearances on Dark. The match got over pretty well and social media was imploring AEW to sign Carter.
A couple of things happened. For one, Carter tested positive for the coronavirus. Then, other companies got interested, and word is that Carter will be signing with WWE to be part of their NXT: UK promotion. If Ben Carter would prefer to live in his home country, it seems like a good idea to me. As for AEW, these things are going to happen when you feature unsigned talent on your programming. Sure, it's a nice surprise for the fans, but it's also a great scouting opportunity for your competition.
Thanks for reading, everybody! I conclude this week's edition of News From Cook's Corner with one request: Can we get the Stunt Family out of pro wrestling? Nothing against Mama & Papa Stunt, but Logan sexually harassing people & Marko taking part in a match with a sex toy involved pretty much killed any potential goodwill towards independent wrestling coming out of The Collective event. Small request, especially considering the two of them combined don't weigh as much as I do.
King's WrestleMania Rewind: Charlotte Flair vs. Asuka from WrestleMania 34
Chris king is back with one of the most underrated matches in WrestleMania history–Charlotte Flair vs. Asuka!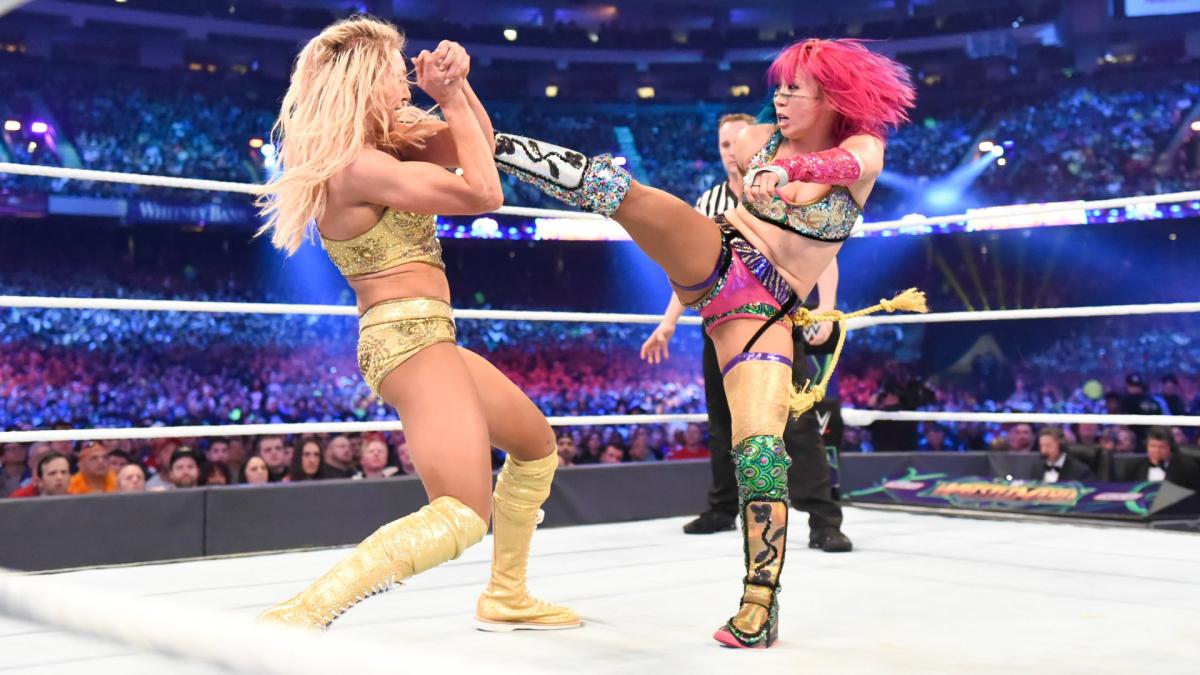 Chris king is back with one of the most underrated matches in WrestleMania history–Charlotte Flair vs. Asuka!
We look back at Charlotte Flair vs. Asuka at WWE WrestleMania 34. 'The Empress of Tomorrow' put her unprecedented and historic undefeated streak of 914 days on the line against 'The Queen's' SmackDown Women's Championship.
For years, this was considered a dream match while Asuka dominated the roster in NXT, while Flair won numerous championships on the main roster on both Raw and SmackDown. The Empress made her long-awaited debut on the September 11th episode of Raw and began to tear through the competition.
Asuka outlasted all twenty-nine other women in the historic first-ever Women's Royal Rumble match to challenge for the title of her choosing. At Fastlane, she made her choice.
The WWE Universe was so excited for this match myself included. Both superstars delivered a fantastic performance on the Grandest Stage of Them All executing counter after counter. Asuka showed off some nasty-looking kicks to her opponent, and Flair hit a thunderous Spanish Fly off the top rope. Flair was seconds away from defeat at the hands of The Empress but she locked in Figure Eight and Asuka was forced to tap out.
I can't even begin to explain how shocked I was at this outcome, as nearly everyone expected The Empress to continue her undefeated streak and walk away with the women's title. This controversial decision was the downfall of Asuka's momentum. She would ultimately win the SmackDown Women's Championship at the 2018 TLC pay-per-view in the triple-threat ladder match.
Fast forward to this year when Asuka has recently returned with her Japanese-inspired persona Kana. Kana is dangerous and ruthless and is heading into a championship with Bianca Belair at WrestleMania 39. The Empress has regained all her momentum and is highly favored to walk away with the Raw Women's Championship. Let's hope that Asuka and Belair can tear the house down and deliver an A+ grade match both women are fully capable of.
King: Dominik Mysterio Needs To Do This At WrestleMania
Chris King is here with what WWE should do with Dominik Mysterio at WrestleMania in his long-awaited match against his father Rey Mysterio Jr.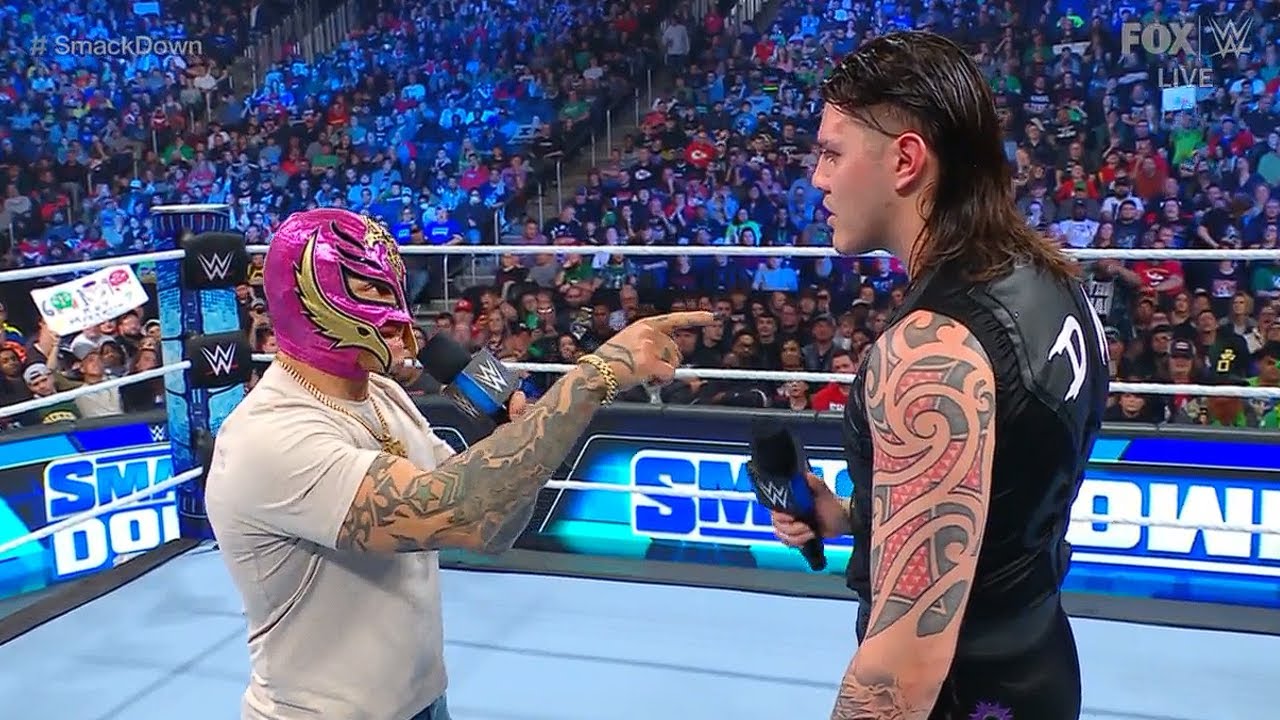 Chris King is here with what WWE should do with Dominik Mysterio at WrestleMania in his long-awaited match against his father Rey Mysterio Jr. 
On this week's episode of Friday Night SmackDown, Rey Mysterio finally snapped and beat some sense into his disrespectful punk-ass kid Dominik. The member of the Judgement Day came out to push his father again for a match on the Grandest Stage of Them All, this time with his mother and sister at ringside. The ungrateful punk told his mom to "Shut Up," as a father even I wanted to jump through the screen and whoop his ass.
Back in October of last year, Mysterio made the emotional decision to possibly quit the company but, instead, Triple H persuaded the Lucha libre superstar to move over to SmackDown to avoid his son. This came after Dominik shockingly turned on his father at Clash at the Castle. Mysterio did everything he could to refuse his despicable son's challenge for Mania but, a man can only be pushed so far. Mysterio will be inducted into the 2023 WWE Hall of Fame and I expect Dominik to embarrass his father during his speech to further this personal feud.
Yes, the WWE Universe hates Dominik and wants to see him get the ever-loving crap kicked out of him but, this feud is missing a special ingredient to capitalize on the biggest heat possible. Throughout this feud, Dominik has made mention of the legendary Eddie Guerrero on several occasions going back to the "iconic" 2005 feud.
I know WWE might not want to go this route but, Dominik MUST come out to Eddie Guerrero's theme at Mania. The disrespectful punk needs to come out in a lowrider to garner nuclear heat. It doesn't matter if The Judgement Day comes out and causes interference for Dominik to get the win, all that matters is that both superstars get the biggest payoff of this nearly year-long feud. Just imagine the Roman Reigns heat after he defeated The Undertaker and multiply that by ten. Dominik portrays the perfect heel and he truly is the missing ingredient that The Judgement Day needed to grow and evolve into a top faction.