Mitchell's Raw Talk Report! (11/16/20)
NEW! RAW TALK! NEW! RAW TALK!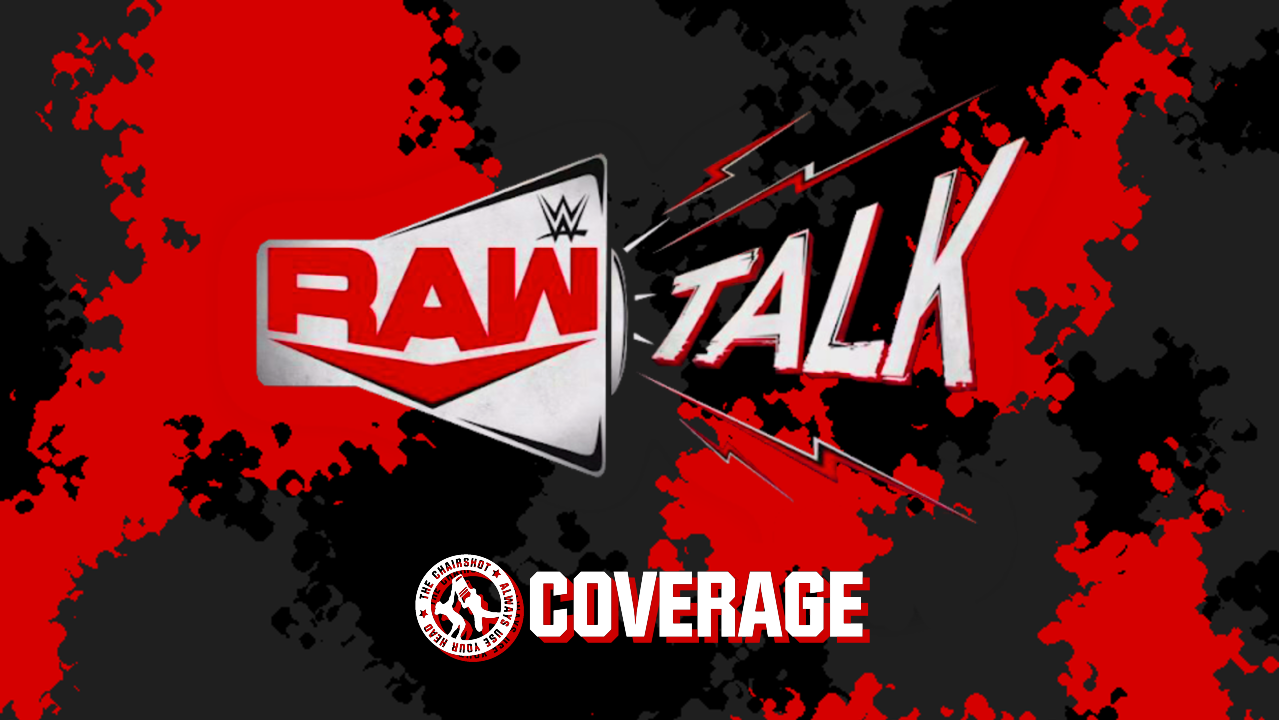 No one is ready for Raw Talk!
Before Survivor Series, Sheamus, Asuka and ya bois the NEW~ DAY~ join Raw Talk to share how they feel Raw's chances are at the PPV!
#CharTruth welcome us back to the show!
Truth and Charly get over the technical difficulties, but this is why she appreciates him as a ride or die cohost. 24/7 Champs for life. Uh, sure, Charly. But obviously there's so much to say about the last Raw before Survivor Series! We're going to see who is #TheBestoftheBest! So that's this week? Yes, Truth, it is. Is Truth going to get things mixed up again? Truth knows what he knows and that's all he knows. Make sure he's ready on the preshow then. But what we saw to end Raw was ridiculous! McIntyre, two-time world champion, is heading to Survivor Series to face Roman Reigns! Charly was not expecting that. Truth says you put McIntyre behind the 8 Ball, he comes out on top. But what a match from both men! Charly was in awe the entire time. Truth says they took it to the limit.
But now Survivor Series changes. How will McIntyre do against Roman? If this same Drew goes to Sunday, who knows! Charly asks if Truth really thinks McIntyre can take Roman. Not to belittle McIntyre, but Roman is basically the top of the pyramid. But he can be beaten, right? Yes, anyone can on any night. And #CharTruth is team red so… Truth is still betting on McIntyre. Roman has stuff going on in his life right not.
And speaking of champions VS champions, the New Day retained and are facing The Street Profits. Truth likes both teams, so who does Charly have? Charly is feeling the power of positivity. 2020 has been awful so the positivity is going to really help, she chooses New Day. Also, team red.
And then there's the traditional Survivor Series matches. We saw that sadly, Mandy and Dana are out from injury, but Peyton Royce and Lacey Evans are in. Charly has confidence in those two. Of course, SmackDOwn is building a strong team, too, but Lacey and Peyton might bring just a little more… dominance. Truth says it's that oomph! Yeah, whatever that is. Lana got put through a table again, though. Time number nine and Lana can't catch a break. Lana needs to invest in tables at this point. She's a "tableologist" after all this. Lana even wanted to get on Nia's good side, but Truth says you can't trust Nia or Shayna. But there's also the men's team, which is stacked. Team SmackDown has one spot left to fill, but for Raw, there has been… dissention, to say the least. Charly hopes the team can get things on the same page. And speaking of Team Raw…
Sheamus joins Raw Talk!
The Fella is back and says hey to Truth with the secret handshake. Truth likes the jacket, it's spiffy. Sheamus says it keeps him warm. He's so excited to see his guy, Drew McIntyre, win in a "bleeding banger" of a match! Truth says he had Drew's back and knew Drew would get it. Did Sheamus know Drew knows Fat Bastard? Yeah, and Fat Bastard owes Sheamus some money actually. About 10 bob. What's that in American? $12 maybe? But Sheamus says not many people ever get to be a WWE World Champion. There's a list, but that is even smaller when you consider multiple reigns. Someone might've said McIntyre's first was a fluke, but it wasn't. McIntyre is champion again, where he belongs. Sheamus says McIntyre's family back home is surely proud, and his mum, Angela, is looking down from above with a smile. That's so great to see Sheamus is giving such genuine support.
Charly brings up the little gift Sheamus had for McIntyre, perhaps that gave McIntyre more confidence, perspective and motivation. Sheamus thinks it brought McIntyre back to his roots. Sheamus feels it's about the journey. You forget what you've been through to get where you are, and Sheamus was making sure McIntyre remembered that. Orton might've put doubt in McIntyre's mind in Hell in a Cell, but the chest, the sword, it all came back to him. Sheamus felt proud to do that as a brother in arms.
Charly moves things to Survivor Series and the men's match. Has to bring the tone done, huh? Well they have to talk about it, it's the show! Why is it bad for him? That's already a sign that something is a problem. Sheamus should be excited about this! Truth agrees. Have you guys been watching the "car crash" in the team with their egos? That's the problem! Styles says he is captain, that's bad leadership already. Sheamus is the real leader, he's more calm headed than the others. They should listen to Sheamy! Just look at Team SmackDown! They're not complete, they have a mismatch against Raw, but they need the right leader in Sheamus. Then it'll be a clean sweep. But Charly must want to say something, he can see it. Truth is with Sheamus on this one.
Charly says that she appreciates and believes a lot of what he's saying, she says every single person on the team all think of themselves as strong superstars. But we have less than a week. There is no common ground yet, so why have a leader? Just be a team that gets the job done. Why must there be competition? That's a great question. Sheamus claims he has no ego. This is on everyone else. They should listen to the highly decorated Celtic Warrior, everything but the Intercontinental Championship! Not Styles who hides behind a bodyguard, or Braun who wears Baby Gap shirts. Charly sarcastically says Sheamus totally has no ego. Sheamus says he won't talk big on himself, but he's "bleeding deadly." Truth agrees.
Charly asks who Sheamus thinks is the strongest part of SmackDown's team. Sheamus says Jey Uso is on the roll of his life and he'll want to keep that going. Sheamus respects Baron Corbin as King of the Ring, who doesn't get enough credit. But as a former KOTR himself, it just makes sense. Seth Rollins went through a rough patch with that whole Mysterio drama, but he could still be dangerous when he bounces back. A lot of anger will motivate him to prove himself again. But they'll all run into the wall that is Team Raw. Rollins was on Raw a long time as the "Monday Night Messiah," after all.
But Sheamus asks Charly who she thinks SmackDown has that stands out. She says it'll be interesting that is the fifth man. Okay, but what about the four they have? Charly says maybe, like Sheamus said, Jey and his chip on his shoulder, he might want to fight that much harder. Not that SmackDown wins, just that Jey will be the toughest to handle. Charly thanks Sheamus for his time and Sheamus is surprised. He was rolling, hoping to make Raw Talk a bit longer. And from one strong Raw superstar to another!
Asuka joins Raw Talk!
Truth is excited to dance around with Asuka for a moment. Charly claims her mic is connected to the chair so she can't get up. But how is Asuka doing? "Good good great!" Asuka is clearly excited because no one is ready for her, but please explain that more. Asuka says she will beat Sasha at Survivor Series because while Sasha has good skills and experience, as well as good looks and charisma, Asuka is just better! Better, better, better! Truth has the energy to match, and Charly asks about the Six Woman Tag and how Mandy and Dana are not doing so well. Mandy and Dana are injured tonight, what does Asuka think about that?
Asuka loves #SexyMuscleFriends but it's sad. It's heart breaking to see Mandy's arm get injured, and then Nia slamming Lana through a table for a NINTH time! And then Dana, attacked backstage, Asuka wants to punish them all! After Survivor Series and Sasha, Asuka is going after everyone! So Nia, Shayna and "Reckoning?" Oh yes! Truth is excited for that! No one is ready for Asuka! NOBODY! Charly believes that! She wishes Asuka luck with Survivor Series, Team Raw has faith in her! Fast, furious and very positive, much like the last guests of the night!
The New Day joins Raw Talk!
Kofi Kingston and Xavier Woods are here and Woods brings up someone's tweet about six years ago this last weekend, the exact date Woods and Truth debuted. Oh yeah, that was. Truth forgot to announce Woods properly but it's okay. That's the past, though, it's fine. But there's a lot to celebrate as the New Day are still W, W, E, Raw, Tag, Team, CHAMPIONS~! But careful, the hip swivel is much more dangerous than you know. They just make it look easy. But yes, they will face the Street Profits, as they said they would. How do they think they stack up against the Profits? Kofi says it will be a banger. People have already been online being excited to see this match. The people are getting what they want. That's why Kofi was so upset that MVP was lying to the people!
Never trust a man with two first names, and y'know what? New Day beat two guys who both have that! Cedric Alexander, Shelton Benjamin. Oh snap Truth didn't even realize! And then the fact the New Day retained, they're facing tow guys they admire already. The Profits have been doing everything to have success as a team. But, "bless their hearts," the New Day have been doing this a long time, and ain't done yet. Asuka said no one is ready, the same goes here. The Profits want the smoke, but not the FIRE! The New Day have the fire! Holla at ya bois if you want the Oscar Meyer! The Profits are hungry!
Charly is excited for them, tonight was a great accomplishment and Survivor Series will be a great success. But how do they feel that the third man, Big E, is still on SmackDown? This is new not having him by their side. But did they see the match tonight? New Day is pumping an all cylinders. The New Day is a conglomerate. They're on both brands! But ain't no growing pains here! Kofi is spotting himself so there's no pain. You find a way to soldier on and diversify. So this is actually a positive, having Big E on SmackDown and them on Raw? Do they think Big E could be Team SmackDown for the 5v5? If he wants to, sure.
Truth says they'll technically be cheering for SmackDown while on Raw. Do you know who many times WWE counts SmackDown wins? The New Day helped SmackDown win a match, it's 6-1 not a sweep. Still hurts. New Day are the Raw Tag Team Champions, but their bond with Big E is far and beyond. It's "bondinific." Sure, yes. Let's add that to Webster's. Webster's added a lot of words, after all.
Woods talks to the camera and says that you will see ya bois the NEW~ DAY~ and the Street Profits engage in battle. This will not be an easy fight, but one that must be had. The Profits are fantastic, on all cylinders since their arrival. But the New Day may throw pancakes and have fun with unicorns, but "like an onion" they have layers. When you cut into that onion, you cry. So when you get into the trenches, the unicorns and pancakes go away. It is time to win, and that is what New Day does. Hurt Business lost. Profits gonna lose. It's what New Day does. P.O.P, holding it down. Charly is confident the New Day will bring the heat! There's a lot happening on Survivor Series, and even the "Final Farewell" to the Undertaker! See you there!
---
My Thoughts:
A real fun Raw Talk, especially with Sheamus' section. He talked about wanting to make this Raw Talk long, and honestly, I agree. Raw Talk and Talking Smack need to be loose like before. They aren't even reaching half an hour so they can stand to have breathing room. Sheamus had a really good segment, talking up both the Team Raw story and whatever is there between him and McIntyre. I'm really interested to see where Sheamus' story with McIntyre goes. Asuka had a short segment, she barely touched on either story, but I do like that she wants to use what happened to Mandy and Dana as motivation to start feuds with basically all three top contenders at once. New Day had a good segment, too, lots of good energy, and I like that they touched on the team still being connected despite being on different brands. I would also love if Big E was Team SmackDown's fifth man, it just seems right.