Andrew's Top Albums, TV Shows, Wrestlers and Matches of 2020
2020 needed to contain a plethora of entertainment options. When movie watching was a little weird, let's see what TV, music and of course wrestling offered to make Andrew's lists!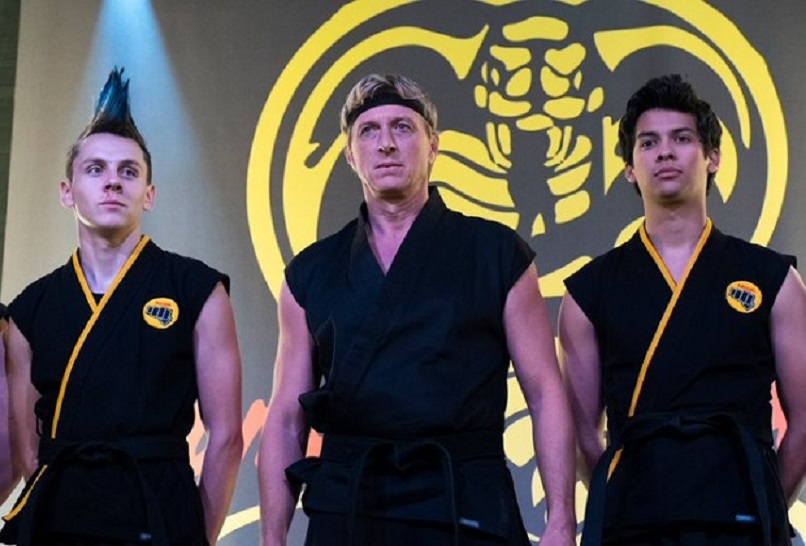 Last year I did one of these but it was driven off of a big movie year. This year, the movie going experience wasn't really the same and that took a lot of the joy of going out to watch new releases for me. But luckily, I already had a contingency plan when I was forcing myself to a degree to find albums released in 2020 that I enjoy beyond what I've been listening to for decades.
So we changed out the movies for albums this year, and let's be serious, all of these forms of entertainment helped us cope with the more sequestered normal of 2020. Now let's get to the lists!
Top 10 Albums:
Black Phantom: Zero Hour Is Now – Now I stumbled upon this early in the year when I decided I needed to stop living in my musical bubble claiming all new stuff is terrible. This doesn't do a lot to refute that since the singer is an Italian Bruce Dickinson. It's scary how much he sounds like Brave New World forward era Dickinson with occasional Helloween vibes thrown in. Even though this sounds like it belongs in the 80s, it still came out this year and is fantastic to listen to if you like galloping bass lines, Iron Maiden and just really solid song construction with powerful vocals. This album literally just left a grin on my face since it's so damn good and was definitely a random find. Notable Songs: Schattenjager // Hordes of Destruction
Mindless Sinner: Poltergeist – So this is in a similar vein to the number 1 album this year. Apparently this band has been around since 1981, but they took a few breaks and about four band name changes. So between Purple Haze, Genocide, Mindless and now Mindless Sinner, along with gaps from 1990-2001 and again in 2004-2014, this band has been a bit of an enigma. They've apparently changed their styles a few times, but this album is interesting. It's an interesting combination of like Mercyful Fate/King Diamond at times, and classic heavy metal in a bit of a Helloween style, notably on Heavy Metal Mayhem. So I suppose for a band that is a bit of a chameleon within itself, the fact the album itself moves between styles, shouldn't really be a surprise. Style shifting aside, the album never feels jarring, and is a solid old school adventure. Even when they shift sounds, they stay within a progressive wheelhouse to keep the songs sounding like they belong together and not just a weird mismosh of ideas. Notable Songs: Valkyrie // Hammer of Thor
Jelly Roll: A Beautiful Disaster – The title of the album, almost perfectly describes the vibe of it. Jelly Roll has a wonderful mixture of soulful country singing, deep lyrics about drugs, depression and great imagery of fighting with demons in general. In a year like 2020, where everyone had new struggles, Jelly lends words to some big issues to help everyone get through things. Notable Songs: Bottle & Mary Jane // Creature
Pink Cigs: Pink Cigs – Straight out of Sheffield, England, via the 1970s, these guys really bring that low key groove driven southern/stoner rock back to life while staying very true to the generation they grab inspiration from. If you're fans of Thin Lizzy, Orange Goblin, Clutch and Black Water Rising, this is probably an album you'll appreciate. Much of the album is guitar driven, but the drum is never lost, so much as they even backload a few of the more drum driven songs. It feels like it was taken straight from the time period they are paying homage to, and that's always cool when a newer band can pull off retro and even dirty up the sound so it sounds like the era in more than just composition. Beautiful 70s groove rock album. Being that the band has only been around since 2016, we should expect more assuming they stay together, and one can only imagine with more time to blend together, the product can only get better. Notable Songs: Lazy Lover // Black Widow
Yuri Gagarin: The Outskirts of Reality– Well now we have a unique addition to this list that isn't my usual style, but it really caught me this year. The Outskirts of Reality is like a psychedelic space adventure within an album. Comprised of only 5 "songs" they are more just parts of the larger adventure of the creation. If you don't mind being taken on an interesting interdimensional experimental stoner style adventure sonically, strap in and take this in. Since each song feeds into the larger story of the album, it's a little hard to break down a "notable songs", but since the album only clocks in at just shy of 45 minutes, it's not exactly a large time sink to just give it a shot. Again, not my usual style, but it really grabbed me, hence why it made the Top 5.
Testament: Titans of Creation – This isn't Testament's first strike, but damn is it still deadly. Saying the album is a typical Testament album, is selling it a little short. It's consistent, it's attacking, but they do add a few different heavy metal tempos and stylings to keep things flowing. Maybe nothing becomes a new favorite, but the entire album is enjoyable and you won't be skipping any song. Notable Songs: Children of the Next Level // Dream Deceiver
Sepultura: Quadra – A clever concept where the album was broken into 4 parts (hence Quadra), where it was a mixture of 4 different styles they've explored through their 35+ year career. Thrash, Groove, Progressive and melodic, we got a nice mixture for fans of any era of Sepultura. The mixture of styles may not resonate with fans that prefer a consistent sound, but I love the uniqueness of this album. Notable Songs: Isolation // Fear, Pain, Chaos, Suffering
Sevendust: Blood & Stone – Sevendust is one of the most consistent bands out there, even if you consider some of their earlier albums more "NuMetal", they still had similar enough vocal harmonies and song structure. This album, feels to be more in the vein of Seasons, where it's dark and subdued in a lot of the topics and delivery, but it's hauntingly driving and beautiful. This is one of those albums that almost feels like it encapsulates the year it came out, since there's a bit of frustration, sadness, desperation and a few moments of hope, but the darker tone seems to hang. Plus their cover at the end of Soundgarden's The Day I Tried To Live is very well done and a fitting way to honor a friend and the song itself. A fantastically solid foray for a band with over 20 years of experience, if anything drags it down a touch, it's the fact the subdued tones don't lend for anything to really stick out. Whereas it's an easy listen, great craftsmanship, it also feels like one of the albums that won't be placed in many constant rotations. Notable Songs: What You've Become // The Day I Tried To Live
Body Count: Carnivore – Ice Tea's interesting heavy metal band, that hasn't always been received well. Personally, there weren't many Body Count songs that I enjoyed or considered good, until I stumbled on to this album. Everything (except the Ace of Spades cover) is great sonically, lyrically and came down at a great point in time with much of what happened in 2020. This checked so many boxes, it was a gem of early 2020. Notable Songs: Bum-Rush // When I'm Gone
Shadowkiller: Dark Awakening – As has been a large similarity in this list, anything derived from the NWOBHM style is going to ring pretty highly with me. The difference with this, as opposed to the top 2, is that this band lacks a little something. Now that's not to take away from the fact it's a solid album musically, it just really comes off more like W.A.S.P. or some of the less interesting eras of Iced Earth. Imagery is abound in this album, the lyrics depict some nice high fantasy, but the lead vocals do really leave something to be desired, so that's my distinction on why there's so much space between this and similar genre releases. Still a damn good album, especially for only being 8 songs, just when you don't have the Michael Kiske/Bruce Dickinson/Geoff Tate/Tobias Sammet style of singer, it really loses a bit of the punch. Notable Songs: Jericho Hill // The Fires of Olympus
Top 5 TV Shows:
Queen's Gambit (Netflix) – Who would've figured a coming of age story set around orphans, chess and the 1960s, would've been so captivating? Anya Taylor-Joy was a great main character, she was captivating be it because of her aesthetics or just the way everything she did felt very realistic. From struggles with drugs and liquor, coming to terms with what life threw her and occasional hurdles that she showed moments of weakness and not wanting to rise to the level necessary; it all just makes her very relatable and charming, even when she's objectively being an ass. It also portrays chess as a device for the larger topics at hand during the time period. Beth Harmon's story depicts a trailblazer for women's equality in the 50s/60s and there are still relevant notes it hits even in 2020, without feeling heavy handed and just being written intelligently and a consistent tempo of entertainment.
The Boys Season 2 (Prime) – A tonal departure from the first show on my list, this is a fantastic subversion of the Superhero genre. Season 2 started off a little slow since the series had to set the stage for getting everyone back together, but damn was it great after the Spice Girls got back together. You get more depth on what makes the characters tick, a terrible supe that actually is the most logical and sensible before learning why they come off like that, and meeting the past head on to move into new territory helps to define this season. Fans of the first season, shouldn't have any complaints about this season beyond the slower start. Great stuff, with a lot of question marks for Season 3.
Cobra Kai Season 2 (Netflix) – Season 2 and Season 1 did a wonderful job at basically inverting the first and third Karate Kid movies for fans of the 80s classics (yes calling Karate Kid 3 a classic is really just a classification because of affiliation, trust me, I know it ain't great). Running with the Barney Stinson logic of Johnny Lawrence being the true Karate Kid, it's pretty interesting to watch his growth. His rivalry with Danny, the fact he still has this weird hope/father figure impression for Kreese, his reunion with the old Cobra Kai gang and dealing with human issues. This is just relatable on the level of watching people try to better themselves, but the past, or something gets in the way of truly being able to get over the hump. Season 3 starts January 1st, so I really appreciate the quick turn around on moving things forward.
The Mandalorian Season 2 (Disney+) – With the only clunker of an episode (to me) being episode 2, the season did roll along fairly strongly. Deepening the relationship between Grogu and Din, showing the risks he's willing to take and lengths he's willing to go to, was fantastic growth. With the addition of extended universe or animated universe characters and story arcs, it really played to die hard Star Wars fans and seemed to resonate well in the community because it acknowledged so many different aspects of the fandom. Personally, I don't enjoy the inclusion of Luke Skywalker at the end, because it shrinks the feeling of the universe again (a common complaint about the new trilogy) and I would've appreciated the TV universe to keep more distance between the cinematic universe. I do understand the magnitude of how well it was done, and how it hit certain fans, and of course the exchange at the end with Din and Grogu hit people deeply. It was all well done, and a majorly enjoyable season, personal nitpicks aside, none of my gripes are enough to really drop my enjoyment of what went on.
Tacoma FD (TruTV) – The Broken Lizard (Super Troopers, Beerfest, etc…) squad decides to take their stab at episodic television. This time, they're fire fighters, and not highway patrol! Now part of the beauty beyond the Broken Lizard style of humor, is the fact that only Kevin Heffernan and Steve Lemme are part of the main cast. So that means the rest of the cast is relatively unknown talent, that adds the same level of irreverence and offbeat comedy that we've grown to love. Also with the addition of Hassie Harrison, the writing gets slightly more progressive than what people would expect from the sophomoric stylings. Playing Heffernan's daughter, she has to quickly get the group comfortable with having a woman involved, and then her desire to be treated as equal helps us see her slowly acclimate and her father slowly stop protecting her and accepting her as one of the gang. So there's growth underneath the dick jokes (hmm, I guess that's a dick joke in a way too). Either way, it's funny if you like the style, and adds a few more layers to the character development than people might expect from Broken Lizard.
Top 5 Wrestlers:
Go Shiozaki – If anyone read my articles, or the Top Matches, then we should all know NOAH has been a complete godsend this year, much in thanks to this man. Shiozaki has been compelling, and it's hilarious to think that the awful year probably saved Shiozaki's career. Go has been considered a Fallen Ace, since be it GHC or Triple Crown, none of his title runs have resulted in much momentum, hype or perceived success. It was usually during a weird point in time, so this almost felt like more of the snake bitten same, but Shiozaki pulled every rabbit out of his hat this year. Increasing quality of matches, different styles of matches to appeal to many fans, great struggles, great stories, all while maintaining himself and his humble giggling personality. Acknowledged by Tokyo Sports, Meltzer, random IWC members and even Abema (Japanese TV website), this has been his year beyond the shadow of a doubt.
Drew McIntyre – The former Chosen One, left and came back, to the applause and hype of many fans. It took him a while to find his moment, but as soon as we saw his interactions with Brock Lesnar, we knew it was bound to happen. McIntyre had great physical altercations, verbal back and forths coupled with solid matches while being thankful to the crowd at home. People clamored for McIntyre to be champion when he came back up from NXT, and everyone was given that gift two times. Having the champion versus champion match with Roman at Survivor Series was a nice foreshadowing for what WWE could be for the next few years. It passes the eye test, the matches are good, the promos are fairly entertaining, Drew just proves to himself and everyone that the Chosen One moniker was deserved, if not maybe a little premature.
Randy Orton – Many have heralded 2020 as Randy Orton's best work of his career. Being integral in Edge's return, helping to really solidify Drew McIntyre as a legitimate champion, and tying older story arcs together with great promos with the likes of Ric Flair or just moments in matches. Also he's stepped up the Twitter game a bit to be a highlight aspects of himself that still fall well into the Randy Orton motif. Open bashing (which is just veiled support) of Talk-N-Shop A Mania, wholesome if not a little stiff moments with the family, and running down certain talent all in line with his character and probably real life views. Short 14th title reign or not, this wasn't about the titles Orton put together, it was about the mark he left on the 2020 wrestling world.
Tetsuya Naito – Much like 2020 itself, this was a weird year, so it was perfect that it was mostly Naito's year in New Japan. Fulfilling his childhood dream of winning the belt in the Tokyo Dome and then winning it back at Jingu Baseball Stadium, where we went to watch the last New Japan show (1999) and of course Baseball, since he's a big fan of the sport. Soured a bit with the 4 months off and the whole EVIL situation, but it's hard to downplay the overall year he's had win/loss wise and kayfabe.
Kenny Omega – Even if I'm not a fan of AEW's product, at the moment it's impossible to ignore what Kenny Omega did, most notably towards the end of the year. Staying toward the top of AEW before the big angle when he won the belt, bringing more attention to Impact since the Broken Universe, adding attention to TripleMania and trying to help a child cope with a lot of things going on in their life. I don't need to like it, or him, to acknowledge he's been an impact player. Omega might be able to dovetail this momentum in 2021, so it could be great moments and proving his fans are willing to consume his product wherever he may roam.
Here we go! The arbitrary "Top X" list of writers with opinions! Like last year, I'm gonna do the Top 30, so here we go!
Top 30 Matches:
Go Shiozaki vs Takashi Sugiura: NOAH Final Chronicle 2020
Go Shiozaki vs Katsuhiko Nakajima: NOAH the Chronicle vol 4
Go Shiozaki vs Kenoh: NOAH the Chronicle Vol 3
Go Shiozaki vs Kaito Kiyomiya: NOAH New Sunrise
SHO vs Shingo Takagi: NJPW Dominion
Zeus vs Kento Miyahara: Champion Carnival Finals
Walter vs Ilja Dragunov: NXT UK 10/29
Tetsuya Naito vs Kazuchika Okada: WK 14
Dick Togo vs Daisuke Harada: NOAH Global Junior League Finals
Susumu Yokosuka vs Hikaru Sato: AJPW Broadcast #3
Randy Orton vs Edge: Backlash 2020
Go Shiozaki vs Naomichi Marufuji: NOAH Departure
Takashi Suigiura vs Naomichi Marufuji: N-1 Victory Day 3
Hiromu Takahashi vs Ryu Lee: NJPW New Beginning Osaka
Tomohiro Ishii vs Shingo Takagi: New Japan Road
Will Ospreay vs Zack Sabre Jr: NJPW New Beginning 2.2
Tyler Bate vs Jordan Devlin: NXT UK Blackpool II
Io Shirai vs Charlotte Flair vs Rhea Ripley: NXT In Your House
Eddie Edwards vs Eric Young: Victory Road
ASUKA vs Arisa Nakajima: Deliver to You 6.14.20
Young Bucks vs Hangman Page & Kenny Omega: AEW Revolution
Katsuhiko Nakajima vs Shotaro Ashino: Wrestle-1 2/12/20
Masato Tanaka vs Tetsuya Endo: DDT Peter Pan Day 2
Shotaro Ashino vs Suwama: AJPW Broadcast # 6
AJ Styles vs Daniel Bryan: SmackDown 6.12.20
Sasha Banks vs Bayley: Hell in a Cell
Cody Rhodes vs Darby Allin: AEW Full Gear
Tessa Blanchard vs Sami Callihan: Impact Hard to Kill
Takumi Iroha vs Mayu Iwatani: Stardom Way to Major League 2020
BJW Crisis Survivor Vol. 2: 567 Fluorescent Light Tubes Death Match: Abdullah Kobayashi vs Yuki Ishikawa vs Toshiyuki Sakuda
Chairshot Radio: Musical Chairs S2:E6- OK Go & The Offspring [092722]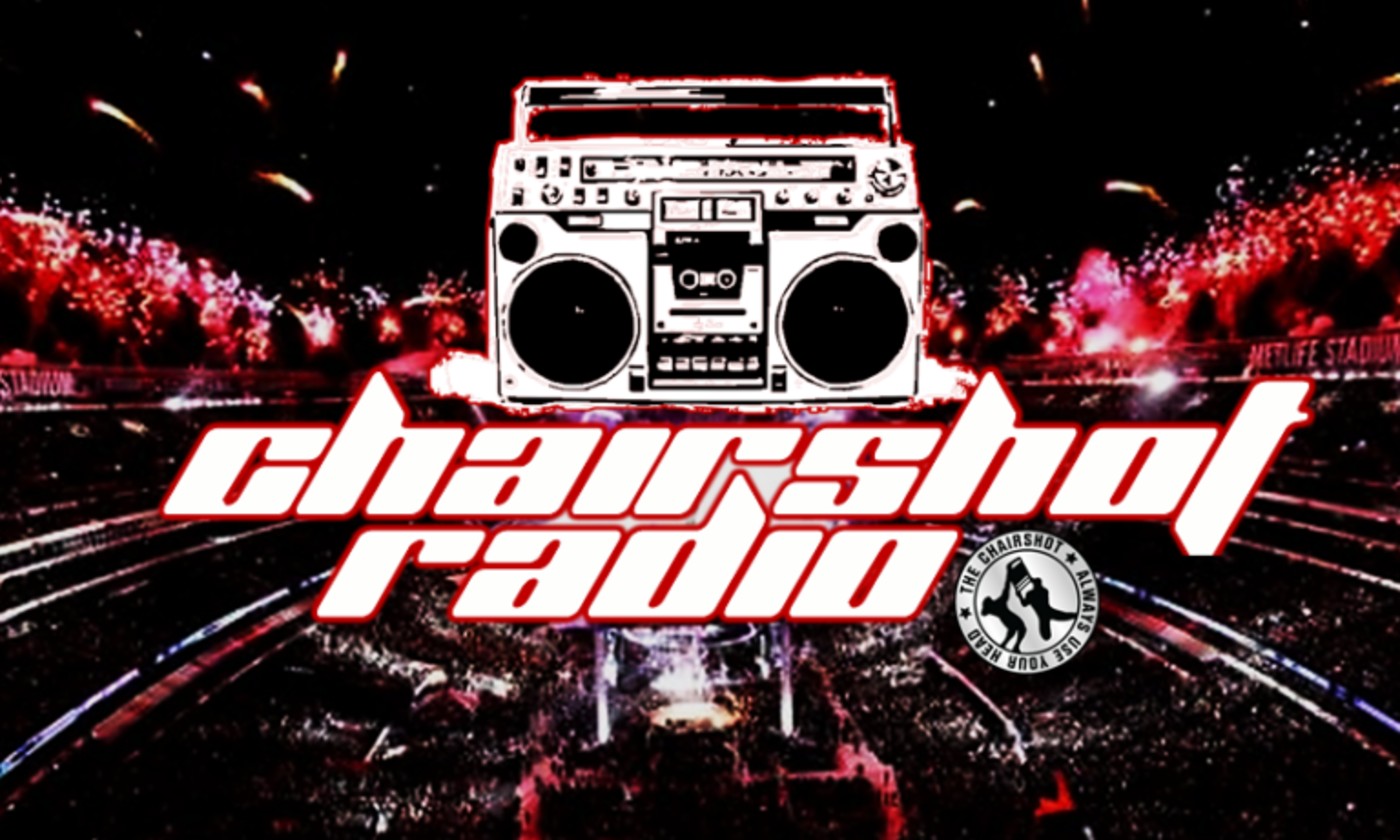 This week on Musical Chairs, the guys take a look at two more innovative and influential bands. Patrick talks about OK Go, a band that is one of his son's favorites and is known for some truly interesting, and highly entertaining, videos. Known for their big hit Here It Goes Again, there is much more to the Chicago natives and  Patrick tells us all about them this week. Dave then discusses The Offspring, a band that, along with Green Day & Rancid, revitalized the punk music scene in the early to mid 90's. This is a band that, as Dave puts it, "does not put out bad music" and he discusses some of his favorites, along with highlights of the bands near 40 year long career, here on this latest installment of Musical Chairs.
Today's hosts: Dave Ungar (@AttitudeAgg) and Patrick O'Dowd (@WrestlngRealist)
Musical Chairs focuses in on OK Go & The Offspring.
About Chairshot Radio
The rebirth of Chairshot Radio will see a rotating cast of hosts delivering you a new show EVERY day. Sports, Entertainment and Sports Entertainment is the umbrella under which we seek to invade your earballs. So sit back, relax and LET US IN…
For the latest, greatest and up to datest in everything pro wrestling, sports and entertainment head to TheChairshot.com and remember to ALWAYS #UseYourHead.
About the Chairshot Radio Network
Created in 2017, the Chairshot Radio Network presents you with the best in wrestling and wrestling crossover podcasts, including POD is WAR, Women's Wrestling Talk, Chairshot Radio daily editions, The #Miranda Show, Badlands' Wrestling Mount Rushmores, The Outsider's Edge, DWI Podcast, Bandwagon Nerds, the Greg DeMarco Show, 3 Man Weave, Five Rounds, Turnbuckle Talk, The Reaction and more! You can find these great shows each week at theChairshot.com and through our distribution partners, including podcasting's most popular platforms.
The Chairshot Radio Network


Your home for the hardest hitting podcasts and radio shows!
Listen on your favorite platform!
iTunes  |  iHeart Radio  |  Google Play  |  Spotify
Listen, like, subscribe, and share!
---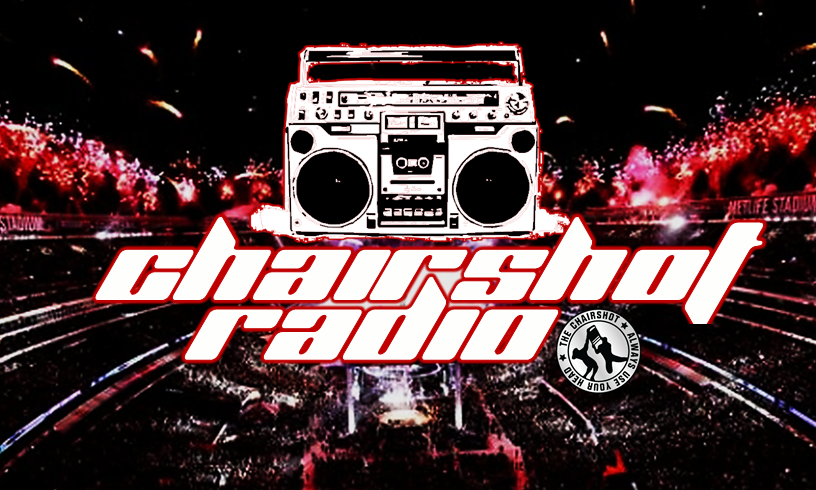 Bandwagon Nerds #150: 150 Episodes of Nerdom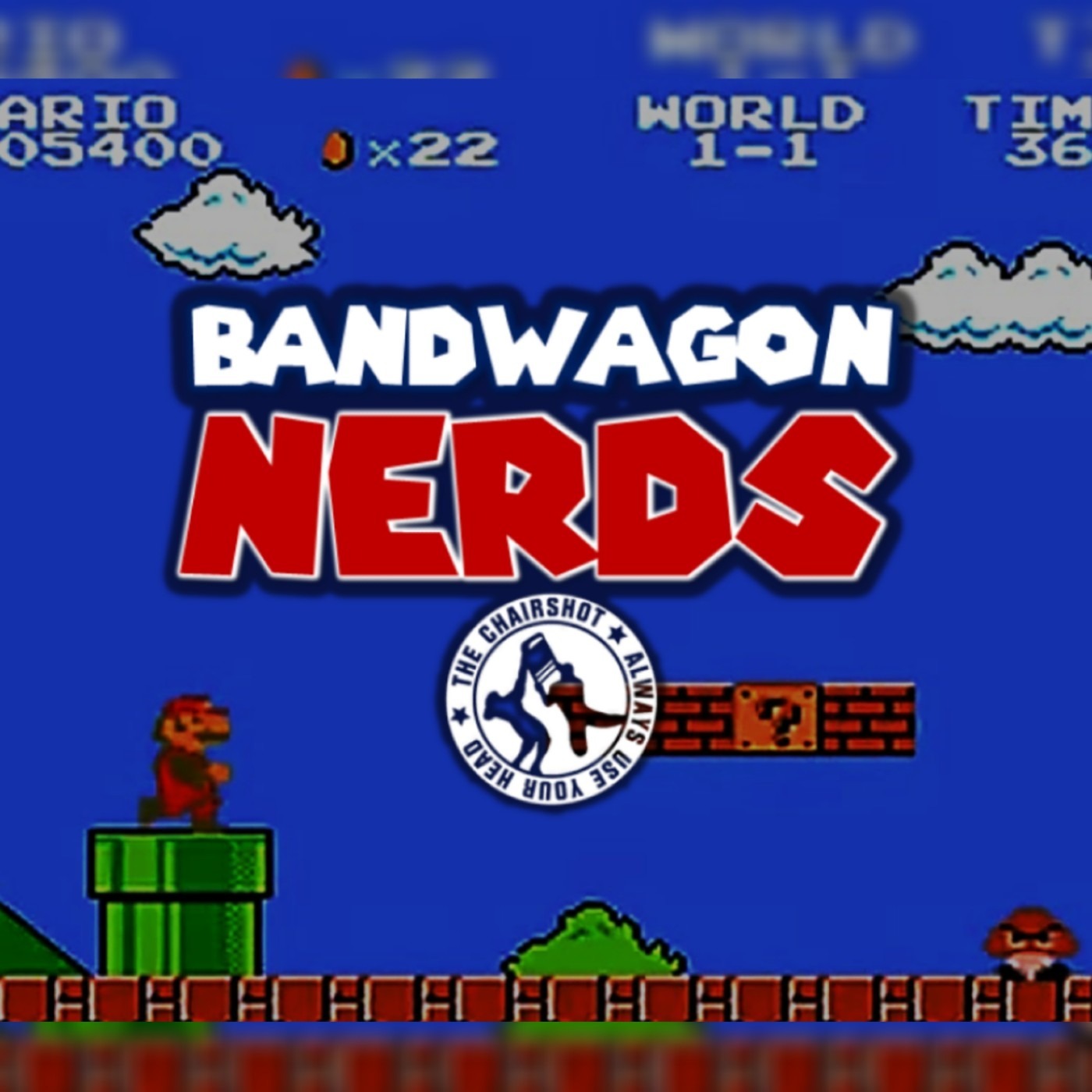 The Bandwagon celebrates 150 episodes of Nerdom this week with the OG Nerds celebrating with you!  Join Patrick O'Dowd, David Ungar, PC Tunney, and Rey Cash as they share their memories and give their thanks to you the listeners for 150 episodes of geeky greatness!  In between the memories, the Nerds finish their review of Umbrella Academy Season 3, visit the trailer park and discuss all kinds of news around the Nerdosphere.
@WrestlngRealist

@AttitudeAgg
@itsReyCash
@PCTunney
@ViolentAesop
@therealcplatt
@ChairshotMedia
About Bandwagon Nerds
Join Patrick O'Dowd, David Ungar, PC Tunney and Rey Cash as they keep everyone up on all things nerd, and maybe add some new nerds along the way. It's the Bandwagon Nerds Podcast!
About the Chairshot Radio Network
Created in 2017, the Chairshot Radio Network presents you with the best in wrestling and wrestling crossover podcasts, including POD is WAR, Women's Wrestling Talk, The #Miranda Show, Badlands' Wrestling Mount Rushmores, The Outsider's Edge, DWI Podcast, Bandwagon Nerds, the Greg DeMarco Show, 3 Man Weave, Five Rounds, Turnbuckle Talk, Suwama's Station, The Reaction and more! You can find these great shows each week at theChairshot.com and through our distribution partners, including podcasting's most popular platforms.
---
The Chairshot Radio Network
Your home for the hardest hitting podcasts and radio shows!
Listen on your favorite platform!
iTunes  |  iHeart Radio  |  Google Play  |  Spotify
Listen, like, subscribe, and share!
---