Chairshot Radio: Fandoms In Sports & Larry Fitzgerald [011221]
Greg DeMarco takes the reigns once again, discussing his sports fandoms, which ones are up for sale, and sharing a personal Larry Fitzgerald story.
Greg DeMarco takes the reigns once again, discussing his sports fandoms, which ones are up for sale, and sharing a personal Larry Fitzgerald story.
Powered by RedCircle
Todays host: Greg DeMarco (@ChairshotGreg)
What sports teams occupy Greg's fandoms?
Which fandoms would he consider "up for sale?"
Personal story exhibiting just how great of a human Larry Fitzgerald happens to be.
About Chairshot Radio
The rebirth of Chairshot Radio will see a rotating cast of hosts delivering you a new show EVERY day. Sports, Entertainment and Sports Entertainment is the umbrella under which we seek to invade your earballs. So sit back, relax and LET US IN…
Your Weekly Chairshot Radio Schedule:
Monday – PC Tunney
Tuesday – Greg DeMarco
Wednesday – Greg DeMarco
Thursday – Rey Cash & Mags Kirkby
Friday – PC Tunney
Saturday – Andrew Balaz & Chris Platt
Sunday – Patrick O'Dowd & Big Dave Ungar
For the latest, greatest and up to datest in everything pro wrestling, sports and entertainment head to TheChairshot.com and remember to ALWAYS #UseYourHead.
About the Chairshot Radio Network
Created in 2017, the Chairshot Radio Network presents you with the best in wrestling and wrestling crossover podcasts, including POD is WAR, Women's Wrestling Talk, Chairshot Radio daily editions, The #Miranda Show, Badlands' Wrestling Mount Rushmores, The Outsider's Edge, DWI Podcast, Bandwagon Nerds, the Greg DeMarco Show, 3 Man Weave, Five Rounds, Turnbuckle Talk, The Reaction and more! You can find these great shows each week at theChairshot.com and through our distribution partners, including podcasting's most popular platforms.
---
The Chairshot Radio Network


Your home for the hardest hitting podcasts and radio shows!
Listen on your favorite platform!
iTunes  |  iHeart Radio  |  Google Play  |  Spotify
Listen, like, subscribe, and share!
---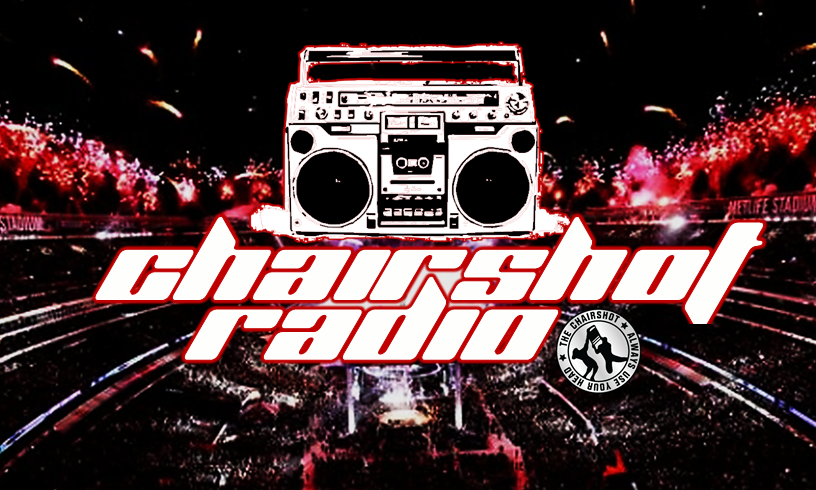 Cook's Top 5: Seattle Seahawks Quarterbacks
From To The Moon to Let Russ Cook, Steve Cook has your Top 5 Seattle Seahawks QBs of all time!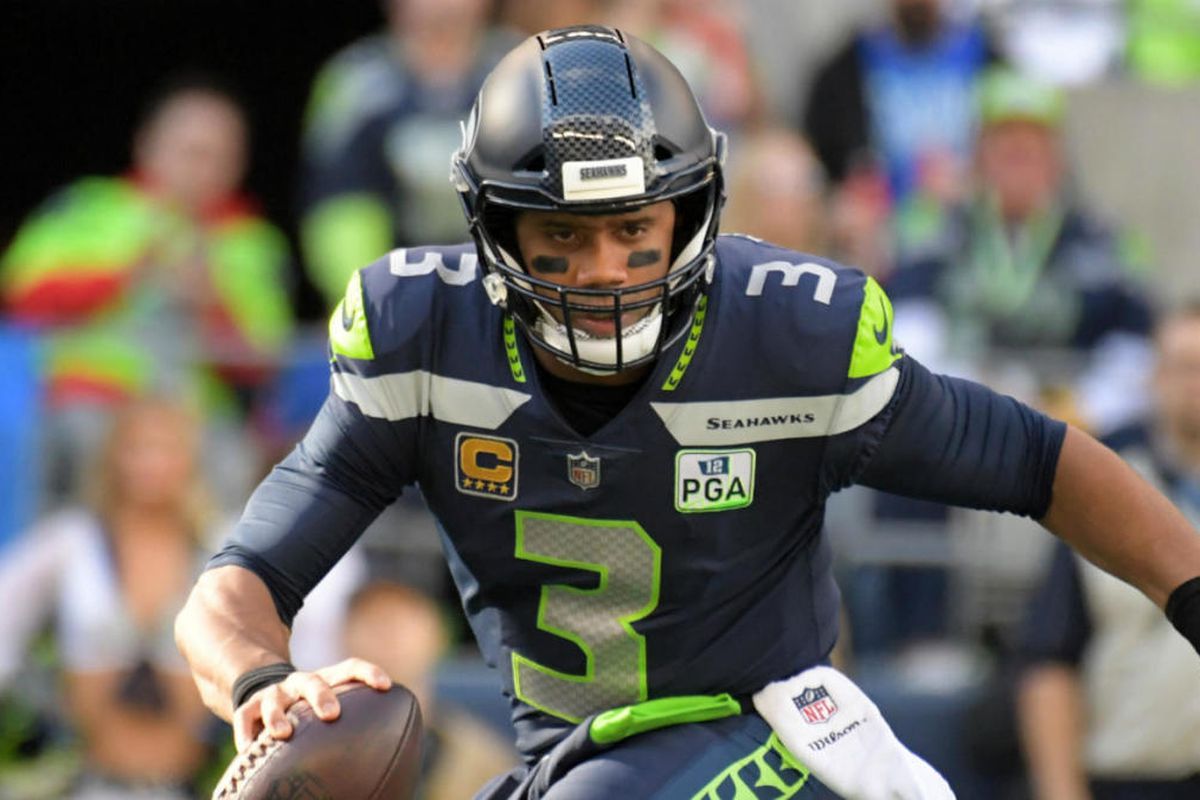 From To The Moon to Let Russ Cook, Steve Cook has your Top 5 Seattle Seahawks QBs of all time!
The Seattle Seahawks are one of a number of franchises whose trajectory has changed during my life as an NFL football fan. When I was a kid, they were mired in the bottom half of the AFC West, occasionally contending for a division title but never really doing much. As I matured, the Seahawks matured as well, becoming a consistent presence in the playoffs. Now, they're always expected to make the playoffs and are frequently considered contenders to win the whole thing.
Largely due to the quarterback at the end of this list. Don't worry, we've got four other ones to talk about first! Here are the Top 5 Seattle Seahawks quarterbacks.
5. Warren Moon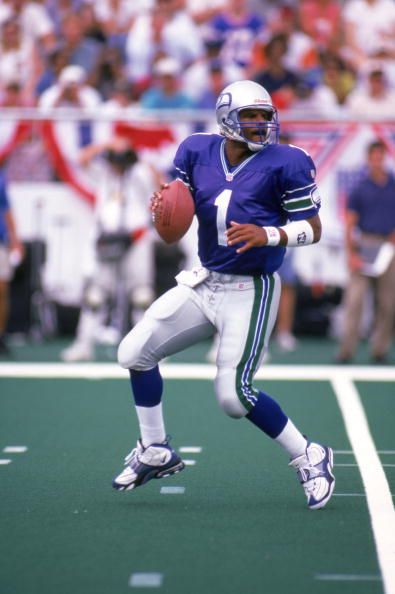 You might recall Warren appearing in the Vikings Top 5 based off of some work he did in Minnesota at ages 38-40. After a highly productive career in Edmonton & Houston, Moon thought he still had some more in the tank. After three seasons in Minnesota, Moon still thought he had more in the tank. The Vikings disagreed, wanting him to be Brad Johnson's backup & take a paycut. So he went to Seattle and became their QB1 at the age of 41. Turns out he had a little more in the tank, with 3,678 passing yards, 25 touchdowns and another trip to the Pro Bowl, where he was the game MVP.
It was pretty much Moon's last hurrah, he started ten games for Seattle at age 42 with less inspiring results, then retired after two years in Kansas City as a backup. A heck of a run, and we're not done talking about it yet.
4. Jim Zorn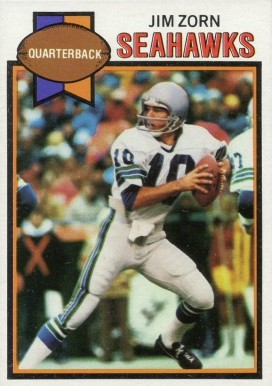 Zorn was undrafted and didn't quite make it into the league in 1975, but the newly founded Seahawks picked him up for their first season in 1976. After winning the AFC Rookie of the Year award, he became the main starting QB for the first seven seasons of the Seahawks. While there weren't any playoff appearances, the Seahawks did manage to have two nine-win seasons early on with Zorn and their first Hall of Famer, wide receiver Steve Largent. He was named second team All-Pro in 1978, with his best statistical season coming in 1979 with 3,661 passing yards & 20 touchdown passes.
After retiring, Zorn went into coaching, with two stints in Seattle as an assistant. He was the second member of the Seahawks' Ring of Honor, and is one of two quarterbacks currently in that group.
3. Matt Hasselbeck
Hasselbeck was drafted by the Green Bay Packers in 1998 and served as Brett Favre's backup. He was traded to Seattle in 2001, where Mike Holmgren was serving as coach/general manager. Holmgren had been the Packers' head coach when Hasselbeck was drafted, and he saw some potential there. Hasselbeck split time with Trent Dilfer early on, but would become the Seahawks' QB1 for most of the 2000s. He led the Seahawks to five straight playoff appearances, equaling the number Seattle had made in the previous twenty-seven seasons. This included Seattle's first trip to the Super Bowl, which some would tell you they would have won if not for incompetent officiating.
Hasselbeck was selected to three Pro Bowls during his time in Seattle. He never led the league in any relevant passing categories, but finished in the top ten a few times & was very good at limiting his mistakes. He might not have led your team to a championship, but you weren't going to lose one because of something he did. Unfortunately, he was pretty injury prone & the Seahawks were never really able to find a great backup.
2. Dave Krieg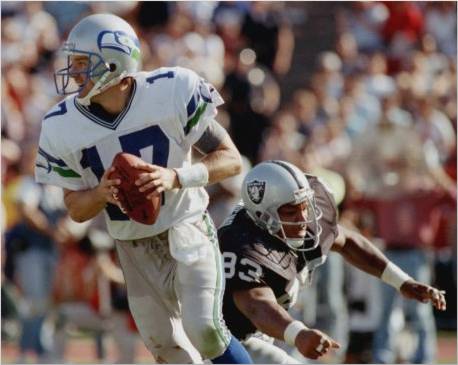 Krieg was one of those guys that came out of nowhere. Milton College in Wisconsin, to be exact. It was an NAIA school that closed just a couple of years after Krieg left. He didn't get drafted, of course, but he did try out with the Seahawks and got a gig out of it. He found himself in the lineup in 1981 when Jim Zorn got hurt, and after a couple of switches ended up as the Seahawks' QB1 in 1983. He wound up leading the Seahawks to their first playoff berth and an appearance in the AFC Championship Game.
Krieg's best season was in 1984, when top running back Curt Warner got hurt & coach Chuck Knox switched from a run-first offense to pass-first. Krieg had career highs in passing yards & touchdowns that season, and was selected to his first Pro Bowl. Krieg would go to three Pro Bowls during his time in Seattle, while leading the Seahawks to their first four playoff appearances. He held the franchise record for touchdowns until recently. Oh, and apparently he was also known as "Mudbone", which I didn't know until right this moment but is a pretty great nickname.
1. Russell Wilson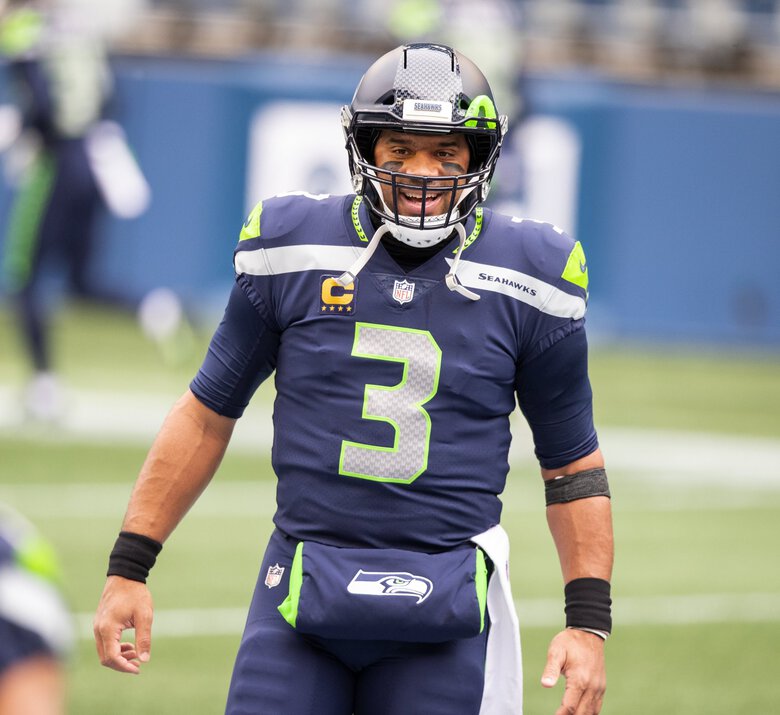 Wilson was drafted in the third round of the 2012 NFL Draft, and was expected to back up Matt Flynn after the longtime Packer backup signed a large contract with Seattle. Wilson ended up taking the position during the preseason, and has started every Seahawks game since the beginning of the 2012 season. He's been selected to the Pro Bowl seven out of his nine seasons in the NFL. He's yet to throw under 3,118 yards in a season or for fewer than twenty touchdowns. His career high for interceptions came in 2020 with thirteen, but he also had a career high for touchdowns with forty, and was eight yards short of having a career high passing yards total.
Wilson hasn't led the NFL in passing yards, and he's only led the league in touchdown passes once. He's been in the top ten for passing yards four times, and seven times for touchdown passes. Wilson's Seahawks teams have only missed the playoffs once, and have never had fewer than nine wins in a season. The franchise won its first Super Bowl and went to another.
Tough to argue with that resume.
Thanks for reading! Join us next time when we take a look at the Tampa Bay Buccaneers!
Cook's Top 5: San Francisco 49ers Quarterbacks
Okay we all know the top 2 49ers QBs, but that's where most people will stop. Cook explores all of the 49ers history to fill out the other 3 slots! Check it out!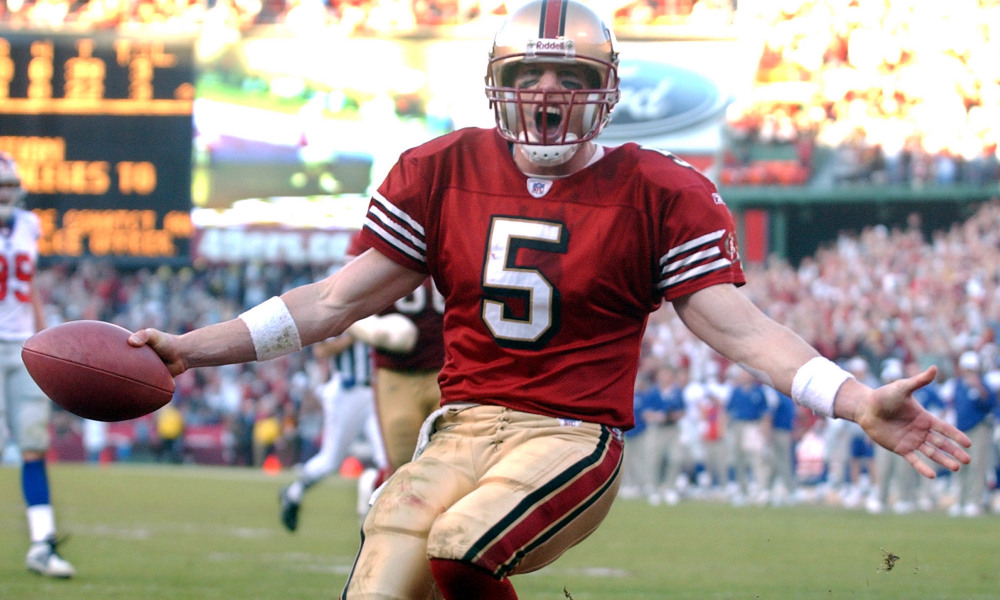 The twenty-first century hasn't been kind to the San Francisco 49ers. Two Super Bowl appearances, which ended in defeat, and not a whole lot else. Six playoff appearances in twenty seasons isn't what San Francisco fans of my age group are accustomed to.
When I was growing up, the 49ers were a constant presence at the top of the NFL. They dominated the 1980s, winning four Super Bowls during the decade. They "only" won one Super Bowl during the 1990s, but were still a top contender in the NFC up until Steve Young's retirement early in the 1999 season. Bengals fans slightly older than I am still haven't forgiven Joe Montana for ripping two championships from Cincinnati. Fortunately, my bitter memories don't extend that far, so I can rank this set of quarterbacks without throwing up in my mouth a little bit.
5. Jeff Garcia
Garcia went undrafted by NFL teams in 1994 because he was seen as being too small. Like others facing similar biases, Garcia took his talents to the CFL & joined the Calgary Stampeders. Garcia ended a five year run in Calgary by leading the Stampeders to a Grey Cup, and San Francisco took notice. Garcia had grown up in the Bay Area, and now had the opportunity to lead his hometown team after Steve Young's retirement. He would later admit that the pressure of following in Young's & Montana's footsteps got to him, as did dealing with his top receiver Terrell Owens.
Garcia still had a good run though, and even if TO was a pain in the butt off of the field, he was very helpful to Garcia's cause on the field. Garcia went to three straight Pro Bowls, setting a 49ers single season record with 4,278 passing yards in 2000. He led the 49ers to the playoffs in 2001 & 02, including a victory over the Giants in the 02 playoffs where the 49ers came back from a 38-14 deficit. Things between Garcia & Owens went south after that season, and San Fran's coaching change from Steve Mariucci to Dennis Erickson didn't help matters. Garcia's time in San Francisco could have been better, but it was a heck of a job by him just to get there.
4. Y.A. Tittle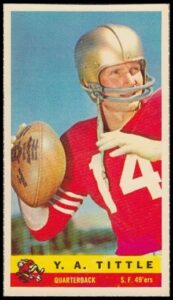 Tittle arrived in San Francisco in 1951, after the original Baltimore Colts folded and their players were dispersed in a draft. He became part of the Million Dollar Backfield, which included Tittle, fullback Joe Perry & halfbacks Hugh McElhenny & John Henry Johnson. While the 49ers didn't win any championships with this group, all four members were still inducted into the Hall of Fame.
Tittle was selected to four Pro Bowls during his time with the 49ers. However, the last few years of Tittle's time in San Francisco saw him sharing time with Earl Morrall & John Brodie. The 49ers traded him to New York, which would give Tittle a chance to elevate his game even further.
3. John Brodie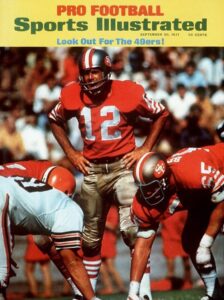 Brodie was the third overall pick in the 1957 NFL Draft, and spent his first several seasons backing up Y.A. Tittle. He showed enough for the 49ers to trade Tittle in 1961, and was the 49ers starting quarterback for most of the next decade. It wasn't the most competitive decade for the 49ers, but Brodie was one of the best passers. He led the NFL in passing yards three times & touchdowns twice. He was selected to two Pro Bowls and was named MVP in 1970, leading the 49ers to their first ten-win season since 1948. (In fairness, there were fourteen games in a season back then, so it was a little tougher in those days.)
1970 & 71 saw the 49ers make the NFC Championship Game two seasons in a row, losing to the Dallas Cowboys each time. Brodie retired in 1973, at the time he ranked third overall in passing yards & eighth in touchdown passes. He's still considered one of the best quarterbacks to not be elected to the Hall of Fame.
2. Steve Young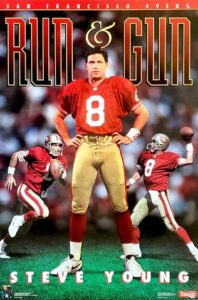 There was a period of time in the late 1980s & early 1990s where some believed the 49ers had the two best quarterbacks in football on their roster. Of course, Joe Montana was the superstar of the league, but Steve Young was gaining some attention as well. His stint with the Tampa Bay Buccaneers was a disaster, but 49ers coach Bill Walsh believed that was due to the franchise's ineptitude. Young saw limited time his first four seasons, getting an occasional start when Montana was banged up.
Montana missed the entire 1991 season after getting injured in the 1990 NFC Championship Game, but Young's season in relief came as a mild disappointment. 1992 saw Young step his game up as Montana remained on the shelf. He led the 49ers to a 14-2 record & led the league in touchdowns & passer rating. Young won his first MVP award, went to his first Pro Bowl and put to rest any doubts about who the 49ers QB of the future was. Young went on to lead the NFL in completion percentage five times, touchdown passes four times, QB rating six times, and won another MVP award during the 1994 season, which ended with the 49ers' fifth Super Bowl championship.
Young was a dominant passer, and could get it done on the ground as well. He's second all-time in QB rushing touchdowns, and fifth in rushing yards. There wasn't much he couldn't do.
Honorable Mention: Frankie Albert
Albert led the 49ers during their early years in the All-America Football Conference, where they finished second to the Cleveland Browns four seasons in a row. Albert was named co-MVP with Otto Graham in 1948, led the AAFC in touchdown passes twice, and made the Pro Bowl in his first NFL season. His touchdown/interception rate of 115/98 definitely stands out in the time period. He's considered the best left-handed quarterback of his generation & is credited for inventing the bootleg.
1. Joe Montana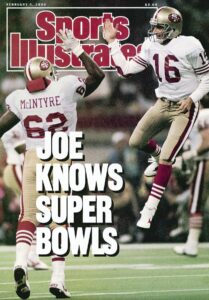 Up until Tom Brady existed, Joe Cool was the prototypical quarterback that had the most legendary career & created the most memories for fans. He went to Notre Dame & won a championship in 1977, while leading the team to a number of dramatic come from behind victories. It was a skill that carried over to the NFL, as Montana became known as "The Comeback Kid" for his ability to grab victory from the jaws of defeat. Bengals fans old enough to remember Super Bowl XXIII still gripe about it. Cowboys fans old enough to remember the 1982 NFC Championship Game still gripe about it. I think most fans of other teams during Montana's era have at least one thing to gripe about with Joe.
Montana won four Super Bowls with the 49ers (3 game MVPs), earned two regular season MVP awards, was selected to seven Pro Bowls and led the league in completion percentage five times. Pretty much any ranking of "clutch athletes" includes him somewhere. He missed some time due to multiple injuries considered career-ending, but came back each time to re-establish himself at the top of the heap. He still leads the 49ers in most passing statistics, with a slight edge over Steve Young.
Honestly, if a franchise ever has somebody like this guy throwing the ball to somebody like Jerry Rice at some point, I can't feel bad for any misery they might go through in the future.
Thanks for reading! Join us next time when we look at the Seattle Seahawks!