Mitchell's Raw Talk Report! (1/4/21)
The first Raw Talk of 2021!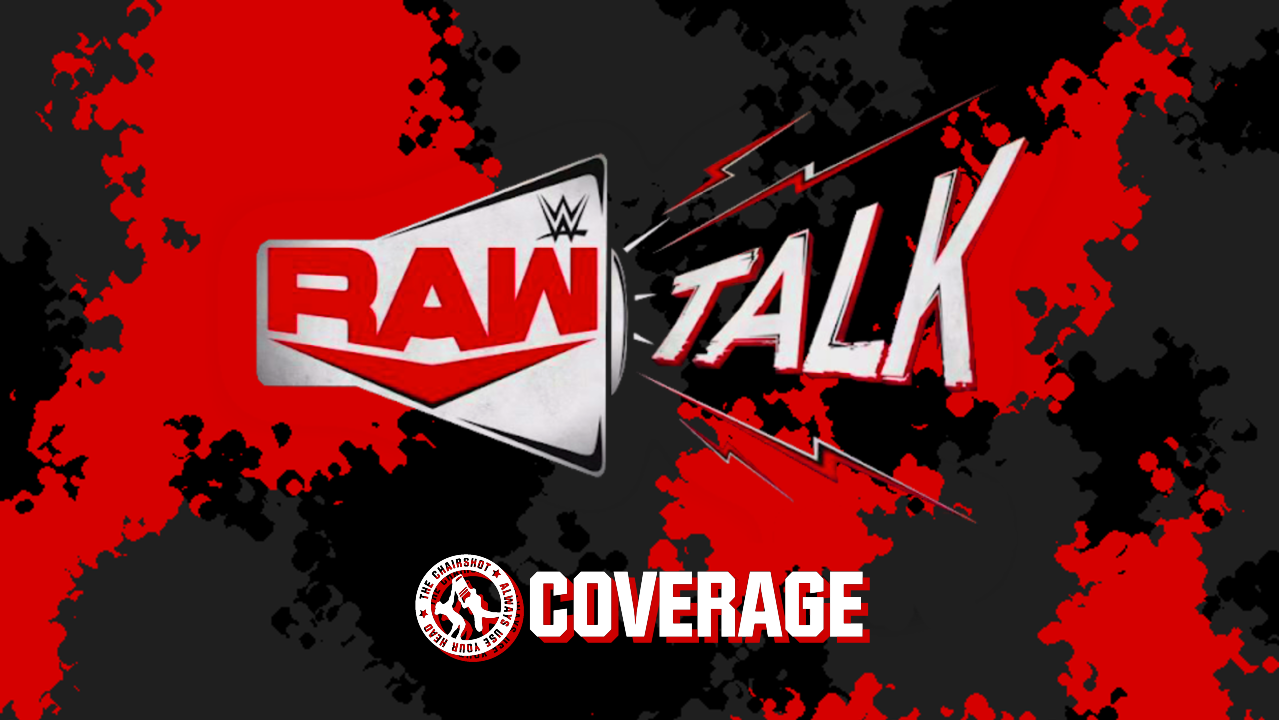 Will Raw Talk face Retribution?
The new year is here! And so are Charlotte Flair, Shayna Baszler, and Retribution's Mustafa Ali! What will they all have to say about Raw Legend's Night?
#CharTruth welcome us back to the show!
If you saw Monday Night Raw, you saw a wild start to the new year! Charly Caruso and R-Truth are here to ring in 2021. Did Truth think we were going to make it? He does his best to keep hope alive but he was still unsure. And tonight's Raw was Legend's Night. The most popular stars of today, the best of the past, it was something to behold, especially the ending to Raw. "No one's safe here." Drew McIntyre VS Keith Lee, the WWE World Championship, and Truth hopes Keith is okay after that brutal battle. Two behemoths throwing each other around, big boned boys, could've gone either way. Maybe McIntyre got lucky, but then we heard the familiar drums. "Who's next?"
Yes, GOLD~BERG~! He showed up, was face to face with McIntyre, and wasted no time to say HE's next! Goldberg pushed McIntyre down! And he challenged McIntyre for the title at 2021's Royal Rumble PPV! Goldberg does whatever he wants, but not to Drew. The challenge hasn't officially been accepted but Charly is sure that the fighting champion McIntyre is, he will accept and we will see that match. Truth agrees, and nothing from Goldberg, "Drew is a fighter." Speaking of a fighting champion, Truth is once again WWE 24/7 Champion after losing it on New Year's Eve! Truth tricked Garza with the Cardi B trap to use Bogeyman against Garza!
Of course, even Truth admits Cardi B, Kylie Jenner and Ariana Grande is a strong offer, but got the BOO-GEESUS scared out of him instead. This is Truth's FORTY-SIXTH reign. He won't talk about the TikTok situation, he got okie-doked. But his resolution was to get the title back and he did, so 2021 is going great already. But speaking of a champion once again…!
Charlotte Flair AND Ric Flair join Raw Talk!
Daughter and father are here and Truth is excited to see Naitch! How are they tonight? Good, but… been better? Truth wants to know what happened out there tonight. Charlotte isn't even sure why Ric followed her on set. Truth can tell she's upset after what happened. Truth wants them to talk it out. Ric literally cost Charlotte, and she will talk about it. Ric goes off camera to give Charlotte space, and she says no one understands. He was trying to help because she's his daughter, but she didn't need his help and then that's why she lost. She knows what he was trying to do, but…
Truth is a father, and so he gets both sides of this. Charlotte was on a roll, is still on a roll, and she gets how Ric is Ric Flair, but is there ever going to be a time where we don't say, "Let's just match Ric and Charlotte together because they go great together!" Ric is her father and she'd never take those moments away, but sometimes it's just like, just stand there and be proud! What it really boils down to is that Charlotte is a sore loser. Charly points out this isn't the first time Charlotte's asked him to step aside, these could be frustrations. Truth says it's always like that. This is like when you have Hamburger Helper but without ham. Why does he always have to make Charlotte hungry when she's on Raw Talk?
But Truth is just saying, though. Ric and Charlotte work together. Yes, and Charlotte feels bad for getting mad. Who gets to walk down that ramp with their father? She is proud to have that and loves the fist bumps with him, but sometimes all she can think about is back to before WrestleMania 35, ESPN's coverage. It was Becky Lynch the Women's Rumble Winner, THE Ronda Rousey, and Ric Flair's daughter, Charlotte. So? We know who she is! But that's how ESPN labels her going into WrestleMania! These things all add up, and tonight, when Charlotte and Asuka had the win, Ric felt he needed to help somehow. It was an accident, she's a hot head, but still.
Charly knows Ric and Charlotte are both ultra accomplished, but does Charlotte want to surpass him to prove she isn't just Ric's daughter? Yes, in a different way. Ric is special because he's still relevant in pop culture. He might even be more famous now than he was wrestling, but Charlotte wants to represent what she stands for as a woman in a male dominated industry. Yes, it's Ric Flair, and critics will still say that, but c'mon. Do they not see her in the ring? Truth says she handles her business. Charlotte declared for the Rumble, but lost. She defied odds before. Everyone expected Shayna Baszler to win, and look who Charlotte eliminated. Anything is possible.
Charly says that a lot of what's possible is because Charlotte has Ric by her side. She might get frustrated but still. Yes, Charlotte will text her dad later to apologize and ask if she still did okay. They're still best friends. The pressure she puts on herself is a lot. But to counter Truth, if his daughter ever gets in the business, this will happen between her and him. Charly says they can get through this, and wonders if Charlotte and Truth will have a dance battle about it. But for now, they wish Charlotte luck in the Rumble, and Charlotte will get some Hamburger Helper on her way home. With plenty of hot sauce!
Mustafa Ali and Retribution join Raw Talk!
No good segue for this one, but they don't want one. At least they're getting his name right. Congrats on the bare minimum. Well he's in a foul mood, and that's considering his usual mood. Did he fall out of the wrong side of bed or something? Yes, wrong side. He is agitated, angry and confused. We dedicated a three hour show to OLD HAS-BEENS! Call them what you will, they had their time! This is what is wrong with WWE! THREE HOURS?! To people who can barely walk?! It's called respect, dawg.
Oh don't get it twisted, Mustafa knows the generation before paved the way, but when is the WWE going to let the new stars walk on that road?! Guys like Drew Gulak, Akira Tozawa, and ALL of Retribution, not on Raw, for what? To hear "Whatcha gonna do, brother?!" for the SEVEN MILLIONTH TIME?! Charly asks if he hears the cheers when Hogan is on screen. He does, the sound guys really pump them in good, don't they?! Why not give others a chance? Give people who can contribute to this company and further it. But no, push them aside to give THREE HOURS to those who can barely walk on stage!
Truth says you gotta change your attitude if you want what you want. And Charly says some of the legends can't walk that well because of how well they did and how much they gave. To do what? To allow the industry to grow, right? They carved a path, but when does someone else get to walk it? If you aren't getting it, it's not that Ali is talking too fast, it's that you're listening too slow. "This place needs change, and I am that change!" Does that include swaying Ricochet to your side? Y'know, #CharTruth are good- no, Ali won't lie. They're TERRIBLE, so he is taking over as the new host! This is no longer Raw Talk, this is RETRIBUTION TALK! And so he introduces the rest of Retribution!
Oh no! T-Bar, Mace, Slapjack and Reckoning join Ali on set. There is one more member of Retribution, but he just doesn't get it yet. That is Ricochet. And Ali tells Ricochet week after week after week that one man can't change everything. Believe Ali, he knows. "Trying to change this place by yourself will break you mentally, physically, spiritually." Ricochet belongs with Retribution. They both want this place to change, but the only way that happens is with Retribution. Ali appreciates Charly's and Truth's time, and thanks them for having him. Ali leaves first, the others linger, but Retribution won't be gone for long. Charly has Truth leave it at that, the year only just started.
Shayna Baszler joins Raw Talk!
Truth is pumped, but Charly asks how she is feeling. How is Shayna feeling? It seems no one is in a good mood tonight… Did she have fish in catering? Shayna is so tired of all of this. The fish? She didn't have tartar sauce with it? Shayna wants them to ask a question. Truth asks about how if she's a Horsewoman, does she know many famous horses? No, Truth, that's not how that works. But still, does she at least know Silver? None of that matters. Charly has Truth stay serious on this. This is serious between Shayna and Mandy Rose. Does Shayna have something out for Mandy? Mandy's cool, so why is she after her?
Does this look like dance class to Truth? Or kindergarten? No, this is THE best women's division on the planet, the best athletes are here, and yet Mandy wants to cry? "Everyone knows what they signed up for when they come here." But somehow, all of them, #CharTruth included, have forgotten what Shayna is about! Was this personal? No. It was a message to every single person that has anything to do with anything in the WWE. Understand that! Everyone here has been lying to you and themselves, pretending they can live the life Shayna has lived for over 20 years! "None of these broads can hold a candle to me! And it's time that you remember that."
Then who can hold a candle to Shayna? Just a year ago, Shayna was one of the last women left, including Charlotte Flair. Where does Shayna feel she stands among the entire Women's Division? Shayna admits, Charlotte won because she was hungrier. But why? "This is all she has." Shayna has done this all around the world for almost two decades, and now that she's come full circle to somewhere where she realizes who she is, things will be very different. Shayna hopes Charlotte dreams of winning again. The higher you dream, the better it is for Shayna to crush those dreams.
So this is Shayna declaring for the Rumble? "I'm the Queen of Spades. A good poker player never shows their hand." There's time left, so time will tell. Charly wishes Shayna luck on whatever she chooses, and feels bad for anyone who will be in her way. That's all for Raw Talk, see you next Monday!
---
My Thoughts:
This was a very good Raw Talk to open the year, though maybe I would've flipped the order of the last two guests. Shayna Baszler did great, despite her character hating being on Raw Talk, but I think Mustafa Ali did even better. Though a Heel, Ali almost stripped kayfabe away to say what many fans feel about WWE's problems and made good points. Legend's Night was still a very good show, but it is definitely a sign that during this newest ratings-desperate period, WWE just wheels out nostalgia to make up for not knowing how to use the current generation. Retribution's story was only told tangentially through Ricochet talking with Mark Henry before Randy Orton showed up. I almost hope the people Ali name-dropped join the story somehow.
Charlotte had a good opening segment, and I appreciate that she was able to move her story in a way that didn't just retread the first time she was "at odds" with Ric. This new take could be something that helps keep Charlotte going beyond the obvious ways of having her and Asuka face each other. They could probably take this a few different ways, so I'm interested in seeing how it goes.