Mitchell's Wednesday Night War Review! Year 2 Phase 1!
The Wednesday Night War is far from over!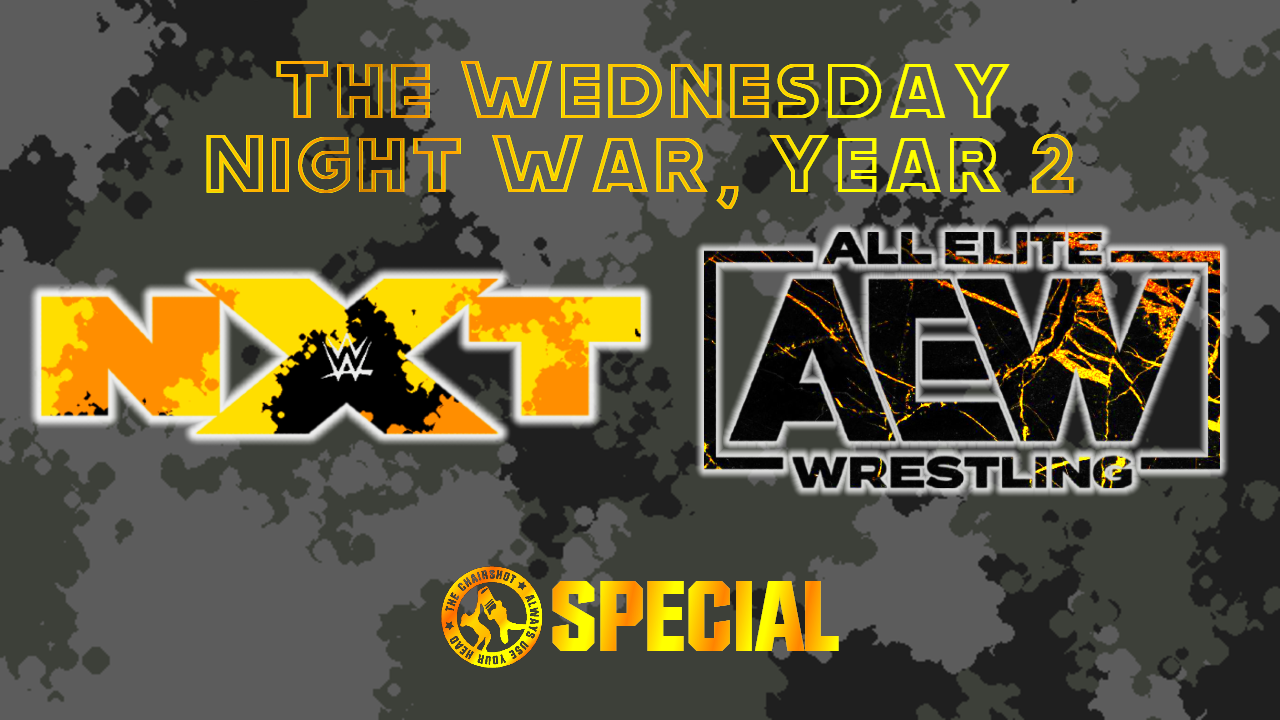 The Wednesday Night War rages on into the new year!
AEW won year one, but WWE has not conceded! Will NXT make a recovery to start the Wednesday Night War's second year?
Let's take just a quick look back at Year One.
I was keeping track of my own scores all year, so trust in the fact I did the math right on the numbers I gave. Going by "phase to phase," aka quarters (which I admit to setting rather arbitrarily), AEW won 3-1, only losing that first phase to NXT because they were still finding their footing. After that, AEW just took off like a rocket and kept going strong during an otherwise rough year in 2020. That of course translated to an overall win by 0.08.
TOTAL FIRST YEAR SCORES: NXT – 9.13; AEW – 9.21
YEAR ONE WINNER: AEW
Now we look at Year Two's first phase!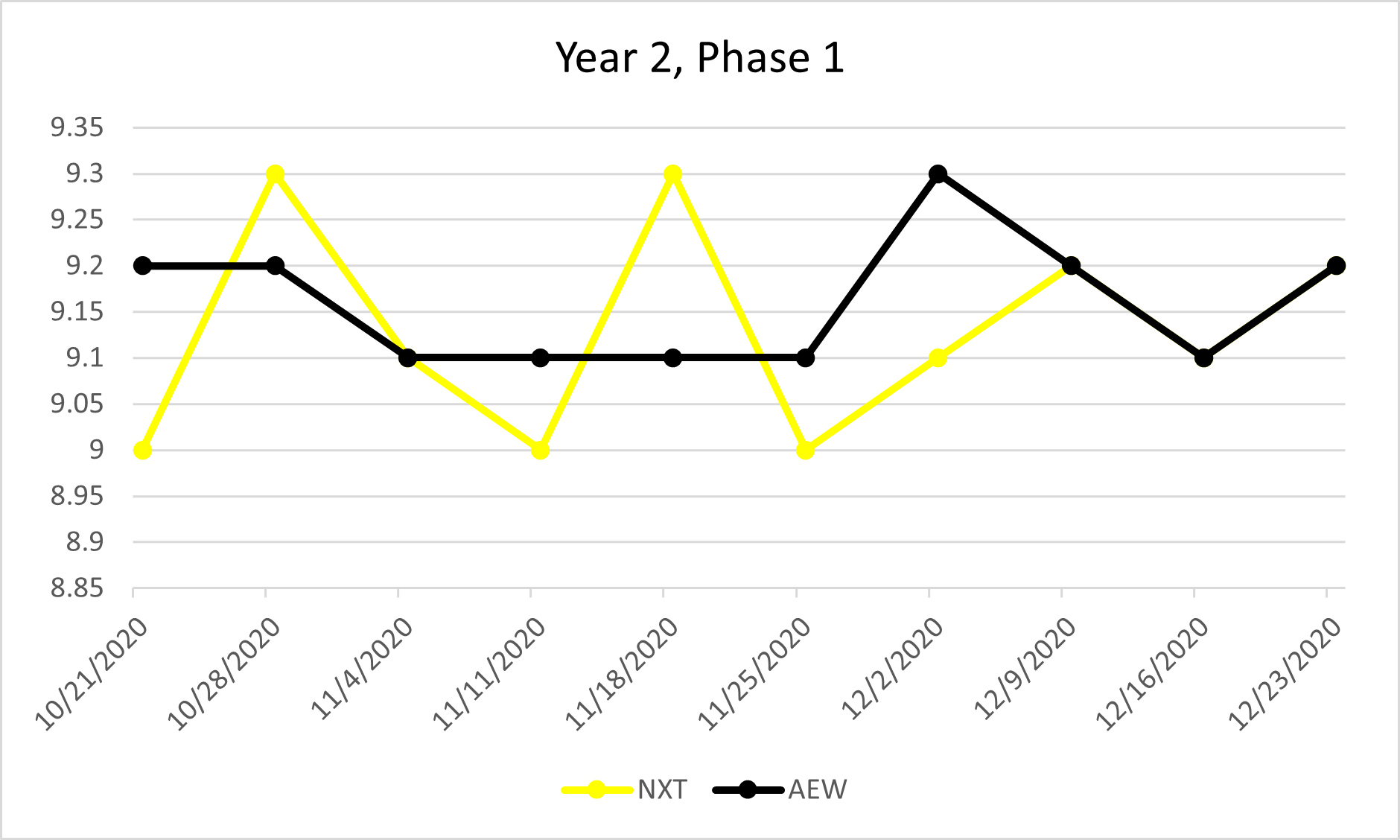 Year Two, Phase One Final Scores: NXT – 9.13; AEW – 9.16
Year Two, Phase One Analysis
Wow, NXT was really choppy this time. And don't worry, NXT went past 12/9/20, it's just that they and AEW tied those last three weeks. And you'll notice that I left 12/30/20, the last Wednesday of the year, off because of the circumstances. Jon Huber, aka Brodie Lee aka Luke Harper, past away just days before that night, and AEW changed their plans to give us a "Celebration of Life" tribute episode. It did not feel right trying to give that show a score, because it wasn't supposed to be about AEW but about Jon Huber. And to be fair to AEW's score, I left off NXT's episode for that night, even though NXT did have great action on their Year-End Award episode.
But the scores themselves reflect how the other phases have gone. AEW led by 0.03 to end Year One, and that's the gap NXT led to start last year. This bodes well for AEW again being a Mitchell Medal winner, but the second year has only just begun!
Year Two, Phase Two Predictions
Something a little different this time, because there isn't much I had to conclude. And this isn't too much of a prediction, it's obvious Phase Two is going to start big! NXT has New Year's Evil on 1/6/21 and it might as well be a TakeOver on television! Rhea Ripley VS Raquel Gonzalez in Last Woman Standing, Tommaso Ciampa VS Timothy Thatcher in the Fight Pit, and a rematch from TakeOver 31 of Finn Balor VS Kyle O'Reilly for the NXT Championship, that card is STACKED! But AEW having moved things back a week to honor Jon Huber, they'll be having the New Year's Smash two parter to start the year with their own big cards, I expect these scores getting up again to 9.4 or higher.
King's WrestleMania Rewind: Stone Cold VS. Scott Hall (WrestleMania X8)
Chris King is back with another WrestleMania Rewind, looking at the NWO's Scott Hall battling Stone Cold Steve Austin at WWE WrestleMania X8 from Toronto!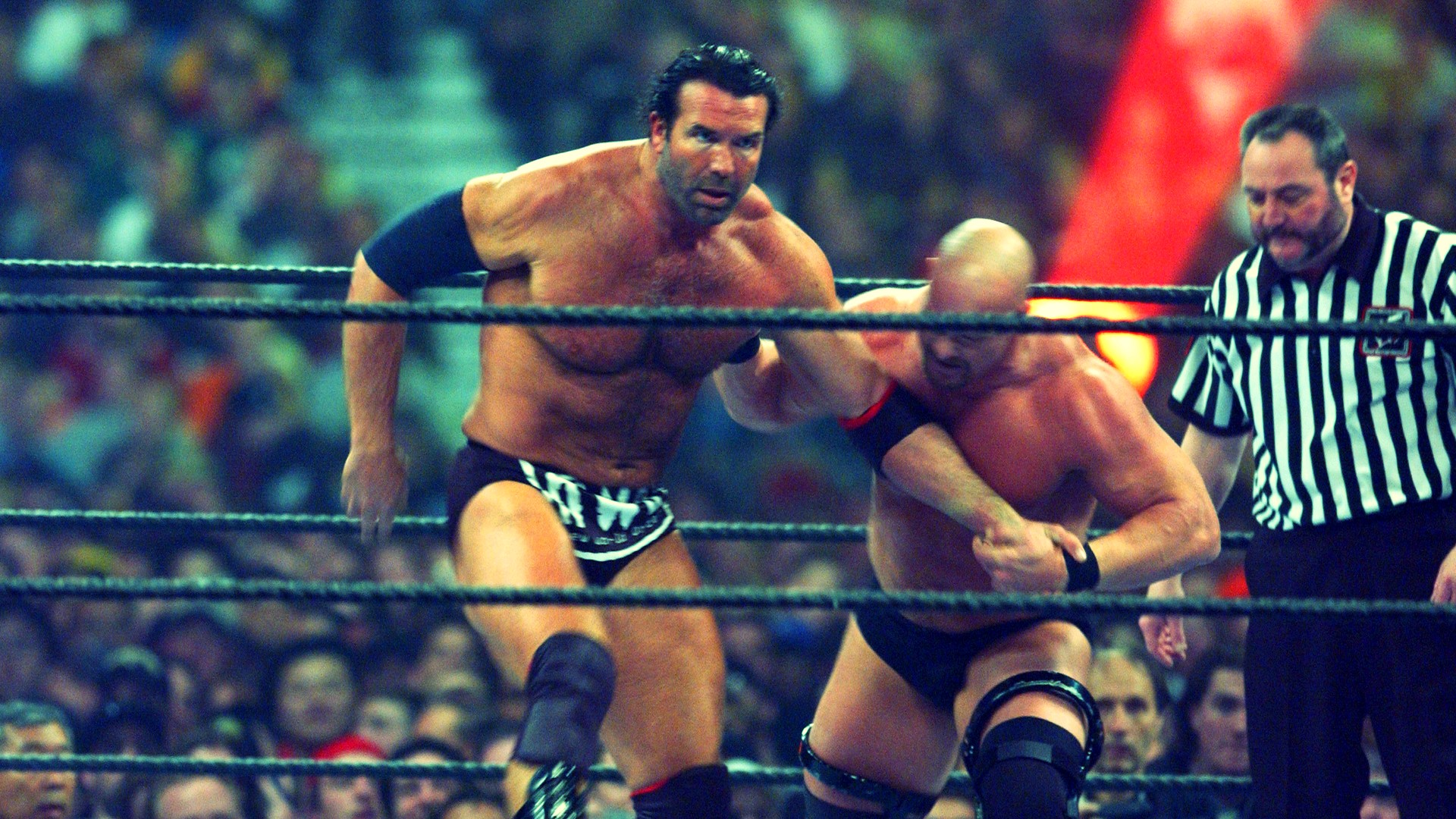 Chris King is back with another WrestleMania Rewind, looking at the NWO's Scott Hall battling Stone Cold Steve Austin at WWE WrestleMania X8 from Toronto!
Chris King is back this week with another edition of WrestleMania Rewind, where he is rewatching all the past Mania matches and feuds. This week you're in for a treat as we look back at 'Stone Cold' Steve Austin vs. Scott Hall at WrestleMania X8.
In late 2001, Vince McMahon bought out his competition WCW and acquired the rights to a plethora of talent including Booker T, Eddie Guerrero, Chris Benoit, and the iconic trio known as NWO. Hulk Hogan; Kevin Nash, and Scott Hall were hell raisers, and what better way to make a name for yourself than take out the two top superstars in the WWE The Rock, and Stone Cold?
The NWO cost Austin his chance at becoming the Undisputed Champion at No Way Out during his match with Chris Jericho. Adding insult to injury, the NWO spray-painted 'The Texas Rattlesnake' with their brand logo just like they did in WCW. As you can imagine, Austin was pissed and out for revenge against the group and primarily Scott Hall.
Hall would challenge Stone Cold to a match at WrestleMania 18. Both superstars beat the living hell out of each other leading up to this highly-anticipated match for who runs the WWE.
The glass broke and Stone Cold made his iconic entrance, and black and white NWO covered Halls' entrance alongside Kevin Nash. With the odds stacked against 'The Toughest S.O.B' could Austin or NWO prove their dominance? Sadly the NWO  broke up that very night when Hulk Hogan came to the aid of his adversary The Rock after their 'iconic' dream match. Stone Cold would ensure the victory with the Stunner. Hall would perform an Oscar-worthy sell over the finisher.
What a time to be a wrestling fan in the 2000s when nothing was impossible for WWE. Who would've thought WCW would go out of business and Hogan would make his long-awaited return to WWE?
King's WrestleMania Rewind: Seth Rollins vs. Kevin Owens (WWE WrestleMania 36)
Chris King takes a look at the most underrated WWE WrestleMania matches, and starts off with Seth Rollins battling Kevin Owens at WrestleMania 36!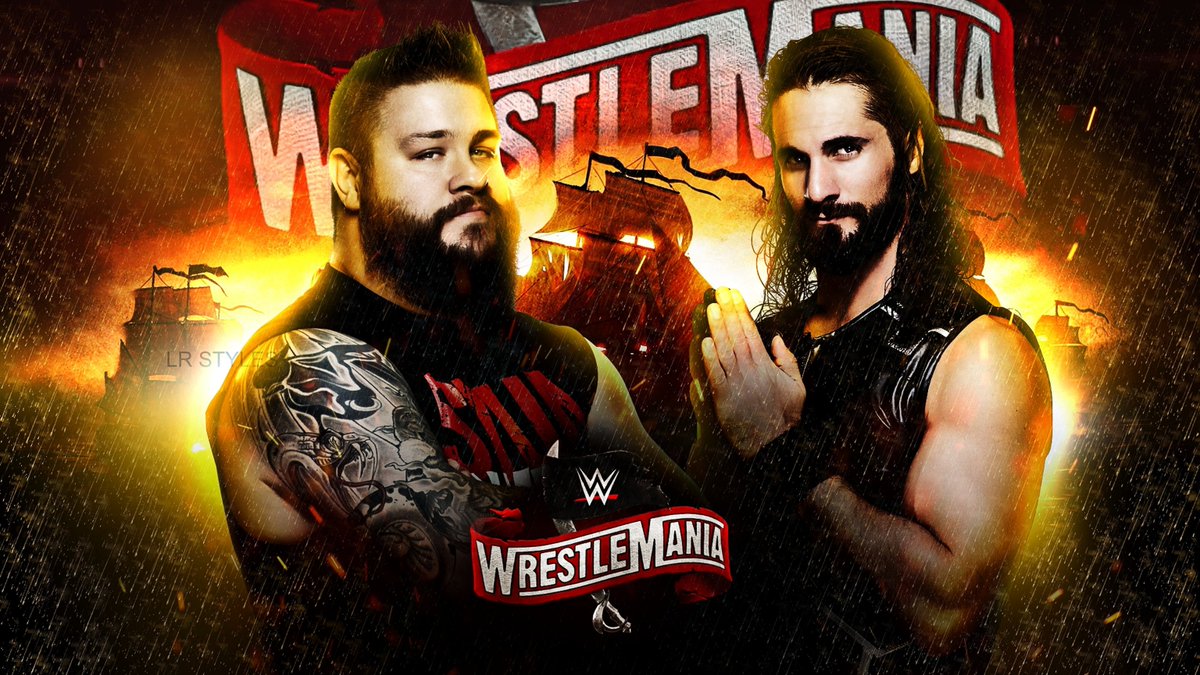 Chris King takes a look at the most underrated WWE WrestleMania matches, and starts off with Seth Rollins battling Kevin Owens in the WWE Performance Center at WrestleMania 36!
Chris King is starting a new series heading into WrestleMania season dubbed WrestleMania Rewind. Each week he'll be going back and sharing his insight over underrated matches at the Show of Shows. First up, is Kevin Owens vs. "The Monday Night Messiah" Seth Rollins at WrestleMania 36.
At the 2019 edition of Survivor Series, Rollins sacrificed himself during the men's traditional match allowing SmackDown to ultimately gain the victory. The following night the self-proclaimed Messiah, berated the whole roster but KO was not having any part of it. Owens quickly became a huge barrier in Rollins' cause for the greater good. The Authors of Pain attacked Owens with Rollins' character in question.
Owens finally had enough of his rival's mind games and torment and challenged Rollins to a match on the Grandest Stage Of Them All. Rollins mockingly accepted his challenge and the match was made official for night one of WrestleMania. Owens came out of the gate beating the holy hell out of the Monday Night Messiah trying to achieve his long-awaited moment at Mania but, Rollins tried to steal a disqualification victory by using the ring bell.
Owens hellbent on revenge provoked Rollins into turning their encounter into a no-disqualification contest where the fight could be taken all over the empty arena. The highlight of the match, was when KO used the WrestleMania sign to deliver a thunderous senton bomb through the announce table. Owens would secure the victory with a Stunner in an incredible match. Despite having no crowd during the pandemic era, both KO and Rollins put on an intense performance under the brightest lights.
In my personal opinion, this was a great feud that helped both superstars in their transformation as compelling characters for years to come.