Bodeen's Top 5 Moments: WWE SmackDown (2/19/21)
Bodeen Green checks in on the go home Smackdown for WWE Elimination Chamber! What stood out as his Top 5 Moments?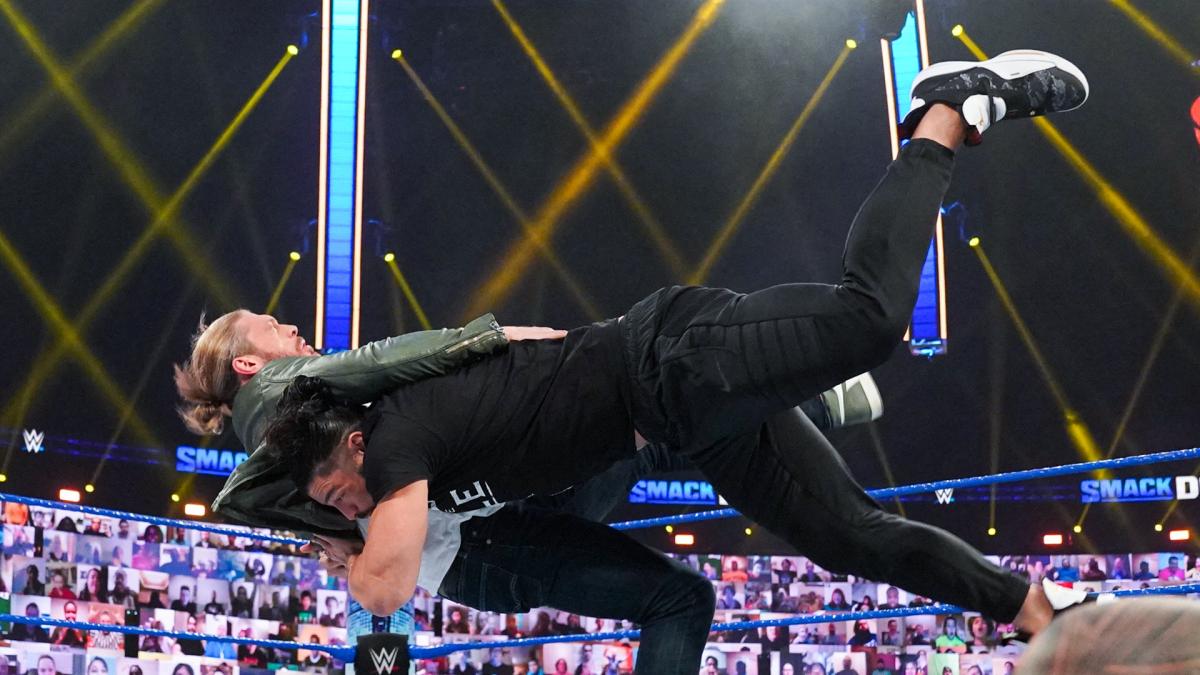 Bodeen Green checks in on the go home Smackdown for WWE Elimination Chamber! What stood out as his Top 5 Moments?
With the Royal Rumble being so fresh in our minds, it's easy to forget that the Elimination Chamber Pay-Per-View is this Sunday. With that in mind, Smackdown delivered a decent show, that surpassed RAW this week, with only a few bad segments dragging it down, but I'm not here to talk about the negatives, I'm here to talk about the positives so let's do that, as I look at the top 5 moments from SmackDown.
5. Otis turns heel 
Otis's push in 2020 is one of the biggest examples of someone being pushed too hard too quickly. Despite being over with the crowd it never seemed realistic that he was the holder of the Money In The Bank briefcase and could become a World Champion at any time. As a result, fans quickly turned on Otis with Otis losing the Money In The Bank briefcase soon after.
Despite fans turning on Otis, WWE has still shown him on SmackDown, however without his former teammate, Tucker it is hard to get behind Otis again. This week something would change in Otis though has Chad Gable encouraged him to attack Rey Mysterio after their match.
A nice little touch of this segment was the reaction from Otis, who looked somewhat unsure and uneasy about what he had just done.
4. Apollo Crews unleashes his dark side 
The recent transformation of Apollo Crews has been amazing to see. In just a few weeks Apollo has gone from a great wrestler with very little character or charisma, to a driven man determined to beat Big E for the Intercontinental Championship, willing to do whatever it takes to achieve his goal.
Crews would once again prove this after he lost to Shinsuke Nakamura. Crews would attack Big E and Nakamura after the match with Apollo finishing his vicious assault by dropping the steel steps onto Big E who was outside the ring.
With Apollo Crews, now a completely transformed man, could this mean another title in the near future for Apollo Crews?
3. The Messiah Speaks 
One thing that I enjoy about Seth Rollins's Promos as the messiah character, is the conviction and passion he has in his promos. The Messiah character is such a unique gimmick and Seth does such an amazing job in making it seem like he is a man who believes he is the higher power of SmackDown
After Big E was carried away by medical staff, due to the attack from Apollo Crews, Seth would come out and berate the roster for leaving him last week on SmackDown and calling out Cesaro for being the last one to leave, yet again highlighting how the roster should embrace his vision.
With Seth returning so close to WrestleMania it will be interesting to see if he will be on the show and who he will feud with.
2. Roman Reigns and Edge open the show 
Despite Roman Reigns opening SmackDown each and every week, the opening for SmackDown, stills continues to be one of the best segments on the night. Each time Roman comes out to open SmackDown, he steals the show and continues to be a highlight on the microphone even though he has the legendary Paul Heyman beside him.
Roman Reigns and Edge would open the show this week, carrying on their hostilities from a few weeks ago. After Jey Uso superkicked Sami Zayn, Reigns would whisper in Edge's ear, making things very interesting heading into the future.
Another great thing to see was Edge putting over the names in the Elimination Chamber this Sunday, teasing matches between names such as Kevin Owens, Cesaro and Daniel Bryan.
1. Reigns spears Edge to close the show  
A few days ago Monday Night RAW, would have a 6 man gauntlet match ahead of the Elimination Chamber. Smackdown, in turn, would have a 6 man tag match as Kevin Owens, Daniel Bryan and Cesaro would face Sami Zayn, King Corbin and Jey Uso in a fun main event that would end in chaos.
This was a nice main event and helped everyone in the match look good ahead of the Elimination Chamber, ending after Daniel Bryan made Sami Zayn tap out. Edge was also great on commentary as he put over all six meant involved in the main event.
Chaos would begin after the match as all six men hit their finishes on each other, with Edge spearing Jey Uso, only to be hit with a spear from Roman Reigns to close the show.
These are my top 5 moments. What were your top 5 moments, and what are your predictions for this Sunday? Let us know in the comments below
King's WrestleMania Rewind: Stone Cold VS. Scott Hall (WrestleMania X8)
Chris King is back with another WrestleMania Rewind, looking at the NWO's Scott Hall battling Stone Cold Steve Austin at WWE WrestleMania X8 from Toronto!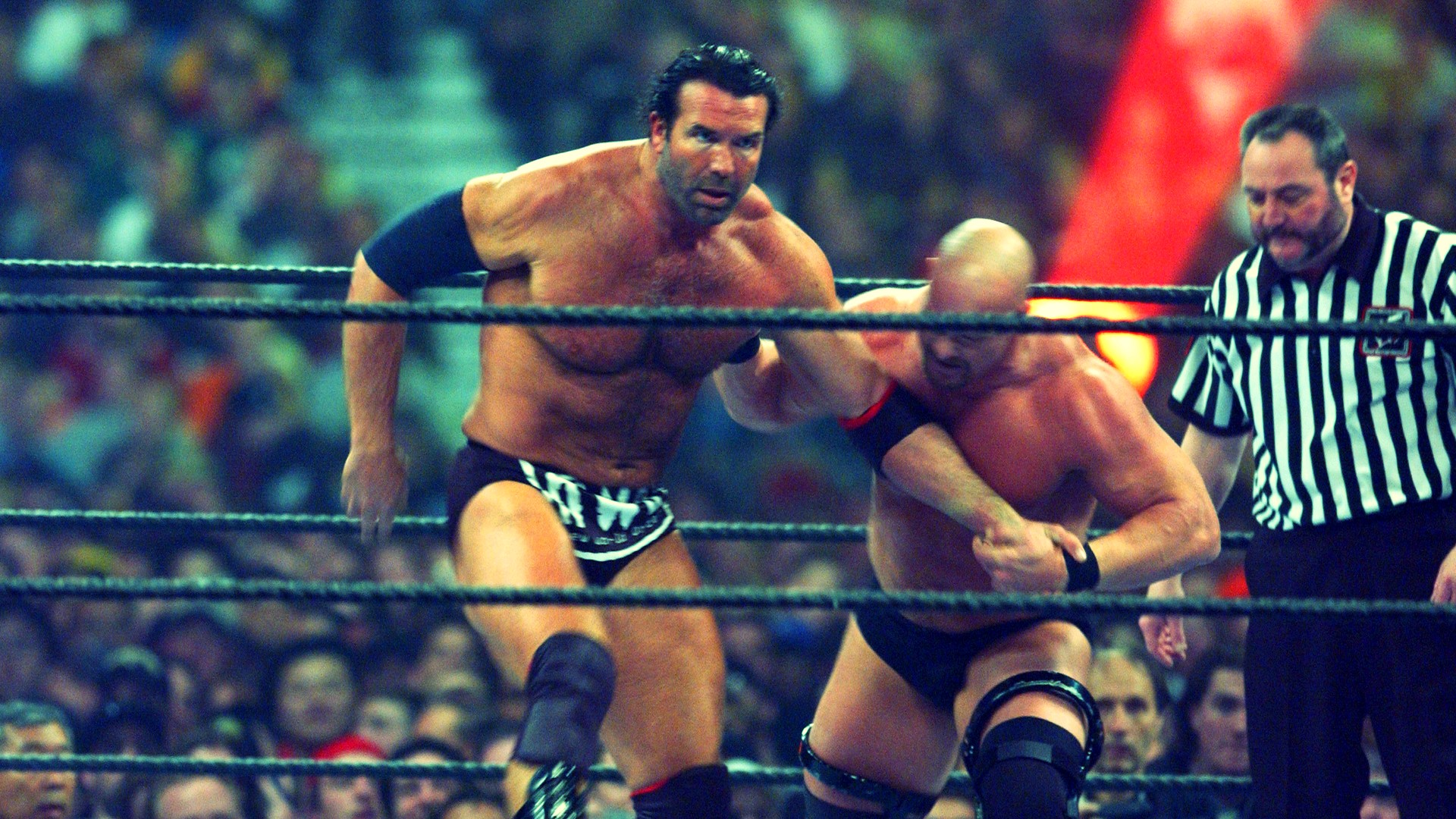 Chris King is back with another WrestleMania Rewind, looking at the NWO's Scott Hall battling Stone Cold Steve Austin at WWE WrestleMania X8 from Toronto!
Chris King is back this week with another edition of WrestleMania Rewind, where he is rewatching all the past Mania matches and feuds. This week you're in for a treat as we look back at 'Stone Cold' Steve Austin vs. Scott Hall at WrestleMania X8.
In late 2001, Vince McMahon bought out his competition WCW and acquired the rights to a plethora of talent including Booker T, Eddie Guerrero, Chris Benoit, and the iconic trio known as NWO. Hulk Hogan; Kevin Nash, and Scott Hall were hell raisers, and what better way to make a name for yourself than take out the two top superstars in the WWE The Rock, and Stone Cold?
The NWO cost Austin his chance at becoming the Undisputed Champion at No Way Out during his match with Chris Jericho. Adding insult to injury, the NWO spray-painted 'The Texas Rattlesnake' with their brand logo just like they did in WCW. As you can imagine, Austin was pissed and out for revenge against the group and primarily Scott Hall.
Hall would challenge Stone Cold to a match at WrestleMania 18. Both superstars beat the living hell out of each other leading up to this highly-anticipated match for who runs the WWE.
The glass broke and Stone Cold made his iconic entrance, and black and white NWO covered Halls' entrance alongside Kevin Nash. With the odds stacked against 'The Toughest S.O.B' could Austin or NWO prove their dominance? Sadly the NWO  broke up that very night when Hulk Hogan came to the aid of his adversary The Rock after their 'iconic' dream match. Stone Cold would ensure the victory with the Stunner. Hall would perform an Oscar-worthy sell over the finisher.
What a time to be a wrestling fan in the 2000s when nothing was impossible for WWE. Who would've thought WCW would go out of business and Hogan would make his long-awaited return to WWE?
King's WrestleMania Rewind: Seth Rollins vs. Kevin Owens (WWE WrestleMania 36)
Chris King takes a look at the most underrated WWE WrestleMania matches, and starts off with Seth Rollins battling Kevin Owens at WrestleMania 36!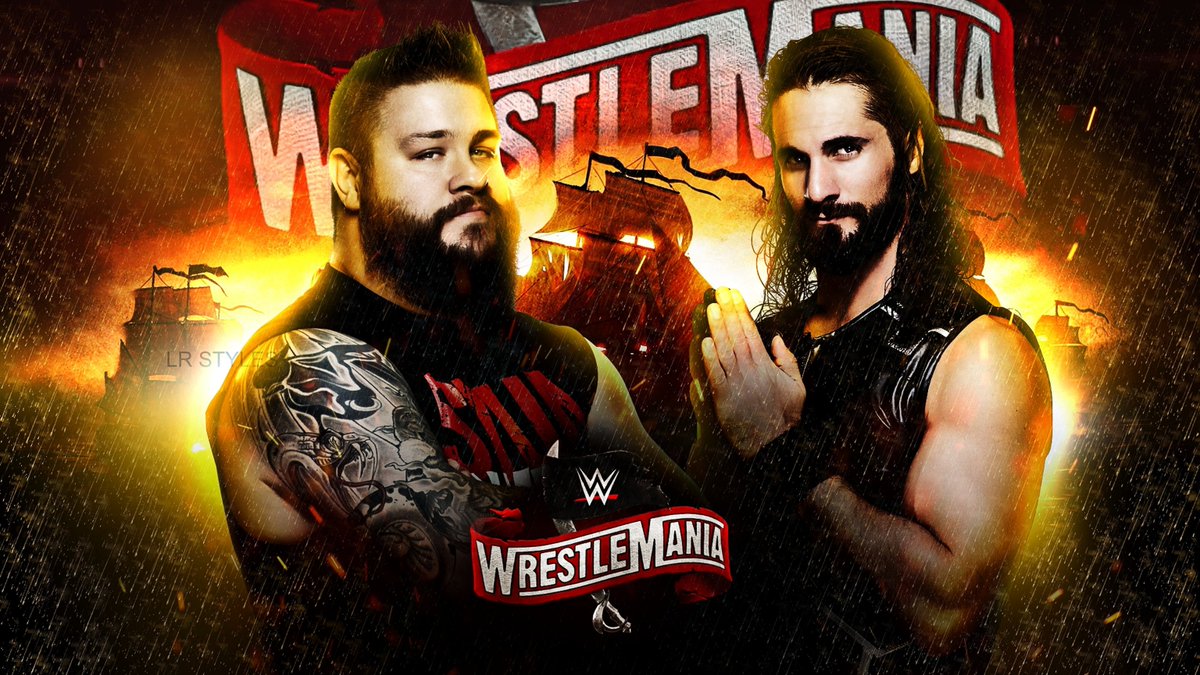 Chris King takes a look at the most underrated WWE WrestleMania matches, and starts off with Seth Rollins battling Kevin Owens in the WWE Performance Center at WrestleMania 36!
Chris King is starting a new series heading into WrestleMania season dubbed WrestleMania Rewind. Each week he'll be going back and sharing his insight over underrated matches at the Show of Shows. First up, is Kevin Owens vs. "The Monday Night Messiah" Seth Rollins at WrestleMania 36.
At the 2019 edition of Survivor Series, Rollins sacrificed himself during the men's traditional match allowing SmackDown to ultimately gain the victory. The following night the self-proclaimed Messiah, berated the whole roster but KO was not having any part of it. Owens quickly became a huge barrier in Rollins' cause for the greater good. The Authors of Pain attacked Owens with Rollins' character in question.
Owens finally had enough of his rival's mind games and torment and challenged Rollins to a match on the Grandest Stage Of Them All. Rollins mockingly accepted his challenge and the match was made official for night one of WrestleMania. Owens came out of the gate beating the holy hell out of the Monday Night Messiah trying to achieve his long-awaited moment at Mania but, Rollins tried to steal a disqualification victory by using the ring bell.
Owens hellbent on revenge provoked Rollins into turning their encounter into a no-disqualification contest where the fight could be taken all over the empty arena. The highlight of the match, was when KO used the WrestleMania sign to deliver a thunderous senton bomb through the announce table. Owens would secure the victory with a Stunner in an incredible match. Despite having no crowd during the pandemic era, both KO and Rollins put on an intense performance under the brightest lights.
In my personal opinion, this was a great feud that helped both superstars in their transformation as compelling characters for years to come.