5 WWE Superstars That Will Benefit Most From Live Crowds
With restrictions dropping and fans returning, Austin assess which WWE superstars would benefit from a return to live audiences!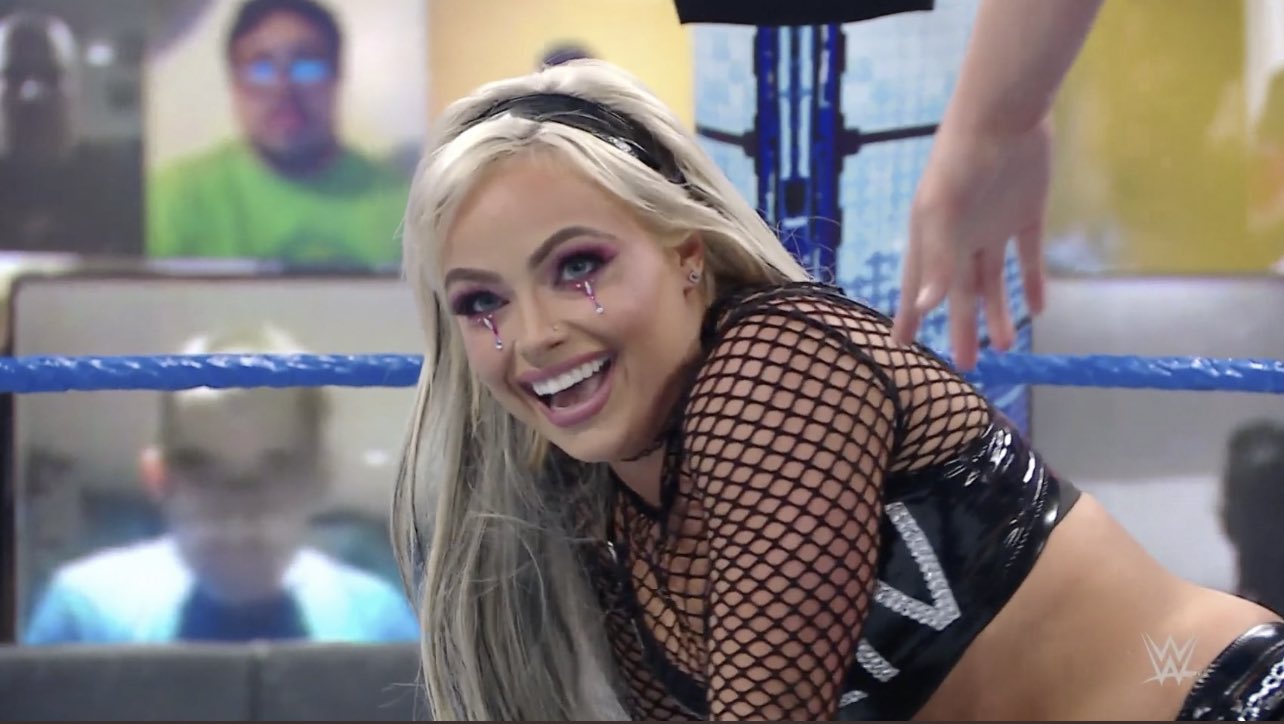 As professional wrestling approaches the final stretch of the pandemic era, the companies and their fans grow eager to get back on the road in front of live crowds. WWE Money in the Bank on July 18th, 2021 will be the first WWE show with live fans since WrestleMania 37 in April. Not only will MITB have a live audience, but it marks the beginning of the touring schedule and the end of the ThunderDome. 
In the time that WWE has spent in the ThunderDome, some superstars have thrived without fans in attendance. Certain talents such as Drew McIntyre and Roman Reigns have had the opportunity to perfect their craft and fine tune their character and mic skills for when crowds do return, and found great success at the top of the card in doing so. Other talents have suffered throughout the pandemic era with the lack of a live reaction giving WWE a gauge of where to go with the character. 
WWE has taken a chance on pushing some talent without an indication from the live crowds of whether they approve. Superstars such as Bobby Lashley and Riddle have flourished after being thrust into the upper card, and will likely be met with the reaction that creative is hoping for when crowds return. On the other hand, some superstars seem to have become an afterthought to the company with no direction, and could see their careers take a new trajectory when fans can let WWE know that they have something special and want a push. These are five WWE superstars that will benefit most from the return of live crowds. 
5. Eva Marie
Eva Marie is one of the most natural heels in wrestling, with fans disapproving of her from the beginning due to a lack of wrestling ability. Her character plays off of that, as she rarely wrestles and usually has someone else do her dirty work. Marie recently returned on Monday Night Raw with sidekick Piper Niven from NXT UK, now renamed as Doudrop. 
So far, Doudrop has been the one doing work and scoring the pins as Eva Marie announces after the match that she is the winner. Recent reports claim that Vince McMahon is all in on the Eva Marie/Doudrop storyline, and the merciless boos from the fans will likely be a green light for WWE to push Marie as a top heel. 
4. Shinsuke Nakamura
Shinsuke Nakamura has been coasting in WWE for some time now, with his number of matches and win percentage declining each year since his 2018 heel turn. Though he saw some mid-card title success as a heel, the two year run has felt unfulfilling and turned stale. Fans have adored Shinsuke ever since he appeared in NXT, so WWE asking fans to turn against one of the most beloved superstars in the company seemed like an odd choice.
Nakamura turned face once again in January 2021 after he nearly went the distance in a gauntlet match to determine a challenger for Roman Reigns. Shinsuke is now receiving a well-timed push as he finds himself on a three-match win streak and dethroning Baron Corbin for his King of the Ring crown. Along with the push, he has been paired with former NXT superstar Rick Boogs, acting as Shinsuke's personal guitarist and hype man. If Pat McAfee's dancing on the announce desk is any indication of fan reaction to the electric duo, expect the 41-year-old to see more success on Friday nights. 
3. Liv Morgan
Liv Morgan was in desperate need of some direction after the Riott Squad was brought to an end due to the release of long-time partner Ruby Riott. Morgan's career as a singles competitor looked to be off to a rocky start as her first match ended in a two-minute loss to Carmella on SmackDown. Since then, Morgan has tallied three wins in a row, defeating Carmella twice and Zelina Vega on her WWE return. 
Morgan will likely fill one of the two remaining spots for the women's MITB ladder match, where she will receive loads of support from the live audience. Don't be surprised to see the roof blow off the arena if Morgan is able to come away with the briefcase. She is one of the most talented in-ring competitors on the blue brand, and fans recognize it. 
2. Jeff Hardy
The Charismatic Enigma has seen little success in 2021, with the bulk of his recent work coming in the form of losses to lower mid-card talent on Main Event and Raw. He is fresh off of winning a lackluster feud with Cedric Alexander, but has recent losses to John Morrison and Jinder Mahal henchman Veer. Hardy is one of the most beloved superstars of all time, and although he's approaching 44 years of age, Jeff is still a great worker capable of entertaining both the older fans who grew up with him and a newer generation. 
Expect to hear some huge pops for the crowd when they get to watch Jeff Hardy live again. There's a buzz throughout the IWC of wanting him to have another world title program. While we may not get that, WWE could use another top babyface on Raw other than Drew McIntrye, and support from the crowd each week should show WWE that Hardy can be that guy. 
1. Elias
"WWE stands for… I SAID WWE STANDS FOR…"
It's no secret that Elias heavily relies on crowd interaction. Everything from prompting the crowd to shout "walk with Elias", telling them to shut their mouths, and insulting them during his songs, all for a huge pop when he is ultimately interrupted. These segments are always entertaining and make for a great addition to any show. 
With no crowd to feed off of, Elias has been lost. The ThunderDome has been rough for the drifter, with his highlights consisting of losing a feud with Jeff Hardy and being paired with (and split from) Jaxson Ryker. Elias hasn't seen a victory since the April 19th edition of Monday Night Raw, and has been given the unfortunate task of putting over Ryker, losing every match involving the two. With Elias once again having the opportunity to insult every city he visits and being met with crowd feedback, he could return to the upper mid-card before too long. 
King's WrestleMania Rewind: Eddie Guerrero vs. Rey Mysterio (WrestleMania 21)
In the next WrestleMania Rewind, Chris King takes us back to WWE WrestleMania 21, and Rey Mysterio vs Eddie Guerrero in a battle of tag team champions!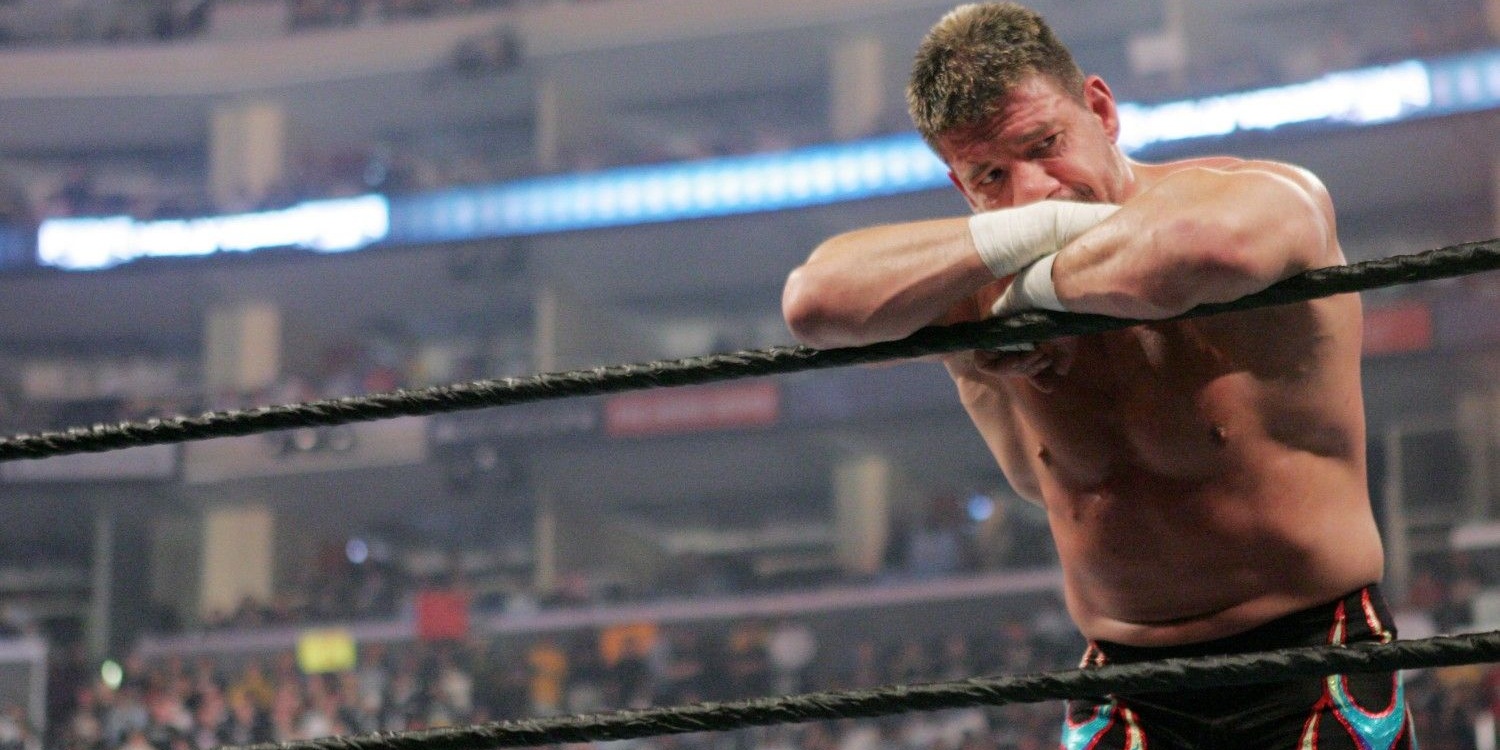 In the next WrestleMania Rewind, Chris King takes us back to WWE WrestleMania 21, and Rey Mysterio vs Eddie Guerrero in a battle of tag team champions!
Chris King is back with his third edition of WrestleMania Rewind. This week he's bringing us back to some 'Latino Heat.' We're rolling back to WrestleMania 21 where Eddie Guerrero faced longtime friend and rival Rey Mysterio.
This would be Guerrero's last Mania match caused by his unfortunate death. Over on SmackDown, Mysterio and Guerrero would become the tag team champions at No Way Out where they defeated MNM.
Chavo Guerrero would get into the head of Latino Heat by making him believe Mysterio was trying one-up his tag team partner. Chavo went as far as to tell his uncle to stop using the Guerrero name.
Guerrero would finally give in to his nephew's manipulation and went on to challenge Mysterio to a one-on-one match at WrestleMania 21. I For the first time in history, both tag team champions would face each other. Guerrero vs. Mysterio was the first match on the stacked card. Both partners threw everything at each other including the kitchen sink in a battle of one-up-manship.  In an incredible high-octane match that saw both superstars delivering counter for counter, Mysterio pulled off the win with a surprise pin roll up.
A few months later, what once was a friendly battle turned into a nasty fight involving the custody of Mysterio's real-life son Dominik Mysterio. After several torturous weeks, both former tag team champions would face off in a ladder match with the custody of Dominick on the line. I forgot how amazing this rivalry was and it's definitely worth a watch. Sadly, we would lose Latino Heat in November of 2005. There will never be another Eddie Guerrero. Viva La Raza!
King's WrestleMania Rewind: Stone Cold VS. Scott Hall (WrestleMania X8)
Chris King is back with another WrestleMania Rewind, looking at the NWO's Scott Hall battling Stone Cold Steve Austin at WWE WrestleMania X8 from Toronto!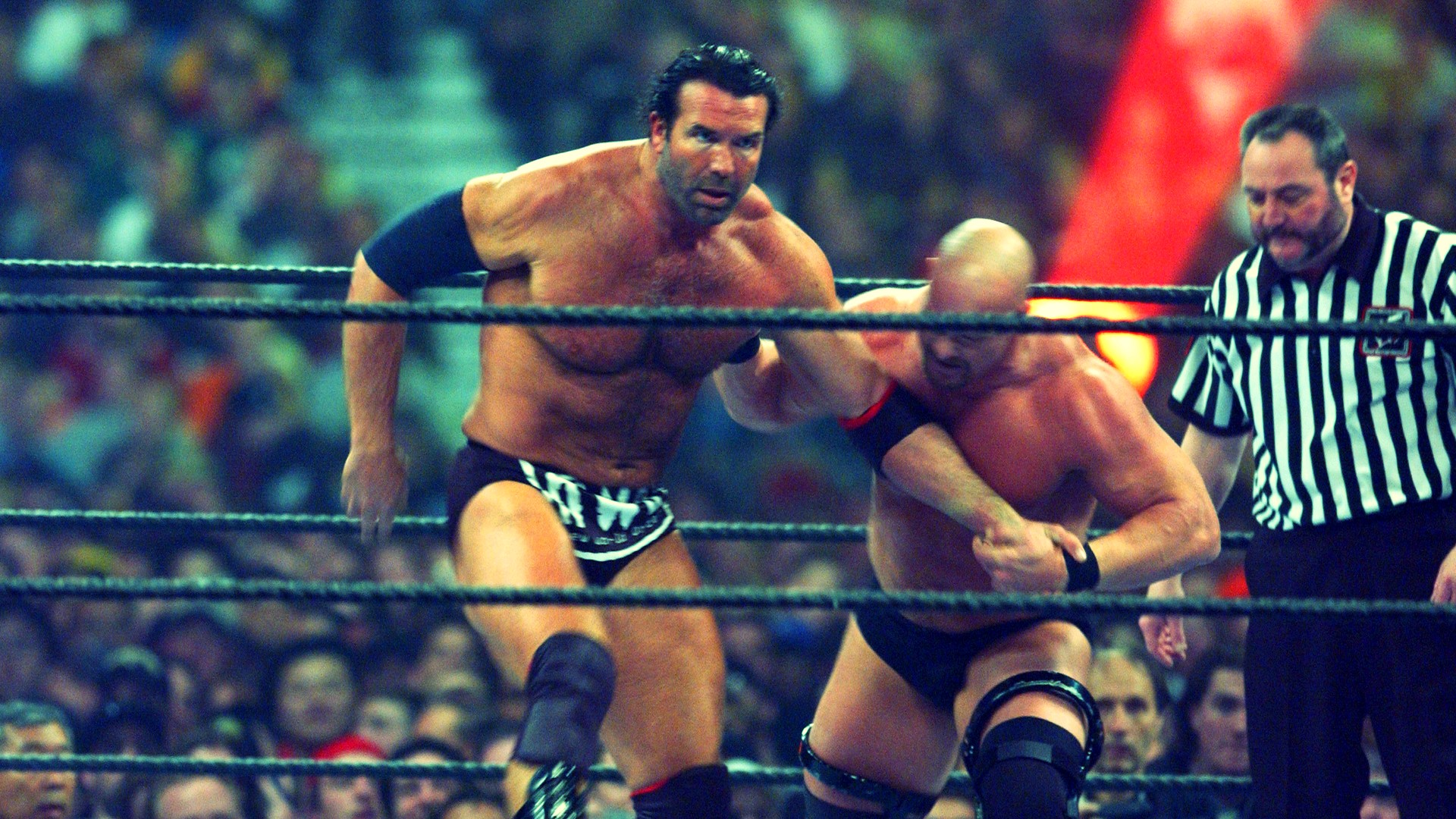 Chris King is back with another WrestleMania Rewind, looking at the NWO's Scott Hall battling Stone Cold Steve Austin at WWE WrestleMania X8 from Toronto!
Chris King is back this week with another edition of WrestleMania Rewind, where he is rewatching all the past Mania matches and feuds. This week you're in for a treat as we look back at 'Stone Cold' Steve Austin vs. Scott Hall at WrestleMania X8.
In late 2001, Vince McMahon bought out his competition WCW and acquired the rights to a plethora of talent including Booker T, Eddie Guerrero, Chris Benoit, and the iconic trio known as NWO. Hulk Hogan; Kevin Nash, and Scott Hall were hell raisers, and what better way to make a name for yourself than take out the two top superstars in the WWE The Rock, and Stone Cold?
The NWO cost Austin his chance at becoming the Undisputed Champion at No Way Out during his match with Chris Jericho. Adding insult to injury, the NWO spray-painted 'The Texas Rattlesnake' with their brand logo just like they did in WCW. As you can imagine, Austin was pissed and out for revenge against the group and primarily Scott Hall.
Hall would challenge Stone Cold to a match at WrestleMania 18. Both superstars beat the living hell out of each other leading up to this highly-anticipated match for who runs the WWE.
The glass broke and Stone Cold made his iconic entrance, and black and white NWO covered Halls' entrance alongside Kevin Nash. With the odds stacked against 'The Toughest S.O.B' could Austin or NWO prove their dominance? Sadly the NWO  broke up that very night when Hulk Hogan came to the aid of his adversary The Rock after their 'iconic' dream match. Stone Cold would ensure the victory with the Stunner. Hall would perform an Oscar-worthy sell over the finisher.
What a time to be a wrestling fan in the 2000s when nothing was impossible for WWE. Who would've thought WCW would go out of business and Hogan would make his long-awaited return to WWE?