Bodeen's Top 5 Moments: WWE SmackDown (7/10/21)
SmackDown had a debut as well as intrigue about how they were handling a certain real life issue. Check out to see what made Bodeen's short list!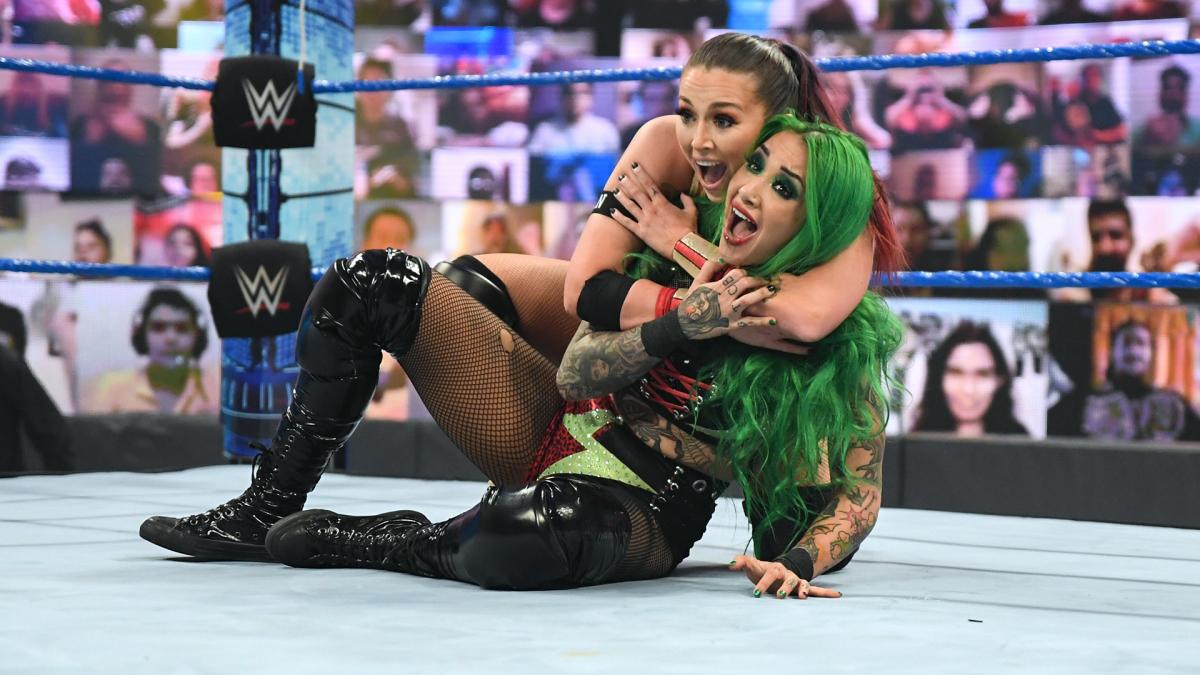 WWE would have their final episode of SmackDown inside the ThunderDome this week, as they get ready to return to the road and live crowds starting from next week. While some parts of SmackDown didn't hit right, the final SmackDown from the Thunderdome was a great showing and was a solid way for the blue brand to go out. So as he start to get ready for live crowds to return next week for the first time since WrestleMania let's take a look at the top 5 moments from SmackDown this week.
5. Shinsuke Nakamura and Baron Corbin go head to head once again  
Shinsuke Nakamura and Baron Corbin would once again get a chance to go one on one this week as both men faced each other for a spot in the Money In The Bank match this Sunday with Big E watching from ringside, joining the commentary team. Corbin would try to get the early advantage over his recent rival, attacking Shinsuke as he was making his entrance with Rick Boogs separating Corbin before Corbin to do any real damage. Corbin dominated early in the match, holding down The King Of Strong Style but a kick and a sliding knee from Shinsuke would turn the tides, giving Shinsuke a two count.
During the match, Big E and Pat Mcafee made several jokes about Baron Corbin's hairline with Corbin getting a sense of revenge by slamming Nakamura with a brainbuster on the announce table in front of Mcafee and Big E, despite some fightback from Shinsuke, Baron hit Deep Six on Shinsuke but would only get a close 2 call. A furious Corbin tried to hit Shinsuke with ground and pound strikes, with Shinsuke reversing the strikes with a triangle choke as Corbin was just able to put his foot on the bottom rope, forcing Shinsuke to break the hold, however, it would just delay the inevitable and Shinsuke was able to hit Corbin with the Kinshasa, shortly after with the pinfall victory, putting The King Of Strong Style in the Money In The Bank match this Sunday.
This was a solid match between the two with Corbin and Shinsuke working extremely well together once again, despite the fact they have had multiple matches on SmackDown. Shinsuke's recent small push has been great to see and hopefully, it will lead to more success in the future. Shinsuke's recent pairing with Rick Boogs has also been great to see as both men have great chemistry and charisma working together. Corbin's recent series of losses and back luck has also been a fun story to watch and it would be great to see if WWE has a long term plan for this. A special shoutout also has to be given to Big E and Pat Mcafee on commentary as their high level of energy and fun was great to see with both men bouncing well of each other.
4. Shotzi and Nox shock the Women's Tag Team Champions, Natalya and Tamina 
Fans would be treated to a surprise debut on SmackDown this week as Shotzi and Nox made their SmackDown debut, taking on the Woman's Tag Team Champions, Natalya and Tamina in a non-title match. Before the match, Natalya and Tamina cut a promo on their mystery challengers with Shotzi's theme cutting the champion's off as Nox and Shotzi made their entrance in Shotzi's trademark tank, shooting a rocket at the tag team champion, nearly hitting Tamina's face in the process.
Natalya would hold her own against Shotzi and Nox in the early section of the match, but Shotzi and Nox would use the numbers game against Natalya, hitting several double team moves on her. Shotzi finished things off with a cannonball, forcing Tamina to make the save and break up the pin as Natalya was able to tag Tamina in the match with Tamina turning the tides, taking out Nox and Shotzi with Natalya tagging herself in and launching Shotzi into a superkick from Tamina. Just as things seemed to be in hand for Natalya and Tamina, Nox came in and took out Tamina, allowing Shotzi to recover and take out Natalya with a clothesline with Shotzi following it up with a Ball Pit senton for the pin to get a huge non-title win with both women celebrating their massive win as the Champions look disappointed from the floor.
While it is disappointing that WWE has removed Shotzi's last name and Nox's first name it is still great to see both women making an appearance on SmackDown. Both women are extremely talented and Shotzi has great charisma and will be fun to watch as she has shown to be a great interaction with live crowds. It will be interesting to see how this affects NXT as Nox recently made her return to confront Candice LeRae after being out for months with a knee injury. It will also be interesting to see how this new partnership affects Shotzi's current partnership with Ember Moon and what will happen to Moon in NXT, now that she no longer has her tag team partner by her side.
3. Jey Uso returns as the bloodline are back together  
SmackDown would open this week with a segment that would make Dom Toretto proud as Roman Reigns, brought back Jey Uso, reuniting the Bloodline once again. After a video package that showed Edge attacking Jimmy Uso with Roman Reigns being nowhere to be found. Roman would make his entrance with Paul Heyman, telling Jimmy Uso to wait to the locker room for Reigns later in the night. After his entrance, Roman would get on the mic and address his win over Edge and Daniel Bryan at WrestleMania 37, Roman would then talk about family with Jimmy Uso's theme music cutting off The Tribal Chief with Jimmy Uso calling out Roman for not being in Jimmy's corner last week, stating that Reigns was on vacation.
Reigns responded calmly, telling Jimmy that  if anyone earned a vacation, it's him, but he doesn't take them. He was busy doing what Jimmy couldn't do as the Uso's theme hit once again as Jey Uso made his return to SmackDown. Jey would grab the mic telling Jimmy he was ready to join his brother once again and chase the SmackDown Tag Team Titles with Reigns stating that he wanted this all along for his family. All three men would embrace each other in the ring as The Universal Champion looked proud.
This was a great segment to open SmackDown this week. While long promo segments can kill a show before it even starts, with Monday Night RAW usually being the biggest of this, SmackDown's opening promos with Roman Reigns and The Usos are exciting to see every week. Not only do they do a great job in setting up matches or segments for later in the night, but each segment also adds a little more to the story between Reigns and his family as Roman's time as Universal Champion continues to become better with each passing appearance. Hopefully, the return of live crowds can add to this and really establish Roman as one of the best heels in recent wrestling history.
2. Edge sends a huge message to Roman Reigns   
After Roman reunited his family earlier in the show Edge would call out The Universal Champion with The Rated-R-Superstar talking about his actions last week when he attacked Jimmy Uso and put him in a Crossface with the steel chair leg. Before Roman, would come out he would tell Jimmy and Jey Uso to stay behind in the locker room with as the Universal Champion slowly walked to the ring, making Edge wait. After Roman made his entrance, The Usos theme music would play as Reigns looked disappointed. Reigns would tell his family to stay back as he entered the ring, with Edge and Roman locking eyes before eventually attacked each other.
Before any man could get the upper hand, Rey and Dominik Mysterio would attack the Usos on the apron with steel chairs as chaos unfolded. The Usos would superkick Rey as Edge got the upper hand in the ring over Roman. The Uso would try to double team Edge, but the Mysterios would come back in the ring to save Edge with Dominik Mysterio hitting a double 619 on Jimmy and Jey with Edge finishing things with a spear on Jey as Roman retreated to the stage The Rated-R-Superstar would bring out his unhinged side as he once again grabbed a steel chair and ripped the leg off and applied a Crossface on Jey Uso as Roman had no choice but to watch his cousin get destroyed by Edge. Edge would continue his assault on Jimmy and Jey Uso, screaming out to Roman ahead of their match at Money In The Bank, with the final episode of SmackDown ending with Roman Reigns walking away from his family while they were being destroyed by an unhinged Edge.
This was an amazing segment and a great way to finish the show. Despite having to fill in 15 minutes the segment was great to watch from start to finish, with Roman's slow walk to the ring helping build tension ahead of his confrontation with Edge, with Roman also looking strong, telling his cousins to stay back so he can fight Edge one-on-one. Rey and Dominik Mysterio coming out to save Edge was a nice way to set up a feud with the Mysterios and The Usos with both teams having the ability to put on a classic tag team match if they face the Mysterios at Money In The Bank this Sunday.
1, Seth Rollins goes to war with Cesaro for a spot in the Money In The Bank match. 
Seth Rollins and Cesaro would once again go to war this week, with both men putting on another amazing match as they continue to bring out the best in each other as they tried to compete with the last vacant spot in the Money In the Bank match this Sunday, with Kevin Owens looking on, joining the commentary team. Both men would go back and forth throughout the early part of the match as they tried to look for an opening with Cesaro getting the first bit of momentum hitting Rollins with a crossbody for a close 2 count and continuing to stay on him, forcing Rollins out of the ring.
Both men would go back and forth throughout the match, trading counters and strikes with neither man able to get the upper hand for too long. However, things would go downhill for the Swiss Superman after Rollins sent him face-first into an exposed turnbuckle causing Cesaro to bleed. Despite his best attempts to get back into the match, including escaping a count-out after Rollins hit a DDT on the steel ramp, Cesaro would lose to Rollins after Rollins reversed the sharpshooter to hit The Stomp on a bloody Cesaro, qualifying Rollins for the Money In The Bank match this Sunday.
This was an amazing match as both men once again delivered and put on an amazing final match for SmackDown inside the Thunderdome. Despite losing, Cesaro looked strong in the match, pushing Rollins to his limits and fighting through his injury from the exposed turnbuckle. Hopefully, WWE, continue to see the value of The Swiss Superman and don't suddenly drop his recent push as his match with Roman Reigns for the Universal Championship at WrestleMania Backlash proved that he was main event material, especially now that he has worked on his promo skills and can cut solid promos.
These were my top 5 moments from SmackDown this week. What were your top 5 moments from the blue brand this week and how excited are you to see the return of live crowds starting next week? Let us know in the comments section down below
Cook's NXT War Games 2021 Gambling Picks
Everyone might not love NXT 2.0, but we all love money! Cook brings us the gambling picks for WarGames just in case anyone wants to roll the dice on making some cash.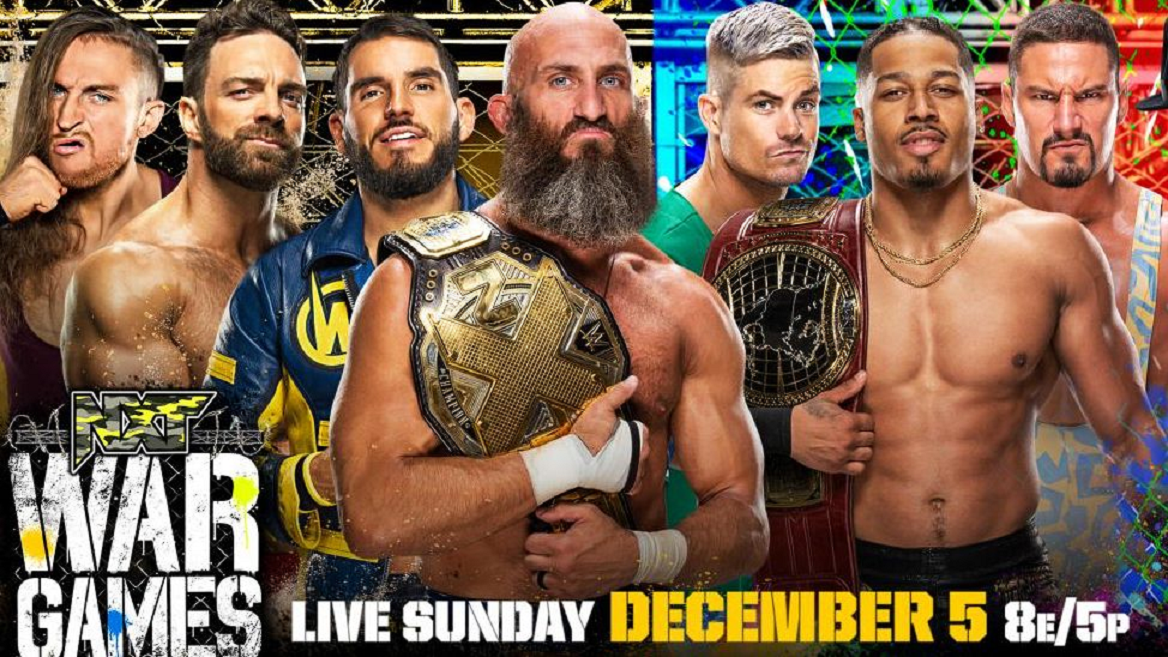 NXT is presenting their first Network special of the 2.0 era today. It's the first non-TakeOver special in quite sometime, as NXT starts a new era with the latest edition of War Games. We'll see lot of experienced talent taking on some not-so-experienced talent. Should be interesting, and it could be even more interesting if you want to put your money where your mouth is!
Odds provided by BetOnline
Hair vs. Hair
Cameron Grimes (-120) vs. Duke Hudson (-120)
Step 1: Shave Duke bald

Step 2:To the moon! @WWENXT @WWE https://t.co/lA8V9Bp5TJ

— Cameron Grimes (@CGrimesWWE) December 1, 2021
Grimes is one of those guys who can excel in most environments you put him in. Whether it's the Old or the New NXT, he fits in quite well doing what he does. I'm honestly not too familiar with Duke Hudson outside of his work here in NXT, but apparently he was a big deal in his native country of Australia. We all know that Australians are taking over the wrestling world, so it's tough to bet against Hudson being a big deal here in America eventually. Especially since he's got the billed height & weight that WWE wants out of its Superstars.
So if you're asking me who has the brighter future with this company, I would say "Duke Hudson". If you're asking me who needs their hair more, I would say "Cameron Grimes". Hudson's look might benefit from a trim, so expect Cameron Grimes to take it to the moon.
Men's War Games Match
Bron Breakker, Carmelo Hayes, Grayson Waller & Tony D'Angelo (-200) vs. Tommaso Ciampa, Johnny Gargano, Pete Dunne & LA Knight (+150)
EXCLUSIVE: @NXTCiampa, @JohnnyGargano, @PeteDunneYxB and @LAKnightWWE don't need any advantage as they have thrived in #WWENXT as underdogs. #NXTWarGames pic.twitter.com/j27TmqARyj

— WWE NXT (@WWENXT) December 1, 2021
It's New School vs. Old School, 2.0 vs. Black & Gold or whatever fun names you want to give these teams meant to signify the different eras of NXT. Ciampa & Gargano have been two of NXT's top stars for most of the past several years. Dunne ran things over in the UK. LA Knight…well, he isn't exactly one of the top names in NXT's history, but he's an established veteran that NXT fans know from other places. He's been around a while, while these young whipper-snappers haven't.
Of course, the idea of this match is to make a young whipper-snapper or two. Bron seems to be the chosen one, so I'd be shocked if he wasn't beating somebody into submission or oblivion to end this thing. Most likely Gargano since he's the one that has an expiring contract. Team 2.0 should get the win here. Keep an eye on Ciampa here though. I feel like they want him to be the heel against Bron, and a good way to do that would be to have Ciampa beat up Gargano after the match. You know, to give his DIY partner a proper send-off.
NXT Tag Team Championship Match
Imperium (-200) vs. Kyle O'Reilly & Von Wagner (+150)
.@FabianAichner & @Marcel_B_WWE, @KORcombat & @WWEVonWagner will see YOU, and your #WWENXT #TagTeamTitles, at #NXTWarGames! pic.twitter.com/L0zBh3F12s

— WWE (@WWE) December 1, 2021
Another one of those matches where contract issues have to be considered. Nobody would really think of KOR & Von as a long-term team under normal circumstances. Since Kyle's contract comes up sometime this month, we can go ahead and assume that tag team isn't lasting past…this match? Sounds about right to me.
Imperium wins. Also, I don't get Von Wagner's name. He sounds like he should be part of Imperium but he's actually from Minnesota.
NXT Cruiserweight Championship Match
Roderick Strong (-185) vs. Joe Gacy (+140)
I see that the NXT universe has decided to weight shame me. This is why I'm doing what I am doing!

After @WWENXT #wargames we can all live in a world where weight limits are no longer barriers and WE together can do anything. Trust me 🙂✌️

— Joe Gacy (@JoeGacy) November 24, 2021
Joe Gacy is tired of your bodyshaming. I must say, as one that has had difficulty with their weight and been bodyshamed by my peers on countless occasions, I understand where he's coming from. Part of me wants him to beat Rod Strong and claim the Cruiserweight Championship for all of us who have been discriminated against just because we eat a little more than the average person. Then the other part of me thinks that Rod Strong is a much better professional wrestler and deserves to have a title belt around his skinny waist. So it's a tough call.
When in doubt, I go with the guy getting the push. Sure, the Diamond Mine has been getting some TV time, but Gacy's doing what Vince & Bruce want, getting some attention from the lamestream Fox media. Roll with the underdog here, and if you're one of those people whining about Joe Gacy not weighing 205 or under…be thankful that he hasn't targeted the Women's Championship in his crusade against barriers.
Women's War Games Match
Raquel Gonzalez, Io Shirai, Cora Jade & Kay Lee Ray (-125) vs. Toxic Attraction & Dakota Kai (-115)
As you know madness is like gravity… all it takes is a little push. #Champ #WWENXT pic.twitter.com/0mZ0QBK0DL

— Mandy (@WWE_MandyRose) December 1, 2021
Toxic Attraction has been one of the focal points of NXT 2.0. It's not the worst idea they've ever had. Mandy Rose, Gigi Dolin & Jacy Jayne have a lot going for them. It's tough to take your eyes off of them for too long. I think we can all agree they're pretty great…until the bell rings. Then things are a bit more debatable. War Games isn't exactly a match you would expect them to fare well in, which has led to much complaining over their inclusion in this match.
Thing is, that's part of the reason to be interested in this match. We don't know how Toxic Attraction will fare. We figure Dakota Kai knows what's up. Certainly, the likes of Io Shirai, Kay Lee Ray & Raquel Gonzalez will be just fine. Cora Jade? Well, she's a youngster, but War Games seems like something she'd be into. Perhaps our worrying is for nothing, and Toxic Attraction are at least as ready for this thing as we presume Cora Jade is. I'm willing to give it a chance.
As for a winner, the non-Toxic Attraction team is the way to go here, ideally setting up a challenger for Mandy's championship.
News From Cook's Corner 11.29.21: Turkey Hangover
Holidays and wrestling go hand in hand, but what kind of news popped up? Cook brings us his favorite headlines of the week!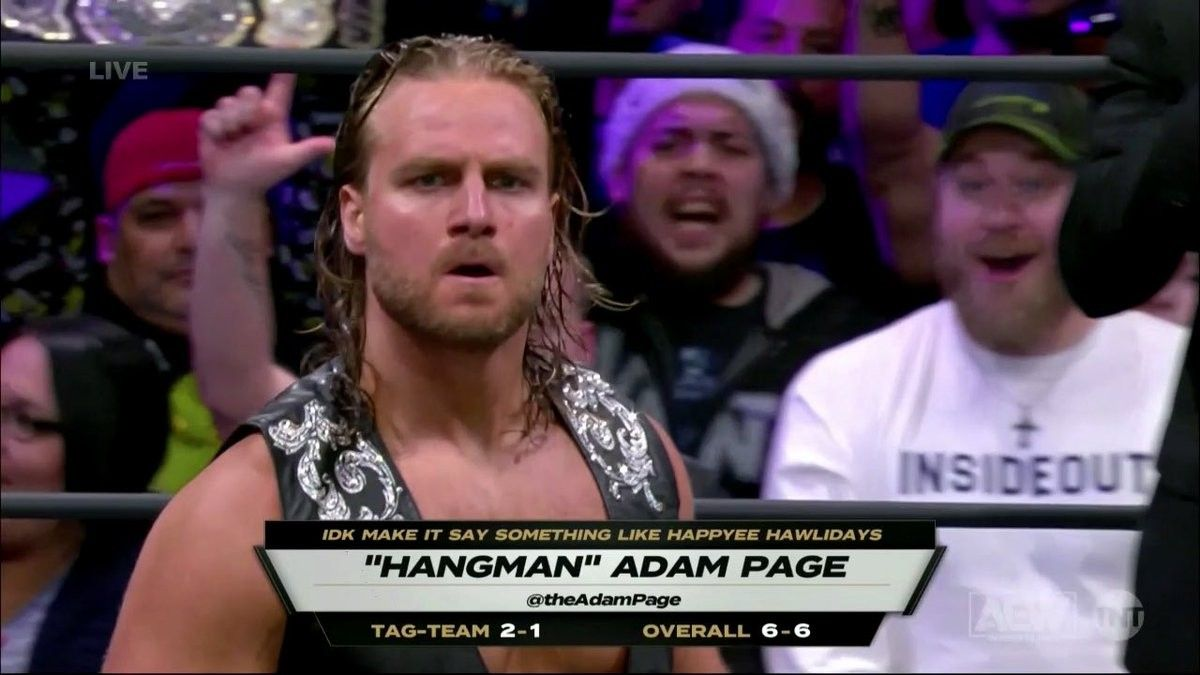 Hi, hello & welcome to News From Cook's Corner! I'm Steve Cook, and it looks like it was a pretty quiet week as far as wrestling news goes. Nobody got fired, for one thing. Most of us went home and gorged ourselves on turkey. We watched tons & tons of football. The Bengals beat the Steelers by 31 points. Louisville lost to Kentucky by 31 points, so things pretty much evened out for me. Things tend to.
The wrestling news cycle this weekend consisted of wrestlers throwing out crazy things they want to happen. Big E wants the Undertaker to dance with New Day. Ric Flair wants to wrestle Sammy Guevara in Israel. I want a million bajillion dollars. Not much we can do with any of that.
Big week coming up though!
Well, maybe. BetOnline hasn't posted any NXT WarGames matches yet, so we'll have to keep an eye on that as a potential column goes. There is some interesting news regarding that, as Johnny Gargano signed a week-long contract extension so he could work that show. We've seen that recently with people like Adam Cole, signing short-term contract extensions so they can finish their business with the company. Gargano's wife Candice LeRae's contract expires in May 2022, but one wonders if they would extend her contract due to her missing time with her pregnancy. Maybe this doesn't become an issue and they both stay with WWE, most likely as part of NXT helping the young kids learn.
I assume AEW would be an option for Gargano & LeRae given their connection with the Young Bucks back in the day. That men's roster's kinda crowded though, so it's tough to say which would be the better option for fans of Johnny's work.
Who says WWE Superstars don't get heat anymore?
Probably the most newsworthy thing to happen on WWE television this week was Seth Rollins getting attacked by a fan on Monday's Raw episode. Rollins was backing away from the ring after beating up Finn Balor when a fan managed to enter from stage right, run down and tackle Rollins in the entranceway.
This angle of the "fan" attacking Seth Rollins from @kash_vL is pretty crazy

— Chris Van Vliet (@ChrisVanVliet) November 23, 2021
Who was this guy, anyway? Elisah Spencer is a 24 year old from Red Hook. No word on whether he's friends with Hook or not. He was a big Seth Rollins fan at some point, and met him a few years ago and felt a connection. So he tried to get in touch with Rollins on social media, since apparently that's where people talk to wrestlers. Turns out, the person he thought was Seth Rollins was actually a scammer, and got Spencer to spend $3,000 on WWE gift cards & tickets. Spencer's girlfriend at the time (who I'm sure was a really perceptive invividual) ended up getting arrested when she tried to pay for the tickets with a bad check.
So there was a beef there. Somehow this all turned into a situation where Goldberg & Vince McMahon booked Spencer to be there, while keeping it a secret from Rollins. Apparently he's also related to Roman Reigns, Rikishi, the Rock and the rest of the Bloodline, and he did it for them. Big Finn Balor fan now too.
Spencer was charged with attempted assault and an "attempted violation of arts and cultural affairs". So there you have it, the answer to the debate of whether or not pro wrestling is art.
AAA MegaChampionship Update!
Last week in this column we mentioned how Kenny Omega wouldn't be able to defend AAA's top championship at their upcoming TripleMania Regia event due to various injuries he's taking time off for. Shortly afterward, AAA announced that the MegaChampionship would be vacated, and a new champion would be determined at TripleMania Regia in a five-way. Why a five-way? Honestly, I have no idea. For all I know, El Santo used to compete in five-ways all the time back in the day. Maybe there were five Aztec coins. Don't know.
I do know the five men scheduled to compete for this thing: El Hijo del Vikingo, Samuray del Sol, Jay Lethal, Bobby Fish & Bandido. Vikingo was originally scheduled to challenge for the championship, so that makes sense. Bandido is an interesting addition since he's ROH Champion and hasn't competed for AAA since 2018. His ROH deal is up soon though, and we're not exactly bullish on the future of that promotion. Back in 2012 when SdS was working the indies, AAA brought him in and repackaged him as Octagon Jr.. Octagon Jr. was originally intended to feud with another debuting wrestler patterned after a name from AAA's past: Pentagon Jr.. That didn't last too long, as SdS had a pretty busy schedule even before signing with WWE and didn't have time to make AAA shows.
Neither Jay Lethal nor Bobby Fish have competed in AAA. They are the foreign talent brought in to generate interest. We'll find out if they do, as FITE is offering part of this card on their website for $19.99. This seems to indicate that the lawsuit with the Lucha Underground folks has been settled to some extent. Or AAA is hoping they can pull this off without anybody noticing. It would be nice to have AAA readily available here in the US again, or at least some type of lucha libre show with solid production values.
The most recent Young Bucks Twitter bio update let us know that their contract with AEW has rolled over. The Bucks will be with the company until at least 2024, which comes as little surprise to most of us. WWE isn't going to make them Executive Vice Presidents, nor feature tag team wrestling in any kind of meaningful way. As awesome as RK-Bro vs. Young Bucks matches would surely be, we'll have to wait until 2024 before we see them.
The Bucks celebrated by taking the week off from Being the Elite. Understandable, especially since I don't think they made last week's taping.
Welp, that's all we have time for this week. Darn turkey's still making me sleepy. Thanks for reading, and until next time, keep your stick on the ice.