Bodeen's Top 5 Moments: WWE SmackDown (7/10/21)
SmackDown had a debut as well as intrigue about how they were handling a certain real life issue. Check out to see what made Bodeen's short list!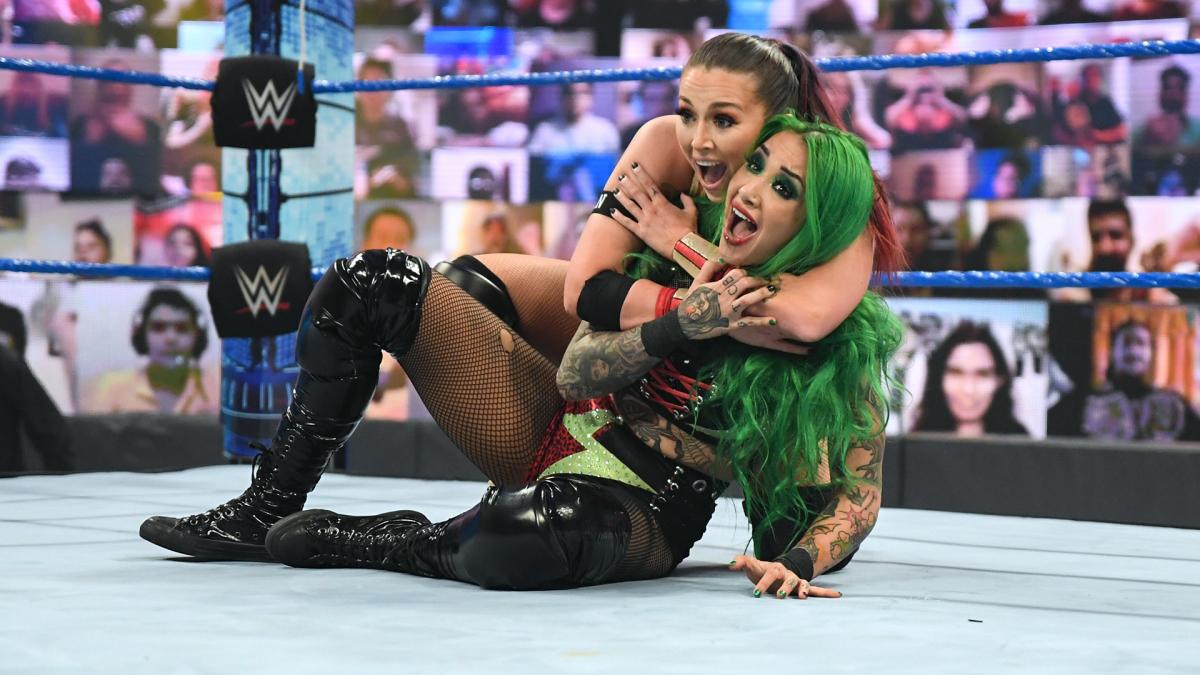 WWE would have their final episode of SmackDown inside the ThunderDome this week, as they get ready to return to the road and live crowds starting from next week. While some parts of SmackDown didn't hit right, the final SmackDown from the Thunderdome was a great showing and was a solid way for the blue brand to go out. So as he start to get ready for live crowds to return next week for the first time since WrestleMania let's take a look at the top 5 moments from SmackDown this week.
5. Shinsuke Nakamura and Baron Corbin go head to head once again  
Shinsuke Nakamura and Baron Corbin would once again get a chance to go one on one this week as both men faced each other for a spot in the Money In The Bank match this Sunday with Big E watching from ringside, joining the commentary team. Corbin would try to get the early advantage over his recent rival, attacking Shinsuke as he was making his entrance with Rick Boogs separating Corbin before Corbin to do any real damage. Corbin dominated early in the match, holding down The King Of Strong Style but a kick and a sliding knee from Shinsuke would turn the tides, giving Shinsuke a two count.
During the match, Big E and Pat Mcafee made several jokes about Baron Corbin's hairline with Corbin getting a sense of revenge by slamming Nakamura with a brainbuster on the announce table in front of Mcafee and Big E, despite some fightback from Shinsuke, Baron hit Deep Six on Shinsuke but would only get a close 2 call. A furious Corbin tried to hit Shinsuke with ground and pound strikes, with Shinsuke reversing the strikes with a triangle choke as Corbin was just able to put his foot on the bottom rope, forcing Shinsuke to break the hold, however, it would just delay the inevitable and Shinsuke was able to hit Corbin with the Kinshasa, shortly after with the pinfall victory, putting The King Of Strong Style in the Money In The Bank match this Sunday.
This was a solid match between the two with Corbin and Shinsuke working extremely well together once again, despite the fact they have had multiple matches on SmackDown. Shinsuke's recent small push has been great to see and hopefully, it will lead to more success in the future. Shinsuke's recent pairing with Rick Boogs has also been great to see as both men have great chemistry and charisma working together. Corbin's recent series of losses and back luck has also been a fun story to watch and it would be great to see if WWE has a long term plan for this. A special shoutout also has to be given to Big E and Pat Mcafee on commentary as their high level of energy and fun was great to see with both men bouncing well of each other.
4. Shotzi and Nox shock the Women's Tag Team Champions, Natalya and Tamina 
Fans would be treated to a surprise debut on SmackDown this week as Shotzi and Nox made their SmackDown debut, taking on the Woman's Tag Team Champions, Natalya and Tamina in a non-title match. Before the match, Natalya and Tamina cut a promo on their mystery challengers with Shotzi's theme cutting the champion's off as Nox and Shotzi made their entrance in Shotzi's trademark tank, shooting a rocket at the tag team champion, nearly hitting Tamina's face in the process.
Natalya would hold her own against Shotzi and Nox in the early section of the match, but Shotzi and Nox would use the numbers game against Natalya, hitting several double team moves on her. Shotzi finished things off with a cannonball, forcing Tamina to make the save and break up the pin as Natalya was able to tag Tamina in the match with Tamina turning the tides, taking out Nox and Shotzi with Natalya tagging herself in and launching Shotzi into a superkick from Tamina. Just as things seemed to be in hand for Natalya and Tamina, Nox came in and took out Tamina, allowing Shotzi to recover and take out Natalya with a clothesline with Shotzi following it up with a Ball Pit senton for the pin to get a huge non-title win with both women celebrating their massive win as the Champions look disappointed from the floor.
While it is disappointing that WWE has removed Shotzi's last name and Nox's first name it is still great to see both women making an appearance on SmackDown. Both women are extremely talented and Shotzi has great charisma and will be fun to watch as she has shown to be a great interaction with live crowds. It will be interesting to see how this affects NXT as Nox recently made her return to confront Candice LeRae after being out for months with a knee injury. It will also be interesting to see how this new partnership affects Shotzi's current partnership with Ember Moon and what will happen to Moon in NXT, now that she no longer has her tag team partner by her side.
3. Jey Uso returns as the bloodline are back together  
SmackDown would open this week with a segment that would make Dom Toretto proud as Roman Reigns, brought back Jey Uso, reuniting the Bloodline once again. After a video package that showed Edge attacking Jimmy Uso with Roman Reigns being nowhere to be found. Roman would make his entrance with Paul Heyman, telling Jimmy Uso to wait to the locker room for Reigns later in the night. After his entrance, Roman would get on the mic and address his win over Edge and Daniel Bryan at WrestleMania 37, Roman would then talk about family with Jimmy Uso's theme music cutting off The Tribal Chief with Jimmy Uso calling out Roman for not being in Jimmy's corner last week, stating that Reigns was on vacation.
Reigns responded calmly, telling Jimmy that  if anyone earned a vacation, it's him, but he doesn't take them. He was busy doing what Jimmy couldn't do as the Uso's theme hit once again as Jey Uso made his return to SmackDown. Jey would grab the mic telling Jimmy he was ready to join his brother once again and chase the SmackDown Tag Team Titles with Reigns stating that he wanted this all along for his family. All three men would embrace each other in the ring as The Universal Champion looked proud.
This was a great segment to open SmackDown this week. While long promo segments can kill a show before it even starts, with Monday Night RAW usually being the biggest of this, SmackDown's opening promos with Roman Reigns and The Usos are exciting to see every week. Not only do they do a great job in setting up matches or segments for later in the night, but each segment also adds a little more to the story between Reigns and his family as Roman's time as Universal Champion continues to become better with each passing appearance. Hopefully, the return of live crowds can add to this and really establish Roman as one of the best heels in recent wrestling history.
2. Edge sends a huge message to Roman Reigns   
After Roman reunited his family earlier in the show Edge would call out The Universal Champion with The Rated-R-Superstar talking about his actions last week when he attacked Jimmy Uso and put him in a Crossface with the steel chair leg. Before Roman, would come out he would tell Jimmy and Jey Uso to stay behind in the locker room with as the Universal Champion slowly walked to the ring, making Edge wait. After Roman made his entrance, The Usos theme music would play as Reigns looked disappointed. Reigns would tell his family to stay back as he entered the ring, with Edge and Roman locking eyes before eventually attacked each other.
Before any man could get the upper hand, Rey and Dominik Mysterio would attack the Usos on the apron with steel chairs as chaos unfolded. The Usos would superkick Rey as Edge got the upper hand in the ring over Roman. The Uso would try to double team Edge, but the Mysterios would come back in the ring to save Edge with Dominik Mysterio hitting a double 619 on Jimmy and Jey with Edge finishing things with a spear on Jey as Roman retreated to the stage The Rated-R-Superstar would bring out his unhinged side as he once again grabbed a steel chair and ripped the leg off and applied a Crossface on Jey Uso as Roman had no choice but to watch his cousin get destroyed by Edge. Edge would continue his assault on Jimmy and Jey Uso, screaming out to Roman ahead of their match at Money In The Bank, with the final episode of SmackDown ending with Roman Reigns walking away from his family while they were being destroyed by an unhinged Edge.
This was an amazing segment and a great way to finish the show. Despite having to fill in 15 minutes the segment was great to watch from start to finish, with Roman's slow walk to the ring helping build tension ahead of his confrontation with Edge, with Roman also looking strong, telling his cousins to stay back so he can fight Edge one-on-one. Rey and Dominik Mysterio coming out to save Edge was a nice way to set up a feud with the Mysterios and The Usos with both teams having the ability to put on a classic tag team match if they face the Mysterios at Money In The Bank this Sunday.
1, Seth Rollins goes to war with Cesaro for a spot in the Money In The Bank match. 
Seth Rollins and Cesaro would once again go to war this week, with both men putting on another amazing match as they continue to bring out the best in each other as they tried to compete with the last vacant spot in the Money In the Bank match this Sunday, with Kevin Owens looking on, joining the commentary team. Both men would go back and forth throughout the early part of the match as they tried to look for an opening with Cesaro getting the first bit of momentum hitting Rollins with a crossbody for a close 2 count and continuing to stay on him, forcing Rollins out of the ring.
Both men would go back and forth throughout the match, trading counters and strikes with neither man able to get the upper hand for too long. However, things would go downhill for the Swiss Superman after Rollins sent him face-first into an exposed turnbuckle causing Cesaro to bleed. Despite his best attempts to get back into the match, including escaping a count-out after Rollins hit a DDT on the steel ramp, Cesaro would lose to Rollins after Rollins reversed the sharpshooter to hit The Stomp on a bloody Cesaro, qualifying Rollins for the Money In The Bank match this Sunday.
This was an amazing match as both men once again delivered and put on an amazing final match for SmackDown inside the Thunderdome. Despite losing, Cesaro looked strong in the match, pushing Rollins to his limits and fighting through his injury from the exposed turnbuckle. Hopefully, WWE, continue to see the value of The Swiss Superman and don't suddenly drop his recent push as his match with Roman Reigns for the Universal Championship at WrestleMania Backlash proved that he was main event material, especially now that he has worked on his promo skills and can cut solid promos.
These were my top 5 moments from SmackDown this week. What were your top 5 moments from the blue brand this week and how excited are you to see the return of live crowds starting next week? Let us know in the comments section down below
King's WrestleMania Rewind: Stone Cold VS. Scott Hall (WrestleMania X8)
Chris King is back with another WrestleMania Rewind, looking at the NWO's Scott Hall battling Stone Cold Steve Austin at WWE WrestleMania X8 from Toronto!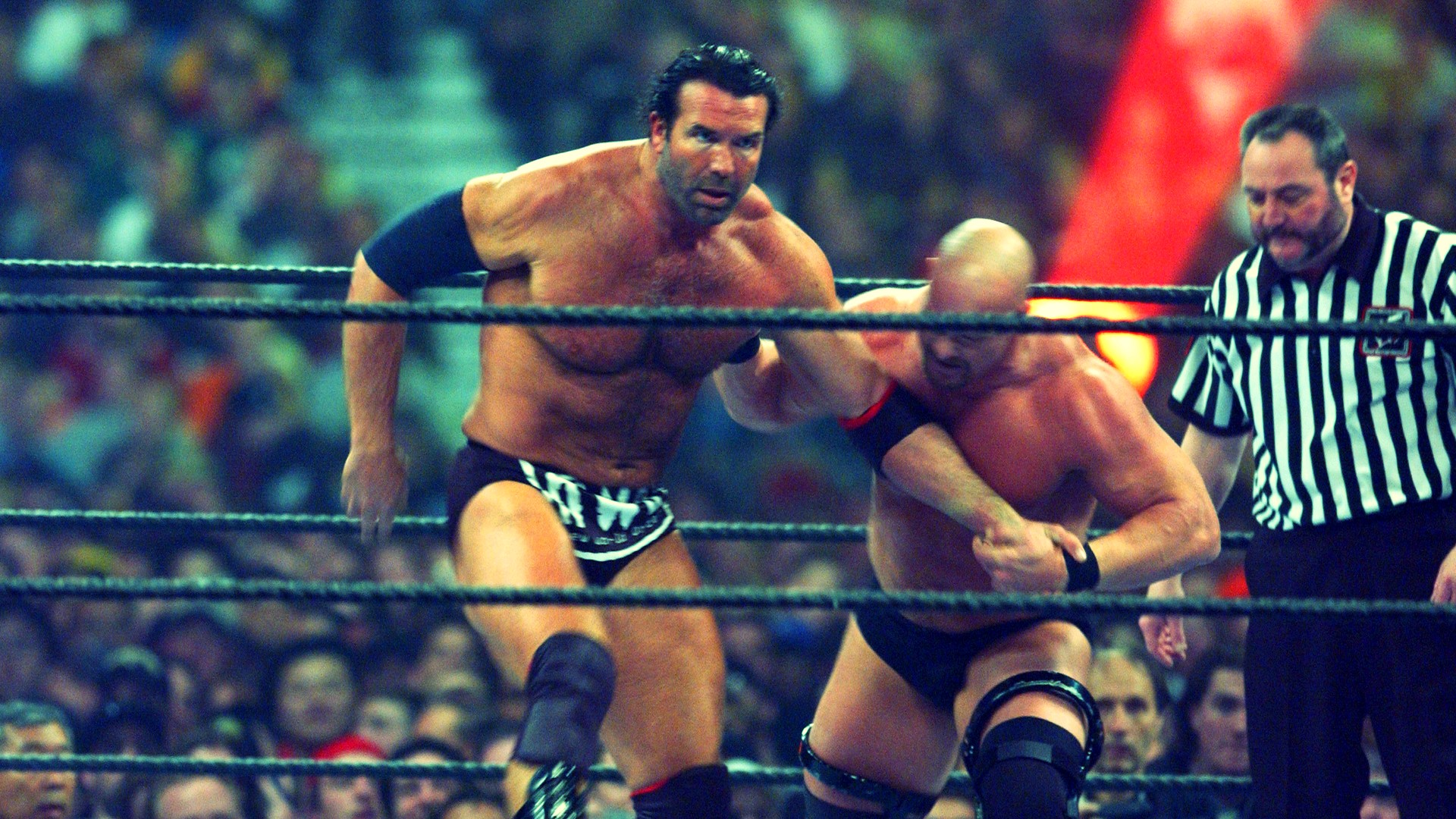 Chris King is back with another WrestleMania Rewind, looking at the NWO's Scott Hall battling Stone Cold Steve Austin at WWE WrestleMania X8 from Toronto!
Chris King is back this week with another edition of WrestleMania Rewind, where he is rewatching all the past Mania matches and feuds. This week you're in for a treat as we look back at 'Stone Cold' Steve Austin vs. Scott Hall at WrestleMania X8.
In late 2001, Vince McMahon bought out his competition WCW and acquired the rights to a plethora of talent including Booker T, Eddie Guerrero, Chris Benoit, and the iconic trio known as NWO. Hulk Hogan; Kevin Nash, and Scott Hall were hell raisers, and what better way to make a name for yourself than take out the two top superstars in the WWE The Rock, and Stone Cold?
The NWO cost Austin his chance at becoming the Undisputed Champion at No Way Out during his match with Chris Jericho. Adding insult to injury, the NWO spray-painted 'The Texas Rattlesnake' with their brand logo just like they did in WCW. As you can imagine, Austin was pissed and out for revenge against the group and primarily Scott Hall.
Hall would challenge Stone Cold to a match at WrestleMania 18. Both superstars beat the living hell out of each other leading up to this highly-anticipated match for who runs the WWE.
The glass broke and Stone Cold made his iconic entrance, and black and white NWO covered Halls' entrance alongside Kevin Nash. With the odds stacked against 'The Toughest S.O.B' could Austin or NWO prove their dominance? Sadly the NWO  broke up that very night when Hulk Hogan came to the aid of his adversary The Rock after their 'iconic' dream match. Stone Cold would ensure the victory with the Stunner. Hall would perform an Oscar-worthy sell over the finisher.
What a time to be a wrestling fan in the 2000s when nothing was impossible for WWE. Who would've thought WCW would go out of business and Hogan would make his long-awaited return to WWE?
King's WrestleMania Rewind: Seth Rollins vs. Kevin Owens (WWE WrestleMania 36)
Chris King takes a look at the most underrated WWE WrestleMania matches, and starts off with Seth Rollins battling Kevin Owens at WrestleMania 36!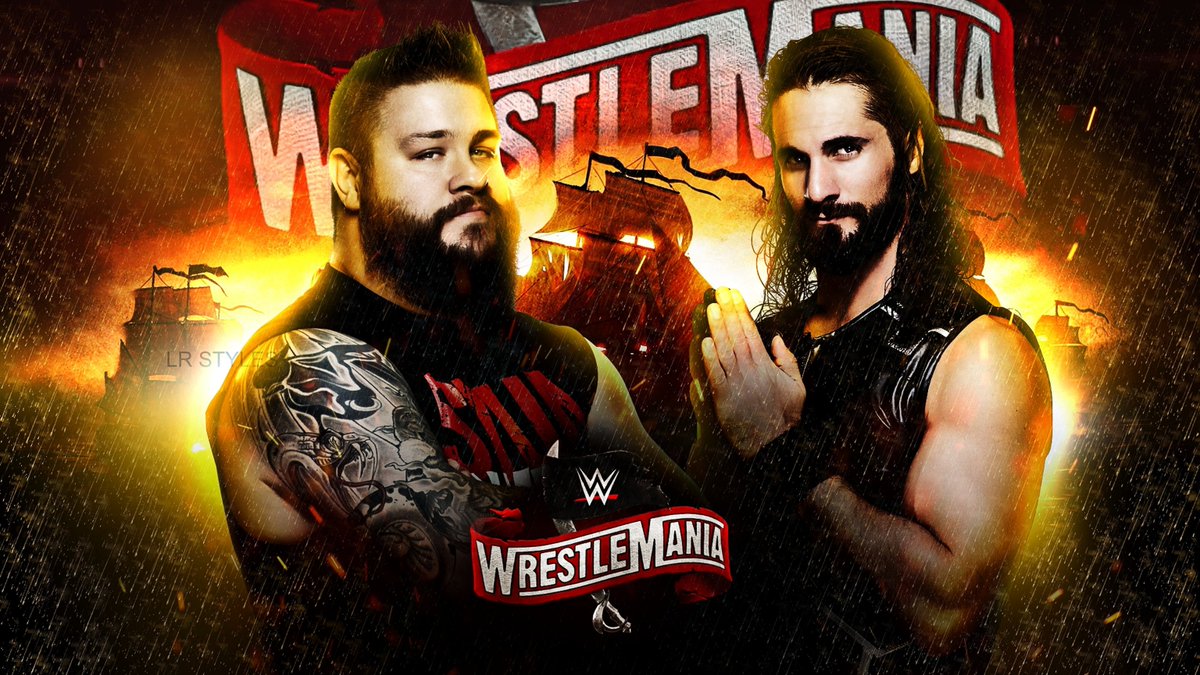 Chris King takes a look at the most underrated WWE WrestleMania matches, and starts off with Seth Rollins battling Kevin Owens in the WWE Performance Center at WrestleMania 36!
Chris King is starting a new series heading into WrestleMania season dubbed WrestleMania Rewind. Each week he'll be going back and sharing his insight over underrated matches at the Show of Shows. First up, is Kevin Owens vs. "The Monday Night Messiah" Seth Rollins at WrestleMania 36.
At the 2019 edition of Survivor Series, Rollins sacrificed himself during the men's traditional match allowing SmackDown to ultimately gain the victory. The following night the self-proclaimed Messiah, berated the whole roster but KO was not having any part of it. Owens quickly became a huge barrier in Rollins' cause for the greater good. The Authors of Pain attacked Owens with Rollins' character in question.
Owens finally had enough of his rival's mind games and torment and challenged Rollins to a match on the Grandest Stage Of Them All. Rollins mockingly accepted his challenge and the match was made official for night one of WrestleMania. Owens came out of the gate beating the holy hell out of the Monday Night Messiah trying to achieve his long-awaited moment at Mania but, Rollins tried to steal a disqualification victory by using the ring bell.
Owens hellbent on revenge provoked Rollins into turning their encounter into a no-disqualification contest where the fight could be taken all over the empty arena. The highlight of the match, was when KO used the WrestleMania sign to deliver a thunderous senton bomb through the announce table. Owens would secure the victory with a Stunner in an incredible match. Despite having no crowd during the pandemic era, both KO and Rollins put on an intense performance under the brightest lights.
In my personal opinion, this was a great feud that helped both superstars in their transformation as compelling characters for years to come.