Cook's Top 5: Bobby Eaton Tag Team Partners
With Bobby Eaton's passing, Cook decides to reflect on the career of the tag team specialist! Who were his best partners? Did Cook get em right?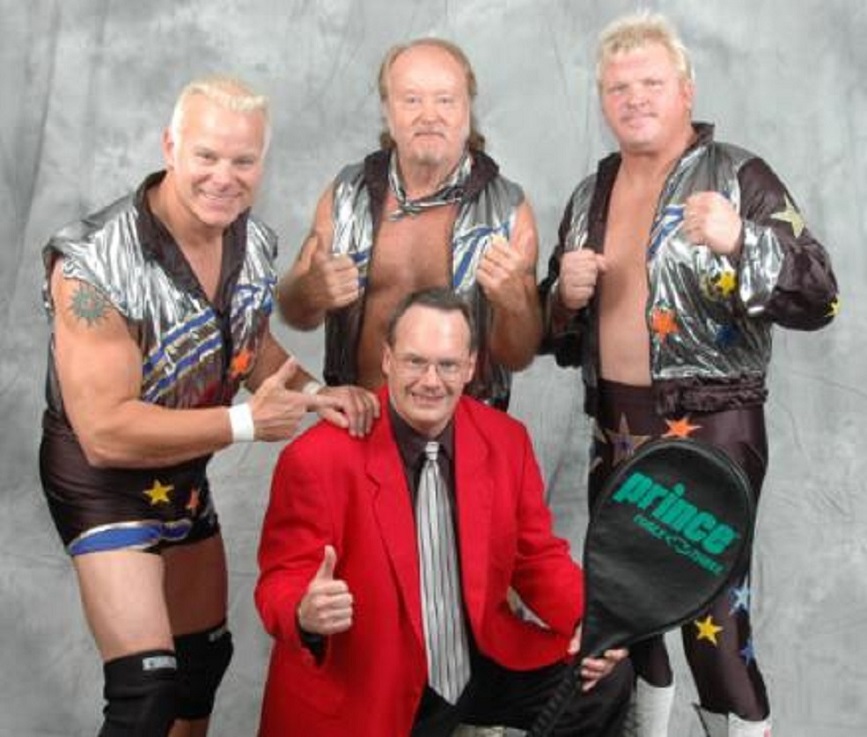 You often hear people pontificate about how a recently deceased figure was such a good person that nobody had a bad thing to say about them. 99 times out of 100, that's complete malarkey. You can always find somebody that had something bad to say about a recently deceased person. They might not say it after that person passes, since that'd be considered insensitive, but most of us have rubbed some folks the wrong way at one point or another.
When I'm dead & gone and people talk about me, if they drop the old "nobody ever had a bad word to say about him" chestnut, they're full of it.
We see this phenomenon often in wrestling as well. One person that you absolutely use the "nobody ever had a bad word to say about him" line for passed away this week. Bobby Eaton has long been cited as the nicest person in the history of the wrestling business. You heard that from everybody that knew him before he passed, and we're re-telling the great stories about him now. Like the one about Bill Dundee, who forbade his daughter from dating wrestlers that worked for him because…well, do I really need to explain why? She finally broke that rule & confessed to him, and Bill swore he'd fire whoever it was. Then she told him it was Bobby, and Bill responded with "Well, at least you picked the best one." Bill eventually became Bobby's father-in-law.
Bobby was also known as one of pro wrestling's greatest tag team wrestlers. During an era where tag team wrestling was as good as it ever was, Eaton formed successful tag teams in different territories with a number of partners. Given Bobby's humility & willingness to put personal glory aside for the good of the collective, I think it's fitting that we celebrate his life by ranking his best tag team partners.
5. Lord Steven Regal
After finding success as a Television Champion in WCW, Regal wanted to shift his focus to the tag team division. His search for a partner hit some bumps in the road, but Bobby Eaton saw some potential in teaming with Lord Steven. Regal needed some convincing, largely because Eaton was a hick from Alabama with an accent that nobody could understand. After wrestling Eaton, Regal decided he could work with him. Eaton just needed to be civilized and embrace British nobility. Earl Robert Eaton & Regal had a good run in the WCW mid-card, but were unable to attain the goal of the Tag Team Championship.
They had some solid matches though, and made a heck of an in-ring team. As you would expect from a team with two workers like Eaton & Regal.
4. Sweet Brown Sugar
Bobby Eaton and Sweet Brown Sugar aka Koko Ware…..the greatest short lived tag team ever pic.twitter.com/bnTIEFpSFT

— Kris Zellner (@KrisZellner) August 5, 2021
SBS would later be known as Koko B. Ware in the World Wrestling Federation, but at this point he was a much hyped youngster in the Memphis territory. Eaton & Sugar formed the New Wave, so named because they were young wrestlers utilizing high-flying moves that Memphis wrestling fans hadn't seen much of in the past. They won the Southern Tag Team Championship three times and were valued members of Jimmy Hart's First Family.
Eventually they would feud with each other because that's how things tend to go, and Eaton defeated Sugar in a Loser Leaves Town match. Shockingly, a masked wrestler named Stagger Lee that looked and wrestled a lot like Sugar showed up not long afterward. The really weird part of how this went: Eaton turned babyface after a bit and started teaming with Stagger Lee. Things were never dull in Memphis.
3. Arn Anderson
There are very few wrestlers that can be mentioned in the same breath as Bobby Eaton when it comes to excellence at tag team wrestling. One of them: The Enforcer. Arn had championship teams with his uncle Ole, Tully Blanchard & Larry Zbyszko before hooking up with Eaton while both were in Paul E. Dangerously's Dangerous Alliance. You had a combination of the steadiest members of the Four Horsemen & Midnight Express, and towards the end of their run Michael Hayes came in to serve as an advisor. Not that they needed much advice, they were the definition of "tag team specialists".
It also helped that Arn & Bobby were the best of friends outside the ring. They lived in the same neighborhood, their wives were best friends, it was a whole thing.
Honorable Mention: George Gulas
THE JET SET…..Bobby Eaton and the infamous George Gulas pic.twitter.com/l9Rr7sVWqr

— Kris Zellner (@KrisZellner) August 5, 2021
George was the son of longtime wrestling promoter Nick Gulas, who ran the NWA Mid-America promotion in Tennessee, Kentucky & Alabma from the 1940s until the early 1980s. It was a tag team heavy territory, and George was heavily pushed in the division, winning the company's top tag championship eleven times with six different partners. One of his most successful partnerships was with a young Eaton, who could do all of the work for the team.
Some credit Eaton's storied reputation in the business to the fact that he could have good matches with George as a partner. That doesn't sound very nice though.
2. Dennis Condrey
The Midnight Express came into being as the result of a trade of talent between Bill Watts' Mid-South Wrestling & Jerry Jarrett's CWA. Watts got the Rock 'N Roll Express, who had been the #2 hot young babyface team in Memphis behind the Fabulous Ones. Watts was going to have them as his #1, but they needed opponents. He looked at a young Bobby Eaton & a veteran heel in "Loverboy" Dennis Condrey, two guys that had wrestled each other but never teamed together, and thought they would make fine opponents for Ricky Morton & Robert Gibson. Especially if they had a motormouth manager who could rile the fans up. Jim Cornette was young in the business & was a distant #2 to Jimmy Hart. A move to Mid-South with new wrestlers to manage was just what he needed.
Bobby became "Beautiful" Bobby because it went well with "Loverboy" Dennis, and the rest was history. The Midnight Express became everybody's favorite tag team to hate. People saw they were talented, but why did they have to cheat? And couldn't Cornette shut up for a few minutes? They served as great foils for Bill Watts & the Junkyard Dog, and their feud with Morton & Gibson didn't really end until Eaton's last match in 2015, a loss to Ricky Morton. They also started an issue with the Fantastics that led to classics in Mid-South, World Class & the NWA. The NWA years would also see a feud with the Road Warriors that led to one of the most famous tag team matches of all time, the Night of the Skywalkers at Starrcade 1986. They won championships & drew money everywhere they went.
Things were going along fine until Dennis had to go home. It was decided to keep the Midnight Express going with a new partner, which seemed like a difficult thing to make work. Who could fill Dennis Condrey's shoes in the team?
1. Stan Lane
"Sweet" Stan had a pretty famous tag team of his own before being tapped to fill Condrey's shoes. Lane & Steve Keirn (who would go on to form a team with Eaton in mid-90s WCW that sadly didn't get a ton of attention from fans or bookers) had drawn a ton of attention in Memphis, the AWA & elsewhere as the Fabulous Ones. Keirn took some time off though, and Lane was hanging out on the Florida roster as a single when Jim Crockett Jr. bought the dying territory. I'd say that forming the second incarnation of Jim Cornette's Midnight Express was enough to make the thing worthwhile.
Stan & Bobby didn't win as many championships as Dennis & Bobby. They didn't work as many places, they didn't get the chance to draw as much money. WCW management only saw them at a certain level, which was one of the many signs of just how incompetent WCW management was. Lane & Eaton held the WCW US Tag Team Championship three times & the World Tag Team Championship once. They were out there opening PPVs with classic matches against the likes of the Fantastics, R 'N Rs & the Southern Boys. Paul E. Dangerously brought Condrey back to WCW along with Randy Rose, representing the Original Midnight Express from back in the day. It was a nice idea, somewhat hampered by Condrey peacing out again.
So I'm doing the Internet fan thing and playing the workrate card. Many of the best tag team matches I've seen featured Bobby Eaton & Stan Lane. Dennis Condrey was in some too, but not as many of those made TV. Say what you will about how WCW utilized them, they did give the MX plenty of exposure. And, typically, WCW's incompetence would light a fire under Stan & Bobby's asses, leading to even better matches. WCW overlooked Eaton for years in the twilight of his career, which was a shame.
Beautiful Bobby might have been underrated by promoters. He may suffer in the eyes of some due to the fact he was "just" a tag team specialist. (Bobby had some great singles matches too, but the tag team division needed him more.) He wasn't underrated by his peers, or by fans. All those people knew he was great at what he did.
And you can't say anything bad about him. Or his tag teams.
King's WrestleMania Rewind: Stone Cold VS. Scott Hall (WrestleMania X8)
Chris King is back with another WrestleMania Rewind, looking at the NWO's Scott Hall battling Stone Cold Steve Austin at WWE WrestleMania X8 from Toronto!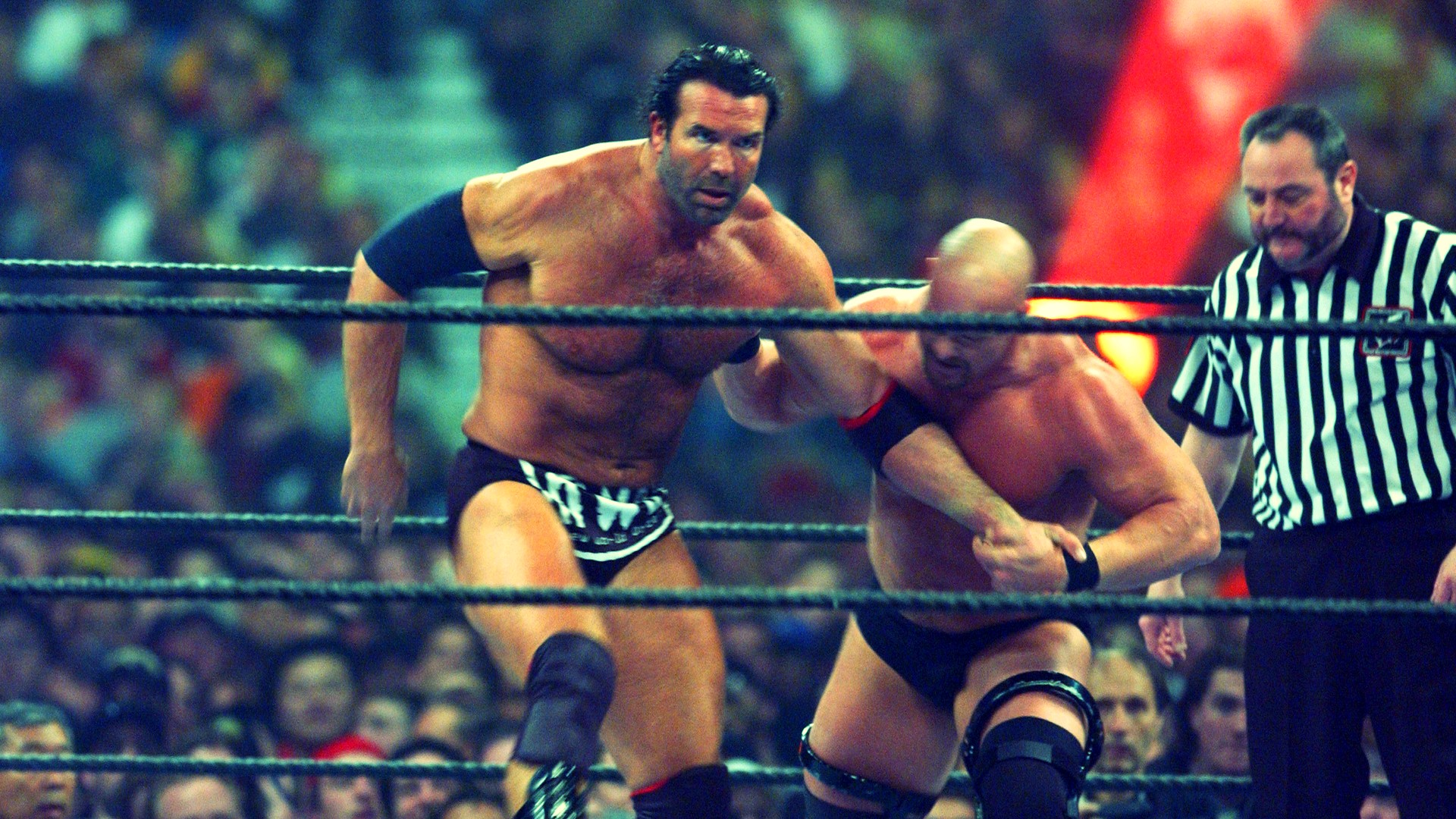 Chris King is back with another WrestleMania Rewind, looking at the NWO's Scott Hall battling Stone Cold Steve Austin at WWE WrestleMania X8 from Toronto!
Chris King is back this week with another edition of WrestleMania Rewind, where he is rewatching all the past Mania matches and feuds. This week you're in for a treat as we look back at 'Stone Cold' Steve Austin vs. Scott Hall at WrestleMania X8.
In late 2001, Vince McMahon bought out his competition WCW and acquired the rights to a plethora of talent including Booker T, Eddie Guerrero, Chris Benoit, and the iconic trio known as NWO. Hulk Hogan; Kevin Nash, and Scott Hall were hell raisers, and what better way to make a name for yourself than take out the two top superstars in the WWE The Rock, and Stone Cold?
The NWO cost Austin his chance at becoming the Undisputed Champion at No Way Out during his match with Chris Jericho. Adding insult to injury, the NWO spray-painted 'The Texas Rattlesnake' with their brand logo just like they did in WCW. As you can imagine, Austin was pissed and out for revenge against the group and primarily Scott Hall.
Hall would challenge Stone Cold to a match at WrestleMania 18. Both superstars beat the living hell out of each other leading up to this highly-anticipated match for who runs the WWE.
The glass broke and Stone Cold made his iconic entrance, and black and white NWO covered Halls' entrance alongside Kevin Nash. With the odds stacked against 'The Toughest S.O.B' could Austin or NWO prove their dominance? Sadly the NWO  broke up that very night when Hulk Hogan came to the aid of his adversary The Rock after their 'iconic' dream match. Stone Cold would ensure the victory with the Stunner. Hall would perform an Oscar-worthy sell over the finisher.
What a time to be a wrestling fan in the 2000s when nothing was impossible for WWE. Who would've thought WCW would go out of business and Hogan would make his long-awaited return to WWE?
King's WrestleMania Rewind: Seth Rollins vs. Kevin Owens (WWE WrestleMania 36)
Chris King takes a look at the most underrated WWE WrestleMania matches, and starts off with Seth Rollins battling Kevin Owens at WrestleMania 36!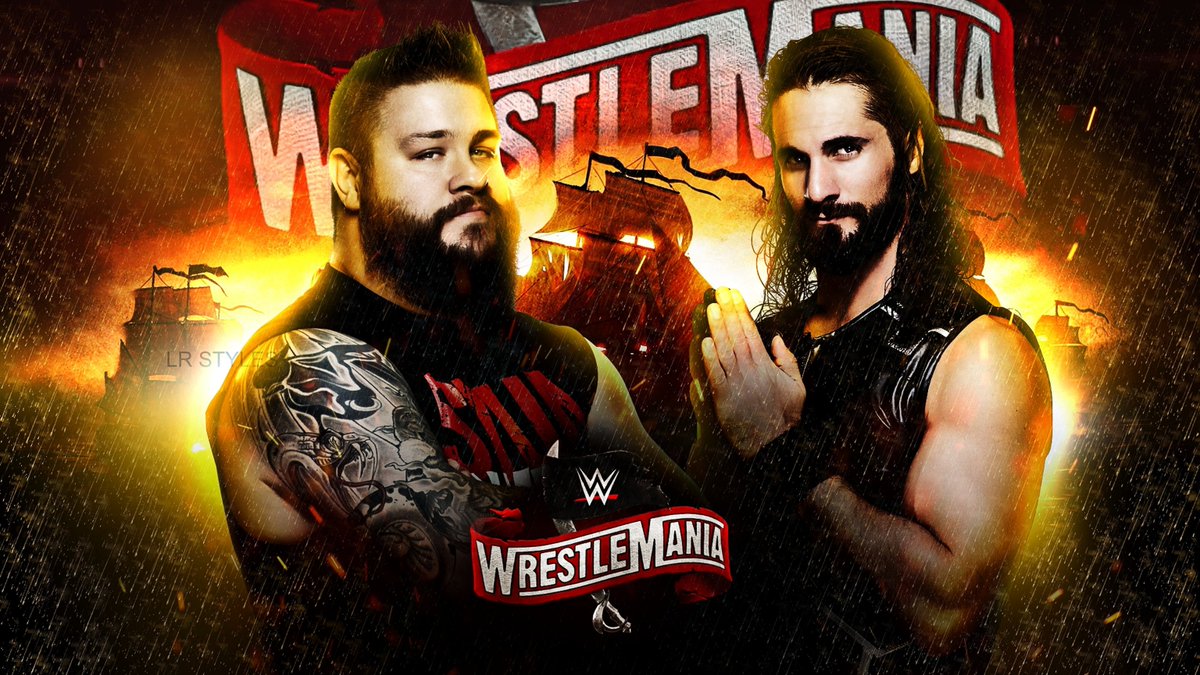 Chris King takes a look at the most underrated WWE WrestleMania matches, and starts off with Seth Rollins battling Kevin Owens in the WWE Performance Center at WrestleMania 36!
Chris King is starting a new series heading into WrestleMania season dubbed WrestleMania Rewind. Each week he'll be going back and sharing his insight over underrated matches at the Show of Shows. First up, is Kevin Owens vs. "The Monday Night Messiah" Seth Rollins at WrestleMania 36.
At the 2019 edition of Survivor Series, Rollins sacrificed himself during the men's traditional match allowing SmackDown to ultimately gain the victory. The following night the self-proclaimed Messiah, berated the whole roster but KO was not having any part of it. Owens quickly became a huge barrier in Rollins' cause for the greater good. The Authors of Pain attacked Owens with Rollins' character in question.
Owens finally had enough of his rival's mind games and torment and challenged Rollins to a match on the Grandest Stage Of Them All. Rollins mockingly accepted his challenge and the match was made official for night one of WrestleMania. Owens came out of the gate beating the holy hell out of the Monday Night Messiah trying to achieve his long-awaited moment at Mania but, Rollins tried to steal a disqualification victory by using the ring bell.
Owens hellbent on revenge provoked Rollins into turning their encounter into a no-disqualification contest where the fight could be taken all over the empty arena. The highlight of the match, was when KO used the WrestleMania sign to deliver a thunderous senton bomb through the announce table. Owens would secure the victory with a Stunner in an incredible match. Despite having no crowd during the pandemic era, both KO and Rollins put on an intense performance under the brightest lights.
In my personal opinion, this was a great feud that helped both superstars in their transformation as compelling characters for years to come.