Bodeen's Top 5 Moments: WWE RAW 8/30/2021
WWE Raw seems to have had people talking from match quality to possibly controversy. Check out Bodeen's Top 5 and see if he got the moments right!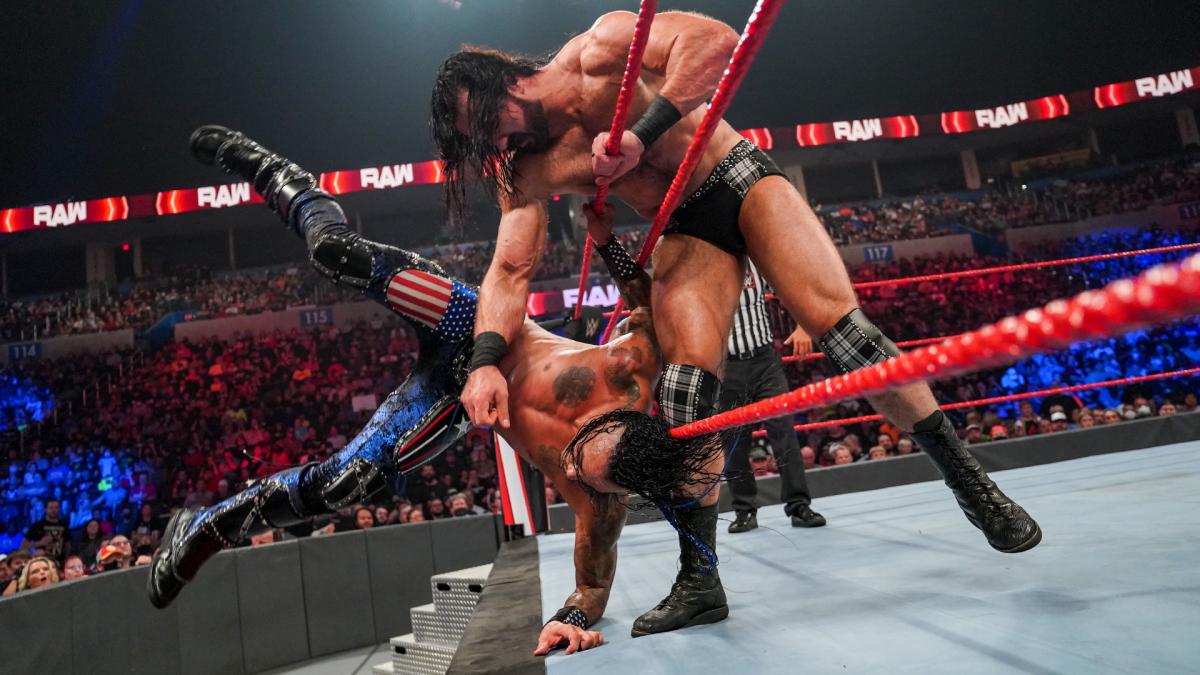 After an amazing two weeks of wrestling that featured CM Punk returning to wrestling for the first time in over 7 years, Brock Lesnar returning, an amazing dream match between Seth Rollins and Edge and WALTER and Ilja Draganov putting on another amazing instant classic for the NXT UK Championship, it was time for Monday Night RAW to bring us back to a disappointing level of wrestling as RAW once again fell to the same problems of poor pacing, repetitive rematches and more.
Luckily there were a few bright points on an otherwise standard disappointing episode of WWE'S flagship show. So as we approach a very average looking Extreme Rules Pay-Per-View I am here yet again (from a schedule that is more unorganized and all over the place than an episode of RAW) to bring you the top 5 moments from Monday Night RAW
5. Things turn ugly between Nia Jax and Charlotte Flair as they turn their match into a shoot fight 
In one of the most ugliest moments in recent RAW memory, things would turn ugly between Raw Women's Champion, Charlotte Flair and Nia Jax as their match turned into a shoot fight as both women became frustrated with each other. The match between the two women would start normally enough as they went back and forth early in the match, however, things went downhill fast after Jax dropped The Queen in an awkward position this led to an awkward moment between the two women as Charlotte and Nia began trading strikes in the ring with neither women selling for each other in a truly messy exchange of strikes and needs to be seen.
Things would continue to go downhill as Charlotte slowly ran the ropes, as Nia caught her and attempted a Soman Drop however both women couldn't control each other and refused to work together, leading to Charlotte eventually hitting a Russian Leg Sweep on Nia. Late in the match, Charlotte worked on Nia's leg as both women continued to not work well together, eventually, Nia was able to block a Figure Eight attempt and hit Flair with a big one-handed powerbomb in the middle of the ring for the 3 count mercifully ending the match with Nia scoring a non-title clean win over the Raw's Women Champion.
Now, why is this on the top 5 moments list? Well, the match was so bad it was in a weird way, fun to watch. While I do respect the commitment that every wrestler has to their work, sometimes it's just entertaining to watch these fun awkward moments. Seeing Flair and Nia just attack each other and refusing to sell each other's offence was fun to watch and deserves a place on this list.
4. Damian Priest issues an open challenge which brings out Drew Mcintyre, Sheamus and more 
After beating Sheamus for the United States Championship at SummerSlam, things would continue to look up for The Archer Of Infamy as he opened Monday Night RAW this week. Priest opened RAW with an open challenge for his United States Championship with Sheamus answering the call. Sheamus interrupted Priest but would soon be interrupted himself as Drew Mcintyre also made his entrance, however, chaos would keep occurring as the All-Mighty WWE Champion, Bobby Lashley made his entrance flanked yet again by MVP. MVP got on the mic and suggested that Lashley should be the one to face Damian Priest for the United States Championship, stating it was good for business for Lashley to become a double champion.
Interruptions would continue to be the name of the game as Riddle and Randy Orton made their entrance with Riddle eventually purposing a title defence against The Hurt Business. This would force officials, Adam Pearce and Sonya Deville out as they made two matches for RAW official, first was a United States Championship Triple Threat match between Drew Mcintyre, Sheamus and Priest and the other one was the main event of the night, with that match being a tag match for the RAW Tag Team Titles with RK-BRO defending the titles against Bobby Lashley and MVP.
While this segment did fall victim to one of RAW's biggest problems, with that being a long, multi-person promo to start a show, it still had some decent moments. It was great to see Damian Priest get the spotlight he deserves especially as he is really unique to watch. RK-BRO and MVP were also great on the mic and it was good to see Adam Pearce and Sonya Deville show up to actually remind fans that they have power and authority. Overall, while far from perfect or even great this was a decent way to open the show.
3. AJ Styles and Xavier Woods square off  
AJ Styles and Omos would look strong this week on RAW as they both picked up singles victories, with Omos pinning John Morrison who took on Omos after The Miz couldn't appear on RAW and AJ getting a win over Xavier Woods. Woods would have the early advantage in the match as he managed to catch AJ off guard and was able to block AJ's counters. However, Styles was able to fight back after catching Woods with a strike. From there Styles began targeting the leg of Woods and was able to keep Woods controlled throughout most of the match.
Woods managed to fight back late in the match with a few stiff strikes, rocking AJ and was able to block a Styles Clash but the result would be inevitable as Styles managed to grab the injured leg of Woods and was able to roll into the Calf Crusher, forcing Woods to tap despite his best efforts to escape. After the match Styles' celebration would be cut short by the RAW Tag Team Champions, RK-Bro as AJ seemed annoyed at the interruption.(which is fair considering RAW opened with a heap of interruptions) This caused Styles to join the commentary table as he and Omos watched the main event.
This was a fun little match that was great from start to finish. Styles and Woods have shown that they have a lot of chemistry working together and have put on great matches in the past. It should be noted that Omos also had a good showing against John Morrison. With it being most likely inevitable that the pair will break up sometime in the future, hopefully, Omos can use this time to build on as in-ring work as a singles star.
2. RK-Bro defend their new RAW Tag Team Titles against Bobby Lashley and MVP  
After their match was made official by Sonya Deville and Adam Pearce, RK-Bro would defend their Raw Tag Team Titles against Lashley and MVP. All four men put on a solid main event as RK-Bro yet again worked well as a team together. Riddle and Bobby Lashley started things off for their teams, renewing their rivalry from earlier in the year as both men went back and forth as Riddle used his striking power and Lashley used his RAW power. (pun intended)
Late in the match, AJ sent Omos out to attack Orton outside the ring but Riddle was able to stop the attack. Riddle was then able to take out Lashley and hit MVP with the Floating Bro for the win. After the match, Lashley came out of nowhere and hit Riddle with a spear, but The Viper would save his teammate and hit an RKO on Lashley saving Riddle in the process.
This was a fun little main event that made RK-Bro look good and helped set up a future rivalry between The Hurt Business and RK-Bro as it does not look things are settled between the two groups.
1. Sheamus, Drew McIntyre and Damien Priest steal the show
Sheamus, Drew McIntyre and Damien Priest managed to steal the show (which to be fair doesn't really say much) as they put on an amazing match. All three men exchanged brutal strikes in a thrilling match. Eventually, Priest was able to get the win, pinning Drew McIntyre clean.
Priest pinning Drew was great to see and hopefully, WWE has big plans for him in the future especially as it was teased he would feud with Bobby down the line.
It was also great to see Drew take a backstage seat once again, as his new role outside the title picture is helping him regain fans.
These were my top 5 moments from this week's edition of Monday Night RAW, what were your top 5 moments from RAW this week and what do you think of the ugly shoot fight between Charlotte Flair and Nia Jax. Let us know in the comment section down below.
King's WrestleMania Rewind: Charlotte Flair vs. Asuka from WrestleMania 34
Chris king is back with one of the most underrated matches in WrestleMania history–Charlotte Flair vs. Asuka!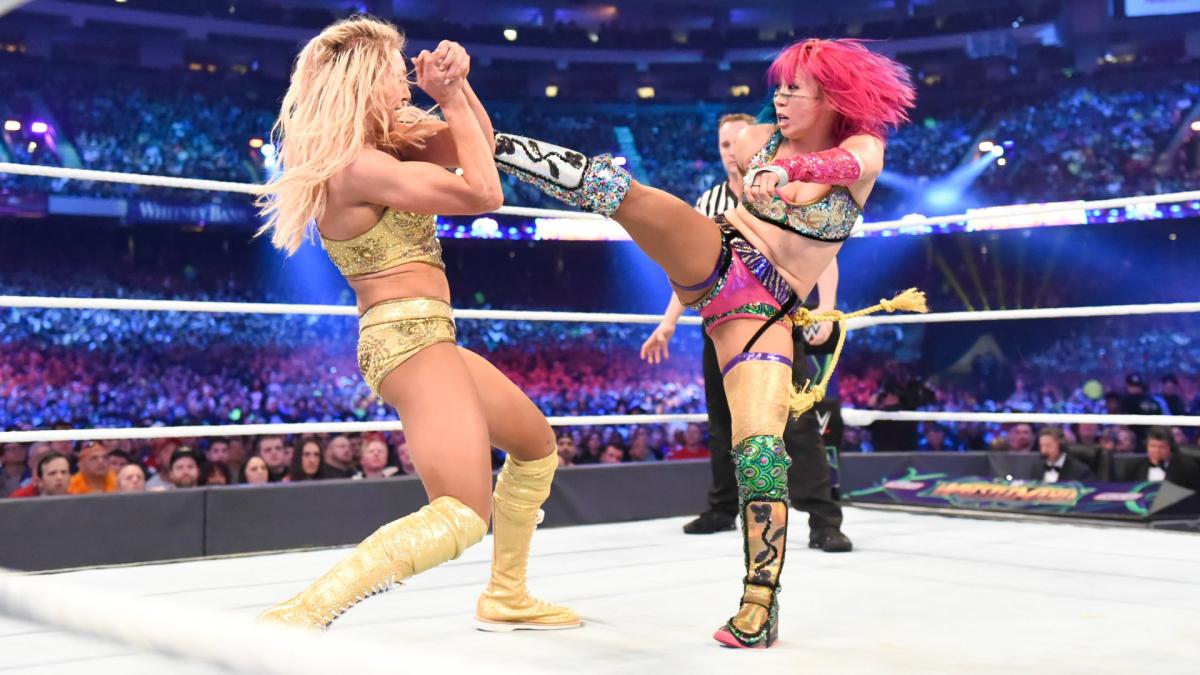 Chris king is back with one of the most underrated matches in WrestleMania history–Charlotte Flair vs. Asuka!
We look back at Charlotte Flair vs. Asuka at WWE WrestleMania 34. 'The Empress of Tomorrow' put her unprecedented and historic undefeated streak of 914 days on the line against 'The Queen's' SmackDown Women's Championship.
For years, this was considered a dream match while Asuka dominated the roster in NXT, while Flair won numerous championships on the main roster on both Raw and SmackDown. The Empress made her long-awaited debut on the September 11th episode of Raw and began to tear through the competition.
Asuka outlasted all twenty-nine other women in the historic first-ever Women's Royal Rumble match to challenge for the title of her choosing. At Fastlane, she made her choice.
The WWE Universe was so excited for this match myself included. Both superstars delivered a fantastic performance on the Grandest Stage of Them All executing counter after counter. Asuka showed off some nasty-looking kicks to her opponent, and Flair hit a thunderous Spanish Fly off the top rope. Flair was seconds away from defeat at the hands of The Empress but she locked in Figure Eight and Asuka was forced to tap out.
I can't even begin to explain how shocked I was at this outcome, as nearly everyone expected The Empress to continue her undefeated streak and walk away with the women's title. This controversial decision was the downfall of Asuka's momentum. She would ultimately win the SmackDown Women's Championship at the 2018 TLC pay-per-view in the triple-threat ladder match.
Fast forward to this year when Asuka has recently returned with her Japanese-inspired persona Kana. Kana is dangerous and ruthless and is heading into a championship with Bianca Belair at WrestleMania 39. The Empress has regained all her momentum and is highly favored to walk away with the Raw Women's Championship. Let's hope that Asuka and Belair can tear the house down and deliver an A+ grade match both women are fully capable of.
King: Dominik Mysterio Needs To Do This At WrestleMania
Chris King is here with what WWE should do with Dominik Mysterio at WrestleMania in his long-awaited match against his father Rey Mysterio Jr.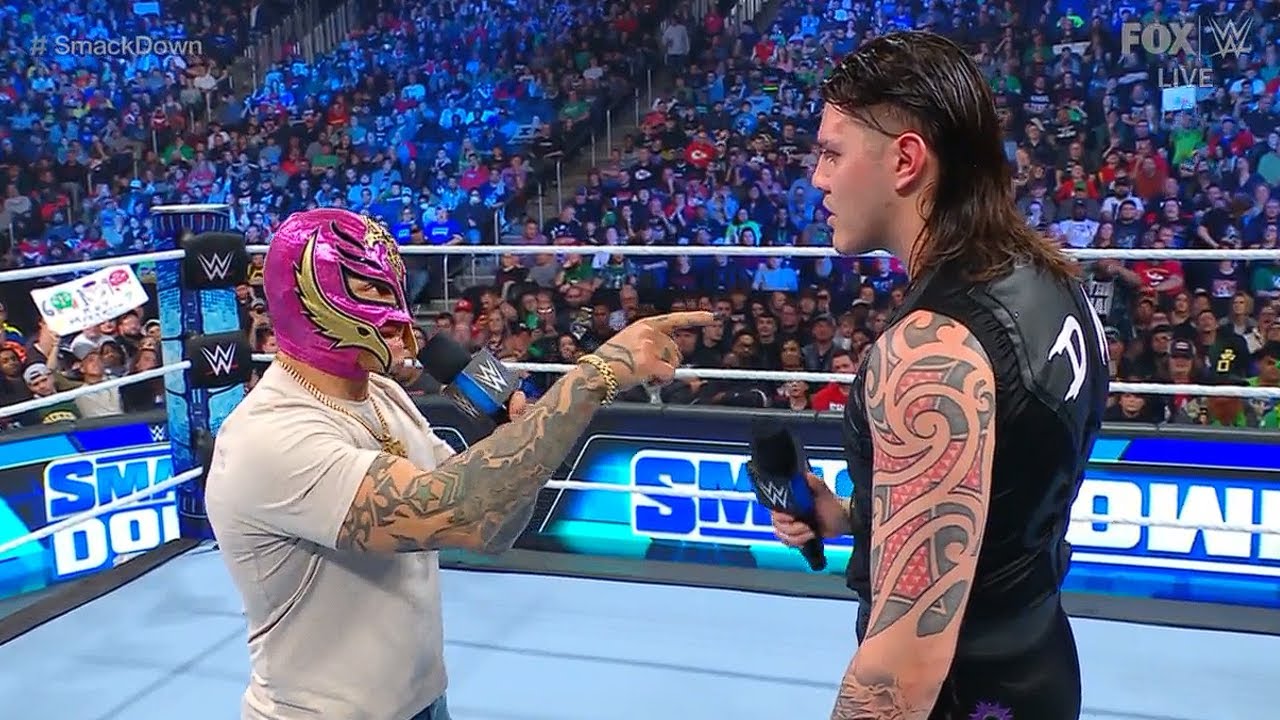 Chris King is here with what WWE should do with Dominik Mysterio at WrestleMania in his long-awaited match against his father Rey Mysterio Jr. 
On this week's episode of Friday Night SmackDown, Rey Mysterio finally snapped and beat some sense into his disrespectful punk-ass kid Dominik. The member of the Judgement Day came out to push his father again for a match on the Grandest Stage of Them All, this time with his mother and sister at ringside. The ungrateful punk told his mom to "Shut Up," as a father even I wanted to jump through the screen and whoop his ass.
Back in October of last year, Mysterio made the emotional decision to possibly quit the company but, instead, Triple H persuaded the Lucha libre superstar to move over to SmackDown to avoid his son. This came after Dominik shockingly turned on his father at Clash at the Castle. Mysterio did everything he could to refuse his despicable son's challenge for Mania but, a man can only be pushed so far. Mysterio will be inducted into the 2023 WWE Hall of Fame and I expect Dominik to embarrass his father during his speech to further this personal feud.
Yes, the WWE Universe hates Dominik and wants to see him get the ever-loving crap kicked out of him but, this feud is missing a special ingredient to capitalize on the biggest heat possible. Throughout this feud, Dominik has made mention of the legendary Eddie Guerrero on several occasions going back to the "iconic" 2005 feud.
I know WWE might not want to go this route but, Dominik MUST come out to Eddie Guerrero's theme at Mania. The disrespectful punk needs to come out in a lowrider to garner nuclear heat. It doesn't matter if The Judgement Day comes out and causes interference for Dominik to get the win, all that matters is that both superstars get the biggest payoff of this nearly year-long feud. Just imagine the Roman Reigns heat after he defeated The Undertaker and multiply that by ten. Dominik portrays the perfect heel and he truly is the missing ingredient that The Judgement Day needed to grow and evolve into a top faction.