Tiffany's Takes: SmackDown Live (7-2-19)
Eric Bischoff is back, but is Smackdown better than ever? Tiffany loads up her Takes and we see if change is upon us!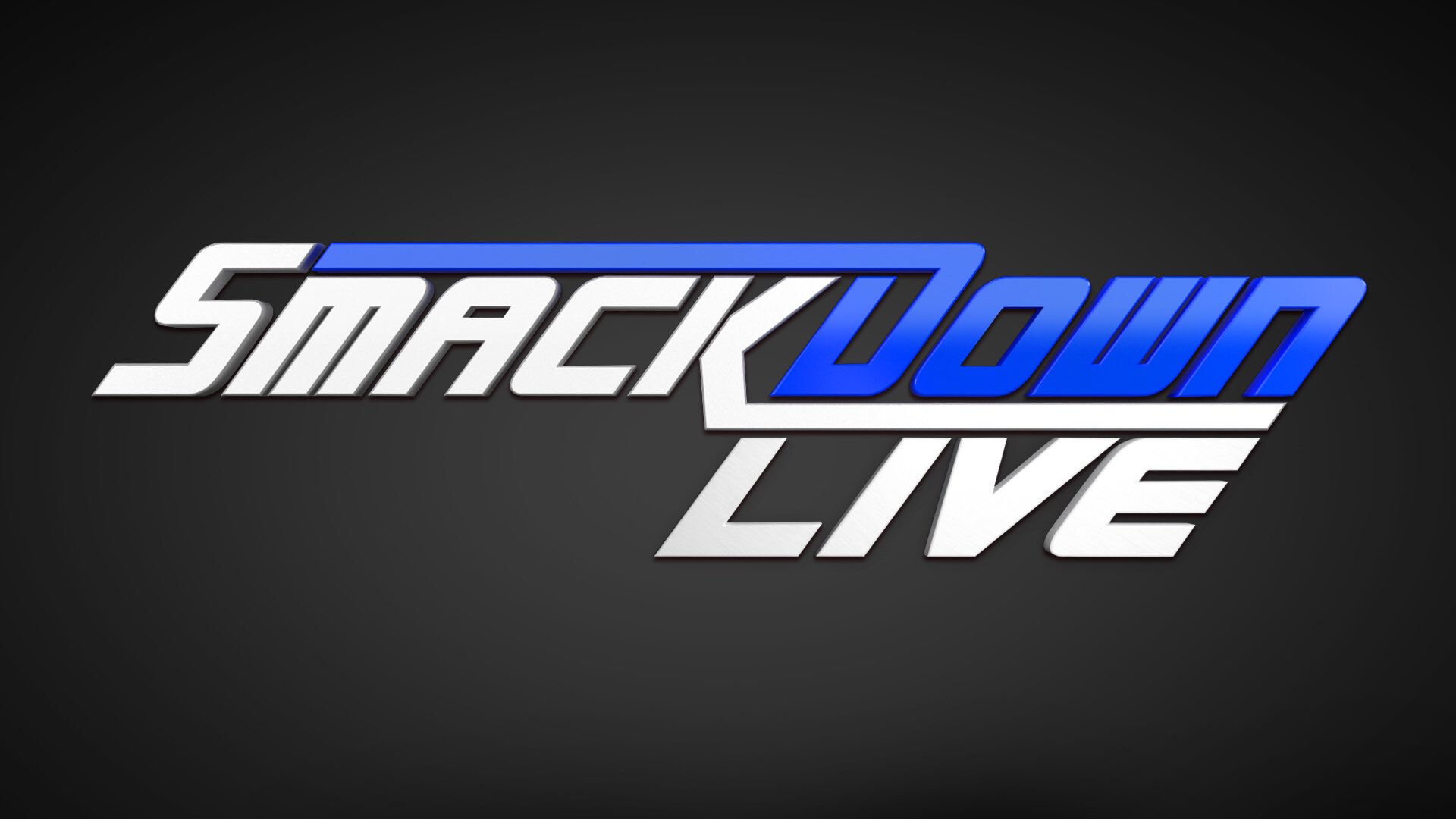 Eric Bischoff is back, but is Smackdown better than ever? Tiffany loads up her Takes and we see if change is upon us!
A new day has dawned for SmackDown Live! How will the roster cope with another sudden change of direction?
This is the first SmackDown under the leadership of Eric Bischoff tenure. I'm going to be upfront and say I think this is a bad idea. Bischoff's track record isn't the best. This show was pretty good, but I'm going to remain skeptical.
I like that they're continuing the Bobby Lashley/Braun Strowman storyline on SmackDown. I sincerely hope that both men's injuries aren't serious. I want to think that it's just part of the storyline, but I'm not sure.
I find it interesting that Shane McMahon and Kevin Owens are playing nicely after nearly killing each other a couple of years ago. Shane trying to play it tough is hilarious since he was about peeing his pants on RAW. I also love that, even though he's a heel, KO still calls BS when he hears it. I do have to wonder just why Dolph Ziggler is sticking his nose in this. I'm also puzzled by why he and Owens are going to be tag team partners. Is Sami Zayn injured or something? Also, Owens saying what we all think about Ziggler is the best moment of the week.
Okay, the news of the triple threat Tag Team Championship match at Extreme Rules makes the Daniel Bryan vs Big E match a little more sensible, even though New Day should be getting a one-on-one since they've beaten Greenjerks twice. The match was really good but Bryan getting the win over E because of Rowan was predictable, but since Greenjerks have lost at least two matches, they needed to look strong here.
I love Kayla Braxton standing her ground with R-Truth, even though he didn't want to watch the footage. I'm not surprised Truth is going to interrupt the honeymoon, as long as he doesn't ruin the wedding night.
I'm at the point where I hope Nikki Cross beats the snot out of Alexa  Bliss when she finally wises up. I also love Bayley trying to talk some sense into her. There's been parallels to the Bayley/Sasha Banks drama from last summer, but Sasha wasn't actively using Bayley to do her dirty work, they just hit a rough spot in their friendship and needed to fight it out.
I love Mustafa Ali, I'm a little puzzled by his promos, but I like them. At least he's not using Jinder Mahal as a 'Bad Guy' in this. I don't like Mahal, but that was weird.
I'm not sure why we had the face to face with Samoa Joe and Kofi Kingston, I think we're at the point where we don't need an explanation for Joe attacking people, it's just something he does. Plus, his promos basically follow the same line every time. However, I loved Kofi flipping Joe off and standing tall, that was fun.
Going by Lashley's promo, I'm guessing Strowman's injuries either aren't serious or the whole thing is a storyline. I find it interesting that Lashley's whining about Strowman being unsafe when he's been just as bad in his career.
Apollo Crews vs Andrade was really good, but I'm still wondering where Finn Balor is. The Intercontinental Champion hasn't been a major part of SmackDown in at least a month. I'm not sure what it says about Andrade's spot on the roster that he suddenly couldn't put Crews away without Vega's help and, again, where's Balor?
So, are we taking bets that the person knocking on Aleister Black's door was Bray Wyatt considering that Bray's message has been 'Let me in'?
Mandy Rose vs Ember Moon was just…ugh. Mandy Rose might be beautiful to look at, but she's awful in the ring, Moon should be running circles around her and she's not and that stinks, but at least Moon won this round. The developing storyline between Rose and Sonya Deville makes sense since they're close friends in real life, but I hope WWE doesn't make total hash out of this.
Was that Shelton Benjamin interview weird or is it me?
Guess Rowan hates pancakes or he's gluten-free. I was actually surprised that those two teams in the same space lasted as long as it did. The official tag match was really good, Ziggler and Owens were an okay team, but I'm not surprised that Heavy Machinery won. They seem to have the crowd behind them. Guess Owens and Ziggler will probably feud after this, not sure who the babyface will be, but that seems to be where we're going.
That's it for Tiffany's SmackDown Takes! Stay tuned for 205 Live!
Greg DeMarco's Good, Bad, & Ugly: WWE Smackdown On FOX (November 3, 2023)
It's the go-home show for WWE Crown Jewel, and Smackdown is in full force! As is Greg's Good, Bad, & Ugly review!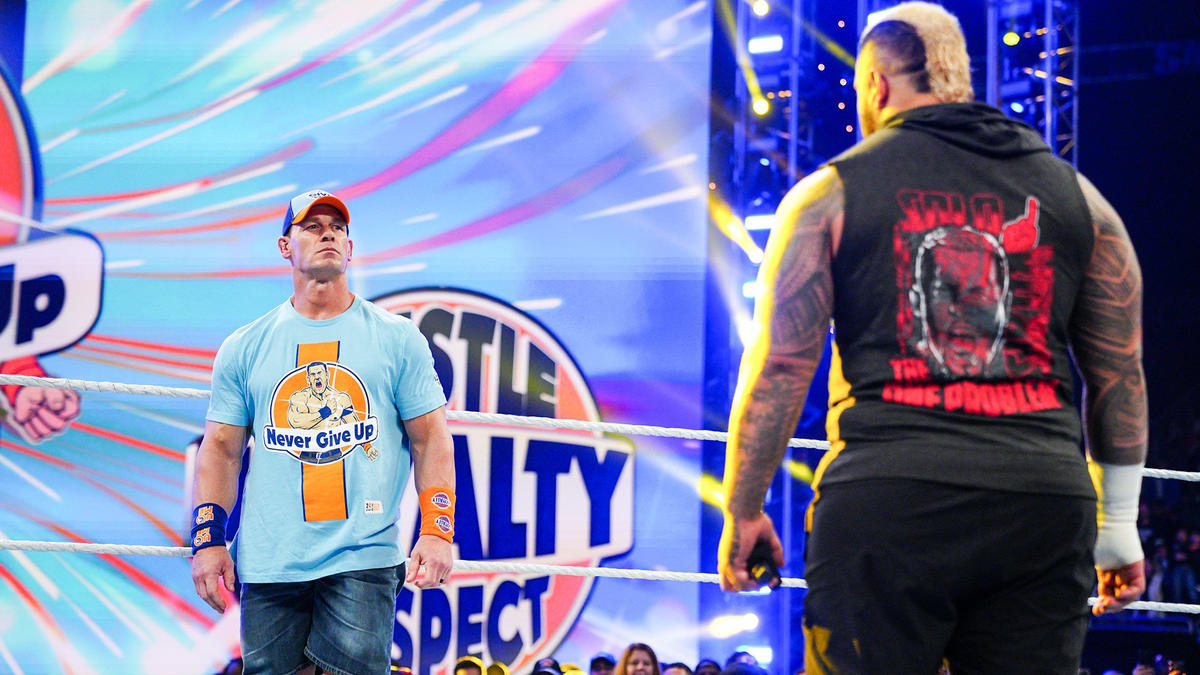 It's the go-home show for WWE Crown Jewel, and Smackdown is in full force! As is Greg's Good, Bad, & Ugly review!
WWE Smackdown On FOX sends us home for the Crown Jewel premium live event, so it has to be strong. But is it? Maybe it's Good. Possibly it's Bad? I sure hope it isn't Ugly.
Let's find out!
---
If you haven't checked out Mitchell's Results & Review for this episode of Smackdown, go and check it out now!
---
Good
Roman Reigns & LA Knight In Ring Promo – Last week LA Knight got the better of Roman, so it made sense for Roman to get it all back this week. And he did just that. "Redneck Cosplay of my cousin" was a fantastic line from Roman Reigns, but "I ain't here to finish something" from LA Knight got a bigger reaction from me. Roman calling himself the megastar was also a phenomenal line. Good stuff all around.
Kevin Owens vs. Austin Theory – Kevin Patrick keeping "The 150 million hit man" schtick going for Austin Theory is so great. Milk that for all it's worth! "What is your issue with Kevin Owens' face?" "LOOK AT IT, MAN!" Absolutely brilliant shit. "How's that feel, idiot?" Grayson Waller should be on commentary every week, for every match. And this match, by the way, was really good. Austin Theory has settled into his current role, showing he understands the WWE cycle. And Owens is Owens.
Backstage Series Of Events – We had the Bianca Belair interview where she was attacked by Damage Ctrl, followed by The Street Profits & Bobby Lashley running into Logan Paul and then B-Fab. Flowed well, no issues for me.
Chelsea Green & Piper Niven vs. Shotzi Blackheart & Charlotte Flair – No surprise that Charlotte Flair was the partner, and no surprise that Alba Fyre and Isla Dawn made an appearance. This was a perfectly fine TV match–didn't set the world on fire, but also wasn't Bad or Ugly. This was a step in this story, and an effective one.
The Brawling Brutes vs. Pretty Deadly in a Good Ol' Fashioned Donnybrook! – Shout out to Sheamus, whose return I look forward to seeing. With Ridge really coming into his own, we're to the point where all four of these guys range from good to great to fantastic on any given night. Putting Pretty Deadly into any "manly fight" is always guaranteed entertainment. Really, Pretty Deadly in anything is typically guaranteed entertainment. Pretty Deadly picking up the win was not a shock, although I'd have loved to see Butch and Ridge Holland pick up a win here. Given the rules (or lack thereof) of this match, Pretty Deadly basically won clean here.
Rey Mysterio vs. Logan Paul Crown Jewel Weigh-In – A very effective way to pretape something, which saves time as part of a double taping. It was essentially a go home promo, but done in a different way. I liked it. It also smoothly transitions into the rundown of the card by the commentary team, which I always appreciate.
Bianca Belair vs. Bayley – If you know me, you know that Bianca can be hit or miss for me. She can't "work with anyone," but she can definitely work with Bayley. Bayley, of course, is money with anything she does. Both women delivered a main event quality match, and no one should complain that Bianca Belair won. She's challenging for the Women's Championship in less than 24 canon hours, so she needs to win. Bayley is a made woman, losing here doesn't hurt her one bit.
"Just Enough Nick" Nick Aldis Usage – Triple H has done an amazing job of establishing Nick Aldis. Three weeks in and he already "belongs." Much of that is attributed to how Aldis carries himself. But they are also using him to the right degree. It's not too much, but it's also not too little. Adam Pearce could miss two weeks of Raw and when he shows back up, it all makes sense. For Aldis, he needs to be very present, but not overbearing or "shoved down our throats." They have the right balance.
BAD
Solo Sikoa & John Cena In Ring Promo – John Cena, lost voice and all, completely buries Solo Sikoa. He "cooks" Solo, as promised. And, as Cena does, he makes Solo look like crap. Bargain Basement Tazz Rip Off? C'mon man, you're better than that. But here's the real problem: what happens if Solo loses? Cena made him look like a loser, and then proves that he is? Solo has to win this match. If he doesn't, and Cena is gone, then Solo is left out in the cold. And you don't want to do that to Solo Sikoa at this point of his career.
UGLY
Misstep for Theory – Referencing Halloween as if it hadn't already happened. You can edit this episode–c'mon, man!
Kevin Owens' Crotch Chop – C'mon, man! We're better than crotch chops in 2023.
The Verdict
Good – 8
Bad – 1
Ugly – 2
In all honesty this was a damn good show. Milwaukee showed out considering they'd already seen 2 hours of Smackdown before this was taped. Good on them, and good on WWE for a great go home show for Crown Jewel.
Interesting of note – the pictures for this show that are posted to the WWE website are uploaded in the order the matches and segments were recorded, not the order in which they aired. Just a little tidbit that I found interesting.
Greg DeMarco's Wrestling Ratings Report: Monday Night Raw (10/30/2023) & WWE NXT (10/31/2023)
Greg DeMarco takes a look at your Monday and Tuesday night TV ratings. What do they mean? Do they matter?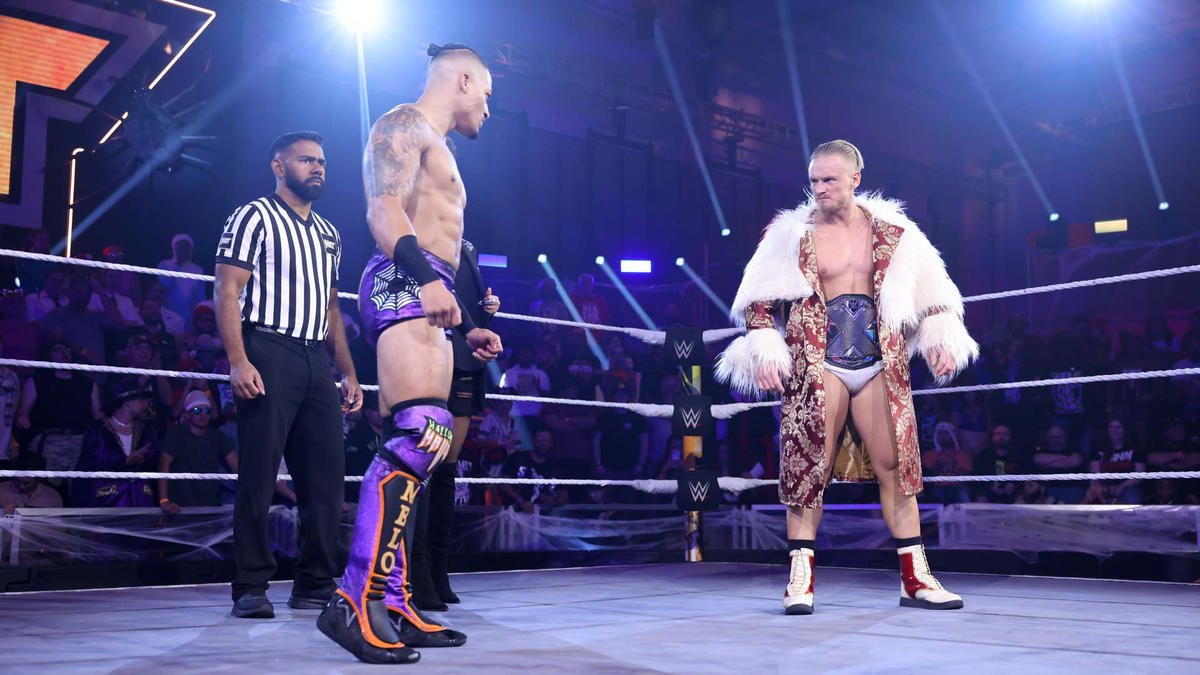 Greg DeMarco takes a look at your Monday and Tuesday night TV ratings. What do they mean? Do they matter?
Settle in for a look at this week's ratings for WWE Monday Night Raw and WWE NXT Halloween Havoc Night 2! Both were up against some stiff competition–let's see how they fared!
WWE Monday Night Raw (October 30, 2023)
Hour #1 – 1.466 million viewers, .44 demo rating, #6 for the night on cable
Hour #2 – 1.450 million viewers, .46 demo rating #5 for the night on cable
Hour #3 – 1.256 million viewers, .39 demo rating, #8 for the night on cable
WWE Monday Night Raw for October 30, 2023 faced some stiff competition on Monday night. You had Monday Night Football as normal–which aired on both ESPN and ABC–along with the usual peripheral shows (Monday Night Football Postgame, Monday Night Football Kickoff, SportsCenter, and the Monday Night Countdown, which factored into the Top 10). 6.851 million people watched Monday Night Football on ESPN, a number that more than doubles when you factor in ABC.
What does it all mean? It means that outside of Monday Night Football–on cable–WWE Monday Night Raw was the top rated show. If you take away all things NFL, Raw finishes #1, #2, and #3 for the night. Viewership did drop off for our 3, but that's the 10 PM hour that sees kids go to bed and people checking on the Monday Night Football and World Series games.
Speaking of which, that's another factor to consider–the World Series! 8.126 million people watched the World Series on FOX (not really that good), with another 8.356 million watching Monday Night Football on ABC (yes, more than the World Series) for a decent-at-best Lions vs Raiders match-up.
In summary, it was another successful night for WWE Monday Night Raw, which was the go-home edition of the program. You can check out my Good Bad & Ugly look at Monday's Raw, where I gave the show an overall "Good" rating. Haven't watched yet? Give Mitchell's live coverage a read.
---
Listen to this week's edition of Bandwagon Nerds!
---
WWE NXT Halloween Havoc Night 2 (October 31, 2023)
Entire Broadcast – 674 thousand viewers, .20 demo rating, #6 for the night on cable
WWE NXT (Halloween Havoc Night 2) for October 31, 2023, had to deal with a myriad of external factors this week. First is the most obvious–it was Halloween! Many people had plans, Trick-Or-Treat escapades and more. That right there will be a detriment to any ratings results. Add in two live NBA games, each drawing over a million viewers for TNT. Combine it all together and WWE NXT was the top rated program that wasn't sports programming on TNT or ESPN. Hell, the entire Top 12 consisted of ESPN and TNT sports programming, plus NXT.
It's easy to call this a failure since viewership was lost week over week. But that's very shortsighted. The fact remains that NXT was among the most watched programming for the night, holding its own against live sports and sports-peripheral programming.  If you're WWE and USA Network, you're nothing but happy with these results.
NXT, of course, featured the second week of Halloween Havoc, headlined by Ilja Dragunov defending the NXT Championship against Carmelo Hayes in the third match of their trilogy. Along with that you had The Creed Brothers in a Tables, Ladders, and Scares (Chairs) match with Angel Garza & Humberto Carrillo, Lola Vice vs. Kelani Jordan in the finals of the Women's Breakout Tournament, and much more.
I'd call the Tuesday program a ratings success. My Good, Bad, & Ugly review of NXT Halloween Havoc Night 2 is available here, where I called it "Good" overall. If you haven't seen the show yet, check out Mitchell's play-by-play.
As the weeks roll on, I will compile some historical data and look more about week-over-week (and beyond) patterns in all of my ratings reports.