'Full Gear' Preview: Has Jon Moxley Surpassed Kenny Omega as a Top Star in AEW?
Headed into Full Gear, is Jon Moxley AEW's #1 star? Tom Clark expands on this layered topic.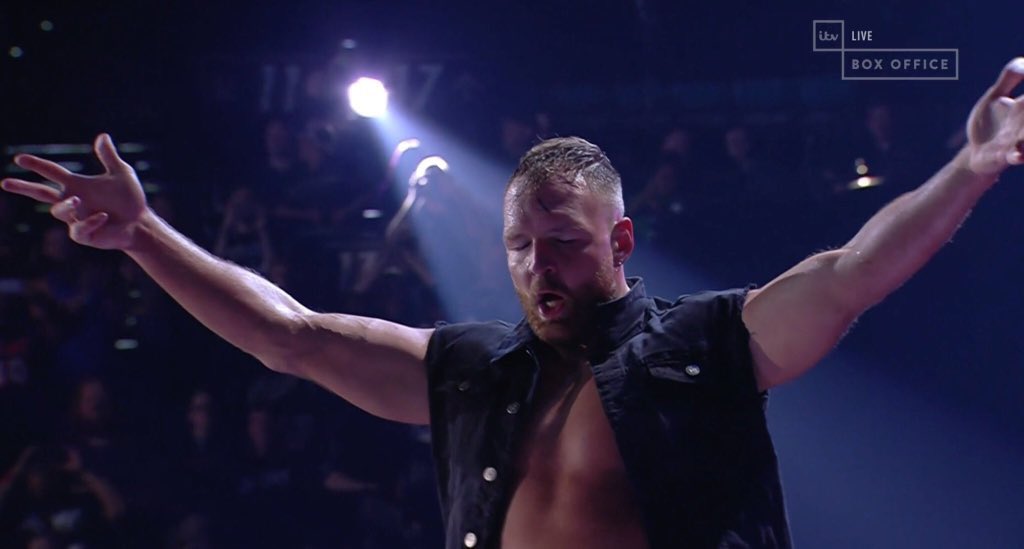 Jon Moxley will face Kenny Omega at AEW Full Gear on Saturday, November 9. The man formerly known as Dean Ambrose in WWE is hitting his stride in Tony Khan's new company and he will bring his momentum to the man that many fans believed would be on top of AEW.
But thus far, Omega has not been the top star that fans believed he would be. He's still a featured attraction in AEW and he's still in top form as far as his ring work is concerned. But in terms of who he is as main event draw? It's entirely possible that Jon Moxley has surpassed Kenny Omega in that category.
From the moment he debuted at May 25's Double or Nothing, Jon Moxley was the talk of the pro wrestling world. Moxley brought his lunatic fringe down to bear on Omega and put The Best Bout Machine on notice. Mox was making a statement and taking a stand.
He came in with an explosion and he's never looked back. It was the kind of impact that fans knew Jon was capable of making and all he needed was the opportunity to prove it. AEW gave him what he always wanted and that was a chance to show what he can do when he's left to his own devices.
Moxley didn't need to be coached on what to do, or how to carry himself. He also didn't need to rely on a script when AEW put him in front of a mic. All Mox needed was to just be himself, which is exactly what he did.
Some feared that Jon's arrival in AEW would ultimately fall flat due to his career as Ambrose in WWE. After all, it had only been a month since he had appeared on WWE programming. While a brand new run in a brand new company seemed like an exciting idea, there was every possibility that he wouldn't get over. 
The key to insuring success in AEW was to first cleanse his palate in New Japan Pro Wrestling. Moxley's New Japan debut came in June of 2019. Mox came in as The Death Rider, a new persona that was a much harder and edgier version of what WWE fans had seen in the past. This was not the same man who bumped fists with Roman Reigns and Seth Rollins in The Shield.
This man was violent, bloodthirsty and ready to destroy anyone who got in his way. Dean Ambrose had a comedic, family friendly side that appealed to fans of all ages. But Jon Moxley was intended for mature audiences only.
But perhaps the most important difference between the two characters was the fire. Ambrose lost it and Mox had it like no one else. When fans looked into Jon's eyes, they saw a man that was out to take over the world. For the first time in years, no one was telling him what to do or what to say. Jon was his own man once again.
The fans in New Japan immediately recognized the difference and Mox quickly became one of the most popular stars in the locker room. Jon had some well received matches with some high profile stars in New Japan, like Tomohiro Ishiii, Jay White and Shingo Takagi. With each bout, Moxley redefined who he is and in the process, rediscovered his love of the game.
By the time he got to AEW, Jon Moxley was a completely new man. His WWE demons had been exorcised and he was having fun for the first time in a long time. But somewhere along the way, Mox's AEW career began to take on a very familiar WWE tone.
The similarities between Moxley and Stone Cold Steve Austin became evident and fans saw it right away. Like Austin, Mox was a take-no-prisoners kind of guy. He didn't care about what anyone thought of him and he did whatever he wanted to do. Most importantly, Jon struck anytime he wanted to as well.
The comparisons between Mox and Austin were made when Jon was working in WWE as well, but they did not really apply to him at the time. That was because Dean Ambrose was just part of the show in WWE, while Jon Moxley is now taking over the show in AEW.
That was especially true of the promo that he cut on November 1. Jon was completely focused and in the moment when he spoke to the audience. He was firing on all cylinders and it reminded fans of just how good he could be when trusted to get over on his own.
But while Mox has become white-hot, Omega has cooled off. Kenny was believed to be the company's biggest pro wrestling star next to Chris Jericho and now he's arguably not even in the top three. 
Much of the reason for that was a lack of activity on Omega's part. While he was in New Japan, Kenny was having match of the year nominees with Kazuchika Okada. He was in top form and no one was bigger than him at the time.
But Kenny Omega did virtually nothing after he left Japan and signed with AEW. Because of this, Omega lost valuable steam. So even though he's still one of The Elite and he can still deliver in the ring, he's just not the star that many fans now want to see. 
That man is Jon Moxley, who simply can do no wrong right now. He's exactly what fans wanted and he's taking his job very seriously. Fans see what he's all about and they connect to it. When he speaks, Jon Moxley completely loses any trace of himself as a real person What's left is the highly motivated and hungry competitor that wants to smash anyone standing in his way. 
Jon Moxley is in a prime spot as the roughhousing rebel. He looks better than he ever has before and he is driven to leave a mark every time he's on camera. He is precisely what Kenny Omega used to be. Whether or not The Cleaner rises back up anytime soon is anyone's guess. But as for Moxley, there's no time like the present to make a statement and that's exactly what The Death Rider is doing.
Greg DeMarco's Good, Bad, & Ugly: WWE Smackdown On FOX (November 3, 2023)
It's the go-home show for WWE Crown Jewel, and Smackdown is in full force! As is Greg's Good, Bad, & Ugly review!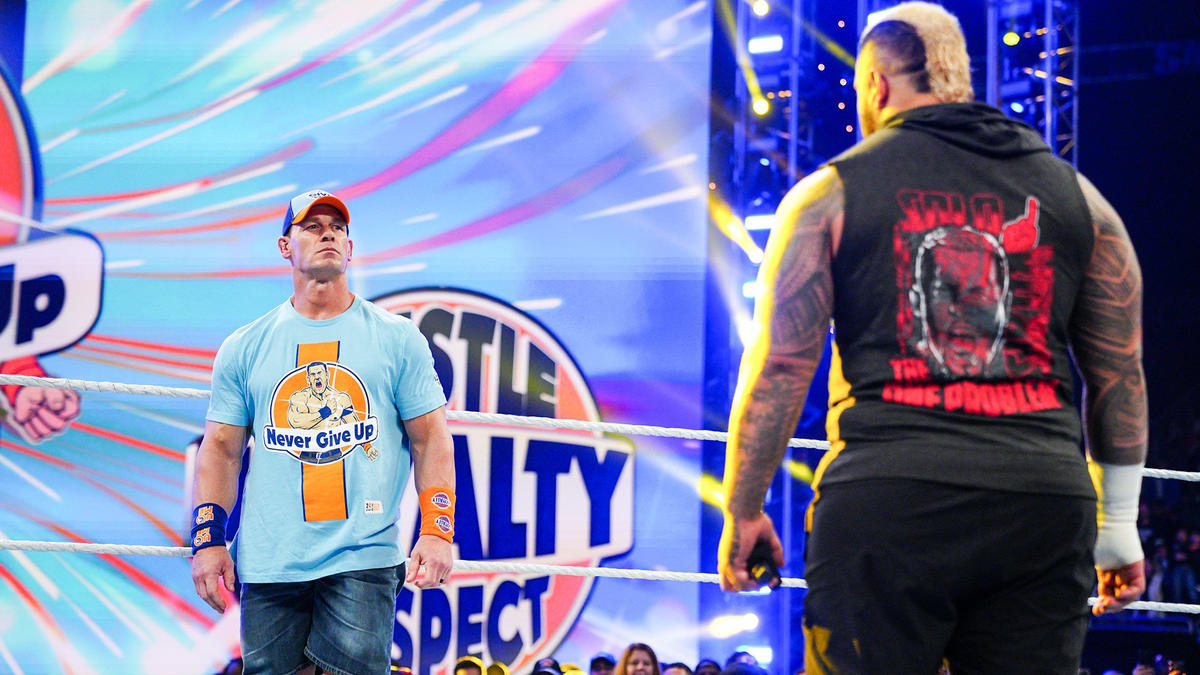 It's the go-home show for WWE Crown Jewel, and Smackdown is in full force! As is Greg's Good, Bad, & Ugly review!
WWE Smackdown On FOX sends us home for the Crown Jewel premium live event, so it has to be strong. But is it? Maybe it's Good. Possibly it's Bad? I sure hope it isn't Ugly.
Let's find out!
---
If you haven't checked out Mitchell's Results & Review for this episode of Smackdown, go and check it out now!
---
Good
Roman Reigns & LA Knight In Ring Promo – Last week LA Knight got the better of Roman, so it made sense for Roman to get it all back this week. And he did just that. "Redneck Cosplay of my cousin" was a fantastic line from Roman Reigns, but "I ain't here to finish something" from LA Knight got a bigger reaction from me. Roman calling himself the megastar was also a phenomenal line. Good stuff all around.
Kevin Owens vs. Austin Theory – Kevin Patrick keeping "The 150 million hit man" schtick going for Austin Theory is so great. Milk that for all it's worth! "What is your issue with Kevin Owens' face?" "LOOK AT IT, MAN!" Absolutely brilliant shit. "How's that feel, idiot?" Grayson Waller should be on commentary every week, for every match. And this match, by the way, was really good. Austin Theory has settled into his current role, showing he understands the WWE cycle. And Owens is Owens.
Backstage Series Of Events – We had the Bianca Belair interview where she was attacked by Damage Ctrl, followed by The Street Profits & Bobby Lashley running into Logan Paul and then B-Fab. Flowed well, no issues for me.
Chelsea Green & Piper Niven vs. Shotzi Blackheart & Charlotte Flair – No surprise that Charlotte Flair was the partner, and no surprise that Alba Fyre and Isla Dawn made an appearance. This was a perfectly fine TV match–didn't set the world on fire, but also wasn't Bad or Ugly. This was a step in this story, and an effective one.
The Brawling Brutes vs. Pretty Deadly in a Good Ol' Fashioned Donnybrook! – Shout out to Sheamus, whose return I look forward to seeing. With Ridge really coming into his own, we're to the point where all four of these guys range from good to great to fantastic on any given night. Putting Pretty Deadly into any "manly fight" is always guaranteed entertainment. Really, Pretty Deadly in anything is typically guaranteed entertainment. Pretty Deadly picking up the win was not a shock, although I'd have loved to see Butch and Ridge Holland pick up a win here. Given the rules (or lack thereof) of this match, Pretty Deadly basically won clean here.
Rey Mysterio vs. Logan Paul Crown Jewel Weigh-In – A very effective way to pretape something, which saves time as part of a double taping. It was essentially a go home promo, but done in a different way. I liked it. It also smoothly transitions into the rundown of the card by the commentary team, which I always appreciate.
Bianca Belair vs. Bayley – If you know me, you know that Bianca can be hit or miss for me. She can't "work with anyone," but she can definitely work with Bayley. Bayley, of course, is money with anything she does. Both women delivered a main event quality match, and no one should complain that Bianca Belair won. She's challenging for the Women's Championship in less than 24 canon hours, so she needs to win. Bayley is a made woman, losing here doesn't hurt her one bit.
"Just Enough Nick" Nick Aldis Usage – Triple H has done an amazing job of establishing Nick Aldis. Three weeks in and he already "belongs." Much of that is attributed to how Aldis carries himself. But they are also using him to the right degree. It's not too much, but it's also not too little. Adam Pearce could miss two weeks of Raw and when he shows back up, it all makes sense. For Aldis, he needs to be very present, but not overbearing or "shoved down our throats." They have the right balance.
BAD
Solo Sikoa & John Cena In Ring Promo – John Cena, lost voice and all, completely buries Solo Sikoa. He "cooks" Solo, as promised. And, as Cena does, he makes Solo look like crap. Bargain Basement Tazz Rip Off? C'mon man, you're better than that. But here's the real problem: what happens if Solo loses? Cena made him look like a loser, and then proves that he is? Solo has to win this match. If he doesn't, and Cena is gone, then Solo is left out in the cold. And you don't want to do that to Solo Sikoa at this point of his career.
UGLY
Misstep for Theory – Referencing Halloween as if it hadn't already happened. You can edit this episode–c'mon, man!
Kevin Owens' Crotch Chop – C'mon, man! We're better than crotch chops in 2023.
The Verdict
Good – 8
Bad – 1
Ugly – 2
In all honesty this was a damn good show. Milwaukee showed out considering they'd already seen 2 hours of Smackdown before this was taped. Good on them, and good on WWE for a great go home show for Crown Jewel.
Interesting of note – the pictures for this show that are posted to the WWE website are uploaded in the order the matches and segments were recorded, not the order in which they aired. Just a little tidbit that I found interesting.
Greg DeMarco's Wrestling Ratings Report: Monday Night Raw (10/30/2023) & WWE NXT (10/31/2023)
Greg DeMarco takes a look at your Monday and Tuesday night TV ratings. What do they mean? Do they matter?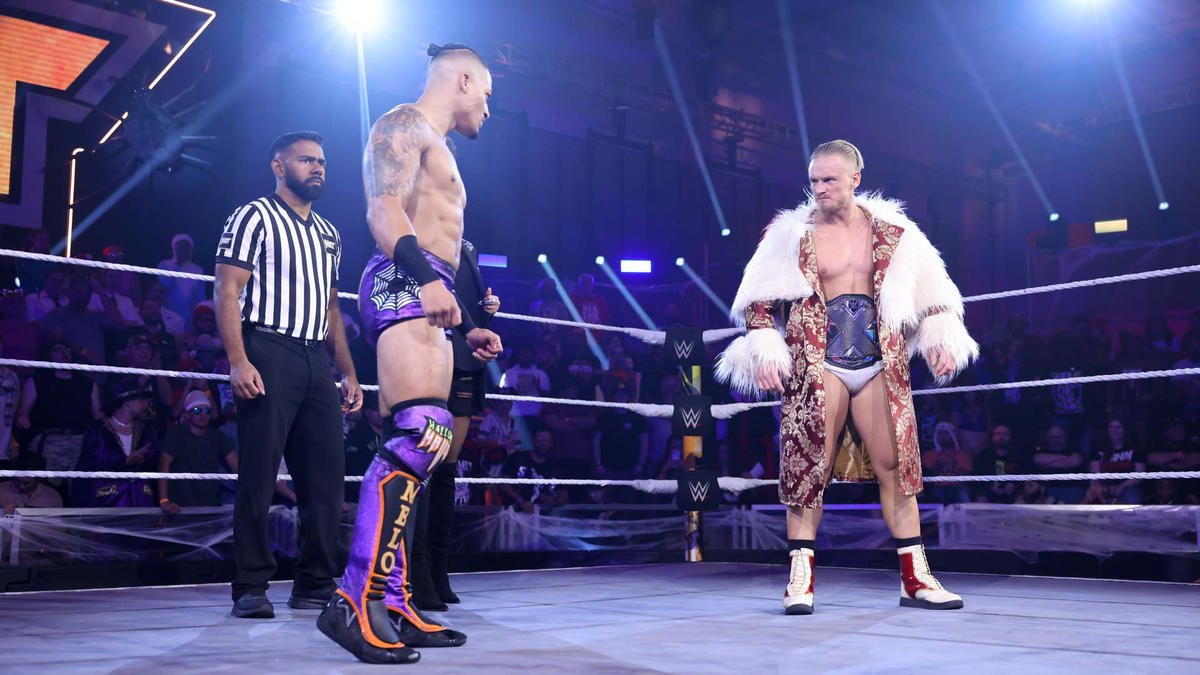 Greg DeMarco takes a look at your Monday and Tuesday night TV ratings. What do they mean? Do they matter?
Settle in for a look at this week's ratings for WWE Monday Night Raw and WWE NXT Halloween Havoc Night 2! Both were up against some stiff competition–let's see how they fared!
WWE Monday Night Raw (October 30, 2023)
Hour #1 – 1.466 million viewers, .44 demo rating, #6 for the night on cable
Hour #2 – 1.450 million viewers, .46 demo rating #5 for the night on cable
Hour #3 – 1.256 million viewers, .39 demo rating, #8 for the night on cable
WWE Monday Night Raw for October 30, 2023 faced some stiff competition on Monday night. You had Monday Night Football as normal–which aired on both ESPN and ABC–along with the usual peripheral shows (Monday Night Football Postgame, Monday Night Football Kickoff, SportsCenter, and the Monday Night Countdown, which factored into the Top 10). 6.851 million people watched Monday Night Football on ESPN, a number that more than doubles when you factor in ABC.
What does it all mean? It means that outside of Monday Night Football–on cable–WWE Monday Night Raw was the top rated show. If you take away all things NFL, Raw finishes #1, #2, and #3 for the night. Viewership did drop off for our 3, but that's the 10 PM hour that sees kids go to bed and people checking on the Monday Night Football and World Series games.
Speaking of which, that's another factor to consider–the World Series! 8.126 million people watched the World Series on FOX (not really that good), with another 8.356 million watching Monday Night Football on ABC (yes, more than the World Series) for a decent-at-best Lions vs Raiders match-up.
In summary, it was another successful night for WWE Monday Night Raw, which was the go-home edition of the program. You can check out my Good Bad & Ugly look at Monday's Raw, where I gave the show an overall "Good" rating. Haven't watched yet? Give Mitchell's live coverage a read.
---
Listen to this week's edition of Bandwagon Nerds!
---
WWE NXT Halloween Havoc Night 2 (October 31, 2023)
Entire Broadcast – 674 thousand viewers, .20 demo rating, #6 for the night on cable
WWE NXT (Halloween Havoc Night 2) for October 31, 2023, had to deal with a myriad of external factors this week. First is the most obvious–it was Halloween! Many people had plans, Trick-Or-Treat escapades and more. That right there will be a detriment to any ratings results. Add in two live NBA games, each drawing over a million viewers for TNT. Combine it all together and WWE NXT was the top rated program that wasn't sports programming on TNT or ESPN. Hell, the entire Top 12 consisted of ESPN and TNT sports programming, plus NXT.
It's easy to call this a failure since viewership was lost week over week. But that's very shortsighted. The fact remains that NXT was among the most watched programming for the night, holding its own against live sports and sports-peripheral programming.  If you're WWE and USA Network, you're nothing but happy with these results.
NXT, of course, featured the second week of Halloween Havoc, headlined by Ilja Dragunov defending the NXT Championship against Carmelo Hayes in the third match of their trilogy. Along with that you had The Creed Brothers in a Tables, Ladders, and Scares (Chairs) match with Angel Garza & Humberto Carrillo, Lola Vice vs. Kelani Jordan in the finals of the Women's Breakout Tournament, and much more.
I'd call the Tuesday program a ratings success. My Good, Bad, & Ugly review of NXT Halloween Havoc Night 2 is available here, where I called it "Good" overall. If you haven't seen the show yet, check out Mitchell's play-by-play.
As the weeks roll on, I will compile some historical data and look more about week-over-week (and beyond) patterns in all of my ratings reports.