Mitchell's Hyrule Puro-Resu News! (7/18/20)
It's a big news round-up for HPW!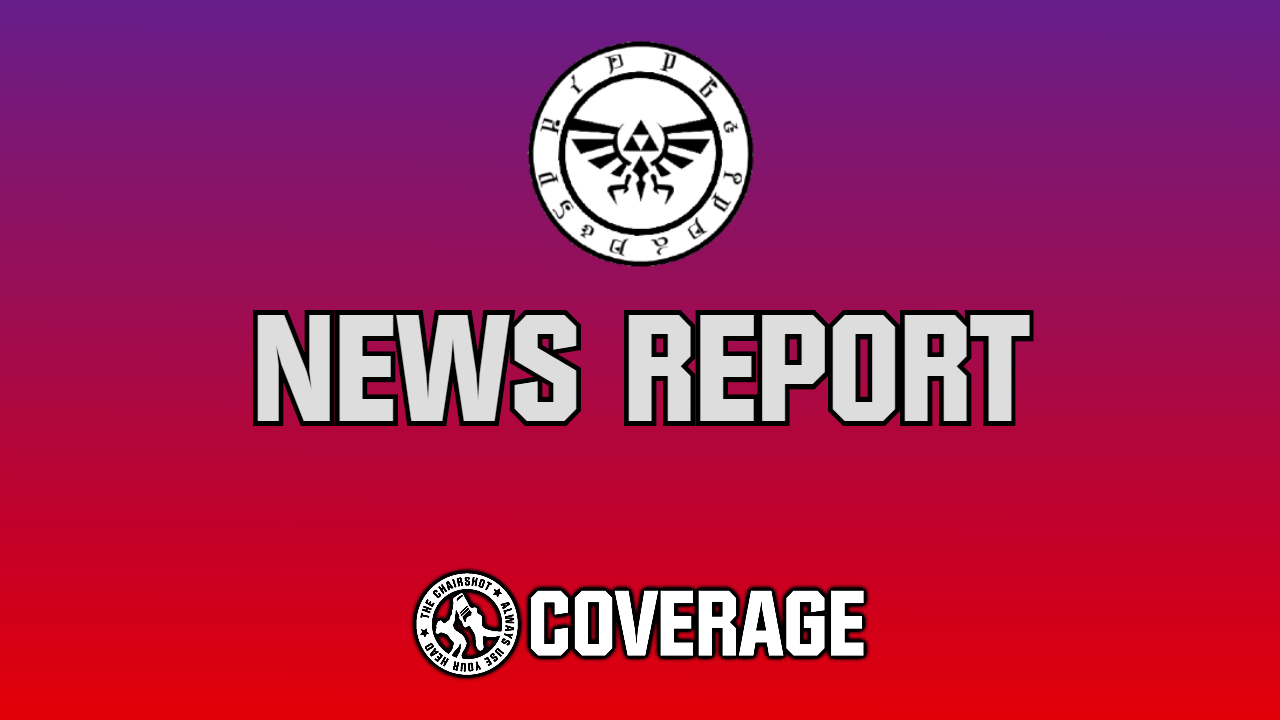 Set sail for Treasure Island!
The match card has been set for the most ambitious event in Hyrule Puro-Resu history! After last week's Lanayru Bay event, we now have our #EventideSix! There was a bit of tension between them after the main event, so HPW has chosen to forgo a press conference format with the six sitting at tables by a podium. Instead, HPW conducts individual interviews to the liking of each contender.
First, Ashei.
HPW commentator Telma congratulates Ashei on winning her Eventide Qualifier. Telma has seen Ashei grow up quite a lot in the ring, even before joining HPW. How does it feel to have been one of the only women chosen in the original field of nine? "That was a huge honor for me. I honestly didn't expect to get chosen when there were so many other big names on the roster." And obviously, she's aware of how big it was to not just survive but win her Triple Threat match. Her father called and said how proud he was of her. It's a little known fact that Ashei is a second-generation wrestler, but even Ashei knows her father wasn't as big of a name as, say, the King of Hyrule, Nicolas Foolyere. Not that she's trying to make it seem as if Zelda was part of this match because of her father's name. Like Ashei, Zelda earned her spot by winning her Triple Threat.
In that case, how does Ashei respond to Zelda's words at the end of the Lanayru Bay event? Zelda said she is looking forward to competing against Ashei in the Eventide Challenge, and so is Ashei. It's great that Women's Wrestling is rising up the card in Hyrule. Ashei and Zelda both want to prove female wrestlers are just as good as male wrestlers, and that hopefully one day, THE best wrestler in the world is a woman. But Ashei also wants to show that "your name doesn't make you great. You make you great. I make myself great, and I will make myself the next #1 contender." Telma wishes Ashei the best of luck and Ashei thanks her.
Second, Garo Master.
HPW correspondent Paya is very nervous talking to the masked figure as she brings up that while he qualified for the Eventide Challenge, he wasn't involved in the decision and essentially "survived." Because of the mask, it is hard to tell if Garo is upset by her comments. Paya sheepishly asks for him to say something, anything at all. The sudden turn of his head spooks her, but he catches the mic she drops. He slowly brings it to the beak-like part of the mask and speaks. "There is no shame in surviving. Only in defeat. I will not be defeated on Eventide." With that, he hands the microphone back to Paya, and walks away.
Third, Master Kohga.
HPW commentator Rusl interviews the leader of the Yiga Clan, and congratulates him on winning his Triple Threat. Kohga thanks him for the congratulations, and offers Rusl a banana. Rusl politely refuses. How does Kohga feel being back in the title hunt after some "missteps" at the start of the year? Well, Kohga should've figured it was a "sneaky trick by the Sheikah" that kept him out of the Triforce Tournament. Zelda pretending to be a man, something about that threw Kohga off in the Bracket of Wisdom qualifier and that is why he lost. Rusl isn't sure how that could be, but Kohga gets offended, asking Rusl if he's calling Kohga a liar. Rusl says he isn't, he's just trying to understand. Kohga waves that off and sneaks a bite of the banana under his mask.
So then, how would it feel for Kohga to get a semblance of payback against Zelda in the Eventide Challenge? It would be incredible! Not just because it'd be payback on Zelda, but on Zelda's mentor, Impa. Impa and her Sheikah have always been high and mighty because of their closeness to King Nicolas, but no longer! Kohga and his Yiga Clan will "knock them down a peg, just you wait and see!" Kohga finishes his banana then tosses the peel at the camera. By the time the peel comes off the lens, Kohga's gone!
Fourth, Groose.
HPW correspondent Seres waits as the Skyfall Stud walks in. "YES! Going to Eventide!" Well then, Seres probably doesn't have to ask how excited he is about this opportunity. Groose is more than excited, he is feeling really good about this. Yes, he "survived" his match when Kohga dropped in out of nowhere to take out King Moblin, but Kohga could've easily dropped those knees on Groose. Groose feels very fortunate, and very confident of his chances. In fact, Groose guarantees two things for Treasure Island: "I win the Eventide Challenge, and Link keeps the Triforce Championship!" Then Groose and his "good buddy" can have "the epic rematch" from the Triforce Tournament. "And no way I'm gonna let some scrawny clown snatch that prize from me!" Who is he referring to? "Oh, he knows who I mean." Groose looks right into the camera as he points. "See you there, Prince!" Groose nods as he backs out of frame.
Fifth, Zelda.
HPW commentator Shad sits with Zelda in the ring for their interview. Shad congratulates Zelda on winning the third Triple Threat qualifier, and asks how it feels to also have won the main event in Lanayru Bay. It wouldn't have mattered to Zelda if she was in the opener, the middle or the main event, she was going to do everything she had to in order to win. So the bottom line is that she won, she feels good about that, and she is really excited to go to Eventide Island.
We know Zelda said she's excited to have Ashei in the match, but what does she think of the others in the match? Zelda has known Groose for some time, so it might be interesting with him in the mix. But before she can speak to the others, Fin Balure barges his way onto the stage! His interviewer, Irene, tries to get him to return backstage but he just keeps going down to the ring. Zelda gets up out of her seat to stare Fin down as he stands on the apron. Irene hurries up the steps, still trying to reason with him. Fin stays on the apron and Zelda stays in the ring but the tension mounts. Fin tells Irene to interview him here on the apron. She's a bit surprised and confused but does as suggested.
"Fin Balure," Irene starts. "You didn't win the Triple Threat, but you also didn't lose, so you still qualified for the Eventide Challenge. How will you redeem yourself in that match?" Fin looks at Irene as he says, "Redeem myself? There's nothing to redeem." It took both Zelda and Rosso to keep him out of the finish. If anything, Zelda made a mistake in letting Fin stay in the Eventide Challenge. And Fin promises to make her regret that mistake. "As far as I see it, there are gonna be five losers left behind on Treasure Island. And The Prince isn't any single one of 'em." Fin hops down off the apron and heads back up the ramp. Irene follows after, and Shad tentatively steps closer to Zelda to ask for a response. Zelda brings up Shad's question that was interrupted. "I can't wait to fight him."
Igos du Ikana has a message.
"Do you know the definition of the word, 'exquisite,' Ghirahim? Something is 'exquisite' when it is extremely beautiful and, typically, very delicate." Beauty is in the eye of the beholder, but the latter part of that definition fits Ghirahim perfectly. His fragile ego couldn't take losing to Link, losing the battle royal, and then losing to Igos, and he snapped. He went after Groose, and though he won, had to prop his self-esteem up with "an absolutely garish looking belt." The strap alone burns Igos' eyes every time he tries to look at it. Fortunately, if the championship is exquisite now, Igos can break it. And then Igos will rebuild it, not in his image the way Ghirahim did. Igos will rebuild the title stronger than ever before. He will rebuild it from the ashes of Ghirahim's narcissism as it #FallsToRuin.
HPW Media interviews Triforce Champion, Link!
The Hero of Hyrule will finally have his first title defense after a prolonged process to determine a challenger. We've seen him training with Groose and Rosso, so he's looking great, but how does he feel going into a rematch of sorts against Ganondorf Dragmire? But before Link can answer, Link sees Ganondorf coming up behind the camera. The camera moves to see Ganondorf standing there, wearing his boar headdress.
Ganondorf chuckles as he takes the headdress off. Does Link seriously think what he did in the woods is going to be enough? Link is not going to be ready for him. Link will never be ready. What Link needs to prepare for is what it's going to be like after Treasure Island. Link needs to be ready to be back where he started before even the Triforce Tournament: "a nobody from some backwater town, holding on to a dream." And HPW needs to be ready to finally have a champion they can be proud of. A champion they'll want to feature at every event because they know that champion can actually talk and stand up for himself. HPW needs to be ready for the rule of Ganondorf. Ganondorf puts the headdress back on and leaves. Link glares in Ganondorf's direction as the camera focuses back on him. "I'll be ready. He won't be."
---
My Thoughts:
I personally feel really good about the promos in this one. For one, we finally give Garo Master some personality, in that he doesn't really have one, he's super serious about winning. Ashei also has an icy personality, it seems to go with her part of Twilight Princess where she's in the snowy mountains. I didn't want to betray that with her promo, so I did my best to keep her calm, though obviously it can be tricky to put tone and emotion into text. And it's pretty clear things are orbiting around Zelda and Fin Balure. Groose wants after Fin, Fin wants after him and Zelda, Kohga wants after Zelda, even Ashei has something to prove compared to Zelda, and Zelda just wants to prove herself as an individual. I'm going to really like writing that Eventide Challenge match.
If it isn't clear yet, Igos du Ikana is Aleister Black, or as good as I can copy Aleister's promo style. I'm conflicted on the direction of the midcard title, but I'll make that match as great as I possibly can. The same goes for the world title with Link and Ganondorf. Treasure Island is really going to be a huge event, that's for sure.
Bandwagon Nerds #202: Bridger Over Troubled Water
Grand Admiral Thrawn and Ezra Bridger finally made their live-action debuts and BWN breaks it all down for you.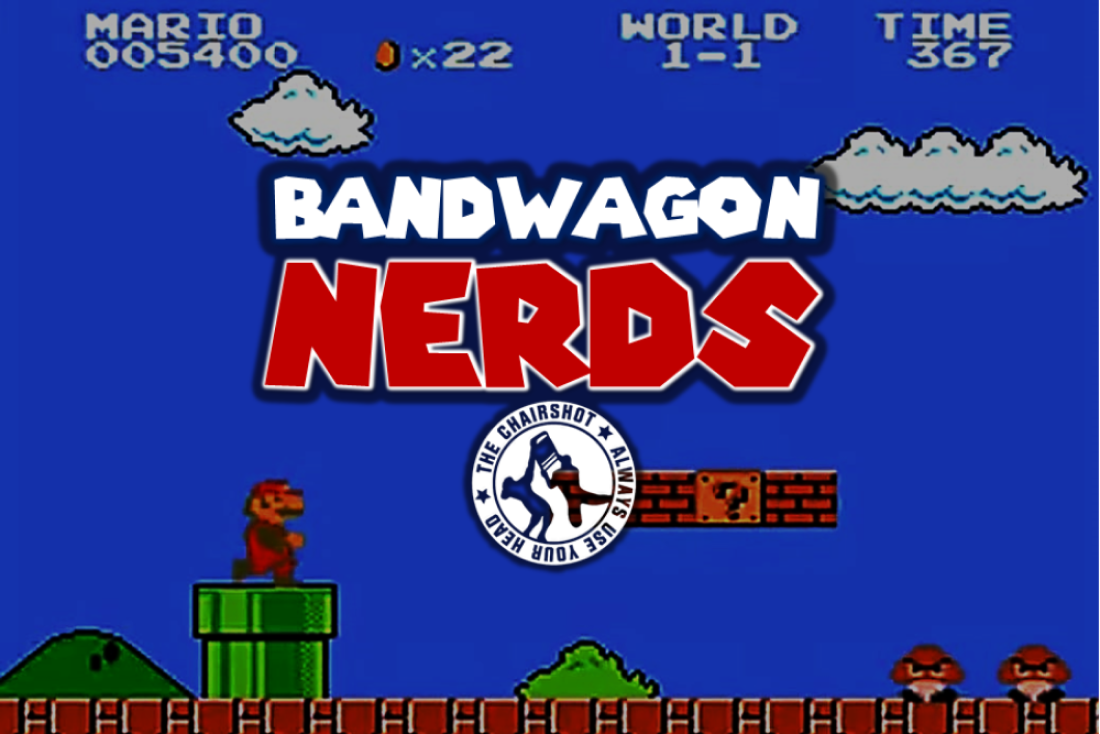 The Nerds return to break down one of the biggest events in recent Star Wars history. Ahsoka, Episode 6, featured the long-awaited live action debuts of Grand Admiral Thrawn and Ezra Bridger. The emergence of these two iconic characters represents a seismic shift in the Star Wars Universe and sets the stage for a massive final 2 Episodes of Ahsoka…as well as for what is coming down the pike. A visit to the Trailer Park looks at the latest from A24, plus new trailers for Hunger Games, Percy Jackson, and BWN's favorite band of misfits as we got our first look at the final episodes of Doom Patrol. All that plus the unexpected end of the Writer's Strike? For the first time in months, there is reason to be optimistic and we have all the details for you here on Bandwagon Nerds.
Powered by RedCircle
@wrestlngrealist
@AttitudeAgg
@itsReyCash
@PCTunney
@ChairshotMedia
@BandwagonNerds
About Bandwagon Nerds
Join Patrick O'Dowd, David Ungar, PC Tunney and Rey Cash as they keep everyone up on all things nerd, and maybe add some new nerds along the way. It's the Bandwagon Nerds Podcast!
About the Chairshot Radio Network
Launched in 2017, the Chairshot Radio Network presents you with the best in sports, entertainment, and sports entertainment. Wrestling and wrestling crossover podcasts + the most interesting content + the most engaging hosts = the most entertaining podcasts you'll find!
Featuring shows such as POD is WAR (sports, entertainment & sports entertainment) Bandwagon Nerds (entertainment & popular culture), The DWI Podcast (Drunk Wrestling Intellect), The Greg DeMarco Show (wrestling), The #Miranda Show (wrestling and entertainment), Hockey Talk (sports), Patrick O'Dowd's 5×5 (pop culture), The Outsider's Edge (wrestling), Down The Wire (Sports), Talk The Keki (Anime), The Mindless Wrestling Podcast, Attitude Of Aggression/The Big Four (wrestling), and more!
---
The Chairshot Radio Network


Your home for the hardest hitting podcasts and radio shows!
Listen on your favorite platform!
iTunes  |  iHeart Radio  |  Google Play  |  Spotify
Listen, like, subscribe, and share!
Mitchell's Hyrule Puro-Resu Results & Report! (9/23/23)
Race towards fate!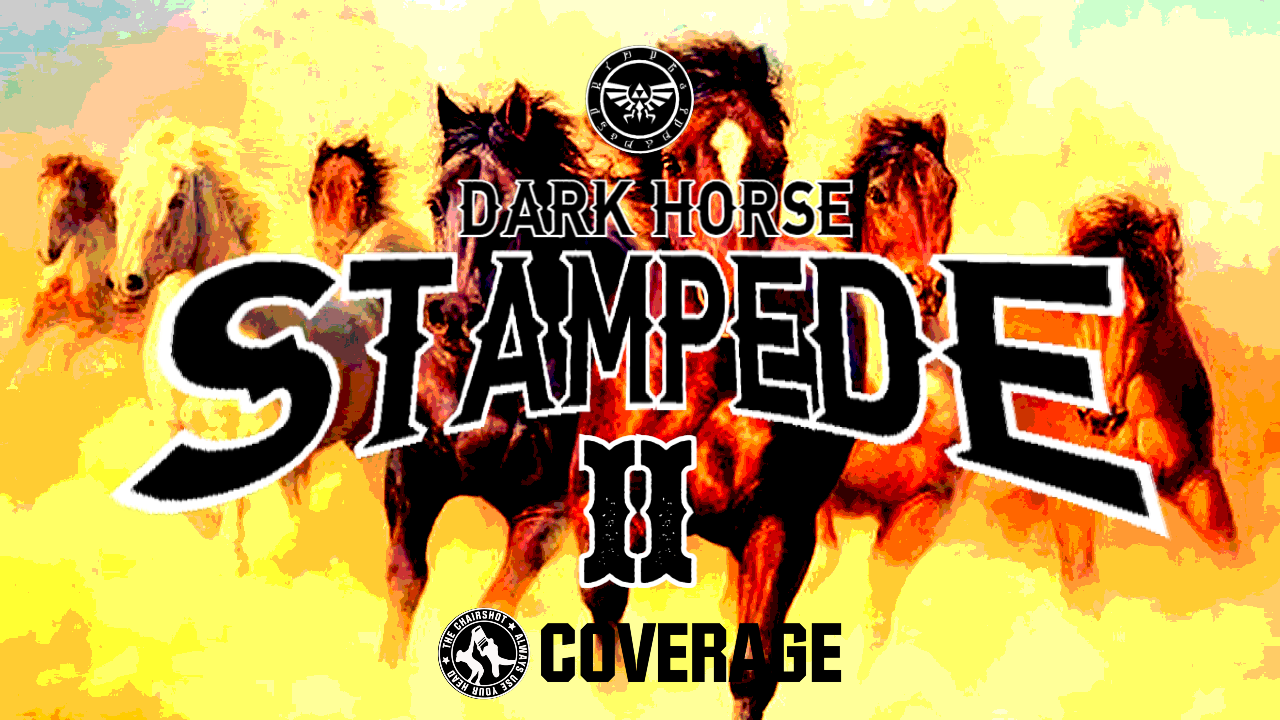 The Legend of Zelda: The Ring of Destiny, Chapter 47
To guarantee spots in the Hyrule Warriors match at Clash of Fates, eight up and coming names make their HPW debuts! Who will be this year's Dark Horses?
OFFICIAL RESULTS
Blaino VS The Grim Creeper; Creeper wins and advances to the Hyrule Warriors match.
Avalaunch VS Thunderbird; Thunderbird wins and advances to the Hyrule Warriors match.
Freezlord VS CRAGMA; Freezlord wins and advances to the Hyrule Warriors match.
Yunobo VS Dinalfos; Double Count Out Draw, both advance to the Hyrule Warriors match.
PLAY BY PLAY
HPW and HXS TV set the scene!
As the year continues into the Fall, new stars shall rise! Eight Dark Horses run the race, but only four are going to advance to Clash of Fates. Place your bets and hope you're right! Who will be celebrating victories tonight? HPW Dark Horse Stampede on Irch Plain starts now!
Blaino VS The Grim Creeper!
Float like a butterfly, sing like a bee, this boxer looks to get a 1-2-3. But instead of three cheers, will there be a funeral march?
The bell rings and Blaino puts up his dukes. Blaino and Creeper circle, Blaino throws some testing jabs, but Creeper keeps his distance. They continue to circle, fans rally up, and Blaino fires off a flurry! Creeper guards and backs up to a corner, and the ref has Blaino back off. Blaino eggs Creeper on, Creeper gets out of the corner, and the two reset. Fans rally again as they circle. Blaino throws more hands but Creeper stays back. Creeper ends up on the ropes, but he ducks a haymaker to get a leg! Roll-up, TWO! Creeper stays low, goes for another leg, but Blaino throws down some punches! Creeper trips Blaino and has a toehold!
Blaino endures, throws down some hammering hands, but Creeper pulls on the foot. Blaino scrambles and gets the ROPEBREAK. The ref counts, Creeper lets off at 4 and Blaino gets to his feet in a huff. Fans rally as the two reset again, and Creeper is staying low. Creeper wants after the leg again but Blaino is wary. Creeper shoots in again, Blaino throws some quick hands and he ROCKS Creeper! Blaino fires off fast hands and he has Creeper stumbling to ropes! The ref has Blaino back off and Creeper bails out of the ring. Blaino waits while the ref starts the ring count. Creeper steadies himself and takes his time returning.
The count reaches 5 of 10 while Creeper paces. Blaino eggs Creeper on, Creeper goes around the corner, and then slides in at 7. Blaino storms up but Creeper slips right back out! Creeper then trips Blaino and drags him out of the ring! Creeper shoves Blaino into the railing, then knees him low! The ref reprimands but fans fire up as Creeper brings Blaino around and throws him into more railing! The ref starts another ring count as Creeper stomps Blaino against the railing. Creeper leaves Blaino behind at 4 of 10 and slides into the ring. Creeper soaks up the cheers and jeers while Blaino drags himself up with the railing.
Blaino staggers over at 6 of 10, leans against the apron, and rolls in at 8. Creeper is right on him with stomps! The ref counts, Creeper drags Blaino up and whips him to ropes. Creeper then scoops Blaino, but Blaino slips free to ROCK him with another right! Fans fire up while both men stagger. Blaino storms up but Creeper THROAT CHOPS! Fans boo while Blaino sputters, and Creeper rolls him up again! TWO, and Blaino flounders to a corner. Creeper storms up to stomp a mudhole into him. The ref counts, Creeper lets off, but then he basement dropkicks Blaino in the corner! Creeper drags Blaino out to a cover, TWO!
Fans rally up, "Let's Go, Blaino!" as he crawls. Creeper drags Blaino up, CLUBS him to ropes, then ROCKS him with a right of his own. Creeper whips Blaino, only to reel him into a COBRA TWIST! Fans rally as Blaino endures! Creeper tells the ref to ask Blaino if he quits, the ref does ask and Blaino shakes his head. Creeper reaches out to hold ropes for more leverage! Fans boo, but Creeper lets go before the ref sees. Creeper digs his elbow into Blaino's ribs, the ref asks Blaino again but again Blaino shakes his head. Creeper reaches out again, for more leverage with the ropes! The fans boo, and the ref almost catches Creeper!
The ref suspects something and talks with Creeper. Creeper defends his innocence, but then Blaino powers up to hip toss free! Fans fire up while Blaino staggers back. Creeper gets to his feet, Blaino JABS! And JABS! A one-two, then another one two! Blaino fires off body shots and fans fire up as he backs Creeper down! Blaino fires up and reels back, but Creeper STOMPS Blaino's foot! Blaino clutches that leg and Creeper shoots around to waistlock, for a DANGEROUS SAIDO! Creeper stalks Blaino while fans are torn. Blaino staggers up, into a REAR NAKED CHOKE! Creeper drops back to have body scissors! Blaino fails, but he's caught! Blaino taps, Creeper wins!
Winner: The Grim Creeper, by submission (advances to Clash of Fates)
The #CreeperSleeper puts away the punchy Blaino, but he isn't letting go! The ref tells him to let off, Creeper lets off about five seconds after that. Fans boo as Creeper heads up the ramp, soaking it all in as he goes. Wait, who's that on stage now? Ted Beedle Ossi? What's he doing here? Creeper wonders, too, and then Beedle holds out an UnderWorld Order shirt! Fans are torn again, and Creeper accepts! Creeper is now UWO! Beedle raises Creeper's hand in victory, and the two head out. Will the UWO take over HPW through the Clash of Fates?
Avalaunch VS Thunderbird!
Big, blocky and bulky, #Dekudon promised to "crush, smash, mash, bash and otherwise break whoever" he is up against! Will he start doing just that here tonight? Or will El Pájaro Enmascarado, The Masked Bird, fly high overhead?
The bell rings and the two circle. They tie up, Thunderbird waistlocks but Avalaunch wrenches to an ELBOW BREAKER. Thunderbird rolls and gets away and fans rally up. The two tie up again, Avalaunch wrenches the arm but Thunderbird headlocks to a takeover. Avalaunch headscissors but Thunderbird kips free and the two stand off. Fans rally as the two circle again. They feel things out, tie up, and Avalaunch is after the arm again. Avalaunch wrenches to clamp onto the shoulder, steps over, and hooks Thunderbird down with a leg. Thunderburd endures, fights around, kips up, but Avalunch wrangles Thunderbird down.
Thunderbird rolls, bridges, breaks free but Avalunch deflects the dropkick! Avalaunch headlocks, Thunderbird powers up but can't power out as Avalaunch holds tight. Thunderbird powers up again, cartwheels free, and has a cravat! Avalaunch powers up but now he can't power out as Thunderbird holds tight. Thunderbird grind Avalaunch down but Avalaunch fights up, pulls Thunderbird's beak, then scoops to SLAM him! Cover, TWO! Thunderbird bridges to snapmare to a cover, TWO! Thunderbird keeps the cravat, Avalaunch powers up but Thunderbird flying mares! Cover, TWO! Avalaunch digs his knee brace into Thunderbird's face!
The ref reprimands but Avalaunch gets up to whips and CLOBBER Thunderbird! Cover, TWO! Avalaunch pushes Thunderbird down to another cover, TWO! Avalaunch stomps Thunderbird in the corner and digs his boot in. The ref counts, Avalaunch lets off and soaks up the heat from fans. Avalaunch stands Thunderbird up to smother him with forearms. The ref reprimands, the fans boo, but Avalaunch lets off with a BIG back elbow! Avalaunch pushes Thunderbird down and clamps his hands on Thunderbird's head for a neck wrench! Avalaunch pulls on the mask for more leverage but the ref reprimands.
Avalaunch pushes Thunderbird down and jumps to drop a BIG elbow! Cover, TWO! Avalaunch is annoyed, and he drags Thunderbird up to whip him to a corner. Thunderbird goes up and up and FLYING ARM-DRAGS! Then he DROPKICKS Avalaunch! Avalaunch staggers up, Thunderbird runs up but Avalaunch throws Thunderbird up and over the ropes! Thunderbird lands on the apron, springboards back in, but Avalaunch catches him! Avalaunch carries Thunderbird around, before a FALL AWAY SLAM! Putting the launch in his name right there! Thunderbird tumbles to ropes and Avalaunch storms over to him.
Avalaunch stands on Thunderbird's face at the ropes and fans boo. The ref reprimands and counts, but then Thunderbird twists Avalaunch's foot! Avalaunch hobbles and falls back as Thunderbird stands up! Thunderbird twists the toehold but Avalaunch boots him away with his free leg! Thunderbird rebounds but into a kitchen sink knee! Avalaunch brings Thunderbird around with double underhooks, and BUTTERFLY SUPLEXES! Cover, TWO! Thunderbird hangs in there but Avalaunch clamps on with a chinlock. Avalaunch grinds Thunderbird down but fans rally up. Thunderbird fights up, but Avalaunch drags him back down!
Thunderbird endures, kicks around, and even slaps at Avalaunch. Avalaunch lets off the hold to SLAP Thunderbird! Avalaunch gets the legs, and he turns Thunderbird over for a SAND CRAB! Thunderbird endures, fans rally up, and Thunderbird powers up to roll through! Thunderbird sits up to get up and over and sunset flip! TWO, Thunderbird goes for legs but Avalaunch TOSSES him aside! Thunderbird lands on his feet, cartwheels past a boot, and he ENZIGURIS back! Avalaunch staggers up, into a FLYING KICK! Avalaunch tumbles out of the ring, and something seems familiar about that kick.
Thunderbird sees Avalaunch stagger up at the ramp, and he builds speed to DIVE! Direct hit and fans fire up again! Thunderbird hurries to put Avalaunch in the ring, and he climbs up the corner! SUPREME FLOW! Cover, TWO!! Avalaunch survives but Thunderbird takes aim. Thunderbird runs in, but Avalaunch gets around him! GERMAN SUPLEX! But Thunderbird lands on his feet! FLYING KICK!! Cover, Thunderbird wins!
Winner: Thunderbird, by pinfall (advances to Clash of Fates)
So much for crushing, smashing and bashing! Thunderbird strikes Avalaunch down, will he be able to do the same to 32 others in the Hyrule Warriors match?
Freezlord VS CRAGMA!
Hot and cold, fire and ice, it is a battle as old as time, and now it happens here in the ring! Will the cold-blooded Freezlord bring an early Winter? Or will the Lava Lord start a second Summer sizzle?
The bell rings and fans rally up as the two stare down. They snarl, and Cragma storms up to take a big swing! Freezlord blocks, body shots, but Cragma ducks the heel kick and jumps the leg sweep! They stand off, Cragma SPITS at Freezlord! Freezlord avoids the hot saliva and then SOBATS Cragma low! Fans rally up as Freezlord BOOTS then arm-drags Cragma! Cragma staggers up into a THRUST KICK! Freezlord whips Cragma to then back drop him away! Fans fire up with Freezlord as he drags Cragma up, but Cragma ROCKS Freezlord! Cragma stalks Freezlord to ropes and ROCKS him with a haymaker!
Cragma kicks Freezlord down, eggs him on, and then lines up a shot to ROCK him with another haymaker! Freezlord staggers but Cragma DECKS him with another right! Cragma soaks up the heat from the fans, and then he takes aim again. Cragma runs up but Freezlord sweeps the legs! Fans rally as Freezlord then HEEL KICKS Cragma down! Cover, TWO! Freezlord whips, Cragma ducks and slides out of the ring to soak up more heat. But Freezlord triangle jump DROPKICKS Cragma down! Fans cheer and Cragma staggers back up, into a PLANCHA! Freezlord drags Cragma up, calls his shot, and he suplexes Cragma high and hard to the floor!
Freezlord hurries to put Cragma in the ring, then he covers, TWO! Freezlord is frustrated but goes to the apron. Freezlord springboards, but Cragma gets under! Cragma rebounds to POUNCE Freezlord out of the ring! Fans rally up for Freezlord while he goes to railings and drags himself up. Cragma storms out after Freezlord, eggs him on, and then SMACKS him off the railing! Freezlord slumps over and Cragma refreshes the ring count. Cragma drags Freezlord up, fireman's carries, and he goes up the steel steps, so SNAKE EYES Freezlord off the apron! Cragma then goes up the corner, just to soak up more heat.
Cragma then hops down to get Freezlord into the ring, and he slingshots in to LARIAT! Cover, TWO! Cragma argues the count with the ref but the ref defends it was fair. Cragma goes to ropes, and he SPRINGBOARD LEG DROPS but FLOPS as Freezlord moves! Cragma clutches his tailbone as he staggers up. Freezlord PALM STRIKES! And again! Freezlord whips, but Cragma steps over the back drop for a FAMOUSER! Cover, TWO! Freezlord is still in this and Cragma grows frustrated. Cragma eggs Freezlord on, kicks him around, and then drags him up. Freezlord UPPERCUTS! And BACKHANDS! But Cragma BOOTS him down!
Cragma whips, Freezlord reverses, but Cragma just steps over again! FAMOUS- NO, Freezlord powers out to a POWERBOMB! Fans fire up while both men are down! A standing count starts, both elementals stir, and they both stand at 5 of 10! LEG SWEEP from Freezlord! Freezlord then drags Cragma up to whip, follow, and SOMERSAULT UPPERCUT! Fans rally as Freezlord whips Cragma, scoops him and tilt-o-whirl SLAMS him! Fans fire up as Freezlord runs in, leap frogs, and CALF KICKS! Cover, TWO! Freezlord whips again and follows, but Cragma stops himself to ROUNDHOUSE Freezlord down!
Fans fire up again as both men are on the mat! A standing count starts again, Cragma crawls over to cover, TWO!! Freezlord almost didn't kick out of that, but Cragma is roaring! Cragma goes up the corner, fans are torn as he stands, but Freezlord hits the ropes to trip him up! Cragma lands on his volcano! Freezlord hurries after Cragma, ELBOWS him, then climbs up to bring him up. SUPERPLEX! Cover, TWO! Cragma is still in this but Freezlord hurries up top! Cragma stands, Freezlord FLYING- NO, NORTHERN LIGHTS COUNTER! Bridging cover, TWO!! Cragma is beside himself, but he hurries to get Freezlord up. JAWBREAKER from Freezlord!
Freezlord hurries up top again, he wants to hit the mark! But Cragma dodges the flying lariat again! But Freezlord rolls through, goes up the other corner, to CROSSBODY! Cover, TWO! Cragma gets out of that one but Freezlord takes aim! But Cragma uses the ref as a shield! Fans boo as Freezlord is cooled off there. Freezlord moves the ref aside, and Cragma mule kicks to then SUPERKICK! Cover, TWO!! Freezlord survives again and fans rally up again! Cragma drags Freezlord up, whips him hard into a corner, and then takes aim. Cragma runs in, but Freezlord dodges and the boot gets caught up in the ropes!
Cragma hobbles out of the corner, into a BACKFLIP KICK!! Cover, Freezlord wins!
Winner: Freezlord, by pinfall (advances to Clash of Fates)
The ice in his veins did not melt, and now Freezlord is headed to Clash of Fates! Winter is coming, will 32 other Hyrule Warriors end up out in the cold?
Yunobo VS Dinalfos!
A third generation Goron wrestler takes on a physical specimen who set a new standard at the Training Center. This is truly a big way to end the Stampede, who will be the final Dark Horse heading to the Coliseum?
Yunobo is a bit shy as he makes his entrance, and also slow rolls into the ring. Dinalfos gets in Yunobo's face, and Yunobo gulps before putting on a tough face. The ref has them back off, the bell rings, and fans rally up as Yunobo and Dinalfos approach again. Dinalfos UPPERCUTS Yunobo right down! Fans rally for Yunobo but Dinalfos drags him up to put into a corner. Dinalfos CLUBS Yunobo again and again and again, then fires off forearms and body shots and fast hands! The ref counts, Dinalfos lets off and brings Yunobo out to short arm LARIAT! Fans boo Dinalfos as he looms over Yunobo.
Dinalfos sits Yunobo up and wraps him up in a seated abdominal stretch! Yunobo endures, fights as the fans rally, and Yunobo throws body shots in return! Yunobo is free, he runs, and rolls Dinalfos up, TWO! Dinalfos CLOBBERS Yunobo! Dinalfos roars and soaks up the heat before he drags Yunobo up, whips him to a corner, and then SPLASHES! Yunobo falls over and Dinalfos soaks up more heat. Dinalfos drags Yunobo up to whip to ropes, but Yunobo manages a sunset flip! But Dinalfos stands up, breaks free, and hits a LEG DROP! Cover, TWO! Dinalfos snarls and CHOKES Yunobo!
The ref reprimands and counts, Dinalfos lets off, then covers again, TWO! Dinalfos tries another cover, TWO! Dinalfos snarls again as he brings Yunobo up. Dinalfos suplexes, but Yunobo fights it with flailing kicks! Dinalfos tries again, but again Yunobo fights it. Yunobo then suplexes Dinalfos up and over! Cover, TWO! Fans rally as Yunobo runs, to LARIAT! Yunobo starts rallying with big clotheslines! Yunobo is starting to fire up, and he fires haymakers on Dinalfos! Dinalfos knees low! Dinalfos runs, but Yunobo ducks the clothesline to hit a BIG back suplex! Cover, TWO! Fans rally while Dinalfos goes to a corner.
Yunobo gets up and he looks around, wondering what to do. He signals with his hands for some rolling and fans fire up! Yunobo runs in, CANNONBALL but Dinalfos moves! Yunobo only hits buckles, and Rusl jokes that the ring might've shifted towards that direction. Dinalfos drags Yunobo out of the ring, and RAMS him into railing! Those also shift from the impact! Dinalfos CLUBS away on Yunobo's back while the ref starts the ring count. Dinalfos brings Yunobo back up and whips him hard into more railing! Those railings definitely move, and Dinalfos leaves Yunobo behind for the count to take care of!
Fans rally for Yunobo as the count climbs to 5 of 10! Yunobo drags himself up with the railing to stand at 7, hobbles over at 8, and he rolls in at 9! Only for Dinalfos to stomp him right at the ropes! Fans boo as Dinalfos CHOKES Yunobo on the ropes, but he lets off as the ref counts. Dinalfos mocks Yunobo, "All that size and you can't do anything with it! Hope your family isn't watching!" Fans boo and Dinalfos runs to SPLASH! Cover, TWO!! Yunobo survives, and he looks upset! Fans rally for Yunobo but Dinalfos stomps Yunobo. Dinalfos drags Yunobo to a corner, goes up, and FALLING SPLASHES! Cover, ONE!?!
Fans are going nuts and Dinalfos is shocked! Dinalfos CLUBS Yunobo, grabs a leg, and SMASHES the knee! Dinalfos puts on a HALF CRAB! Yunobo endures, fans rally as he crawls and reaches out, ROPEBREAK! Dinalfos holds until the ref counts 4, then he drags Yunobo up. Dinalfos scoops Yunobo! That's his combine record setting strength! But Yunobo slips free and he scoops Dinalfos back! Yunobo SLAMS Dinalfos! Fans fire up and Yunobo is feeling it now! Yunobo stalks Dinalfos to a corner, but Dinalfos throws haymakers! Dinalfos backs Yunobo down, whips, but Yunobo reverses, only for Dinalfos to KNEE SMASH! And then he CLOBBERS Yunobo!
Fans boo as Dinalfos talks a bunch of trash on Yunobo's family! Dinalfos then eggs Yunobo on, dares him to stand, and Yunobo does. Dinalfos kicks low, and he manages to suplex Yunobo up and over! Dinalfos roars, runs, and drops a JUMPING ELBOW! Cover, TWO! Yunobo is still in this, but Dinalfos is furious! Dinalfos stands Yunobo up, ROCKS him to a corner, then stomps a mudhole in! The ref counts, Dinalfos lets off, only to run in and stomp Yunobo more! Dinalfos storms around, fans are booing as hard as they can, but Dinalfos runs and RAMS into Yunobo! Dinalfos stands Yunobo up, RAMS into him again, and repeat!
The ref counts again, Dinalfos stops at 4, and he whips Yunobo corner to corner! But Yunobo bounces off buckles to NECKBREAKER DROP! Yunobo crawls to a cover, TWO! Both men rise up, and they start throwing hands! Fans rally behind Yunobo, he whips, but Dinalfos whips to kick low! Dinalfos underhooks, but Yunobo back drops him up and out of the ring! Fans fire up as Yunobo goes out to stomp on Dinalfos! Yunobo's rage is boiling and fans are loving it! Yunobo goes back for Dinalfos, but Dinalfos YANKS him into steel steps! Fans fire up but the ring count is climbing as Dinalfos drags Yunobo back up.
Dinalfos whips Yunobo, but Yunobo reverses! Dinalfos goes crashing into railing! That definitely moved things around! Fans are loving this as Yunobo storms up, but we're past 5 of 10! Yunobo's rage is getting the better of him as he drags Dinalfos up. Yunobo whips but Dinalfos reverses, and Yunobo goes crashing into steel steps! The steps go tumbling away! Fans rally up as hard they can and Yunobo staggers up to his feet. And then Dinalfos SPEARS him through railing!! Fans lose their minds and even commentary is completely stunned by it! But the ring count is still climbing! The ref hits TEN, it's a DOUBLE COUNT OUT!!
Double Count Out Draw
Fans are going nuts again, and some are upset! What does a draw mean for the Dark Horse Stampede? Speaking of upset, Dinalfos and Yunobo get up and keep throwing hands! Did they not hear the bell? They go around commentary and Dinalfos RAMS Yunobo into the apron! Yunobo CLUBS and hammers Dinalfos, security rushes out to stop this! Wait, here comes HPW COO, Humpback Hook Halibut! Hook's very involved in the HPW Training Center which many of these Dark Horses pass through. Hook talks with the ref and the ring announcer. And as the announcer tells us, Hook has decided this draw means BOTH men advance to Clash of Fates!!
Fans cheer again and this news helps calm Dinalfos and Yunobo down. So now we have five Dark Horses entering the Hyrule Warriors match despite the field only being eight. Then will Dinalfos and Yunobo be able to settle this fight within the massive battle royal? Will any of the Dark Horses make it to the end?
---
My Thoughts:
I did my best to get this done a bit quickly, in anticipation of Clash of Fates being a bigger endeavor because of the Hyrule Warriors match, but also because my schedule's rather busy and I wanted to make sure I didn't wait until the last minute. It was a bit trickier to really give these matches what felt good to me, but at the same time, these "Dark Horses" are supposed to be newer/younger wrestlers, they aren't at the top of the card, so none of these matches should be matching championship caliber stuff. Also full disclosure, I changed up my choice on the final match as I was putting it together because I felt it'd be a shame for one of them to lose.