Mitchell's WWE Talking Smack Report! (8/7/21)
Talking Smack is on Boss Time!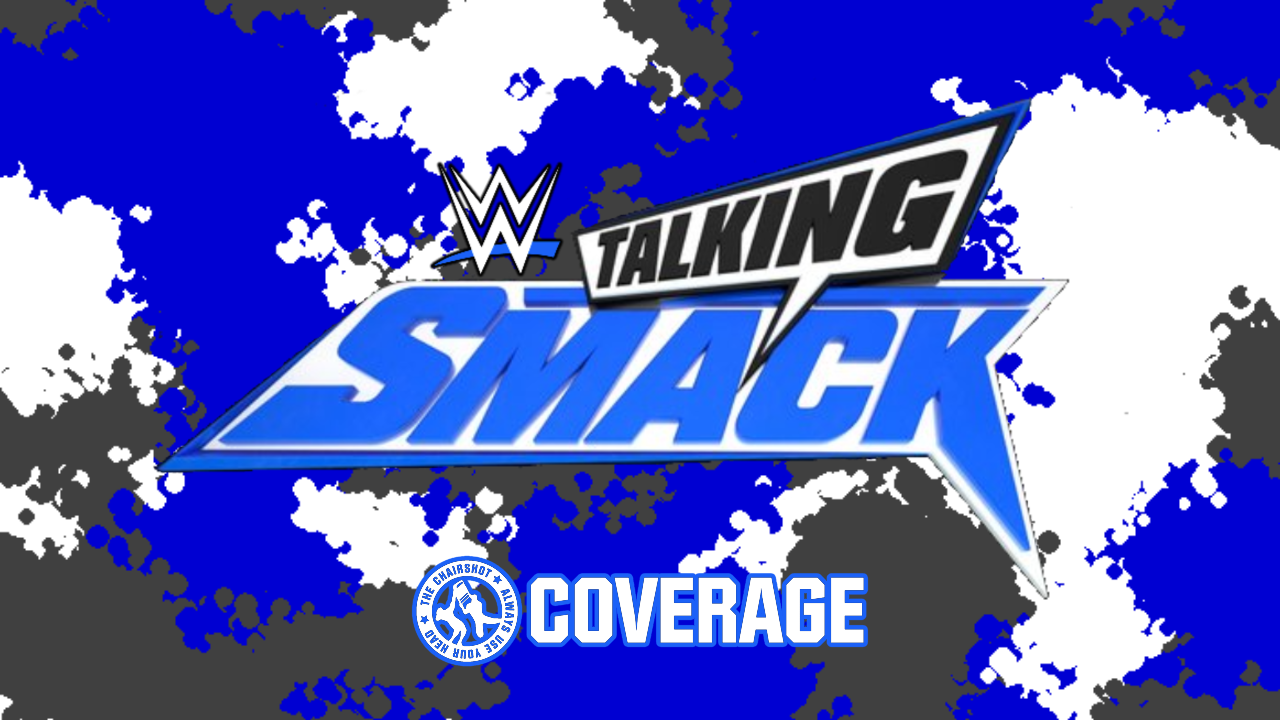 Talking Smack is up, and WE! WANT! THE SMOKE!
SmackDown was all fired up, so Talking Smack is no different! Shotzi & Tegan, The Street Profits, and The Boss, Sasha Banks, all on one episode!
Kevin Patrick and Matt Camp welcome us back to the show!
"C'mon, folks, get in here!" K-Peezy and… Matt… are both excited to be hosting together after such an exciting SmackDown! It set the table for what promises to be a monumental SummerSlam, two weeks away from today! Allegiant Stadium will have a massive crowd that will be that much more excited now. Kevin asks Matt how Finn Balor is supposed to feel after SmackDown. Yes, he got back at Baron Corbin after Corbin ruined his Universal Championship contract signing, but then Roman Reigns had his say! Matt says Balor's detour of revenge worked out, he took care of Corbin definitively, then turned his attention right back to the champ.
Balor himself said he's no longer smiling, he's after the title. "And if I have to go through John Cena to do it, then that's what I'm willing to do!" Balor just needed a time and a place, but the Universal Champion, Head of the Table, the Tribal Chief, Roman Reigns told Balor to keep his name out of his mouth. In other words, if Balor starts talking about Roman behind his back, there's gonna be a problem. Matt says there was actual respect here, though maybe he's also giving Roman too much credit. There were definitely mind games and Balor had enough of them.
However, he forgot about the Usos! The Bloodline mugged Balor, and it ended with a guillotine hold, taking Balor's night from great to sour. Kevin agrees, a roller coaster of a night for Finn Balor, on a roller coaster night for SmackDown.
But moving on to another headline, #ItisOn! Seth Rollins has been a real "pest" for Edge but SummerSlam will finally see them have it out! Seven years in the making if you were to ask Edge, Rollins has pulled out a lot from the Hall of Famer's playbook, this was inevitable. And then, The EST and The Boss had some words for each other, and will once again collide for the SmackDown Women's Championship. It was fallout from last week, and now it is official! Matt can't wait to see it happen, this one feels meaner and more personal. But also, great to see the Street Profits back as Montez Ford is 100% again.
Just good to see them teaming together period, as it had been two months since Ford had suffered the injury to his ribs. Matt watched the Profits, from Ford to Dawkins, as the highlight reel shows, they have an intensity. They've always been able to have fun and connect with the fans, but they've been able to bring out an intensity and urgency. An impressive win with their first match back in a match of former SmackDown Tag Team Champions. The Profits want their opportunity at the titles, but of course it'll be against the winners of The Usos VS The Mysterios at SummerSlam. But getting to see Ford's From the Heavens splash never gets old, so great to see it again. And speaking of the Profits, they're on stand-by with Kayla Braxton!
Kayla thanks the guys in studio but Ford is excited and wants to start this. Kayla works her tail off, so tonight, they'll do something different. The Profits are back in the buildin', y'all see how he's feelin', so Ford takes the mic. Tonight on Friday Night SmackDown, they're back, featuring the hard working, the charismatic, legendary and outspoken Kayla Braxton! So Kayla, how do you feel about (mic over to Dawkins) the Street Profits (mic back to Ford) returning? She couldn't be more excited! She was as excited as the jampacked Amalie Arena in Tampa Bay. Everyone is pumped that the Profits are back and that they got a big win over the Dirty Dawgs.
Oh yes, those Dirty Dawgs. They got cleaned up a little bit. But tonight, on Talking Smack, it's about the celebration! So, what are the four words that they wake up and live by? That they breathe by, go into the world with and tackle the day with, tackle the day, tackle the next day, and the next day, the next year, the next decade, the next millennium…! What are those four words that carry them to the horizon? The words that carry them every single week after every single week, to Talking Smack? Wait, is this for Dawkins or Kayla? It's for you, Kayla. Oh! "We Want the Smoke!" Yup! Alright, back to the studio!
Well Matt can vouch for Kayla, she wants the smoke, and of course so do the Street Profits. The Profits are locked in and ready to bring it to the rest of the SmackDown Tag Division. Kevin agrees, and looks forward to it all. A big episode with big guests: the newest tag team to hit SmackDown, Shotzi Blackheart and Tegan Nox, as well as The Boss, Sasha Banks! All that and more, after the break.
Talking Smack returns to talk the SmackDown Tag Team Divisions.
We know now that The Usos will defend their titles against the Mysterios. With that, Dominik Mysterio took on Jey Uso 1v1, but it didn't quite work out well. There have been questions about where the Usos are, "Are they on the same page?" They are now, obviously, but on top of that, Rey is trying to impart wisdom to Dom the better part of a year. They did win the Bumpy Half Year Award for Best Tag Team, but Matt's thinking, the Mysterios are drifting in different directions, and as Rey said, they don't have momentum for the title match. Kevin says a big key would be son listening to father. Dom jokingly said he got this and that he didn't need Rey's help, but in a way, he still does.
Matt says they tried to stay on the same page, Rey tried to help Dom anyhow, it didn't work out, and if he were the Usos, this is great going into their match! As for Dom and Rey, Matt figures they can go back home in San Diego and figure out what is going on here. He has no idea if they can fix this in two weeks because the Usos are better than ever. Kevin agrees there and shifts to the Women's Tag Division, while Natalya is recovering from her leg injury, Tamina is going it alone. She took on Tegan Nox 1v1, and Tegan won with a little help from Shotzi.
Matt says it was a bit like with Balor being alone. Tamina didn't have back-up, though she still seemed to have it in the bag. However, a tank ringside does help things. Matt isn't taking anything away from Tegan, she's greatly talented, and hasn't lost since moving to SmackDown. But then, y'know, Shotzi's in the tank ringside, Tamina's a tough opponent for anyone, and well, it's alright to have friends. Kevin agrees, and clearly Shotzi & Tegan are hungry for that title match, but we'll have to wait and see.
And as the replay gets to it, Matt points out that Nerf missile was just a few inches from being a disqualification. Luckily it went more left than right, and it was enough of a distraction for Tegan to win. And then, the tank was their way out. Kevin saw them and the crowd smiling, but now we'll see them here with Kayla in Tampa.
Kayla is here with #Shotzi&Nox and she congratulates Nox on the win. Shotzi applauds as Kayla asks how Tegan is feeling. Tegan says her chin is still sore, but the win feels great. The only thing that would make this feel even better is the tag team gold! Kayla was about to bring those up herself, as these two have been on a roll! Shotzi reminds us they're undefeated, and Kayla continues to say they've already beaten the WWE Women's Tag Team Champions twice! That has to mean they have momentum going towards the titles, right? Shotzi says, "Oh, yes! And Tamina's a beast, so I applaud Tegan." And of course she applauds.
Kayla notes they do have such a cool entrance with Shotzi's tank. Do they let anyone else drive it? No way! But they'd let Kayla ride with them. That's it. Okay, but there's no qualifications someone could have that'd make them worthy? Shotzi says if you have a good vibe, maybe. Bad vibes get kicked out of the way. Tegan says Shotzi hasn't even let Tegan drive it, which she says is actually fair. Tegan's from the UK, they drive on the other side of the road, she understands. Shotzi defends that she's down to let Tegan drive, but yeah, maybe they need to take it to a more open area so no one gets run over and they don't hit buildings. Tegan says she can practice with cones on the ground.
Kayla congratulates these two on their roll, and asks if they have a message for the Women's Tag Team Champions. "Haha, we won again~!" But in seriousness, they're still undefeated, they're gonna keep it that way, and they're gonna take it all the way to the titles! Kayla asks for a Shotzi howl, but Shotzi suggests Kayla join in. Oh, okay… Count down to it. One. Two. Three. A great group howl, and back to studio!
Kevin can howl, apparently, and Matt says his voice just isn't there for it. But a lot of the now, Tegan & Shotzi are confident they'll be the next champions. As soon as Natty is ready, we all know where Tegan & Shotzi are going. Kevin agrees, and speaking of tag teams, we've still gotta talk about Sasha Banks betraying Bianca Belair after their tag match, all to get at the title. The Boss will be here, after the break.
Talking Smack returns to talk grudge matches!
Firstly, the Rated R Superstar was back after the brutal blindside attack from behind by Seth Rollins. Matt says that was unhinged, yet calculated. Rollins knows what he's doing as he's taking many valuable pages from Edge's playbook and doing it all quite well. It certainly feels that Rollins has Edge on his heels as they now go into a SummerSlam showdown. But Kevin says Edge had a great line about Rollins being "Edge Lite." Matt says it was good and it rattled Rollins, but Rollins rattled Edge right back bringing up Edge's family. And from costing the title at MITB, the attack last week, and now this match being made, which Matt also points out Rollins was pretty quick to accept, this is all a sign that Rollins is extremely confident, so he can't wait.
Kevin moves things to how things kicked off: Sasha made an entrance, Bianca showed up right after, and then even Zelina Vega got involved. Bianca and Zelina had their match tonight, and if Zelina had won, she would have her own SmackDown Women's Championship match down the line. It didn't go that way as Bianca was in rare form, and now it is a WrestleMania 37 rematch at SummerSlam, Bianca VS Sasha for the SmackDown Women's Championship, the match where Bianca became champion.
Matt likes that Bianca is taking on everyone. She kept her word in giving Vega her match, but management said, "Hold on, Zelina, if you win tonight, then you get a title match after SummerSlam." But again, didn't happen for Vega, but Matt points out that Bianca came out with such confidence and maturity, and almost a veteran savvy. She's been up and down the road, was in the ring with Sasha, Bayley, Carmella, and got wins on them all, so she told Zelina, "I will face you tonight, and I will beat you tonight," and that's what she did. The road is clear to Belair VS Banks II, and as Matt said earlier tonight, this one is gonna be meaner and he's ready to see it.
Kevin agrees and reminds us that Bianca Belair's reign is now at 118 days, and you best believe that annoys Sasha! But speaking of The Boss, Kayla has her standing by!
Kayla thanks the guys again and she brings up the official WrestleMania rematch at SummerSlam! What does that mean for her? Ssaha says it means she gets HER rematch, and HER revenge on Bianca. For months, she was at home, healing from that wound from the braid Bianca cheated with! Sasha would never stoop so low! Sasha brings people up, like she did for Bianca. She's why Bianca won an ESPY, why she has the WWE accolades she has, and why she's the biggest star the WWE's seen. Bianca's the EST but Sasha's still the B E S T, and it's time she gets her title back!
Kayla does note Sasha claims Bianca still owes Sasha a thank you, could she elaborate on that? Uh, wouldn't you say thank someone if they did all that stuff for you? No? Sasha says she gets NO respect but she is the Boss, the standard, the leader, The Conversation, and Bianca needs to realize that. Come SummerSlam, Bianca will not be the EST of the WWE anymore. Sasha is the greatest, the best, so SHE is the E S T of the W W E. "Bye, boo. I'll see you at SummerSlam." Kayla thanks Sasha for her time then sends it back to studio.
Kevin notes Sasha says there's no main event for Bianca without her, but then Sasha was the one who lost. Seems like she's a bit bitter to him. Matt says that when you are someone like Sasha Banks, you can have that confidence from earning it. She's one of the greatest superstars in the WWE, male or female, her resumé speaks for itself. And Sasha does not like sharing the spotlight, which is eating away at her. But Bianca, with her 118 days, has become more confident and in a good way. Bianca will do what it takes to keep the spotlight on her, from Rolling Loud to SmackDown to SummerSlam.
Of course, they'll share the spotlight again, but only one walks away the champion. And again, this is a lot more personal, it'll be a lot meaner, this isn't about being friends or tag partners. These two do NOT like each, which makes for an even better match than Mania. Kevin is so pumped because SummerSlam is only getting bigger. Reigns VS Cena, Edge VS Rollins, Belair VS Banks, all two weeks from today. For Matt, Kayla and the crew, Kevin signs off and hopes we have a great weekend.
---
My Thoughts:
While this was another good episode, with everyone delivering their promos just fine, this will be the last Talking Smack (or Raw Talk for that matter) that I really even bother with. The factors as to why are my personal schedule, my personal health, and (as I also said just last episode) how the format change has stopped it from being as fun to watch. When R-Truth and Matt Riddle get to interact with Kevin "K-Peezy" Patrick again, then maybe I'll watch. That was the good stuff. The Profits were great but they always are; Tegan & Shotzi are starting to mesh as a team in their promos; and Sasha was exactly Heel Sasha, even with some recycled material from SmackDown.
Though I have to ask, and maybe it was just me, but was Matt Camp saying run-on sentence after run-on sentence?  It was so hard to keep up with what he was saying because he just kept going. Is there a prompter he reads off of? If yes, did the person keep throwing the lines out too fast? And if not, was he just having a hard time focusing? And either way, I feel like he recycled the most material of anyone tonight. I'm sure the guy's great on The Bump, but there was just something off with his dialogue here.
Mitchell's AEW Continental Classic Update! (11/27/23)
What a start to the tournament!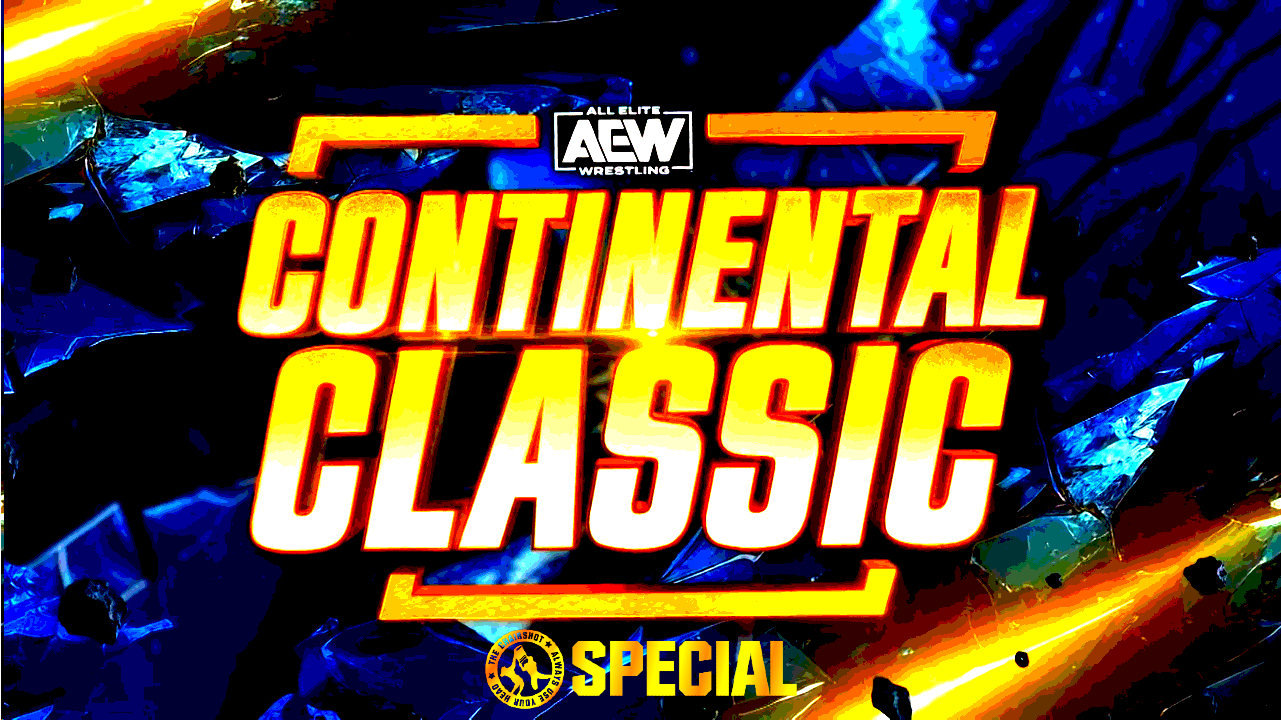 Did your picks win points?
The AEW Continental Classic is underway, with almost everyone competing. Check in here if you haven't seen the winners and losers of week 1!
Here are your
Gold League

standings!
Jon Moxley: 1-0, 3 points
Swerve Strickland: 1-0, 3 points
Jay White: 1-0, 3 points
Rush: 0-1, 0 points
Mark Briscoe: 0-1, 0 points.
Jay Lethal: 0-1, 0 points
Here are your
Blue League

standings!
Brody King: 1-0, 3 points
Claudio Castagnoli: 1-0, 3 points
Daniel Garcia: 0-1, 0 points
Eddie Kingston: 0-1, 0 points
Bryan Danielson: Yet to Compete
Andrade El Idolo: Yet to Compete
My Thoughts:
Nothing too crazy, nothing too wild, this tournament only just got started. The only disappointing point is that they could not get Bryan "cleared to compete" Saturday night. Not sure how much of that is shoot given the bad eye, but this was kinda the problem of wanting him in the tournament over tons of other choices. Bryan wants to face Okada for WrestleKingdom 18, how is Bryan supposed to do that at his best if he's also gonna be in a round robin, doing five top level matches in about as many weeks? And it takes away from Andrade being able to do something. Also a little surprised we didn't even hear from Andrade on Saturday.
Now as we heard on Saturday, round two's matches are set. Gold League will see Mark Briscoe VS Rush, White VS Swerve, and of course, Moxley VS Lethal. Nice variety there, a couple 0-1 guys facing off, as well as two 1-0 guys, and then 1-0 VS 0-1. No offense to Lethal, but he feels like an 0-2 going up against Moxley. Hard to call the other ones but that's the fun of it. Meanwhile, Blue League sees Brody VS Claudio in a showdown to be 2-0, then Bryan and Andrade finally jump in, Bryan against Eddie and Andrade against Garcia. Sadly, feels like Eddie and Garcia are going 0-2, no way Tony Khan is booking Bryan and Andrade to lose their first shots.
In fact, that could be half the reason they did wait on those two, that's almost too good for just a first round opener. But I still would've done it, same as NJPW does stuff like that for round robins, which this is all modeled after anyway.
AEW announces Continental Classic entrants
The C2 is set!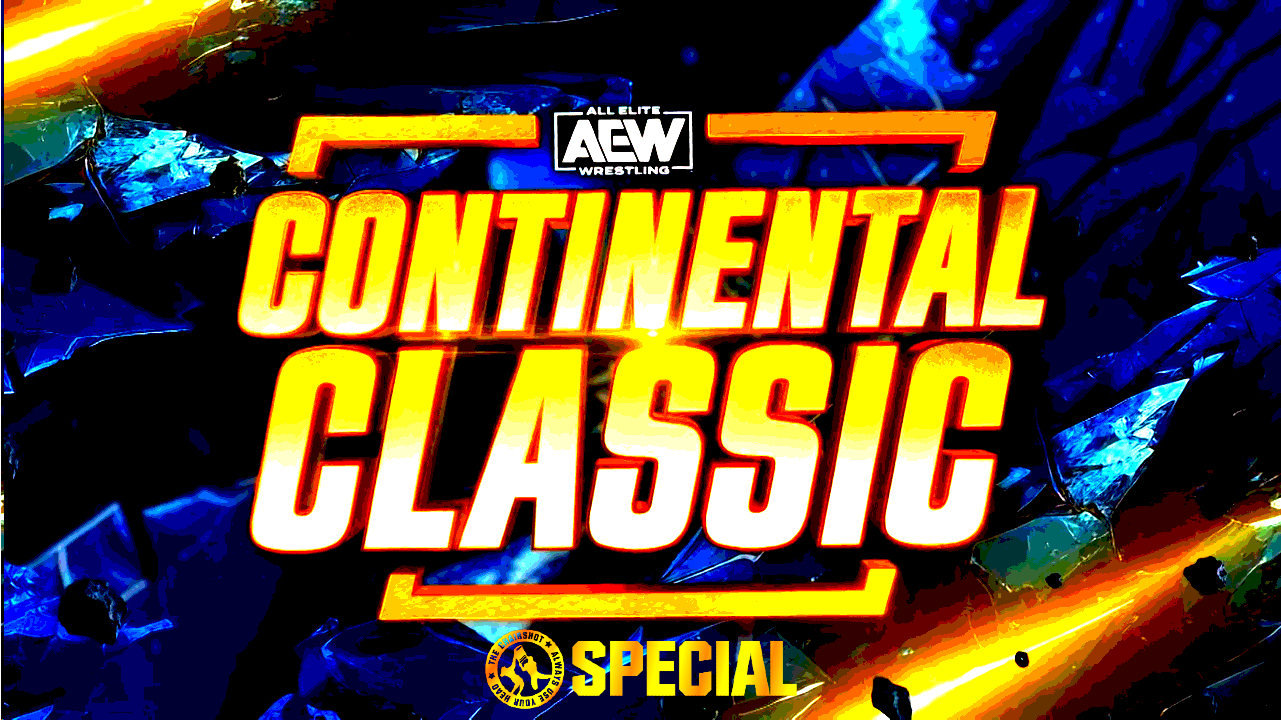 Tony Khan Reveals the Blue and Gold "Leagues!"
Originally livestreamed, Tony Khan and Tony Schiavone officially announced the twelve total entrants and divided them into the two round robin blocks known as the "Blue League" and "Gold League." If you don't feel like sifting through the almost 30 minute video, the groups are:
Blue League

Bryan Danielson
Andrade El Idolo
Brody King
Claudio Castagnoli
Daniel Garcia
Eddie Kingston
Gold League
Jon Moxley
Swerve Strickland
Rush
Mark Briscoe
Jay Lethal
Jay White
Tony Khan also explains the rules for the Continental Classic:
Every match has a 20 minute time limit
The winner of each match earns 3 points, losers earn 0, 1 point for a draw
EVERYONE ELSE is banned from ringside for true 1v1 action
Eddie Kingston also joined the selection special as his "life's work" is on the line in this tournament, both the ROH World Championship and NJPW Strong Openweight Championship on the line as part of the modern day North American Triple Crown Eddie, Tony Khan, AEW, ROH and NJPW are looking to create together. Gold League competes tonight on Dynamite while Blue League will have their start this Saturday on Collision. Look for more articles like this one to keep up with the Continental Classic standings over the next six weeks of tournament action!