New Japan Cup: Quarter Final Results/Review & Semi-Final Preview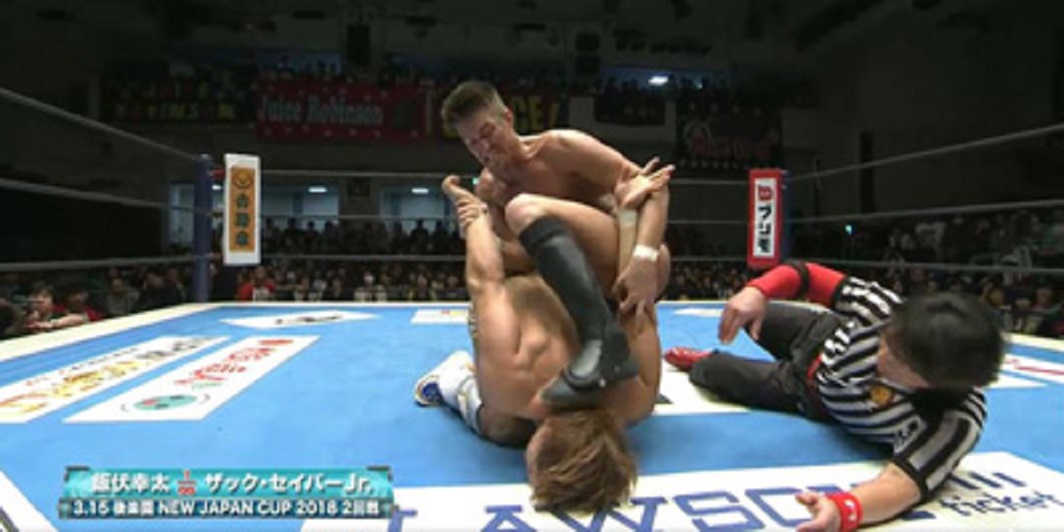 Another successful round in the books as we are now done with the quarter final matches of the New Japan Cup. All eight of these men delivered and we are now down to our final four. But, let's break down the quarter final matches before we discuss the semi-finals.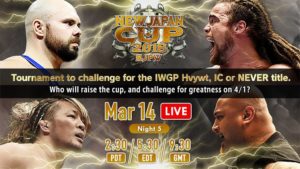 Juice Robinson vs. Michael Elgin
Review:  I thought the match went pretty well for what they were working with. Elgin pulled off some decent moves, like the Slingshot Blockbuster that I thought looked pretty neat, Juice was actually able to match him a couple of times with power despite being the smaller man. These are another two that can work surprisingly well together during their matches in Japan and continue showing how much Juice has grown as a competitor in the ring and no doubt has a bright future.
Juice would pull a victory with a nice cradle reversing the Elgin Bomb and received a huge pop from the crowd. Elgin showed respect to Juice after the match after raising his hand, but Juice gave him a hug afterward to show good sportsmanship as Juice is now ready to advance to the semi-finals.
Recommended: I would like to think so. Very nice match and a much needed win for Juice.
Bad Luck Fale vs. Hiroshi Tanahashi
Review: The one con I have with Bad Luck Fale is his strikes, because sometimes they look like he can rip you apart and then there are times that it looks like he's playfully tapping you. Tanahashi to me is one of my favorite opponents for Fale right next to Okada, just another showing of great chemistry between the two competitors. Had nice wrestling quality, good storytelling, and both credible contenders to win it.
Tanahashi picked up the surprise win with a countout after outsmarting Fale by escaping his Bad Luck Fall to the outside and pushing him over the guardrail to make it in the ring in time. I thought it was a good way to give him the win and not really hurt Fale at the same time since he wasn't pinned. The show would end with Fale attempting to kick him, but gets caught into a Dragon Screw, to send the fans home happy and play his guitar.
Recommended:  Fun match, no complaints from me and always nice to see Tanahashi.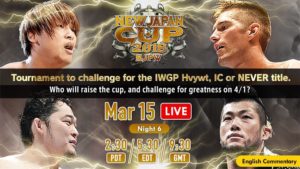 Toru Yano vs. SANADA
Review: This match was a lot better than what I expected it to be. The whole match was just the both of these guys trying to outsmart each other with dirty tactics, reversals, and just anything they normally do to see who was the more intelligent one in the ring. SANADA is still growing as a singles competitor and keeps proving why I think he's gonna be a future star in the company. Yano, while annoying, does his job well, and the fans love him, so he's doing something right. In the match we got two close calls with the countout finishes and it played well in trying to outsmart the other. Even during the end when Yano rolled him up and how SANADA stopped the count was a thing of beauty. SANADA got the upper hand in the end and won with the Skull End, making his way to the semi-finals.
#NJPW #njcup https://t.co/4ULitIni5Z pic.twitter.com/ZPS1rZHNcJ

— LARIATOOOO!! (@MrLARIATO) March 15, 2018
Recommended: Yes, give this one a watch.
Kota Ibushi vs. Zack Sabre Jr
Review:  TAKA acting like Zack's announcer is just gold and adds a layer Zack's character, that has been missing since he's been gone from New Japan for a while.
Much like their last bout in the G1 Climax last year, these delivered another fantastic match again and this is twice now that in both rounds Zack pops up in my favorite match and I'm not crazy about the guy. This match was just hard hitting, great back and forth action, nice story telling, and it just clicked so nicely together. The last five minutes of the match were what sold it more to making it great with a very nice payoff as Zack was able to pick up another surprising win with the referee stopping the match when Zack applied a nasty hold that even I felt like my shoulders popped just by watching it. Zack's next opponent is SANADA, and I have no doubt that it'll mostly be a battle of wits to see who taps out who first and I cannot wait to see that unfold. Zack getting the surprise win over Naito and Ibushi is pretty much convincing me that he might even make it to the final round or win the whole thing if they wanna give Okada a fresh new opponent. I'm excited to see where this leads as the finals could shape up to be nicely with a great conclusion to the tournament.
Recommended: Definitely give this one a watch, my favorite for this round.
Alright, now let's take a look at the bracket for the semi-finals and see who I think will move onto the finals.
Juice Robinson vs. Hiroshi Tanahashi
Zack Sabre Jr vs. SANADA
Final Round Prediction
Hiroshi Tanahashi vs. Zack Sabre Jr
Favorite Match: Kota Ibushi vs. Zack Sabre Jr
Least Favorite Match: Juice Robinson vs. Michael Elgin
Score: 7.5/10
Thank you for reading and see you next time for the semi-final breakdown.