As a continuation to the first preview article, ( See here: http://thechairshot.com/2018/03/new-japan-cup-breakdown/ ), I figured, let's have a little fun with this. Trying to make some predictions for the first round matches, should be fun, as well as, seeing what he second round could look like. Let's take a look at the bracket.
3/9/18
Michael Elgin vs. Tomohiro Ishii
Juice Robinson vs. Yujiro Takahashi
3/10/18
Hiroshi Tanahashi vs. Taichi
Bad Luck Fale vs. Lance Archer
3/11/18
YOSHI-HASHI vs. Kota Ibushi
Tetsuya Naito vs. Zack Sabre Jr
3/12/18
Toru Yano vs. Davey Boy Smith Jr
Chuckie T vs. SANADA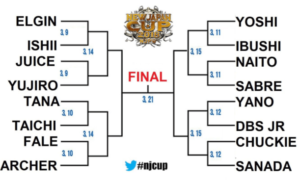 Now that we know the first round matches, I'll give my predictions as to who I think will win these matches by posting what I think the second round will look like.
Second Round Predictions:
Tomohiro Ishii vs. Juice Robinson
Hiroshi Tanahashi vs. Bad Luck Fale
Kota Ibushi vs. Tetsuya Naito
Toru Yano vs. SANADA
While many may think these are the obvious favorites, it's hard to see a path for the other participants. Yes, the New Japan Cup has upsets fairly often, so Tanahashi may get eliminated by Taichi, but I don't think anyone would call that. And yes, Yano has a fantastic ability to pick up at least 1 win in 4 of the last 5 New Japan Cups. So comedy wrestler or not, he's dangerous in tournaments.
What are your predictions for the first round? Let me know in the comments below.