Leaping Through The Network: WrestleMania 17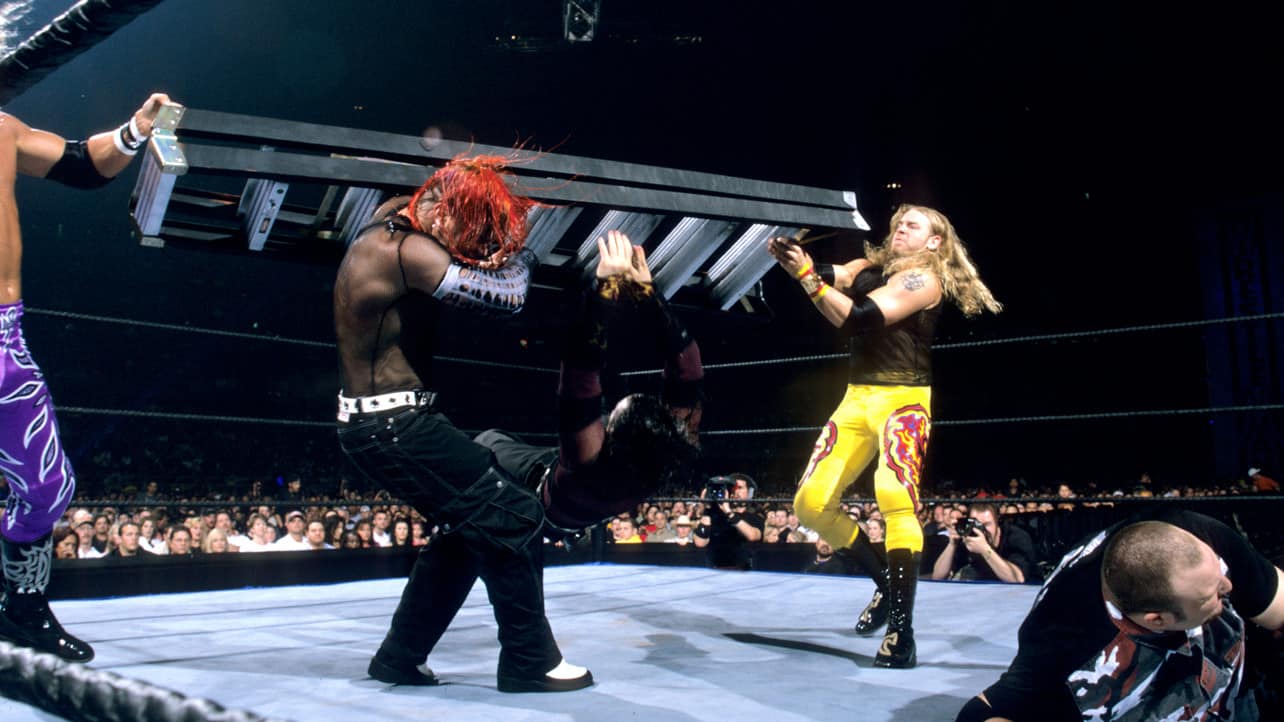 It's that time again people. Time to put the 'Flashback Friday' into Flashback Friday and leap back and forth throughout the WWE Network's timeline randomly going from pay per view to pay per view and from show to show.
Now before we go anywhere I have a confession. I can leap through the timelines fine and dandy. Thing is, the laptop I'm working with didn't. Long story short I leap forward or back in my own timeline and I have deadlines. So the format here will be slightly different although if you prefer this version, Tweet me (@Callaweasy2220) and let me know.
Now that's out the way. This is due to go out on WrestleMania week. It seems wrong to cover anything other than a WrestleMania so I made sure this leap landed on a WrestleMania. And I did. By luck I landed on a WrestleMania that is not only looked at as on of the best WrestleManias ever but as one of the best WWE Pay Per Views and for that matter one of wrestling's best ever pay per views. So no pressure. But is one of the best? Only one way to find out.
---
WrestleMania 17 (April 1 2001)
We open with a video package showing us how WrestleMania is a legacy throughout the ages and is watched across the world. Although if anyone knows how the couple in the car got a TV to work do let me know.
Chris Jericho vs William Regal [Intercontinental Title]
JR says these two mix like wool and water and while I don't fully understand the phrasing, I do get what he means. It's easy to put two technical wrestlers together and expect a good match. This is a good match but to say it's two technical wrestlers really is an over simplification. Jericho is the high flying and speedy wrestler with a Japanese and Mexican base. Regal is catch as catch can, pick a body part and work it. As a result there is a clash of styles here. Doesn't make this a bad match though. Regal spends most of the match on offence working on Jericho's shoulder while Jericho fights back with Dropkicks and a Plancha before winning almost out of nowhere with a Lionsault.
Winner: Chris Jericho (Still Intercontinental Champion)
Backstage, Shane McMahon arrives and Bradshaw discusses Texans in sport.
Faarooq, Bradshaw & Tazz vs Val Venis, Bull Buchanan & The Goodfather
It's easy to do height jokes with Tazz but he just looks tiny here. Tazz spends most of this taking punishment before tagging in Bradshaw who hits Val with a Fallaway Slam and teams with Faarooq to hit a Double Spinebuster. Bradshaw avoids a Ho Train and smashes Goodfather with a Clothesline From Hell for the three count. A nothing match.
Winners: Faarooq, Bradshaw & Tazz
Backstage, Trish Stratus pushes a drugged up on pills, Linda McMahon and Stephanie McMahon tells Trish she wants Champagne, Strawberries and ice crushed with the back of a spoon to celebrate with later.
Kane vs The Big Show vs Raven [Triple Threat Match for the Hardcore Title]
Fairly quickly this match spills through the crowd and to the back and the usual crop of weaponry mesh fences, baking trays, glass windows. Raven at one point makes a getaway on a golf buggy that Show climbs onto the back off. Kane chases him in a second buggy only to find Raven has crashed his. The fight to the entrance stage and Show attempts to Gorilla Press Raven but Kane boots Show sending both men crashing through the stage. Kane dives at Show with an Elbow Drop and wins the title.
Winner: Kane (New Hardcore Champion)
Backstage, Kurt Angle watches last weeks Raw and questions if a tap out is official if it occurs after a match.
Eddie Guerrero vs Test [European Title]
I liked this one. Big man Test hit big moves like a Pump Handle Slam and a couple of Powerbombs while Eddie attempts Hurricanrannas uses Perry Saturn as an accomplice in his cheating in between working Test's knee. Turns out cheating wins when Dean Malenko distracts the referee allowing Eddie to win after he hit Test with the title belt.
Winner: Eddie Guerrero (New European Champion)
Backstage and Mick Foley says that despite Vince McMahon embarrassing him, beating him and firing him he plans on calling the match down the middle.
Kurt Angle vs Chris Benoit
Ah. The elephant in the room. The guy considered persona-non-grata in WWE and not just because he had the charisma of a house brick. I knew sooner or later we'd get to him. He appeared at a lot of events and he will show up on these reviews a fair bit. I chose to think of and remember him as he is here, a damn fine talent in the ring who may have been one of the all time best. I get that there are others who don't see him like this. If there are people offended by him, Tweet me (@Callaweasy 2220) and tell me. I can refer to him from here on as The Canadian Wrestler.
I'm guessing this match is what WWE were expecting with Jericho vs Regal. This really is two damn good technical wrestlers with submission finishers matching each other hold for hold and move for move. That said, this does have some out of the ring brawling. I struggle to find fault here. Every Belly To Belly Suplex is crisp, every submission is expertly applied. At one point Angle taps to the Crossface but the ref is down so it doesn't count. Angle gets the win following a Roll Up with a hand full of tights. So much for the submissions then.
Winner: Kurt Angle
Backstage, Kamala has invaded William Regal's commissioner's office and Regal is miffed by the idea that Kamala wants Regal to rub the moon painted on Kamala's belly. So Regal tells Kamala to bugger off. I love this Regal.
Benoit attacks Angle and puts him in the Crossface. Kurt taps out and again it doesn't count.
Chyna vs Ivory [Women's Title]
What can I say here? It's an odd thing to do. I mean, the storyline to this is that Chyna suffered a neck injury in late 2000, she exacerbated it in a match with Ivory at the Royal Rumble in January and this is her big comeback. It's all well and good until Steve Austin who, as I'll probably cover later, was out for the best part of the last year due to a genuine neck injury. It's either odd, bad taste or whoever booked wasn't paying attention.
What makes it worse is that Chyna is huge in comparison to Ivory and she dominates about 95% of the match and I find it hard to get behind 'the good guy' if they are that dominant. Chyna wins after a Gorilla Press Slam and leans on Ivory for the cover.
Winner: Chyna (New Woman's Champion)
Backstage we see Vince McMahon with Linda McMahon, Trish Stratus and Stephanie McMahon. Nothing is really said or done here.
Shane McMahon vs Vince McMahon [Street Fight Match]
The story to this is that Vince wanted a divorce from Linda who fell into a catatonic state and was over medicated to the point she's basically comatose. With Linda basically out the way, Vince had an affair with Trish. Stephanie didn't like that and, long story shorter, Trish and Vince had a sort of break up. Vince then made Trish beg like a dog and now they're back together and Stephanie has someone to talk down to. Oh yeah, Shane. He's angry at Vince for everything Vince has done to his mother. The WCW thing was added at the last minute and it is something that was a huge deal at the time but means pretty much nothing these days.
If the Hardcore Title match was done for the comedy, this is the polar opposite. This is the basic fayre of Shane diving off and through stuff, Vince bleeding and looking evil and McMahon over booking.
Trish turns on Vince and gets a pretty big pop but the pop when Linda rises from her chair to kick Vince in his baby maker is MASSIVE. Foley calls it down the middle, like he said he would, as he pummels Vince in the corner before Shane pushes a trash can in Vince's face and gets the pinfall following a Van Terminator/Coast To Coast
Winner: Shane McMahon
We see footage of Kevin Kelly talking with Matt & Jeff Hardy during a signing at Axxess last night. They talk about the dangers of the upcoming TLC Match but it must be a bit disappointing if you were at that signing. There you are waiting for ages to meet The Hardyz and instead of getting to talk with your heroes, they sign a card and you get nothing else because they are too busy talking to Kevin Kelly.
Edge & Christian vs Matt Hardy & Jeff Hardy vs Bubba Ray Dudley & D Von Dudley [TLC Match for the Tag Team Titles]
I admit I'm slightly glad about the forced change of format because I don't need to call everything that happens here. I think it's matches like this, and for that matter the rest of this card, that make WrestleMania what it is today, huge spectacle matches where the athletes involved put everything on the line for a title or a 'WrestleMania Moment'.
The big moment here is THAT Spear. Jeff Hardy hangs from the title belts like a pinata with no ladder below him only for Edge to climb a ladder in the corner and Spear the bejesus out of him with a near twenty foot drop. Edge and Christian win this by climbing the ladder and taking possession of the titles. Nothing I type here will properly do this match justice other than GO AND WATCH THIS!!!
Winners: Edge & Christian (New Tag Team Champions)
We see highlights of Axxess. Nothing to add here, you'll probably see a modern version of this package at this year's Wrestlemania.
The Gimmick Battle Royal
Iron Shiek, Repo Man, Jim Cornette, Sgt Slaughter, Michael Hayes, Bushwhacker Butch, Nikolai Volkoff, Kim Chee, Brother Love, Duke Droese, Hillbilly Jim, Bushwhacker Luke, One Man Gang, The Gobbly Gooker, The Goon, Doink, Tugboat, Kamala and Earthquake compete here and I love this. This is how to celebrate the stars of yesteryear without taking spots on a card from someone who has competed for the company all year. It's quick, painless and fun.
Winner: Iron Shiek
The Undertaker vs Triple H
Guess who wins?
This is two icons of WWE going at it on the biggest show of the year at a point that The Streak wasn't really a thing. Plus it has that shot of The Undertaker on his motorcycle speeding down the isle. This match had everything you would expect near falls. brawling through the crowd, ref bumps. I could gripe about camera angles and how long an Elbow Drop should keep someone down for but it's not worth it. Undertaker wins when he turns a Ten Punch into a Last Ride.
Winner: The Undertaker
Steve Austin vs The Rock [WWE Title]
The story to this is simple. Austin was out from November 1999 until October of 2000 due to a genuine neck injury and wants to cement his comeback by wining the WWE Title. Meanwhile Rock has it and wants to keep it. Both men want to be the very to man in the business. Simple but effective.
This is a No Holds Barred match which means no ref bumps needed here. Main Events in this era featured more brawling and wrestling. The story of the match is really good with both men doing anything they can to win. Vince McMahon even comes down for a closer look. Or help Austin? Austin? Steve Austin? The same guy he's had a long running rivalry with since 1998? Yes indeed he was here to help Steve Austin. It confused a lot of people. Some thought Vince had turned good, some still cheered Austin anyway as this all happened in Texas, Steve Austin's home state. The finish is slightly odd as Austin wins the match and the title, not with the Stunner (his usual finisher) but by mashing The Rock repeatedly with a chair.
Winner: Steve Austin (New WWE Champion)
After the bell Steve Austin and Vince McMahon shake hands to confirm their new allegiance and we're out.
Post Show: Yes this is perhaps the best WWE show ever. This show has it all Retro, Hardcore fun, a Hardcore brawl, women, TLC High spots, Icon vs Icon. It could even be argued that this is the blueprint for every WrestleMania since. Every Money In The Bank Match or every multi man Ladder Match for the Intercontinental Title can be traced back to the TLC. Every Andre The Giant Battle Royal is just the Gimmick Battle Royal with the current roster. Every match on the show was a good match. Yes I can pick holes in styles that don't mesh and faces dominating over the bad guy but it's just minor nit-picking. Jericho vs Regal was a good match and the worst on the show only lasted a few minutes at most and were inoffensive. This will go down as a great show.
Match of The Night: There were a few good matches on this show but the best, for me, was the TLC Ladder Match. Six men played their parts and put their bodies on the line just to give a WrestleMania Spectacle. As I said earlier, go out of your way to watch this one.
MVP: Steve Austin. The show is all about the climax to his comeback and to come back from a serious neck injury that should have ended is career and to do that twice and go on to become the WWE Champion is amazing.
Rating: 8/10
And that was WrestleMania. Perhaps the best show in history. So it's downhill from here, sorry about that. If you want to talk about wrestling, the new format or The Canadian Wrestler, Tweet me @Callaweasy2220. Time to leap to the next one, after WrestleMania 17, I hope it's good. #UseYourHead
"I knew this guy was going to flip out sooner or later. He's laid Shawn Michaels out!"
Oh boy.
Chairshot Classics: NWA-TNA Episode 20 (11/6/2002)
Another week of classic NWA TNA featuring Jeff Jarrett, R-Truth, James Storm, and Jerry Lynn versus AJ Styles!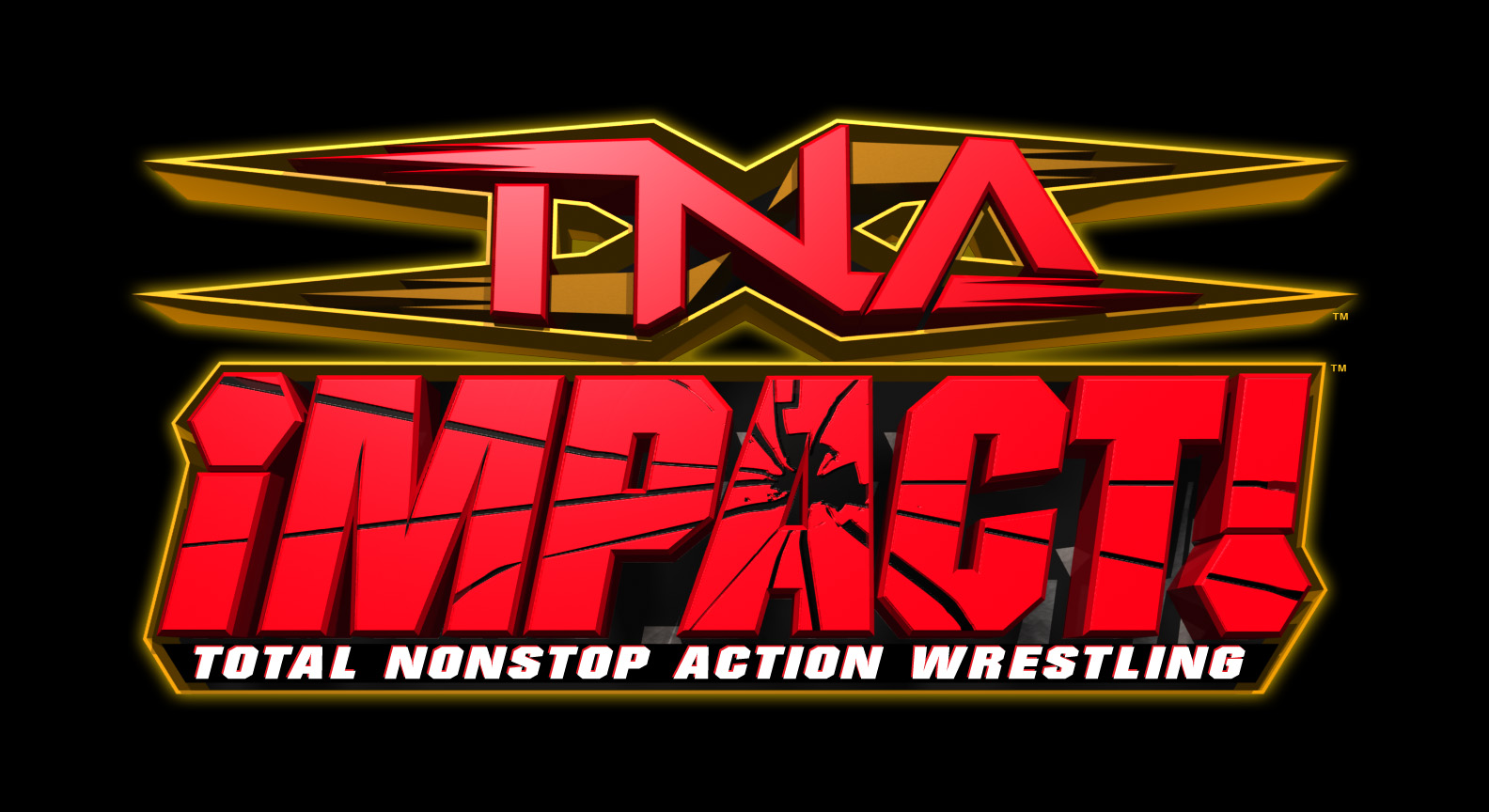 Another week of classic NWA TNA featuring Jeff Jarrett, R-Truth, James Storm, and Jerry Lynn versus AJ Styles!
This week, the tournament to determine a new #1 Contender for the NWA Championship continues. Ron Killings makes a surprising offer to Mr. Wrestling III. Jeff Jarrett's response to the Mr. Wrestling rumors surprises everyone. The saga of Sean Waltman/Brian Lawler/April continues. America's Most Wanted take on the New Church, and Jerry Lynn and AJ Styles clash again over the X-Division title.
How did they do? Let's find out!
We start out with a recap of the NWA's anniversary show, which actually looked like a lot of fun. Jorge Estrada won the North American Championship on that show.
Back in the Asylum, the long-suffering Goldylocks has the job of interviewing the newly reunited Rainbow Express. Lenny's back and sucking on a Dum-Dum sucker like he has nothing better to do. Goldy wants to talk about the issue with Estrada and Priscilla, but Bruce wants the cameraman to look at his lovely iridescent boots.
Goldy jokingly asks if she can borrow them sometime, but Bruce, cattily, says no. Goldy replies that the backstage comments about Bruce being a bitch are true, to Bruce and Lenny's shock.
Goldy asks about the Rainbow Express being back together, slightly mocking their issues. Bruce admitted that he and Lenny had fought but have made up. Furthermore, he decrees that Lenny is the Miss TNA Runner-Up, and so will get the Miss TNA tiara and sash if Bruce can't continue.
Jorge Estrada (with Priscilla) vs Bruce (with Lenny)
Estrada and Priscilla come out, but they don't have a lot of chemistry. However, Estrada is gentleman enough to open the ropes for her. Bruce and Lenny come out with Lenny basically fellating a banana.
This was an okay match. The biggest problem is that, without Siaki and Yang to cover for him, Estrada was exposed as not being a good wrestler. Bruce is a good wrestler, but his gimmick really obscures this.
That said, there were a lot of highlights, including Estrada suplexing Lenny and Bruce and the same time and nearly getting a pinfall. However, he BADLY botched a hurricanrana on Bruce onto the floor and nearly knocked himself out. Another…highlight was Estrada hitting a back suplex on Bruce, but his hand lands on Bruce's crotch in the pinfall, and Estrada QUICKLY moved it away.
This is one of those feuds where it's not clear what they're fighting about or what the plan for this is and that was clear with the ending: Lenny chases Priscilla because Priscilla had gotten in the ring. Estrada takes both members of Rainbow Express out. Bruce gets mad at Lenny, who was doing his job and starts chasing and threatening Priscilla. As he chasing her, he slips on the peel of the banana Lenny had been fellating and knocked himself out (yes, I'm serious) leading to a countout win for Estrada.
Winner: Jorge Estrada by countout.
Now here is where things get odd. Under the new rules the NWA laid down last week, because Bruce got counted out, by right, his Miss TNA regalia should go to Estrada. Estrada give the stuff to Priscilla, but Lenny takes them back and we're told that because Bruce didn't DELIBERATELY get himself counted out, he's still Miss TNA. Which is a nice caveat.
Comment: Bleh match, stupid finish.
Backstage, the woes of Goldylocks continue, as she's stuck interviewing Sonny Siaki, who is right up in her space. Goldy's not happy about this but tries to be professional and asks about the tournament. Sonny Siaki, still with the Rock ripoff gimmick, claims to be the past, present, and future of TNA and that he's the start. Turning his attention to BG James, he calls him 'Goofy' and vows to be the victor. Turning his attention to Goldy, he claims that he knows that she bid on him in a silent auction to raise money for the D.C. Sniper Fund. Goldy looks repulsed by the idea, and her repulsion seems to grow when Siaki promises to show her some love after he beats BG James.
#1 Contender's Tournament Round 2
Sonny Siaki vs BG James
Siaki comes out to very little reaction. James comes out to a better reaction and does his usual schtick, but Siaki gets the jump on James in the ring and it's on!
Siaki is really coming into his own as a competitor, but it's clear that James is past his prime. Siaki targets James' knee, using kicks and a stretch muffler to try and get the victory. It actually looked like Siaki was going to advance, until Jerry Lynn showed up and distracted him. Siaki seemed to work through it until he went for his Money Clip. James countered it into a pumphandle slam for the win.
Winner: BG James by pinfall.




Comment: Eh this match was 'eh'. Siaki really should have advanced, but it looks like they're going with the Lynn/Siaki feud for now.
Backstage, Goldylocks is with Storm and Harris, who are in VERY bad moods. Goldy, trying to maintain some peace, seems to want to bring in James Mitchell there for a face to face segment, but Harris yells at her that if she wants Mitchell, she can go find him, but if she wants to deal with America's Most Wanted, she going to deal with them.
Seriously?
Harris goes on to say that America's Most Wanted are done dealing with this shit and will do what they want, when they want. He comments about how the New Church claims to be evil, but Harris says there's evil in all of them and vows to go crazy on the New Church.
Storm has dropped the goofy cowboy gimmick and vows that they will destroy the New Church. He starts to us the cowboy whoop, but drops it for 'Sorry about your damn luck!'.
Now THIS AMW I can get behind.
NWA Tag Team Championship Match
America's Most Wanted vs New Church (with James Mitchell)
New Church comes out first. Mitchell gets on the mic and warns AMW that blood will flow because AMW didn't learn their lesson from last week.
AMW wasn't in the mood to play and the match started out on the floor. AMW dominate the brawl and when the match finally gets to the ring, Slash is bleeding BADLY. I'm guessing he over did the blading.
There's a lot of back and forth in this match, but I can't say that Slash and Lee are much better than Slash and Malice or Slash and Cobain were.
AMW would pull out the win by DQ after Lee was caught using a spike on Storm, but not until after Slash and Harris were both bleeding badly. A furious Mitchell ordered Slash and Malice to attack Harris and Storm. It took a whole lot of very brave security guards and Bob Armstrong to get things calmed down.
Winner: America's Most Wanted by DQ.
Comment: Okay match, I'm glad Harris and Storm are getting into the AMW characters.
#1 Contender's Tournament
Brian Lawler (with April) vs Syxx-Pac
Lawler and April came out first looking very smitten and happy. The fans were having it and insulted April, to Lawler's dismay. Lawler pulled out a chair for April and put down his jacket so she wouldn't get dirt on her lovely outfit. Waltman came out next and Lawler got the jump on him.
This was a really good match, even though Lawler was still distracted by April. April, for her part, seemed to either be playing mind games with Lawler and Waltman, seeming to try to get Lawler to not hurt him, which didn't really help. Waltman turns the tide by dodging a Hip Hop Drop. Waltman's hip was still bothering him, so he did a…modified Bronco Buster.
To further add fuel to the fire, Waltman went out and kissed April, which pissed Lawler off. Lawler attacked Waltman and then called April over, where he pulled her up on the apron by the hair and called her an extremely vulgar name.
Ew, are we really back to this?
Lawler's distraction proved to be what Waltman needed. He got a low-blow in and the pin off a powerbomb. Having won the match and advanced in the tournament, Waltman takes off, with April in tow, and she wasn't resisting.
Winner: Sean Waltman by pinfall.
Lawler was absolutely beside himself at losing his girlfriend again, and resorts to sleaze to win her back. He faked a heart attack in the ring so badly, Fred Sanford would've called it fake. Fortunately, for him, April fell for it and ran back to check on him.
Comment: This was actually a really good match for both guys, but the April thing is back to being cringey.
As the refs 'check' on Lawler, Tenay and West show us a pre-taped interview with Ron Killings. Killings and Tenay are talking and Killings, who was not ranting and raving about conspiracy theories, told Tenay that Tenay was the only person in TNA that he trusted. With that in mind, he addressed the Mr. Wrestling III situation and said that Mr. Wrestling had gotten him, so he offered Mr. Wrestling a contract for a title match with Killings. All Mr. Wrestling had to do was contact Tenay and sign the contract.
Killings also said that he found it odd that Bob Armstong signed off on the contract almost immediately, when it usually took a fight to get him and the NWA to agree to anything. However, he repeated that he had signed the contract and if Mr. Wrestling contacted Tenay and signed the contract, he would get the match.
Back in the Asylum, a visibly pissed Jeff Jarrett. As Jarrett paced the ring, Tenay and West repeat the rumors that Jeff Jarrett was Mr. Wrestling III, despite the fact that Jarrett and Mr. Wrestling III had been in the ring together.
Jarrett, politely, asked Tenay to come into the ring. While he waited, Jarrett called Killings an idiot for offering Mr. Wrestling a title shot. After Tenay got into the ring, with the contract, Jarrett addressed the rumors of him being Mr. Wrestling III.
Tenay, sensing a confession, confirmed that those rumors were going around and offered the contract and the offer Killings made.
Jarrett read over the contract and repeated the terms of the contract. Just when it seemed that the mystery was going to be solve, Jarrett tore up the contract in disgust.
I'm not going to lie, I cheered, and so did the rest of the crowd.




Jarrett repeated that he'd been waiting 20 weeks, five months, to get the title shot he deserved. He then said that he'd be damned if someone else was going to take the backdoor way. He then vowed that in two weeks, he was going to walk out of the tournament as NWA champion before storming out.
Tenay came back to the announce table and assured everyone that he had another copy of the contract and that the offer to Mr. Wrestling was still good.
Elimination Table #1 Contender's Match for the X-Division Championship
Kid Kash vs Tony Mamaluke vs Joel Maximo vs Jose Maximo vs Ace Steel (with Mortimer Plumtree)
Another week, another #1 Contender's Match and the usual suspects, minus Amazing Red, are all assembled. Rules are simple, and for once, TNA didn't try to over complicate the rules.
One odd moment was that the match actually started before Ace Steel and Mortimer Plumtree were announced, which left the funny visual of Jeremy Borash announcing Steel while the other four competitors fought around him, and then bailing out.
The match started out in the usual way for this bunch, lots of high spots and flips, not a lot of actual wrestling. Kash was still the highlight of the match. Mamaluke tried to show off his wrestling skills, but a Table Match wasn't a great place to show off a submission hold. Steel's alliance with Plumtree, and Plumtree's constant interference made an alliance between the other four competitors almost inevitable.
Mamaluke wasn't a standout in the match, but he got the credit for eliminating Ace Steel by suplexing him through a table in the corner. Steel's head was the on thing that ACTUALLY went through the table, but, much like Big Show's foot years later, what counted was that some part of Steel's body had been put through a table.
Unfortunately, getting rid of the hated Steel and meddling Plumtree didn't buy Mamaluke much time. Kash and the Maximos teamed up to take out Mamaluke and he was moonsaulted through a table by Joel Maximo.
Once it came down to the final three, there was no honor among thieves. Kash and the Maximos duked it out. Kash would get the victory by hitting a hurricanrana on Joel Maximo through Jose Maximo through a table.
Winner: Kid Kash by eliminating the Maximos.
Comment: Really good match. Glad to see Kash finally get a push.
Jeff Jarrett vs Curt Hennig
Jarret came back out and announced that no one had seen Hennig all day. Jarrett clappedback at Hennig's jibes about his and Jarrett's history. That first match that they had in the Asylum when Jarrett was a rookie? What Hennig didn't mention is that Jarrett nearly beat Hennig for the AWA Title when he was on 19.
As for the cracks about Double J and the Chosen one, Jarrett reminded 'Mr. Perfect' of a few little details: He was a 7x WWF Intercontinental Champion as Double J. The 'Chosen One' was a 4x WCW World Heavyweight Champion, something Hennig never became. Jarrett claimed that after the embarrassing defeat last week. He then demanded that the ref ring the bell to give him the match since Hennig wasn't there.
Hennig did show up, through the crowd and not dressed to wrestle. The 'match' was really a lame-ish brawl that featured Jarrett selling his butt off to Hennig's visibly weak punching. When Scott Armstrong tried to convince Hennig to get into the ring, Hennig shoved him to the floor. Jarrett fought back but spent most of the brawl as a punching bag. A second ref sent to take control of the situation was laid out with a chairshot to the head. After Hennig hit three Perfect-plexes in a row, a third ref came out and called for the bell. Hennig was disqualified due to laying his hands on two refs. Bob Armstrong comes out to check on his son, but the drama is over for now.
Winner: Jeff Jarrett by disqualification
Comment: Honestly, they need to get rid of Hennig. It's sad to see him such a mess and it gets worse every week. The best that can be said for this week's performance is that he looked sober.
Don West gave us his weekly 'Please tune in so we stay employed' sell and it's time for the main event.
X-Division Championship Match
AJ Styles (with Mortimer Plumtree) vs Jerry Lynn
I should note that I'm not really sure why Lynn got this match since Kid Kash was the number one contender.
Anyway.
Both men got really great pops, in Styles' case, it was despite Plumtree.
The match got off to a slow start with some basic wrestling moves and the usual jockeying, which was stymied by the fact that Styles and Lynn had been tag team partners and rivals for nearly five months and knew each other's moves very well.
Plumtree was starting to show his usefulness as a manager, doing all the heel manager things: distracting the ref, attacking the babyface, etc. If Styles wasn't so over due to his amazing talent, this would've been a better fit.
It looked like karma was going to bite Lynn in the ass. Sonny Siaki came out and distracted Lynn before being sent to the back. Unfortunately for Styles, the distraction didn't work as Lynn kicked out of the Styles Clash. It would take a tombstone piledrive, but we had a NEW X-Division Champion! The show closes with Lynn celebrating.
Winner: Jerry Lynn by pinfall.
Comment: That was a really good match, but it sucks that Styles' second title reign only lasted a few weeks.
Overall Comment: So how was Week 20 of TNA? Actually, this was a really good show. There were some blah matches and moments, but it was an overall good show. Most of the matches had a purpose and the storylines got moved forward.
It seems that TNA has decided what to do with Jarrett. He went from being the top heel to being super over due to the fact that he's incredibly talented. It doesn't mean he's likeable, but the fans have finally rallied around him. For all his complaining and sneakiness, Jarrett showed an honorable streak that a lot fans respected. He refused to take the easy way out and claim to be Mr. Wrestling III, even though it would've given him a guaranteed shot at Killings, rather than going through the tournament.
I've been despairing over the Hennig/Jarrett feud, mostly because Hennig's visible decline, but this week's promo was really great. Hennig had been mocking Jarrett's previous gimmicks, making him seem like a nobody, so to hear Jarrett clap back and remind Hennig of his own silly gimmick and what Jarrett's gimmicks had actually been reasonably successful.
The women issue is still ongoing and still frustrating. The Sonny Siaki/Goldylocks thing seems to be an attempt at copying the Rock/Lilian Garcia interactions in WWE, but Sonny Siaki has none of Rock's charm and humor, which makes the segments with Goldylocks very creepy. Add in the fact that Goldylocks is less willing to put up with his antics than Garcia was with Rock, and the segments become incredibly uncomfortable to watch.
The storyline with April seems to have gotten a little lost. Who is she siding with? Lawler or Waltman? TNA can't seem to decide if she's the instigator of this whole thing or if she's a victim. Lawler's terrible acting didn't help the situation and the faked heart attack was just…no.
I'm getting a little bored with a new #1 Contender match every week for the X-Division that basically features the same people over and over. I realize that the division is small, but it's getting boring and there haven't been any real breakout stars other than Lynn and Styles.
Final Thoughts: I really enjoyed this show and hope the trend continues.




What did you think of this edition of NWA TNA? Let us know on social media @theCHAIRSHOTcom and always remember to use the hashtag #UseYourHead!
Chairshot Classics: NXT TakeOver Toronto (2016)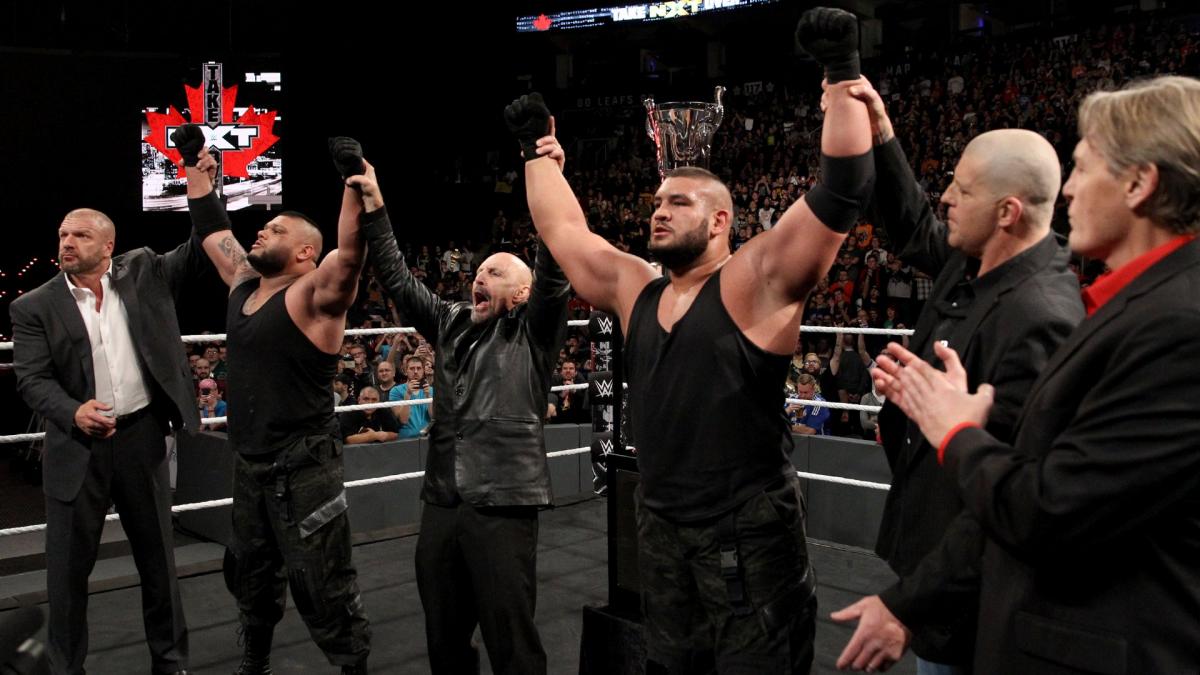 On the eve of NXT TakeOver: War Games II, we look back at a previous November TakeOver event with TakeOver: Toronto
Open: "Toronto, the birthplace and proving ground for some of the greatest Superstars from the 'Great White North'. For over three decades, the host of some of the most memorable moments in WWE history. Now, it's NXT's turn to takeover Toronto."
Match #1: 'The Glorious' Bobby Roode vs. 'The Perfect 10' Tye Dillinger
We have a staredown at the bell, Roode slowly starts to circle Tye and he starts to strike a 'Glorious' pose. Dillinger strikes with left hands, Bobby goes to a side headlock, quickly gets pushed off to the ropes, scores with a shoulder knockdown, then goes back to the ropes. The Perfect 10 catches him with a back elbow and clotheslines him to the outside, throws him back in, clotheslines him back out the other side, then steps out and fires away with stinging chops. The Glorious One sneaks in a right hand to stop the onslaught, irish whip into the barricade is reversed, Tye elevates him with a back body drop off the rebound and Roode smacks off the floor.
Dillinger sends him into the ring and Bobby tries to beg him off, The Perfect 10 mocks him and stomps away at the fingers, flashes a '10' in his face, avoids a chops and scores with one of his own. He puts The Glorious One in the corner, climbs to the 2nd rope and lets go with stiff lefts, irish whip to the ropes is reversed, Roode ducks down for a back body drop, Dillinger catches him with a kick, charges and gets deposited over the top to the outside. The Glorious One slides out the opposite side, clobbers Tye with a forearm from behind, drops him chest-first across the top of the barricade, then drapes him across the apron. Bobby comes down with a clubbing shot to the sternum, drives him down into the apron, pushes him in and chokes him in the corner with the bottom of his boot.
Roode with heavy knife-edge chops, shoots The Perfect 10 hard into the turnbuckles, follows in with a clothesline, then heads to the 2nd rope for a shot across the back of the neck. The Glorious One is supremely confident now, hooks Dillinger for a neckbreaker, Tye surprises him with a backslide and gets a count of 2. He starts to build some momentum with chops, irish whip to the corner is reversed, The Perfect 10 hits the turnbuckles hard and Roode follows with a neckbreaker for a 2 count. He drops a knee across the chest, rakes his bootlaces across the eyes and starts toying with Tye as he pummels him.
Roode puts him in the corner and goes to the 2nd rope to right down punches, gets a little to confident and The Perfect 10 powers him out into an inverted atomic drop. Dillinger gets a rush of adrenaline and battles to his feet, irish whip to the ropes is reversed, Tye ducks a clothesline and scores with multiple flying forearms. He delivers a knee lift, flattens Roode with a clothesline, stomps away in the corner and then exposes the knee for the Tye Breaker. The Glorious One sees it coming, rolls outside and starts walking to the back, Dillinger goes out in pursuit, throws him back in the ring and slides in, Bobby catches him with a spinebuster and nearly puts it away.
He props Tye on the top turnbuckle and sets for a superplex, plants The Perfect 10, rolls into a cover and only gains a near fall. The Glorious One starts to look puzzled, stands over Tye and flashes a '10', then exposes his knee and tries for a Tye Breaker of his own. Dillinger slips out of it and looks for a superkick, Roode ducks it, goes to a schoolboy, puts his feet on the ropes, but the official sees it and stops at 2. Bobby can't believe it and argues with the referee, The Perfect 10 surprises him with a schoolboy for a near fall, both guys up  quick, he connects with the superkick, but still can't finish it.
Both guys stagger to their feet and exchange fists, The Perfect 10 gets the better of it, powers Roode up for the Tye Breaker, The Glorious One escaping and hooks him for the Glorious Drop. Tye avoids it, Bobby attempts a sunset flip, The Perfect 10 rolls through it, slaps on the Sharpshooter, but Roode is able to crawl to the ropes. Tye stumbles back up, tries to pick The Glorious One to his feet, gets caught in a small package for a 2 count, counters to one of his own off the kick-out, but still only gets 2. Roode staggers to the corner and Dillinger comes charging in, The Glorious One side-steps out of the way, drives him shoulder-first into the steel post, spikes him with the Glorious Drop and that's all she wrote.
Winner: 'The Glorious' Bobby Roode (Glorious Drop)
EA's Take: I think about what it must be like to be Bobby Roode walking into the arena, to a packed house and a massive pop compared to his previous situation in TNA. I have made my feelings on Dillinger clear before, the man is a future champion and I stand by that. This was the best way to start this event off. The match was well paced and the two men worked together wonderfully. The crowd was high energy which only heightened the already great match's intensity. Roode getting the win makes sense. He is set to advance into the title picture imminently. My boy Tye however, got to show what he could do and look as good as you can in a loss. Good luck to the rest of the card because these two just set an epic tone to start the night.
Match #2 – Dusty Rhodes Tag Team Classic Finals with Paul Ellering Suspended Above The Ring In A Shark Cage: The Authors Of Pain (Rezar & Akam) w/Paul Ellering vs. TM61 (Shane Thorne & Nick Miller)
The cage lowers, Ellering holds a quick conference with The Authors, the official locks him inside and it is raised above the squared circle. Akam & Miller to kickoff the action, Akam immediately drives Miller into the corner at the bell, shoots him across, Miller puts on the brakes and fires back with forearms. Akam blocks a whip and sends him to the ropes, Thorne tags in on the way through, delivers a big boot to send Akam to the outside, Rezar hits the ring and runs into a double dropkick. TM61 clothesline him to the outside, Thorne spills to the outside, Miller builds a head of steam and flies over the top with a somersault plancha onto Akam.
Rezar looks up at the support structure for the shark cage, powers Thorne onto his shoulders and starts to climb up with some devious plans in mind. Shane kicks him away, climbs to the top of the structure, jumps off with a somersault and takes out The Authors Of Pain. He throws Akam back in the ring and climbs onto the apron, Miller slides inside, the official tells Miller he's not legal and works to get him back to the corner, Rezar taking the opening to sweep the legs of Shane on the apron. He climbs up to the apron and tags in, sends Thorne into the squared circle and covers for 2, bludgeons him with big right hands and stomps, then rips away at the face. Akam tags in and comes off the 2nd rope with a combination stop/side slam for a count of 2, Akam hammers Shane with heavy shots, hooks the leg and gains another 2 count.
He looks to ground Shane now with a rear chinlock, Thorne works his way to a standing position, Akam launches him across the ring, lateral press and another near fall. He measures Thorne in the corner and rushes in, Shane side-steps out of harm's way, Rezar gets the tag and knocks Miller off the apron, picks Thorne up and gets surprised by a dropkick. Miller pulls himself back to the apron and tags in, cracks Rezar with forearms, slams Akam coming in, delivers a corner clothesline to Rezar, then hits an exploder suplex on Akam. He plants Rezar with a back suplex, smashes them both with basement flying forearms, goes to the top turnbuckle and executes a moonsault, but can't finish it. Akam & Thorne get back involved and every pairs off in opposite corners, TM61 with in-sync punches from the 2nd rope, The Authors look to counters into the Clink Powerbomb, but Thorne & Miller reverse with hurricanranas.
Shane gets a tag, TM61 plant Rezar with Thunder Valley, Thorne hooks the leg, but Akam is there to make the save. Miller dumps him to the outside, slingshots over the top with a crossbody, Thorne follows with a somersault plancha, the official takes in the chaos and Ellering drops a chain into the ring from above. Rezar wraps it around his fist, tries to clock Thorne climbing up to the apron, Shane blocks it, the chain flies into the crowd and he rolls Rezar up for a near fall. He pops back to his feet, Rezar delivers a spinebuster, tag to Akam, they take out Miller on the apron and deliver The Last Chapter for the win.
Winners: The Authors Of Pain (Akam/The Last Chapter)
After The Bell: The cage lowers and Ellering is freed to raise his guys' hands. NXT General Manager William Regal & Triple H come down to the ring along with Dustin Rhodes, presenting The Authors with the Dusty Cup and posing for a photo-op.
EA's Take: I called AOP to win this tourney before it began. It just made too much sense as hard as they have been pushed. The way the match was completed fits into the idea that Ellering always is involved in some way. TM61 kept the pace of the match where it needed to be. It was bogged down in spots, but not so much so that it made the match plodding. Both teams should look to be competing in the title picture in the aftermath of this event. Also, I hope no one got hit by that chain that went into the crowd….jeez!
Match #3 – 2 out of 3 Falls for the NXT Tag Team Championships: #DIY (Johnny Gargano & Tommaso Ciampa) vs. NXT Tag Team Champions The Revival (Scott Dawson & Dash Wilder)
Gargano & Dawson to begin, Dawson with an arm drag off the opening lock-up, Johnny with a headscissors to escape, scores with an arm drag of his own and Dawson returns the favor with the headscissors. Quick pace to start, Johnny Wrestling with an early 2 count off of a roll-up, Dawson collects himself, they tie-up again and Dawson backs Gargano into the corner. No clean break and he goes to the breadbasket with a fist, snapmares Johnny over, hits the ropes for a shoulder knockdown, goes back in, puts on the brakes and sends Gargano to the ropes instead.
Ciampa gets a tag, Johnny Wrestling catches Dawson with an inverted atomic drop, Tommaso follows with a running forearm, connects with one for Dash stepping in, DIY then scoring with in-sync dropkicks. The Psycho Killer covers for a count of 2, goes to a wristlock, Dawson rakes the eyes to break it, brings Wilder in and he clubs Ciampa down to the canvas. He tries to drive Tommaso head-first into the top turnbuckle, The Psycho Killer blocks it, returns the favor, irish whip across is reversed into a knee, Dash tagging out. Dawson delivers a body slam and brings back Dash, drops him into a leg drop on Ciampa for a 2 count, Wilder grabs a side headlock, looks for a running bulldog and gets pushed away into the opposite corner.
Both guys crawl to tags, Gargano slingshots in with a kick to Dawson, levels him with a clothesline, ducks a shot from Wilder and tosses him with an overhead belly-to-belly. He lines The Revival up in opposite corners and charges in with running chops, pulls Dash out for a running bulldog and clotheslines Dawson in the process, plants him with a leaping neckbreaker and almost gets 3. Johnny Wrestling charges Dawson in the corner, gets elevated over the top, Wilder makes a tag, Gargano lands on his feet on the apron and Dawson clocks him with a right hand. He hits the ropes to build a head of steam, Johnny looks to slingshot back in with a spear, Dawson counters into the Shatter Machine and Wilder covers for the fall.
First Fall: The Revival
Gargano staggers to his feet, Wilder tries to attack him from behind, gets surprised by a roll-up for a near fall, but Johnny can't capitalize. Dawson tags in and ties Johnny up in the ropes for heavy shots, Wilder clotheslines him back into the ring behind the ref's back, Dawson follows with a slingshot suplex and again gets a count of 2. Dawson shoves him into the corner, Dash tags in and the champions pound him with clubbing shots, Wilder with some words for the crowd, then Dawson re-enters the match. Dash sends Gargano to the ropes for a drop toe hold, Dawson follows with an elbow drop for a 2 count, then looks to ground Johnny Wrestling with a body scissors. Gargano works to a vertical base, Dawson switches into a Gory special, Johnny slips out of it, takes a shot at Dash on the apron, but gets clocked by Dawson.
Wilder steps in, Gargano charges, grabs Dash for a tornado DDT, kicks Dawson in the process, crawls to his corner and reaches for the tag. Dash grabs Ciampa from the outside and then slides in the ring, the official is distracted as Gargano tags out, the ref doesn't allow it and The Revival double team Johnny in the corner. Tommaso has had enough and chases Dawson around the ring, the official cuts him off as they slide back in, the champions hit Gargano with a Hart Attack, Dawson covers and nearly finishes it. Wilder re-enters the match and props Johnny on the top turnbuckle for a super back suplex, Johnny Wrestling switches the weight in mid-air, lands on top and gets 2. Dash tags out and Dawson quickly tries to prevent Gargano from reaching his corner, Johnny clocks him with an enzuigiri, leaps and finally tags out.
The Psycho Killer hits the ring off the top with a dropkick, crushes Dawson in the corner with a running knee, then drops him with back elbows. Dawson ducks under one and shoots him to the corner, rushes in and meets a boot to the chin, Tommaso runs out with a Famouser, covers and only gets a count of 2. Wilder rolls into the ring and gets dumped back outside just as quick, Dawson takes the opening for a roll-up from behind, Ciampa rolls through it, delivers rolling german suplexes, scores with the Running Knee for a near fall. He calls for Gargano to climb back on the apron, Dawson clobbers him from behind, pulls Johnny into the ring and The Revival set for a spike piledriver.
Ciampa knocks Wilder off the top turnbuckle, Johnny blocks the piledriver, Tommaso comes off the top with a crossbody, but still can't find a 3 count. Dash slides in again and Ciampa cracks him with a high knee, the referee forces Wilder back to the apron, #DIY lineup for the Combination Superkick/Running Knee to Dawson and Tommaso covers to tie it up.
Second Fall: #DIY
Dawson rolls to his corner and tags out, Dash steps in, has some words for Ciampa and they trade-off shots. The Psycho Killer gets the better of it and measures for a discus clothesline, Dawson makes a blind tag, sneaks into the ring and ducks it, but Ciampa picks the arm and goes into the Bridging Fujiwara Armbar. Dawson reverses into a roll-up for a 2 count, Gargano makes a blind tag, decks Dawson with an enzuigiri from the apron, Tommaso following up with a rope-assisted reverse STO. He looks to dive outside onto Dash and gets surprised by an uppercut, Wilder charges around ringside after Gargano, Johnny laying him out with a kick from the apron. He slingshots into the ring and spikes Dawson with a DDT, stacks him up for a count of 2, then looks around wondering what to do next.
Dawson rolls out to the apron, Johnny hooks him for a suplex back inside, Dawson slips out of it, waistlock by Gargano and he pushes him towards the ropes for a roll-up. Dash hangs onto Dawson from the outside to block it, tags himself in, Gargano battles them both off, looks for a tornado DDT on Wilder, but gets thrown off. The champions plant him with a combination clothesline/german suplex, Dawson hooks both legs, but The Psycho Killer just barely breaks it up before 3. Dawson drives Ciampa shoulder-first into the ring post, goes back to the apron to tag in, then trades shots with Gargano. Johnny gets the upper-hand, Dawson ducks a shot for a backslide, Gargano counters out, kicks Dash in the process of rolling up Dawson with a small package and almost steals it.
Wilder goes to the timekeeper's area and grabs one of the titles, slides back into the ring, Ciampa meets him with a clothesline and they both fall over the top to the floor. The official is distracted, Dawson grabs the championship, blocks a Gargano kick with it and then slaps on an inverted figure four. Johnny Wrestling struggles to hold on, scratches and claws his way to the bottom rope and forces the break, but the damage has been done. Wilder calls for a tag and gets it, they mock #DIY and go for their combination finisher, Gargano ducks it, Dawson gets clocked by a superkick, #DIY hit Wilder with a Shatter Machine, but Dawson is able to stop the count before a finish.
Ciampa tries to roll back inside and the ref forces him back to the corner, Dawson switches out without making a tag, surprises Gargano with a roll-up, the official turns around and counts to 2, but notices it's not the legal man in the ring. Wilder rams Tommaso into the ring post on the outside, Johnny deposits Dawson through the ropes with a superkick, Dash slides in from behind and takes Gargano out at the knees. He sets for the inverted figure four, Gargano counters into a small package for 2, they exchange roll-ups for near falls, Johnny finally hooks on the Garga-No-Escape, Ciampa cuts off Dawson and slaps on the Bridging Fujiwara Armbar, Wilder tapping out.
Winners and NEW NXT Tag Team Champions: #DIY
EA's Take: Is it just me or did this whole feud get undersold and was not well built up? I picked The Revival to win this one mainly because I am so used to seeing them win at these TakeOver events. I am glad to have been wrong. #DIY looked great, as did The Revival. There were a couple of sloppy moments, but they were few and far enough between and the match was still quite good. #DIY I am sure will be seeing The Authors of Pain very soon. As for their counterparts, RAW's Tag Team Division has become quite stale and to steal a quote from my editor, could use a "Revival".