Ja'Von's Impact Wrestling Live Report (5/10/18)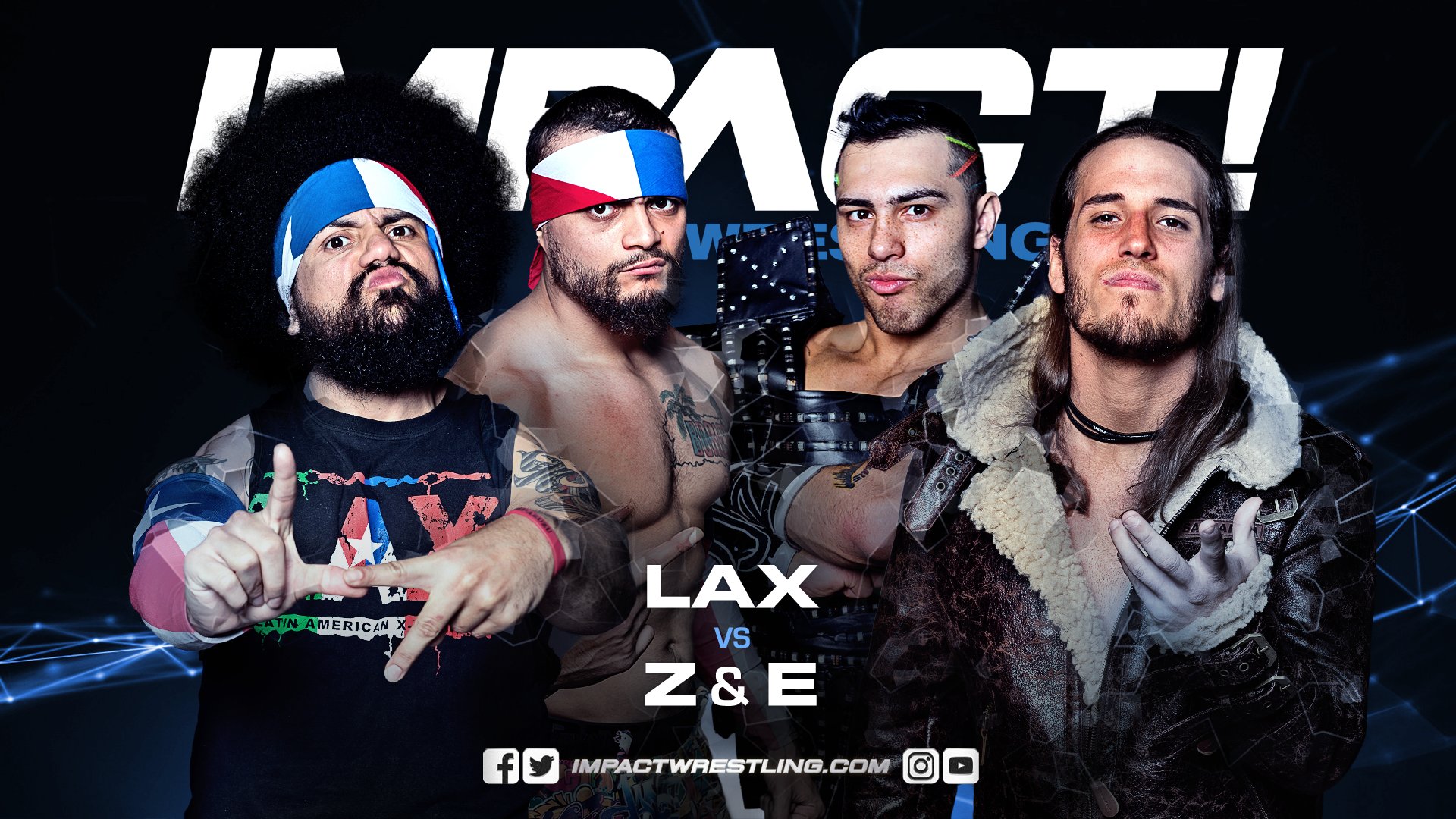 Quick Results:
Z & E vs LAX: Z & E via pinfall
Grado vs Rohit Raju: Grado via pinfall
Drago vs Aerostar vs Taiji Ishimori vs Fantasma: Fantasma via pinfall
Moose vs Kongo Kong: Moose via DQ
Brian Cage vs Sugiura: Brian Cage via pinfall
Pentagon Jr.(c) vs Eli Drake(Impact World Championship): Pentagon Jr. retains via pinfall
Play by Play:
Impact kicked off with Josh Matthews talking about Sami Callhian attacking Impact Wrestling Executive Vice President Don Callis this past week in Toronto. There is a meeting currently being held with the senior officials to decide Callihan's fate.
Z & E vs LAX:
Z & E make their way to the ring for the match. LAX then makes their way down to the ring for the match. The match starts with both DJZ and Santana in the ring and they go back and forth for a bit followed by both guys hitting the mat but they both get back up with kip ups. DJZ and Santana knock each other to the mat. DJZ and Santana both kip up at the same time. Santana enziguri DJZ. Ortiz tags in and hits a dead body splash on DJZ for a near fall. Everett tags in and hits a dropkick off the top on Ortiz. Arm drag off the second rope to Ortiz. Everett responds with a hurricanrana. Santana and Ortiz land a wheelbarrow cutter on Everett. Everett kicks out. Northern lights suplex by Ortiz. Everett kicks out again. Enziguri by Everett. Everett tags in DJZ.
DJZ hits a splashes on both members of LAX at the same time. DJZ tries to double DDT LAX. Santana and Ortiz counter and superkick DJZ. Everett hits a backflip kick to both members of LAX at the same time. Ortiz powerbombs Everett then hits a DDT. DJ Z DDTs Ortiz. Santana superkicks DJ Z. LAX tries a setup moonsault. Everett gets his knees up. DJZ kicks Ortiz. Everett hits a step up corkscrew press for a near fall. DJZ dives onto Ortiz. Ortiz hits a double under hook suplex on DJ Z. LAX goes for the Street sweeper. DJZ counters into a roll up for the win.
A single picture tells the whole story – @Ortiz5150 and @SantanaLAX are in disarray without their mentor. #IMPACTonPop pic.twitter.com/sds4rzdqPA

— IMPACT (@IMPACTWRESTLING) May 11, 2018
Winners: Z & E via pinfall
Backstage segment with Grado and Joseph Park. Park is getting Grado warmed up for his first match back and still doesn't believe that he has a girlfriend. His girlfriend then walks in a he Grado introduces her to Joseph then she leads him to the ring for his match.
Austin Aries says that he did wish Eli Drake luck last week and that he will take his other world title from the winner of the match tonight.
Rohit Raju vs Grado:
Rohit makes his way to the ring for the match. Grado then makes his way to the ring with his new girlfriend Katarina. Rohit attacks Grado from behind and tossed himhim into the corner but Grado fights back and gains control of the match by Irish whipping him into the corner then a couple of jabs and a back body drop. Rohit then gains control of the match again and tries to hit a belly to belly on Grado but struggles to do so and sends him into the corner he then rushes him but Grado gets the boot up. Grand then gets minimal offense in but to no avail as Rohit kicks out Grado's legs then hits a big knee and gets a nearfall. Rohit then hits a running knee on Grado who is trying to use the ropes in the corner to get up and gets another nearfall on Grado. Rohit then wears down Grado with a chinlock but Grado fights back and gets in some offense to earn a nearfall. Rohit then gets angry and begins to hit Grado with some jabs but it only makes Grado mad as the straps come down. Grado takes to long to follow up on the attack and Rohit hits a swinging neckbreaker for a nearfall. Grado then gains control of the match again and hits a cannonball on Rohit for the win. Post match Katarina comes in the ring and makes out with Grado to celebrate the win.
What do you think @katarinasinfamy sees in @gradowrestling? #IMPACTonPop pic.twitter.com/Q2Edzprpg6

— IMPACT (@IMPACTWRESTLING) May 11, 2018
Winner: Grado via pinfall
Immediately after Grado's match we are taken backstage because Jospeh Park has been attacked
A video package is shown showcasing the newest knockout Tessa Blanchard and goes into depth about her, her family, wrestling career, and why she came to Impact Wrestling and why she is the best in the world.
Impact announces their TV Tapings for June 1st and 2nd
McKenzie Mitchell interviews the tag champions Eli Drake and Scott Steiner about Eli cashing in his world title briefcase tonight. Eli says that the tag titles mean a lot to him but he is coming for the world title tonight. He also says that there is a new belt collector now. Steiner says that he wants to help Eli tonight but Eli says that he wants Steiner on the bench tonight. Tension was teased between the two a bit.
Drago vs Aerostar vs Taiji Ishimori vs Fantasma:
Drago makes his way to the ring for the match. Aerostar makes his way to the ring for the match. Taiji Ishimori makes his way to the ring. Finally Fantasma makes his way to the ring for the match. Drago goes for Fantasma but he does and Aerostar catches him with a hurricanrana. The ring then clears and Drago and Aerostar are alone in the ring and go at it. It's very fast paced with both guys sweeping each other going for the cover which ends in a stalemate. Ishimori and Fantasma come in and clear the ring leaving them alone in the ring. They go at it with Fantasma getting the better of the exchange for a two count. Ishimori then goes to the apron and hits a shoulderblock through the ropes on Fantasma then followed up with a senton which sends him out of the ring. Ishimori follows up with the Golden Moonsault the outside. As we are going to break Drago and Aerostar get back in the match and Aerostar launches himself onto Drago and all four men are down. We are back from break and Aerostar and Ishimori are in the ring and he dodges Taiji who came running at him then takes down Ishimori and goes for the cover but Fantasma breaks it up. Fantasma then goes on the attack on Aerostar then hitting a big boot. As Fanstama was setting up something else Drago comes back in the ring and hits him with a big boot in the face. The match picks up some more Drago Ishimori and Fantasma are in the ring but Fantasma gets driven out of the ring and Taiji goes on the attack of Drago and hits a running knee on him Aerostar comes back in and gains control for a bit and takes out Taiji then goes on the attack of Drago and gets a nearfall on him. Fantasma then comes back in and gains control of the match and gets a nearfall. Ishimori then gains control and hits an inverted flapjack on Fantasma for the pin but it's broken up. Fast forward some and all four men are down in the ring but Aerostar gets up and dropkicks Taiji out of the ring. Drago then flies over the ropes onto Ishimori. Fantasma then hits the arrow from the depths of hell into Drago then Aerostar flies onto Fantasma. Aerostar and Ishimori get back in the ring and Taiji gets the better of the exchange hitting a gutbuster on him for a nearfall. All men. Are now back in the ring and multiple covers have been broken up but Aersostar and. Fantasma wre eventually left alone in the ring and Fantasma gets the better of the exchange and hits the thrill of the kill for the win.
Thrill of the Kill gives @hijodelfantasma and he is the new number one contender for the X-Division Championship! #IMPACTonPop pic.twitter.com/yy5jVNmpie

— IMPACT (@IMPACTWRESTLING) May 11, 2018
Winner: Fantasma via pinfall
As we go to break Eddie Edward's barges in and interrupts the meeting between senior management to decide Callihan's future in Impact.
.@TheSamiCallihan was about to be fired by IMPACT Wrestling management. @TheEddieEdwards convinced them otherwise.

However IMPACT Wrestling is officially washing it's hands of Edwards and Callihan. It's gone too far. If they want to finish it, they can do it somewhere else. pic.twitter.com/IldadQ8wT0

— IMPACT (@IMPACTWRESTLING) May 11, 2018
Back from break Eddie tells the senior management to not fire Eddie even though they wanted to. They agree not to fire Sami but told Eddie to get his revenge on Sami anywhere but at the Impact Zone and they are done with this blood feud.
Looks like I get to stay @IMPACTWRESTLING. Thanks to @TheEddieEdwards for the assist. Let's do this BITCH. #TheDRAW #oVe #CallihanVsEdwards

— The DRAW (@TheSamiCallihan) May 11, 2018
Moose vs Kongo Kong:
Collar and elbow tie up between the two with Kong getting the better of the tie up and pushing Moose into the corner. Moose then side steps and puts Kong in the corner and lays in the jabs and punches but Kong gains the control of the match again and the match spills to the outside. Moose rains control of the match and hits a big uppercut on Kong then slides back in the ring. Moose then comes back out breaking the count and hits a big boot on Kong. Kong then gains control of the match by countering an Irish whip and sends Moose into the guardrail and focuses his attack now on the lower back of Moose. Kong towers over Moose as he continues his attack on him. Kongo Kong then locks in a bear hug on Moose to wear him down a bit but Moose hits a big elbow to break it up. Coming off the ropes for a big move Moose gets caught with another bear hug. Moose breaks free and attempts a slam on Kong but to no avail and gets sent into the ring post. Moose then fights back and knocks Kong down to a knee which gets him some needed separation. Moose then gets back up and goes on the offensive and finally get Kong down for the first time in this match and follows up with a senton. Moose looks to finish the match but Jimmy Jacobs who was on the outside for this match his Moose with a steel chair which causes a disqualification in favor of Moose.
.@JimmyJacobsX smashes @TheMooseNation with a chair and it only seems to mildly irk him. #IMPACTonPop pic.twitter.com/SC1tco0fl9

— IMPACT (@IMPACTWRESTLING) May 11, 2018
Post match attack that has Moose sending Kong to the outside and Jacob's keeping Kong at bay with Moose standing tall as we go to break.
Winner: Moose via DQ
Back from break KM is hyping up Fallah Bahh to get him into shape and they show videos of KM training him while he is just sitting around eating.
Brian Cage vs Sugiura:
Sugiura attempts a suplex but Cage counters and hits a delayed vertical suplex then a standing moonsault for a nearfall. Sugiura hits him with strong forearms then they both go on to trade blows followed by a big dropkick. Sugiura goes to the ring apron and hits cage with a shoulderblock but it doesn't really faze Cage as he grabs him and goes to the middle rope in the corner for a suplex from the apron to the ring for a nearfall. Back in the ring Cage is still in control but his Sugiura gains control with Cage in the corner and lays in with strong forearms. Cage fights back and they meet on the top rope but Cage knocks him down. They then meet again on the middle tope and Cage hits a hurricanrana on him. Sugiura goes for a running knee but it gets caught and Cage hits him with a buckle bomb then another move from his arsenal for a nearfall. Sugiura then begins to fight back and gets a nearfall. Both guys then go back and forth with big shots. Cage gets the better of the exchange and hits a discus clothesline for a nearfall. Cage finally hits the drillclaw for the pinfall victory.
🇺🇸 – ✅
🇦🇺 – ✅
🇯🇵 – ✅

Where does @MrGMSI_BCage dominate next on his World Tour? #IMPACTonPop pic.twitter.com/X2Qz8aqVX7

— IMPACT (@IMPACTWRESTLING) May 11, 2018
Winner: Brian Cage via pinfall
Allie is shown backstage in the locker room looking in a mirror remembering what happened last week with Rosemary and Su Yung. She then gets a knock on the door and finds a doll waiting for her with a note attached.
Pentagon Jr.(c) vs Eli Drake(Impact World Championship):
Eli Drake makes his way to the ring for the match looking to reclaim the world title. Pentagon Jr. makes his way to the ring to defend his world title as we go to break. Back from break and both guys get in each other faces and trash talk. Pentagon comes off the ropes looking for an attack but Drake counters and stops him with a big bolt and gains control of the match early on. Pentagon then counters and gains control of the match and hits a slingblade for a nearfall. Pentagon looks to hit the same move that broke Aries' arm but Drake fights free before that could happen. Drake then gains control of Pentagon and lays in the ground and pound with punches to the face. Drake gets Pentagon in the corner and stays on him for a bit but Pentagon gains control and Irish whips Eli into another corner but Eli gets the boot up as Pentagon charges him and then wears him down with a chinlock. Pentagon then fights back and catches Eli with a kick as he was coming off the springboard for a two count. Drake in the corner and Pentagon hits him with a chop then hits a backstabber on Eli as he ducks him going into the corner. Pentagon then hits a superplex for a nearfall. Eli then gains control of the match for a bit and attempts the gravey train but Pentagon counters and eventually hits the Pentagon driver for the win and retains his world title.
2007: Scott Steiner – Unsuccessful
2008: Hernandez – Unsuccessful
2009: Samoa Joe – Unsuccessful
2013: Gunner – Unsuccessful
2015: Austin Aries – Unsuccessful
2016: Drew Galloway – Successful
2018: Eli Drake – Unsuccessful

The Feast or Fired Curse is back with a vengeance. pic.twitter.com/BoPgnM3Z0X

— IMPACT (@IMPACTWRESTLING) May 11, 2018
Winner and STILL Impact World Champion: Pentagon Jr. via pinfall
My Opinion: The show was pretty good at first with the main storyline focus of the show being about Sami Callhian's attack on Don Callis. So overall it was a good show tonight but the end part felt very rushed to me.
7/10
---
Always Use Your Head and visit the official Pro Wrestling Tees store for The Chairshot All t-shirt proceeds help support the advancement of your favorite hard-hitting wrestling website, The Chairshot!

---
Chris' IMPACT! Wrestling Results & Report (9/20/18)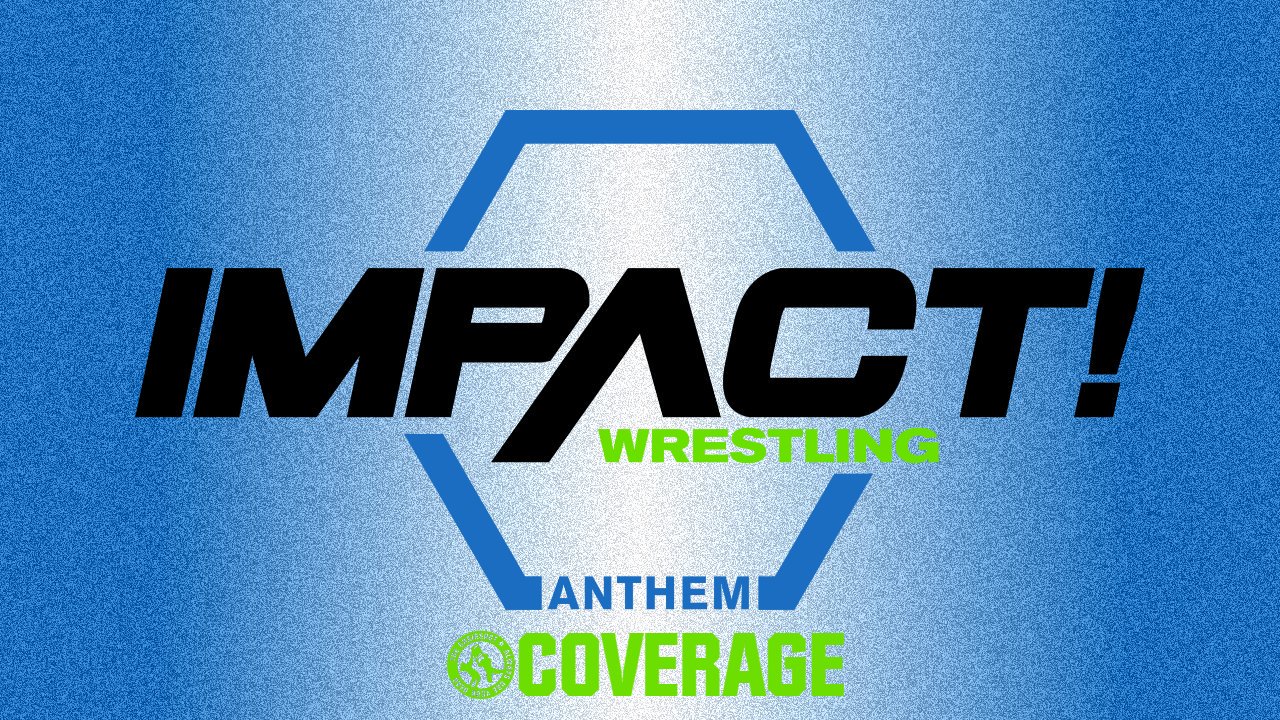 For the first tim ever, IMPACT! Wrestling comes to us from Mexico!!!
QUICK RESULTS
oVe d. Aerostar, El Hijo Del Vikingo & Laredo Kid – pinfall, oVe pinned Vikingo, Doomsday Cutter
Eli Drake d. Trevor Lee – pin fall, Gravy Train
King d. Chronus – pin fall, spinning back fist
Faby Apache d. Alisha – pin fall, sit out powerbomb
The Lucha Bros. d. Matt Sydal & Rich Swann – pin fall, Fenix pins Sydal, muscle buster power bomb
IMPACT! Title: Austin Aries(c) d. El Texano Jr. – pinfall, brainbuster
________________________________
IMPACT! Wrestling from Mexico
Video package recapping last week starts us off.
Match One: Aerostar, El Hijo Del Vikingo & Laredo Kid vs oVe [Jake Crist, Dave Crist & Sami Calihan]
Nice touch here as the ring announcement for the Mexican trio was in Spanish and announced them as the "Technicos"
Brisk pace to start between Sami and Laredo, everyone in, kicks all around leave Laredo standing. "Mexico" chant for the Technicos. Dave and Laredo in, Laredo flying everywhere, hits a front kick sending Dave to the floor. Jake cuts him off, superkick to the back of the head, then chin, and a crescent kick takes him down. Aerostar in with a headscissor interrupted by Sami with a powerbomb.
Vikingo in and walks across the ring on HIS HANDS!!! Front kick by Sami takes him down. Misses in the corner, Vikingo with a hurricanrana. Hits a tope con hilo, but oVe catches him and hits a powerbomb in the apron. Laredo and Aerostar on the top buckle, Aero goes off Laredo's shoulders and dives on oVe on the floor. Laredo follows with a delayed moonsault!!! Vikingo follows with a shooting star press!!!
Brawling begins all around he ring. Laredo tosses in Sami, who hits a huge clothesline. Mounted punches and tries to rip the mask. Tags in Jake.
Jake takes out Aero and Vikingo and a savate kick to Laredo off a toss. Sami and Jake toss Laredo out of the corner.
Vikingo tags in against Jake. Jake tosses Vikingo into the buckles, sets him in them and kicks his back. Double kick to a held Vikingo, Laredo breaks up the pin at 2. Dave tags in.
They toss Vikingo who hits a senton on Jake. Aero In, hits a springboard off Dave into a double cutter, then a springboard code breaker on Dave. Vikingo hits a splash, Laredo hits a 450, all men cover, broken up by Sami and Jake.
oVe all pick up an opponent and tombstone, all get two on their man. Dave puts a Vikingo on his shoulders. Jake with a doomsday cutter off Sami's shoulders for the 1-2-3
Your winners: oVe (pin fall)
Rich Swann is back stage and runs into Matt Sydal. Says they've had misunderstanding but he wants Swann to succeed. Susan says he received a divine transmition that they're supposed to be a tag team, and they'll face The Lucha Brothers, TONIGHT!!
**commercial break**
Backstage we see Sexy Starr getting ready when Tessa Blanchard walks in. Tells Starr she can't put her stuff where the champion sits and if she wants to make it she better start moving. Faby Apache then approaches asking what Tessa's problem is, and telling her around here, they treat each other with respect. Tessa says she thinks she has a better locker room anyway and walks away.
To the announce table for Josh Matthews and Don Callis, and they talk about Tessa's disrespect and run down the card.
Next up, Eli Drake has an open challenge! Eli starts by saying he came to Mexico looking for a real challenge, but all he found was "tontos! Si!" And challenges anyone to come out.
Match Two: Eli Drake vs Trevor Lee
Trevor Lee answers the challenge with a referee in arm, and Eli jumps him. Trevor gets Eli in the corner and stomps away and celebrates. Kick and uppercut, Trevor then gets whipped across and Eli hits the uppercut. Forearm send Eli to the floor who then trips Trevor on the apron.
Back in, Eli chokes him on the middle rope, then hits a leg drop across the back of his neck. Trevor then drops Eli on the top rope, hits a back breaker for two. More corner work, as they've move from one to the next. Eli then charges out with a clothesline, scoop slam, and Eli drops him, goes for the Faby train and Lee reverses into a pin with the tights for two. Eli picks him back up, hits The Gravy Train for the 1-2-3
Your winner: Eli Drake (pin fall)
Earlier today, we see the OGz saying they need to get out of this trash town, and they're going to get the LAX to break the cease fire.
**commercial break**
Match three: King (w/ Homicide & Hernandez) vs Chronus
Chronus looks like a masked Spartan warrior.
Handshake to start and the OGz jump Chronus. Cutter by Homicide. Now the bell rings, match starts.
Spinning back fist by King for the 1-2-3
Your winner: King (pin fall)
King gets a mic, calls out Konnan, tells him to ignore the cease fire. Calls them nothing but cowards.
**commercial break**
Bound For Glory video package.
LAX back stage and Santana is sick of the OGz. He asks Konnan where his heart went? Konnan tells them not to tell him how to run his business. Says he won't break the cease fire, because if they do, The Comission will make sure they disappear. Says their match at BFG will be a Concrete Jungle Match.
Match four: Alisha vs Faby Apache
Apache had her head shaved at TripleMania this year.
Collar and elbow to start, Apache takes her down into an ankle lock, Alisha reverses, but reversed back. Arm drags and leg trips by Faby and a stand-off. Kick exchange, then chops, snspamare  dropkick by Faby.
Scoop slam and a leg drop by Faby for two. Drop toe hold onto a surfboard by Faby, into a face buster!!! Back elbow from Alisha stops a charge and then she hits a slow hurricanrana. Forearm strikes, into a wheelbarrow roll up for  one. Alisha charges a corner, Faby hits a superkick for two.
Alisha off the ropes kicks in an headscissor octopus but Faby walks to the ropes. Alisha hits a clothesline to take her down, both women up, Alisha hits a flatliner for two. Alisha goes up top, hits a cross body, then Faby hits a running boot and a sit out powerbomb for the 1-2-3
Your winner: Faby Apache (pin fall)
Josh Matthews interviews Faby with a translator, who says she represents women's wrestling and she wants to face Tessa NEXT WEEK!!
El Texano Jr. getting interviewed backstage, he welcomes Austin Aries to Mexico. Says he will win the title and ride off into the sunset as champion!
**commercial break**
Scarlett Bordeaux back stage, she's got a huge announcement next week
Match five: Rich Swann & Matt Sydal vs The Lucha Bros. [Pentagón Jr. & Fenix]
Fenix is wearing his AAA Mega Championship to the ring tonight (nice touch)
Penta shoves Swann as he enters the ring.
Swann and Fenix start. Collar and elbow, go behind by Swann,  reversed, throws Fenix into the ropes, springboard after springboard, trip, Fenix misses a moonsault and they flip away and a stand off.
Pentagón  and Sydal tag in. Taunts to start. Kick from Pentagón, and another when Sydal tries to roll. Fenix tags in and they both kick Sydal. Fenix hits an assisted cutter on Matt and they kick away at Swann. Fenix hits a double stomp for one. Superkick from Fenix to Matt, body scissor splash for two.
Sydal hits a kick for one. Snapmare and he tags in Swann who hits a rolling hilo over the top rope. Swann gets Penta in a corner and snapmares him out. Double team on Penta, he kicks them both, and tags in Fenix.
Springboard double cutter by Fenix, then a tornado con hilo on both men on the floor. Fenix hits a superkick on Sydal on the floor, as he tries to enter he gets an enziguri from Swann, who then hits a twisting con hilo from the top to the floor
**commercial break**
Fenix with a springboard crossbody to Sydal, who hits a spinebuster. Misses a charge, Fenix gets a knee after a roll through. Double team on Fenix, Penta interrupts, Swann sets him up for an enziguri, both Swann and Sydal hits top rope frankensteiners, Swann gets a two on Fenix. Both men up top and interrupted by Penta and Fenix. Fenix hits a double stomp on Swanns neck, then Penta hits a package oiledriver teal on the apron.
Fenix then hits a Muscle Buster powerbomb on Sydal for the 1-2-3
Your winners: The Lucha Bros. (pin fall)
oVe hits the ring and taunts the Brothers from outside the ring. Cage comes out and evens the odds and oVe retreats.
Backstage interview with Aries and his crew. Aries says tonight, he takes on Texano because there's no one left to challenge him.  Says the title will stay right where it is, on his shoulder. Moose then takes a selfie with the interviewer.
**commercial break**
Backstage the Desi Hit Squad are getting massages, saying next week they have a non-title match against LAX. Gama interrupts  saying it's not time to relax and they need to get their heads right. They proceed to beat each other.
Joe Hendry's new music video debuts next talking about his "Best Friend" and how he won't abandon Grado for Katarina.
GWN Flashback Moment of the Week is an Ultimate X Match: Petey Williams vs Chris Sabin vs Matt Bentley
Video package covering Allie's promise that no one will go in Su Yung's coffin
**commercial break**
Announcers hype the main event, saying KM is still recovering at home as well.
They hype next week as well.
They then announce their 2018 IMPACT! Hall of Fame inductee – ABYSS!!!!
Match six, IMPACT! World Championship: El Texano Jr vs Austin Aries(c) (w/Killer Kross & Moose)
Arm ringer by Aries, reversed by Texano and back by AA. Aries gets out of a head scissor take down, and chills on the top rope.
Texano takes down AA and hits a con hilo and chills on the corner himself. AA snaps Texano off the top rope, goes for a con hilo himself but Texano moves. They brawl on the floor as we head to commercial.
**commercial break**
Aries knees Texano in the corner, works him over against the ropes, and in the corner again. Back take to Texano and then he takes him to another corner.
Texano reverses a whip, AA floats over. Texano gets a back rake of his own and a second. Goes for a third against the ropes and AA hits his knees. Texano hits a back breaker and chops in the corner. Texano then hits a leg lariat for two.
AA rolls out and wants to leave. AS he goes back in, he grabs the bull rope, which is taken by the ref. AA grabs the title, referee sees him, Texano hits a superkick, whips him with he rope, covers and AA gets his foot on the rope at 2
Texano goes for a powerbomb, AA reverses for a brainbuster and the 1-2-3
Your winner, and STILL champion: Austin Aries (pin fall)
Johnny Impact appears on the video screen, says they put him on the shelf, and he may not be medically cleared by BFG, but he promises, he will be seeing him a little sooner than he thinks. AA says he's not stupid, Impact has to be there somewhere.
Impact comes down the ramp, jumps AA in the ring. Superkick to Kross, knocks Moose off the apron. The heels regroup, when all of the suddenness a kendo stick starts hitting them, and Eddie Edwards is jumping them from behind!!!
Impact and Edwards stand tall as when go off the air!!!
Don't forget to follow me on Twitter @OldSkewlPantz
Make sure you check out The Bearded IMPACT! Podcast, every Friday on all your favorite podcast services!!!
GOOD NIGHT EVERYBODY!!!
---
Always Use Your Head and visit the official Pro Wrestling Tees store for The Chairshot All t-shirt proceeds help support the advancement of your favorite hard-hitting wrestling website, The Chairshot!

---
Chris' IMPACT! Wrestling One Night Only: Night of the Dummies Report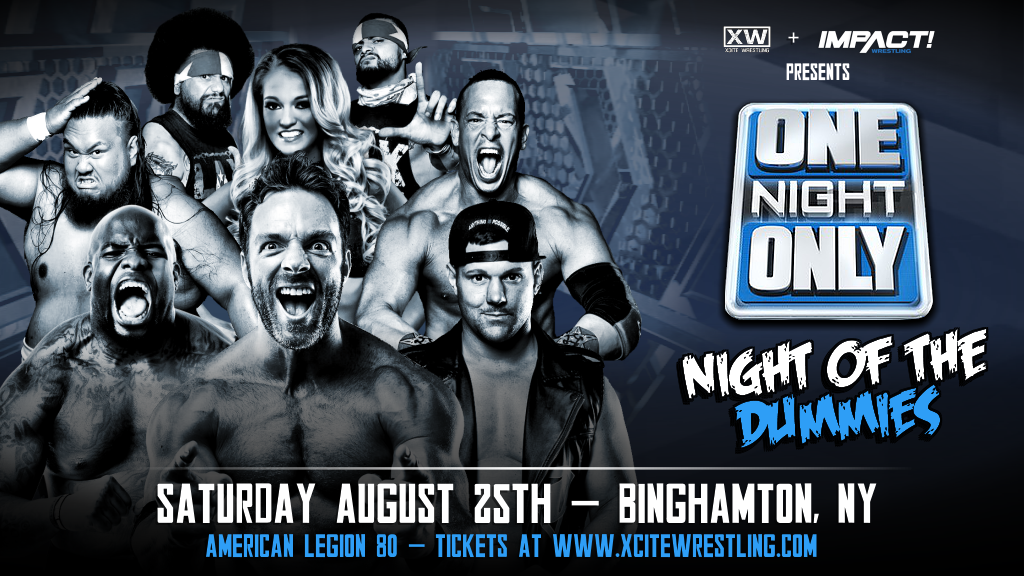 Welcome to a SPECIAL EDITION (the second of the WEEK) of Chris' IMPACT! Wrestling Results!!
Tonight, is IMPACT! Wrestling's One Night Only: Night of the Dummies, exclusively on the GWN app
QUICK RESULTS
Jay Freddie d. Isys Ephex – pin fall, Leaping DDT
Fallah Bahh d. "Super Cop" Dick Justice – pin fall, Banzai Drop
Slyck Wagner Brown d. Axel Lennox – pin fall, Top Rope Sit Out Dominator
Alisha d. Rebel – pin fall, Backpack Stunner
Team Tremendous d. Heavenly Bodies – pin fall, Doomsday Sliced Bread, Dan pins Dustin
Street Fight: Santana d. Homicide – pin fall, Frog Splash
Sean Carr d. Brute Vanslyke – pin fall, Swanton Bomb
Moose d. KM – pin fall, Spear
Eddie Edwards d. Eli Drake – pin fall, DDT
___________________________________________________________________________________
IMPACT! Wrestling One Night Only: Night of the Dummies
Coming to you from a really small arena in Binghamton, New York, this is Night of the Dummies (YEAH!)
Match One: Jay Freddie vs Isys Ephex
The ring announcer mistakenly calls this a triple threat match
Josh Matthews and Sonjay Dutt calling the action
Arm ringers from both with some chain wrestling to start. Isis with a huge shoulder tackles, and Jay with a receipt. Two arm drags by Jay and a drop kick to take down Isys. Second drop kick and a cover for two. Jay charges the corner, gets placed on top and kicks away Isys, and hits a missile drop kick. Suicide dive puts Jay into the crowd (as they as SUPER close).
Back in the ring, Jay tries to hit a cross body, Isys tries a backbreaker counter and misses. Seated arm bar by Isys and punches to the gut. Cover for one. They exchange chops until Isys knees the midsection and moves Jay to the corner. Shoulder blocks, and he dumps Jay into the middle of the ring. Cover for two.
Punch exchange by both men, Isys gets a knee in and goes for a suplex thats blocked three times, and he drop kicks Jay's knee out from under him. Supplies by Isys reversed into a reverse DDT by Jay, both men down. Running back elbows by Jay followed by a clothesline. Leg lariat by Jay after a missed clothesline, and a gut wrench duplex gets a 2-count.
Jay up to the second turnbuckle, leaps off to nothing, charges the corner by Isys gets a boot up and hits a DDT for 2. Kick to the back. Jay counters into a Tiger Driver for 2 and 3/4. Jay misses the Shining Wizard and counters in to the Awful Waffle (not making that up) for a 2-count. Isys puts Jay on the top buckle, gets head butted off and Jay hits leaping DDT for the 1-2-3
Your winner: Jay Freddie
Video of Eli Drake playing piano… horribly. He also can't sing… Welcomes us to the show, says he's gathered the top talent for us tonight. Sends us to his "guest correspondent" on the street to get the people's reaction, and he sends it to Eli Drake.
Match Two: Dick Justice vs Fallah Bahh
Dick Justice was the "stand by wrestler" in IMPACT!, but here he is known as "The Super Cop"
Bahh tries to get a chant for himself, but the crowd just chants "Dick". They shake hands and the fans chant "we want Dick." Sumo charge and neither man goes down. Justice off the ropes, shoulder charge gets nothing "No No No" from Bahh. Bahh off the ropes with the same result. Second shoulder charge, and a third and fourth, and fifth. No result and now both men are winded. Both men off the ropes, collide and both men go down and out of the ring.
For some reason this starts the first Saintly Fecal Matter chant of the night…
Bahh charges in and they both hit a clothesline. Justice tries a slam, gets nothing but a double sledge to the back. Bahh charges Justice in the corner who pulls out a finger gun (yes, he made a gun shape with his fingers) and that stops Bahh in his tracks and Bahh puts his hands up. Justice orders Bahh to get on the ground, Bahh prays for his life and kisses the finger gun. The Bahh asks "No No No?" and Justice puts the finger gun away in his fanny pack that he's still wearing. Justice goes for a hug, and Bahh hits a Samoan Drop.
Bahh hits a series of headbutts and then a Hadouken (WHAT?!?!) that takes Justice down. Bahh hits a dropkick (-ish) and then rolls over Justice. Bahh covers for two. Chop exchange by both men, Justice chops him into the corner, then calls time out as he's winded. More chops then charges across and eats an elbow from Bahh. Bahh then charges and Justice moves and Bahh eats post. Left hand punches from Justice followed by a right, and he bodyslams Bahh.
Justice then leaves the ring and poses for the crowd.  Justice returns to the ring and Bahh hits a belly to belly on Justice. Drags Justice to the corner, Banzai Drop for the 1-2-3
Your winner: Fallah Bahh
After the match, they shake hands and hug it out before Bahh leaves.
Backstage interview with Moose as he gets sentimental about how Binghampton sucks. Talks about how he gets to wrestle KM, saying he didn't even know there was a man on the IMPACT! roster named KM…
Backstage now with Dick Justice, saying how he isn't a stand by wrestler, he's the Super Cop, and how he was going to put Bahh away, but Bahh is one of the smartest men he's ever faced. Says next time, Justice will be served
Match Three: Slyck Wagner Brown vs Axel Lennox
Lennox looks like a reject from The Ascension…
Collar and elbow tie up to start. Side headlock by Brown, whipped off into a shoulder block, Lennox off the ropes into one of his own and takes down Brown. Chain wrestling take downs leads to a spot where Brown visually signals for Lennox to grab his wrist, which he does, just for Brown to duck under and escape and try his reverse DDT, but Lennox escapes as well.
Back to the collar and elbow. Wrist control to Lennox, but a leg sweep by Brown into a headlock. Lennox runs to the rope but Brown clotheslines his over the top. Brown grabs a fans water bottle and hits Lennox in the head with it. Clothesline by Brown on the floor. Lennox fights back and slams Brown's face in to the guardrail twice. Lennox breaks up the nonexistent count, which now the referee starts…
Lennox places Brown on the apron and hits a leg drop. Back in the ring, he covers Brown for two. Lennox hits a scoop slam and an elbow drop again for two. Matthews says this maybe a rivalry, Sonjay says its one we know nothing about. Way to build the match guys…
Lennox goes for a suplex, Brown cradles for two. Double clothesline, both men down. Brown charges out of the corner with two clotheslines, then a short DDT after whipping Lennox off the ropes. Reversals a plenty until Lennox hits a spine buster for two. Cutter by Lennox, covers again for two. Punch exchange in the middle of the ring. Goes to the corner by Wagner hits a drop kick and then a power bomb. picks up Lennox, sets him on the top buckle and hits an enziguri to the back, then a sit out Dominator off the top for the 1-2-3
Your winner: Slyck Wagner Brown
An earlier today segment plays, Eddie is looking for his wife. Eddie finds potato salad, decides to take it. Finally finds her in the Knockout's dressing room and offers her potato salad. Alisha calls Eddie the biggest dummy here and kicks him out.
Match Four: Rebel vs Alisha
Handshake to start, chest bumps from Rebel. Arm ringer by Alisha, Rebel just throws her across the ring and calls Alisha tiny. Waist lock, Rebel just walks her to the rope and hits an elbow. Alisha looking for a crucifix for one, backslide attempt is reversed, Rebel misses a kick on the ropes, Alisha gets a schoolgirl for two. Headlock take over by Alisha, Rebel just stands up. Rebel picks her up and plants her face first and dances over Alisha, then chokes Alisha on the second rope.
Rebel slams Alisha into the turnbuckle, then a second one, and a third. Rebel then hits a handspring clothesline, pulls out Alisha and goes for a delayed suplex, Alisha rolls her up and the roll back and fourth for a few two counts. Alisha chops, Rebel misses a few kicks, and then takes down Alisha. Shining Wizard by Rebel gets two. Alisha catches a kick and makes Rebel do the splits, hits a dropkick for two.
Alisha goes for a body scissor, Rebel grabs the hair and then face plants Alisha for two. Off the ropes, Rebel hits a roundhouse kick and celebrates. Referee checks Alisha to see if she's knocked out, she's not, Rebel covers for two. Rebel goes for the handspring clothesline again but Alisha moves and hits a palm strike and forearms to take down Rebel. Alisha hits a charging forearm and a bulldog for two.
Rebel hits a scoop slam, goes to the second buckle. Alisha hits the worst looking backpack stunner for the 1-2-3
Your winner: Alisha
They shake hands and hug it out after
Backstage with Eli Drake, he congratulates Alisha, and Jimmy Jacobs is sitting behind him. Jacobs wonders why he's not on the card tonight. Eli says he will have a special Fact of Life, and Jacobs can be the guest.
Alisha backstage, says she can hang with the best of the Knockout's Division.
Match Five: Heavenly Bodies [Desirable Dustin & Gigolo Justin] vs Team Tremendous [Detective Dan Berry & Detective Billy Carr]
Justin starts against Dan. Shoulder tackles takes down Justin and into a headlock. Forearm by Justin, punches from Dan. dropkick by Dan takes him down. Tags in Billy who chops him in the corner. Scoop slam, tags in Dan who hits a senton over the top rope for two. Knee by Justin and he tags in Dustin. Dropkick by Dan and he whips Dustin into the rope. Charges but is sent over the top, he elbows Justin, and Dustin, before Justin knocks Dan off the ring.
Cover by Dustin for 2. Dustin then throws Dan back out and Justin hits a senton off the apron. Justin tags in and rolls Dan back, cover for two. Short arm clothesline gets two again. Uppercut and he tags in Dustin who hits a leg lariat for two. Ground and pound by Dustin before Dan starts fighting back. Justin tags in, Dustin hits an arm ringer and Justin hits a moonsault off Dustin, referee is distracted, and finally counts for a one. Sanjay and Josh are talking about Josh frosting his tips here, it seems they've lost interest too.
Dan fights back, but can't escape. Dan then whips Justin over the top rope, and Dan tries to tag Bill, but Dustin pulls him off the apron. Bodies double stop Dan in their corner. Justin with a scoop power bomb, go for a rocket launcher, but Dan moves. Justin stops Dan from getting a tag, then he finally does and Billy comes in like a house of fire. Exploder duplex to Justin gets two, Dustin comes off the top, Billy moves and Dustin splashes Justin.  Billy tosses both men, and Dan hits a flip topi onto the Bodies on the outside. Justin is thrown in to Billy, who tosses him with an outsiders edge to a flatliner by Dan. Referee counted to three on the pin, but says he only did two as Dustin breaks it up. Billy gets Justin up for a Doomsday Device, but Dustin tags himself in. Double flap jack on Billy, Dan fights off both men, eats a super kick from Justin and a spinning power bomb from Dustin. Billy then throws Justin in to break up the pin.
Enziguri on Dustin by Dan, Superkick by Billy, Doomsday Sliced Bread by Dan for the 1-2-3
Your Winners: Team Tremendous
From earlier today, we see Homicide, and he says he is LAX, Konnan is despicable, and the little bitches in LAX are going to learn.
The Fact of Life with Eli Drake
Eli Drake comes out. Eli has had a cord hanging down the entire time, and he stops to plug it back in mid way through his talking segment. He pulls out a smart phone to show off the mobile version of the Eli Drake Dummy Button, so we can have a live version of The Facts Of Live. The app plays "Dummy, Yeah" every time you press the screen. He then brings out "The Zombie Princess" Jimmy Jacobs.
Jimmy says tonight is about what Eli needs, as he doesn't understand what he's getting into when he faces Eddie Edwards. Drake says he's insulted by this talk and says he's out of here, and Jimmy can say and do whatever he wants. Jimmy starts running down Binghamton, and says theres got to be someone out there who needs his help. He then calls out Santana from the LAX
Santana immediately gets in Jacobs' face, who says he's here to help. Jacobs also said he's heard a rumor that Ortiz got jumped by the OGz, meaning Santana is all alone tonight. Jacobs offers to help Santana in his match tonight, one OG to another. Santana looks unimpressed, shakes Jacobs' hand, and then hits a front kick to his face and a rolling senton in the corner.
Santana then calls out Homicide to start their match.
Match six, Street Fight: Santana vs Homicide (How does this not violate the cease fire?!?!)
Punches by both to start, Santana throws out Homicide and hits a suicide dive. Punches and chops back and forth, Homicide attempts to climb the scaffolding, and Santana hits a bodyslam on the floor. Thrusts to the throat by Homicide, and he chokes Santana on a ringside chair. Homicide then gets the chair, hits Santana in the gut. Homicide then gets a stick from a fan, but gets booted in the gut. Santana then jabs the metal rod into Homicide's face.
Santana drapes Homicide over the guardrail and slams the chair into his back. Santana then clotheslines Homicide into a fan, poke in the eye by Homicide. Homicide slams Santana into the post and gets the chair. Homicide then tells the fans to shove it, and Santana hits about to the gut and throws a chair at Homicide. Santana throws him back in the ring, goes from a cross body, Homicide rolls through and gets a two count. Moonsault by Santana gets two.
Belly to Belly throw by Homicide off the ropes, and then an exploder by Homicide, bridged in to a two count. Homicide tells fans to suck it and then flips them off before Santana hits a boot to the face in the corner. Homicide puts Santana on the top and hits a cutter off the turnbuckle, gets two before Santana gets his foot on the bottom rope. Homicide threatens the referee before he charges the corner, nobody home as Santana sidesteps. Super kick by Santana, Michinoku Driver by Santana, who goes up top and hits a frog splash for the 1-2-3
Your winner: Santana
Backstage again with Eli Drake, who's rehydrating. Eli lists off his three favorite moments of the night, all which involve himself. Also says in Fall of 2019, Night of the Dummies 2 will have no Jimy Jacobs as theres no room for princesses on his show.
Santana backstage, says by taking out Ortiz, the OGz have made this put bull more rabid.
Match seven: Brute Vanslyke (w/Father Derek) vs Sean Carr
Collar and elbow, Brute moves Sean into the corner. Collar and elbow again, he throws Sean in this time. Misses a charge, whip out and Bruce cartwheels out. Sunset flip attempt, Brute goes to sit, Sean moves. Standing moonsault by Sean gets one. Sean calls him out, Brute charges and Sean lowers the top rope. Sean hits a rolling sexton off the apron.
Back inside, Sean goes up top, but Father Derek shakes the rope, and a big boot by Brute takes him down. Face rake and Brute chokes him in the corner. Father Derek then chokes Sean on the bottom rope. Brute with a scoop slam followed by an elbow drop for two. Backbreaker by Brute, Sean gets up into another backbreaker. Sean reverses a third into a hurricanrana, putting Brute into the corner. Chops and a charging forearm, then a popup headbutt by Brute, then a cross body for two.
Brute puts Sean on the top, Sean fights back, hits a drop kick but Brute stays up. Enziguri and a Code Breaker, Brute is still up. Sean goes up top and hits a moonsault taking Brute down for a two count. Super kick misses, Bruce hits a wind up chokeslam and gets two. Sean slips out of a Razor's Edge, can't whip the big man. Big splash in the corner from Brute. Vader Bomb by Brute for two.
Brute goes back up, but misses a second Vader Bomb. Carr up top, Father Derek interferes, and gets a big boot from Sean on the apron. Brute then throws in Carr, who fights off Brute until Brute hits a left arm lariat. Brute goes up top, misses the splash! Super kick by Carr, and a second, ducks a clothesline and hits a third super kick!! Carr goes up top, Swanton Bomb for the 1-2-3
Your winner: Sean Carr
Fallah Bahh and KM backstage celebrating, but Bahh is upset KM isn't wearing his matching gear. KM says if he can't beat Moose wearing his gear, he will wear the matching gear for the rest of his career.
Match eight: Moose vs KM
Moose gets a mic, talking about how he went to Syracuse, just down the road. Says the fans didn't help his career and Binghamton sucks. Tells KM to hurry up so he can beat him and get out of this God forsaken town.
KM starts the "Douche" chants
Moose ducks in the corner to start. Moose hits a boot, KM hits a shoulder block taking Moose down. Then another. Punch exchange, KM gets the best of it, and clotheslines Moose over the top. Moose pulls KM out and they fight on the floor. Moose goes to chop KM against the ring post, KM ducks and Moose hits his hand.
Moose then rams KM into the post. Referee still isn't counting…
Moose gets a chair, sits KM in it. Punches and chops, Moose flips off the crowd and hits a running kick to KM's face in the chair. Moose puts KM back on the chair, goes for the running kick again. KM catches him with a chokeslam on the apron. Finally the referee starts counting…KM asks him to stop counting as he goes and gets Moose. Moose then hits a belly to back duplex on the apron. Moose picks up KM and drops him again on the apron before rolling back in to the ring. KM gets back in to the ring at 9.
Moose uses ground and pound on KM and throws him back out. KM back in at nine again. Stomps from Moose, a snap mare, and a seated dropkick for two. Moose calls for the finish, can't get KM up for the suplex, so he punches him. Tries the suplex again, KM counters into one of his own. KM puts Moose in the corner, whip reversed, KM boots Moose, but is dropkicked to the floor over the top!
Moose rolls out after KM and whips him into the ring post. Moose grabs the chair again and gives it to a fan. Moose parts the crowd, and fakes like he's throwing KM into them, but rolls him into the ring. KM hits a baseball slide, and rolls Moose back in. Moose intercepts KM on the way back in, goes off the ropes and eats a POUNCE from KM. Both men down.
Moose thrown KM on the ramp, landing on his feet, KM hits a chokeslam and a slingshot splash for two. KM hits a neck breaker on Moose, Moose reverses a full nelson for two, hits a pump kick and them KM hits a clothesline, and a fell nelson slam for two. KM misses a corner charge, Moose charges into an elbow, and the Moose hits the Go To Hell for two! Moose looks for the Spear, eats a knee. KM behind, and Moose hits a low blow, a Spear, and gets the 1-2-3
Your winner: Moose
Bound For Glory video package
KM backstage wondering what he did wrong. Bahh is in the back eating, KM asks if he's going to rub in his lost. KM is reminded of the bet, says he was kidding
Match nine: Eli Drake vs Eddie Edwards (w/Kenny the Kendo Stick)
Eddie high fives nearly ever member of the audience (yes the arena is that small)
Eli has a mic. Names Eddie a dummy, and says theres no kendo sticks allowed in a match with him. Tells the ref he has to disqualify him if he won't get rid of it.
Eddie slaps Eli on the butt, who then rolls out of the ring, grabs a mic and says this is his show, so there will be no "ass slapping" on his show.
Collar and elbow tie up, headlock by Eli. Eddie shoots him off, shoulder tackle by Drake takes him down. Arm drag by Eddie, and a second and Eli rolls out again. Eli has a mic again. Says he hates cheaters, and arm drags are illegal.
Collar and elbow again. Eddie walks him to the corner. Eli with a low blow, and takes Eddie to the other corner. Whip reversed and Eddie hits a belly to belly throw. Eli rolls out again as Eddie does a snow angel in the ring. Eli has a mic and says he hates cheaters, and a braggart, no snow angels are allowed in the match.
Eli reenters and leaves again. Eddie joins him and the fight on the floor. Eli thumbs Eddie's eye to take advantage, but gets chopped again! Cameras lose both men, as the chops continue. Eli rolls in, followed by Eddie, and he rolls back out. Eli has a mic again. Hates cheaters. Chops are illegal now.
Eli keeps talking and Eddie hits a big boot, sending him to the floor. Eddie goes for a dive, Eli hits him with the mic to the head. Eli now stomps away at Eddie on the floor. Eli makes Eddie wave to a fan, and then slams him back first in to the apron. Eli rolls Eddie onto the apron and hits an elbow. Eli slingshots Eddie into the bottom rope. Seated clothesline for two. Now Eli chokes Eddie on the middle tope, leaps out and slaps Eddie's face.
Punches from Eddie, and a thumb to Eli's eyes. Whips Eli across but misses the splash, Eli hits a neck breaker for a two count. Eli drops a knee and chokes Eddie again on the rope. Leg drop across the back on the middle rope. Kicks and a cover for two. Eli drops some elbows and locks on a reverse chin lock. Eddie bites his thumb, Eli lets go and hits a neck breaker for two. Eli then bites Eddie's thumb. Outside the ring, Eli gets a chair, referee threatens a DQ, Eli says he was just kidding. Eddie then smashed Eli's face in to the ring. Eddie takes a drink of a fans soda, and spits it into the eyes of Eli. Eli then pulls Eddie face first into the ramp. Eli rolls Eddie back in, covers for one.
Eddie reverses a scoop slam, Eli hits a neck breaker for two. Eddie's gum here falls out of his mouth, landing on the mat, and he casually picks it back up and continues to chew it, grossing out both Josh and Sonjay. Rear chin lock by Eli, Eddie counters with a jaw breaker. Back to the chin lock, Eli throws Eddie to the buckle, Eddie hits a back elbow and a dropkick, both men are down. Scoop power slam by Eli, and then an elbow drop for two.
Eli picks up Eddie, hitting a snap suplex. Eli to the second rope, Eddie hits an enziguri. Eddie goes up top, hits the Frankensteiner. Punch exchange by both men. Eli takes advantage but Eddie doesn't feel the pain. Two back elbows and then Eddie sends Eddie to the floor and hits a quebrada. Fans chanting "use the leg" as a fan holds up his prosthetic leg. Eddie takes it. Eddie kisses the prosthetic foot (ewwwww). Eli gets a mic, saying prosthetics are illegal. Eddie hits Eli with the camera man. As the refs was checking on the camera man, Eddie hits Eli with the prosthetic leg, then pretends its his in the ring before giving it back.
Both men back in, Eddie tries a Tiger Driver, hits a gordbuster, then hits the Tiger Driver for two and 3/4!!! Eddie then talks to his kendo stick before picking it up. Referee tries to stop Eddie, fans chant "hit the ref." Eddie goes up, Eli hits the ref into the ropes dropping Eddie. Eli gets a chair, referee stops him, Eli shoves him down. Eddie hits Eli with the kendo stick and hits a DDT, covers Eli for the 1-2-3
Your winner: Eddie Edwards
Eddie then does a snow angel in the ring to celebrate
Eddie celebrates with the Xcite Wrestling crowd as we go off the air.
THAT'S ALL SHE WROTE!
Grab your beard oil and join me on Twitter @OldSkewlPantz
Follow Turnbuckle Topics on Instagram: @turnbuckletopics
Listen to the Bearded IMPACT Podcast every Friday on Anchor.fm, iTunes, Spotify, Google Podcasts, Breaker, Stitcher and Radio Public!!!!
---
Always Use Your Head and visit the official Pro Wrestling Tees store for The Chairshot All t-shirt proceeds help support the advancement of your favorite hard-hitting wrestling website, The Chairshot!

---
Chris' IMPACT Wrestling Results & Report! (9/13/18)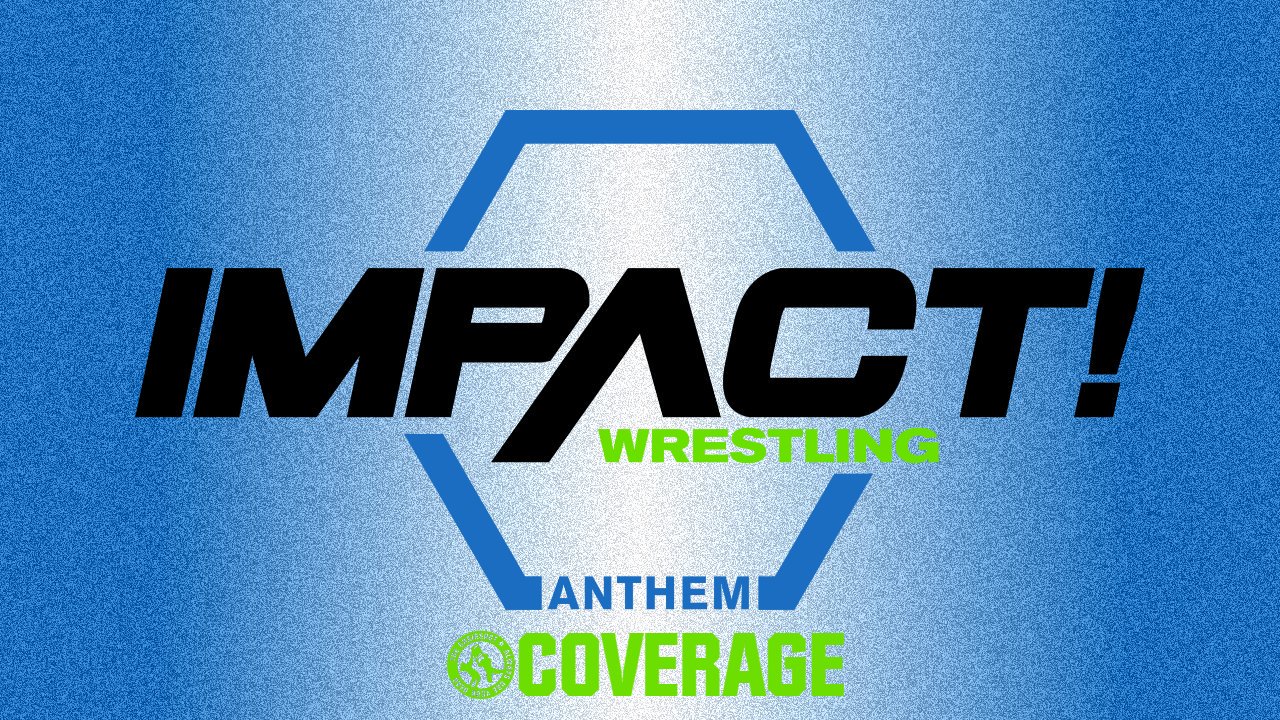 Join Chris as he delivers live coverage of this week's IMPACT Wrestling!!
Follow on Twitter: @OldSkewlPantz
Check out The Bearded IMPACT Podcast on iTunes and all your favorites podcast services!!!
QUICK RESULTS:
The Lucha Bros. defeated The Cult Of Lee – pinfall, Pentagon pins Lee, Spiked Fear Factor
Alisha defeated Katarina – pin fall, roll up
LAX defeated The Fraternity – pin fall, blockbuster/ powerbomb combo, Ortiz pins Decker
Brian Cage defeated Kongo Kong pin fall, F-5
IMPACT World Title: Austin Aries(c) defeated Fallah Bahh – submission, Last Chancery
________________________________
IMPACT! WRESTLING – Sept. 13, 2018
Show opens with a recap of last week's Knockouts action, with Allie and Keira saving Tessa from the coffin, The Lucha Bros. offer to Cage, the ceasefire between LAX and The OGz, and Moose's reasons for backstabbing Edwards.
Austin Aries' music hits, and out comes The Greatest Man Who's Ever Lived with Killer Kross and Moose. Couches are set up in the ring for the champion and his crew.
Fans chant "douche" at Moose, Aries says "it's very important to keep yourself clean, I agree with that." Aries states they're taking out everyone and no one will stop them.
Moose states they haven't seen Edwards in a while, Aries says they should check on his wife, and out come KM and Fallah Bahh.
Aries offers them a banana, saying if Bahh ate more bananas, maybe he wouldn't be so fat as he offers them seats in the ring.
KM said they have motivation from a pretty lady in the back to always to speak their mind. KM then calls Aries a liar and a rotten human being and a horrendous world champion. Aries says that's okay, because when KM was champion… oh that's right, he's never been champion.
KM tells Moose best friends don't stab each other in the back and starts the "douche" chant again.
Aries says they got off on the wrong foot and apologizes, saying as the champion things got chaotic, and he offers them a peace offering. Aries offers Bahh a World Title shot TONIGHT! Bahh shakes his hand in agreement, and the match is set for tonight!!
To the announce desk with Josh Matthews and Don Callis, as they run down what's on the show tonight. Josh is thrilled for Bahh, Callis is worried.
Match One: The Lucha Bros. [Pentagon Jr. & Rey Fenix] vs The Cult Of Lee [Trevor Lee & Caleb Konley]
Pentagon starts against Lee. Chops to both Lee and Konley, Bros whip the two men into each other, then Fenix dropkick both to the outside, and the Bros pose in the ring.
**commercial break**
Back in as Lee controls Fenix in a corner, whips him across, Fenix goes outside, enziguri,  and a dropkick in. Off the ropes, The Cult drop Fenix in the top rope, Pentagon in, they both kick him and The Cult stands tall.
Konley in, Lee holds and he punches Fenix. Fenix fights back with chops, but a double thrust drops him into the corner.
Lee in, big boot, Pentagon breaks up the pin at 2. Konley back in with no tag, stomps, cover for nothing, then a choke. Back rake by Konley. Now chops in the corner and a knee stops Fenix.
Lee tags in and stomps Fenix in the corner. Konley chokes with his foot as the referee is distracted. Double team whip, misses the  clothesline's, and a springboard elbow from Fenix takes them both out.
Fenix tags Pentagon, super kicks all around. Wheelbarrow cutter by Fenix on Lee, then a wheel barrow splash on Konley for two. Pentagon with a HUGH CHOP that echos in the arena on Konley! Tags in Fenix. Lee breaks up the Fear Factor, Konley backhands Pentagon, and a Doomsday Stomp on Fenix, Pentagon breaks up the pin at two. Konley and Lee with superkicks off the ropes.
Lee meets Fenix up top, Pentagon stops Konley from interfering, Fenix springboards into a dive on Konley outside, Pentagon hits a super lung blower on Lee for two.
Bros hit a spike Fear factor on Lee for the 1-2-3 as Fenix dives on Konley on the outside!!
Your winners: The Lucha Bros. (Pin fall)
3.5 out of 5
good back and forth action, made both teams look strong, which I didn't expect with the recent Cult of Lee losing streak and Pentagon being World Champion. Felt a little like they were trying to fir more moves and spots in, which hurt a little of the story they were telling in the ring.
Video starts of oVe backstage saying they're on the show so much because they sell tickets. Jake is mimicking Sami for the entire promo. Sami challenges Pentagon, Fenix and Cage to a  six-man tag team match at Bound For Glory, in an oVe Rules Match!!
Backstage, KM is celebrating Bahh's opportunity, but Bahh looks worried. KM says they need advice from someone who's been there, from former champions.
**commercial break**
KM and Fallah are now yelling for Eli, including into a dummy and an ATM
KM asks Eli to help make Bahh the face of IMPACT! and Eli says he's only focused on going to Mexico next week and calling out all the "Tontos! Si! Tontos! Si!" Tells him he should get a cup… or in his case, a bowl.
Chris Jericho Cruise video
And now, the GWN Flashback Moment of the Week!
Backstage interview with Keira Hogan and Allie. Allie says she doesn't like Tessa, but this isn't about the Knockout's Title, it's about her promise to make sure nobody else goes into Su's coffins.
**commercial break**
Bound For Glory and BFG television taping video package
Backstage interview with Tessa Blanchard. Says she doesn't need Allie's help and she seems right through her.
Match Two: Alisha vs Katarina
Katarina, of course, with no Grado or Joe Hendry after what happened last week.
Callis again asks what's wrong with Joe for choosing Grado over Katarina.
Grado's music hits and out he comes with Joe Hendry. Grado has trouble speaking to Katarina and Hendry blames her for his sad state. Hendry says he reacted too quickly last week, and he's made a music video for Katarina. The song is called "Access Denied" and hits a "what did you do with your pirate brother" line.
Alisha then rolls her up for the 1-2-3
Your winner: Alisha (pin fall)
No Rating
There wasn't a match here, just a segment and a roll up
Grado then says "Lol" and starts an "Access Denied" chant
Backstage we see KM and Bahh comes out with a glass bowl and a glass cup. KM explains Eli was making fun of him when the Smoke Show music hits, Scarlett says she's proud of them and says a big strong man deserves gold for around his big strong waist. He then smashes the cup in his hand and he and KM rush off.
**commercial break**
Josh Matthews has a prerecorded interview with Johnny Impact. They recap last week, and the beating Impact took from Aries' crew. Impact says Aries has his backup, but he will be back for Bound For Glory.
Matthews asks if he's worried about Kross and Moose, Impact says it's revealing that's he's surrounded himself with goons, and it shows he's insecure.
Match Three: The Fraternity [Channing Decker & Trent Gibson] vs LAX [Santana & Ortiz](w/ Konnan)
Ortiz starts against the blonde frat bro (Decker), and starts whipping him with a chancla. Forearm from Decker,  he cartwheels and hits a dropkick for one. Tags in the brunette bro (Gibson), and the double team Ortiz. Slam and a leg drop, Santana starts slapping them, The gets caught in a springboard and gets turned inside out.
Cutter on the top rop, covers but Ortiz is on the bottom rope. Santana and Decker in, hits a DDT on Gibson off Deckers shoulders. misses a splash, and Decker hits a topei on Ortiz on the ramp. Gibson has Santana on his shoulders, Ortiz stops Decker, and Santana drops Gibson. LAX double team throw Gibson into a seated Decker in the corner, blockbuster powerbomb on Decker for the 1-2-3
Your winners: LAX – pin fall
3 out of 5
Lopsided win for LAX (duh) as this was mostly a warmup match for them. The Fraternity looks like a solid tag team with a good gimmick, I would like to see them back for real and maybe even a light shot at the Titles some day.
King and the OGz come out, saying there's a cease fire,  but his boys are hungry. He challenges the LAX saying they won't do anything. King says he doesn't regret losing them as family or losing the fans support, he regrets that the kid they hit with the car is still breathing. He then challenges LAX to throw the first punch as we head back stage
Aries being interviewed, Alicia asks what his motivation was. He says he feels as jolly as Santa Claus, just handing out gifts. Says Bahh's gift will end like everyone else's shot, in defeat. Says the will be no one left in the locker room when he's done.
**commercial break**
Bound For Glory package
Matthews recaps what just happened between LAX and the OGz
Another Bound For Glory package
KM giving Bahh a pep talk backstage when Rich Swann comes up and says tonight is his night!
Matt Sydal catches Swann after and says he can help him and show him the way. Swann says in Mexico, he wants to whoop Sydal's ass
Promo for One Night Only: Night Of the Dummies, tomorrow on the GWN app
Next week we find out who will join the IMPACT! Hall of Fame
Match Four: Kongo Kong vs Brian Cage
*commercial break**
The meet in the middle and Kong knocks Cage off his feet. Forearm shots by Cage and he low bridges Kong onto the ramp. Goes for a slingshot, Kong hits a forearm to stop him, and slingshot crossbody back in for two. Powerslam and along goes up top. Cage meets him, Kong shoves him off and misses a stomp.
Cage charges, caught with a back elbow and his a powerslam. Springboard moonsault gets two. Kong goes for a chokeslam, Cage breaks it, drop toe hold on the top, Kong hits an elbow, rolling splash in the corner, covers for two.
Kong mounts the corner, Cage hits a sit out powerbomb out for two. Cage calls for the discus clothesline, Kong goozles him, throws him in the corner, does it again, goes for a chokeslam that Cage BACKFLIPS OUT OF!!! Cage hits the F-5 for the 1-2-3
Your winner: Brian Cage, pin fall
3.5 out of 5
A way better match then two men of this size should be having together. Kong continues to improve every time he's in the ring and Brian Cage is just superhuman with some of the things he can do. Highlight of the night backflipping out of the chokeslam for sure!!
Cage has a mic, calls out Callihan and oVe. Says he will walk into BFG and decimate EVERY ONE!
Video package for IMPACT! in Mexico City
Announcers talk about Mexico, the main event and Bound For Glory.
KM and Bahh walking to the ring, and everyone in the locker room is cheering him on.
**commercial break**
Match Five, IMPACT World Championship: Fallah Bahh (w/ KM) vs Austin Aries(c) (w/ Killer Kross & Moose)
Moose and Kross are carrying chairs with them to the ring.
In-ring introductions make this match feel even bigger.
Aries talks smack to start, fakes the test of strength, headlock by Aries. Bahh lowers his head and Aries cartwheels off the ropes. Aries jokes with Moose.
Headlock by Bahh. Aries tries to shoot him off to no luck. Off the ropes a few times, Bahh gets exhausted, Aries chills on the top rope.
**commercial break**
During the commercial,  Aries did some gymnastic while Bahh sucked wind
Bahh hits a huge shoulder tackle, and then says No No NO!! Aries slaps Bahh, who delivers several receipts. Chops Aries down in the corner.
Whips Aries across burns misses the splash. Aries goes over, caught by Bahh but pokes the eyes, then a chop block brings him down. Stomps him and punches and kicks.
Aries begins stomping Bahh's knee and then takes his back. Chop exchange. Aries tries a sunset flip, Bahh sits but Aries moved.
Aries calls for the Brainbuster, but cannot get him up. He boxes his ears. Bahh counters another Buster attempt into a suplex, chops down Aries. Whips him to the corner and hits a Samoan Drop for two. Aries grabs Bahh's ankle as attempts to go up the turnbuckles. Aries looks for the Discus Clothesline but Bahh hits a belly to belly. Bahh rolls over Aries,  who counters into the Last Chancery. Bahh breaks on the ropes.
Aries goes for brainbuster, no luck. Discus clothesline, charges Bahh who gets the boot up, splashes him for two and 3/4!!!!
Aries climbs up with Bahh, sunset flip powerbomb into the Last Chansery and Bahh taps out!!
Your winner and STILL IMPACT World Champion: Austin Aries – submission
After the match, the beating begins for Bahh and KM.
They wrap the chair on KM's head, and hit it with the chair, Aries' crew stand tall as we go off the air!!
THAT'S ALL FOR TONIGHT!!
One Night Only: Night Of the Dummies is TOMORROW!!! Join me here as I will have all the results!
Don't forget @OldSkewlPantz on Twitter
and check out The Bearded IMPACT Podcast on all your favorite devices!!
Good night, and happy wrestling!!
---
Always Use Your Head and visit the official Pro Wrestling Tees store for The Chairshot All t-shirt proceeds help support the advancement of your favorite hard-hitting wrestling website, The Chairshot!

---