Cheap Shots: Montreal New Job #2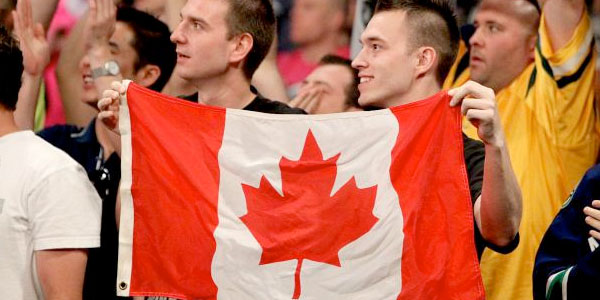 Buckle up for one final bottle of wine. We still have echoes of Andre in our heads, The Montreal crowd continues to resemble A Premier League match. We open The Go Home SmackDown Live for Backlash with two announcements from our Goth GM. The first has little consequence right now. Shane McMahon will be off the show for a while, recovering from his participation in the match in Saudi Arabia. Looks like Paige has reason to misbehave down the road, cool! Her second piece of news was more impactful on an immediate level. More on that later.
The Professional Instigator is in the ring for the latest installment of Miz TV. After getting a very heelish pop for reminding the French-speaking audience that he took his French-speaking wife to "Hollywood." Mike brought Jeff Hardy out, attempting to stir things up by alleging that he is the best IC Champion of all time. Typical of The Miz it was an epic fail with Jeff reminding him how fake his movies and arguments were. God Bless Jeff Hardy. Mike is frustrated. He brings Randy Orton out, trying to save his intentions. The Viper says he and Hardy are cool though. No one tells him when to strike. Even when pointing out the spot that cost Orton against Shelton Benjamin last week, they threw pie in Mike's face. It is so nice when baby faces are allowed to think!
Did someone mention Shelton Benjamin? The Gopher came from backstage, interjecting himself in the conversation. Correctly pointing out that he defeated Randy last week and received nothing. By this time; all four athletes are in the ring attempting to have a schmoz. Okay Pale Rider, make the tag match. With that piece of business done during the break, we have the first contest of the night. Benjamin was misused the first time he was with the company and he is underutilized now. In either case, I have no good reason for this. It was a coin flip with each team having the edge for a while. The baby faces went over with an RKO and Swanton Bomb. There were no shenanigans until after the bell when Randy hit an RKO on The Charismatic Enigma. A warning in preparation for his shot at United States Gold on Sunday.
I'm guessing this episode was promo heavy thanks to the organization's insane travel schedule this month. They're human folks. They have jetlag too. Hold your breath. Let's see if we can superglue these together. Skipping one intentionally, be patient. Cut to The IIconics being way to happy about beating Asuka even though The Japanese Ace didn't take the pin last week. PS: I enjoy your work ladies, but you sound like Sexy Koalas and nobody else. Will parrots ever learn not to stick a microphone in heels' faces? If there is money in asking someone to act like a six-year-old and giving her Gold: There is only money in it once, unless marks are truly sheep.
The next leg of our promo finds Rusev standing with Aiden English. Suddenly. It's LANA! There is an audible pop and "Lana" chant in the arena. Hey Stanford, she's over. DO SOMETHING WITH HER! A Rusev Day Shirt never looked better! The Ravishing Russian says something is holding her husband back. Rusev Day and Aiden English are over as well, but I know who wins the coin flip if it comes to that. Our next promo starts with Big Cass headed to the ring. Even though he is not in Montreal, The Long Island Redwood calls out Daniel Bryan. Who comes out to Bolster Cass' ego? A little French-Canadian person. He takes a beating. Did I mention this is 2018?
This is starting to feel like a Wednesday in Jim Crockett Promotions. We come back from commercial to find WWE Champion AJ Styles being asked about the change made to his defense of Gold against Shinsuke Nakamura at Backlash. Our GM's most pressing announcement at the top of the show focused on making the next match between them a No DQ thanks to the double count out in the desert and The Con Artists repeated low blows on The Champ. AJ says he's glad the restrictions are removed. He is ready to finish this. Wait, Samoa Joe? AGAIN? I might be the only person in America saying this. I don't care. Quit talking and stay healthy. Do both or go away! GASP! Nakamura's music hits with Joe on the ramp? What's this? The Samurai coming through the crowd like earlier this month? AJ takes yet another low blow from behind. Why are baby faces clueless?
An awkward baby face promo from The Ladies Division. Charlotte shouldn't be here. Becky Lynch is having a cow because she got pinned last week, costing Asuka the match. The Rising Sun Mystic tells her not to worry. Charlotte runs Carmella down as Asuka commands: "Avengers Assemble!" Go across the way, and we see Absolution in one place for the first time since The Raw After Mania. Sonya Deville is going full heel here. Saying she expects special treatment. For now, Paige says that's not how this is gonna work. Mandy Rose has a match with Becky Lynch because both girls went Little Miss Math Class on The Lass Kicker.
Earlier in the night, Shamus and Cesaro were celebrating their new SmackDown Live contracts when The New Day offered pancakes and reminded them they were only on Tuesdays as result of losing The Raw Tag Team Title in the desert. Not surprisingly, The Celtic Warrior was irritated and asked for a fight. Big E stepped up to take him on but was scoffed away in favor of Xavier Woods. Hey look, a wrestling match! The traffic and movement outside the ring enabled Woods to pick up a clean win with a schoolboy.
Clear the decks as recess closes this goofy Canadian roller coaster! This time Carmella actually has to compete. Her apologists need not worry. The IIconics did most of the heavy lifting. After Second Nature landed an outside Moonsault. Then Blondie Circus got a look at real talent and stopped participating. The baby faces looked extremely explosive. This scares me because WWE logic almost guarantees Charlotte takes the loss at Backlash and Carmella gets more false justification for having SmackDown Women's Gold. Asuka put her submission hold on Peyton Royce to get the tap out. Canada has been arrogantly friendly this time around. Put another way, it was very French. Now, if The Maple Leaf will excuse us. My passengers and I see two steel cages and an empty front row seat on our radar.