Ja'Von's Impact Wrestling Live Report (6/14/18)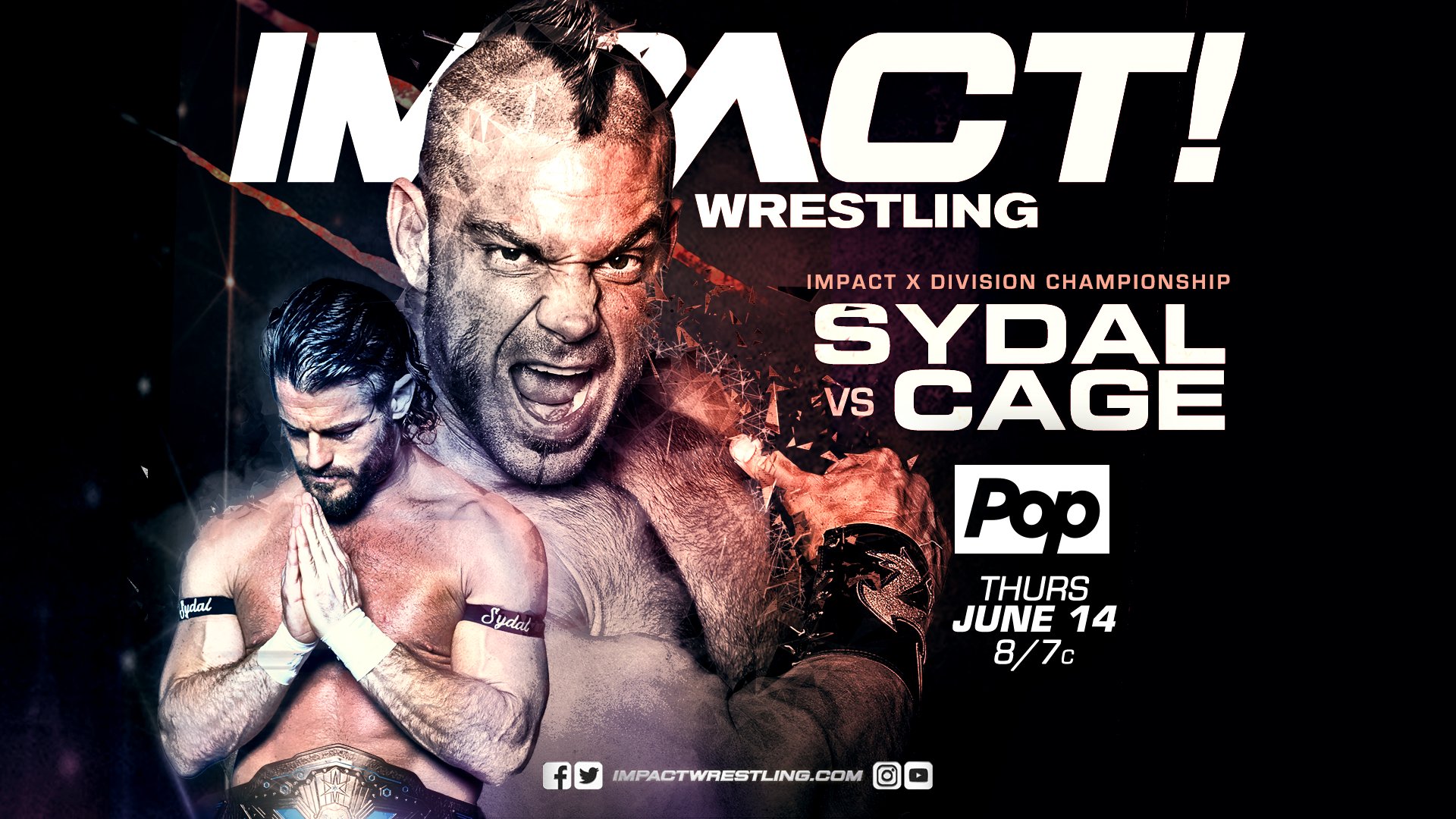 Quick Results:
Rebel vs Taya Valykire: Taya Valykire via pinfall 
The Cult of Lee vs KM & Fallah Bahh: Cult of Lee via pinfall 
Moose vs Eli Drake (#1 Contender's Match): Moose via pinfall 
Tessa Blanchard vs Kiera Hogan (No Disqualification): Tessa Blanchard via pinfall 
Jake Christ vs Fantasma: Fantasma via pinfall
Matt Sydal (c) vs Brain Cage (X-Division Championship): Matt Sydal retains via countout
Play by Play:
Impact opens with Moose walking into the arena in Philadelphia for his #1 Contender's match against Eli Drake. Also they run a video package hyping the double main event for tonight's show.
Grado kicks off Impact along with his girlfriend Katerina Lee making their way to the ring for a match. Grado and Katerina go to the corner to do their signature entrance but Eddie Edwards comes out of nowhere with a kendostick. He yanks Grado off the ropes and hits him with the kendostick to the back then tells Katerina to get out of the ring.
.@TheEddieEdwards interrupts Grado and violently attacks him! What did Grado ever do to Eddie? #IMPACTonPop pic.twitter.com/wEgohPDbU0

— IMPACT (@IMPACTWRESTLING) June 15, 2018
Eddie then says he had Callihan dead to rights last week in the woods and blames Tommy Dreamer for allowing Sami to escape and calls him out to the ring. Tommy tries to calm Eddie down and says they have a show to run but Eddie doesn't care. Eddie calls Tommy shellfish for not allowing him to end Sami. Dreamer says you already beat him and tells him to move on. Eddie says he hasn't spoken to his wife since Eddie was arrested. Dreamer says he has been talking to his wife which upsets Eddie and he backs Dreamer up into the corner. Dreamer is forced to push Eddie down to the mat which enrages Eddie some more and he hits Tommy with the kendostick and says Dreamer made him do it.
WHAT THE HELL?! @TheEddieEdwards smashes @THETOMMYDREAMER in the head with the cane. #IMPACTonPop pic.twitter.com/BMV2MDAepf

— IMPACT (@IMPACTWRESTLING) June 15, 2018
Back from break and Dreamer is backstage and is pissed with management. He says he is tired of being disrespected and is done with Impact.
Rebel vs Taya Valykire:
Rebel makes her way to the ring for her match.
Welcome back @RebelTanea! #IMPACTonPop pic.twitter.com/09DbHSJ1zA

— IMPACT (@IMPACTWRESTLING) June 15, 2018
"Lucha Royalty" herself Taya Valykire makes her way to the ring for the match.
Lucha Royalty has graced us with her presence. #IMPACTonPop @TheTayaValkyrie pic.twitter.com/gli9lExkXw

— IMPACT (@IMPACTWRESTLING) June 15, 2018
Collar and elbow tie up with Taya getting the advantage with a wristlock but Rebel gets free with a cartwheel. Some back and forth ending with Rebel rolling Taya eitha crucifix for a one count. Rebel tries again with a roll up but Taya counters and sits down for a two count. Taya pushed Rebel in the corner and begins to go to work on her with a splash and couple of elbows. Taya throws Rebel into another corner and attempts a splash but Rebel counters with an elbow strike. Taya stunned for a moment but regains control of the match with shoulderblocks in the corner and wearing her down. Taya goes to show off a bit mocking Rebel and gets caught but immediately regains control of the match hanging Rebel on the ropes and begins choking her then choke her in the corner. Rebel fights back and gains control of the match. She hits Taya witha forearm strike then a running kneestrike off the ropes and gets a two count. Rebel then looks to be go for a split legged moonsault but Taya gets back up and quickly hits The Road to Valhalla and tells her welcome back b**** and gets the pinfall victory.
.@TheTayaValkyrie victorious after the Road to Valhalla! #IMPACTonPop pic.twitter.com/4mNsYKTRUU

— IMPACT (@IMPACTWRESTLING) June 15, 2018
Winner: Taya Valykire via pinfall
After the match Taya grabs the mic and tells the fans to clap for Madison Rayne since she is back in the Impact Zone. Taya says things have change since Madison was here last. She says this is her kingdom and next week she will show Madison why she is not only Lucha Royalty but also Knockouts Royalty.
NEXT WEEK – Royalty vs. Royalty!

The Queen Bee vs. Lucha Royalty as @MadisonRayne faces @TheTayaValkyrie! #IMPACTonPop pic.twitter.com/Jl5JFc4WoG

— IMPACT (@IMPACTWRESTLING) June 15, 2018
GWN Moment of the Week:
AJ Styles defeated Samoa Joe and Christopher Daniels for the X-Division Championship
This week's GWN Moment of the Week is the iconic Unbreakable three way, available now at https://t.co/I9VP8oFUCI and the GWN App! Start your FREE 30 DAY TRIAL NOW! #IMPACTonPop pic.twitter.com/GmouDKD4jw

— IMPACT (@IMPACTWRESTLING) June 15, 2018
McKenzie Mitchell interviews Matt Sydal backstage and asks him how he will beat the undefeated Brain Cage. Sydal says yes he does look like a big dude but he says he sees something different inside of Cage. He says that last week he asked him to forgo his championship match and join him but he refused. He goes on to say he see things from a higher prescriptive and will win tonight.
Back from break and we get oVe with oVe cam. Sami says that last week was a win for them cause Eddie is now losing his mind and EVERYTHING. He also announced Jake Christ vs Fantasma for tonight.
The Cult of Lee vs KM & Fallah Bahh: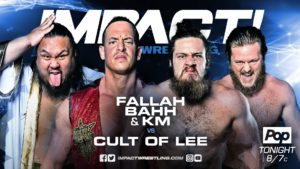 The Cult of Lee make their way to the ring for their tag team match. KM and Fallah Bahh make their way to the ring for the match.
Friendship goals. #IMPACTonPop @FALLAH1 @ImpactKM pic.twitter.com/pzASc4PUKZ

— IMPACT (@IMPACTWRESTLING) June 15, 2018
Trevor Lee and Fallah Bahh kickoff the match. Collar and elbow tie up but Fallah gets the advantage and tosses Lee into the ropes. Lee then tags in Caleb but Fallah stands in the ring rubbing his belly and laughing . Collar and elbow tie up again this time Lee tries to help but to no avail. KM then gets involved and they take down The Cult of Lee which sets up for a double sandwich move. Fallah Bahh and KM then roll on top of both Lee and Konley TWICE each. Fallah goes to lift up Caleb but he rakes the eyes of Bahh and slides out the back. Fallah accidentally hits a samoan drop on KM which leads to Trevor taking him out then Caleb slides in to get the pinfall victory.
Winners: The Cult of Lee via pinfall
After the match KM is mad about what had just happen. KM calls Fallah a loser and he will always be one then pushes him down and leaves the ring.
💔💔💔#IMPACTonPop @FALLAH1 @ImpactKM pic.twitter.com/2mIGC1Rwi9

— IMPACT (@IMPACTWRESTLING) June 15, 2018
Impact plays a video package of what happend last week on The Fact of Life and how we got to Drake vs Moose for tonight in a #1 Contender's match.
Back from break we see LAX in the clubhouse celebrating their win from last week. King sees that next week they will be challenging for the tag titles. Diamante is still not trusting King but they all share a shot together and leave. King is left alone in the clubhouse and sits in Konan's chair.
Moose vs Eli Drake(#1 Contender's Match):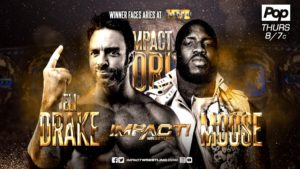 Moose was coming in the ring finishing his entrance but Eli Drake gets the jump on Moose with a shot to the back. Moose is then brought to the corner and Drake begins to put the stomp to him. Moose then fights back and sends Drake to the outside. Moose follows him to the floor and looks to slingshot Drake into the guardrail which he does. He then attempts a running splash but Eli counters and Moose crashes and burns. Moose then fights back and runs around the ring setting up for something big but gets caught by Eli who hits him with a death valley driver on the apron. Back in the ring Moose gets Drake in the corner and begins to light up his chest with rapid fire chops. Drake gains control of the match again and looks to hit blunt force trauma but Moose stops him with a headbutt that sends him into the corner. Moose then hits a couple of running delayed dropkicks then hits the go to hell for a nearfall. Drake comes back with a huge move of his own for a nearfall. Back and forth we go then Drake finally connects with Blunt force Trauma. Drake goes for another move but Moose counters with a big clothesline and both guys are down. Drake gets to his feet first and looks to hit a springboard moonsault but comes up empty. Drake fights back and looks to set up for the torture rack but instead hits a neckbreaker.
Firemans Carry into a neckbreaker by @TheEliDrake! #IMPACTonPop pic.twitter.com/oaW5nLDSoG

— IMPACT (@IMPACTWRESTLING) June 15, 2018
Drake then sets up for a superplex which he hits and only gets a two count. Moose is now favoring his neck as Drake looks to set up for the Gravey Train but Moose slips out and pushes Drake into the corner. Moose then rolls up Drake but the ref doesn't see the shoulders on the mat so the pin isn't counted. Drake escapes but ends up getting speared for his troubles which leads to Moose picking up the pinfall victory and becomes #1 contender to the World Championship.
.@TheMooseNation is going to Slammiversary! #IMPACTonPop pic.twitter.com/zVsgNnk7w1

— IMPACT (@IMPACTWRESTLING) June 15, 2018
Winner and #1 contender to the Impact World Championship: Moose via pinfall 
Tessa Blanchard vs Kiera Hogan(No Disqualification Match):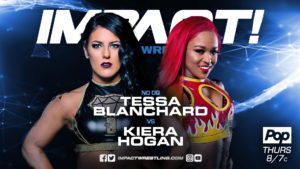 Tessa makes her way to the ring for the match.
#TessaIsForever @Tess_Blanchard #IMPACTonPop pic.twitter.com/G3kF49QNef

— IMPACT (@IMPACTWRESTLING) June 15, 2018
Keirs makes her way to the ring and gets the jump on Tessa. She drags Tessa to the floor and begins to repeatedly slam her head into the apron. Back in the ring Tessa crawls to the corner and Keira hits her with a splash bottom first into the corner. The match spills back out to the floor where Tessa gains control of the match slamming Kiera face first onto the ramp. Tessa brings her back in the ring and hits her with a Sido suplex for a two count. Tessa then locks in an abdominal stretch which Kirea turns into a crossbody for a one count. Kirea looks to be in control but Tessa turns the match around and puts Hogan in the corner and begins tolay in the rights. Kirea hung up in the corner which allows for Tessa to bring in a chair but Hogan fights back for just a bit. Tessa regains control and hits the hammerlock DDT for a two count. Tessa then jawjacks the ref for counting too slow. Tessa then puts Kirea back in the corner and begins to lay into her some more but the ref admonishes her and pulls her off Hogan. Tessa then is mad again and jawjacks the ref again. Tessa turns around and gets a chair to the face for her troubles. Tessa tries to fight back and grabs the chair but Hogan stomps her hand to stop her. Kirea then hits a bulldog on Tessa on top of the chair but Tessa kicks out. Down the stretch the chair comes into play again as Tessa hits Kiera face first off the chair to pickup the win.
WHAT A MATCH! @Tess_Blanchard picks up the victory in a highly physical, competitive No DQ match. #IMPACTonPop pic.twitter.com/p1MZnXssSM

— IMPACT (@IMPACTWRESTLING) June 15, 2018
Winner: Tessa Blanchard via pinfall
Back from break se see a recap of everything that has happened since the mystery attacks has begun. Josh Mathews accuses Petey Williams as the attacker but they still don't officially know who it is yet.
Jake Christ vs Fantasma: 
Jake Christ with his brother Dave Christ makes his way to the ring for his match. Fantasma makes his way to the ring for the match.
The @hijodelfantasma fan club is out in force tonight! #IMPACTonPop pic.twitter.com/4hfSG1btvZ

— IMPACT (@IMPACTWRESTLING) June 15, 2018
Back from break and we see Jake Christ get the jump on Fantasma by hitting him with a big running boot sending him into the corner. Jake tries to tear at the mask a bit before hitting multiple shoulderblocks. The ref backs Jake off Fantasma which allows for Dave Christ to get a cheap shot in. Jake Christ begins to wear down Fantasma with a headlock then transitions into a dragon sleeper but Fantasma gets to the ropes to break it up. Jake throws Fantasma into the corner and begins to whitewash his face then irishwhips him into the opposite corner but Fantasma counters. Dave Christ tries to distract Fantasma allowing for Jake to roll him up but Fantasma counters for the pinfall victory.
.@hijodelfantasma steals a victory from @TheJakeCrist! #IMPACTonPop pic.twitter.com/4aMpvTaoOw

— IMPACT (@IMPACTWRESTLING) June 15, 2018
Winner: Fantasma via pinfall
After the match oVe and Sami Callhian attack Fantasma and look to take his mask until Pentagon Jr. shows up to make the save. Pentagon takes out oVe then goes face to face with Sami Callihan until Callhian decides to retreat.
WHAT A CONFRONTATION! @TheSamiCallihan and @PENTAELZEROM going face to face! Who wants to see this match? #IMPACTonPop pic.twitter.com/OgbWSPYVEZ

— IMPACT (@IMPACTWRESTLING) June 15, 2018
Matt Sydal (c) vs Brian Cage(X-Division Championship):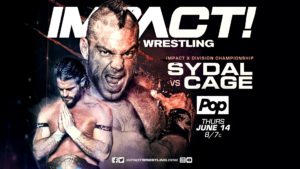 Brain Cagemakes his way to the ring to challenge for the X-Division Championship. Matt Sydal makes his way to the ring to defend his championship. The bell rings and Matt begins to jawjack Cage and uses his speed to side step Cage multiple times. Cage finally catches him and hits a suplex but Sydal lands on his feet. Cage then drops Sydal which sends him to the outside of the ring. Cage tries to grab Matt by his hair but to no avail. Sydal slides between Cage's legs to get back in the ring. Cage catches Sydal and tosses him into the corner and begins to lay in the rights. Jimmy Jacobs and Kongo Kong come out to the ringside area which causes a distraction for Cage.
What do @JimmyJacobsX and @RealKongoKong have to do with this X-Division Championship match? #IMPACTonPop pic.twitter.com/HXpjzSqSg4

— IMPACT (@IMPACTWRESTLING) June 15, 2018
Matt Sydal uses it as an opening to gain control of the match. Sydal wears him down with submissions but Cage fights out and gains control of the match. Cage hits an overhead suplex which sends Sydal to the outside. Sydal then tries to come into the ring from another side of the ring but gets caught and suplexed back into the ring. Down the stretch Cage still in control of the match goes to the outside to get Sydal and throws him back in the ring. The ref's back is turned which allows for Kongo Kong to send Cage into the steel steps. The ref then calls for the bell as Cage has been counted out and Sydal retains the X-Division Championship.
AND STILL* X-Division Champion – @findevan!

*as result of a count out #IMPACTonPop pic.twitter.com/lKQbbFghYL

— IMPACT (@IMPACTWRESTLING) June 15, 2018
Winner and STILL X-Division Champion: Matt Sydal via countout
After the match we cut to backstage and Fallah Bahh has been attacked and Petey Williams is holding the calling card of the mysterious attacker. Sonjay along with officials and a cop catch him with the calling card and assume that he is the attacker. Sonjay then tells the cop to arrest Petey and take him out of the Impact Zone. On the way out the cop attacks Petey and shows his face. He then says that Petey should be accountable for the attacks then stands over him with the calling card to end the show.
We've been waiting for this moment for nearly two months! The mystery attacker finally reveals himself! #IMPACTonPop pic.twitter.com/TnKYDyUthf

— IMPACT (@IMPACTWRESTLING) June 15, 2018
Ja' Von's Take: The show was pretty good overall. We got to see more storyline progression and found out the main event for Slammiversary: Austin Aries (c) vs Moose(Impact World Championship). Tonight was also huge because we finally saw who the mystery attacker is but no name was announced. We also saw Brain Cage taste defeat for the first time since coming to Impact. I predict that Impact will see another bump in viewership this especially since the NBA Finals are over
Next Week: Z & E vs LAX(Impact Tag Team Championships)
Taya Valykire vs Madison Rayne
My Score: 7/10
---
Always Use Your Head and visit the official Pro Wrestling Tees store for The Chairshot All t-shirt proceeds help support the advancement of your favorite hard-hitting wrestling website, The Chairshot!

---
Mitchell's NJPW AXS TV Report: G1 Climax 28, part 4!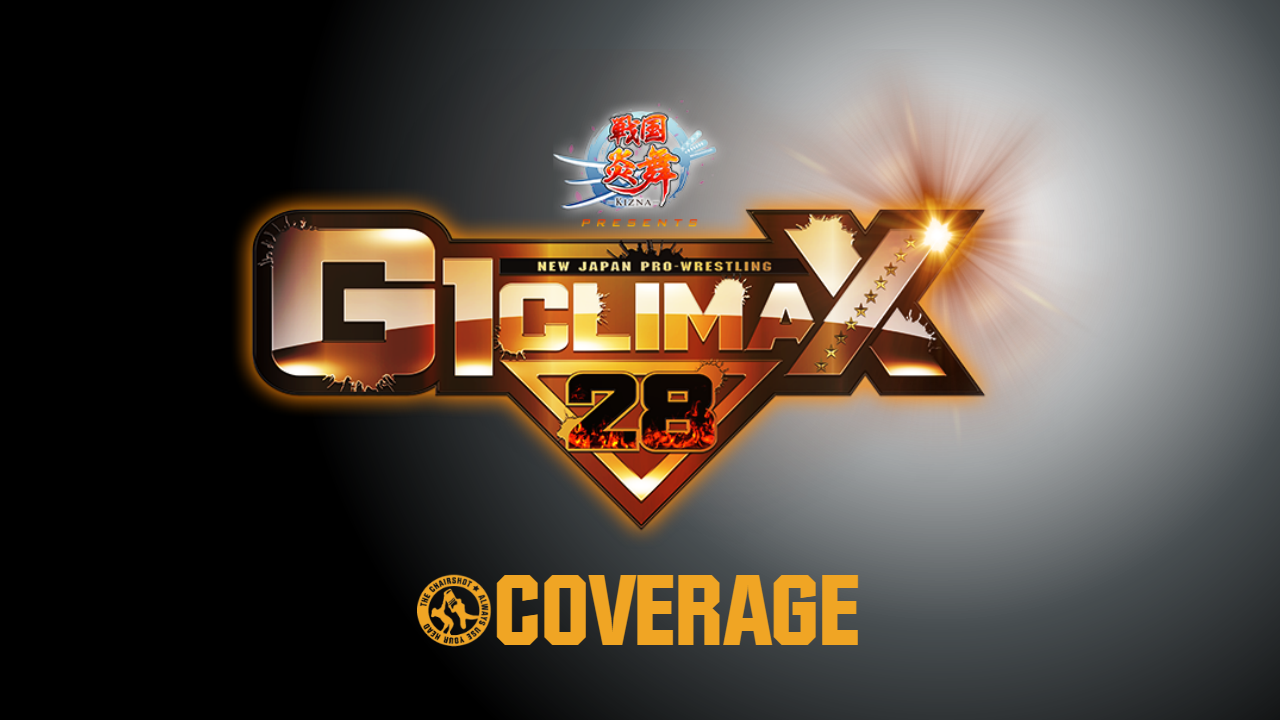 AXS continues NJPW coverage with more from Block A! The Rainmaker takes on the Hangman for the first time ever! Plus, The Ace VS The Underboss once more!
Gifs can be found on http://frentique.tumblr.com/
OFFICIAL RESULTS
Jay White VS Michael Elgin; White wins.
Hiroshi Tanahashi VS Bad Luck Fale; Tanahashi wins, by disqualification.
Kazuchika Okada VS Hangman Page; Okada wins.
PLAY BY PLAY
NJPW and AXS TV set the scene for Round Three!
Kazuchika Okada hasn't been himself since losing the IWGP Heavyweight Championship to Kenny Omega. He's also been on a losing streak since then, with a quick 0-2 record in the first two rounds. Okada lost to The Switchblade, Jay White, and perhaps lost all of Chaos to him. Then he lost to Bullet Club OG, the Underboss, Bad Luck Fale. The Rainmaker desperately needs to get on the board before it's too late. But in his way is Bullet Club new blood, Hangman Adam Page, who would love to make a big splash with a win over the former top champion. Will Hangman be the third defeat on Okada's downward spiral? Or will Okada use the Problem Solver to solve his losing problem?
But first, the Underboss has his own match in a rematch from the New Japan Cup quarterfinals. Fale lost to Hiroshi Tanahashi back then, but Tanahashi himself lost to Jay White, same as Okada. Can the Once in a Century Talent gain ground against an angry Fale? Or will the Firing Squad make their presence known once again?
NJPW and AXS give us another quick rundown on the other A Block matches.
Minoru Suzuki brutalized Yoshi-Hashi but the Head Hunter held his own. However, Suzuki's Gotch Piledriver won it for the Man with the Worst Personality. Chaos' Togi Makabe battled Los Ingobernables de Japon's King of Darkness, EVIL, and they went all over the arena. The Uncaged King Kong would fall to Everything is EVIL, the signature STO, and Evil would get the win. For the third match of this third round, we jump right into it!
Jay White VS Michael Elgin!
The Switchblade says Chaos is now his faction, but he still has to prove it. We come into his match with The Unbreakable Big Mike as he brings Elgin up for a cobra clutch suplex! White calls for a finish, and brings Elgin up again. Eglin spins out of Blade Runner, but White elbows him away. White goes to run but Elgin reels him into a discus elbow! Elgin drags White up but White slips out. White lifts Elgin but Elgin knees out of the saido suplex. Elgin aims at the wobbly White and hits another discus elbow! Then the Half 'n' Half! Elgin runs, and clobbers White with a clothesline! He's not done, he double underhooks for a sit-out Tigerbomb! Cover, TWO!? White survives by the thinnest of margins! Big Mike is surprised, but the fans are rallying for him.
Elgin drags White back up, takes aim at a corner, but White fights back. White's huricanrana is blocked by pure strength! Elgin brings White back up, and buckle bombs him in the corner! But the referee gets caught in it, too! Elgin checks on the ref, then he goes back to White. White gives Big Mike a low blow uppercut to Little Mike! Then, Blade Runner! The referee returns to count the cover, White wins!
Winner: Jay White, by pinfall; White earns 2 points, Elgin earns 0
The Switchblade takes the lead in Block A by any means necessary. White wants to reign over Chaos and all of NJPW as THE IWGP Heavyweight Champion. Will his streak continue and bring him all the way to the G1 Climax Finals?
Hiroshi Tanahashi VS Bad Luck Fale!
The Ace and the Underboss go around one more time, but this New Japan Cup rematch might be marred if the Bullet Club splinter cell show themselves. Can the two-time G1 Climax winner put Fale away before the Guerrillas of Destiny arrive?
Well that's gonna be hard to do now, as Tonga Loa accompanies the lean, mean, Tongan machine to the ring. Even so, Tanahashi stays focused on his opponent. Red Shoes checks both men and finds they're clean. He tells Tonga Loa to hop down off the apron, and Loa obliges. The bell rings, and Tanahashi immediately hits Fale with a dropkick! Tanahashi stomps away at the legs, then puts on leg on the ropes for another dropkick. Fans fire up with The Ace as he goes after the legs with more stomps. Tanahashi whips Fale but Fale reverses. Fale runs in but Tanahashi dodges to chop block! Fans chant for Tanahashi as he stalks Fale. Tanahashi brings Fale around to kick that bad knee. Fale staggers to ropes but Tanahashi refuses to let up. Tanahashi runs, but Fale follows, only for Tanahashi to drop toehold him.
Tanahashi puts Fale's legs into a deathlock, pulling back on both knees. Fale reaches back to grab at Tanahashi, but then reaches out to grab ropes. Tanahashi honors the ropebreak, but then stomps Fale more. Fale slips out of the ring, and voids Tanahashi's slingshot plancha. But Tanahashi lands on the apron, to cannonball onto Fale! Fans are thunderous as Tanahashi fires up. Tanahashi drags Fale up, and has camera men clear out. He whips but Fale reverses, sending Tanahashi over the rails into commentary! Roppongi 3K's Sho almost gets wiped out. Fale grabs a chair from one of the other commentary tables! Red Shoes tells him to put it down, but Fale refuses. Fale even threatens Red Shoes with it! But this is all to distract the ref from seeing Loa stomp Tanahashi out!
Sho and commentary try to get Red Shoes' attention, but Loa backs off in time. Fale lets go of the chair and goes over to fetch Tanahashi. Fans clear out with help from the Young Lions, and Fale bowls for chairs using Tanahashi! Fans cheer Tanahashi in attempts to power him up, but Fale leaves him to the mercy of the 20 count. The count reaches 10 before Tanahashi reaches ringside. Tanahashi stands and enters at 14. Fale is right on him, and stands on his ribs! He backs off at 4, but then comes back to kick Tanahashi while he's down. Fale drags Tanahashi up and puts him on the ropes to bend him backward. Red Shoes counts, and Fale lets off at 4 again. Tanahashi grits his teeth but Fale clubs his back. Fale puts Tanahashi back on the ropes for more clubbing forearms.
Tanahashi writhes to a corner but fans continue to rally. Fale wags a finger, their cheers won't help Tanahashi. Fale gives Tanahashi big body shots, then a scoop slam. He sits on Tanahashi for the cover, TWO! Tanahashi crawls but Fale looms over him. Fale sits Tanahashi up for a nerve hold! Fale digs his fingers into Tanahashi's trapezius, but fans rally more. Tanahashi feeds off the energy and gets to his feet. He fights back with elbows, then forearms. Fale staggers, but comes back with one big forearm of his own. Fale has Tanahashi in a corner, and gives him clubbing clotheslines from both sides. Tanahashi is down and dazed while we go to break.
NJPW on AXS returns, and Fale says "It's too easy, man." He looms over Tanahashi in the corner. He brings Tanahashi up and whips him corner to corner. Tanahashi comes running out to dropkick Fale's bad leg! Tanahashi dropkicks it again, then again! He brings Fale back for a waistlock, but Fale is too big and strong for the German Suplex. Fale elbows out, but Tanahashi hits him back with a palm strike. Fale falls down, Tanahashi grabs the leg, for a grounded dragon screw! The screw drives Fale's leg into the mat, and now Fale writhes as he clutches the knee. Tanahashi keeps on him with an attempt at the Cloverleaf. He props Fale up and works to roll him over, but Fale is still big and strong. They struggle against each other, but Tanahashi gets the hold!
Fale endures, and he powers his way out, sending Tanahashi all the way out of the ring! Tanahashi and Fale both take a few moments to recover. Fale goes out but Tanahashi gets back in. Tanahashi runs, but into Fale's grip! Fale rocks Tanahashi with a right, but then Tanahashi dragon screws the leg between the ropes! Fans chant "Go Ace!" for Tanahashi as he takes aim. Tanahashi runs, sunset flip, but Fale sits on him! TWO, but barely! Loa coaches Fale up while the fans are on Tanahashi's side. Fale runs and splashes! TWO, but still close! Tanahashi gasps for air while Fale brings him up. Tanahashi throws hands, then bobs 'n' weaves with Fale. He hits a European Uppercut, but runs into a lariat!
Fale drags Tanahashi up, but Tanahashi palm strikes before he can throw the Grenade thumb spike. Fale fireman carries Tanahashi instead, for the Samoan Drop! Both men are down from exhaustion but Fale makes the cover. TWO as Tanahashi survives. Fans rally up but Fale is first to stand. Fale brings Tanahashi up, preparing a powerbomb. Tanahashi slips out of the crucifix to huricanrana! Cover, TWO!! But Tanahashi comes back with a Slingblade, but Fale's size and strength help him get out of it. Tanahashi rolls Fale up instead, TWO! Tanahashi tries a fisherman, but Fale scoops him. That bad leg gives way, and Tanahashi comes back with the swinging neckbreaker!
Fans rally again while Loa is worried. Tanahashi runs, the Slingblade hits! But he's not done, as he goes top rope… High Fly Flow FLOPS as Fale moves! Tanahashi and Fale stir and stand while the fans are thunderous. Fale runs in for a big corner clothesline! Then he grabs Tanahashi, for the Grenade thumb thrust to choke slam! Cover, TWO!? Tanahashi survives that brutal combination, but Fale prepares a bomb! He lifts Tanahashi, crucifix but Tanahashi pops out to bring Fale down with an inverted bulldog! Tanahashi hurries up top, for the HIGH FLY FLOW! Cover, but Loa drags Red Shoes out!!
And he attacks Tanahashi! It was only a matter of time before it came to this. Loa stomps Tanahashi out while Fale slowly sits up. Fans boo the Firing Squad, but they don't care. Loa brings Tanahashi up, and Fale prepares a lariat. Tanahashi ducks, the lariat hits Loa! Then Tanahashi Slingblades Fale down! But it's Tama Tonga with a Gun Stun outta nowhere! The quintessential leader of the Firing Squad is here. He tells Tanahashi to never defy them. Fale covers, Tonga drags Red Shoes in, but Red Shoes says F U, Firing Squad! He calls for the DQ!
Winner: Hiroshi Tanahashi, by disqualification; Tanahashi earns 2 points, Fale earns 0
The Tongans are furious with Red Shoes, and Tama grabs him around the collar. But then they go after Tanahashi, stomping and punching away. No one makes the rescue, so the Firing Squad leave when they feel satisfied. Will anyone, from wrestlers to administration, stand up to this pack of wolves?
Kazuchika Okada VS Hangman Page!
The Rainmaker hasn't been acting quite like himself since Kenny Omega took the title from him. He's already lost twice, but is he so vulnerable as to give the Problem Solver a guaranteed win? Or is Hangman's first G1 Climax too soon to defeat the former IWGP Heavyweight Champion?
The bell rings and fans cheer for Okada. Hangman tunes it out as he jaws with The Rainmaker. The two circle then tie up. Hangman gets the wristlock, but Okada rolls and reverses. Hangman rolls and reverses back to a hammerlock then snapmare. He puts Okada in a chinlock, but Okada gets up and out. Okada gets the hammerlock, but Hangman gets the ropebreak. Okada honors the break, and fakes his punch, to pat Hangman on the shoulders. He's all smiles, but Hangman scowls. Okada ducks Hangman's punch, then catches the boot. He shoves Hangman, having fun with him. Hangman runs into a drop toehold, and Okada grins while Hangman gets to a corner. Fans cheer him on but Hangman clotheslines him out! Hangman keeps going, and DIVES onto the downed Okada!
Hangman loves throwing caution to the wind, but even that was crazy. He gets up and mocking asks, "This is Okada now?" Hangman puts Okada back in the ring, then walks circles around him, like a shark with blood in the water. He shows off his strength with a pumphandle deadlift, into a brinding Fall Away Slam! TWO, but Hangman keeps hold of a leg to roll Okada around. Hangman chops Okada bluntly, then stalks him to a corner. Hangman stands Okada for another chop, then continues to question Okada's character. He snapmares Okada into a chinlock, and he gives slaps to Okada's head. Fans rally up and Okada fights out, but Hangman clubs him. Hangman runs into a boot, but he avoids Okada's back senton. Hangman hits his standing shooting star! Cover, TWO, but Hangman keeps his cool.
Hangman toys with Okada, then drags him back up. He scoops Okada for the slam, then slingshots out and in for the senton atomico! Fans applaud his ability, but still rally up for Okada. Hangman sits Okada up for a neck wrench. Okada endures and works his way up. He fights back but Hangman ear claps him. Hangman whips but Okada reverses to a DDT! Both men are down, but Okada kips up! Okada runs and rallies with forearms and elbows. He whips but Hangman reverses, only for Okada to come back with a back elbow. Okada brings Hangman up but Hangman gives body shots and a forearm. Hangman runs, but into a flapjack! Cover, TWO!
Fans rally behind Okada as he runs corner to corner. Hangman dodges, then runs back in, but Okada dodges. Okada puts Hangman up top to dropkick him to the floor! Okada goes out slowly to fetch Hangman, not satisfied with a possible count out win. He rocks Hangman with a EuroUpper, then whips him at barriers. Okada runs and boots Hangman into the crowd! Young Lions help clear fans out while Okada walks over to fetch Hangman. Okada drags Hangman out but Hangman fights back. Hangman rocks Okada, then slingshots for the Buck Shot! Direct hit and both men are down while we go to break!
NJPW on AXS returns and Red Shoes checks on both men on the outside. Hangman stands first, and he drags Okada up and into the ring. He positions Okada in the drop zone before climbing up top. Fans rally up, and Hangman MOONSAULT! It FLOPS as Okada evades! Okada stands but Hangman runs in, only to get a boot. Hangman tries again but Okada gets him in Alabama Slam position. Hangman fights out and clubs Okada from behind. He whips Okada but Okada reverses, only to miss the dropkick. Hangman jackknifes and rolls to lift Okada, but Okada fights against the Rite. Okada gut wrenches but Hangman reverses to his own. Hangman changes from Tombstone to inverted cradle piledriver! Cover, TWO!! Okada barely survives, but now fans are dueling between the two.
Hangman sits up, and stares wild eyed at Okada. He brings Okada up, prepares the Rite, but Okada grabs the ropes. Hangman pulls but then dumps Okada off. Okada hits Hangman with a forearm, then hurries up top. Hangman stops Okada, then climbs up to join him. Fans fire up but Okada resists the superplex. Okada fights back with body shots, then throws a forearm. Hangman falls back, but comes back with a forearm of his own. Okada teeters while Hangman climbs up. They stand on the very top, for a SUPER neckbreaker! But Okada rolls out of the ring. Hangman goes to a corner and climbs up again. Fans anticipate what's coming, it's Hangman's SUPER ASAI MOONSAULT! He hits Okada, then puts him in the ring. Fans have sided with Hangman now as he slingshots, for another Buck Shot! Cover, TWO!!
Okada survives again, but his eyes are staring into space. Hangman calls for the finish! He brings Okada up, into position, but Okada sunset flips! TWO, but barely, and Hangman runs into a waistlock. Okada German Suplexes, but Hangman lands on his feet! Hangman aims at Okada, runs corner to corner, for a big dropkick! Then a scoop, but Okada reverses, into the Tombstone! But Okada's too exhausted to make a cover! Fans duel as they rally up. Okada sits up, but Hangman slowly follows. Okada throws a forearm, but Hangman comes back with one. Now Okada boots Hangman, and he dares Hangman to return it. Hangman swings but Okada ducks to give a EuroUpper. Okada blocks the Superkick but gets the roaring elbow!
Hangman whips but Okada reverses and hits the dropkick this time. He brings Hangman up, wrings him out, but misses to get a SUPERKICK! Hangman runs, but is put on the apron. He rocks Okada agian, slingshots but into the RAIN– No, Hangman tilt-o-whirls through, to powerbomb Okada! High stack, TWO, roaring elbow! Fans fire up again as Hangman brings Okada up. Okada slips out, for a discus clothesline! He's not done there, he swings Hangman out for THE Rainmaker! Cover, Okada wins!
Winner: Kazuchika Okada, by pinfall; Okada earns 2 points, Hangman earns 0
Okada is finally on the board! His losing streak ends, but it was still a tough fight. He still has a long way to go, can he climb back up to the top of A Block? And while Hangman goes 1-2, he still shows so much promise. Will he manage his own turn around to the top of the G1?
Okada speaks.
"Finally, finally, finally, the first victory!" Fans applaud for that. Okada jokingly says it was an easy win. But he is happy, and he thanks the fans. Okada seems to be holding back the tears, but the fans cheer him. But then he's totally fine as he says, "Still, the G1 tournament has only just begun. I will dominate. And make it rain." Okada drops the mic, still confident in himself. He may be more relaxed than normal, but will he still make the climb?
Backstage interviews.
Hangman knows that since losing the title, Okada "has been a damn mess." But this match was more about beating "the man that was the champion". If Hangman could do that, he could do anything. He felt how close he was to getting those points. But now he's got a fire burning.
Okada apologizes for the wait. "To all of you enjoying the G1 Climax," it's great. He's enjoying himself, too. He hasn't lost sight of the prize. He'll keep having fun as he keeps winning. Okada knows the title matters, his shot at Kenny Omega matters, but what really matters is that it will all be Okada's. We know from the standings that Okada has a long way to go to catch up to Jay White, but if anyone can do it, it's the Rainmaker. Will he do it? Or is it already too late to take it all back?
---
My Thoughts:
I was hoping to see these moments from the G1 Climax. It was a nice surprise to get the last bit of White VS Elgin, and White going on this quick 3-0 tear is definitely a sign that NJPW appreciates his talent. Even if White doesn't go to the Finals, his victories will definitely lead him to something. Plus, he and Okada need to settle who is truly leader of Chaos before it ends up like the Bullet Club Civil War. Then speaking of, obviously the Firing Squad would try to cheat. It backfired on them and Tanahashi gets the points, and as we know in real time, NJPW the company would issue a statement and "suspend" the Firing Squad in order to let the G1 Climax finish cleanly. This could go any direction after the "suspension" is over, it's definitely intriguing.
Okada VS Hangman was great, and the stories involved are well thought out. Okada finally gets points, and he clearly feels some weight off his shoulders now. He vows to be back to his dominant ways soon enough, but that almost promises he's not. This with White challenging his command of Chaos, Okada has a lot on his plate for the rest of the year. Hangman himself isn't deterred, he knows he's getting to that level. It's only a matter of time before Hangman has his first singles title in NJPW, I'm really excited for when he gets that moment.
My Score: 8.2/10
---
Always Use Your Head and visit the official Pro Wrestling Tees store for The Chairshot All t-shirt proceeds help support the advancement of your favorite hard-hitting wrestling website, The Chairshot!

---
Mitchell's Ring of Honor Report! (8/11/18)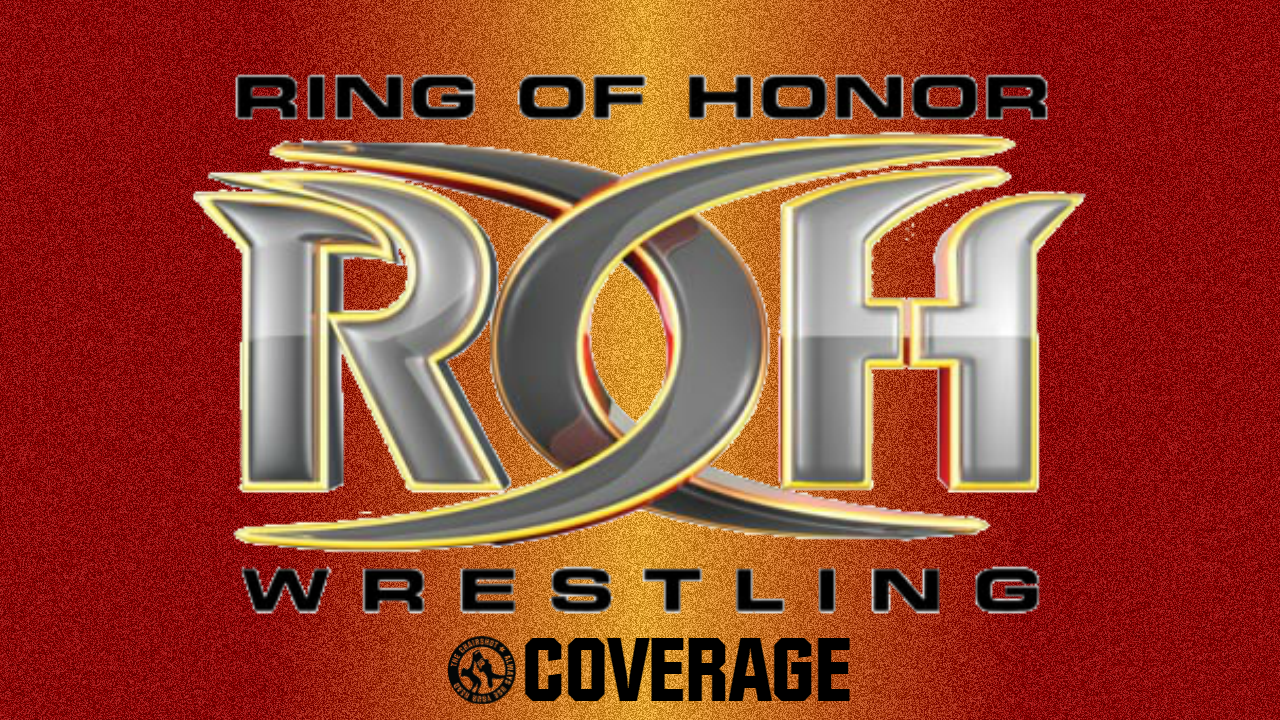 ROH WRESTLING TELEVISION, Episode 360
The 9-Time ROH World Tag Team Champions, Jay & Mark Briscoe, plan to show why they're the Baddest Team on the Whole Damn Planet by taking on The Bouncers!
OFFICIAL RESULTS
The Briscoes VS The Bouncers; The Briscoes win.
WOH Championship #1 Contenders Fatal 4 Way: Karen Q VS Tenille Dashwood VS Madison Rayne VS Kelly Klein; Madison wins and will challenge Sumie Sakai for the WOH Championship.
Six Man Tag: Cheeseburger, Flip Gordon & Josh Woods VS Bully Ray, Shane Taylor & Punishment Martinez; rescheduled as…
3v2 Handicap: Cheeseburger & Josh Woods VS Bully Ray, Shane Taylor & Punishment Martinez; Bully, Taylor & Martinez win.
PLAY BY PLAY
The Briscoes VS The Bouncers!
The Baddest Tag Team in ROH takes on the literally biggest team in a non-title match. Tonight turns Sandy Fork VS Everybody into #DemBoys VS Beer City Bruiser & Brian Milonas, but will Jay & Mark turn them into two more notches on their belts?
Fans chant "Man Up!" as the bell rings. Mark starts against the Mastadon, and tie up. Milonas shoves Mark back to a corner, but Mark comes back with chops and haymakers. Mark tries but fails to whip, Milonas runs him over with a shoulder. Milonas fires body shots on Mark in a corner, then whips him corner to corner. Mark goes to the apron, counter punches Milonas, then climbs up for a crossbody. Milonas catches Mark but Mark fights back with palm strikes. Mark runs, but into Milona's big body, and big overhead suplex! Jay tags in and boots Milonas. Milonas stays up so Jay rams a shoulder in. He still can't topple Milonas, so he tries again. Milonas still stays up, so Jay rocks him with a European Uppercut. Jay runs and Mark tags in.
Milonas lifts Jay but Jay slips out to hold Milonas' arms back. Mark comes in to mug Milonas with body shots to his belly. Jay hits BCB for good measure, then the Briscoes double whip. Milonas stays up after double shoulders, and BCB comes in. The Briscoes duck his double clotheslines and now they all brawl. The Briscoes rock the Bouncers, then run, but into double bellies! Fans boo and jeer while the Briscoes crawl to corners. The Bouncers coordinate but while BCB squashes Mark, Milonas misses Jay. Jay stomps a mudhole into Milonas while BCB does the same to Mark. BCB calls Jay out and they start shoving. They start brawling with big forearms, but BCB knees low. BCB runs but into a dropkick! Jay builds speed, but Milonas intercepts with a Bouncer Pounce!
Mark fires off Redneck Fu on Milonas, but Milonas reverses the whip. Mark uses that to wreck BCB with a dropkick. Milonas walks over but Jay dumps him over! Mark groups up the Bouncers for Jay to FLY! Fans fire up as Mark climbs up now for a SUPER corkscrew senton! The Briscoes have control while we go to break.
ROH returns and the Bouncers have control. BCB drops Mark with a Samoan Drop, and Milonas brings the straps down for his running back senton! Cover, TWO! Milonas tags BCB in and the Bouncers bring Mark up. They whip him into their corner, then BCB whips Milonas in. Mark dodges to then hit and chop BCB. Milonas boots Mark, and BCB holds Mark up while Milonas climbs. Mark fights back but he still gets the draping Mastadon leg drop! Cover, but Jay breaks it in time! Jay goes after both Bouncers with fast hands and elbows, then kicks to the guts. He runs, but into double body shots. The Bouncers sandwich Jay between their guts!
BCB throws Jay out, to then CANNONBALL! But Jay dodges, and BCB hits the floor! Jay hotshots Milonas, Mark flies in with a crossbody. Milonas still catches him, but Jay comes in to help. The Briscoes club and clobber Milonas to a corner. Mark runs corner to corner for a big clothesline, then Jay adds his own. Mark goes again, then they both stomp a mudhole into Milonas. BCB returns, but he ends up giving Milonas that hip attack! Jay manages to lift BCB in a fireman's carry, for the Death Valley Driver! Mark covers, TWO! Jay kicks Milonas out, but BCB sends Mark to the apron. Mark gives Milonas an apron blockbuster while Jay rocks BCB. Jay gives BCB the neckbreaker, and Mark adds his Froggy-Bow! Cover, The Briscoes win!
Winners: The Briscoes, Mark pinning
The champions get a literally big win. The titles will be on the line at Honor Reunited in the UK, will #DemBoyz bring those titles back home to the States with them?
The Briscoes speak.
"Ladies and gentlemen, we are the Briscoes. And we are the Baddest Tag Team on the Planet!" Fans agree with that. Jay says they're the 9-time ROH Tag Team Champions, and ain't no team in the world taking the belts from them. Especially not "those bums from California", SoCal Uncensored. The SCU don't want none. But wait, here they come!
Christopher Daniels, Frankie Kazarian and Scorpio Sky eye the Briscoes from the ramp. Scorpio asks if somebody said "SCU". The fans echo "SCU!" Be careful what you wish for, because the odds are in SCU's favor. Dem Boyz see that, 3 against 2. But they don't need odds. Scorpio can let The Addiction handle this. Bring it on then! ANd it's a brawl! Security rushes the ring to keep this chaos at a minimum. Fans want to "Let Them Fight!" and fight they do, but we go to break.
WOH Championship #1 Contenders Fatal 4 Way: Karen Q VS Tenille Dashwood VS Madison Rayne VS Kelly Klein!
The Ray of Sunshine is still the inaugural reigning and defending Women's Champion of ROH, and she has a line of eager challengers forming. The Queen of Queens, The Dancing Queen, the Queen Bee and the Gatekeeper all want that shot, but only one woman can get it!
The Code of Honor is upheld between Tenille, Madison and even Karen. Kelly doesn't care, she's just ready for the bell. Karen ducks out, she's too smart for that. Kelly clobbers Tenille and Madison, then keeps on them with more clubbing forearms. Madison and Tenille work together to fight back and whip Kelly, but Kelly dodges them. But then she gets clothesline'd out of the ring by both of them. Tenille and Madison now circle as fans rally up. They tie up, Tenille rolls Madison, ONE. Madison rolls Tenille, TWO. Madison trips Tenille for a cover, ONE. Tenille returns the favor, ONE. The two stand off and fans applaud. Tenille and Madison shake hands again, but Karen rushes in. Karen gets kicked, then a double suplex. Karen rolls back out, and Tenille sucker punches Madison. She whips Madison, but Madison tilt-o-whirl headscissors.
Madison whips but Tenille reverses to forearm. Tenille runs but Kelly drags her out. Karen ambushes Madison and gives her a buckle bump. Karen bumps Madison on another buckle, then gives her a facelock to neckbreaker. Cover, TWO! Karen grows frustrated already, and she whips Madison corner to corner. Karen hits a runing forearm, then a back elbow. She keeps going but her boot misses. Tenille throws Kelly into barriers while Madison runs at Karen. Karen dodges to snap suplex Madison. Cover, but Tenille breaks it. Tenille brings Karen up to whip her, but Karen reverses. Karen runs in but into a boot. Tenille grabs Karen with body scissors, for her Tarantula! She lets go at 4, then she climbs up top. Karen stands and trips Tenille up.
Karen climbs up to join Tenille, but Tenille resists. Madison joins in from the other side, but here comes Kelly! It's a TOWER OF DOOM! The double superplex powerbomb gives the Pretty Badass control, and we go to break.
ROH returns as Tenille is in a corner. She runs at Karen and rallies with lariats. Madison returns but Tenille puts her in a corner. Kelly runs in but misses Tenille to instead hit Madison. Tenille puts Kelly in another corner while Karen crawls to a third. Fans anticipate what's coming, and Tenille gives Kelly a Taste of Tenille. She gives a Taste of Tenille to Karen, then a third serving to Madison! Tenille kicks Karen, double underhook for a butterfly suplex. Cover, but Kelly breaks it. Kelly drags Tenille up and tosses her out. Karen and Kelly brawl but Kelly lifts Karen up. Madison runs but Kelly catches her! Fall Away Slam and Samoan Drop! Cover, TWO!! Kelly is furious that Karen survived.
Tenille returns as fans rally up. Tenille gets to Kelly first, but Kelly blocks the suplex. Kelly hoists Tenille up but Tenille fights back. She knocks Kelly away, then adjusts, for a flying crossbody! Cover, TWO! Tenille gets up and wants Kelly to stand. Spotlight Kick! But Karen tosses Tenille! Cover on Kelly, TWO!? Karen is furious that she didn't succeed. Madison kicks Karen, for the Rayne Check! High stack cover, Madison wins!
Winner: Madison Rayne, by pinfall; will challenge Sumie Sakai for the WOH Championship
The Queen Bee capitalizes on Karen Q, and now she gets her first shot at Sumie Sakai's title. Sumie is there to lock eyes with her new contender. Will Sumie keep her reign going? Or will Rayne reign as the second-ever champion?
The American Nightmare, Cody, is here!
He, along with lovely wife, Brandi Rhodes, heads to the ring to speak. ROH takes a quick break, but comes back once Cody has mic in hand. Cody says he's been rather "unlucky" as of late. "In both of my ROH Championship rematches, I have not been successful." Cody noticed it, though. In both rematches, not a single one was one-on-one. He feels he's created too much of a bad mood, he wants to bring our spirits up. Cody needs a certain someone that's all business. Cody needs someone that is the top of the food chain, that doesn't sing or dance, yes, drum roll please. Fans oblige and… Nick Aldis appears?
Yes, it's the National Treasure, the NWA World Heavyweight Champion himself! Cody made the challenge for that very belt at All In, but Aldis is here to talk about that very match. They stood together in London and made history. The agreement to have a match at "the most iconic and history-making event" in modern wrestling was dependent on Cody providing an upside. Aldis needs something in return for the title that he stands for. But Cody wants to take it just because he wants it? No. Cody needs the ROH World Championship to put up, but he doesn't have it, so what does he have instead? Because to Aldis, he has everything to lose and nothing to gain. "That sounds like bad business to me."
Cody asks Aldis hold out his hand. He does, and Cody offers the literal Ring of Honor as collateral. Aldis should consider All In and their match. Aldis starts to leave, but Cody adds that "while you're thinking about it," Cody wants Aldis to consider how he'd like to move up from "the penny slots tot he high roller table." Yes, the NWA World Title in front of 10451 people. Think of how Cody was defeating both Kenny Omega and Kota Ibushi while Aldis was "beating up a 53-year-old history teacher"!
Aldis is mad now, and he gets back in the ring. He shows Cody that ring, on his finger. Aldis wants Cody to kiss the ring. But here comes the Bullet Club to keep the peace. Marty Scurll is also a good friend of Aldis, so he's trying to talk reason into the NWA champ. Things cool down while we go to break.
Six Man Tag: Cheeseburger, Flip Gordon & Josh Woods VS Bully Ray, Shane Taylor & Punishment Martinez!
After months of the Hall of Fame legend of ECW belittling and, well, bullying the younger generation, it's time for that younger generation to stand up! Bully has called Burger and Flip entitled and lazy millennials, but they and The Goods are anything but. Can this rag tag trio defeat Bully and the enlisted Hitman and Purple Mist?
But as Flip Gordon makes his way out, Bully Ray blindsides him, and puts him into a post! Burger and Woods defend the fallen Flip, but Bully waits for back-up. We go to break while medics check on Flip.
ROH returns again, and fans cheer for Flip while medics help him walk to the back. Bully's team are already in the ring as Bully speaks. "What're we gonna do now?" This was meant to be a Six Man Tag. If you don't have a partner, throw the match out and give Bully's team the win so he can go home. Fans cheer for various alternates, especially for Colt Cabana. What's Colt's answer? He's not dressed, but then who? Burger speaks up, and says if the "big bastards" want to fight 3v2, he and Woods are up for it! A handicap match? Well, Bully doesn't mind that, so that's what we're getting. Do Burger and The Goods stand a chance being down a man?
3v2 Handicap: Cheeseburger & Josh Woods VS Bully Ray, Shane Taylor & Punishment Martinez!
Mr. Top Prospect 2018 faces off against the Notorious Hitman while fans boo Bully. Taylor looks ready, but then he tags out to the ROH World Television Champion. Bully trash talks for Martinez as he stares Woods down. Woods isn't scared as he ties up with Martinez. Fans rally while Martinez puts Woods in a corner. Woods shoves Martinez, then ducks to fire off body shots. He ducks again to give more shots, but Martinez knees low. Martinez whips but Woods reverses and ducks to German Suplex! Martinez gets to an open corner, then boots Woods down. Bully likes what he sees, and now Taylor tags in. Taylor brings Woods up for a big right forearm. He trash talks then swings Woods out, but Woods counters with a T-Bone!
Taylor is reeling, and he tags Bully in. Burger wants at Bully, and fans want him to try. Woods tells Bully to hush as he listens to the fans. Woods tags in Burger, and Burger stares Bully down. Burger isn't scared, but Bully kicks him low. Bully brings Burger in, and lifts, but Burger pops out to fire off! Bully shoves Burger, then runs in, but misses in the corner. Burger hurries up top, but Martinez comes in. The ref is busy with Martinez, so Taylor runs over and pushes Burger down! Bully comes back to drag Burger up. He puts Burger in the corner and gets ready to stomp while we go to break.
ROH returns once more, and Bully trash talks Burger as he stalks behind him. Burger crawls for his corner but gets crossface forearms from Bully. Bully asks how that tastes. He then chooses Taylor and tags him in. Taylor brings Burger up into a corner, for a strong overhand chop. Fans rally up for "Cheese! Burger!" Burger fights back, but eats another right from Taylor. Taylor puts Burger in a corner, then stands on his face. The ref counts and Taylor backs off at 4. Fans continue to cheer, but then Taylor blasts Woods off the apron! Woods almost wipes out a camera man at the same time. Burger boots Taylor back, then hops up. Flying tornado DDT! But Burger has no one to tag in! Colt Cabana has had enough, he gets to the corner! This is back to a Six Man as Cabana gets the tag!
Cabana fires off on Taylor with both hands, then dodges Martinez. Martinez hits Taylor, then Cabana hits Martinez with the back elbow. Woods clotheslines Martinez out. Taylor returns but Cabana springboards for the quebrada while Woods leaps onto Martinez! Fans fire up as Bully runs into Cabana's SPEAR! Cabana rains down rights, but then Burger tags in. Burger climbs up, Cabana keeps the way clear for his double stomps! Cabana slingshots out onto Bully! Burger fires up, but Taylor comes in for a tilt-o-whirl into a side slam! Cover, Team Bully wins!
Winners: Bully Ray, Punishment Martinez & Shane Taylor, Taylor pinning
Cabana's heroic efforts were for naught as Bully's team wins. And then to pile on, Bully tackles Woods while Taylor fires off on Woods. Martinez comes in to stomp Burger while Bully gets his chain. Bully punches Woods, then lashes Cabana while Taylor holds Burger down. Bully and his bullies keep the underdogs down, but here comes Flip Gordon! He has a chair and SMACKS Martinez with it! He SMACKS Taylor, too, then glares at Bully. They circle, but Bully runs! Bullies are cowards, but when will this Bully get what he deserves?
---
My Thoughts:
A solid episode right here that smartly takes into account other events ROH is involved in. Opening with Briscoes VS Bounces was good, it helped give Beer City Bruiser and Brian Milonas a good showing while making Jay & Mark even more impressive by defeating two men bigger than both of them. Great brawl with SCU to give us more in their story. I feel the Addiction should win, they can only chase titles to keep the countdown at bay for so long. Them winning changes things so that every title defense they have could be their last. Then nice bit of drama going towards All In as Aldis points out Cody doesn't have the ROH WHC. I'll just assume Cody gets the belt so that All In's match still happens.
I was surprised it was Madison Rayne and not the Heels, Kelly Klein and Karen Q, who won. I think the reason is that Madison should at least get a shot at the WOH Championship, assuming she leaves Impact and ROH to be in WWE/NXT after the 2018 Mae Young Classic. Therefore, Sumie retains but it'll probably be a fun match. That Six Man turned Handicap turned Six Man again was pretty good stuff. In light of what's happening with CM Punk, Cabana gets even more Face power now that he's helping Burger against Bully Ray. Flip Gordon does great coming back from being taken out to run off Bully's team. I expect a rematch, with Burger, Flip and Cabana from the start to take on Bully and at least Taylor. Martinez might opt out to defend his ROH WTV title.
My Score: 8/10
---
Always Use Your Head and visit the official Pro Wrestling Tees store for The Chairshot All t-shirt proceeds help support the advancement of your favorite hard-hitting wrestling website, The Chairshot!

---
Mitchell's Lucha Underground Report! (8/15/18)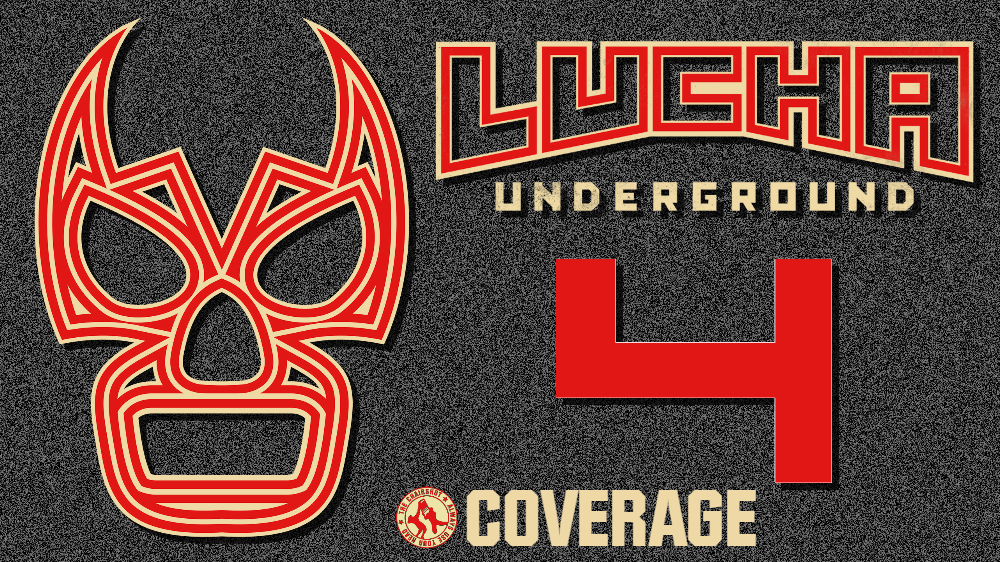 Lucha Underground Season 4, "A Snake Scorned"
The Lucha Underground Trios Champions either need to make up or break up, because their titles are on the line against their most dangerous challengers yet!
Gifs can be found courtesy of http://frentique.tumblr.com/
OFFICIAL RESULTS
The Rabbit Tribe VS ???; rescheduled as…
Sacrifice to the Gods: Matanza Cueto VS Saltador; Matanza wins and Saltador is sacrificed.
Gift of the Gods Championship: El Dragon Azteca Jr. VS Killshot; Azteca wins and retains the Gift of the Gods Championship.
Lucha Underground Trios Championships Tornado Tag: The Mack, Son of Havoc & Killshot VS The Reptile Tribe; The Reptile Tribe wins and become the new Lucha Underground Trios Champions.
PLAY BY PLAY
Antonio Cueto reads a letter.
He is cordially invited to the wedding of Johnny Mundo & Taya Valkyrie. "It'll never last." But then he's visited by Kobra Moon. The Reptile Tribe demands a rematch for the Lucha Underground Trios Championships. They never got their rematch from Ultima Lucha Tres. "And those titles are rightfully ours." Antonio sees the Queen has fire after her loss last week. But according to his records, they've been losing since Ultima Lucha Tres. But the Reptiles are deadlier than ever. Oh? Because last week, Drago is dra-gone. Kobra doesn't need Drago! She'll prove it tonight. But she demands what her tribe is owed. "A woman is scorned is a sight I love to see." Antonio gives her the match she wants. Now please, be dra-gone! Kobra slithers away, but will she really get what she wants?
The Rabbit Tribe VS ???
Antonio is surprised to see The Mad Hatter and his jumpy friend back again. Paul London says that Mala Suerte proved he does not do it like a rabbit. Because a true rabbit would never have taken a beating like that. Therefore, London hopes for a chance at retribution. Saltador will show us what a true rabbit can do. "Salty, don't let us down." Antonio says Saltador isn't jumping anywhere. He's the next… SACRIFICE TO THE GODS!!
Sacrifice to the Gods: Matanza Cueto VS Saltador!
Paul London, what have you done?! The Jumper has no choice but to fight the Monster God! Matanza storms the ring, and Saltador tries to run away. London keeps Saltador n the ring, then feeds him to Matanza. The bell rings and Saltador does whatever he can to beat up Matanza. He runs and htis a flapjack dropkick. He slides under Matanza, then shoulders him. Saltador springboards, but into teh cradle suplex! Matanza whips Saltador, for WRATH OF THE GODS! Matanza covers, Matanza wins!
Winner: Matanza Cueto, by pinfall
The Monster God is 5-0 since starting on this path of divine destruction. Saltador is sacrificed, yet London is still pleased? His Tribe is down to one, what is the purpose of his thinning the herd?
Son of Havoc and The Mack prepare backstage.
The Man from the Open Road wonders what Killshot's up to, but The Mack has faith in his friend. Speaking of, it doesn't seem like Killshot wants to be friends with Havoc at all. Killshot laughs as he comes in. That's not it. Killshot likes Havoc, he just doesn't respect him. Killshot doesn't respect a man who was handed a title on a silver platter, or someone who tries to turn The Mack against Killshot.
The Mack tries to keep the peace, saying he hasn't sided with anyone. Killshot begs to differ, seeing as how Mack chose Havoc to join the Gift of the Gods field over Killshot. "But guess what? You two failed to capture that title." Killshot won't. Havoc and Mack just now learn about Killshot's double duty. But he feels they only care about gold. Havoc promises he'll help them retain these titles, once he's gotten the Gift of the Gods. And turns out, Havoc was right: Killshot doesn't like him.
Antonio Cueto makes a huge announcement!
As reported via Matt Striker and Vampiro on commentary, El Padre del Jefe has decided that, with the animosity still strong between Pentagon Dark and Cage, they will have another Lucha Underground Championship match next week! And it will be in a Last Man (Or Machine) Standing Match! Antonio gives us the best for last, so which luchador will outlast the other?
Gift of the Gods Championship: El Dragon Azteca Jr. VS Killshot!
The Heir of the Eagle Tribe vows to take his title all the way to the main event of Ultima Lucha Quatro, but the Luchador of Mass Destruction seems to be going into business for himself. Killshot still has to defend his Trios Championship alongside Son of Havoc and The Mack. Will there be enough of him left to stand beside his partners in the main event? Or is he planning on becoming Lucha Underground's first dual champion?
The belt is raised and the bell rings. The fans are fired up for Azteca as he circles with Killshot. Azteca and Killshot approach, and Azteca kicks low. Azteca chops swiftly, then whips. Killshot reverses but Azteca rolls through to then get a double wristlock. He hops up onto Killshot's shoulders, for a spinning huricanrana! Killshot rolls out and walks it off, but Azteca builds speed. Azteca slides but Killshot goes up. Killshot waits for Azteca to slide back in and double stomps his back! Killshot then builds speed, to FLY! He wipes Azteca out, then puts him in the ring. Cover, TWO! Killshot stalks Azteca, brings him up, but Azteca fires forearms. Azteca whips but Killshot reverses and spins around to wring Azteca out. Killshot goes after the arms with a modified Rings of Saturn! Azteca endures as both arms are bent back by Killshot's long legs!
Fans rally up and Azteca pops out. Killshot rolls him into a crucifix, TWO! The Believers are thunderous as Azteca is put in a corner. Azteca slips out and Killshot hits the post. Killshot goes down, Azteca builds speed, but Killshot hits back with a haymaker. Azteca blocks a bump to give one, then roundhouse Killshot. Azteca climbs, leaps and headscissors Killshot to the floor! Believers are fired up as he puts Killshot in the ring. Cover, TWO, but fans are dueling with all their heart. Killshot is in a corner, Azteca runs in for the spinning clothesline. Azteca slaps Killshot, but Killshot comes back with a corner back elbow! Killshot runs, but gets a super forearm! Azteca whips but Killshot reverses. Azteca slides out, Killshot follows, and they go around the corner, but Azteca hits a leg drop! Cover, TWO! Both men stir while fans rally up again.
Azteca bumps Killshot off buckles, then hoists him up top. Fans encourage him to speed up as he climbs up. Killshot fights back, and he puts Azteca on the apron for a kick! He joins Azteca on the apron but gets a kick in return. Killshot throws a haymaker but Azteca gives back. They brawl on the apron, Azteca jumps, but into a Death Valley Driver on the apron! They go back in the ring, Killshot climbs up and… KILL STOMPS! Cover, TWO!? Killshot is furious! How did Azteca survive? The Believers don't care, they're loving this!
Killshot shouts that this is his time to shine, then he slaps Azteca. Azteca slaps, Killshot slaps, back and forth, faster and faster. Killshot fires off more strikes, but his discus misses. His back elbow doesn't, but neither does Azteca's roaring elbow. Azteca runs, but into Killshot's knee trigger! Killshot runs, but Azteca follows. Tilt-o-whirl DDT! Cover, Azteca wins!!
Winner: Dragon Azteca Jr, by pinfall; still Gift of the Gods Champion
The Eagle Tribe's Heir continues to impress fans and shock his opponents. Can he continue his streak of defenses all the way to Ultima Lucha 4? As for Killshot, can he refocus for his Trios Championship defense in the main event?
Aerostar finds Drago on the roof.
The Luchador of Time & Space was given his wish of freeing his friend thanks to Johnny Mundo. He and the Worldwide Underground fought hard to free Drago. Yet Drago keeps hiding himself away. Drago says he doesn't deserve a second chance. He did things that can never be forgiven. Aero says that wasn't Drago, it was Kobra Moon pulling his strings. Those strings are now cut, and his friend is by his side. Drago says he doesn't remember much, but he does know he isn't worthy of that friendship. Drago must go, so please forgive him. Aerostar vows they will meet again. Drago is not so sure. They shake hands, and Drago flies away. Aerostar knows it in his heart, but will Dragon be able to clear his conscience?
Lucha Underground Trios Championships Tornado Tag: The Mack, Son of Havoc & Killshot VS The Reptile Tribe!
The defending champions clearly have more than just dysfunction dividing the three of them. Meanwhile, the Reptiles have lost the Luchasaurus but have gained the Undead Death Machine. Will the rift between the champions be the opening their opponents need to take back what they lost?
The Mack and Havoc make their entrance, but Killshot doesn't. Is Killshot still tending to his wounds and wounded pride? There are no tags needed in a Tornado match, so as long as Killshot appears at all, this won't be a Handicap match. Jeremiah "Snake" wants at the champions but he waits while the referee raises the belts. The bell rings and it's a brawl. Snake takes Havoc while Kobra and Daga go after The Mack. The King & Queen drag Mack out of the ring. Snake pushes Havoc but Havoc hits back. Snake comes back on the rebound to run Havoc over. Things speed up while fans duel. Snake holds ropes but Havoc hero lands! Havoc dropkicks Snake down, but Daga reenters. Daga throws slapping palm strikes from both sides and knocks Havoc down.
The Mack returns and rocks Daga with a big forearm! Kobra slithers back in and acrobatically headscissors Mack to the ropes. Fans fire up, but Mack blasts Kobra with a dropkick! Snake returns to mule kick then whip Mack. Mack rolls off his back to arm-drag Snake, then things speed up again. Mack hits a running knee strike! Snake crawls but Mack is on him. Mack puts Snake in a corner and whips corner to corner. Snake reverses, but Mack headstands on the top rope. Snake SUPERKICKS Mack down to the ground! Killshot appears! He and Snake stare down, Luchador of Mass Destruction and Undead Death Machine. Snake spits on Killshot! Killshot bobs 'n' weaves with Snake's swings, then he enziguris Snake down!
Killshot stalks Snake, then whips, Snake reverses and pops Killshot up. Snake throws Killshot but Killshot uses that to headscissor Snake forward. Killshot has Snake in a triangle choke! Kobra puts Killshot in one of her own, but then Havoc puts her in one! Daga grabs Havoc for his own triangle choke, but then Mack grabs the other end. Mack rolls Snake over, and the lucha-centipede they have created rolls with it! Havoc endures the Boston Crab while each link suffers a new level of torque on their necks! Snake, Killshot, Kobra and Havoc endure, but Daga is also suffering leg pressure. Daga reaches out and gets the ropebreak to stop all of this. The Mack lets go of Snake, and everyone goes free. Everyone but Mack goes to the outside, and the fans rally up. Mack builds speed, and FLIES! He wipes everyone out!
The Believers fire up and lose their minds while Mack brings Kobra up. Daga climbs up, but Killshot sees him first. Killshot boots Daga down, then builds speed to FLY! Fans cheer as Son of Havoc climbs back up. Havoc SUPER Asais onto all of them! The Believers declare "This is Awesome!" Kobra Moon is back in the ring, and she builds speed. Killshot stops her in her tracks, and rocks her with a right! He grabs her, suplexes but Kobra fights out. Snake triangle jump lariats Killshot down! Fans rally up as Kobra runs. Snake helps her with a wheelbarrow, and he tosses her at Killshot! Kobra throws Killshot with the huricanrana! Kobra puts Killshot in the ring, and he flounders to a corner.
Snake and Kobra coordinate as he brings her up suplex style. She headscissors Killshot and Snake gives him a bicycle boot! Snake then helps Kobra roll forward and back for a tornado DDT! They're not done yet, as she rolls her way up onto Snake's shoulders. Electric Chair back senton! Cover, but Havoc breaks it in time! Daga returns and rocks Havoc with strikes. He whips Havoc but Havoc rebounds for a cutter! Cover, but Snake breaks it. The Believers rally up again, not really choosing a side because they love it all. Snake brings Havoc up, lifts him, but Havoc pops out. Havoc wheelbarrows to double stomps. Cover, TWO! Havoc keeps going as he climbs up top.
Snake hurries over but Havoc cartwheels on the top rope. Havoc runs, but into the bicycle boot! Snake turns around into Killshot's SUPERKICK! Daga clobbers Killshot with a clothesline, but Mack gives him a spinning back heel kick! Kobra gives Mack a backstabber, but he stands back up. He kicks low, Mack Stunner! Snake staggers over, but denies Mack's stunner. They run, Mack gives Snake a Samoan Drop! To standing moonsault! TWO! Mack drags Snake into the drop zone, then climbs up. Snake stops him, tucks him in, and SUPERKICKS! Then Snake powerbombs Mack for a high stack, TWO, into a Stretch Muffler! Mack endures but Havoc saves him with double stomps, right into a DIVE onto Daga and Killshot! Havoc apologizes for hitting his teammate, but he boots Daga down.
Snake staggers over but Havoc swing kicks him away. Havoc climbs up, but Killshot shoves him down! Killshot doesn't care if it was accident or not, he still hates Havoc. Snake grabs Havoc for the double underhook, to a shoulder breaker! Cover, The Reptiles win!!
Winners: The Reptile Tribe, Jeremiah Snake pinning; NEW Lucha Underground Trios Champions
Why, Killshot, Why!? The Reptile Tribe gets the titles back, but only because Killshot chose his grudge with Havoc over being champion. The snakes slither away while Killshot sits and laughs at Havoc. "Why can't you get up?" Killshot says this is Havoc's fault. Havoc sits up, and Killshot laughs at him more. Fans boo and jeer, they know this was Killshot's doing. Killshot hops up, KILL STOMPS! The Mack can't understand why, but Killshot passes the blame onto him, as well. Killshot leaves while Mack stays with Havoc. What will come of this betrayal and abandonment?
The Machine Called Cage heads to the ring!
The Temple's resident Terminator gets one more shot at the Lucha Underground Championship against Pentagon Dark next week, and he has something to say. Pentagon will find out "once and for all" what Cage has been saying for years. "I'm not a man!" SUPERKICK from Pentagon! The champion is here now, and he tears into his challenger already! He bounces Cage off the railing while fans chant "Cero Miedo!" Pentagon aims at Cage, but his SUPERKICK hits a fan! Cage rocks Pentagon back with elbows, then drags him up the steps. Pentagon fights back and chops Cage. He kicks Cage's leg, then gives a SHARP chop to his chest. Cage headbutts Pentagon, then drags him to the top of the stairs. He throws Pentagon into a wall, then into another.
They end up by the house band, and Pentagon takes one of Metalachi's guitars. He's aiming for Cage, but he hits one of the band members with it! Cage clobbers Pentagon again, then smacks him with whats left of the instrument. Cage drags Pentagon around and throws him into another wall. The security staff is no match for Cage, one guy gets scoop slammed onto the floor. There is a lot of collateral damage already, but this brawl is far from over. Cage tries to push Pentagon over the railing! Pentagon holds on for dear life, and manages to fight his way back up. Now Pentagon tries to do the same to Cage. Cage fights back and again tries to toss Pentagon over! Pentagon holds on so Cage brings him around. They keep brawling, and Cage whips Pentagon into a wall.
Believers clear out as the two end up on a camera platform. Pentagon kicks Cage and fires up, but Cage gives him uppercuts. Cage prepares to suplex Pentagon, but Pentagon fights out. Pentagon prepares his own move, "CERO MIEDO!" Cage resists, then rocks Pentagon with a leaping knee strike. Pentagon walks down to the bleachers but Cage pursues. They still brawl back and forth. Cage brings Pentagon down the bleachers and tosses him to the floor.  Cage bumps Father Rick O'Shay, which angers The Machine. The man of the cloth doesn't want any trouble, but Pentagon saves him as he SMACKS Cage with a chair! Father O'Shay is about to bless Pentagon, but Pentagon doesn't care for any of that. He throws the priest down, and goes after his arm! Even Believers aren't sure about this one, but he still breaks O'Shay's arm!!
Cage has the chair, and he swings on Pentagon. Pentagon ducks and gets another chair, and the two SMACK each other at the same time! They keep brawling, and throwing each other into railing. Pentagon SUPERKICKS Cage but Cage keeps coming after him. Cage SUPERKICKS Pentagon, but Pentagon keeps chopping. This brawl is far from over, who will be the Last Man (Or Machine) Standing!?
The Mack visits Antonio Cueto.
"Killshot just cost us our Trios titles." Mack wants at him next week. Antonio would love to see that, but he's already given The Mack a match for next week. It's by request from Catrina. Mack and Mil Muertes will be in the first ever Haunted House Match. Well if this is what Mack has to do to get Muertes off his ass, "Trick or Treat, Mother-" Shut yo mouth! Will Mack survive All Hallows Eve come early? Or will he come face to face with his deepest, darkest fears?
---
My Thoughts:
A pretty great episode right here. London willing giving his allies up to Matanza's Sacrifices is still an interesting development. Now that he has no one, is London going to have The White Rabbit and evil Mascarita Sagrada joining him? I sure hope so. Lucha Underground is great at integrating stories together like this. The same goes for letting Azteca's story of defending his Gift of the Gods Title all the way to Ultima Lucha coinciding with the dysfunction of Killshot, Mack and Son of Havoc. Killshot claims The Mack stopped being a friend, but he isn't a very good friend in return. He and Azteca have a great match, and naturally Azteca wins to keep his story going. The Tornado Trios match was great, but it was pretty clear whatever team was put against the champions was going to win.
Obviously Killshot & Havoc are free to feud, and of course Mack has Mil Muertes next week. I can't be sure if this Haunted House match is going to be exactly like the Broken Universe and other cinematic matches from Impact, or the WWE House of Horrors Match, but if any promotion can do something like that justice, it's Lucha Underground. The small development between Drago and Aerostar was good. It works that Drago would be troubled by his time under Kobra's control. Maybe he'll return should Aerostar find himself in trouble with someone, especially if it's the Reptile Tribe. With Aerostar and the Worldwide Underground responsible for freeing Drago, I expect the Reptiles to want revenge.
That was an amazing brawl to end the show. Pentagon and Cage gave us just a taste of what their Last Man Standing match will be like, and it even tied itself into another story: Mundo's & Taya's wedding. How clever of Lucha Underground to name the "priest" "Rick O'Shay", as a strange nod but also dig at Ricochet, aka Prince Puma. Pentagon breaks the poor man's arm, and that will likely upset Mundo & Taya. They might even cost Pentagon the title next week as payback for him ruining their wedding before it even happens. Or, should he win, they'll attack him and then challenge him for the title to make up for it. Either way, Pentagon VS Mundo is likely to happen again really soon.
My Score: 8.5/10
---
Always Use Your Head and visit the official Pro Wrestling Tees store for The Chairshot All t-shirt proceeds help support the advancement of your favorite hard-hitting wrestling website, The Chairshot!

---