Ja'Von's Impact Wrestling Live Report (6/14/18)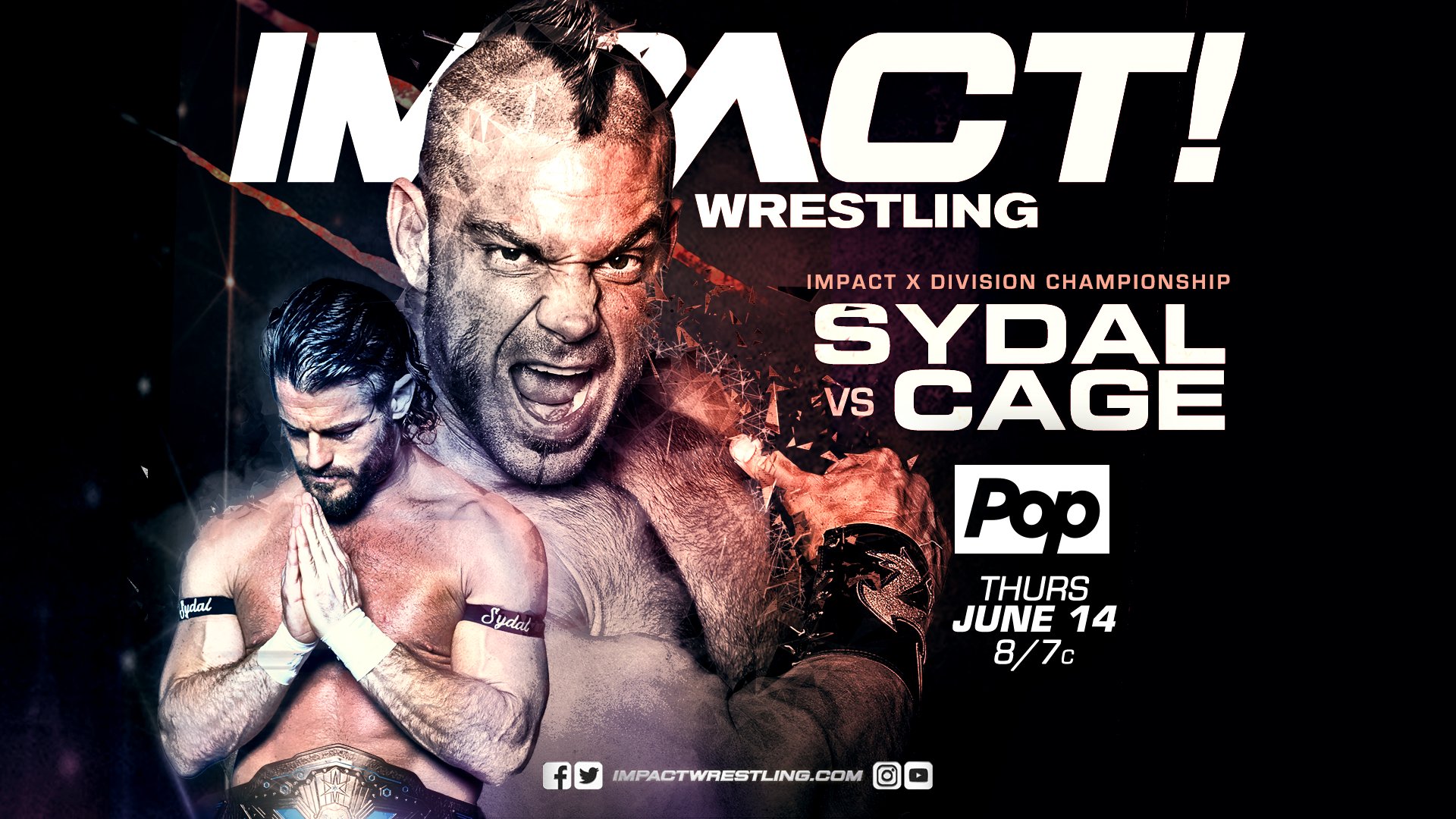 Quick Results:
Rebel vs Taya Valykire: Taya Valykire via pinfall 
The Cult of Lee vs KM & Fallah Bahh: Cult of Lee via pinfall 
Moose vs Eli Drake (#1 Contender's Match): Moose via pinfall 
Tessa Blanchard vs Kiera Hogan (No Disqualification): Tessa Blanchard via pinfall 
Jake Christ vs Fantasma: Fantasma via pinfall
Matt Sydal (c) vs Brain Cage (X-Division Championship): Matt Sydal retains via countout
Play by Play:
Impact opens with Moose walking into the arena in Philadelphia for his #1 Contender's match against Eli Drake. Also they run a video package hyping the double main event for tonight's show.
Grado kicks off Impact along with his girlfriend Katerina Lee making their way to the ring for a match. Grado and Katerina go to the corner to do their signature entrance but Eddie Edwards comes out of nowhere with a kendostick. He yanks Grado off the ropes and hits him with the kendostick to the back then tells Katerina to get out of the ring.
.@TheEddieEdwards interrupts Grado and violently attacks him! What did Grado ever do to Eddie? #IMPACTonPop pic.twitter.com/wEgohPDbU0

— IMPACT (@IMPACTWRESTLING) June 15, 2018
Eddie then says he had Callihan dead to rights last week in the woods and blames Tommy Dreamer for allowing Sami to escape and calls him out to the ring. Tommy tries to calm Eddie down and says they have a show to run but Eddie doesn't care. Eddie calls Tommy shellfish for not allowing him to end Sami. Dreamer says you already beat him and tells him to move on. Eddie says he hasn't spoken to his wife since Eddie was arrested. Dreamer says he has been talking to his wife which upsets Eddie and he backs Dreamer up into the corner. Dreamer is forced to push Eddie down to the mat which enrages Eddie some more and he hits Tommy with the kendostick and says Dreamer made him do it.
WHAT THE HELL?! @TheEddieEdwards smashes @THETOMMYDREAMER in the head with the cane. #IMPACTonPop pic.twitter.com/BMV2MDAepf

— IMPACT (@IMPACTWRESTLING) June 15, 2018
Back from break and Dreamer is backstage and is pissed with management. He says he is tired of being disrespected and is done with Impact.
Rebel vs Taya Valykire:
Rebel makes her way to the ring for her match.
Welcome back @RebelTanea! #IMPACTonPop pic.twitter.com/09DbHSJ1zA

— IMPACT (@IMPACTWRESTLING) June 15, 2018
"Lucha Royalty" herself Taya Valykire makes her way to the ring for the match.
Lucha Royalty has graced us with her presence. #IMPACTonPop @TheTayaValkyrie pic.twitter.com/gli9lExkXw

— IMPACT (@IMPACTWRESTLING) June 15, 2018
Collar and elbow tie up with Taya getting the advantage with a wristlock but Rebel gets free with a cartwheel. Some back and forth ending with Rebel rolling Taya eitha crucifix for a one count. Rebel tries again with a roll up but Taya counters and sits down for a two count. Taya pushed Rebel in the corner and begins to go to work on her with a splash and couple of elbows. Taya throws Rebel into another corner and attempts a splash but Rebel counters with an elbow strike. Taya stunned for a moment but regains control of the match with shoulderblocks in the corner and wearing her down. Taya goes to show off a bit mocking Rebel and gets caught but immediately regains control of the match hanging Rebel on the ropes and begins choking her then choke her in the corner. Rebel fights back and gains control of the match. She hits Taya witha forearm strike then a running kneestrike off the ropes and gets a two count. Rebel then looks to be go for a split legged moonsault but Taya gets back up and quickly hits The Road to Valhalla and tells her welcome back b**** and gets the pinfall victory.
.@TheTayaValkyrie victorious after the Road to Valhalla! #IMPACTonPop pic.twitter.com/4mNsYKTRUU

— IMPACT (@IMPACTWRESTLING) June 15, 2018
Winner: Taya Valykire via pinfall
After the match Taya grabs the mic and tells the fans to clap for Madison Rayne since she is back in the Impact Zone. Taya says things have change since Madison was here last. She says this is her kingdom and next week she will show Madison why she is not only Lucha Royalty but also Knockouts Royalty.
NEXT WEEK – Royalty vs. Royalty!

The Queen Bee vs. Lucha Royalty as @MadisonRayne faces @TheTayaValkyrie! #IMPACTonPop pic.twitter.com/Jl5JFc4WoG

— IMPACT (@IMPACTWRESTLING) June 15, 2018
GWN Moment of the Week:
AJ Styles defeated Samoa Joe and Christopher Daniels for the X-Division Championship
This week's GWN Moment of the Week is the iconic Unbreakable three way, available now at https://t.co/I9VP8oFUCI and the GWN App! Start your FREE 30 DAY TRIAL NOW! #IMPACTonPop pic.twitter.com/GmouDKD4jw

— IMPACT (@IMPACTWRESTLING) June 15, 2018
McKenzie Mitchell interviews Matt Sydal backstage and asks him how he will beat the undefeated Brain Cage. Sydal says yes he does look like a big dude but he says he sees something different inside of Cage. He says that last week he asked him to forgo his championship match and join him but he refused. He goes on to say he see things from a higher prescriptive and will win tonight.
Back from break and we get oVe with oVe cam. Sami says that last week was a win for them cause Eddie is now losing his mind and EVERYTHING. He also announced Jake Christ vs Fantasma for tonight.
The Cult of Lee vs KM & Fallah Bahh: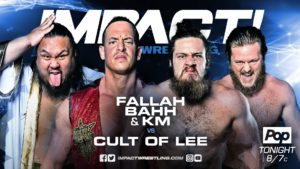 The Cult of Lee make their way to the ring for their tag team match. KM and Fallah Bahh make their way to the ring for the match.
Friendship goals. #IMPACTonPop @FALLAH1 @ImpactKM pic.twitter.com/pzASc4PUKZ

— IMPACT (@IMPACTWRESTLING) June 15, 2018
Trevor Lee and Fallah Bahh kickoff the match. Collar and elbow tie up but Fallah gets the advantage and tosses Lee into the ropes. Lee then tags in Caleb but Fallah stands in the ring rubbing his belly and laughing . Collar and elbow tie up again this time Lee tries to help but to no avail. KM then gets involved and they take down The Cult of Lee which sets up for a double sandwich move. Fallah Bahh and KM then roll on top of both Lee and Konley TWICE each. Fallah goes to lift up Caleb but he rakes the eyes of Bahh and slides out the back. Fallah accidentally hits a samoan drop on KM which leads to Trevor taking him out then Caleb slides in to get the pinfall victory.
Winners: The Cult of Lee via pinfall
After the match KM is mad about what had just happen. KM calls Fallah a loser and he will always be one then pushes him down and leaves the ring.
💔💔💔#IMPACTonPop @FALLAH1 @ImpactKM pic.twitter.com/2mIGC1Rwi9

— IMPACT (@IMPACTWRESTLING) June 15, 2018
Impact plays a video package of what happend last week on The Fact of Life and how we got to Drake vs Moose for tonight in a #1 Contender's match.
Back from break we see LAX in the clubhouse celebrating their win from last week. King sees that next week they will be challenging for the tag titles. Diamante is still not trusting King but they all share a shot together and leave. King is left alone in the clubhouse and sits in Konan's chair.
Moose vs Eli Drake(#1 Contender's Match):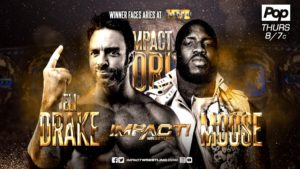 Moose was coming in the ring finishing his entrance but Eli Drake gets the jump on Moose with a shot to the back. Moose is then brought to the corner and Drake begins to put the stomp to him. Moose then fights back and sends Drake to the outside. Moose follows him to the floor and looks to slingshot Drake into the guardrail which he does. He then attempts a running splash but Eli counters and Moose crashes and burns. Moose then fights back and runs around the ring setting up for something big but gets caught by Eli who hits him with a death valley driver on the apron. Back in the ring Moose gets Drake in the corner and begins to light up his chest with rapid fire chops. Drake gains control of the match again and looks to hit blunt force trauma but Moose stops him with a headbutt that sends him into the corner. Moose then hits a couple of running delayed dropkicks then hits the go to hell for a nearfall. Drake comes back with a huge move of his own for a nearfall. Back and forth we go then Drake finally connects with Blunt force Trauma. Drake goes for another move but Moose counters with a big clothesline and both guys are down. Drake gets to his feet first and looks to hit a springboard moonsault but comes up empty. Drake fights back and looks to set up for the torture rack but instead hits a neckbreaker.
Firemans Carry into a neckbreaker by @TheEliDrake! #IMPACTonPop pic.twitter.com/oaW5nLDSoG

— IMPACT (@IMPACTWRESTLING) June 15, 2018
Drake then sets up for a superplex which he hits and only gets a two count. Moose is now favoring his neck as Drake looks to set up for the Gravey Train but Moose slips out and pushes Drake into the corner. Moose then rolls up Drake but the ref doesn't see the shoulders on the mat so the pin isn't counted. Drake escapes but ends up getting speared for his troubles which leads to Moose picking up the pinfall victory and becomes #1 contender to the World Championship.
.@TheMooseNation is going to Slammiversary! #IMPACTonPop pic.twitter.com/zVsgNnk7w1

— IMPACT (@IMPACTWRESTLING) June 15, 2018
Winner and #1 contender to the Impact World Championship: Moose via pinfall 
Tessa Blanchard vs Kiera Hogan(No Disqualification Match):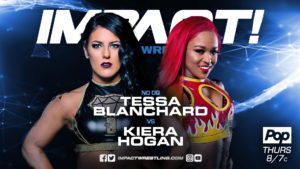 Tessa makes her way to the ring for the match.
#TessaIsForever @Tess_Blanchard #IMPACTonPop pic.twitter.com/G3kF49QNef

— IMPACT (@IMPACTWRESTLING) June 15, 2018
Keirs makes her way to the ring and gets the jump on Tessa. She drags Tessa to the floor and begins to repeatedly slam her head into the apron. Back in the ring Tessa crawls to the corner and Keira hits her with a splash bottom first into the corner. The match spills back out to the floor where Tessa gains control of the match slamming Kiera face first onto the ramp. Tessa brings her back in the ring and hits her with a Sido suplex for a two count. Tessa then locks in an abdominal stretch which Kirea turns into a crossbody for a one count. Kirea looks to be in control but Tessa turns the match around and puts Hogan in the corner and begins tolay in the rights. Kirea hung up in the corner which allows for Tessa to bring in a chair but Hogan fights back for just a bit. Tessa regains control and hits the hammerlock DDT for a two count. Tessa then jawjacks the ref for counting too slow. Tessa then puts Kirea back in the corner and begins to lay into her some more but the ref admonishes her and pulls her off Hogan. Tessa then is mad again and jawjacks the ref again. Tessa turns around and gets a chair to the face for her troubles. Tessa tries to fight back and grabs the chair but Hogan stomps her hand to stop her. Kirea then hits a bulldog on Tessa on top of the chair but Tessa kicks out. Down the stretch the chair comes into play again as Tessa hits Kiera face first off the chair to pickup the win.
WHAT A MATCH! @Tess_Blanchard picks up the victory in a highly physical, competitive No DQ match. #IMPACTonPop pic.twitter.com/p1MZnXssSM

— IMPACT (@IMPACTWRESTLING) June 15, 2018
Winner: Tessa Blanchard via pinfall
Back from break se see a recap of everything that has happened since the mystery attacks has begun. Josh Mathews accuses Petey Williams as the attacker but they still don't officially know who it is yet.
Jake Christ vs Fantasma: 
Jake Christ with his brother Dave Christ makes his way to the ring for his match. Fantasma makes his way to the ring for the match.
The @hijodelfantasma fan club is out in force tonight! #IMPACTonPop pic.twitter.com/4hfSG1btvZ

— IMPACT (@IMPACTWRESTLING) June 15, 2018
Back from break and we see Jake Christ get the jump on Fantasma by hitting him with a big running boot sending him into the corner. Jake tries to tear at the mask a bit before hitting multiple shoulderblocks. The ref backs Jake off Fantasma which allows for Dave Christ to get a cheap shot in. Jake Christ begins to wear down Fantasma with a headlock then transitions into a dragon sleeper but Fantasma gets to the ropes to break it up. Jake throws Fantasma into the corner and begins to whitewash his face then irishwhips him into the opposite corner but Fantasma counters. Dave Christ tries to distract Fantasma allowing for Jake to roll him up but Fantasma counters for the pinfall victory.
.@hijodelfantasma steals a victory from @TheJakeCrist! #IMPACTonPop pic.twitter.com/4aMpvTaoOw

— IMPACT (@IMPACTWRESTLING) June 15, 2018
Winner: Fantasma via pinfall
After the match oVe and Sami Callhian attack Fantasma and look to take his mask until Pentagon Jr. shows up to make the save. Pentagon takes out oVe then goes face to face with Sami Callihan until Callhian decides to retreat.
WHAT A CONFRONTATION! @TheSamiCallihan and @PENTAELZEROM going face to face! Who wants to see this match? #IMPACTonPop pic.twitter.com/OgbWSPYVEZ

— IMPACT (@IMPACTWRESTLING) June 15, 2018
Matt Sydal (c) vs Brian Cage(X-Division Championship):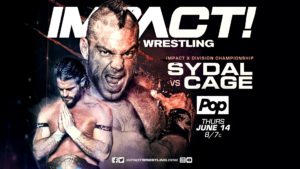 Brain Cagemakes his way to the ring to challenge for the X-Division Championship. Matt Sydal makes his way to the ring to defend his championship. The bell rings and Matt begins to jawjack Cage and uses his speed to side step Cage multiple times. Cage finally catches him and hits a suplex but Sydal lands on his feet. Cage then drops Sydal which sends him to the outside of the ring. Cage tries to grab Matt by his hair but to no avail. Sydal slides between Cage's legs to get back in the ring. Cage catches Sydal and tosses him into the corner and begins to lay in the rights. Jimmy Jacobs and Kongo Kong come out to the ringside area which causes a distraction for Cage.
What do @JimmyJacobsX and @RealKongoKong have to do with this X-Division Championship match? #IMPACTonPop pic.twitter.com/HXpjzSqSg4

— IMPACT (@IMPACTWRESTLING) June 15, 2018
Matt Sydal uses it as an opening to gain control of the match. Sydal wears him down with submissions but Cage fights out and gains control of the match. Cage hits an overhead suplex which sends Sydal to the outside. Sydal then tries to come into the ring from another side of the ring but gets caught and suplexed back into the ring. Down the stretch Cage still in control of the match goes to the outside to get Sydal and throws him back in the ring. The ref's back is turned which allows for Kongo Kong to send Cage into the steel steps. The ref then calls for the bell as Cage has been counted out and Sydal retains the X-Division Championship.
AND STILL* X-Division Champion – @findevan!

*as result of a count out #IMPACTonPop pic.twitter.com/lKQbbFghYL

— IMPACT (@IMPACTWRESTLING) June 15, 2018
Winner and STILL X-Division Champion: Matt Sydal via countout
After the match we cut to backstage and Fallah Bahh has been attacked and Petey Williams is holding the calling card of the mysterious attacker. Sonjay along with officials and a cop catch him with the calling card and assume that he is the attacker. Sonjay then tells the cop to arrest Petey and take him out of the Impact Zone. On the way out the cop attacks Petey and shows his face. He then says that Petey should be accountable for the attacks then stands over him with the calling card to end the show.
We've been waiting for this moment for nearly two months! The mystery attacker finally reveals himself! #IMPACTonPop pic.twitter.com/TnKYDyUthf

— IMPACT (@IMPACTWRESTLING) June 15, 2018
Ja' Von's Take: The show was pretty good overall. We got to see more storyline progression and found out the main event for Slammiversary: Austin Aries (c) vs Moose(Impact World Championship). Tonight was also huge because we finally saw who the mystery attacker is but no name was announced. We also saw Brain Cage taste defeat for the first time since coming to Impact. I predict that Impact will see another bump in viewership this especially since the NBA Finals are over
Next Week: Z & E vs LAX(Impact Tag Team Championships)
Taya Valykire vs Madison Rayne
My Score: 7/10
---
Always Use Your Head and visit the official Pro Wrestling Tees store for The Chairshot All t-shirt proceeds help support the advancement of your favorite hard-hitting wrestling website, The Chairshot!

---
Mitchell's Lucha Underground Results & Report! (10/17/18)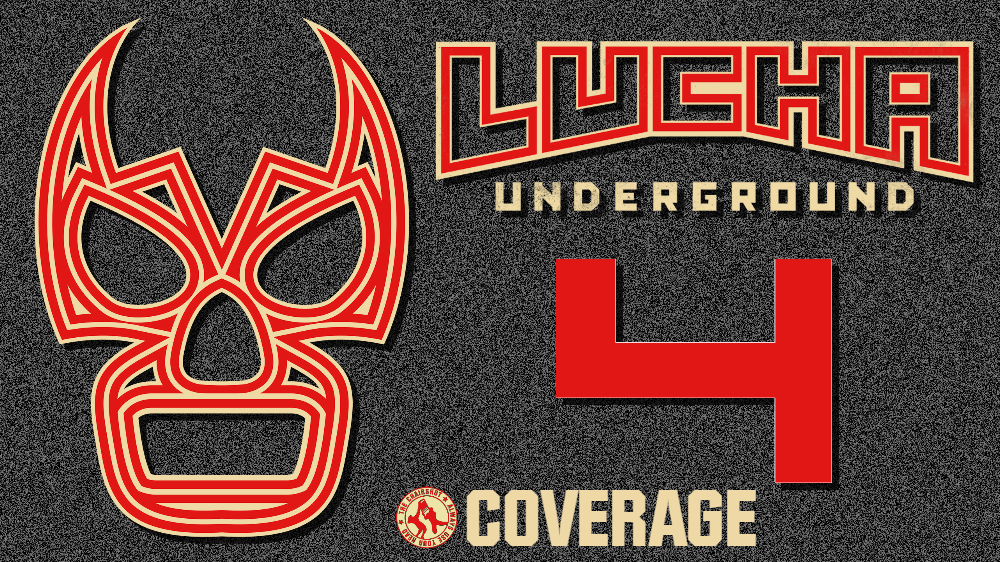 Lucha Underground Season 4, "Savagery"
With the Gift of the Gods Championship needing reformation, a Battle Royal will be held! Who will come out with a chance at THE Lucha Underground title?
Gifs can be found on  http://frentique.tumblr.com/
OFFICIAL RESULTS
Gift of the Gods Battle Royal: Jake Strong wins and eliminates no one from next week's Gift of the Gods Championship Match.
The Mack VS Killshot; The Mack wins, by disqualification.
Jake Strong VS Johnny Mundo; Strong wins.
PLAY BY PLAY
Antonio Cueto tends to the Ancient Aztec Medallions.
The seven gold medals must be in pristine condition for tonight. But first, "The Savage" Jake Strong walks in, in a suit. Antonio offers him a seat, and Strong takes it. Antonio asks if Strong would like anything, Strong simply asks why he was asked into Antonio's office. Well, since arriving in the Temple, Strong has been more dominant than even Antonio could've imagined. At Ultima Lucha, there's no reason Strong can't be in the main event. Antonio has no doubt that neither Marty the Moth nor Pentagon Dark could defeat him. Strong speaks up, and says he will become Lucha Underground not because Antonio handed it to him on a silver platter, but because he did it himself. "Thanks, but no thanks."
Antonio understands. Strong doesn't want anyone doubting his supremacy. Strong slams his fist on the desk, and says no man will. Of course not. Which is why Antonio will give Strong one of the seven Aztec Medallions. "They were forged 5000 years ago, and together, they create the Gift of the Gods." Strong knows the story behind that title. Right, of course. Then in the ring, Strong will have the opportunity to prove his supremacy and be that much closer to the Gift of the Gods. Strong takes the medallion, and brings up "the sacrifices you've fed to your son." Antonio better save some for him. Oh, and this isn't Antonio's Temple anymore. It's Strong's! But see you out there. There is more to The Savage than meets the eye. Will anyone be able to stop him from completely taking over Lucha Underground?
Antonio Cueto is ringside!
He presents the Gift of the Gods belt, and reminds us all that "Ultima Lucha Cuatro is right around the corner! Which means, we must decide a new Gift of the Gods Champion!" The Believers are excited to hear that, so Antonio lets us know that the medallions are already award to truly deserving luchadores.
First, Aerostar! The Man of Time and Space has been a major staple of Lucha Underground, so he's a natural choice. Second, making a return to the Temple, Darewolf PJ Black! The Worldwide Underground's adrenaline junkie survived an attack by Matanza Cueto, this GotG battle should be nothing to him. Third, it's Hernandez! The Super-Mex is back with more swagger than before, but will he finally get Lucha Underground gold? Fourth, Big Bad Steve! The Infamous Inc. mechanic returns, all healed up and ready for this human demolition derby. Fifth, King Cuerno! The Hunter was Gift of the Gods Champion before, and looks to repeat now that it has an instant cash-in ability. Sixth, Jake Strong! The Savage is undefeated one on one, but will he be able to stay strong against six others?
And last but certainly not least, a certain star who was Missing in Action, the One Man Lucha Army, DANTE FOX!! Yes, the former Lucha Underground Trios Champion who has been absent since last season finally returns, and aims right for the top! The Believers are thunderous as Fox joins the field of seven. Antonio feels that the number 7 is unlucky, so next week, only SIX get to be in the Gift of the Gods Championship match. So yes, just like earlier this season, these seven will battle in a Battle Royal! The winner eliminates one of the losers, and that match is RIGHT NOW!
Gift of the Gods Battle Royal!
The bell rings, and we begin! The seven do their best to split up as Big Bad Steve wants payback on The Savage, and Super-Mex goes after Dante Fox. PJ Black goes after King Cuerno while Aerostar stays just out of reach. Aero goes after Strong but BBS hits Aero for it. It seems the Mechanic doesn't want to share his revenge. Strong goes after Fox and Hernandez at the same time while PJ fights off Cuerno. BBS whips Aero but Aero dodges to tilt-o-tilt-o-tilt-o-whirl headscissor him down! Fans fire up with Aero as he runs, then rolls, but ends up in BBS's Canadian rack, only to spin and arm-drag out of it! Aero baits BBS and dumps him out. BBS stays on the apron and rocks Aero back. He brags to long and gets a 619! Aerostar ELIMINATES Big Bad Steve!
Hernandez kicks Aerostar upon his return, then whips him. Aero reverses but Hernandez goes up and out to shoulder back in. Hernandez says "Suck It!" but then PJ Black and King Cuerno double boot him down! Black and Cuerno ELIMINATE Hernandez! Cuerno and Black go at it again, speeding up and trading hip toss counters. Black sends Cuerno out but Cuerno stays on the apron. PJ throws forearm after forearm but Cuerno holds on. Cuerno uses Black to get back in, but Strong clotheslines them both over to the apron! Black and Cuerno hold on, but Strong goes after each of them. Black blocks and Cuerno counter attacks with the swing kick! Fox runs at Strong but Strong tosses him up, Fox double missile dropkicks Black and Cuerno! Fox ELIMINATES Cuerno and Black!
Jake Strong, Aerostar and Dante Fox are the last three in. Strong throws Aero but Aero skins the cat. Strong throws Fox but Fox does the same. Aerostar kicks Strong away, then springboards, but Strong shoves him right down! Strong ELIMINATES Aerostar! But Fox has Strong! Fox gets Strong up but Strong holds on. Strong comes back in and tries to dump Fox out. Fox holds on and Believers duel. Fox gets out and goes behind, but gets an elbow. Strong throws Fox but Fox flips and lands on his feet on the apron. Strong rushes in but into a swing kick! Fox springboards and hits a missile dropkick! He has Strong on the ropes, builds speed, but runs into a boot. Strong runs, builds speed and clobbers Fox with a clothesline! Strong picks Fox up and throws him out!
Winner: Jake Strong
The Savage survives the Battle Royal, and Believers are divided. Antonio congratulates Strong on winning, and asks who he wishes to eliminate from next week's title match. Strong says "Nobody!" He doesn't care what Antonio thinks, Strong wants all seven men in the match, so that he can destroy every single one! Antonio accepts the choice, and we will have a "Seven to Survive" ELIMINATION Match for the Gift of the Gods Championship! Is that all? Strong will take anyone on and still snap them in half. Then Antonio has just the man. The Savage will take on… Johnny Mundo! The Guru of Greatness has a big match for the main event, will he be able to stop Strong's streak? Or will he be down a leg before facing Matanza in their Sacrifice to the Gods match?
The Mack VS Killshot!
Before the hero from the streets and the Weapon of Lucha Destruction have their own separate grudge matches, they must settle things between each other. The Mack and Killshot were friends ever since entering the Temple, but things sure have changed. Will Mack gain momentum before facing death? Or will Killshot score points before putting his mask on the line?
Son of Havoc watches from high above, just as invested in this match's outcome as any of the Believers. The bell rings and Killshot argues with The Mack. Killshot slaps Mack, Mack SLAPS Killshot! Havoc likes that. Killshot swings on Mack but things speed up. Mack spins and arm-drags Killshot but Killshot handsprings through. Killshot comes back but Mack dodges. Killshot handstand walks but Mack dropkicks him out of it! Mack fireman's carry to Samoan Drop, to kip up and standing moonsault! Cover, TWO! Killshot gets to a corner but Mack runs around the world for a big forearm smash! Then side to side for a bicycle boot! Mack keeps moving, but runs into a knee trigger from Killshot!
Believers rally up as Killshot drags Mack up by his nose. Killshot gives sharp body shots but Mack goes for a stunner. Killshot denies that with a shove. Mack ends up on the apron, and Killshot sweeps the legs. Killshot mule kicks Mack into a Tree of Woe on the apron! Killshot hurries to the apron, for his Kill Stomps! Havoc isn't liking that. Killshot puts Mack back in as Believers rally up. Mack sits up while Killshot soaks in the heat. Killshot stalks Mack, reels him in, but Mack denies the Half 'n' Half with an arm-drag. Mack boots Killshot but Killshot mule kicks, front kicks, but Mack ducks the roundhouse. Mack throws Killshot with a German Suplex! Havoc likes that! Mack gets up while Killshot is in a corner. Mack runs into the knee! Killshot hops up, but leaps into the stunner!
But wait! Mil Muertes runs in, and SPEARS Mack!!
Winner: The Mack, by disqualification
The Man of 1000 Deaths won't let his opponent roll into Ultima Lucha so easily. But Son of Havoc hurries down to ringside to save Mack with springboard stomps! Killshot goes after Havoc and now the fight is on. Killshot feeds Havoc to Muertes' urenage! But Mack rises, to go for a stunner. Muertes denies that into his Flat Liner! Death is coming, will it strike down a fan favorite? Will Havoc or Killshot hold onto their identity that is their mask?
Matt Striker interviews XO Lishus & Ivelisse in the ring.
Two thirds of the newest and most eclectic trio in Lucha Underground give Matt this exclusive interview. But what's up? They were invited to face both the sneaky Reptile Tribe and the cowardly Rabbit Tribe, in a Three Way Trios Title Elimination Match at Ultima Lucha Cuatro. Believers like the sound of that. But then, do they accept the challenge? Joey Ryan is unfortunately out of action. This calls for a new partner, and they have found the tough young badass who has quite the future. Welcome… Sammy Guevara! Another Infamous Inc. alumni, Sammy returns from injury at the hands of The Savage.
Sammy stands with Ivelisse and XO, but then Famous B appears! He points out the exclusive contract Sammy is under. It's nice Sammy wants to be part of that trio, but he signed a 7 year contract with no breaks to Famous B. Didn't he check the fine print? Infamous Incorporate owns Sammy! So sorry Ivelisse and XO Lishus, but you'll be receiving a Cease & Desist! If Sammy wants to go to UL4, team with Doctor Wagner and Texano, and Famous B will pull them from that Tijuana house show. The Believers want Sammy to fight the contract, but Famous B says "Git!" Sammy decides to DIVE instead! He wipes out Famous B, and puts that contract in the trash! Then he dumps the trash on Famous B, and SUPERKICKS the can! Sammy is a free agent now, can he help Ivelisse & XO take those trios titles?
Jake Strong VS Johnny Mundo!
The Savage is ready to take on anyone at any time, but the leader of the Worldwide Underground is aiming for the Monster, Matanza. Can Mundo keep his focus and get through Strong before looking to sacrifice the demigod to the gods? Or will Strong's streak continue as he goes after the Gift of the Gods?
Lucha Underground returns as the bell rings. Mundo and Strong circle, and Mundo goes for a leg. Strong stops him  with a takedown and waistlock. Strong rolls Mundo around and slams him down. He rolls Mundo around more but fans rally up. Mundo arm-drags out of a slam then arm-drags Strong again. He whips Strong but Strong reverses. Mundo stops himself but runs into a belly2belly! Strong circles Mundo as fans chant. He knees low then throws Mundo but Mundo comes back with the Flying Chuck! Cover, TWO! Mundo gets out and fires the fans up. He aims at Strong but Strong blocks the swing kick. Strong brings Mundo to the other side and bounces him off the post! Mundo goes down and Strong embraces both cheers and jeers.
Strong fetches Mundo from the floor to give him a LOUD chop! Mundo crawls but Strong pursues. Strong puts Mundo in a ring then takes his time returning. He stomps a mudhole into Mundo but backs off at 4. Strong drags Mundo back up as fans duel. Strong runs side to side for a big corner clothesline, then goes the other way for another. He keeps moving, and clobbers Mundo from behind! Strong grins as he looms over Mundo. He runs in, Vader Bomb meets boots! Mundo gets up and brings Strong over, for a tornado DDT! Both men are down but Believers fire up. A 10 count begins but Mundo is up quick. Mundo throws heavy hands and kicks and even forearms. He whips but Strong reverses, Mundo comes back with a calf kick. Then Shining Wizard! Standing shooting star, cover, TWO!
Fans rally behind Mundo as he aims at Strong. Mundo brings Strong up for Moonlight Drive but Strong powers out. Strong runs but misses, Mundo slides under and around to swing kick! Mundo springboards but Strong trips him up! Mundo tumbles from top rope to post to steps to floor! Strong goes out but from the other side. He comes around to knee and whip Mundo. Mundo leaps up and over the railing, then rocks Strong as Strong gives chase. The haymakers don't slow Strong down, he keeps coming, and now they fight among the Believers. Mundo kicks, Strong grabs the leg for the ankle lock! Mundo "borrows" a drink from a fan to splash it in Strong's face! Strong lets go, and Mundo gets moving. Strong just grimaces as he fires himself up.
Mundo gets moving, and leaps from railing to railing! Strong hurries to catch up to Mundo, but Mundo is ready. Mundo throws a punch but Strong blocks and counter punches. Strong drags Mundo to the railing, and shovels him over with a back drop! But Mundo lands on his feet, to powerbomb Strong to the floor!! The Believers lose their minds while Mundo sits up with a grin. Mundo mocks the "Strong!" hammer fist, then looms over The Savage. He drags Strong up and in, then climbs up top. Strong stirs but he's in the drop zone. Mundo flips for the elbow! Cover, TWO! Strong survives the somersault elbow, and fans declare "This is Lucha!"
Mundo stands and stalks Strong, stomping and clubbing him in the corner. Strong keeps getting up, so Mundo fires up the fans and runs in. Strong puts him on the apron but Mundo hits back. Mundo climbs up but Strong hits back. Strong climbs up but Mundo resists. Mundo fights back with body shots, but Strong throws forearms. They brawl up top, Mundo rakes the eyes and forearms Strong away. Strong runs back, hops up, and throws Mundo with a SUPER overhead suplex! Then, Strong Vader Bomb! Cover, TWO!! Believers are thunderous while both men are down. A 10 count begins again, but Strong is up at 5. He drags Mundo up with the gut wrench, but Mundo holds on to ropes. Mundo turns it around into a Russian leg sweep! Mundo puts Strong in the drop zone, and jumps, but Strong rolls him up! TWO, ANKLE LOCK!
Strong has Mundo's leg and Mundo is stuck int he middle of the ring. Mundo turns and shoves Strong all the way out. Strong comes back in, SUPERKICK! Moonlight Drive!! Cover, TWO!? Strong is superhuman, but both men are down again. Another 10 count begins, and Believers count along. Neither man stands until 9.5! Strong throws a haymaker, MUndo gives it back. Strong hits again, Mundo hits again. They go back and forth with Believers divided. Mundo kicks then gets an edge. He winds up, but Strong blocks the kick into another Ankle Lock! Mundo scrambles and reaches but Strong keeps pulling him away. Mundo rolls, but Strong holds on! Believers duel, but Mundo takes off an elbow pad and tosses it. The referee gets that out of the ring, so he doesn't see Mundo low blow mule kick Strong!!
Not even Strong is strong enough to take that. Mundo is still "Johnny Rudo" deep down, and has Strong in another drop zone. Mundo climbs, even with a bad ankle, for Fin Del Mundo! He covers, TWO!? And ANKLE LOCK!! Strong has Mundo again, and Mundo scrambles. Mundo can't, he taps! Strong wins!!
Winner: Jake Strong, by submission
The singles undefeated streak continues! Strong defeats a former Lucha Underground Champion and rolls right into that Seven to Survive match. But he's not done with Mundo. The Savage grabs the ankle and Believers duel, but here comes Matanza?! The Monster stares at Strong, who grins. Strong gives Mundo over to the demigod, and Matanza clobbers Mundo! Matanza chokes and clubs and headbutts Mundo over and over! But here comes Taya! Taya saves her husband as she jumps on Matanza, but Matanza throws her down. Wera Loca is in danger as Matanza brinsg her up, for Wrath of the Gods! Mundo bleeds, but the real pain is seeing his wife beaten down. Matanza keeps going after Mundo to open that wound up more! Fans boo and jeer as the blood paints the mat.
Antonio Cueto walks out. Matanza stops slaughtering Mundo at the orders of his father. Mundo is in horrible shape and Ultima Lucha 4 is only weeks away. Will Mundo be able to survive the season finale? Or will he just be another Sacrifice to the Gods?
---
My Thoughts:
A pretty solid episode here. I'm starting to get the feeling "The Savage" Jake Strong is partially influenced by DC Comics Vandal Savage. His talk with Antonio Cueto and that voice change at one point, I'm thinking Strong isn't just your average mortal wrestler. In Lucha Underground, where there is a time traveler, a human phoenix, a human dragon, an evil demigod and several undead, Strong being an eternally youthful warrior turned wrestler wouldn't be too much of a stretch. Strong dominates that Battle Royal, but it was a good move for him to want all seven men to participate. Making it elimination was also a good move, that Gift of the Gods match could take an entire episode itself now.
Mack VS Killshot was pretty good, right up to Muertes attacking Mack. Havoc joining in was good, and the Heels stand tall. I'm betting next week, the go-home to the Ultima Lucha 4 multi-week event, we get Killshot & Muertes VS Mack & Havoc in a similar way to Muertes teaming with Fenix last time. Or at the very least, Muertes VS Havoc as a trade from Mack VS Killshot. Good to hear we are getting that triple threat trios match, and I really enjoyed the meta used in Sammy Guevara teaming with Ivelisse and XO. That line about a "seven year no break contract", that was definitely Lucha Underground writers poking fun at El Rey's own contracts for most talent, such as the apparent 7-year contract Pentagon and Fenix are under. Sammy will make a great addition to Ivelisse's team, and I'm still confident they win the titles.
Strong doing double duty was pretty good, it adds to his character's abilities. Mundo VS Strong was a great main event, it felt like a title match in itself. I really thought Mundo was going to win, but it makes sense for Strong to keep his singles streak until he goes for THE Lucha Underground Championship. Strong is looking to be a top character now, so it works that only another top character like Pentagon ends his streak. As for Mundo, Matanza really did a number on him and Taya. This really puts Mundo in the underdog position, as he should against a demigod, in a match where it's kayfabe life or death. But at the same time, I'm pretty sure this means Mundo finds a way to win, and finally becomes a hero to the Believers.
My Score: 8.6/10
---
Always Use Your Head and visit the official Pro Wrestling Tees store for The Chairshot All t-shirt proceeds help support the advancement of your favorite hard-hitting wrestling website, The Chairshot!

---
Mitchell's WWE Mae Young Classic 2 Results & Report! (10/17/18)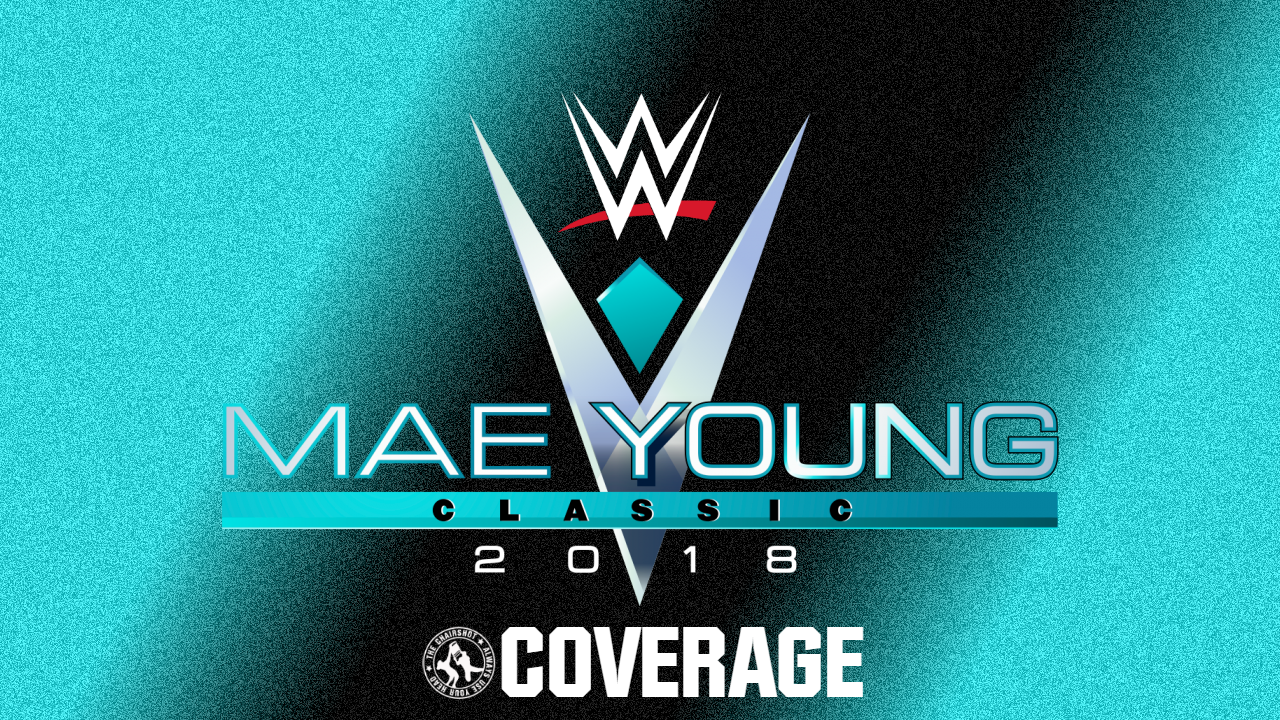 The second ever Mae Young Classic enters its quarterfinals! Will new or returning stars to the WWE make it past the others towards the semifinals?
OFFICIAL RESULTS
Lacey Lane VS Meiko Satomura; Satomura wins and advances to the semifinals.
Io Shirai VS Deonna Purrazzo; Shirai wins and advances to the semifinals.
Tegan Nox VS Rhea Ripley; Ripley wins and advances to the semifinals.
Toni Storm VS Mia Yim; Storm wins and advances to the semifinals.
PLAY BY PLAY
The second WWE Mae Young Classic is down to the Elite Eight!
But that also means 24 hopefuls from around the world were denied a dream. Underdogs like Kacy Catanzaro and Jessie Elaban, NXT prospects like Taynara Conti and Xia Li, and even veterans like Ashley Rayne and Mercedes Martinez, were all stopped short. Now eight must become four, who makes it to the second ever Mae Young Classic semifinals?
Lacey Lane VS Meiko Satomura!
Florida's own has fought hard to climb The Mountain and outdo the prodigy judoka, but now she faces The Final Boss in only the quarterfinals! Satomura eliminated Killer Kelly and Mean Ms. Martinez, so she's no stranger to opponents with skill, and matching initials. Can Lane shock the world and establish herself in the Women's (R)Evolution? Or is it 1000 years too soon for her to ever think she could defeat this living legend?
Lacey and Meiko shake hands and bow out of respect. They circle with the bell and fans rally up already. They tie up and Meiko powers Lacey to ropes. Fans duel as Meiko backs off, but then kicks. Lacey blocks just in time, then pushes Meiko back. They circle again, Lacey keeping some distance. They tie up again and Meiko gets a headlock. She pulls on Lacey hard but Lacey powers out. Meiko runs Lacey over, then things speed up. They each trade cartwheels, and Lacey chops! Meiko kicks, Lacey kicks, then they edge dodge. Meiko blocks a kick, but holds back from punching her. She puts the foot down and offers another handshake. Lacey doesn't want it, she wants Meiko to take her serious. So Meiko kicks her in the chest! Lacey narrowly avoids the buzzsaw but then it comes back around and gets her the second time!
Fans are fired up as Meiko drags Lacey up. She fireman's carry but Lacey sunset flips. Meiko blocks but Lacey avoids the stomp. Lacey kicks back then kicks Meiko down! Cover, TWO! Lacey keeps on Meiko with a waistlock but Meiko blocks the lift. Meiko standing switches and lifts Lacey but Lacey slips out and under. She trips Meiko and cartwheels over her to swing a kick. Meiko ducks but then gets the mule kick! Cover, TWO! Lacey keeps her cool and gets moving, but runs into a roundhouse! Meiko drags Lacey back up to kick again. Lacey ducks it but ends up in an cross armbreaker! Lacey clasps hands together but Meiko pries at the hands. Meiko makes it a short arm scissor but Lacey shifts around. It's a cover, ONE and Meiko wants the armbar again.
Lacey rolls and reaches, to get the ropebreak! Meiko lets go quick, but is back on Lacey with stiff kicks. She drags Lacey up for a snap suplex! She keeps on Lacey but Lacey breaks free to bob 'n' weave and even back elbow Meiko. Lacey keeps on Meiko with a knee and forearms! She runs out to run in for more forearms! Then she goes corner to corner, for a shining wizard! Lacey keeps moving, but Meiko follows, only to get a springboard crossbody! Cover, TWO! Lacey can't believe it, but she's not going to slow down. Fans duel as Meiko dodges to roundhouse Lacey again. Meiko fireman's carry, Death Valley Driver! Cover, Meiko wins!
Winner: Meiko Satomura, by pinfall; advances to the semifinals
The Final Boss will not be stopped! Will anything be able to stop her? Who will advance to face her in the next round?
Io Shirai VS Deonna Purrazzo!
The quarterfinals end with what could've easily been the finals, as the Genius of the Sky and the Virtuosa meet again from Stardom here in the WWE. Shirai flew high over Xia Brookside in the young second generation star's first ever match, then did it again over Zeuxis in their first ever encounter. Meanwhile, Deonna used her Fujiwara specialty to make gypsy princess Priscilla Kelly and "spicy" Chinese recruit Xia Li tap out. Which star will become a superstar and shoot up into the semifinals?
Genius and Virtuosa shake hands out of respect, and the bell rings. They circle and feel it out. Fans rally up as they tie up. Deonna gets the wristlock but Shirai goes to the headlock. Deonna pries her way out back to a wristlock and shifts to her own headock. Shirai powers out but Deonna runs her over. Deonna runs but cartwheels over Shirai, then dares her to come at her. Shirai runs but Deonna follows. Deonna tilt-o-whirl headscissors but Shirai handsprings through! Things speed up and Deonna dodges the handspring but not the dropkick! Deonna bails out while fans fire up with Shirai. Shirai builds speed to DIVE! Direct hit onto the steel ramp! Both women are down but fans rally up with Shirai.
Shirai is up and puts Deonna in the ring. Shirai covers, TWO, but she keeps on Deonna with a scoop and slam. She handstands to drop knees then covers again, TWO! Deonna gasps for air but Shirai stomps on her. Deonna gets to a corner but Shirai is on her with both boots. Shirai counts along, and lifts off at 3. Deonna dodges the swinging boots to roll Shirai up, TWO! Shirai small packages, TWO, Deonna jackknifes, TWO! Shirai runs but into a waistlock. Deonna lifts but Shirai wheelbarrows and victory rolls, to double stomp Deonna! Shirai says she's too smart, since she is a genius. She taunts Deonna over her pain, then stomps her more. Shirai drags Deonna up and throws a swift right hand. She throws another and Deonna crawls to a corner.
Shirai keeps on Deonna with forearms, then brings her back out. Deonna breaks free to chop Shirai loudly. She throws forearms but so does Shirai. Shirai whips but Deonna reverses, to hip toss, handspring and dropkick! Both women are down but fans build to a rally. Shirai and Deonna slowly stand, and Deonna mule kicks. Deonna runs to knee lift and Russian leg sweep, into the Fujiwara! Shirai endures Deonna's favorite hold, and claws her way around to a roll up. TWO, but Shirai gets Deonna into a crossface! Deonna endures a submission move but rolls it to a cover, TWO! Deonna brings Shirai up but gets an uppercut! Shirai runs at Deonna on the ropes, 6-1-9! Then a springboard missile dropkick! Cover, TWO!
Shirai grows frustrated but she drags Deonna up. She wants a hold but Deonna resists so Shirai just dumps her down. Shirai goes to a corner but Deonna knows it's coming and trips her up! Deonna has teh waistlock but Shirai grabs ropes. Deonna kicks an arm out, and gets the German SUpelx! She holds on for another! And then another! Deonna gets the hat trick then covers, TWO, FUJIWARA! Shirai endures the hold all over again but Deonna reaches back, and manages to hook Shirai's other arm with her chin! The Virtuosa shows great creativity but fans rally up for Shirai. Shirai gets one arm free but looks close…! Deonna wrenches back more but Shirai rolls it over, TWO, back into Shirai's crossface!
Shirai pulls back as hard as she can but Deonna endures. Deonna gets up and pops out with a roll, but into a knee! Shirai runs in for meteora! Then she puts Deonna in the drop zone, for the Genius Asai! Cover, Shirai wins!
Winner: Io Shirai, by pinfall; advances to the semifinal
The Genius overcomes the Virtuosa, but Deonna did win Shirai's respect. Stardom is represented either way, but will Shirai soar all the way to WWE Evolution?
Tegan Nox VS Rhea Ripley!
The Shiniest Wizard has helped Tegan make it through Chilean Strong Style and the mighty Nicole Matthews, while the Aussie's new attitude helped her rip up the aspirations of American Ninja KC and the Afrolicious MJ. Tegan finds herself as the underdog once again, can she make it three for three? Or will she be dragged under by the Riptide?
Tegan wants a handshake but Rhea slaps it away, so it's business as usual. The bell rings and Rhea whips her hair right at Tegan. Tegan hits back with a dropkick! Rhea rolls out and Tegan builds speed to DIVE! Direct hit to the ramp! Tegan hobbles on that bad leg, she may have hurt it here. The referee checks on Tegan, who is furious with herself. Tegan powers through it, but it doesn't look good. Rhea dodges Tegan, then tosses her for a flapjack! Cover, TWO! Tegan won't let her leg stop her, but the referee calls for medics. Rhea clubs Tegan more but the match takes a timeout as the referee brings in medics.
The medic talks with Tegan about her leg while the referee keeps Rhea back. Tegan says it's actually her good leg that's bothering her now. Fans rally up for Tegan and Tegan insists she can fight. Tegan walks around but Rhea goes right after her with heavy hands and kicks. Rhea chokes Tegan on the ropes, but stops at 4. She brings Tegan for a bump off buckles, then chops her sharp on the chest. Rhea chops Tegan again and Tegan hobbles. Rhea chops again, but Tegan grits her teeth to chop back! Tegan fires chop after chop after chop, then runs, but into a BIG dropkick! Tegan's legs give out and this time, the referee calls it off.
Winner: Rhea Ripley, by referee's decision; advances to the semifinals
Tears stream down Tegan's face, but it's more from the pain in her leg than the pain of losing. Full Sail falls silent as this comeback Cinderella story ends tragically. Full Sail encouragingly chants "Thank You, Tegan!" in hopes she understands how much they appreciate her fighting spirit and in hopes that she makes a speedy recovery. Rhea still takes her victory, and now moves on to prepare for Io Shirai. Can the young and cocky Aussie overcome a Japanese mega star?
Toni Storm VS Mia Yim!
The Lightning from Down Under and the Blasian Baddie both want to make the best of their second WWE MYC, but now their passions collide! Toni stormed through Lady Godzilla and the fashionable Jinny, while Mia toughed it out against frenemy Allysin Kay and returning Kaitlyn. Who will grit it out and move on to face The Final Boss in the semifinals?
Mia and Toni shake hands, but Mia's hand still bugs her a little. The bell rings and they circle. They tie up as fans duel. Mia knees low then clubs Toni down. She kicks Toni in the side, then brings her up for a kick to the chest. Toni gets to a corner but Mia presses a foot into her face. Mia chops Toni on the ropes then whips, but Toni ducks and boots Mia down! Toni fires up already and runs in for the double knees. She drags Mia out for a cover, TWO! Toni kicks Mia around now then brings her up for fast palm strikes and a back kick. Toni snap suplexes, covers, TWO! Fans duel more as Toni grabs Mia's bad hand, throws it down, and stomps on it!
Toni stalks Mia to ropes and stomps her more. She stands Mia up for European Uppercuts, then double underhooks. Mia slips out and kicks Toni in the ribs. Mia stalks Toni to a corner and stomps a mudhole into her. She backs off at 4, then drags Toni out for a high stack cover. TWO, but Mia puts a sleeper hold on Toni. Toni endures as fans rally up. Toni powers her way up and fights back, but Mia throws her down by her hair. Mia kicks Toni while she's down, covers, TWO! Mia is on Toni fast with a deathlock, into a bow 'n' arrow! Toni endures being bent back, and pops out to cover! TWO, and Mia dropkicks Toni down! Cover, TWO, but Mia is on Toni with a facelock. Fans rally up but Mia drags Toni into a deeper guillotine, with the body scissors.
Toni moves around as fans duel. Toni deadlifts Mia, to give Mia a spinebuster! Mia lets Toni go and Toni staggers to ropes. Toni comes back, but into a drop toehold, Mia puts the sleeper back on! Toni resists so Mia lets her go to kick her in the chest. Mia kicks her again, then turns her over to ax kick her in the shoulders! Cover, TWO! Mia grows frustrated with Toni's toughness. She brings Toni up and fires palm strikes and kicks, then a Pele! Cover, TWO! Mia grits her teeth as she brings Toni up to kick her more. She goes after the legs, but then Toni boots the bad hand! Double headbutt takes both women down! Fans fire up as both women catch their breath.
The ref starts a 10 count, Mia sits up at 4. Toni follows at about 6, and they stagger towards each other. Toni throws a forearm, Mia throws one back. They go back and forth with forearms, then back and forth with slaps! And chops! And slaps! Slap, slap, slap and Toni gets an edge, until Mia knees her. Mia kicks but Toni blocks it, into a trapped-leg German Suplex! Toni fires up and runs in for the hip attack! She drags Mia up, double underhook but Mia slips out, saido suplex with bridge! TWO!! Mia can't believe it, but Toni survives! Fans rally up as Mia runs in, but Toni goes up and over to come back. Mia blocks to a powerbomb! High stack cover, TWO!! Mia is at a loss for words, but fans say "This is Awesome!"
Mia brings Toni up and wants to feed her Sole Food, but Toni pushes her back and goes after the bad hand! Then she spins Mia around for another German! Then double underhook, Storm Zero!! Cover, Toni wins!!
Winner: Toni Storm, by pinfall; advances to the semifinals
Toni has one of the biggest matches of this entire tournament, only to roll right into another! She may have toughed it out against the Blasian Baddie, but will she be able to best one of the best in Meiko Satomura?
---
My Thoughts:
A pretty strong episode here for the WWE MYC 2. I was a bit surprised by match order, but it worked out well enough. Satomura VS Lane was great for being so fast and furious, and Lacey looked great on just her speed alone. Naturally the legendary veteran goes over, it's too soon for Lacey to be going over someone that established, and it's too soon for a shock like that to happen. Storm VS Yim was a great main event, and Storm repeats to the semifinals. Between MYC and NXT UK, Toni clearly has the backing of WWE via Triple H, so bet on her to get that upset moment we've been waiting for.
It was a real shame Tegan Nox goes down like that. She and Rhea were bound to have a really great match, but injuries always come at the worst possible times. Rhea was likely going to win in the end, and she kept in character the entire time, but I'm sure in reality, she felt bad that it went down like this. Shirai VS Deonna was a really great match, though there seemed like a part in the middle where fans were probably not paying attention. I think Full Sail knew she was going over so they just kinda took some of that match for granted. But things got them back into it by the end, and they were right to think Shirai would win. Shirai VS Rhea will be great, Rhea can really show her stuff in a match with someone so skilled and in the longer semifinal formats.
Also I just realized it's Japan VS Australia in both matches, for potentially a third Japan VS Australia in the finals at WWE Evolution. However, given that Toni Storm is currently injured [Highlight for spoilers] there might be a change. We won't really know until after next week's semifinals episode that acts as a go-home.
My Score: 8.6/10
---
Always Use Your Head and visit the official Pro Wrestling Tees store for The Chairshot All t-shirt proceeds help support the advancement of your favorite hard-hitting wrestling website, The Chairshot!

---
Mitchell's WWE 205 Live Results & Report! (10/17/18)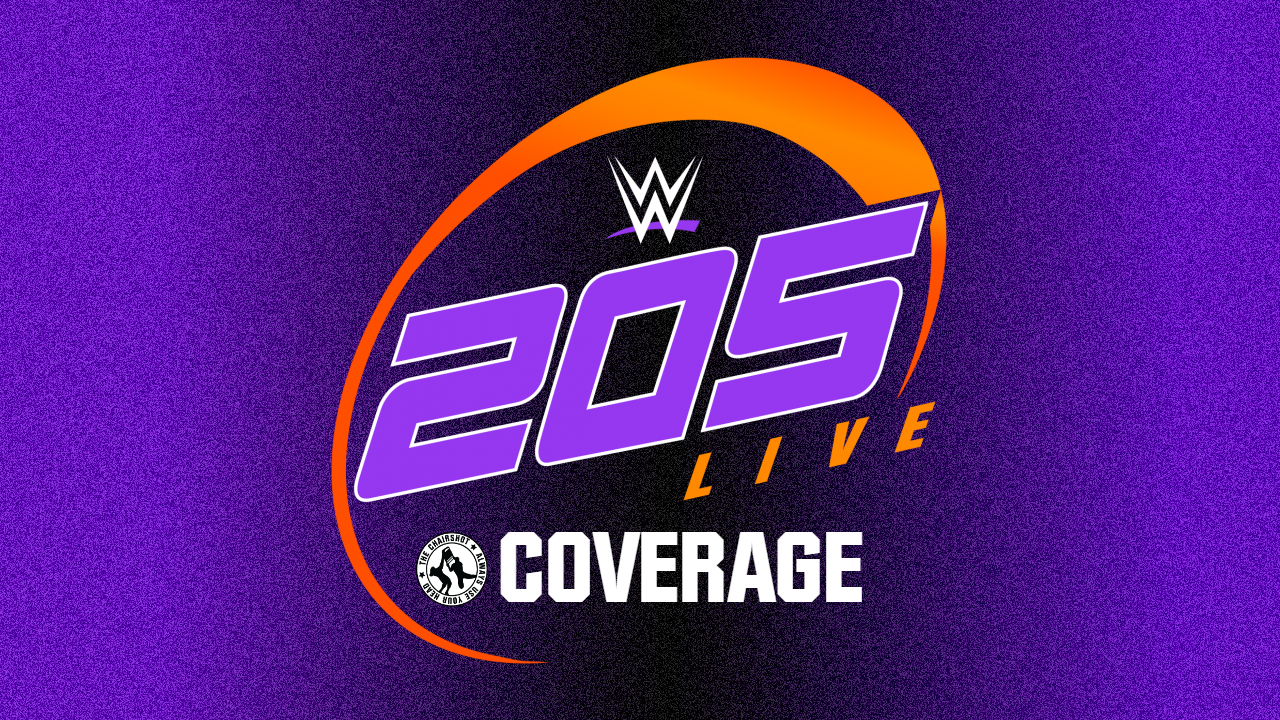 The Cruiserweight Division is burning up in your love~ (your love~) as Mike & Maria Kanellis now join 205 Live! Or rather, now that they're here, 205 LOVE!!
OFFICIAL RESULTS
Akira Tozawa VS Drew Gulak w/ Jack Gallagher; Tozawa wins, by disqualification.
Fatal 5 Way: Cedric Alexander VS Tony Nese VS TJP VS Gran Metalik VS Lio Rush; Nese wins.
PLAY BY PLAY
Drake Maverick speaks on the changing landscape of 205 Live.
For starters, Super Show-Down saw a NEW Cruiserweight Champion be crowned in Melbourne's own Buddy Murphy. Then new additions Mike & Maria Kanellis appear to shock Lince Dorado. And of course, former Cruiserweight Champion Cedric Alexander loses to Tony Nese in his first match since Super Show-Down. Nese has his biggest win and Alexander continues to lose, which leads to tonight's massive main event! It will be a Fatal Five Way of Nese, Alexander, TJP, Gran Metalik and Lio Rush! All five men want to take major steps towards the title, and all have the resume to earn a shot.
Alexander wants to prove he can bounce back from this pair of defeats while Nese wants to prove he didn't just get lucky. The FilAm Flash wants to return to the title after being the inaugural New Era Cruiserweight Champion, and truly establish himself as the "Cruiser-Great." The King of the Ropes and the Lucha House Party have been red hot, but Gran Metalik also wants revenge on TJP for what he did to Kalisto and Lince Dorado. As for the Man of the Hour, he's still undefeated in his short time on 205 Live, and can establish himself as the future of the Division. Who will win to prove themselves worthy of challenging the reign of the Juggernaut champion?
Akira Tozawa VS Drew Gulak w/ Jack Gallagher!
The Stamina Monster got his revenge on THE Brian Kendrick, but the only thing that came from it was Kendrick being kicked out of the Ungentle Men's Club. Tozawa did continue to defeat Gallagher, but can he finish the clean sweep against the Philly Fury? Or will Gulak's campaign for a #Better205Live put a stop to Tozawa's revenge?
The bell rings and fans "AH! AH!" for Tozawa already. Gulak shouts "No Chanting! Shut it down!" But Tozawa encourages the "AH!" mostly to annoy Gulak. They tie up and Gulak gets a headlock. He brings Tozawa to the mat, but Tozawa gets back up. Fans rally but Gulak gets Tozawa down in a headlock. Cover, ONE, but Gulak is back on Tozawa with a chinlock. Tozawa stands up but Gulak knees low. Gulak suplexes but Tozawa slips out to a waistlock. Gulak elbows out but runs into a huricanrana! Tozawa whips but Gulak reverses into another headlock. Tozawa powers out but Gulak sunset flips, only for Tozawa to roll through and Penalty Kick. He adds the shouting back senton then covers, ONE! Gulak is gasping for air but Tozawa has energy to spare. The "AH! AH!" starts up again and Tozawa stomps to the beat.
Tozawa brings Gulak up but Gulak throws body shots. Tozawa chops back, then chops again. He fakes the job, to hit the jab! Gulak is rocked and even Tozawa's hand is hurting. Gulak shoves Tozawa but things speed up, Tozawa tilt-o-whirls into an Octopus Stretch! But Gulak powers out, only to get more body shots. Tozawa runs but into a backbreaker! Gulak lifts Tozawa for a Fall Away Slam, then covers, TWO! Gulak drags Tozawa aruond and hooks the legs. He wants the surfboard, but grabs the shoulders first to get a chinlock. Gulak even fish hooks the nose! He lets up at 4 while DC duels. Gulak brings Tozawa up and whips, but Tozawa holds ropes. Gulak clubs Tozawa down then covers, TWO! He drags Tozawa back up, and powerbomb lifts into the Gory Special!
Gulak bends Tozawa's arms back, then bends his neck back. Tozawa manages to work his way up and out to then throw hands. Gulak swings but misses, and runs into a boot. Tozawa goes up, sunset flips but Gulak rolls through for a powerbomb! High stack cover, TWO! Gulak grits his teeth as he grabs Tozawa in another chinlock. He grinds Tozawa down but fans rally up. Gulak is biting Tozawa's ear! Tozawa endures as the "AH! AH!" starts up again. Tozawa gets up and fights back. He gets free but Gulak knees low. Gulak runs but into the kick. He ducks one kick but Tozawa slides under. Gulak blocks one kick, then another, but Tozawa ducks to hit the spinning roundhouse!
Tozawa hurries up and to a corner while Gulak is down. Tozawa climbs as fans "AH! AH!" Missile dropkick hits! And then a shining wizard! Gulak ends up outside and Gallagher comes over. Tozawa builds speed, and DIVES on them both! Gulak and Gallagher both go down and Tozawa fires back up. Tozawa moves Gallagher aside to put Gulak back in. Gulak's in a drop zone and Tozawa climbs up again. Tozawa aims, but Gallagher trips him up!
Winner: Akira Tozawa, by disqualification
The win-loss record will show Tozawa gets the sweep, but this doesn't feel like a win. Especially after Gallagher goes after him more! Fans boo and jeer as Gallagher grimaces and takes off his jacket. Gallagher even rolls up his sleeves before sitting Tozawa up for more fists. Gulak adds stomps, but wait, it's KENDRICK to the rescue!? Kendrick throws Gulak out, hits Gallagher, then hits Gulak again. He throws forearms on his former friend in Gallagher, and puts on the Captain's Hook! Gulak drags Gallagher to safety, but they'll both have Kendrick gunning for them now. Will Kendrick become a strange ally to the Stamina Monster in this fight?
Drake Maverick meets with Buddy Murphy and Tony Nese.
As 205 Live GM, Maverick congratulates the new Cruiserweight Champion on his win. Murphy thanks Maverick for that, but also points out he'd have been champion six months ago if not for that "stupid weigh-in." But that's the past. The Body Guys are looking forward to a new 205 Live built around them: the champ, and "the only other guy on the 205 Live roster to pin Cedric Alexander this year." That entire locker room will find out that "everything runs through us." Murphy & Nese look to flex some pull along with their muscles, but will the Premier Athlete really have it so easy against four of the best in the Cruiserweight Division?
Mike & Maria Kanellis speak.
"Attacking Lince Dorado last week, it was nothing personal. Just business." But Mike's been waiting a long time for an opportunity in the WWE, so when one presented itself, they capitalized on it. This is part of a much bigger plan, which ends in the Cruiserweight Championship coming to the Power Couple. However, the Golden Lynx looks for payback next week, will the power of love protect Mike from a Golden Rewind?
Hideo Itami speaks.
He says first in Japanese, then in English, that Mustafa Ali should've just walked away and shown some respect. But now in Falls Count Anywhere, Itami vows to end Ali's career. Itami smiles and laughs, because he's looking forward to it.
Mustafa Ali responds.
"Hideo and I, we've been on this road for far too long. It's time to take a new road." The Beacon of Light says on this road, things go down differently. This road has no twists or turns, just a straight line for a collision course. This road has no place to run or hide, because wherever Itami goes, Ali goes. There's no respect on this road, only redemption. Where Itami goes down, Ali stands tall. "See you down the road." Will the Heart of 205 Live still have life in it after a rematch with the Innovator of the GTS? Or will it be a dead end for them both?
Fatal 5 Way: Cedric Alexander VS Tony Nese VS TJP VS Gran Metalik VS Lio Rush!
The Age of Alexander wants to rebuild his legacy, but the Premier Athlete wants to pave his own over it. The FilAm Flash wants to humiliate the lucha libre tradition, but the King of the Ropes won't stand for it. As for the Man of the Hour, he simply came to collect! Who will succeed in their mission and take a step towards the top of the Cruiserweight Division?
Current Cruiserweight Champion, Buddy Murphy, watches from backstage, wanting to see the moment someone wins this match. The bell rings and DC cheers its own 23 Year old Piece of Gold. The five circle and TJP rushes Metalik while Lio gets out of the way. TJP drags Metalik out of the ring, wanting to focus on their lucha libre grudge. He bumps Metalik off barriers, while Nese and Alexander brawl in the ring. Nese backs Alexander down but Alexander chops him back. Alexander clotheslines Nese out and Lio comes back in. Lio talks trash with Alexander, but Alexander catches that kick. Alexander flips Lio but Lio lands on his feet. Things speed up as Lio keeps changing directions on a dime. Lio slides but Alexander catches him. Alexander yanks Lio back up but Lio arm-drags.
Things speed up again and Alexander handsprings back to headscissor, but Lio lands on his feet again! Lio says "it's not happening". Alexander rushes Lio but Lio ducks. Lio whips but Alexander reverses, only for Lio to springboard and headscissor Alexander again. Lio does a dance and knows Alexander knows what that means. Alexander rushes Lio and the chase is on. They pass around the corner and Nese clobbers Alexander! Metalik and Lio are in the ring, and the luchador dares Lio do come at him. Metalik swing kicks Lio away, then springboards for a crossbody! He keeps moving and handsprings but Lio avoids it. Lio runs but Metalik dodges, tilt-o-whirl gutbuster! Metalik keeps moving, runs the ropes, and hits the missile dropkick! He drags Lio to a cover but Nese throws Metalik out hard.
Nese has Lio but Lio fires off forearms. Lio whips but Nese stops himself. Nese elbows Lio then leaps but Lio gets clear. Nese goes Matrix to then mule kick, knee lift and roundhouse, but Lio dodges to mule kick and enziguri back! Lio stands tall while Nese rolls out, and DC cheers their own. Murphy seems moderately impressed as Lio dropkicks Alexander back out. Lio joins everyone on the outside and drags Metalik in. Metalik crawls but Lio dares him to stand up. But TJP grabs Lio in a modified abdominal stretch. Metalik swings on TJP but ends up in another abdominal stretch. TJP has mirrored stretches, and goes after Metalik's mask!
Nese comes in and rolls TJP up, but TJP resists. Lio runs in, but into a German Suplex! Nese bridges to have both TJP and Lio in simultaneous pins! Metalik breaks both covers just in time! Nese kicks Metalik back, then throws TJP into a post. TJP tumbles out while Nese runs Metalik over with an elbow. Nese rocks Alexander to keep him out of the ring, and now the Premier Athlete flexes. Fans boo and jeer but Nese stomps Metalik and Lio. Nese wrenches Metalik's neck while putting his weight on him. Fans rally up for the others, and Metalik fights back. Nese back suplexes Metalik down, covers, TWO!
Nese goes back to the neck wrench, but lets go to intercept and throw out Alexander. Alexander hasn't gotten much of anything, and Nese goes back to Metalik for more neck wrench. Metalik fights but Nese drops a leg. Nese soaks in the heat, then drags Metalik up and over. He puts Metalik in the Tree of Woe to then stomp a mudhole into him. Nese brings back Full Contact Cardio! Fans boo more but Nese simply counts out that 8-pack. But Alexander rolls him up! TWO, and Nese runs Alexander over again! Cover, TWO! Nese drags Metalik up, but Metalik fights back. Nese knees then whips Metalik, but Metalik stops himself to SUPERKICK Nese back!
Metalik jumps up and quebradas, but Nese catches it and makes it a cover. ONE, and Nese fireman's carry. Metalik fights out and suplexes, for a brain buster! Cover, but Alexander breaks it just in time. Alexander goes after Metalik but is powered to a corner, for a LOUD chop! Metalik runs in but into a boot. Alexander springboards for the clothesline! Fans fire up with the former champ as he runs at Nese. Alexander rallies with lariats and a big uppercut. Alexander whips but Nese reverses, only for Alexander to dropkick the legs out. He hurries to the apron, but Alexander has to jump over TJP's swipes at his legs. Alexander boots TJP then kicks Nese, to then hit the springboard complete shot! Cover, but Lio breaks it!
DC cheers Lio he stomps Alexander. TJP comes in and fireman's carry, but Lio slips out to put TJP in a corner for a forearm smash. Lio hoists TJP up top then climbs up. They brawl up top, and TJP dumps Lio all the way down. Metalik swing kicks TJP, then brings him back up. TJP resists the superplex, but Alexander adds on. They both want to suplex TJP, but in comes Nese. Nese throws Alexander down then electric chairs Metalik. TJP works with Nese, but Metalik victory rolls to avoid the crossbody! TJP gets Alexander but Alexander rolls through! Cover on Nese, TWO! Lio climbs, Alexander hits a Michinoku Driver on TJP, cover, TWO! Final Hour frog splash on Alexander! Cover, but Nese and Metalik both break it! All five men are down but DC fires up. DC chants for "205! 205!" as the five men stir.
DC goes back to cheering for Lio while Metalik and Nese brawl. Metalik chops Nese but Nese mule kicks Metalik. Nese runs but Metalik dodges, handspring arm-drag and dropkick! TJP is up to rolling sobat Metalik! Lio is up to mule kick and heel kick TJP! Nese is up but Lio bobs 'n' weaves to fire back. Lio swings but Nese shoves to rock him with that left! Nese turns around, Alexander blows past to handspring and Neuralizer! Cover, TWO!! All five men are down again, but fans rally up. Alexander grits his teeth as he glares at Nese. Nese crawls to the apron but Alexander is on him. SUPERKICK from Metalik, but Alexander swing kicks him down. Alexander builds speed to FLY onto Metalik! He gets Metalik back in, but TJP rocks Alexander to cover Metalik! TWO, but TJP is after that mask again!
Metalik kicks TJP away, but TJP clubs him back down. TJP whips but Metalik DIVES onto Alexander! TJP hits the triangle wrekcing dropkick, but then Lio handspring kicks TJP! Nese rolls Lio, TWO, to a deadlift bomb to the OUTSIDE! Lio, TJP, Metalik and Alexander are all down, and Nese has his pick. Nese drags Lio up and in, covers, but Alexander drags him off it. Nese shoves Alexander away but Metalik is on Nese. Metalik chops Nese in the corner, thenw hips him corner to corner. Nese reverses but runs into a SUPERKICK! Sling-dog! Metalik climbs up but TJP shoves him right off. TJP has Nese in the kneebar! Nese endures, but is so close. Alexander stomps TJP, only to get put in the kneebar!
Metalik stomps TJP and then whips TJP. TJP holds ropes and puts Metalik on the apron. TJP runs, but Metalik springboards to let TJP go under AND Asai at the same time! All five men are down once again, but Nese and Lio stand. Nese runs into a SUPERKICK! Lio hurries up top and DC fires up for the hometown hero! Alexander runs in but gets a haymaker. Lio leaps for a flying headscissor, but Alexander blocks with pure power! And lifts Lio, to then pop him into the Lumbar Check!! But Nese rolls Alexander up, Nese wins!!
Winner: Tony Nese, by pinfall
Alexander is shocked! Not only did Nese get the better of him, Nese has done it two weeks in a row! The Premier Athlete is becoming the gatekeeper to his friend's Cruiserweight Championship, what will it take for anyone to get through him?
---
My Thoughts:
A solid episode of 205 Live, though a shorter one with just over 43 minutes. We open with Tozawa VS Gulak because we get an incredible surprise main event. Tozawa VS Gulak went about as expected, and I'm glad to see I was right, THE Brian Kendrick saves Tozawa from a beating. These former rivals and former Cruiserweight Champions make quite the team on paper, but there's a chance we'll get a moment of dysfunction. Kendrick could easily just say he's only helping Tozawa to get back at Gallagher & Gulak. But at the same time, Tozawa could distrust Kendrick up until the very end, thinking this is some kind of scheme. Either way, I hope the blow-off gives Tozawa and Kendrick the win, this feud feels like the kind Faces should win.
Nice promo from Mr. & Mrs. Kanellis, and I look forward to Mike VS Dorado next week. Same for the Itami and Ali promos, especially Ali's. Ali's was like a movie or something, it's that good. And Ali should win that Falls Count Anywhere, it's another case of where a Face should go over. The Fatal 5 Way main event was spectacular, and it's a good choice having Nese go over. Nese wants to keep everyone else down so no one can challenge Murphy, but I say again, Nese might end up winning himself that opportunity. I doubt Nese would want to take the belt from Murphy, and I kinda hope the belt doesn't lead to the Body Guys breaking up while the Cruiserweight Tag Division is still unofficial. Nese should simply be an obstacle everyone else must get passed if they want at Murphy, like a Body Guy Bodyguard.
My Score: 8.5/10
---
Always Use Your Head and visit the official Pro Wrestling Tees store for The Chairshot All t-shirt proceeds help support the advancement of your favorite hard-hitting wrestling website, The Chairshot!

---