Top 5 Matches: Week Ending 6/24/2018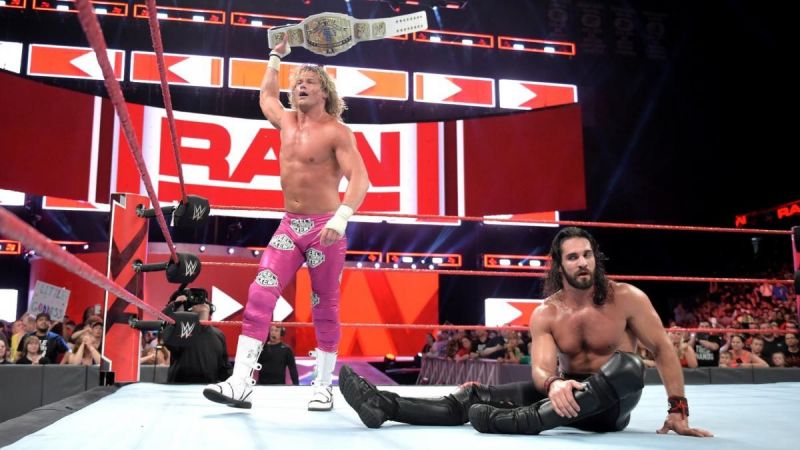 Another week, another Top 5. The winner from last week might come as a small surprise, but in a very close vote that was a 4-way tie for a while, finally we had a decisive winner. AJ Styles vs Shinsuke Nakamura at Money in the Bank, pulled off the win.
So even though there were 3 NXT matches, we see a main roster winner…I wonder if that says anything?
Well let's not read too much into things and just get to this week's matches. I didn't have as much time as usual, so I'll be doing a general overview instead of play by play style match descriptions.
5. Raw Intercontinental Championship Match: Seth Rollins (c) vs Dolph Ziggler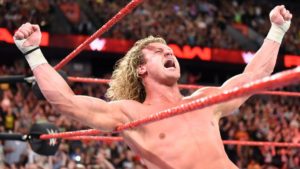 Seth comes off his first defense where he needed to visibly cheat, but maintains the 'fighting champion' ideal and declares an open challenge. Both Dolph and Drew McIntyre come out, but as we see, Dolph is the one to enter the match.
This was a fairly standard match for both, where they bumped hard and Ziggler focused on the injured knee that Rollins sold through most of the match. Ziggler managed to dodge the Blackout the entire match and it wasn't until McIntyre got on the apron, that we saw the interesting finish.
I'm only saying it's interesting because it was effectively the same way Rollins retained the previous night, but Karma bit him in the trunks. So it's not a Fame-Asser or Superkick that wins the match, it's a roll up with a handful of tights. And we have a title change on Raw!
Winner: Ziggler via Roll Up
Rating: *** 1/4
4. Jinsei Shinzaki 25th Anniversary Show Sendai Girls World Title Match: Chihiro Hashimoto vs DASH Chisako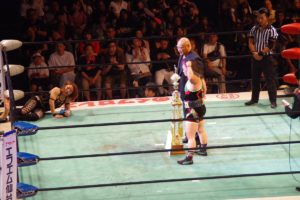 Jinsei (aka Hakushi in WWF) is the current President of Michinoku Pro and co-founder of Sendai Girls, so the show had a mixture of male and female wrestlers. This match is important because the Sendai Girls World Title got vacated after Ayako Hamada was arrested on the drug charges.
Now I'm not well versed in Sendai Girls, so I'm not sure why DASH got this shot, but Chihiro is a former champion, so it makes sense for her to be in this spot. However, even though DASH isn't a very decorated wrestler and seems to have been a tag team specialist for the first 10 or so years of her career, she put up a valiant effort in this match. The match was extremely competitive and aside from a couple hiccups, was very enjoyable.
DASH hit a rope assisted German Suplex from the corner, as well as numerous strikes and crucifix pin attempts. Thanks to my lack of exposure with this product, I can easily say the match could've gone either way, but once DASH looked to hit a point of desperation, I figured the more experienced wrestler would pull this off. After a damn good match, Hashimoto finishes the match with a German Suplex Hold, to win the vacant Sendai Girls Title.
Winner: Hashimoto via German Suplex Hold
Rating: *** 3/4
3. Lucha Underground Championship Match: Matanza Cueto vs Pentagon Dark (c)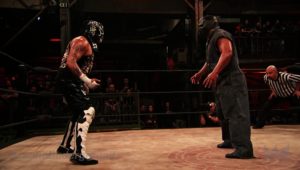 Antonio Cueto, seems to be trying to establish his control over the new temple by unleashing a threat onto the champion that he has yet to defeat. Pentagon is 0-2 against Matanza, does he finally break the losing streak?
We see a fairly well paced, and enjoyable match that starts out on the outside. Vampiro continues to make comments about how Pentagon needs to give into the Evil and stop pandering, and almost on cue, Pentagon misses a chop into the post to give Matanza an opening.
Matanza keeps the advantage for a while, just overpowering Pentagon. However, Mr. Cero Miedo doesn't care and slowly makes his comeback. Eventually hitting a few superkicks, into two Mexican Destroyers and finally stunning the monster long enough to end the match with his Package Piledriver.
Before Pentagon can collect his arm, Antonio walks out with some key, which gives Matanza enough of a second wind to get out of the ring and apologize to his father. I guess, more to come on that one…right?
Winner: Pentagon via Package Piledriver
Rating: *** 3/4
Honorable Mentions
Smackdown Gauntlet Match: Samoa Joe vs Rusev vs Daniel Bryan vs Big E vs The Miz
Winner: Rusev via Accolade
Rating: *** 1/4
MLW Fusion 20,000 Bounty Match: Brody King vs Shane Strickland
Winner: Strickland via High Knee Strike
Rating: ***
AJPW All Asia Heavyweight Championship Match: Ryoji Sai (c) vs Yoshitatsu
Winner: Sai via Sidmouth
Rating: ** 3/4
2. 205 Live Triple Threat: Buddy Murphy vs Hideo Itami vs Mustafa Ali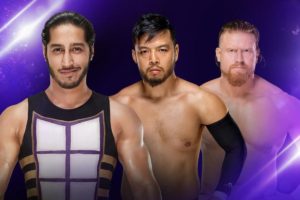 After interfering in the match two weeks ago, Mustafa and Buddy get the chance to exact some revenge on Hideo.
This match was a slightly different Triple Threat. We didn't see a lot of "getting rid of one person" and having a rotating series of 1 on 1s. There were quite a few times when all three were trying to get in offense, some even becoming the victims of a convenient duck out of the way. Buddy threw Mustafa over his head, so Hideo was on the receiving end of an X Factor and well as Buddy ducking under a Backfist, so Hideo makes contact with Mustafa's face.
A very fun and fast paced match, we see Ali land a Spanish Fly from the announce table to the floor on Murphy, but Itami manages to take the advantage. A well placed Hestiation Dropkick dazes Ali, so Itami can remove the bottom turnbuckle. Setting things up nicely for one more Hestiation Dropkick, and Murphy is still on the outside unable to break up the pin.
If Hideo gets a shot at the Cruiserweight Championship before his rumored date over in NOAH, that could be an interesting wrinkle if Itami gets a title run just to effectively show off success in WWE.
Winner: Itami via Hestiation Dropkick into Exposed Turnbuckle
Rating: **** 1/4
1. NJPW Kizuna Road IWGP Jr Heavyweight Championship: El Desperado vs Hiromu Takahashi (c)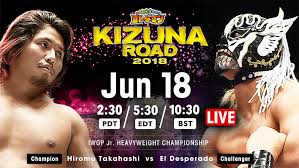 Hiromu's first defense as champion is an old rival, and someone who got a win on him in the BOSJ. So there's some nice history between these two, to add a layer.
We see Hiromu walk to the ring with a guitar case, and as a small swerve when he opens it up, it's got a bouquet of flowers, which he presents to Desperado. Despy was skeptical but eventually took them, and then hit Hiromu with them as soon as he turned around.
This match took a while to build up. They spilled outside fairly quickly, and repeated use of the guitar case,chairs, guardrails and Hiromu attempting his long running dropkick spot one too many times. Thankfully we all know by now that Japanese referees are very liberal with their decision to start to the 20 count. So we don't really get even a hint of count out possibility here, but it spills outside almost as soon as they get back in the ring.
We see multiple heel tactics employed by Desperado to try and pick up the win. Even his tag partner Yoshinobu Kanemaru shows up and slides in a chair. Funnily, this causes Bushi to come out to help Hiromu and that has to be the loudest pop I've ever heard for Bushi.
Either way, Hiromu fights through the multitude of short cuts taken by Desperado and manages to pull off a few big moves, into his Time Bomb, to retain.
Winner: Hiromu via Time Bomb
Rating: **** 1/2
Well this is a difficult week for me to vote. We've got a few promotions that aren't on the Top 5 often, as well as a bunch of familiar faces that have become almost synonymous with Top 5 work. So I guess I'll go with the match I found the most enjoyment out of, which would be, 205 Live Triple Threat: Buddy Murphy vs Hideo Itami vs Mustafa Ali. 
It was a nicely done Triple Threat, didn't follow the usual formula, and it's nice to see Itami get a little momentum.
So everyone else, make you opinion known, comment, e-mail, sky writing, Twitter trains of doom…I don't know. Just – Always Use Your Head