Chairshot Classics: Raw #8 (March 8 1993)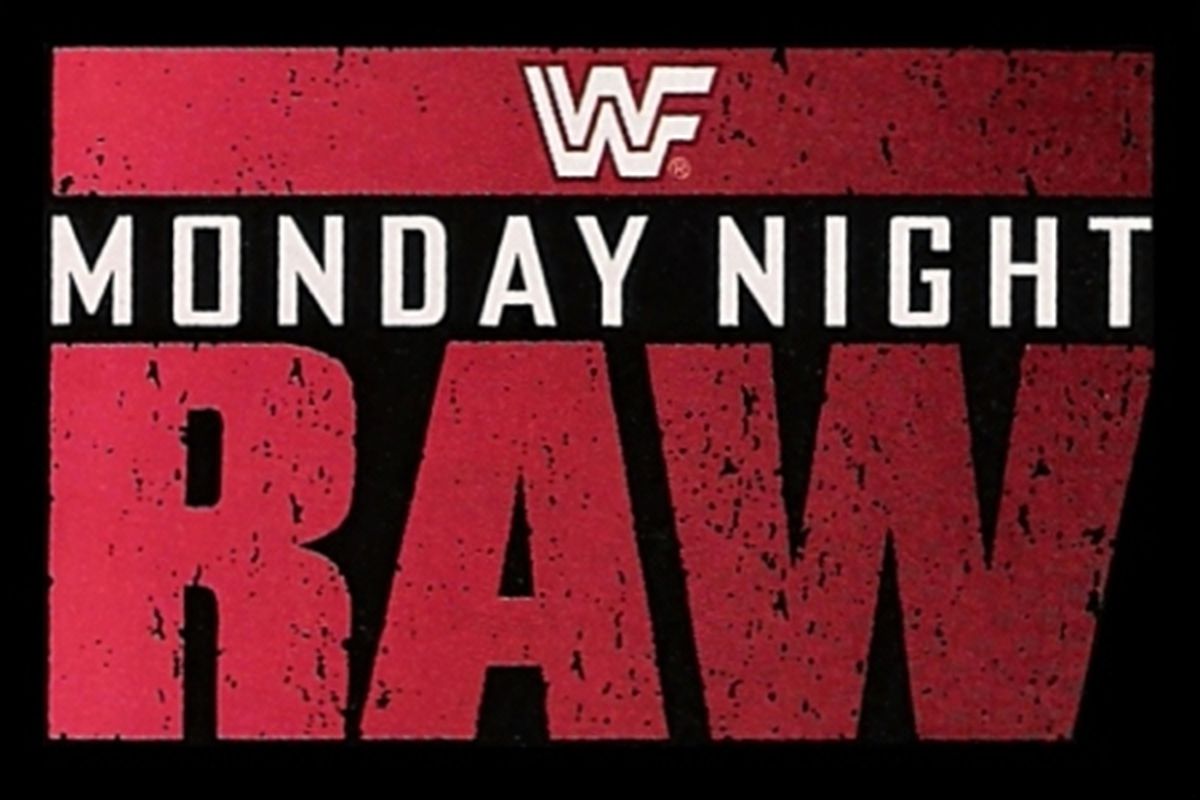 Hello again friend of a friend and welcome to the place where we cover Monday Night Raw episode by episode. It's been seven weeks so far. Seven weeks of hit and miss. Seven weeks of Enhancement talent. With Wrestlemania just around the corner, what will this week have in store? Let's find out together as we head to
Raw #8 (March 8 1993)
We immediately open with Hulk Hogan, Brutus Beefcake and Jimmy Hart in a pretape. Hogan says they accept DiBiase's challenge to a match (despite the fact Hogan wanted Jimmy Hart to sign the match in the first place). Then they mention sending Jimmy to get the contract signed (I'm confused). Hogan says he's been pounding Beefcake all week…… in the head with a metal suitcase (friend to the end Hogan). Beefcake says he's been trying to remove the turn signals from their Harley's to fit the Tag Team Titles on the front. Then Hogan for some rason starts singing "Getting to know you" from The King and I (I'm not making this up, that happened).
"From New York it's Monday Night Raw!"
. Ted DiBiase & IRS vs El Matador & Virgil
OK this not officially an Enhancement Time, but it might as well be. Matador and DiBiase start and DiBiase uses a Collar and Elbow to push Matador against the ropes. Matador does the same with a second Collar and Elbow. A shoving match starts but ends quickly. A third Collar and Elbow ends with Matador in the corner and DiBiase striking with a Knee and a Chop. Matador reverses an Irish Whip and knocks DiBiase down for a two count. A Headlock Takeover gets Matador another two and Dibiase gets a two of his own from a Roll Up. Matador locks DiBiase in a Headlock before tagging in Virgil. Wanting no part of his former ally turned opponent, DiBiase quickly tags Irwin. Virgil puts Irwin in a Headlock which Irwin breaks by sending Virgil off the ropes but Virgil knocks Irwin down with a Shoulder Block. Virgil then catches Irwin with a Hip Toss and a Clothesline. Irwin rolls to the outside to get his bearings. On the outside, Matador hits a series of Right Hands to Irwin before rolling him back into the ring. With the referee distracted by DiBiase's complaints, Matador and Virgil hit Irwin with a double Back Elbow and Matador gets a two count. Referee! Matador slams Irwin face first into the canvas for another two. Matador applies an Arm Wringer. Irwin gets to the ropes but Matador quickly pulls him away. DiBiase complains to the ref. With the referee distracted, Virgil (part of the SUPPOSED face team) enters the ring without a tag and applies an Armbar to Irwin. Irwin gets back to his feet whil Virgil switches between Armbar, Arm Wringer and Hammerlock. Virgil tags Matador in for what is probably their first legal tag of the match (No, wait, Virgil tagged in earlier but they have had two illegal switches since despite being the 'face' team) Matador yanks Irwin's arm down across his own shoulder and pulls on Irwin's arm to prevent him making a tag to DiBiase. Matador lets go of Irwin to punch DiBiase who tries get into the ring. With the referee distracted, Matador and Virgil swap illeagally (again!) and Virgil applies an Arm Wringer. DiBiase is annoyed at the Illegal switch and complains to the ref (you know where this is going, right?) With the referee distracted (again) Virgil and Matador swap (yet again) with Matador puting Irwin into an Arm Wringer.
Back from the ads and Matador is breaking out of a Chinlock with elbows to the gut. Matador runs the ropes but is caught with a knee to the gut which allows DiBiase to tag in. They split Matador's legs like a wishbone. DiBiase wears Matador down with a Front Facelock. Matador fights out of the hold with punches to the gut. Following a Knee to the gut, DiBiase grabs Matador in a Headlock. Matador quickly pushes him off the ropes to break it. There's a clash of heads and both men are down. DiBiase and Matador tag in Irwin and Virgil repectively. Vigil hammers Irwin with a series of Right Hands and an Irish Whip which knocks Irwin down. Virgil hits a second Irish Whip and a Clothesline. DiBiase tries to interfere and gets knocked down with a Clothesline by Virgil. Following a Bodyslam to Irwin, Vigril runs the ropes and is tripped by DiBiase. Irwin catches a distracted Vigril with a Side Suplex and gets the victory.
Winners: Ted DiBiase & Irwin R Schyster
We get highlights of Tatanka beating Shawn Michaels. First in a non title match from Superstars three weeks ago and then the Raw six man tag match we covered a couple of weeks back.
We get a new ad for Mania featuring Todd Pettingill. It's Wild, it's Crazy, It's Excessive Excitement caused by Acute Hyperactivity. It's an ad that is going to air for a while.
. Tatanka vs Phil Apollo
OK, the last match might have been, this one really is. It's Enhancement Time! Apollo turns a Collar and Elbow into a Headlock but Tatanka sends him off the ropes to break it. Tatanka ducks and then twice leapfrogs Apollo before countering a counter and Hip Tossing Apollo out of the ring. Tatanka heads to the outside and, after a series of Chops, tosses Apollo back into the ring. In the ring, Tatanka Irish Whips Apollow twice and knocks him down with a Chop. Apollow catches Tatanka with a thumb to the eye and a Right Hand before Tatanka counters a whip off the ropes and hits Apollo with a Powerslam but misses an Elbow Drop. Apollo takes back control with an Uppercut, a couple of stomps and another Uppercut. Apollo hits Tatanka's head off the top turnbuckle but it has no effect on Tatanka and he 'Hulks Up' by doing that hopping dance he did a few weeks ago. Tatanka catches Apollo with some running Chops to the head, a Backhand Chop and a Samoan Drop that gets the pinfall.
Winner: Tatanka
We get a Wrestlemania Report with Mean Gene. With less than a month away from Wrestlemania, tickets are STILL available. Gene hypes Hogan & Beefcake vs DiBiase & IRS, Bret vs Yokozuna and Undertaker vs Gonzales.
. Papa Shango vs Mike Edwards
It's Enhancement Time again! Shango starts by clubbing Forearms to Mike's back and ramming Mike headfirst into the turnbuckles. Shango hits a Bodyslam and a big Elbow Drop. Shango hits an Irish Whip followed by a running…. a Ho Train. Shango lifts Mike up and drops him with a Side Suplex for a two. Shango then tries to gouge out Mike's eyes with his fingers. Shango hits Mike with a second Side Suplex before stomping on his face and Headbutting Mike's gut. Shango hits a Shoulderbreaker and this is over.
Winner: Papa Shango
We get the IcoPro ad and the ad for the action figures
. Bob Backlund vs Tony DeMoro
It's Enhancement Time again! Our cup doth runneth over this evening. Backlund and Tony lock up and sort of…. dance before Backlund is able to Hip Toss Tony. They tie up again and dance again. Backlund attempts an Abdominal Stretch but can't quite lock it on and eventually Hip Tosses Tony again. Tony runs at Backlund who clips his knee and leaves Tony laying on his back before rolling out of the ring. Backlund goes behind Tony with a Waistlock but Tony counters it into one of his own but Backlund eventually rolls out of it. Tony turns a Collar and Elbow into a Waistlock but this time it's Backlund that counters it with one of his own. Tony pushes Backlund into the corner and smashes a Back Elbow into Backlund's face. Backlund reverses an Irish Whip and hits a Double Underhook Suplex and a complicated looking Roll Up for the three.
Winner: Bob Backlund
Backstage Rob Bartlett is with Rick Martel. Martel says that perfection is boring and tonight he will show Mr Perfect some excitement and he will show how Martel is not only the greatest model in history but also the greatest wrestler.
. Mr Perfect vs Rick Martel
A Collar and Elbow goes nowhere but Martel turns a second one into a Headlock. Perfect pushes Martel off the ropes but is knocked down by a Shoulder Block. Prfect hits Martel with a Hip Toss but Martel kicks Perfect in the face. Perfect Bodyslams Martel and gets kicked in the face again. Martel hits Perfect with a Bodyslam and HE kets kicked in the face by Perfect. A Collar and Elbow sees Martel pushed against the ropes by Perfect but Martel turns it so Perfect is against the ropes. Either way the ref forces a break. Perfect blocks a Right then a Left from Martel who runs before Perfect can hit a Right of his own. From a Collar and Elbow, Martel hits Knees to the gut and a forearm. He sends Perfect of the ropes but Perfect reverses it and Martel cartwheels to avoid another Right Hand from Perfect. Perfect goes for a Waistlock but Martel reverses it into one of his own. Perfect grabs Martel's foot to break it but Martel uses his other foot to kick Perfect off the ropes. This time it's Perfect that performs a cartwheel. Perfect uses a Collar and Elbow to push Martel into the corner. As the referee attempts to break it, Martel jabs Perfect with a thumb in his eye. Martel holds Perfect for a Bulldog and instead punches Perfect in the face. Martel hits Perfect with Knees to the gut in the corner but Perfect reverses an Irish Whip. Martel gets his knees up to block a charging Perfect. Martel stomps on Perfect before taking him over with an Arm Drag-cum-Northern Lights Suplex before locking in an Armbar. As both men get to their feet, Martel turns the Armbar into a Hammerlock but Perfect reverses it into one of his own. Martel manages to leap over Perfect to break the hold and pushes Perfect against the ropes, Perfect ducks sending Martel to the outside.
Back from the ads and Martel is in the ring pulling Perfect back into the ring. Martel hits Perfect with Axe Handles to his previously injured back, probably to soften him up for a Boston Crab. Martel hits Perfect with a Gutwrench Suplex for a two count. Perfect slaps Martel and Martel Uppercuts Perfect before hitting forearms to Perfect's back. Martel applies a Camel Clutch. Perfect fights his way out of it but is caught by a Knee to the gut from Martel. He hits Perfect with a Backbreaker before going out of the ring to the apron. From there, Martel attempts a Slingshot Splash but Perfect brings his knees up to counter it. Martel sends Perfect off the ropes and this time catches him with a Punch to the gut. Martel climbs to the second turnbuckle and leaps at Perfect but it's a flying nothing as Perfect catches Martel with a fist to the gut which he follows with an Atomic Drop and in Inverted Atomic Drop. Perfect catches Martel with Right Hands and a Chop in the corner before an Irish Whip and a Back Body Drop.
Back from the ads and Perfect's won the match! We get a 'during the break' replay of Perfect hitting Martel with the Perfect Plex for the three count
Winner: Mr Perfect
We see an ad for Slim Jim and an ad for the latest WWE video game releases for the Game Boy, The Master System, Super Nintendo and the Genesis/Mega Drive (how retro).
Vince hypes next week's matches Razor Ramon in action (read enhancement), Kamala in action (again enhancement) and Bam Bam Bigelow vs Typhoon and we fade to black.
Post Show: Not much to say here. Three enhancement matches and in the two 'star vs star' matches, the result of those didn't feel in doubt either to the point that Rick Martel, El Matador and Virgil might as well have been Ross Greenberg, Duane Gill and Barry Hardy
Match Of The Night: Mr Perfect vs  Rick Martel. Some good back and forth stuff with some good pace to it even if only one an was ever going to win.
MVP: Mr Perfect. In this current climate he looks like a main eventer
Rating: 4/10
With that I am done. I can be found on Twitter @Callaweasy2220 where I live tweet Raw, Smackdown, NXT and (when there is one on) Pay Per View. Also feel free to tweet me if you think this review was a steaming pile of horse manure or if you just want to talk wrestling.
While you are here feel free to peruse all the news, views and reviews that we at chairshot have to offer. Maybe after reading this, you want to contribute yourself. You can find how to do just that here at Chairshot too.
I'll be back next week with the next thrilling installment of Raw so until then #UseYourHead and ALWAYS have an Angle!
---
Always Use Your Head and visit the official Pro Wrestling Tees store for The Chairshot All t-shirt proceeds help support the advancement of your favorite hard-hitting wrestling website, The Chairshot!

---
NWA-TNA Episode 7: Reset? What Reset?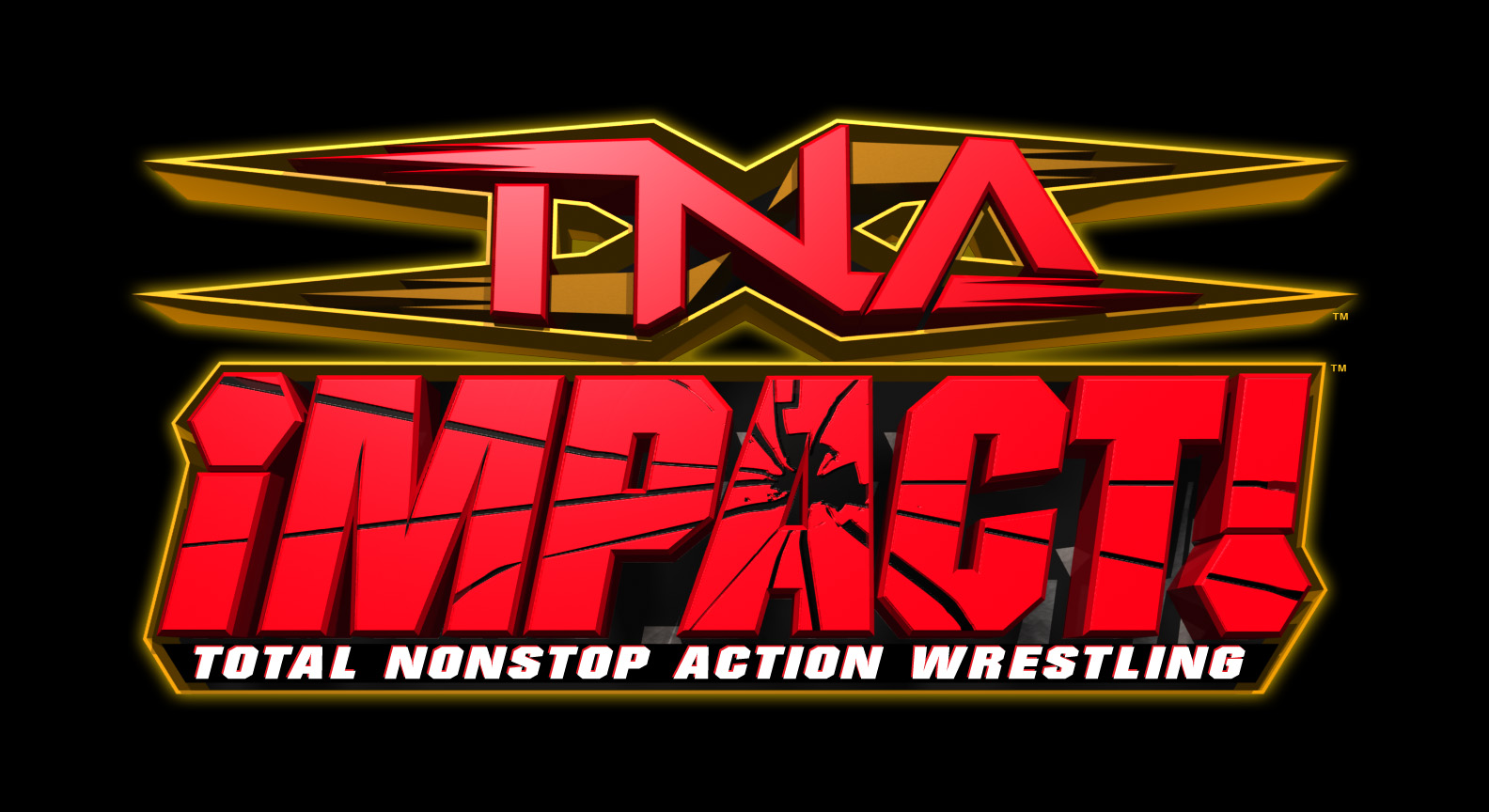 This week, TNA will deal with the fallout of the trainwreck NWA Title match between Shamrock and Sabu that ended with Malice taking off with the NWA title. Jeff Jarrett's ongoing war against the NWA continues. AJ Styles and Jerry Lynn continue to try and co-exist despite their dueling egos. So, let's see what's going on now!
Opening
Okay, old opening montage is back, but we're still in the Asylum, it looks like and we go right into our first match.
X-Division Championship Match: AJ Styles (with Jerry Lynn) vs Elix Skipper
Elix Skipper doesn't get much of a reaction and given what happened between him, Monty Brown, and Truth last week, that's a surprise. Styles comes out with Jerry Lynn and he looks winded and sweaty for some reason, maybe the A/C isn't working tonight.
Skipper gets the jump on Styles and we're off!
Lynn joins Tenay and company on commentary and is playing cheerleader to Styles, which seems a little odd given that they've been beating each other up for the last few weeks.
This was a really good match. It got a little rough in places, but both guys did a really good job. Skipper positioned himself as a possible heel for a division that really needed one.
However, Styles is a pretty resilient champion and withstood everything Skipper threw at him. Ultimately, though, Styles pulled it out with a Spiral Tap. Jerry Lynn gets on the apron to congratulate his partner and all seems right with the Tag Team Champs.
Winner: AJ Styles by pinfall.
Comment: This was a good opening match. There were a lot of rough spots, but nothing too 'WTF'. Also, Jerry Lynn's cheerleading got a little hard to swallow.
After all the crazy shenanigans of the last few weeks, the NWA has decided that they need someone to lay down the law, so they sent Ricky Steamboat. We're told that the day after last week's taping, Steamboat started calling in the worst miscreants in TNA to his office and read them the riot act and these are his rulings:
Malice has returned the NWA Championship to Ken Shamrock.
Jarrett's 60 day suspension has been lifted, by request of Scott Hall
Jarrett and Hall will have a match tonight.
Ferrara implies that Jarrett refused to come to the NWA office for his talk with Steamboat.
Meanwhile, Elix Skipper is trying to make his way to the back, when Monty Brown comes out to confront the man who left him to the mercy of Truth. West applauds the butt kicking Skipper is getting, though Ferrara points out that Brown waited until Skipper had already had a match before showing his face, implying that the Alpha Male is an opportunistic coward. Either way, Skipper gets his clock cleaned for about a minute by Brown before they fight in the ring.
Jarrett comes out, carrying someone in a burlap bag, for some reason. Jarrett seems to be feeling generous tonight. He says that since Shamrock isn't performing tonight, and Steamboat hasn't gotten there yet, he's going to take an opportunity to entertain all the fans.
(Why do I have a sense of dread in my stomach?)
Jarrett comments on his 60-day suspension, noting that he's taking it very seriously, as indicated by the squirming person in the burlap sack. He comments that Bill Behrens not only denied him his title shot, but that he was going to have to start at the very bottom.
He admits that he didn't go to the NWA meeting and decided to abide by their ridiculous rules work his way up from the bottom.
(Oh, that feeling is getting worse).
So, who's in the bag? A little person, and it looks like one of the people Puppet beat up during the first few episodes of the show. And if looks could kill, Jarrett would be a pile of dust on the floor, judging by his 'opponent's' expression. Jarrett beats his opponent up and then offers to have a match with old ladies and/or farm animals, while the hapless Elix Skipper is pulling one of the worst jobs of acting hurt I've ever seen.
Puppet comes out and he doesn't find this funny either. Jarrett mocks Puppet and calls himself the 'Dwarf Destroyer'. Puppet's reaction is to pull a (clearly fake) gun, because that's the solution to every problem these days. Jarrett decides that the smartest thing for him to do is clear out while security tries to calm Puppet down while not tripping over Skipper who is STILL in the ring. Jarrett takes advantage of the distraction of the security guards to lay Puppet out with a very gentle chairshot to the head (seriously, he barely touched him). Jarrett then wears the chair out on Puppet and Skipper.
Thankfully, this segment (and my sanity) are saved by Ricky Steamboat, who comes out to stop this dumpster fire and has one of the Harris brothers and Brad Armstrong as backup. Ricky Steamboat says that Jarrett's not going to pull the same crap with him that he's pulled on Jim Miller or Bill Behrens. Despite Tenay and company saying at the top of the show what Steamboat had decided, no one told Steamboat what he'd decided because he acted like Jarrett's suspension was still in force.
(Good grief, guys, you can do better than this)
Jarrett asks how they're going to do it, asking if Steamboat, Armstrong, and Don Harris are going to attack him three on one. He suggests that he and Steamboat settle this one on one instead with some stipulations: If Jarrett wins, he gets the title shot he believes he's owed. If Steamboat wins, Jarrett will take his suspension.
Steamboat appears to think it over and asks the fans what they want. After a little more thought, Steamboat takes the challenge. Jarrett wasn't prepared to have his bluff called, especially since Steamboat hasn't wrestled in at least seven years.
Turns out, this is a ruse, Scott Hall comes in and lays into Jarrett. Hall pulls a stretcher out from under the ring, because that's a logical place to store one, and cuts a promo on Jarrett.
Okay, apparently, Steamboat wasn't behind Hall's run in because Hall tells him to step aside because this situation doesn't involve him or the fans, it's between Hall and Jarrett. Hall vowed to send Jarrett out on a stretcher after their match.
(When Scott Hall is the only one who remembers that most of what was just discussed was already decided in kayfabe, there's a problem)
Comment: What was the point of all that? That was awful, even for Vince Russo.
Goldilocks is trying to do with an interview with Siaki who has a match against Slash for some reason. She asks where the rest of Flying Elvises are. Siaki accuses her of checking out his ass and tells her to never check out his ass without permission again. He then tells her to never touch him again or think dirty thoughts of him again. He then says he doesn't need back up from the Flying Elvises.
Slash (with James Mitchell) vs Sonny Siaki
Slash, now sporting an eyepatch and still without the rest of Guns -n- Roses, comes out to a minimal pop, as does Siaki.
Even though I really don't care about either of these guys, this was a good match. Slash has a lot of potential, he just needs a lot of polishing. Siaki really showed himself to have real star potential, even if his fairly blatant ripping off of the Rock's promo style doesn't work as well for him as it did for Dwayne Johnson.
That said, this match had some rough spots, including a mutual crotching on the top rope and turnbuckle.
Slash gets the pin by putting a black hood over Siaki's head and hitting a neckbreaker. Not sure why, but that's how the match ended. Afterwards, the real 'fun' started. Siaki not only had to endure the indignity of taking a pin via neckbreaker, he got washed in the blood of…something, probably dark cornsyrup with some red food coloring added in.
Don Harris, who is every bit the asskicker he was back in WWE, runs in and saves Siaki, powerbombing Slash. Malice runs in and the two have a face off.
Winner: Slash by pinfall.
Comment: Uh…yeah, that ending happened.
Goldilocks is doing an interview with Ricky Steamboat, who seems to be the only male in the building who knows how to talk to a woman without being a sexist pig. She asks him what he's going to do about the chaos that TNA's been in since the start and what Steamboat's going to do about it.
Steamboat admits that he's had his fair share of headaches while working for the NWA, but the rules haven't changed that much and that he was asked to lay down the law to all these wrestlers and if they don't like it, tough.
Goldilocks asks why Steamboat thinks he'll be more successful than Behrens, which irritates Steamboat for some reason and he tells her not to compare him to Bill Behrens and walks off.
Comment: Okay, I want to give Steamboat the benefit of a doubt that that last comment was maybe meant to indicate that Steamboat is having his own issues with NWA higher ups or that he doesn't like Behrens and/or his handling of this whole situation, and not him deliberately being a jerk to Goldilocks, but the way he delivered it was very rude and unnecessary, especially to a really simple question. It doesn't reflect well on Steamboat's 'good guy' persona to have him act that way.
Truth is back out and he's got some more stuff to tell us about 'Them'. He calls out the dancer, who is just trying to earn a living, and assumes that she's being made to dance in the cage instead of being there of her own free will and getting paid for it. The dancer isn't having it and seems confused, then bored, and then pissed by Truth's yammering. Finally, the dancer's had enough of this and slaps Truth. Truth moved as if to punish her for not buying his BS when he was jumped from behind by Monty Brown in retaliation for last week.
The two fight through the crowd until Truth knocks Brown over the head with a 2×4 and goes to the back.
Steamboat comes out and addresses Truth by name and says that he's gotten his (Steamboat) attention. He addresses Truth's beef with 'Them' and tells Truth to at least have the balls to address him face to face.
Truth comes out but refuses to let Steamboat talk and spouts the same stuff he's been spouting for two weeks about how 'They' have kept him down.
Steamboat's not putting up with this and tells Truth that if he wants respect, he's going to have to earn Steamboat's respect and that he has no idea what Truth is talking about (Join the club, dude). He says that if the 'Them' Truth keeps blaming for his lack of success is an authoritative figure, then Truth is talking about Steamboat, but if the 'Them' is skin color, that's another story, and it's the first time that it's been acknowledged that this storyline has been about race and opportunities. Either way, Steamboat is here to listen to what Truth has to say.
Truth doesn't seem to realize that Steamboat is trying to help him out, and keeps lashing out, saying that Steamboat is just like 'Them', but then again, he's not.
(Okay, maybe this is going to get better)
Truth says that Steamboat means as much to 'Them' as Truth does. As proof, Truth uses Steamboat's own career as his proof and insults his Intercontinental Championship run, saying that the Intercontinental Title was for 'second-class citizens'.
(Oh boy)
To Steamboat's immense credit, he doesn't lay Truth out with a solid punch to the face, and lets Truth vent, even when Truth insults everything Steamboat worked so hard to accomplish.
When Steamboat is finally given the mic back, he tells Truth that he gets where Truth is coming from, especially when it comes to 'Them', so he's going to give Truth the opportunity of a lifetime: An NWA World Heavyweight Championship match against Ken Shamrock next week! I'm not sure who is more stunned, Truth, the audience, or the commentators. Truth accepts and celebrates by rapping to the audience after Steamboat leaves.
Malice (with James Mitchell) vs Apolo
Malice and Mitchell come out to no reaction and Mitchell has his box of anointing corn syrup with him. Apolo doesn't get a better reaction, I think the overlong promos killed this audience.
Tenay and company point out that Apolo and Malice were both in line for title shots, but just got leapfrogged by Truth, which probably doesn't make either of them very happy.
Why Steamboat might have decided to skip over Malice and Apolo is put on display because this match wasn't very good. Apolo tries to hit a hurricanrana and it botches, thankfully no one's neck was in danger. Malice shows a lot of potential as a dominate heel, but, like Slash, he needs a lot of work.
To everyone's surprise, including mine, Apolo manages to get a pin on Malice after Malice dominated most of the match. Though, to protect Malice, it looks like he got his shoulder up a split second too late. Malice still isn't happy about losing and attacks the ref and Apolo, which brings out Don Harris. Unfortunately for Harris, he gets overwhelmed by the numbers game of the New Church and gets his own 'baptism' of corn syrup.
Winner: Apolo by pinfall.
Comment: That was okay, it wasn't a great match by either man, but Malice was protected as a toppish heel.
Don West decides to cleanse everyone's palate (and wake the audience up) by bringing out Miss TNA, Taylor Vaughn. Vaughn gets a nice pop and comes out dressed like a beauty queen. The interview barely gets started when Bruce of the Rainbow Express comes out. Apparently, Bruce feels that the Miss TNA Lingerie match wasn't inclusive enough and that watching Truth spout on about 'Them' has inspired him to go for what he wants: The Miss TNA Crown and that Taylor should give him a shot at winning the crown if she doesn't want to be a bitch like 'Them'. Taylor takes exception to being called a bitch and accepts with a low blow.
 Taylor Vaughn vs Bruce For the Miss TNA Crown
I'm not going to dignify this trainwreck with a full account. It was a woman in a dress going up against a trained male wrestler over a fake crown. The best that can be said is that Taylor didn't wrestle in heels, though she managed to get in a few basic moves.
 Winner: Bruce by pinfall.
Comment: WTAF?!
Goldilocks tries to get an interview with Lo Ki, who is prepping for his match with Jerry Lynn, but Lo Ki again states that he does his talking in the ring.
Lo Ki vs Jerry Lynn (with AJ Styles)
Lo Ki gets a good reaction, as does Jerry Lynn. AJ is on commentary and is continuing the painfully false-sounding cheerleading of Jerry Lynn.
This was a really good match. Both guys looked like a million bucks and it was a bright spot of this show. Everyone in the X Division works really well together, my only gripe is that there's often too many high spots and not enough wrestling, and that there are no real faces and heels.
AJ seemingly tries to help Lynn sneak out a victory, but Lo Ki saw it coming and whipped Lynn to Styles' sneak attack, which caused Scott Armstrong to throw the match out. Styles talks trash to the prone Lynn, leading us to believe that the 'botched' sneak attack wasn't so botched after all. Even Lo Ki is confused and attacks Styles for costing him the match.
Winner: No Contest due to Styles' interference
Comment: That was a bad way to end a good match.
Backstage, Goldilocks tries to get an interview with Don Harris about what happened with Malice. Harris acts like a bit of a jerk to Goldi but says while it's cool that Malice got the jump on him this week, if it's blood Malice wants, it's blood he'll get. We'll be getting a First Blood Match next week.
The first episode of Jive Talkin' premiered this week, but the whole thing was so insulting to me as a woman and a lifelong wrestling fan that I couldn't bring myself to cover it like I normally would. Basically, Disco Inferno's guest was the long-suffering Goldilocks and basically said that her real talent required kneepads (yes, SERIOUSLY). He then took off his pants and revealed his privates and basically thought Goldi should blow him on PPV. Not surprisingly, Goldi was NOT down, and kicked him in the balls. To make this garbage worse, she was attacked by a muscular blonde who puts her in a sleeper hold before rushing to Disco's aid. Security goes to Goldi's aide, but she has had just about enough of everything and shoves them away.
Don West, in an effort save TNA's viewership, does the most over the top hyping of next week's show ever.
Scott Hall vs Jeff Jarrett
Hall is out to a good pop and he's brought his stretcher with him. Jarrett doesn't have time to get much of a pop because Hall runs up the ramp to greet him and the fight's on. They fought all over ringside and into the backstage area before finally making it back to the ring.
Once it actually got started, this was a really good match. When Hall has it turned on, he's one of the best wrestlers in the business, Jarrett is always good. The problem is that the people in charge made this match such a mess. We had a run in by Truth, for some reason, Monty Brown ran in to neutralize Truth, Jerry Lynn attacked Jarrett for no apparent reason that I can think of, which brought Styles out to attack Lynn. I'm not sure who Styles was going to attack in the ring, probably Hall, but he was stopped by Don Harris. Harris' intervention brought out the New Church, but while Armstrong stopped the Lynn/Lo Ki match for one incident by Styles, this match kept going, despite everyone and their fifth cousin taking shots at either Jarrett or Hall.
Hall's fixation with taking Jarrett out on a stretcher backfires when he takes out the ref, which gives Jarrett the opening he needs to turn the tables and get his own equalizer: a steel chair. Steamboat runs out to stop this mess and nearly takes a shot to the head, but jumps out of the way, which makes the chair rebound on Jarrett.
Steamboat's admirable attempt to keep this thing street legal is all for naught when his attempt to stop Hall from using the chair on Jarrett resulted in Jarrett hitting the Stroke on Hall on the chair.
Winner: Jeff Jarrett by pinfall.
Comment: That could've been a great match, instead it was a mess.
Overall Comments
What the heck did I just watch? Apparently, all the stuff I enjoyed last week seemed to be because someone other than Vince Russo was doing the writing and this week was Vince getting the pen back and taking things back to how they were in Episode 5 while not totally doing away with what happened in Episode 6.
The issue of how women are being treated? That is back in full force and it was even worse than Episode 5. The treatment of Goldilocks and Taylor Vaughn was disgusting and insulting to female wrestling fans.
Another big issue was the sheer amount of in-ring promo segments. They spent most of this episode talking and the matches were a distant second. The first segment took a good 10-15 minutes of nonsense just to set up Scott Hall's run in and explain to the live audience what Tenay and company had already told the PPV audience at the top of the show, which made everyone look stupid. The Truth/Steamboat segment was better and at least set things up for next week, but the segment still went long.
Stinkers: Just about every match stunk, but pride of place goes to Malice/Apolo.
Snoozers: Jarrett/Hall simply because what could've been a great match was ruined by stupidity.
Match of the Night: Styles/Skipper, just because it was the only match not have a wonky finish.
Final Thoughts: I have been watching wrestling since I was at least six, this was the worst episode I've ever seen, and I lived through the Attitude Era. I hope next week is better than what I just watched.
---
Always Use Your Head and visit the official Pro Wrestling Tees store for The Chairshot All t-shirt proceeds help support the advancement of your favorite hard-hitting wrestling website, The Chairshot!

---
Chairshot Classics: WWE SummerSlam 2016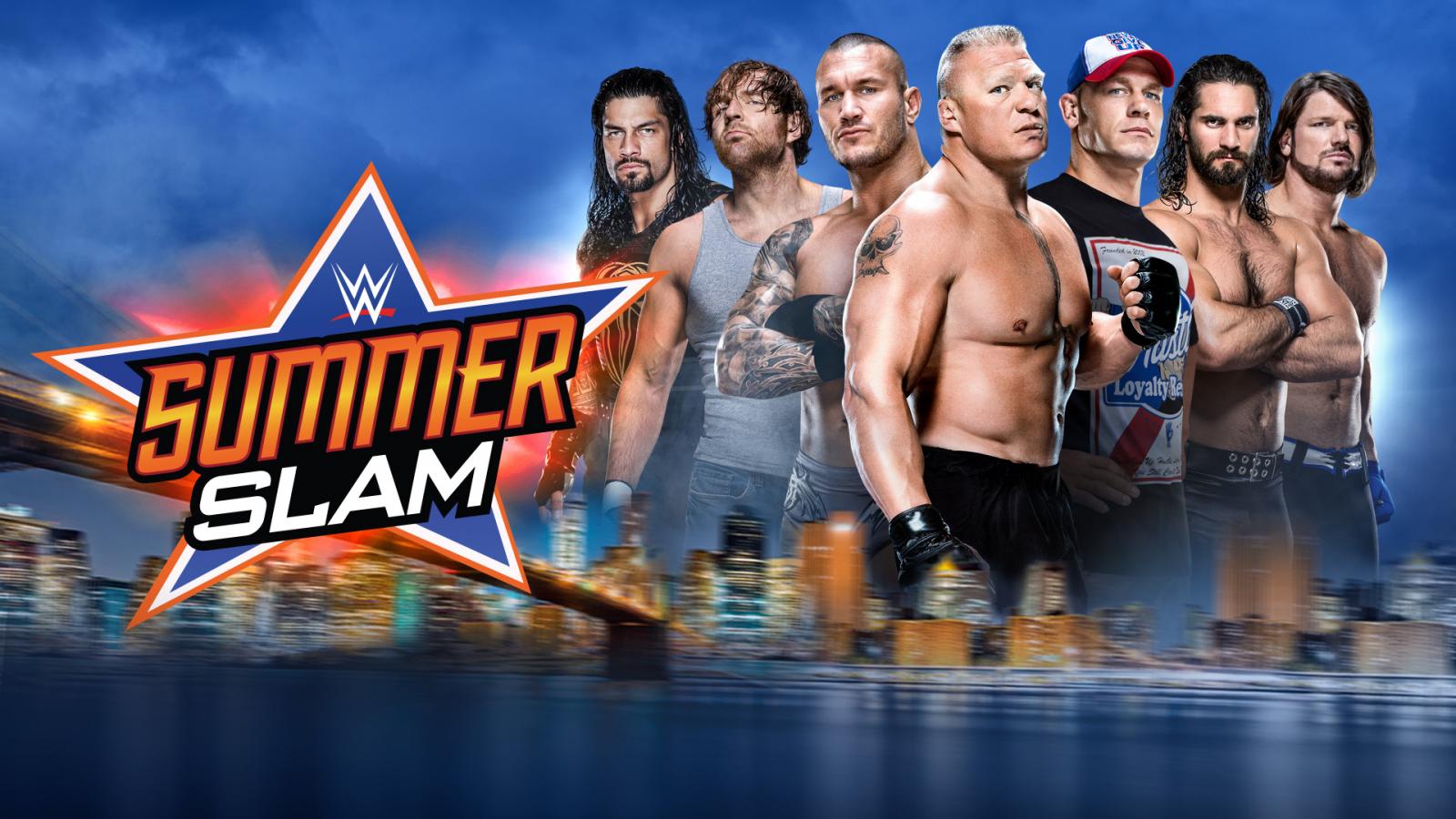 Kickoff Match #1: The Vaudevillains (Aiden English & Simon Gotch), The Ascension (Konnor & Viktor) & Breezango (Tyler Breeze & Fandango) vs. The Hype Bros (Zack Ryder & Mojo Rawley), The Usos (Jimmy & Jey) & American Alpha (Jason Jordan & Chad Gable)
Breeze & Gable to kickoff the action, collar & elbow tie-up to start out, Prince Pretty backs Gable towards his corner, Chad goes to a waistlock and takes him down to the canvas. Tyler with a back elbow to break the grip and gains a wristlock, Gable rolls through, scores with a forearm, brings him back down with a spinning drop toe hold and slaps on an armbad. Tag to Jey who regains the wristlock, Breeze with a handful of hair to work him to the corner, Aiden gets the tag, drives Jey face-first into the top turnbuckle, then connects with heavy right hands. He shoots Jey across, Jey slides to a stop, drills him with an uppercut, delivers a body slam and makes a tag to Mojo.
Rawley with big fists to the breadbasket, drives his shoulder into English's and locks in an armwringer, Aiden breaks it with a right hand, but a whip to the ropes is reversed for a back body drop. Mojo tags out and Ryder comes off the 2nd rope for a combination suplex/dropkick. Long Island Iced Z unloads with forearms in the corner, sets for the Broski Boot, every hits the ring now and the melee is on with The Ascension left standing.
American Alpha ascends the same turnbuckle for in-sync top rope clotheslines and shoulder blocks, Breezango pulls them to the outside, Zack comes running in with a baseball slide to them both, gets dragged under the bottom rope and Aiden rams him into the ring post as we hit a break….We come back from commercial and Gotch covers Ryder for a count of 2 before utilizing a chinlock, switches to an armbar, Long Island Iced Z works to his feet, gets backed to the wrong corner and Viktor tags in to put the boots to him in the corner for a 1 count. He grounds Zack with a rear chinlock, Ryder finds his footing again, escapes after a jawbreaker, reaches for a tag, but gets driven back into the wrong corner again.
Konnor tags in and crushes Zack with a corner clothesline, sends him into a high knee from Viktor for a count of 2, Prince Pretty tags back in, snapmares Ryder over for an elbow drop and hooks the leg for another 2. He grinds Long Island Iced Z down with a rear chinlock, The Broski battles up, gets taken down into a single leg crab, Fandango gets the tag and comes in with a slingshot leg drop for a near fall. Viktor re-enters the match and puts the bad mouth on Ryder in the corner, Long Island Iced Z tries scurrying to his corner and gets caught in a front facelock, gets pushed back to the wrong corner, Konnor tags in and The Ascension knocks all of Ryder's partners off the apron.
The Ascension looks for another double team, Zack thwarts it off, crawls to his corner as Jimmy climbs back to the apron, Konnor slides in to cut him off with a Canadian backbreaker, but Ryder slips out of it into a neckbreaker. Tags on both sides now, Jimmy delivers clotheslines to Tyler, keels him over with a kick, scores with an uppercut, shoots him to the ropes for a clothesline, Breeze ducks it, but gets planted by a Samoan Drop instead. He lines Prince Pretty up for the corner hip attack, Konnor rolls in and cuts him off, blocks a kick, swings the leg around and Jimmy decks him with an uppercut.
He goes to send Breeze to the ropes, irish whip is reversed, Jordan with a blind tag as Jimmy attempts a crossbody that misses the mark, Jordan tossing Tyler with an overhead belly-to-belly suplex. Fandango comes off the top rope to help his partner, gets caught by a belly-to-belly for his troubles, Gotch makes a tag, steps into the ring and gets thrown with a leg-trapped suplex, covers, but Aiden breaks it up at 2. Gable slides into the ring and goes for a kick to English, it's countered and Gable gets planted by a sit-out powerbomb. Rawley hits the ring next with a discus punch to Aiden, turns around and Breeze lays him out with the Beauty Shot, Prince Pretty catches Zack coming in looking for the Rough Ryder, elevates him into the air and Viktor flattens him with a clothesline.
He props Ryder on the top turnbuckle, Breeze & Viktor climb up for a double superplex, Mojo rolls in and plants them both with a powerbomb, Long Island Iced Z following with the ElBro Drop off the top. Fandango climbs the opposite corner and connects with the Last Dance to Ryder, Jimmy rolls in and disposes of Fandango with a superkick, turns around and Konnor's there to elevate him up, Viktor coming off the 2nd rope with a knee to the jaw.
Gable comes in and low-bridges Konnor over the top, elevates Viktor to the apron, Viktor hangs on, The Ascension set him up for a double suplex, but The Usos slide in to prevent it with in-sync superkicks. Jimmy & Jey take flight to the outside with crossbody planchas, Simon rolls into the ring and peppers Gable with a stiff forearm, turns around and Jordan is there to spear him in the corner. Gable tags in, American Alpha hits Grand Amplitude, Jey with a blind tag and he comes off the top with the Uso Splash to Simon for the win.
Winners: The Hype Bros, The Usos & American Alpha (Jey/Uso Splash)
EA's Take: Solid contest that was eerily similar to the one we saw on SmackDown. Only difference here is the heels got in some more offense and Jey tagged himself in to "steal" the pinfall. I don't mind it, but there was nothing spectacular really. We get some teased tension between Alpha and The Usos at the end, I don't see The Usos turning heel, but more building up the competition with these teams vying for the top spot.
Kickoff Match #2: The Dudley Boyz (Bubba Ray & D-Von) vs. Neville & Sami Zayn
Neville & D-Von to start out, D-Von goes to a wristlock off the tie-up, The Man That Gravity Forgot uses the ropes to flip over and counter to one of his own, then tags out. Sami maintains the hold and delivers shots to the shoulder, quick tags between Neville & Zayn now, trading off blows to the left arm. The Underdog from the Underground plants D-Von with a body slam, gets on all fours, Neville jumps off his back into a standing corkscrew moonsault, then they dump Bubba over the top and look for synchronized outside dives.
Bubba trips Neville up from the floor, D-Von takes the opening, puts The Man That Gravity Forgot in the corner and puts the boots to him, shoots him to the ropes for a spinning back elbow, covers for a 1 count and we go to a commercial….We come back and Bubba props Neville on the top turnbuckle, plants him into the canvas with an elevated neckbreaker, D-Von re-enters the match and covers for a count of 2. He locks on a nerve hold to the trap muscle, The Man That Gravity Forgot fights to his feet, gets clocked by a right hand, D-Von snapmares him over and drops a leg for another 2 count.
He puts Neville into the corner and unleashes a flurry of fists, Bubba tags back in and buries a punch into the ribs, rams The Man That Gravity Forgot into the top turnbuckle and talks trash as he pummels him with more right hands. Neville starts to fire up and gets clocked by a back elbow, Bubba goes to the 2nd rope for a senton, Neville avoids it, crawls toward his corner and we get tags on both sides.
The Underdog from the Underground with clotheslines for D-Von, irish whip to the ropes is reversed, D-Von tosses Sami into the air for a flapjack, Zayn clobbers him with a dropkick, ducks a clothesline and scores with the Blue Thunder Bomb, Bubba breaking the count up at 2. D-Von tags out, Sami battles off both Dudleys initially, he misses a wild right hand, The Dudleys plant him with 3D II, Bubba hooks the leg and now Neville saves the match at a 2 count.
The half-brothers take the 2-on-1 advantage and set Neville up for 3D, The Man That Gravity Forgot slips out of it, ducks a clothesline, Bubba levels D-Von instead, turns around and gets decked by the Helluva Kick. Neville tags in, connects with the Red Arrow and that's all she wrote.
Winners: Neville & Sami Zayn (Neville/Red Arrow)
EA's Take: More pretty standard stuff here, Neville's corkscrew moonsault off of Sami's back was impressive, but I've seen it before. Not that it makes it any less exciting. The Dudleys continue to have communication problems and although I don't agree with it if that's what's going to happen, it looks as if a split is inevitable.
Kickoff Match #3 – Best Of 7 Series Match #1: Sheamus vs. Cesaro
Both guys a little tentative to begin, they lock-up and jostle for position in the corner, the official steps in to force a break, Sheamus tries an early Brogue Kick and misses, Cesaro following him into the opposite corner with a running uppercut. He pulls The Celtic Warrior out, Sheamus missing a wild right hand, The Swiss Superman springs off the 2nd rope for another uppercut, gets caught in the air, battles out of it and uses a double leg takedown to set for the Swing.
The Great White kicks his way free, Cesaro comes back with a double stomp to the chest, clotheslines Sheamus over the top to the floor, hits the ropes for an outside dive, but The Celtic Warrior surprises him with a right hand from the floor. He rolls into the ring and gets caught by a dropkick for a count of 2, The Great White staggers to the corner, uses the tights to pull Cesaro face-first into the turnbuckles, unleashes a flurry of uppercuts, irish whip across is reversed, The Swiss Superman follows in and gets elevated to the apron, landing on his feet.
Sheamus scores with a forearm shot and ties him in the ropes for the Beats Of The Bodhren, The King Of Swing blocks it, delivers uppercuts to the shoulder, Sheamus rips at the left arm in the ropes, drives him into the top turnbuckle and drops Cesaro with a clothesline. He drags Cesaro back into the ring and hits a vertical suplex for a count of 2, starts targeting the left arm with a top wristlock, The Swiss Superman finds his way to a standing position, powers Sheamus up into an alpamare waterslide, scores with a snap suplex and floats into a cover for 1.
The Celtic Warrior surprises him with a mule kick to the midsection, punts Cesaro in the face, shoots him to the corner and buries a shoulder into the ribs, then hits the ropes. Cesaro explodes out with an uppercut, The Great White fires back with a back elbow, sends him to the ropes for a tilt-a-whirl powerslam, hooks the leg and gains a count of 2 as we go to break….Sheamus has Cesaro grounded with a rear chinlock when we get back, The King Of Swing finds his footing, gets pushed to the ropes for a back body drop, prevents it with an uppercut, hits the ropes and gets cracked by an Irish Curse for a near fall.
The Great White lifts Cesaro up and they exchange shots, Sheamus gets the better of it, picks The Swiss Superman up for a rolling fireman's carry, hooks him for a suplex, The King Of Swing blocking it and they both drop over the top to the floor. Both guys stagger to their feet and roll into the squared circle to just beat the count, The Celtic Warrior clobbers Cesaro with uppercuts and puts the bad-mouth on him, The Swiss Superman fires up with a barrage of uppercuts to back him to the corner, goes into the Uppercut Train, Sheamus reverses, gets propped on the top turnbuckle and then dropkicked to the apron.
The King Of Swing climbs to the 2nd rope and pulls Sheamus up for a suplex back into the ring, lateral press for a count of 2. Cesaro grabs the legs for the Swing, Sheamus kicks him away, rolls him up for a near fall, The King Of Swing charges in, nearly gets caught in another Irish Curse, flips through it for the Neutralizer, but it's countered into White Noise for another near fall. Cesaro rolls to the apron and Sheamus clubs him across the chest, climbs to the 2nd rope, deadlifts The Swiss Superman up and plants him with a 2nd rope rolling fireman's carry, but still can't finish it. The Great White calls for the Brogue Kick to end it, runs into a big boot, gets flattened by a clothesline, Cesaro into the cover, but still only gets a 2 count.
He rolls to the apron and ascends to the top turnbuckle, stands on the ring post, springs off the top rope for a crossbody, hooks the leg and can still only gain a near fall. He looks to the crowd and puts Sheamus in the Swing, steps into the Sharpshooter, The Great White quickly grabs the bottom rope to force a break, the official steps in to create separation, Sheamus taking the opening to sneak in a back elbow. The Swiss Superman picks the legs and tries for another Sharpshooter, The Celtic Warrior with a thumb to the eye, rams him shoulder-first into the ring post, follows with a Brogue Kick and finishes it.
Winner: Sheamus (Brogue Kick)
EA's Take: No surprise here to me with Sheamus winning, it never really made sense to me for them to have a Best Of 7 when Cesaro has gotten the better of him 3 weeks in a row, so he needed it tonight. I don't think there's ever been a Best Of 7 Series in wrestling history that didn't go the distance, so The Celtic Warrior had to pick up a win at some point. Not as good of a showing as their first match on RAW 3 weeks ago either, in my opinion.
---
Always Use Your Head and visit the official Pro Wrestling Tees store for The Chairshot All t-shirt proceeds help support the advancement of your favorite hard-hitting wrestling website, The Chairshot!

---
Chairshot Classics: WCW Starrcade '91 – BattleBowl & The Lethal Lottery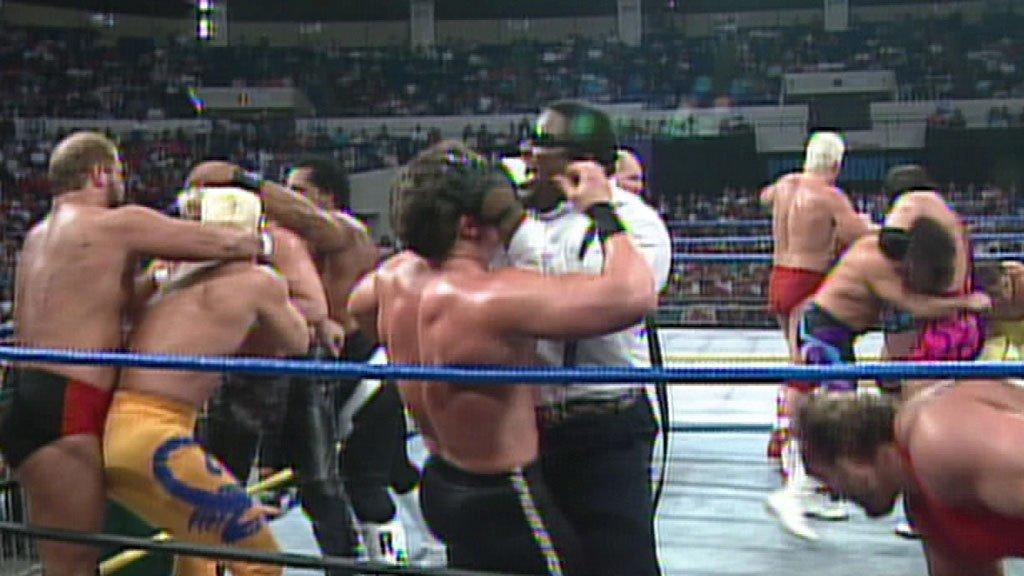 Open: The names of 40 top WCW Superstars were entered into a "Lethal Lottery" to randomly generate 20 tag teams. This created 10 tag team matches with the winners of each being entered into the main event: a 20 man battle royal to determine the sole winner of Battlebowl.
In The Arena: Eric Bischoff, Missy Hyatt and Magnum T.A. are standing by with all 40 participants are standing on the entrance stage. Hyatt and T.A. start to draw names, and Bischoff announces the first participants. We have our first surprise as The Fabulous Freebirds are on opposing teams.
Match #1: Michael 'P.S.' Hayes & Tracy Smothers vs. Jimmy 'Jam' Garvin & Marcus Bagwell
Bagwell and Smothers start us out. Both Freebirds get the crowd clapping from the apron. There is a staredown and they exchange shoves. They hit the ropes and Bagwell takes Smothers down with a shoulder block. Smothers reevaluates his situation. The crowd chants for the DDT. Collar and elbow tie up and a deep arm drag by Bagwell. Another tie up, chain wrestling into a hammerlock by Smothers, reversed with a takedown by Bagwell. Smothers lectures a stalling Smothers. Collar and elbow, Smothers escapes a reverse waistlock with an elbow to the jaw and follows it with a shoulder block.
They run the ropes, Bagwell leapfrogs Smothers and delivers a hip toss. He follows with a drop kick and an arm drag, Smothers gets up and misses a drop kick before retreating. Smothers gets up and insists one or both Freebirds enter the match. Garvin is tagged in, Smothers taunts him, Garvin struts around and he is ambushed from behind. Smothers is shot into the ropes, they exchange leapfrogs before Garvin hits a hip toss and a drop kick. Smothers rolls to the apron, and he's kicked in the face and out to the floor. Hayes checks in with his partner as the crowd cheers for the DDT. Smothers regroups in the ring, he offers a handshake but kicks Garvin in the gut.
Jimmy Jam lifts his cheap shotting opponent up for an atomic drop and he tumbles outside again. Back to the ring, Garvin grabs a wrist lock and tags in Bagwell. Bagwell enters with a double ax handle to the shoulder and locks in a wrist lock of his own. Smothers reverses with a knee to the gut and some clubbing fists. Hayes is finally tagged in, chop followed by an elbow off the ropes. Arm bar by Hayes is reversed with a take down by Bagwell. They jockey for position and Hayes uses a drop toe hold. He controls Bagwell with the arm bar and clubs Bagwell's shoulder. Smothers is tagged back in and stays on the arm. Bagwell reverses, grabbing the other wrist, throwing Smothers over and landing a standing leg drop. Back to their feet and Bagwell stays on the shoulder. Smothers gets positioning in the corner, the referee calls for a break in the hold and The Young Pistol cheap shots Bagwell in the mid section.
The rookie escapes from the corner but Smothers is hot on his trail. Bagwell reverses a whip to the ropes and takes his opponent down with an arm drag. The fans get on the case of Smothers with some jeers. A knee to the gut off the tie up by Smothers, he lifts Bagwell but Marcus escapes and delivers a scoop slam. Garvin is tagged back in, and Smothers dives to his corner and forces a tag on Hayes. The partners smile as the crowd reacts. They shake hands and tie up. No one gets an advantage and it's broken. Another collar and elbow and Hayes gets position on the ropes, the referee breaks them up. A fourth tie up and Hayes throws Garvin with the arm drag. Michael Struts. Garvin hits an arm drag of his own.
They tie up and Hayes goes for a quick schoolboy and a two count. Side headlock takedown by Garvin, countered with a leg scissor, broken quickly and they're back to their feet. They each strut to their corners and tag in their respective partners as the fans cheer. Quick strikes and a superkick by Smothers. Bagwell is lifted for a scoop slam but he dodges the elbow. Garvin is tagged back in and hits Smothers with a back body drop. Garvin confuses his dazed opponent with some fast running across the ring and a running forearm. He tags in Bagwell who heads for the top rope, Garvin holds Smothers in place with a wrist lock and Bagwell gets two on a flying cross body.
Marcus gives Hayes a shot on the apron before turning to Smothers. Hayes takes offense and enters the ring to knock him with a right. Garvin turns Hayes around and Michael unknowingly clocks him with a big left. Scoop slam by Smothers in the middle of the ring as the Freebirds argue. Smothers goes for a high risk move but Bagwell gets the knees up. Bagwell hits a Fisherman's Suplex and picks up the win. The Freebirds make up and shake hands.
Winners: Jimmy 'Jam' Garvin & Marcus Bagwell (Bagwell/Fisherman's Suplex)
EA's Take: I don't think I've seen more than two consecutive PPVs where the Freebirds remain either heels or faces. They're sort of the 'Ric Flair' of tag teams – you either love them or love to hate them. This was obviously a curious match of "will they/won't they" in terms of fighting one another. Two times I thought they were going in a particular direction, but both times it turned out to be nothing. When the Birds were in the ring, I started laughing each time they locked up and broke it off on the ropes. I would have stuck with that, exaggerating the excursion from each tie-up and adding some more comedy before making the tags back after no moves were thrown. They ended up hitting one another with some arm drags, so the whole, "sure, we'll fight each other… just kidding", wasn't as good as it could have been. When they got into it at the end, you thought maybe it was friction within the team, but instead they immediately made up. Oh well, decent match. The Birds know how to entertain.
Match #2: WCW Television Champion 'Stunning' Steve Austin & WCW United States Champion 'Ravishing' Rick Rude w/Paul E. Dangerously vs. Van Hammer & Big Josh
Hammer and Austin start with a tie up and quick break. Another tie up, Austin takes position and it's broken in the corner. Hammer lifts Austin for a scoop slam and Austin looks "Stunned". Kick to the gut and rights by Austin. Hammer reverses a back body drop with a kick to the face, but Austin is right back up with a kick and an attempted vertical suplex. The big Hammer blocks and lifts the TV champ for one instead. Austin kicks out at two and jumps back up with a drop toe hold and a reverse chin lock on the mat.
Hammer reverses into a hammerlock on the mat and follows it with knees to the ribs. They work back to their feet and Austin takes him down with a series of snapmare takedowns. Hammer reverses the Irish whip, Austin moves and Hammer collides with the turn buckle. Strikes and another snapmare by Austin who tags in Rude to a sea of boos. Rude sends him for the ride and a clothesline before taunting the crowd. Knee to the mid section and clubbing forearms by the US Champ. Hammer tries to fight back with rights, but Rude rakes his eyes. Hammer is sent to the ropes and is flipped over by a knee to the gut. Rude holds him in place with his boot as he tags in Austin.
Clothesline by Austin followed by a side salto suplex. Rude gets the quick tag, and he clubs the back of Hammer's neck. Reverse side head lock by Rude as Hammer tries to strength his way over to Big Josh. He's able to make it, and Josh is fired up, giving a few strikes and sending Rude for a power slam. He stands on Rude for a log roll, but the US champ points out his abs are invincible to that move. Josh unsuccessfully tries striking his mid section, but he's had enough and just clotheslines him. A quick kick out by Rude, but he goes down just as fast with a shoulder block. Rude kicks out of another lateral press, Austin rushes the ring but Josh takes him out. The Dangerous Alliance reels on the outside after having their heads knocked together.
Rude is back in, and Dangerously screams on his phone. Josh reverses a hammerlock with an elbow to the jaw, arm drag take down, Rude desperately reaches for a tag. He gets it, and Austin meets a similar fate. Austin works back to his feet, he breaks the hold with some rights. Josh reverses the Irish whip to the ropes, Austin takes him down with a shoulder tackle, but the second time Big Josh catches him and slingshots him across the top rope. A clothesline and a lateral press gets two and Van Hammer is tagged back in. Austin is worked down with the hammerlock. He adjusts to a wrist lock and makes the quick tag to Josh who hangs onto it. Austin breaks it with rights and breaks up Josh's attempt at a back body drop.
Reverse waist lock by Josh, Austin ducks and runs toward the ropes and Rude clocks the outdoorsman. Legal tag is made to Rude and he goes for the top rope. Double ax handle knocks Josh to the mat, but there's a kick out at two. Strikes from Rude and another tag to Austin. Boots in the corner by Austin and he holds his opponent on the middle rope. The ref pulls him away, Rude jumps down to the floor to keep him in place and Austin comes back with a leaping bronco buster. Austin gets two and a half on Josh. Front face lock and a tag back to Rude. Clubbing forearms and a snap mare. Rude holds on with a modified reverse chin lock, Josh manages to get back to his feet and Paul E. immediately gets on the apron.
Josh fights out of the hold but he's blind sided by Austin's boot. Dangerously is lectured down to the floor, and the referee questions is a tag was made to Austin while he wasn't looking. Big Josh is dumped to the floor for abuse by Rude while Austin ties up the ref. Snapmare and a reverse chinlock by Austin. Josh is slow to get back to his feet as Hammer leads the cheering. The hold is broken with elbows to the gut, and he catches a leaping Austin with a power slam. Josh goes for the elbow but Austin moves. Josh is once again draped on the middle rope, Dangerously holds him in place while Rude provides the distraction.
Austin goes for another bronco buster, but Josh moves and pulls his manager in the way. Josh crawls across the ring to make the hot tag who goes right after Austin. Power slam by Hammer followed by a belly to back suplex. Austin is sent for the ride and eats a diving shoulder block. Rude makes the save and Josh takes offense. Back to the apron, Rude makes a blind tag as Austin hits the ropes. Hammer lifts the TV champ for the back body drop but doesn't realize the US champ in the legal man. Rude spins Hammer around and hits the Rude Awakening for the win.
Winners: 'Stunning' Steve Austin & 'Ravishing' Rick Rude (Rude/Rude Awakening)
EA's Take: In two matches, they've already achieved my expectation to have some partners on opposite corners and others conveniently together with Austin and Rude. The Ravishing One's debut at Halloween Havoc not only brought him into WCW, but opened the door for him to become leader of The Dangerous Alliance, one of the better factions that is often forgotten in time. With Rude and Paul E as the figureheads, being flanked by Arn Anderson, Larry Zbysko, Bobby Eaton, a young Steve Austin and Madusa was a pretty formidable. On top of that, Austin would quickly become Television Champion, Rude would pull off a tremendous ruse to get the US Title off of Sting and they had all the momentum in the world. Obvious winners just by reading the card.
---
Always Use Your Head and visit the official Pro Wrestling Tees store for The Chairshot All t-shirt proceeds help support the advancement of your favorite hard-hitting wrestling website, The Chairshot!

---