Chairshot Classics: Raw #8 (March 8 1993)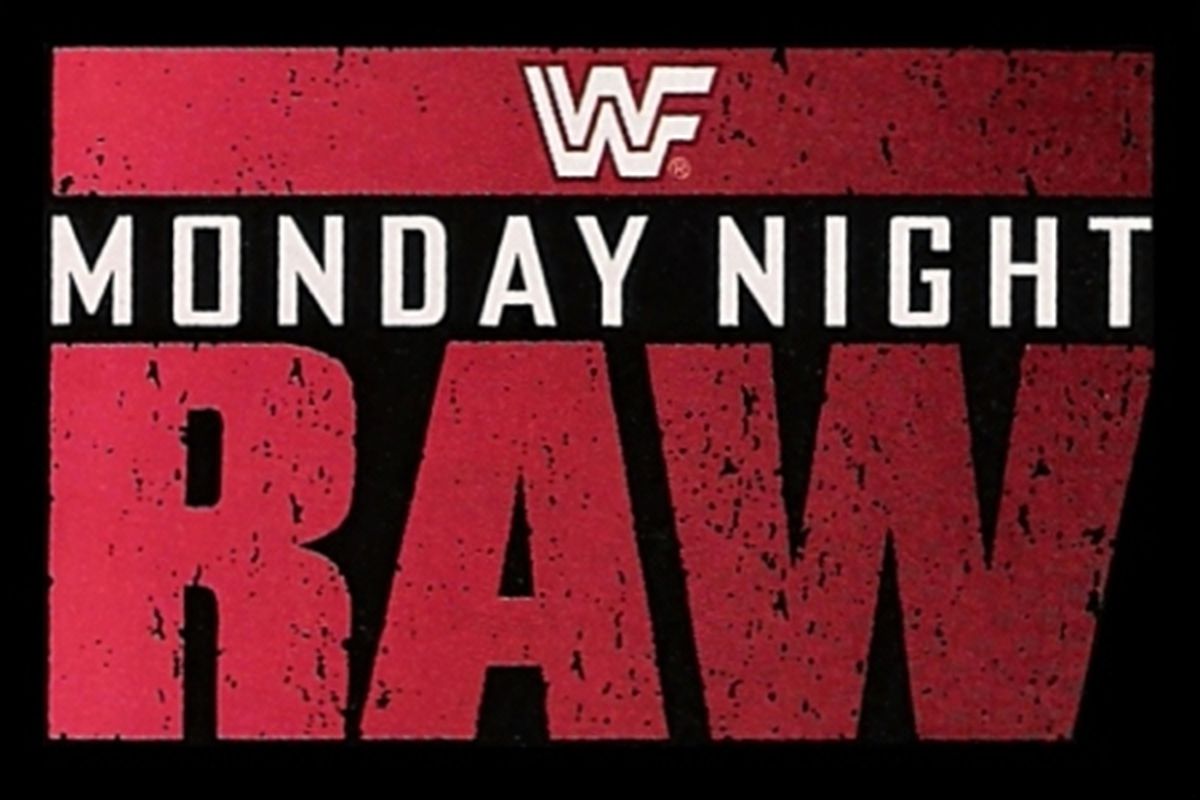 Hello again friend of a friend and welcome to the place where we cover Monday Night Raw episode by episode. It's been seven weeks so far. Seven weeks of hit and miss. Seven weeks of Enhancement talent. With Wrestlemania just around the corner, what will this week have in store? Let's find out together as we head to
Raw #8 (March 8 1993)
We immediately open with Hulk Hogan, Brutus Beefcake and Jimmy Hart in a pretape. Hogan says they accept DiBiase's challenge to a match (despite the fact Hogan wanted Jimmy Hart to sign the match in the first place). Then they mention sending Jimmy to get the contract signed (I'm confused). Hogan says he's been pounding Beefcake all week…… in the head with a metal suitcase (friend to the end Hogan). Beefcake says he's been trying to remove the turn signals from their Harley's to fit the Tag Team Titles on the front. Then Hogan for some rason starts singing "Getting to know you" from The King and I (I'm not making this up, that happened).
"From New York it's Monday Night Raw!"
. Ted DiBiase & IRS vs El Matador & Virgil
OK this not officially an Enhancement Time, but it might as well be. Matador and DiBiase start and DiBiase uses a Collar and Elbow to push Matador against the ropes. Matador does the same with a second Collar and Elbow. A shoving match starts but ends quickly. A third Collar and Elbow ends with Matador in the corner and DiBiase striking with a Knee and a Chop. Matador reverses an Irish Whip and knocks DiBiase down for a two count. A Headlock Takeover gets Matador another two and Dibiase gets a two of his own from a Roll Up. Matador locks DiBiase in a Headlock before tagging in Virgil. Wanting no part of his former ally turned opponent, DiBiase quickly tags Irwin. Virgil puts Irwin in a Headlock which Irwin breaks by sending Virgil off the ropes but Virgil knocks Irwin down with a Shoulder Block. Virgil then catches Irwin with a Hip Toss and a Clothesline. Irwin rolls to the outside to get his bearings. On the outside, Matador hits a series of Right Hands to Irwin before rolling him back into the ring. With the referee distracted by DiBiase's complaints, Matador and Virgil hit Irwin with a double Back Elbow and Matador gets a two count. Referee! Matador slams Irwin face first into the canvas for another two. Matador applies an Arm Wringer. Irwin gets to the ropes but Matador quickly pulls him away. DiBiase complains to the ref. With the referee distracted, Virgil (part of the SUPPOSED face team) enters the ring without a tag and applies an Armbar to Irwin. Irwin gets back to his feet whil Virgil switches between Armbar, Arm Wringer and Hammerlock. Virgil tags Matador in for what is probably their first legal tag of the match (No, wait, Virgil tagged in earlier but they have had two illegal switches since despite being the 'face' team) Matador yanks Irwin's arm down across his own shoulder and pulls on Irwin's arm to prevent him making a tag to DiBiase. Matador lets go of Irwin to punch DiBiase who tries get into the ring. With the referee distracted, Matador and Virgil swap illeagally (again!) and Virgil applies an Arm Wringer. DiBiase is annoyed at the Illegal switch and complains to the ref (you know where this is going, right?) With the referee distracted (again) Virgil and Matador swap (yet again) with Matador puting Irwin into an Arm Wringer.
Back from the ads and Matador is breaking out of a Chinlock with elbows to the gut. Matador runs the ropes but is caught with a knee to the gut which allows DiBiase to tag in. They split Matador's legs like a wishbone. DiBiase wears Matador down with a Front Facelock. Matador fights out of the hold with punches to the gut. Following a Knee to the gut, DiBiase grabs Matador in a Headlock. Matador quickly pushes him off the ropes to break it. There's a clash of heads and both men are down. DiBiase and Matador tag in Irwin and Virgil repectively. Vigil hammers Irwin with a series of Right Hands and an Irish Whip which knocks Irwin down. Virgil hits a second Irish Whip and a Clothesline. DiBiase tries to interfere and gets knocked down with a Clothesline by Virgil. Following a Bodyslam to Irwin, Vigril runs the ropes and is tripped by DiBiase. Irwin catches a distracted Vigril with a Side Suplex and gets the victory.
Winners: Ted DiBiase & Irwin R Schyster
We get highlights of Tatanka beating Shawn Michaels. First in a non title match from Superstars three weeks ago and then the Raw six man tag match we covered a couple of weeks back.
We get a new ad for Mania featuring Todd Pettingill. It's Wild, it's Crazy, It's Excessive Excitement caused by Acute Hyperactivity. It's an ad that is going to air for a while.
. Tatanka vs Phil Apollo
OK, the last match might have been, this one really is. It's Enhancement Time! Apollo turns a Collar and Elbow into a Headlock but Tatanka sends him off the ropes to break it. Tatanka ducks and then twice leapfrogs Apollo before countering a counter and Hip Tossing Apollo out of the ring. Tatanka heads to the outside and, after a series of Chops, tosses Apollo back into the ring. In the ring, Tatanka Irish Whips Apollow twice and knocks him down with a Chop. Apollow catches Tatanka with a thumb to the eye and a Right Hand before Tatanka counters a whip off the ropes and hits Apollo with a Powerslam but misses an Elbow Drop. Apollo takes back control with an Uppercut, a couple of stomps and another Uppercut. Apollo hits Tatanka's head off the top turnbuckle but it has no effect on Tatanka and he 'Hulks Up' by doing that hopping dance he did a few weeks ago. Tatanka catches Apollo with some running Chops to the head, a Backhand Chop and a Samoan Drop that gets the pinfall.
Winner: Tatanka
We get a Wrestlemania Report with Mean Gene. With less than a month away from Wrestlemania, tickets are STILL available. Gene hypes Hogan & Beefcake vs DiBiase & IRS, Bret vs Yokozuna and Undertaker vs Gonzales.
. Papa Shango vs Mike Edwards
It's Enhancement Time again! Shango starts by clubbing Forearms to Mike's back and ramming Mike headfirst into the turnbuckles. Shango hits a Bodyslam and a big Elbow Drop. Shango hits an Irish Whip followed by a running…. a Ho Train. Shango lifts Mike up and drops him with a Side Suplex for a two. Shango then tries to gouge out Mike's eyes with his fingers. Shango hits Mike with a second Side Suplex before stomping on his face and Headbutting Mike's gut. Shango hits a Shoulderbreaker and this is over.
Winner: Papa Shango
We get the IcoPro ad and the ad for the action figures
. Bob Backlund vs Tony DeMoro
It's Enhancement Time again! Our cup doth runneth over this evening. Backlund and Tony lock up and sort of…. dance before Backlund is able to Hip Toss Tony. They tie up again and dance again. Backlund attempts an Abdominal Stretch but can't quite lock it on and eventually Hip Tosses Tony again. Tony runs at Backlund who clips his knee and leaves Tony laying on his back before rolling out of the ring. Backlund goes behind Tony with a Waistlock but Tony counters it into one of his own but Backlund eventually rolls out of it. Tony turns a Collar and Elbow into a Waistlock but this time it's Backlund that counters it with one of his own. Tony pushes Backlund into the corner and smashes a Back Elbow into Backlund's face. Backlund reverses an Irish Whip and hits a Double Underhook Suplex and a complicated looking Roll Up for the three.
Winner: Bob Backlund
Backstage Rob Bartlett is with Rick Martel. Martel says that perfection is boring and tonight he will show Mr Perfect some excitement and he will show how Martel is not only the greatest model in history but also the greatest wrestler.
. Mr Perfect vs Rick Martel
A Collar and Elbow goes nowhere but Martel turns a second one into a Headlock. Perfect pushes Martel off the ropes but is knocked down by a Shoulder Block. Prfect hits Martel with a Hip Toss but Martel kicks Perfect in the face. Perfect Bodyslams Martel and gets kicked in the face again. Martel hits Perfect with a Bodyslam and HE kets kicked in the face by Perfect. A Collar and Elbow sees Martel pushed against the ropes by Perfect but Martel turns it so Perfect is against the ropes. Either way the ref forces a break. Perfect blocks a Right then a Left from Martel who runs before Perfect can hit a Right of his own. From a Collar and Elbow, Martel hits Knees to the gut and a forearm. He sends Perfect of the ropes but Perfect reverses it and Martel cartwheels to avoid another Right Hand from Perfect. Perfect goes for a Waistlock but Martel reverses it into one of his own. Perfect grabs Martel's foot to break it but Martel uses his other foot to kick Perfect off the ropes. This time it's Perfect that performs a cartwheel. Perfect uses a Collar and Elbow to push Martel into the corner. As the referee attempts to break it, Martel jabs Perfect with a thumb in his eye. Martel holds Perfect for a Bulldog and instead punches Perfect in the face. Martel hits Perfect with Knees to the gut in the corner but Perfect reverses an Irish Whip. Martel gets his knees up to block a charging Perfect. Martel stomps on Perfect before taking him over with an Arm Drag-cum-Northern Lights Suplex before locking in an Armbar. As both men get to their feet, Martel turns the Armbar into a Hammerlock but Perfect reverses it into one of his own. Martel manages to leap over Perfect to break the hold and pushes Perfect against the ropes, Perfect ducks sending Martel to the outside.
Back from the ads and Martel is in the ring pulling Perfect back into the ring. Martel hits Perfect with Axe Handles to his previously injured back, probably to soften him up for a Boston Crab. Martel hits Perfect with a Gutwrench Suplex for a two count. Perfect slaps Martel and Martel Uppercuts Perfect before hitting forearms to Perfect's back. Martel applies a Camel Clutch. Perfect fights his way out of it but is caught by a Knee to the gut from Martel. He hits Perfect with a Backbreaker before going out of the ring to the apron. From there, Martel attempts a Slingshot Splash but Perfect brings his knees up to counter it. Martel sends Perfect off the ropes and this time catches him with a Punch to the gut. Martel climbs to the second turnbuckle and leaps at Perfect but it's a flying nothing as Perfect catches Martel with a fist to the gut which he follows with an Atomic Drop and in Inverted Atomic Drop. Perfect catches Martel with Right Hands and a Chop in the corner before an Irish Whip and a Back Body Drop.
Back from the ads and Perfect's won the match! We get a 'during the break' replay of Perfect hitting Martel with the Perfect Plex for the three count
Winner: Mr Perfect
We see an ad for Slim Jim and an ad for the latest WWE video game releases for the Game Boy, The Master System, Super Nintendo and the Genesis/Mega Drive (how retro).
Vince hypes next week's matches Razor Ramon in action (read enhancement), Kamala in action (again enhancement) and Bam Bam Bigelow vs Typhoon and we fade to black.
Post Show: Not much to say here. Three enhancement matches and in the two 'star vs star' matches, the result of those didn't feel in doubt either to the point that Rick Martel, El Matador and Virgil might as well have been Ross Greenberg, Duane Gill and Barry Hardy
Match Of The Night: Mr Perfect vs  Rick Martel. Some good back and forth stuff with some good pace to it even if only one an was ever going to win.
MVP: Mr Perfect. In this current climate he looks like a main eventer
Rating: 4/10
With that I am done. I can be found on Twitter @Callaweasy2220 where I live tweet Raw, Smackdown, NXT and (when there is one on) Pay Per View. Also feel free to tweet me if you think this review was a steaming pile of horse manure or if you just want to talk wrestling.
While you are here feel free to peruse all the news, views and reviews that we at chairshot have to offer. Maybe after reading this, you want to contribute yourself. You can find how to do just that here at Chairshot too.
I'll be back next week with the next thrilling installment of Raw so until then #UseYourHead and ALWAYS have an Angle!