Andrew's G1 Climax 28 A Block Ratings & Review: Day 15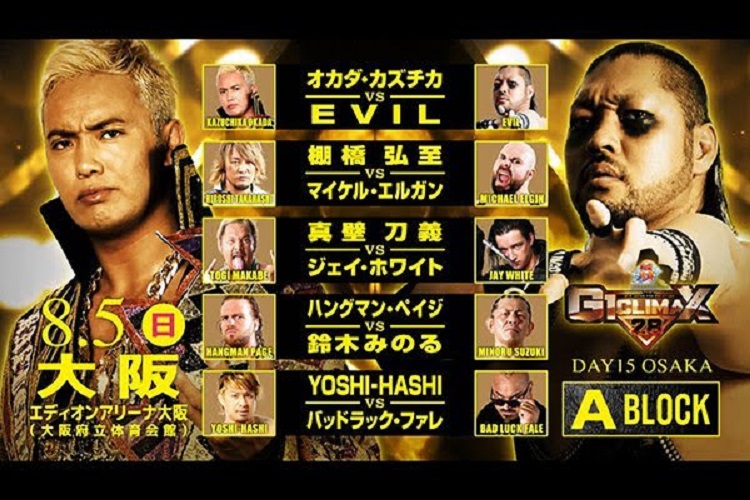 Welcome to the story time adventures block! By that I of course mean, that what A Block has lacked in 'match quality', it's made up for with storytelling.
EVIL and Togi Makabe get to possibly play spoiler. Does the Unchained Gorilla have another big upset in him, to take out Jay White? EVIL on the other hand beat Okada last year, so we all know it's possible.
Of course, yes, Elgin could throw a wrinkle into things if he beats Tanahashi, but it's less impactful since Tanahashi can afford 1 more loss mathematically.
YOSHI-HASHI vs Bad Luck Fale
YOSHI has looked more out of place in this tournament than Toru Yano. Sure, he's put on some good matches just to end up losing, but nothing about HASHI exudes any air that he deserves to be in the tournament. Fale however has been either winning or getting DQ'd, so let's see which one this is.
It's the DQ door! This match was slow to the point of plodding, the interference was predictable and looked bad. There's really nothing positive I can say about this match. Every time Loa tried to get involved YOSHI dealt with him and the match ended when Tama Tonga showed up with a chair and started killing HASHI.
Some shenanigans afterwards with Tama going after audience members and YOSHI trying to chase down the Tongans, but ya, it doesn't matter. Might it lead to an undercard match eventually? Sure, but who really cares?
Winner: YOSHI-HASHI via DQ
Rating: *
Minoru Suzuki vs Hangman Page
Page goes against another veteran with a decorated past. Will the book he borrow from Kenny continue to pay off? Will Suzuki just murder him? Time to find out.
Hangman goes after Suzuki immediately, knocking Desperado off the apron, and taking it to the outside. He slams Suzuki into the barricades and walks him all the way up alongside the entrance ramp. Despy continues to try and get some vengeance, but Hangman takes care of him, walks up the ramp to the stage and executes his Complete Shot Moonsault.
After starting off hot, Page takes Suzuki back to the ring, and that's where it falls apart a bit. A Double Wristlock slows down Page and then Suzuki takes things to the outside and begins his tirade. Beating Hangman with chairs, barricades, Wristlocks between the barricade bars, just using whatever wasn't nailed down. Suzuki then moves his attention to referee Marty Asami and gives Hangman some time to recover.
From that point it becomes a little more back and forth. Suzuki manages to maintain the advantage early, but Page starts showing some resolve by throwing Suzuki from corner to corner, landing a few good lariats, a Rolling Elbow and even performing decently in a back and forth strikefest with Suzuki.
Suzuki manages to counter the Buckshot Lariat once and nearly puts Page out in the Sleeper Hold. But in usual Suzuki fashion, that's never good enough, so they continue to fight after Page gets out of a Gotch Style Piledriver attempt. A few strikes on the apron, and Suzuki decides to go back in the ring to attempt to send Page flying, but Hangman finally connects with his Buckshot Lariat. Rite of Passage attempt is countered, but as soon as Suzuki goes for the Gotch, Page quickly executes Rite of Passage, for the pinfall.
So Page gets his biggest win of his career, and since acquiring the book from Kenny Omega, he's 2-0 in the G1…and Kenny's 0-1.  I wonder if that's related?
Winner: Page via Rite of Passage
Rating: *** 1/2
Jay White vs Togi Makabe
White has been on a fairly big roll. All he needs to do is win his last two matches and have Tanahashi lose 1 of his last 2, and he holds the tie breakers. Makabe is JUST credible enough to make you think maybe, but this should be an easy win for Jay.
Makabe charges White as the bell rings, but Jay moves and takes a fairly solid hold of the first few minutes of the match. Things roll outside, and Jay does his now signature spot of throwing his opponent into the barricade in front of the English announce table and then the apron a few times, sets an expected tone. You can hear White saying, " So this is the best of New Japan?", which lights a fire under Makabe.
In typical Makabe fashion he challenges White to hit him more, and just absorbing numerous chops, strikes and lariats. After a few minutes of being a punching bag, Makabe gets the best of a Lariat exchange. We get the Laughing Headstrikes, and a Spider German Suplex attempt. Jay blocks the German, but as he turns, Makabe catches him in the Spider Belly to Belly.
Jay then grabs Red Shoes as to stop Makabe from trying the King Kong Knee Drop, and that was a successful ploy. Togi gets Jay in position to try the Knee Drop one more time, but Jay moves and goes to get some chairs under the ring. So we all know how this ends. Jay tries to use one, it blows up in his face, ref bump, then Jay uses a CHAIRSHOT to take advantage, thus hitting Blade Runner.
I do suppose at least there was no low blow in this match. So it's a slight deviation from the formula, but still very much the 'Jay White Special'.
Winner: White via Blade Runner
Rating: *** 3/4
Michael Elgin vs Hiroshi Tanahashi
These two have teamed together a few times, but haven't met before in G1 competition. If Elgin plays spoiler, the chances for Okada or White to win the block become much better. If Tanahashi keeps winning, then all he needs to do is get a draw from Okada to win A Block. A lot rides on this match, so let's see how it plays out.
Tanahashi and Elgin do the old Greco-Roman Knuckle Lock to start things off, which shows that even through injury, Elgin's power is still there. The intensity of this match is pretty high, but both men do what they usually do. Elgin hits a plethora of power moves and his Slingshot Crossbody, while Tanahashi hits the Slingblade and a Dragon Screw Leg Whips.
As the match came to a boil, both men had great chances to win. Two Buckle Bombs and a Splash Mountain from Elgin, only get near falls. Tanahashi thinks he has an opening and goes for the High Fly Flow, but Elgin stands up, catches him and attempts a Falcon Arrow, before Hiroshi slips free. Elgin removes his elbow pad and connects on a Running Lariat with his bad arm, but adrenaline takes over and he goes for his finisher. Elgin Bomb almost happens, before Tanahashi rotates out of it, catching Elgin with an Inside Cradle for the surprise pinfall.
Though the cradle transition was sloppy, the match told a great story as it continues to show Tanahashi winning by different methods.
Winner: Tanahashi via Inside Cradle
Rating: ****
Kazuchika Okada vs EVIL
The grudge match that even casual fans should be aware of. EVIL was the man to derail Okada's undefeated streak last G1, and caused so much damage that Okada was hampered in his last few matches. So does EVIL continue to have Okada's number, and effectively eliminate him from the tournament? Do we see Okada get his win back, and make the A Block finals something special?
Well this felt like it picked up right where they left off last year. EVIL catches Okada in an early headlock and grinds on it for a while. They trade a couple moves and counters before going to the outside where EVIL does his thing. He wraps the chair around Okada's head and rams him into the post. They then go up the ramp, reminiscent of last year when EVIL hit Darkness Falls on a stack of chairs. Okada however counters this time and lands a nice DDT before rolling backwards and readying himself.
Now I'm not sure if this was a small nod to Hiromu since he was facing an LIJ member or coincidental, but Okada goes to the top of the ramp and runs down connecting with a forceful Shotgun Dropkick that sends EVIL rolling down the ramp.  This then led to 2 more Shotgun Dropkicks, one that sends EVIL into the corner of the ring and another from the top rope, that flipped EVIL over.
EVIL manages to hit Darkness Falls for a 2 count and then a few devastating lariats. Both men end up using the other's finishing moves for near falls.  Okada hits the Tombstone, Rolling Rainmaker and sets up for the official Rainmaker. EVIL tried to fight back, but eventually falls victim to the Rainmaker.
It should be noted that after EVIL hit a Rainmaker, the place erupted. The crowd seemed to be split, but easily responded to both wrestlers when a big moment happened.
Winner: Okada via Rainmaker
Rating: **** 1/4
A Block Standings:
Hiroshi Tanahashi: 7-1 (14 Points)
Jay White: 6-2 (12 Points)
Kazuchika Okada: 6-2 ( 12 Points)
Minoru Suzuki: 4-4 (8 Points) – Eliminated
EVIL: 4-4 (8 Points) – Eliminated
Hangman Page: 3-5 (6 Points) – Eliminated
Bad Luck Fale: 3-5 (6 Points) – Eliminated
Michael Elgin: 3-5 (6 Points) – Eliminated
Togi Makabe: 2-6 (4 Points) – Eliminated
YOSHI-HASHI: 2-6 (4 Points) – Eliminated
Thoughts:
The matches involving the 3 with chances to win, were definitely entertaining. Sure nothing has been as large of a spectacle as B Block, but it's hard to argue how this story has played out. Jay holding the tie breakers puts a lot of pressure on Tanahashi for the A Block Finals. It should also be mentioned that EVIL is the last opponent for Jay White, so he's faced the only men still in contention, 3 days in a row. EVIL gets one more chance to play spoiler, while Okada and Tanahashi will most likely have a great match.
It is funny to think that if the CHAOS dissension continues, Okada's best way to stop Jay White, would be losing or drawing, against Tanahashi. Like I've said most of this tournament, A Block has the more riveting stories, where B Block is where the 'star rating' matches are taking place.