Andrew's G1 Climax 28 A Block Ratings & Review: Day 17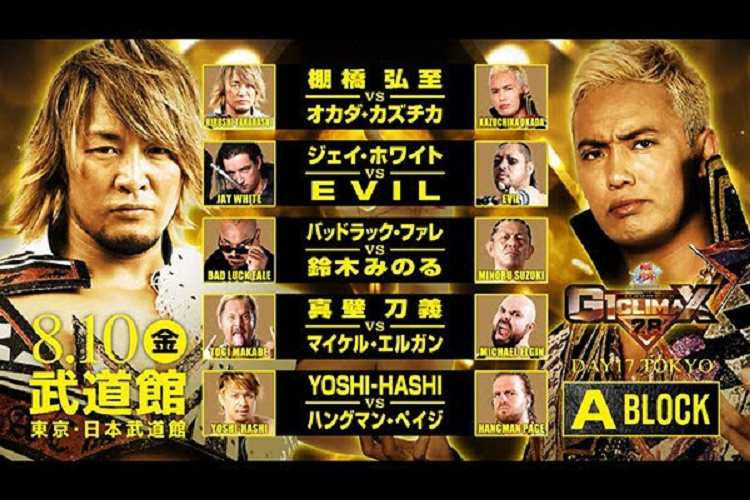 We've made it to the G1 Climax A Block Finals boys and girls!
It's been a three horse race for a few days, but someone has to win today. Let's go over the iterations before the show starts:
With a win and Tanahashi loss, Jay White wins the block.
With a win and Jay White loss, Kazuchika Okada wins the block.
With a win or draw, Hiroshi Tanahashi wins the block.
Now that we've gone over that, let's see how this finishes up.
Michael Elgin vs Togi Makabe
This isn't the match that people are tuning in today to watch, but it should be a hell of a brawl. Even though neither guy has had an impressive tournament, this is a first time G1 matchup. The last couple years, Elgin and Makabe have been in opposite blocks.
We got what we expected in this match. Both men are tough guys and power wrestlers, so we saw numerous strike exchanges and power moves. Makabe went for his Spider German Suplex, it got stopped. Then he went for the rebound Spider Belly to Belly, but Elgin blocked that and lit up Makabe in the tree of woe. A Splash Mountain Powerbomb from the corner, only gets Elgin a 2 count.
However, we finally get something different. Usually when Makabe doesn't hit the Spider German Suplex, he loses the match. But manages to counter a Discus Lariat into a Death Valley Driver, which set up for the King Kong Knee Drop.
So missed Spider German or not, Makabe ends on a high note, with 6 points.
Winner: Makabe via King Kong Knee Drop
Rating: *** 1/2
YOSHI-HASHI vs Hangman Page
This is the first time these two have faced off in singles action. Page being the young guy and HASHI being the disappointment, this isn't exactly a hot match. Does Hangman end on a 3 match win streak, or does HASHI get a slightly meaningful win?
Naps and cookies were had during this match. Page dominated most of this match, hitting the Shooting Star Shoulder Tackle and Buckshot Lariat without much struggle. It isn't until Page starts taunting YOSHI that the tone shifts a little.
HASHI pulls off his Head Hunter (Block Buster), a Superkick and then we have a few standing switches to get out of finishing moves. Page goes for Rite of Passage about 3 times in a row, before HASHI counters with a Canadian Destroyer.
Thanks to the Destroyer, it gives HASHI the opening to hit Karma, for the pinfall. So we have another match that ends with both men at 6 points.
Winner: YOSHI-HASHI via Karma
Rating: ** 3/4
Minoru Suzuki vs Bad Luck Fale
Well after the last few years, it's odd to think that a Suzuki-Gun match would have interference that wasn't started by Suzuki-Gun. But hey, let's assume we get a 10 minute match, and then Tama Tonga shows up.
Well damn, my opening statement came true. Roughly 10 minutes of a decent, but nothing special match and we get Tama Tonga showing up hitting a Gun Stun on Suzuki in front of the referee.
Bad Luck Fale gets DQ'd and has an odd distinction of not winning the block, but also going through the entire tournament without being pinned or submitted. Go figure, right?
Winner: Suzuki via DQ
Rating: ** 1/4
EVIL vs Jay White
EVIL got the top 3 guys for his last 3 matches. Can EVIL finally get a statement victory against one of the leaders, or continue to come up short?
A lot of outside barricade usage, but no high intensity moments. EVIL hits Darkness Falls, Jay even pulls out his old finishing move the Kiwi Crusher, all for near falls.
Jay brings in two chairs, as per usual. Red Shoes takes one away, gets bumped, but EVIL manages to dodge a chairshot, countering easily with Everything is Evil.
So Jay's under handed tactics finally stop working, and he is now eliminated from winning. So Okada versus Tanahashi is a winner takes all match now.
Winner: EVIL via Everything is Evil
Rating: *** 3/4
Kazuchika Okada vs Hiroshi Tanahashi
This is a historic rivalry. A couple draws, nearly even in their overall records against each other, we just know it'll be good. The weight increases with White's loss, but lets just see what happens.
The match starts with a flurry of missed shots. Okada misses a Shotgun Dropkick and Standing Dropkick, Tanahashi misses the Basement Dropkick, as each try Sentons and Lariats, all avoided for a quick stand off and applause.
From that point forward, this was another classic Okada and Tanahashi match. Both men took a move from each other, Okada hitting a Dragon Screw Leg Whip and Tanahashi landing a Tombstone Piledriver. Tanahashi even surprised everyone by using a Styles Clash, for a near fall.
Words can't really describe the layers and emotion in this match. It was deliberately paced early on, but building to the last 5 minute rush of signature moves, near falls and hearing the crowd stomping their feet so loudly, this was special.
Tanahashi with a nice call back to the Wrestle Kingdom match when Okada kept wrist control, by keeping neck control and hitting 3 Twist and Shout neckbreakers. Fending off the Rainmaker just long enough to hit one High Fly Flow for a 2 count, but then time was called as Tanahashi went to the top for another.
Winner: Time Limit Draw
Rating: *****
A Block Standings:
Hiroshi Tanahashi: 7-1-1 (15 Points) – Winner
Kazuchika Okada: 6-2-1 ( 13 Points) – Eliminated
Jay White: 6-3 (12 Points) – Eliminated
Minoru Suzuki: 5-4 (10 Points) – Eliminated
EVIL: 5-4 (10 Points) – Eliminated
Hangman Page: 3-6 (6 Points) – Eliminated
Bad Luck Fale: 3-6 (6 Points) – Eliminated
Michael Elgin: 3-6 (6 Points) – Eliminated
Togi Makabe: 3-6 (6 Points) – Eliminated
YOSHI-HASHI: 3-6 (6 Points) – Eliminated
Thoughts:
Well the A Block, is the Ace Block, and that was one hell of a way to finish this block. I did pick Tanahashi to win the block, so that makes me happy. Now if Ibushi can capture the B Block, that would be great.
Even for those who were saying the A Block was the least impressive, you have to enjoy the way stories were paid off, and the epic clash between Tanahashi and Okada. Damn impressive.