Joe's Lucha Libre Weekly: News & Opinions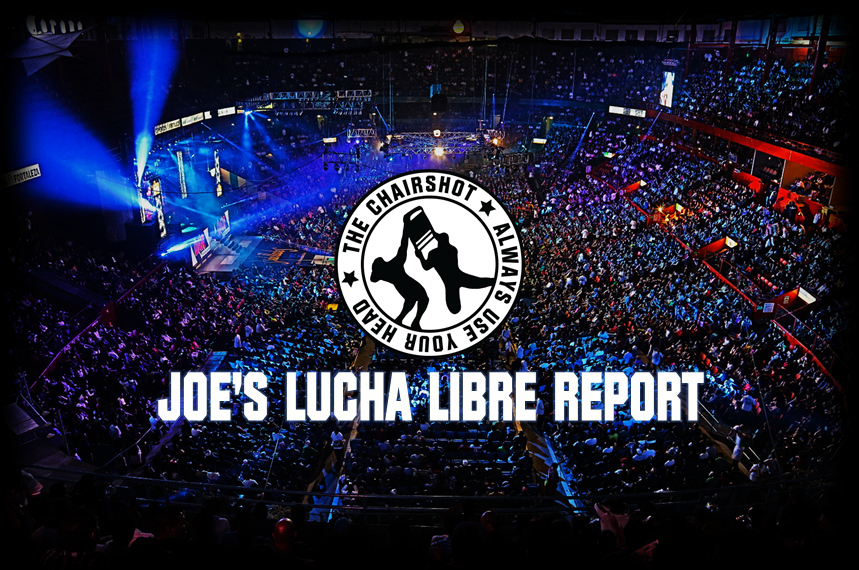 CMLL
This Friday's CMLL show sees Gilbert El Boricua, who plays Mil Muertes in Lucha Underground, showing up. It'll be interesting to see how much of a big deal they make him, considering he plays a character that has exposure on American television. He's set to be on opposing teams with LA Park, so I personally wonder if they will set up anything with him, or with the other participants in the match, which include, Gilbert El Boricua, Negro Casas, and Mephisto vs. LA Park, Mistico, and Atlantis. It's yet to be seen how often LA Park will work after the Anniversary show, but considering the attendance increases since he's showed up, I would guess he would be back. The main event of the show, is just more continuation of the main event at the anniversary show. It's not the go home show, but it kind of is. Since Friday is their biggest shows I don't see them building up the match more on Monday and Tuesday. Caristico will team with Volador and Matt Taven, going against Rush, Cavernario, and Bestia del Ring.
Fenix
Based off the AAA cards for Friday and Sunday, unless things change, he will be going into the CMLL Anniversary show as the AAA Mega Champion.This is quite the interesting dynamic. I assume he will not have the belt around his waist when he makes that walk to the ring, inside a presumably sold out Arena Mexico. It would be foolish from AAA's standpoint, because you never know what Fenix could do if CMLL offers him some money to pull a Madusa stunt. It's unlikely but you can't run the risk especially when you consider the animosity between the two companies.
Matt Taven
I don't know how stressful his schedule is working with Ring of Honor, but he's been in front of a lot of big crowds in Mexico and is working their main event for the anniversary show. That's no slouch of a show either, it's gonna be a big show and I imagine he gets a good pay day for, presumably losing his hair. I haven't been watching TV but I imagine once Taven and Volador lose the match at the anniversary show (Which one has to assume they will because if CMLL was willing to cut Rush's hair, they should have had him lose to LA Park) that Ring of Honor will bring it up. I also wonder if this makes him higher on the card for Ring of Honor and if he continues to take bookings in Mexico as well. If he can keep up that schedule then I'm sure it's great for his wallet. But if he had to choose between the two, then I would be inclined to choose CMLL. It's the longest running wrestling promotion in the world and working Arena Mexico is a great experience as many can tell you.
Aftermath of the 8/31/18 Friday Show
I spoke about the potential conflict having Rush and LA Park in the main event of last weeks show could present, but in a rare move, LA Park actually behaved himself. The bad news is, every time Rush and Park interacted the crowd cheered so loudly, and then when they'd get broken up, they'd heavily boo. There was one instance where Park and Rush had a stare down, and the crowd was electric, but then Volador asked Park to step aside because Rush is his fight, and Park did. The crowd didn't like that at all. There was even a point in the match where Park was using the camera wires to attack Rush, and this made the crowd cheer because this was a call back to the first match they had where Park beat the crap out of him with the cable wires. Once they were broken apart the crowd booed again. There were no promos from Park after the match and everything broke apart. Rush and the rest of Los Ingobernables just posed in the ring. Nothing crazy happened here, but Park and Rush continue to retweet people talking about the potential match.