An Alternative Look At WWE Evolution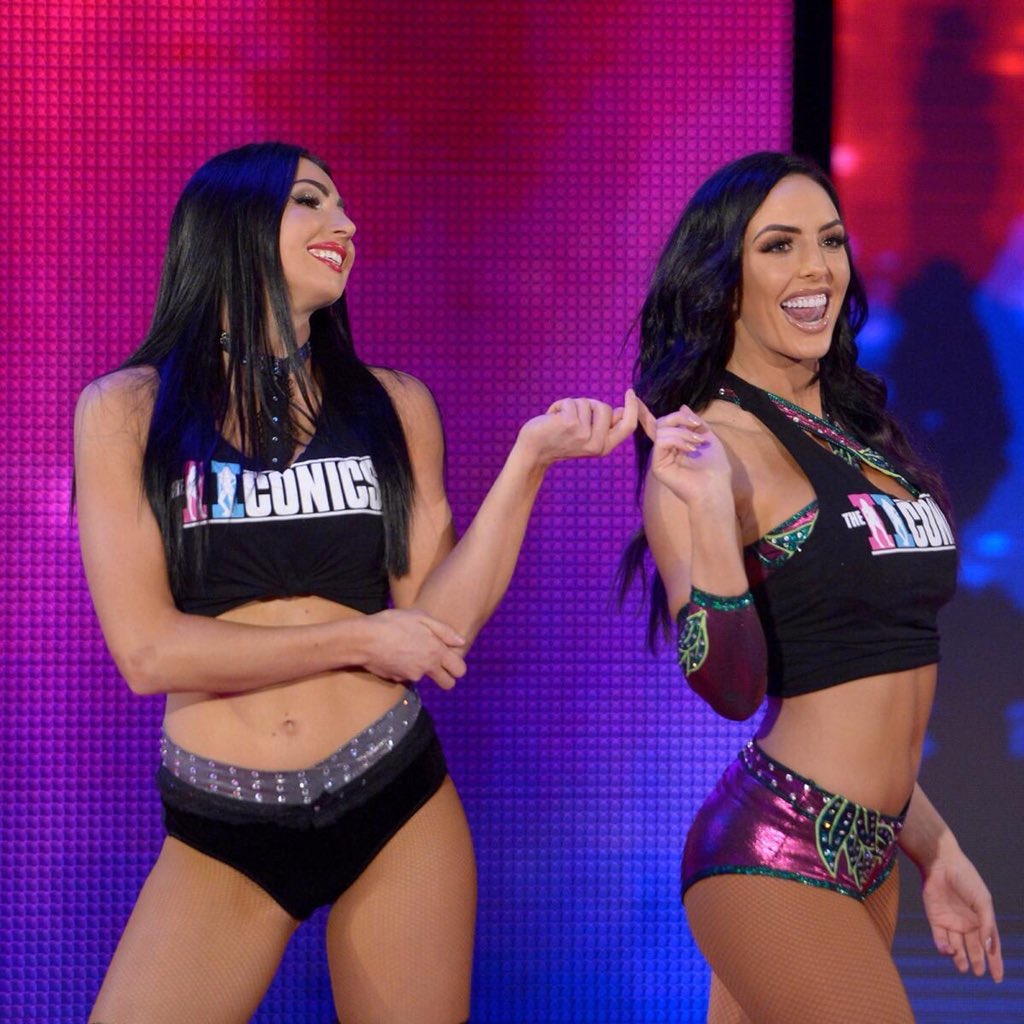 WWE Evolution was a celebration of growth and progress of the Women's Division in WWE. But did the celebration go too far?
"Take it off! Take it off!"
The date was November 16, 2016. The event was NXT, ad the location was New York City.
Billie Kay and Peyton Royce were battling Liv Morgan and Ruby Riott (Daria at the time) when two male fans started chanting, "Take it off! Take it off!" at a NXT event in NYC on November 16, 2016.
My initial reaction was anger. These four athletes were attempting to live their dream, please us fans, and learn their craft, when these two "fans" dehumanized them by telling them to take their clothes off.
Then something magical happened. The rest of the crowd booed. Loudly. To this day the four wrestlers probably think we were booing them, because they thankfully didn't hear the chant. But the boos that weren't even directed towards them, were the price they had to pay for being a wrestler born female.
Fast forward almost two years later, and all four women were approximately 30 miles east at the Nassau Coliseum. This time, there was a reward for being born female. They would compete at the first ever WWE all female Pay Per View, Evolution. Most will tell you, it was a resounding success. And in most ways, it was. The wrestling, storytelling, energy from the wrestlers and fans were all top notch. It was my favorite Pay Per View of the year…until the very end.
The WWE treatment of the Women's Division is like the friend you have that found crossfit and lost 100 pounds. The first time they showed their progress on Facebook you were genuinely happy for them, and gave them a like. You even commented, "Looking good! Keep it up!"
A few months later they gave an inspiring speech about something they found inspirational, and despite the secret eye-roll you gave the caption, they are looking better and you gave it another like. This time you turned the notifications off after the compliment. But now, three years later, they are dating a good-looking girl, are in better shape than you, and everything is going great in their life. You're happy for them, but you'd be happier for them if they would just stop posting. Oh God, they just liked their own status!
This to me is the Women's Division in the WWE. They went from The Fabulous Moolah allegedly committing sex trafficking, to lesser non-felony crimes like HLA (Hot Lesbian Action), the Ho Train, and 3-minute Bra and Panties matches.
The #GiveDivasAChance hashtag was a great start. The death of the Diva's Division certainly deserved the hoopla it was given. But then it just started to become a little too much. The first ever Hell in a Cell, the first ever Royal Rumble, now the first ever Pay Per View. All these things are great progress, and much like our former fat friend, I'm glad it's happening. But I'm not sure we need to have all the women hugging, holding hands every time there's a new first. Becky Lynch goes to the unisex bathroom and Curt Hawkins who was in prior to her but the seat down! YES YES YES!!!
But while we are annoyed with our former fat friend, we still root for him…until his latest post. "I ran 3 miles and had an egg for breakfast. What have you done? Be better." What did I do? I kept in shape the last 35-years, so I could eat a bagel filled with butter and not worry this was going to send me back to Blimpsville.
Last night's ending was the Facebook post that went too far. I get it, it was a big moment, but at the end of the day, the storytelling needs to make sense. Why in the world would the whole locker room celebrate Ronda Rousey's victory?
Shouldn't Bailey be upset that she was stuck in a six-women tag and didn't main event? Also, aren't her Four Horsewoman rivals with Ronda's? Why are they hugging?
And what about Charlotte Flaor? Is she seriously happy? She has had the feud of the year (men included) with Becky Lynch. It's been amazing. But losing to Becky clean has got to kiiiilll her. She should be devastated. I guarantee you didn't see Clayton Kershaw cheering David Price last night, after losing the World Series for the second year in a row.
And what about our Iconics, Billie Kay and Peyton Royce? They were in the Battle Royal for all of 10 seconds? This should be a very humbling night for them. They should be worried that some of these Hall of Famers might come back and take their spot.
And what about the young Riott Squad? All they do is lose big matches. Ronda Rousey literally made two of them tap out at the same time in Australia, yet they are thrilled for her? She humiliated them! Speaking of humiliating, how many times does Stephanie have to be emasculated by Rousey to you know, not be happy for her? Yet there she was, a huge smile on stage.
And last, and certainly not least, is Becky Lynch. Becky has made it clear, she has one friend and one friend only. The WWE Smackdown Women's Championship. So why in the world is she clinking titles with Rousey? Are they going to be the first ever women's tag team champions? Which I'm sure will garner another post from your former Facebook friend that you just defriended.
Ladies, take a bow, #YouDeserveIt. Just do it in the back where we can't see it. #Kayfabe
King's WrestleMania Rewind: Charlotte Flair vs. Asuka from WrestleMania 34
Chris king is back with one of the most underrated matches in WrestleMania history–Charlotte Flair vs. Asuka!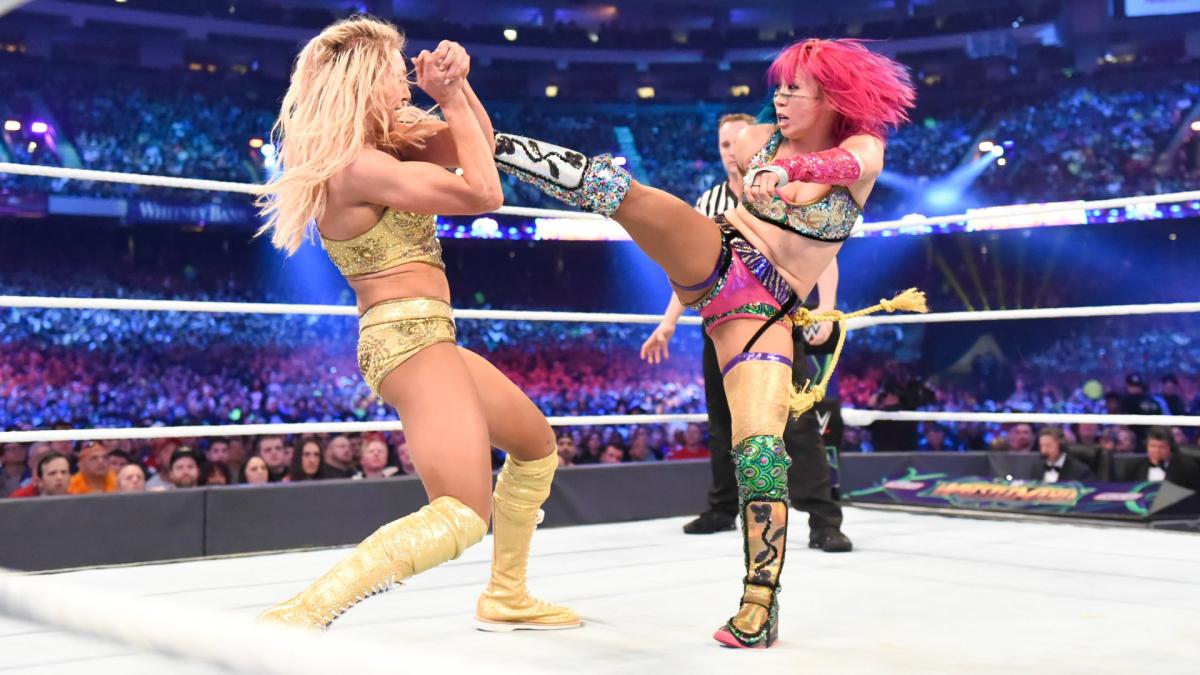 Chris king is back with one of the most underrated matches in WrestleMania history–Charlotte Flair vs. Asuka!
We look back at Charlotte Flair vs. Asuka at WWE WrestleMania 34. 'The Empress of Tomorrow' put her unprecedented and historic undefeated streak of 914 days on the line against 'The Queen's' SmackDown Women's Championship.
For years, this was considered a dream match while Asuka dominated the roster in NXT, while Flair won numerous championships on the main roster on both Raw and SmackDown. The Empress made her long-awaited debut on the September 11th episode of Raw and began to tear through the competition.
Asuka outlasted all twenty-nine other women in the historic first-ever Women's Royal Rumble match to challenge for the title of her choosing. At Fastlane, she made her choice.
The WWE Universe was so excited for this match myself included. Both superstars delivered a fantastic performance on the Grandest Stage of Them All executing counter after counter. Asuka showed off some nasty-looking kicks to her opponent, and Flair hit a thunderous Spanish Fly off the top rope. Flair was seconds away from defeat at the hands of The Empress but she locked in Figure Eight and Asuka was forced to tap out.
I can't even begin to explain how shocked I was at this outcome, as nearly everyone expected The Empress to continue her undefeated streak and walk away with the women's title. This controversial decision was the downfall of Asuka's momentum. She would ultimately win the SmackDown Women's Championship at the 2018 TLC pay-per-view in the triple-threat ladder match.
Fast forward to this year when Asuka has recently returned with her Japanese-inspired persona Kana. Kana is dangerous and ruthless and is heading into a championship with Bianca Belair at WrestleMania 39. The Empress has regained all her momentum and is highly favored to walk away with the Raw Women's Championship. Let's hope that Asuka and Belair can tear the house down and deliver an A+ grade match both women are fully capable of.
King: Dominik Mysterio Needs To Do This At WrestleMania
Chris King is here with what WWE should do with Dominik Mysterio at WrestleMania in his long-awaited match against his father Rey Mysterio Jr.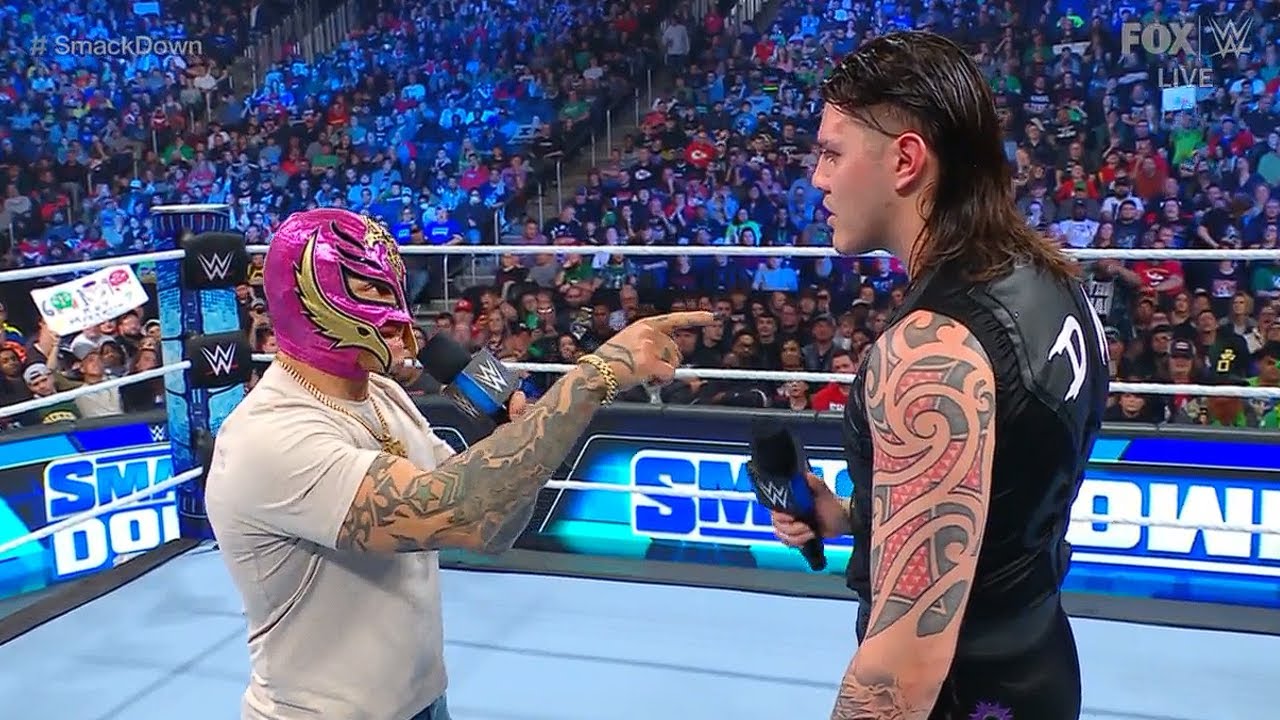 Chris King is here with what WWE should do with Dominik Mysterio at WrestleMania in his long-awaited match against his father Rey Mysterio Jr. 
On this week's episode of Friday Night SmackDown, Rey Mysterio finally snapped and beat some sense into his disrespectful punk-ass kid Dominik. The member of the Judgement Day came out to push his father again for a match on the Grandest Stage of Them All, this time with his mother and sister at ringside. The ungrateful punk told his mom to "Shut Up," as a father even I wanted to jump through the screen and whoop his ass.
Back in October of last year, Mysterio made the emotional decision to possibly quit the company but, instead, Triple H persuaded the Lucha libre superstar to move over to SmackDown to avoid his son. This came after Dominik shockingly turned on his father at Clash at the Castle. Mysterio did everything he could to refuse his despicable son's challenge for Mania but, a man can only be pushed so far. Mysterio will be inducted into the 2023 WWE Hall of Fame and I expect Dominik to embarrass his father during his speech to further this personal feud.
Yes, the WWE Universe hates Dominik and wants to see him get the ever-loving crap kicked out of him but, this feud is missing a special ingredient to capitalize on the biggest heat possible. Throughout this feud, Dominik has made mention of the legendary Eddie Guerrero on several occasions going back to the "iconic" 2005 feud.
I know WWE might not want to go this route but, Dominik MUST come out to Eddie Guerrero's theme at Mania. The disrespectful punk needs to come out in a lowrider to garner nuclear heat. It doesn't matter if The Judgement Day comes out and causes interference for Dominik to get the win, all that matters is that both superstars get the biggest payoff of this nearly year-long feud. Just imagine the Roman Reigns heat after he defeated The Undertaker and multiply that by ten. Dominik portrays the perfect heel and he truly is the missing ingredient that The Judgement Day needed to grow and evolve into a top faction.