Chairshot Classics: WWE UK Championship Tournament Day Two (1/15/17)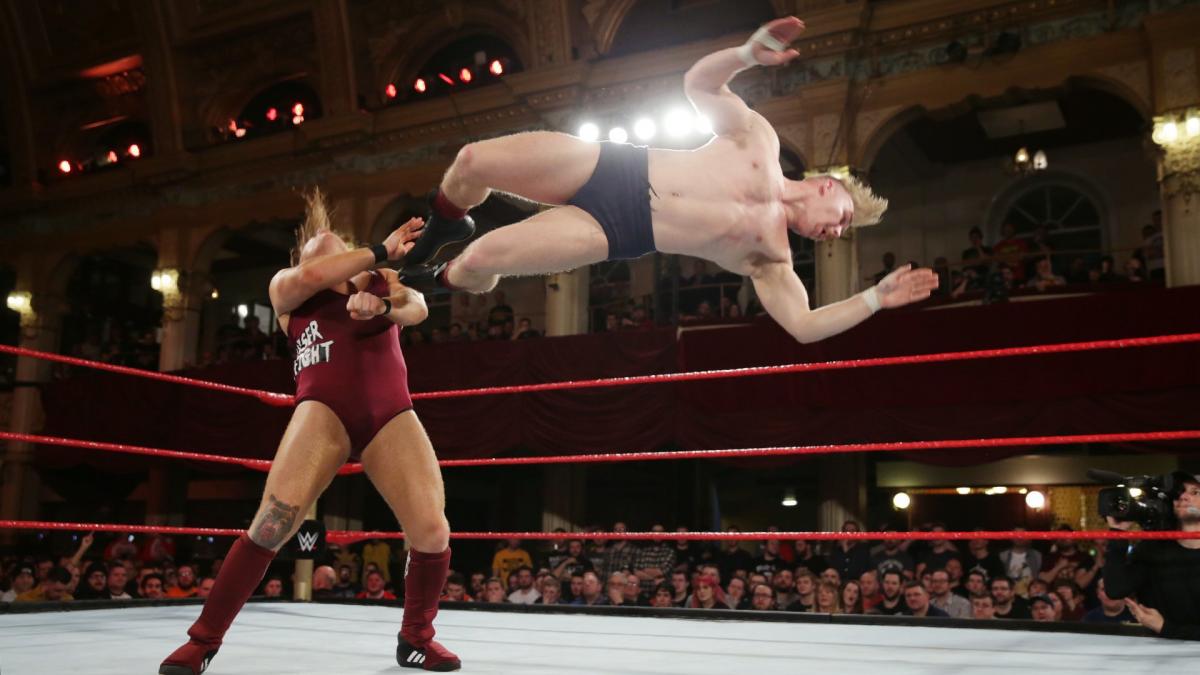 With WWE's Crown Jewel upcoming which will feature the World Cup Tournament, today we continue our look back at another WWE tournament in a foreign country with day two of the inaugural United Kingdom Championship Tournament! To check out day one, go here.
Open: Yesterday, the WWE United Kingdom Championship Tournament kicked off to crown the first-ever champion. Highlights of the first round are shown, a packed house at the Empress Ballroom boisterous and excited for every match. Today, one of these eight quarterfinalists will make history, etching their names in the record books as the man that set the tone for the United Kingdom.
Match #1 – Quarterfinals: Pete Dunne vs. Sam Gradwell
Dunne charges in at the bell and runs into a big forearm shot, Gradwell unloads with heavy fists, The Bruiserweight picks the leg to try and escape, but Sam continues to hammer away. He goes to a wristlock, Dunne attempts to escape, pushes him away to the ropes and scores with a clothesline. Gradwell pops right back up with a clothesline of his own, The Bruiserweight rolls to the outside to try and regroup, Gradwell builds a head of steam, flies through the ropes with a suicide dive, Dunne tries to roll into the ring, but gets dragged back out.
The Bruiserweight rips at the nose, sets for a suplex on the ramp, Sam blocks it, plants him with a double underhook suplex on the entrance, then sends him back inside. He climbs to the top turnbuckle and connects with a dropkick, hurts his back in the process, Dunne realizes it, sneaks in a kick, then avoids him rushing in and hits a german suplex. Both guys are up quick, The Bruiserweight rushes in now, Gradwell plants him with a Michinoku driver for a near fall, ascends the corner once more, but Dunne rolls out of the ring.
Sam turns his attention outside and takes him out with a crossbody to the floor, hurls Dunne back into the squared circle, The Bruiserweight catches him sliding in, powers him to the top rope and pushes him back down to the floor. Dunne sits back and allows the official to count, Gradwell just barely makes it in at 9, Dunne meets him with a body slam into the turnbuckles, hooks the leg and advances.
Winner: Pete Dunne (Turnbuckle Body Slam)
After The Bell: Dunne sneak attacks Gradwell as he rises to his feet, leaves him laying and Charly Caruso catches him for comment on the stage. The Bruiserweight wonders if people think what he's been doing is really controversial, claiming he didn't see the big deal in it and neither did Triple H. Dunne says it's two down and two to go.
Match #2 – Quarterfinals: Mark Andrews vs. Joseph Conners
Andrews rushes in at the bell and gets caught on Conners' shoulder, slips down into a sunset flip for a quick 2, pops back up with a schoolboy for another 2 count, then surprises him with multiple arm drags before one is blocked. Conners cracks him with a back elbow, hammers Andrews with shots in the corner, Andrews rolls under one, walks into a boot, Conners fires out for a sunset flip, but Andrews backflips into a basement dropkick for a count of 2. He picks Conners up and takes a knee to the abdomen, Conners looks to toss him outside, Andrews counters with a 619 to the ribs, flips back in from the apron and dumps Conners over the top.
Andrews hops out to the apron for a moonsault, Conners sees it coming, side-steps it and clocks him with a right hand. He looks to sends Andrews into the steel steps, Andrews turns the tables on him, double reversal and Conners with a drop toe hold into the steps. He drapes Andrews over the apron, pummels him from the floor, rolls back inside and covers, but too close to the ropes. Andrews tries to fight back to his feet and gets clubbed back down, he tosses Andrews throat-first into the 2nd rope, plants him with a release back suplex and hooks the leg for a near fall. He keeps control and puts the boots to Andrews, flattens him with a short-arm clothesline for another 2 count, tosses him back into the 2nd rope and looks for another release back suplex.
Andrews flips through it, walks into a back elbow, Conners hits the ropes and runs into an enzuigiri, spilling to the outside. Andrews reaches out to get him and gets dragged to the floor, Conners sets him against the steel steps and talks some trash, charges in for a big boot, Andrews rolls out of harm's way, then catches him walking in with a boot of his own. He climbs on top of the barricade and hits a somersault senton, pushes Conners into the ring, pulls himself to the apron and springboards in with a crossbody that almost puts it away. Conners pulls himself to his feet in the corner, Andrews rushes in with double knees, hits a northern lights suplex, rolls through for a standing moonsault, but Conners gets his knees up and uses a small package for a near fall.
Conners continues to talk trash and Andrews fires up with big forearms, gets pushed away to the ropes and hangs on, Conners runs in, gets sent over the top, lands on his feet on the apron and hangs Andrews with a reverse hot shot. He steps back to the apron, slingshots in with a reverse STO, Andrews just barely kicking out before a 3 count. He tries to pick Andrews up and gets surprised by a kick, Conners staggers to the corner, Andrews rushes in and meets a boot to the jaw, Conners hops to the 2nd rope, but gets drilled by an enzuigiri.
Andrews climbs up and hits a super hurricanrana, ascends back to the top rope, Conners is there to meet him, but gets knocked back to the canvas. Andrews hops up-and-over him, turns to run back in, Conners delivers the back elbow into a backbreaker, calls for a suplex, but Andrews counters into a stunner. He ascends the corner again, connects with the Shooting Star Press and that's all she wrote.
Winner: Mark Andrews (Shooting Star Press)
Match #3 – Quarterfinals: Trent Seven vs. Wolfgang
Some jawing back-and-forth at the bell, they lock-up  and Trent backs Wolfgang to the ropes, breaks clean, they tie-up again and this time Wolfgang backs Seven to the ropes. They break clean, it starts getting chippy and they trade shots, Wolfgang plants Trent with a back suplex, Seven rolls to the outside and Wolfgang's in pursuit. Irish whip into the barricade if reversed, Wolfgang puts on the brakes to avoid it, catches Seven walking in with a back elbow, climbs on top of the barricade and delivers a moonsault to the floor.
He grabs at his knee, staggers to his feet to send Trent back inside, poses for the fans and turns around into a suicide dive. Trent deposits Wolfgang into the squared circle, heads to the high rent district, takes too much time and gets rocked by a right hand. Wolfgang climbs up for a superplex, Seven fights it off, tries to suplex Wolfgang out to the floor, but it's reversed and Wolfgang finally delivers a superplex into the ring. Both guys struggle to their feet, they exchange right hands and chops, Seven hits the ropes for the Seven Stars Lariat, runs into a big boot, then gets dumped into the mat with a fireman's carry front slam. He springs off the 2nd rope for a moonsault, Trent gets the knees up, looks to follow with the Seven Stars Lariat, Wolfgang ducks it, grabs him for a german suplex, but Seven fights it off.
Standing switch from Trent and he turns him inside-out with a dragon suplex for a near fall, hauls him up for the Seven Stars Lariat, again Wolfgang avoids it, then goes for another fireman's carry front slam. Trent slips out, clobbers him with a spinning back fist, scores with the Seven Stars Lariat, but somehow Wolfgang kicks out at 2. Seven looks stunned as Wolfgang rolls to the apron, Trent climbs to the 2nd rope, pulls him up for a super piledriver, Wolfgang blocks it and drops him to the canvas with a headbutt. He stands on the top rope, connects with a senton bomb and picks up the win.
Winner: Wolfgang (Senton Bomb)
Match #4 – Quarterfinals: Tyler Bate vs. Jordan Devlin
Bate doesn't take the handshake before the bell, Devlin doesn't appreciate it and ambushes him from behind, the bell rings and we're underway. He tosses Tyler into the corner and puts the boots to him, looks to send Bate over the top, Tyler turns the tables and Devlin flies out to the floor. Bate gets a running start and leaps through the ropes with a suicide dive, rolls Jordan back into the ring, steps inside and goes after Devlin in the corner. The referee tries to separate them, Devlin sneaks in a thumb to the eye, arm whips him to the mat and starts to work over the left shoulder.
He unloads with clubbing forearm blows, hooks in a double knuckle lock to try and pin, only gets counts of 2, uses all of his weight to keep Bate down, but Tyler pops up into a monkey flip to escape. He pulls himself up in the corner, tries to surprise Jordan with a boot, it's blocked, Bate breaks free and delivers a knee lift instead. He climbs to the 2nd rope and scores with an uppercut, calls for the airplane spin, Devlin battles out of it, springs off the 2nd rope for a crossbody, but gets caught and put into the airplane spin.
Tyler drops him and they both stumble around, Jordan spills out to the apron, slings the top rope into Bate's face, delivers an enzuigiri and goes up top for a moonsault. Tyler rolls out of harm's way, Devlin lands on his feet, walks into an uppercut, comes right back with a big knee to the chin and covers for a 2 count. Jordan wants to go back up top for a moonsault, misses the mark, Bate sets for the Tyler Driver, Devlin counters into a hurricanarana and almost steals it. Both guys pop-up quick, Jordan decks Tyler with an enzuigiri, he tells the official to check the back of Bate's head, there's no blood and Devlin charges in for a knee. Tyler blocks it, cracks him with a left hand, delivers the Tyler Driver 97 and takes the victory.
Winner: Tyler Bate (Tyler Driver 97)